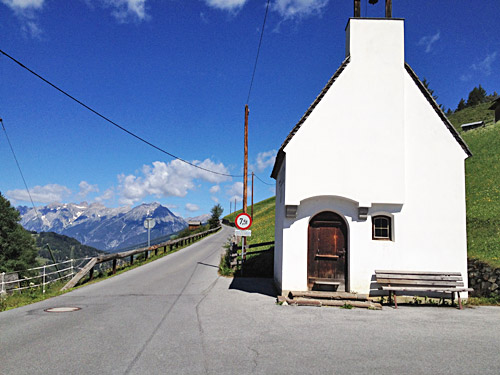 Another demanding day with the most height metres during this Summer tour. Looks a bit unlikely, but I was supposed to be in England two days later after just one more day of cycling after this day, but with some train riding for sure.
Finally I was to visit the Pillerhöhe (1559m) that I had avoided one my several tours in the area before. It is known to have two steep sides and one not so steep (that I climbed the year after). It is a bit steep, but not really tremendously steep up from Prutz (860m). There are two quite steep kilometres as seen in the salite.ch profile. Here I was stopping to have a nice photo on the way up to Gachenblick/Gacher Blick (1574m), which is the high point of the road.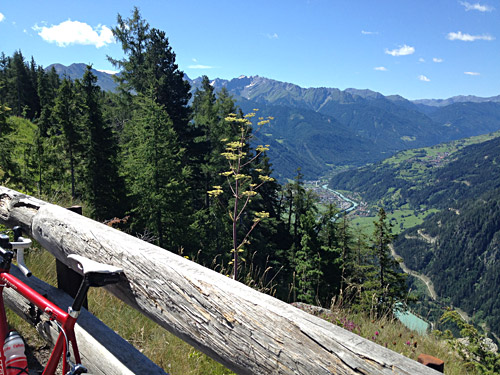 Gachenblick/Gacher Blick is where everyone stops to take photos and it is indeed a very scenic spot as seen here in my two photos. Here I look up in the way from where I came down.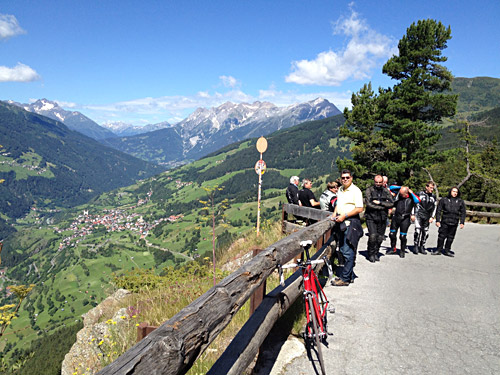 This photo is in the direction of Landeck and it is a bit strange as the mountains looks higher there while the mountains should be higher in the other direction, but the high ones are not so nearby. Here we also have a gang of motorcyclists for which this is a natural place to stop at as well. Hard to get this place for yourself in such a lovely weather.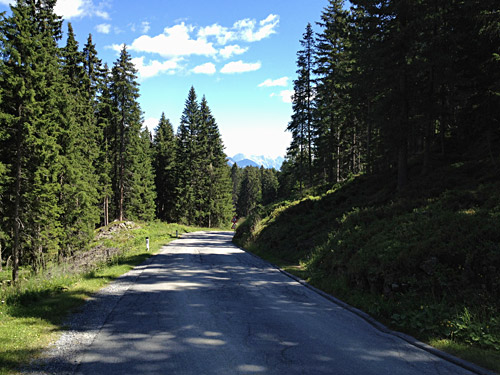 Here I curiously went over the east side of the pass just to see if there were some good views down that side, but not really near the pass at least.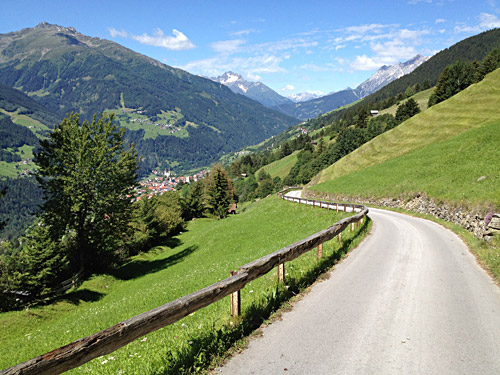 Yes, I took the steepest road down to Fliess, which is quite steep lower down. It was closed, but I chanced to take it anyway, but ended up having to carry my bicycle in an awkward way around the obstacle via someone's house I believe, but got down soon anyway.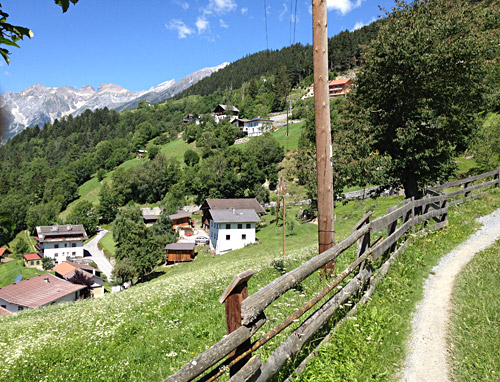 Yes, now looking at the photo, I remember that this way down actually had a gravel section, but it was all fine and really the way one should climb from Fliess (supposing the road is not blocked higher up). I think I could have gone down on asphalt more quickly, but asked someone if I could proceed on the high road above Fliess and still get down and he said it was no problem (which was partly true). I think I came down via Eichholz (no google street views here), so the absolutely last road down to the main road to Landeck.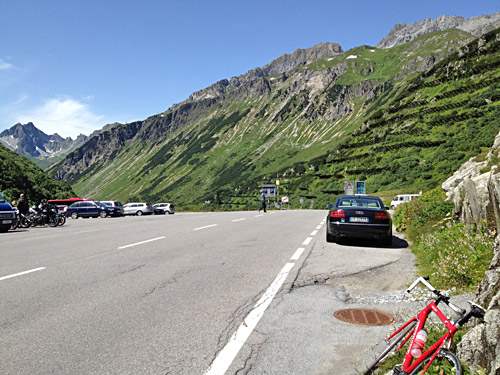 I cannot remember if I stopped in Landeck or later on the way, but next up was the Arlbergpass (1793m) and the reason for taking this road was simply that it was the fastest in the area going west. I kept a good speed up here and got a bit tired near the end. Stopped for some quick photos and experimenting with using the front iPhone camera to take a photo of myself (never used it before or after – bad quality, but enough for showing a face).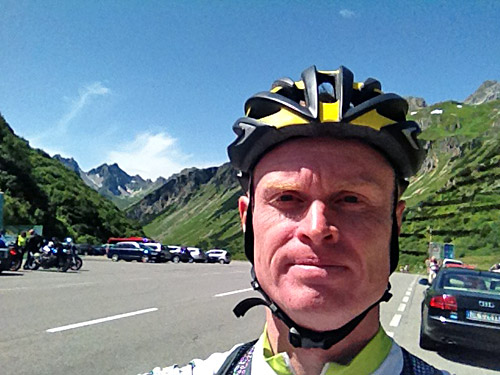 It is fairly nice at Arlbergpass as seen above and below, but not really so nice otherwise and mainly just a ski resort on the east side and slightly boring on the west side.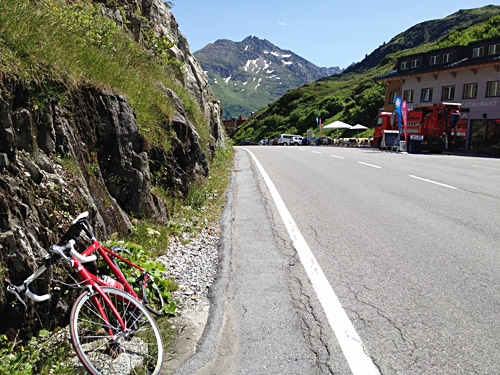 One would expect even more traffic here as it is the straightest road east-west through Austria in this area and there is some traffic as some also go over the nearby Flexenpass to Lech (another ski resort and expensive such).
Yes, think it was this time when going down below the turn-off for Lech that they had road works in the twisty and slightly steep section below. The damned road workers had not put up any warning sign that they had taken the asphalt off for re-asphalting the road and left the cuts with sharp edges and no warning. I was simply lucky to not get a flat there as I had no chance to brake in time and gave the worker next by the finger, though he seemed clueless I hope he later realized what that was about. Oh well, you always have to stay alert when descending as there are always surprises when you least expect them.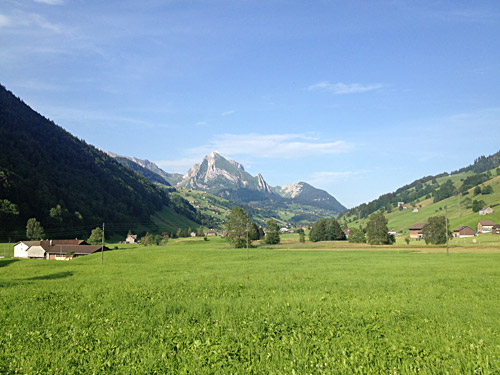 I was still in good spirit though as I had get out of the area in good weather and no more problems. So on I went down to Bludenz and then with the train from there to Feldkirch (yes, why did I do that? – it would have been as fast cycling down there, but maybe it was to try and speed up so I would get as far as possible this day along the planned route). I got a little break and had something to eat and a little rest on the train before continuing via Liechtenstein (I think) over to Gams, from Gams I took the main road up the Passhöhe Wildhaus/Wildhauspass (1090m). The photo is on the way down west from that pass out of the Wildhaus village looking back.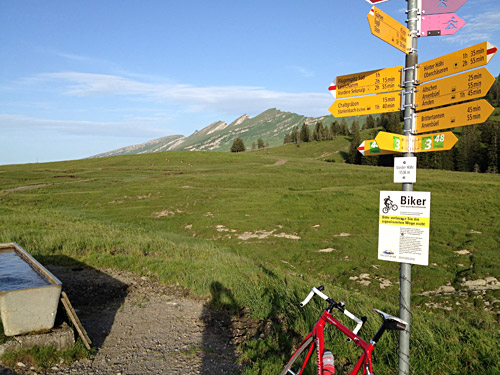 Now the idea was to cycle over the infamously steep Vorder Höhi (1535m), which is a curious short-cut west fom here. However, I did not pay close attention to the map. I took off on the obvious road next to a restaurant (no longer a hotel) at Starkenbach (892m), but chanced foolishly upon the first road taking off to the right thereafter (maybe stressed by a mountain biker coming by and wanting to look like I knew where I was ;-)).
It did look right in terms of being steep, but I had read it was concrete pavement and here was only asphalt, but so much the better while that lasted I thought and pushed on, but soon got confused and it was a bit steeper even than the steepest parts of the concrete road with close to 20% and fairly soon the asphalt ended, but I still thought that maybe it would soon come back and continued a little longer, but it was not the road I soon learned.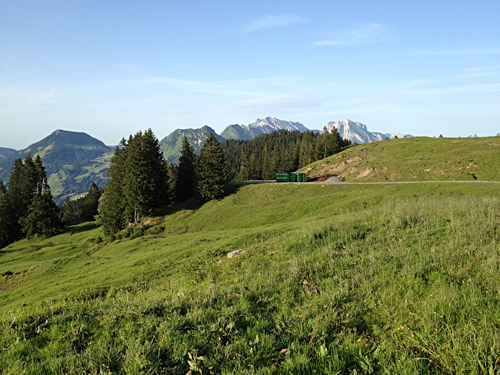 Now I was fairly tired and had climbed already like half-way up in height at least to the pass, so thought I just damned well continue up here and it looked like a track continued more or less all the way up there, so followed it and soon had to walk. Now I had gone too far to return (always easy to fool yourself going too far, I have noticed) and I continued on foot up the steep meadows among cows and cow dung, but all went fine even though it was not easy.
I came to a little house where two men were talking and it turned out one of the men was the owner, while the other man also had a Canyon road bike and had come up the same way but knowing what he did (or so he claimed). We walked away up the gravel road together and soon I could cycle on it and said goodbye and when I reached the normal road the concrete had just ended and it was then an easy short stretch to the pass itself.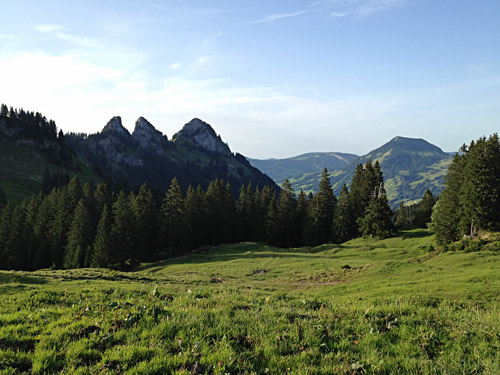 Several photos up here in every direction. The one above here shows where I came from. The photo here I am looking more straight down the pass and actually in the direction I came up in lower down beyond the trees when walking.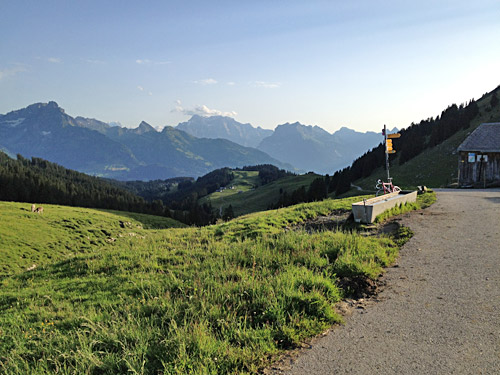 Here is the nice road down the north side which is all asphalted, but it turns terribly steep as it takes off to the right after the trees to the right (a more logical road would have gone straight ahead to meet the main road higher up, but that is not the case.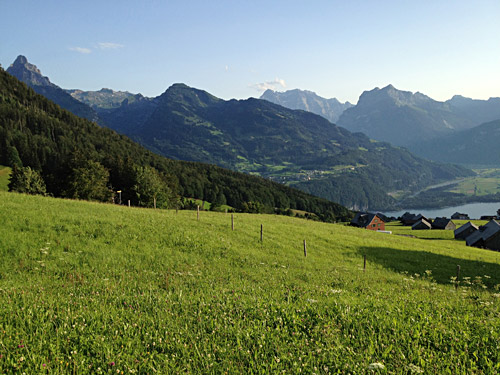 Really nice this evening going down here and I was wishing I could stay up here for the night, but I was now a bit stressed as I was on my way to London, but not this evening (nor the next).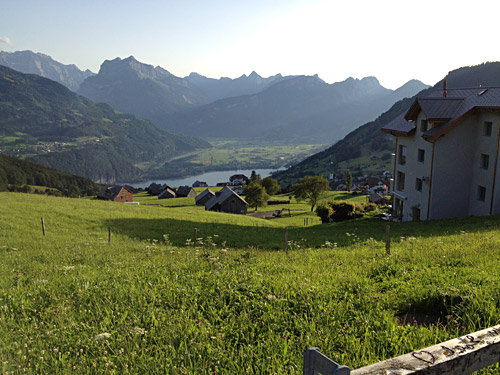 One more photo over the Walensee before I went down to Weesen (422m) and then cycled on to the big train junction at Ziegelbrücke. From here I was taking the train to Biel/Bienne via Zürich, which I think I had planned to do, but after having started in Bludenz, and not in Prutz and climbing two more passes before, so I would be rather late, but it was still possible I thought and got on my way.
I talked with a man on the train to Zürich who also cycled some, but cannot remember much more there. I changed train and it was already starting to get dark as I left Zürich. It was after 21:00 and maybe close to 22:00 when I arrived in Biel/Bienne. I asked a few people about a place to stay not too expensive and that I could find. Someone suggested a youth hostel, but I was not so interested in that idea and hoped to find some cheaper place to stay at outside the city and thought there must be plenty of places to stay at along the Bielersee, which the person I talked to thought was not so sure, but I thought there must be something and went on my way.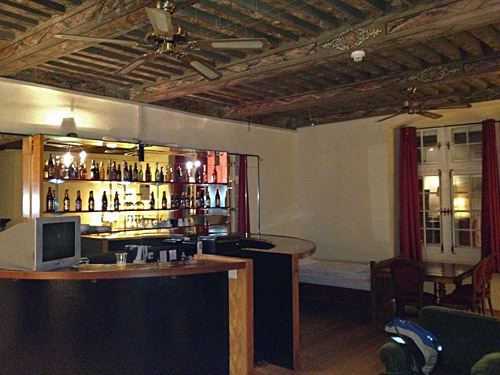 I asked at every place I could find. In Twann it looked promising at last, but the places there were closed or was not interested in having me or was full. I continued and asked at a fancy looking hotel (Hôtel Jean-Jacques Rousseau, I think) by the sea, but the girl looked like she did not have a clue but said the hotel was full as well. It would likely have been somewhat expensive though, but I was likely to have paid, but on I went. I saw another cheaper looking hotel along the road but it was also closed. It was getting late.
The whole stretch along the sea from Biel/Bienne to Neuchâtel looked like an industrial area, which surprised me. Nothing touristy at all here around. I noticed some monster size hotels far away in the city of Neuchâtel, but just had to find something open in this town. I decided to try first in the centre of the town and there was basically only one place still not fully closed – a bar run by a very impolite and obnoxious Irish guy (must have been the much worse brother of Michael O'Leary (running Ryainair)). Anyway that fucktard (well trust me, he deserves that label no matter what a day he had had) gave me a flat for the night for 100 CHF right next to the bar and I was not really in the mood of trying somewhere else now. Expensive, bad, but anyway a flat in the centre of a Swiss town, so guess the price was only fair after all and there was a shower, and a bar (no cold drinks though). Not entirely happy about how things worked out this night, but one has to be prepared for all kind of things. I did get to buy a beer against his will that he more or less poured over me, but saved on food as I got nothing this evening.