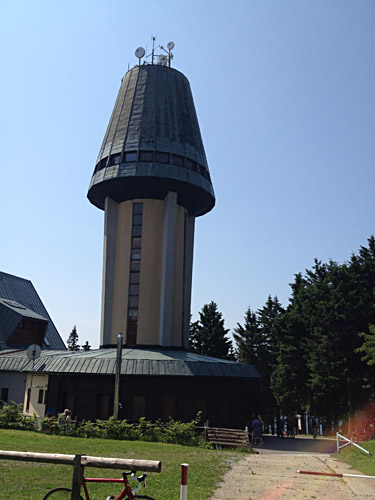 We eventually got on our way east in the morning with the car, which was relaxing, but cycling was surely on the menu too. At first it was a bit long drive going back and forth over the Polish border and then we had a short climb on the bicycle from Červená Voda (535m), close to Králíky, and up to Červenovodské sedlo (814m) and from there a narrow but popular road to Suchý vrch (975m) which was yet another BIG climb.
The tower is possible to walk up in a spiral staircase and from the top one has good views of the surroundings (not so impressive). Červenovodské sedlo is obviously a popular passage for local road cyclists on a good road. We then went back down again and I think I followed with the car as I had not studied the maps well before and the landscape takes some time to learn. I had studied the area to some degree in advance and had thoughts about going on the bike certain stretches where some of the others might prefer to take the car (and I think on at least one occasion that someone had to take the car to get that with us). This area was hilly and nice, but not much of mountains here and so we moved on east again.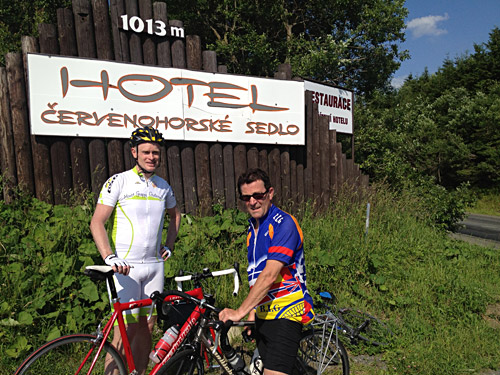 We went over Jeseník and south through the valley to Bělá pod Pradědem where we stopped to cycle again and where I did not join the car to Praděd (our destination for the day). We here first climbed the nice and easy Červenohorské sedlo
Standing at the pass with Kevin and think it was Fredrik taking the photo. Not a very nice pass and not quite sure why it has been designated a BIG climb, but maybe it known from races in the area. However, this area is indeed nice and especially so on the way to Praděd. We went back down on the quite wide and fine road and me and a few others cycled all the way to Praděd, but first via two more passes.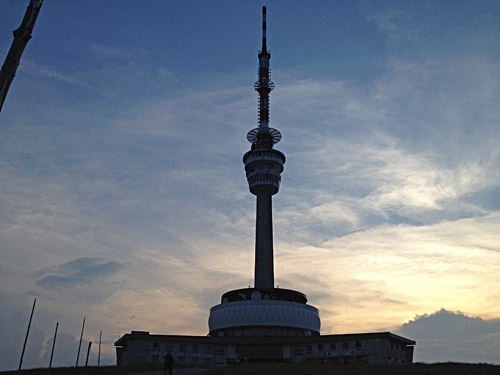 First came the Videlské sedlo/Sedlo Videlský kříž (930m) and now the climbing got much steeper with gradients above 10% in places. I was happy to be cycling this way. The road then descends abruptly to Vidly (765m) and instead of continuing ahead over Sedlo pod Lyrou (1002m), we went down to Karlovice (478m) in order to do the climb to Praděd (1491m) properly with over a 1000 height metres to climb!
We (and now we were many cycling up here) went through touristy, but nice, Karlova Studánka and at the little pass Sedlo Hvězda (852m) the final long and narrow road to Praděd starts. This is a very good climb and most of us got rather tired before we eventually caught sight of the broadcast tower of Praděd and then the climb is not over, even if it is easing off a bit before the end. There is a detailed description (and elevation profile) of the climb on the Polish altimetr.pl site (in Polish). I must say I like the photo myself here.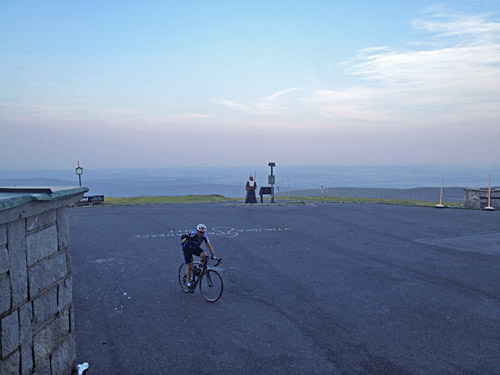 Here is another photo with the BIG founder and our expedition leader Daniel Gobert arriving very tired (he had a lot to do this day and before). We were staying at a hotel just below the mountain this night. Cannot remember much of that place now, but think we had a nice evening.