The tour this year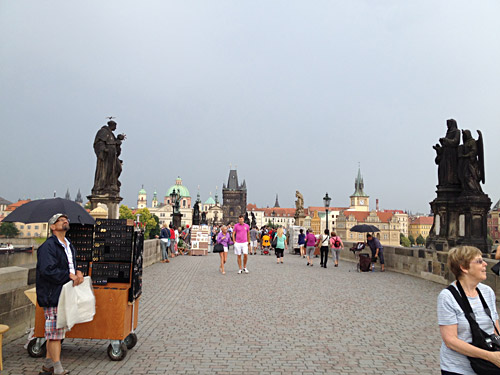 It was a very complicated scheme for this Summer that I had concocted, but I succeeded in following it. After the first company I had booked a flight ticket to Prague went out of business, I managed to get another ticket with another company. I arrived in Prague on July 2nd and had a ride with Pavel (from Prague) that day. Pavel was, just like me, a member of the Belgian BIG club that were arranging a meeting for 5 cycling days in the Tatras mountains this year that we both had decided to take part in. Pavel took me on a nice tour outside Prague and we visited two good pubs before getting back, and Pavel pointing out the former communists head quarters that we passed by. [Re-reading this first paragraph written in 2012, now in Dec. 2016 as I am finally attempting to complete writing the story for 2012, I recently learned that Pavel had a fatal accident on his bicycle not long ago and is no longer with us – very sad and had hoped to hear from him again.] The day after I had some sight-seeing in Prague with another Swedish BIG member, Fredrik, before we all joined Daniel Gobert (who is the BIG president from Belgium) and Kevin from England. They arrived in a big car so we could all get our bicycles in and continue to the mountains.
Note: Internet Explorer is not recommended. Instead use a good browser like Opera, Chrome, Safari or Firefox. These pages looks best in Safari on a Mac.
First we were to visit some mountains on the way to the Tatras were the BIG club had found some suitable climbs for their list of 1000 climbs around the world (mainly in Europe). The highest mountains in the Czech republic are the Krkonoše/Karkonoszy mountains. Photos and information on this Polish site. We arrived in the evening in Vrchlabí, where we met up with many others coming from all around Europe to take part in the meeting/cycling. The next morning on July 4th we started in less than good weather with a car ride to the start of the first climb to which I had previously planned to cycle to, but did not want to in the rainy weather.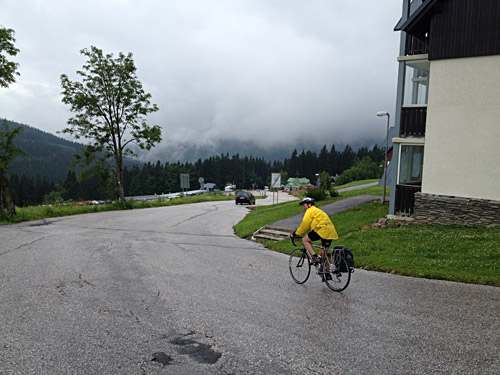 The rain held back most of the time later on and the weather improved during the day. The road follows the Jizerka river from our start in Hrabačov an only rises very slowly. Eventually the road turns up a bit to the right and the real climb starts up to Horni Misečky which is the site for hotels and restaurants (probably more busy in Winter time). From here a much narrower road continues steeply up to Vrbatova bouda, our goal. The asphalted road continues to a pass-like place Nad Kotelní jámou (1402m) where the road descends a hundred height metres on the other side to Labská bouda (restaurant/hotel), but I turned around before.
I took it easy here and kept company with Kevin, the retired train driver, who now have climbed most of the BIG climbs. Kevin here on the descent from Vrbatova bouda. I left the others and cycled away on my own back to Vrchlabí and on to Pec pod Sněžkou, probably via Rudník, but do not know for sure and a problem this year is that I never got my planning finished in time, nor did I write down how I cycled afterwards, so that is probably why I also waited with the write-up (and all these difficult places to code in html …). I also see now on a good online tourist map that there exists many asphalted alternative roads in the area I was not aware of fully at the time.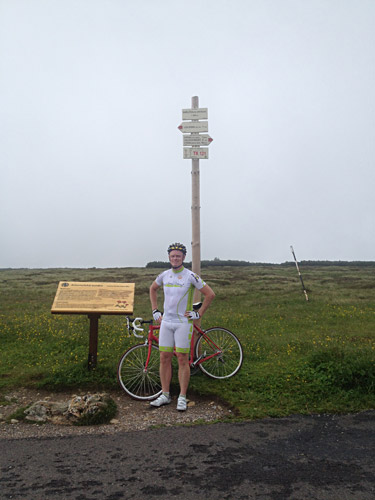 From Pec pod Sněžkou one of the (I would guess) steeper roads in Czechia commences. It is a very narrow road and gets slowly steeper until it reaches ca. 20% before one eventually reach the ridge above at a pass/restaurant, Výroka (1362m). Here one continues to the right following the road that now climbs more gently to the highest asphalted point in Czechia, which is the Modré sedlo/Kaplička (1511m) and thus the highest asphalted pass in the country.
Someone came by and I was happy to have a photo of me there. I was unlucky with the weather and no views of either the highest mountain in Czechia, the Sněžka (1603m), or the wide-ranging views one would normally have up here in good weather.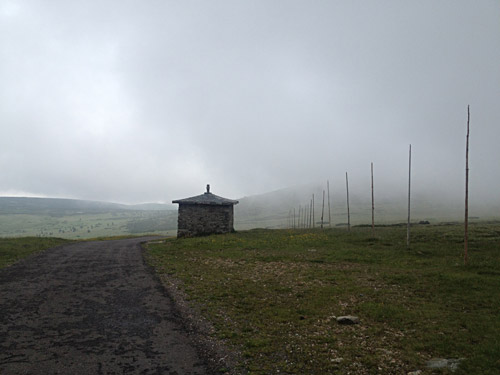 Here is the view ahead toward Poland. I continued down to Luční bouda where the asphalt road ends just a little before the border by a big restaurant/hotel (seemed rather rustic/basic – seems to have been a nicer place before the 2nd world war). I went in to visit toilets and also had something simple to eat (maybe a beer and a cake, not sure now).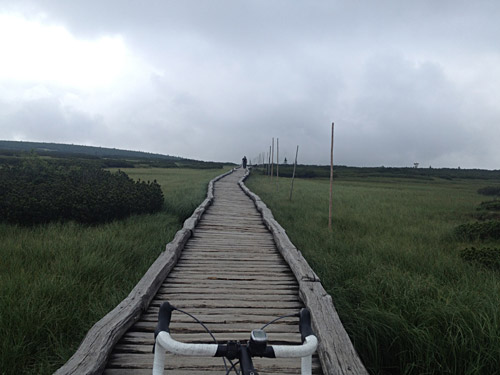 Then I decided to walk over the ridge on a path and thought to see if the road up to the Sněžka from the border was possible to cycle up on. It turned out that it was not possible, well I could cycle a bit, but soon gave up as it was only a matter of time before I would get a flat on the tyres as the cobblestones were just too bad for use with a road bike. The path from Luční bouda to the border at Obří sedlo/Obrí Bouda/Dom Śląski (1395m) was rather long and could only cycle a few metres, but it was a nice break. There is a minor pass located just before Obří sedlo, called Przełęcz pod Sniezka (1389m) (maybe the map makers have confused the two passes).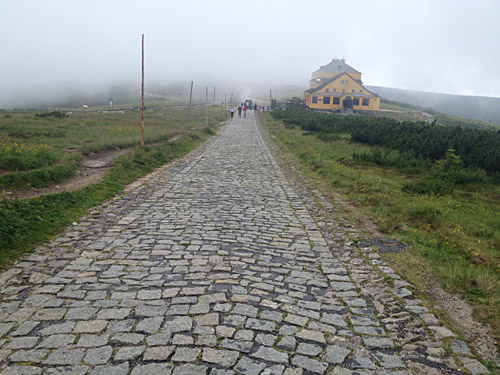 Here you see the road up from Karpacz, which doesn't look so bad in the photo, but trust me that it is no fun with a road bike and the part visible here is one of the best. Apparently they have a mountain bike event up this road, but at one or two places it seemed a bit dangerous even with a mountain bike with the stones all bent in different directions and it was terribly hard even walking down that road (in bike shoes). This is where I turned around as there was only clouds higher up anyway and I would have had to walk.
Down here in the photo is the crossing at Obří sedlo/Obrí Bouda/Dom Śląski and the road from the left I was arriving from (good this last section to here).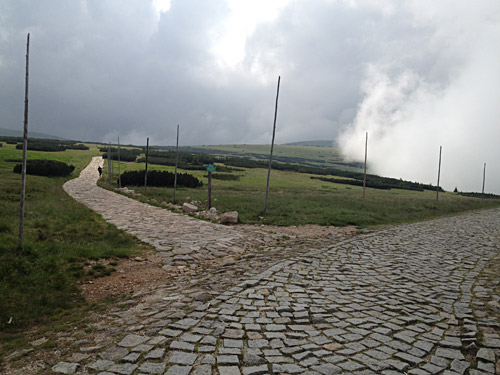 I had originally planned to return back down the same way to Czechia, but got curious about the road and the path had been such a long walk here so thought I could just as well go down to Karpacz and I was also hoping that I could possibly cycle some of the way down there. I started cycling from Obří sedlo and at first it looked ok, but as the road started to descend through the forest it got much worse and I had to walk almost all the way down to the start of the cobblestones. Here I am at the last crossing before the descent starts at Spalona Strażnica/Równina pod Śnieżką. The road continuing along the ridge here actually looked better than the main road down.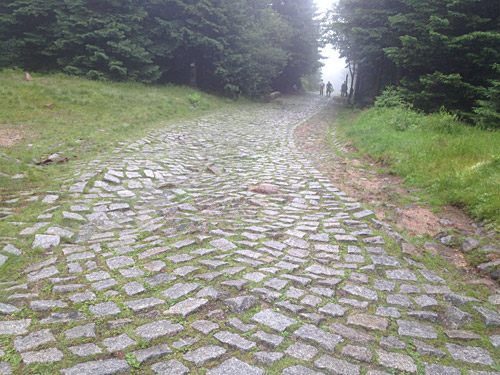 Here is one of the worst places along the road down and I think you can guess why I walked … .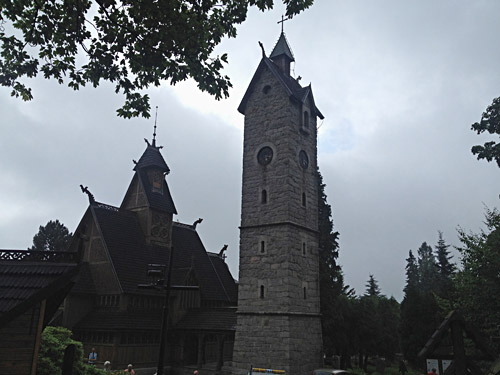 The place one arrived at above Karpacz is quite nice with a little old church, but a rather touristy place.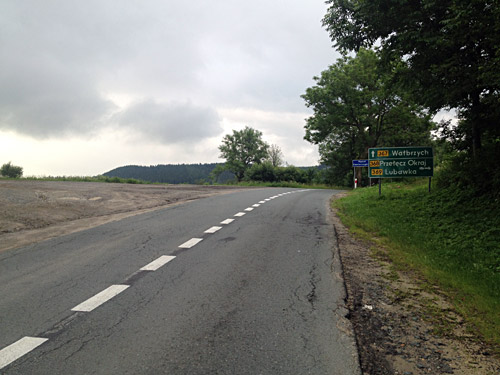 I continued along some fine asphalt roads over to Kowary and climbed up on a small local road to Przełęcz Kowarska (727m) (in this photo) on the main road back to Czechia.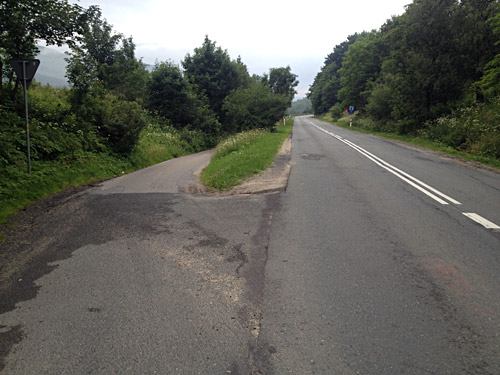 Here looking back down the small road I was coming up on just to show it was asphalted and fine (not so clear from the maps). I then continued up to the border at Przełęcz Okraj/Pomezni Boudy (1050m), where a guy came cycling up at the same time full speed from the other side and he apparently was running a hotel up here and was trying to talk me into trying to get my bicycle club to go here and have a training camp ;-).
Now, the sensible thing would have been to return back to Vrchlabí, but I wanted to get to another pass from the correct Polish side, so I went back down again to Kowary.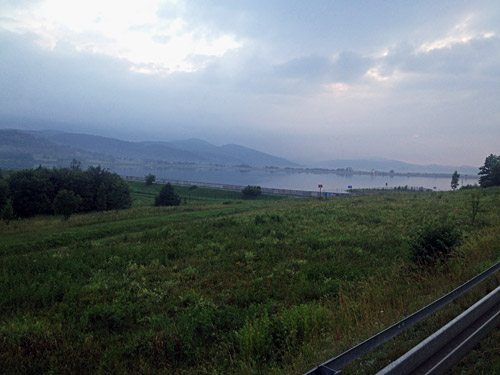 I went around the Sosnówka lake/dam, which is seen here and now the weather was better, but it was getting late. I went up through Podgórzyn from ca. 367m and the climb up to the border here is nice and gets steeper as one gets higher up. It was nice on the direct road up through Przesieka in the evening. There is a strange passage as one comes to the main road and continues up with a sign forbidding traffic, but that does not include cyclists. It continues steeply up on a very narrow road to the Špindlerovka Bouda/Karkonoska Przełęcz/Slezské sedlo (1197m) apart from the very last few hundred metres. (One can continue up on asphalt to ca. 1230m by a hotel with possibly good views back into Poland.)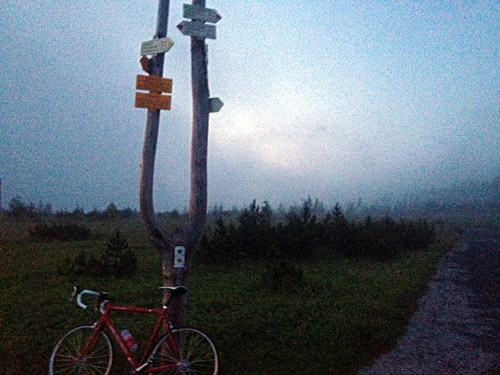 Here is the pass sign just as the sun goes down and now I had to ride down in the dark to Vrchlabí, but it was straight down so could not miss it. I noticed in the evening when passing through Špindlerův Mlýn that it must be the most popular and touristy place in the Krkonoše/Karkonoszy mountains. We were staying at good and simple hotel in Vrchlabí and I think I had a wienerschnitzel and beer in the evening. As I was with the BIG group we were taking the car between the places to be able to get ahead to the next mountains that were not always so nearby. The main destination for this BIG meeting was after all the Tatras mountains, but we wanted to collect some BIG climbs in the wider area on the way there, so the next day we would continue our journey east. A fair amount of height metres for me this first day and I was happy with my exploration of these mountains.