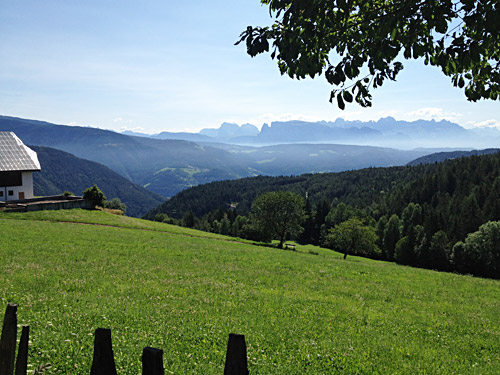 Now the weather was lovely and I was very happy to start up at Jenesien/S. Genesio. I had some new strength now and all felt better this morning. Now that was good as the road ahead was not unproblematic with my fixie bike. The road up to Sattel Schermoos/Sella Schermoos (1441m) was not just slightly raising high road, but instead goes up and down and quite steeply up in a few places.
Managed to pass by two other cycle tourists (of the slow variety) and said hello and was happy I could get ahead at all. Also, I did not feel so much from my wrist accident (actually felt a bit more after coming home for a few weeks).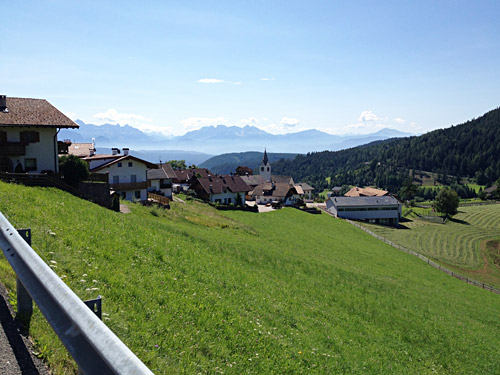 I had a few photos along the lovely road (the two first here).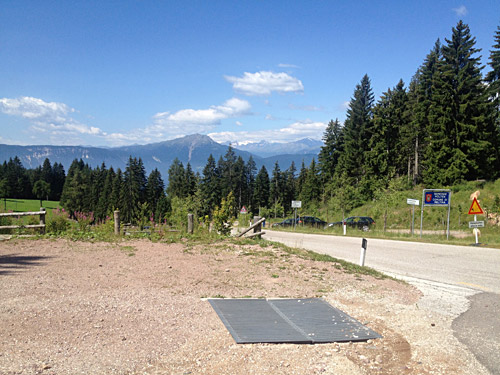 I searched in vain for a pass sign at Sattel Schermoos/Sella Schermoos, where I was certain I had seen a sign saying Passo Schermoos (or Schermer) on my first visit, but probably my memory was wrong and all I had seen was the sign announcing Jenesien/S. Genesio one can see in Google street view, but I wonder still. I have seen several pass names used by local CAI walking club divisions and others, including: Sattel Schermoos/Sella Schermoos/Passo Schermer/Breitwies and it all very much comes across as a pass anyway. There are many passes up in the German speaking parts where there are no pass names unless the passes are very high (a bit like in Austria really).
Here looking ahead down toward Merano/Meran. Then the road descends quickly, but soon one crosses another unnamed pass above Mölten/Meltina. Then I went down to Hafling/Avelengo where I once stayed for the night at a good bed & breakfast.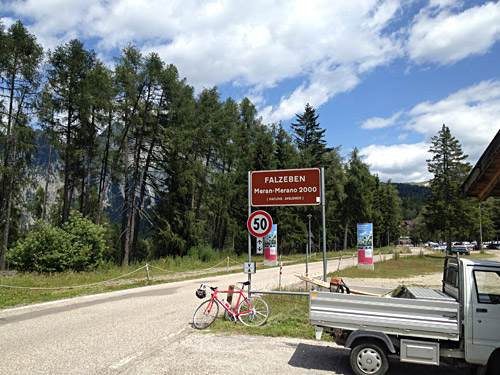 Despite the hardships of cycling like this and the risk, I still decided to climb up the small road to Falzeben/Merano2000 (1621m) which is another BIG I wanted to claim in the area. If it was not difficult enough for me they were also putting on new asphalt on a part of the road this day and I had to go back down the same way. I survived – .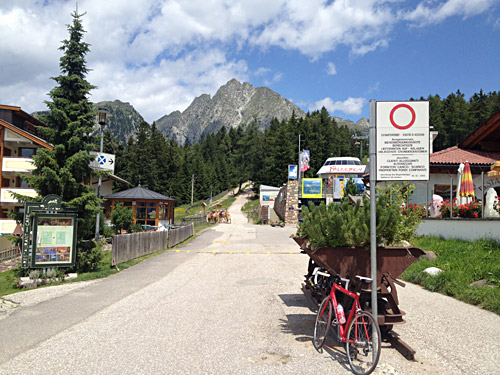 Very nice at Falzeben at least and I stopped for an ice cream and coca-cola, I believe.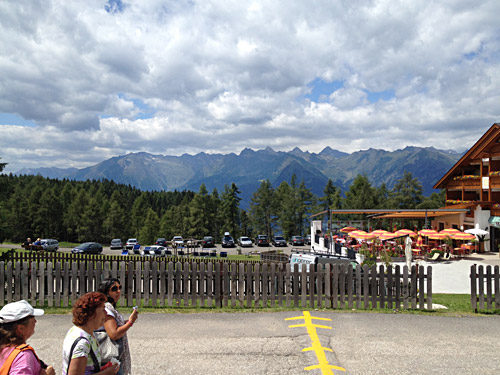 Lots of people up here on this nice day. Another photo to the north.
Then I had a long slow and testing ride down 1300 height metres to Merano/Meran, where I was determined to at last get my rear wheel fixed. I went to the centre of the town and actually asked at the tourist information (those people who you have to tell where to find things around where they live ;-)). Anyway a lady there new of a nearby bicycle shop just on the most touristy road in the centre. It is a very small looking shop, but when you get inside it turns out to be much bigger and I talked with a nice guy working ethere explaining that it was probably the shop in town with the best resources. He spoke fluently German, Italian and English while I was there and even called a friend working at another shop about a part (without success).
It turned out that the body of the rear wheel had to be replaced but the bodies on the Tune wheel I had was a bit special so he could not just put on any other body, so I had to buy a new wheel and got the cheapest Mavic wheel they had and had to leave my otherwise nice Tune wheel there (he said I could come back and collect it, but … I mentioned it just for fun when coming back there in 2015).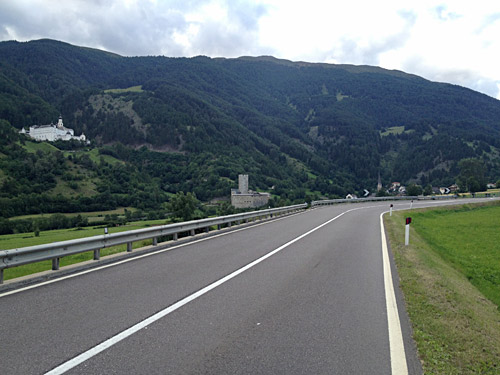 I was happy but got severely delayed this day, so decided to cheat and take the train up the long and somewhat boring Vinschgau/Venosta valley as far as the train went up to Mals/Malles. Talked a bit with an older lady living up here and remember she told me that they hardly any longer wanted to go by car up the Stelvio pass as there are so many cyclists these days and that they even have one totally car free day and the authorities basically wanted to get rid of the cars there (but not quite). I surely could understand that as I have seen that myself, but there are always times during the day with less cyclists and motorcyclists. It was me bringing up the subject wondering what they thought of all the cyclists, so.
Here I am looking at the Marienberg abbey early on the way up to the Reschenpass/Passo di Rèsia/Pass dal Raisch (1509m). I took the main road and since it was getting a bit late the traffic was very light and it was a nice climb.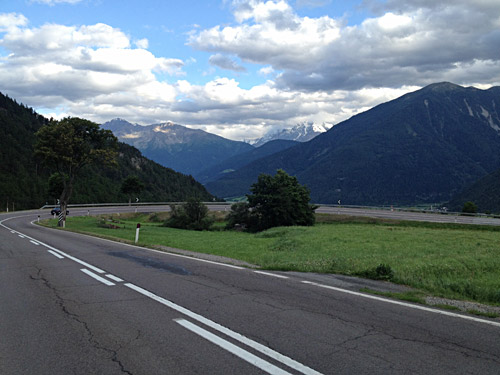 Here I am looking back down from higher up on the wide serpentines up the sloping landscape. (there are alternatives for cyclists on either side of the wide valley, but I like the main road.
I think I stopped shortly for a quick coffee or coca-cola at St. Valentin and to check whether I had time to go over the pass this evening. I was not up until 20:00, but decided to go over to Austria to get a better sense of getting somewhere this day.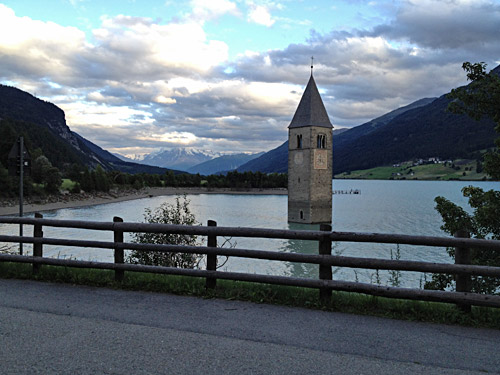 Here I pass by the (in)famously drowned church from when the dam was created up here.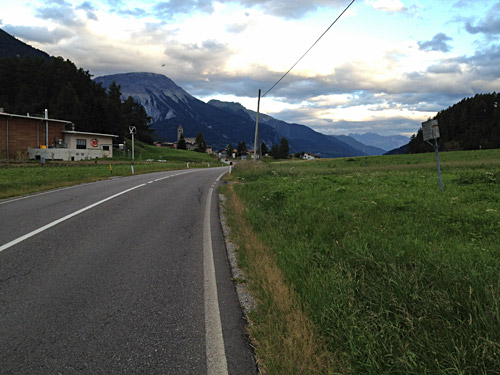 I stopped at the exact point for the pass to take a photo in each direction. The pass is fully inside Italy, but a sign also appears at the border down the Austrian side, but that really only means the border is in the locality of the pass. Here I look back to Italy.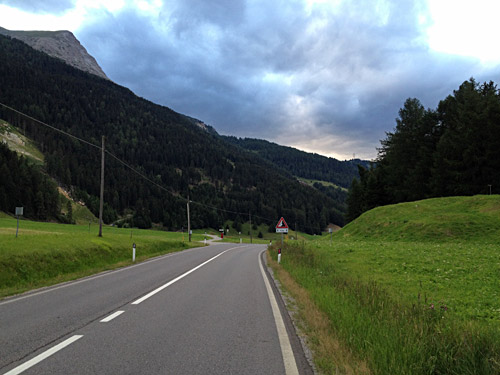 Here I look down toward the Austrian border.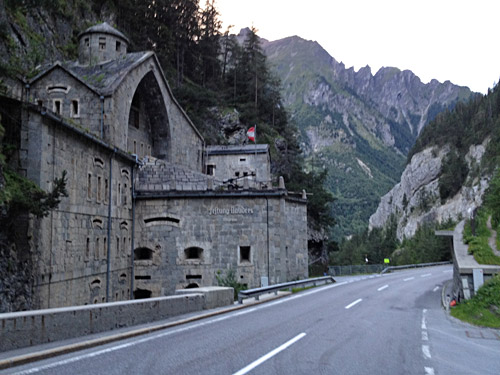 I just continued at Nauders and went down the main road by the fort here in the photo. This classic cycling route has later been sign-posted as not allowed for cyclists by the local fascist authorities, which makes sense only if you decide to go cycling with your family up and down here, (possibly the restriction was only while they were working on the road but doubt it as the authorities tend to think less and less of cyclists as anything else than local recreation, rather than a means for transportation, and think the road work were complete when I last passed by here). There is no sense in disallowing cyclists on any part of the main road from Merano to Landeck really and I wished all cyclists would refuse using the alternative routes here! But I mostly obey the regulations these days too, but I still disagree with them and on this passage I will disobey them and encourage everyone else to do the same, just as I did to a fellow cyclist when there more recently.
I stopped without looking very much for a good hotel and spent the night at a bed & breakfast next to a hotel where I think I was eating dinner for the evening. Not particularly good, nor bad.