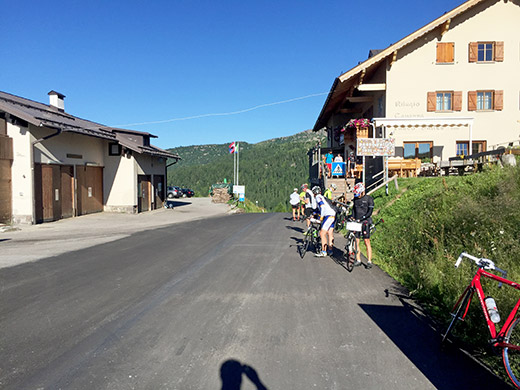 Had to go up around 5:30 am to get some breakfast before the brevet event – Randolomitics that started at 7 am. There were other people also staying at the same B&B that were taking part in the event. This was one of three suggested lodging places by the organizers and this was the cheapest, but not very cheap, but the house has been newly renovated and everything was to the best possible standards. Also a good idea to take one of the suggested lodging places as you could count on them serving breakfast this early.
The event is quite new (2nd year, I believe) and not so many participants for the three possible courses. The organiser had promised to leave me the starting package at this B&B, but he had obviously forgotten about it, so I had to try and quickly find the starting number signs etc to put on right at the start. I was of course a little late, but managed to get away just 5 minutes late with a few others and we almost caught up with the main group on the way up the first climb. It did not feel like anything else than a normal race at the start, but it was good to get waken up and to get a bit warm as it was not so warm this early.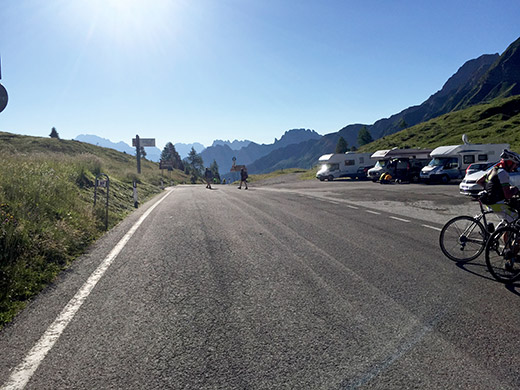 I pushed on as hard as I could up to Bellamonte and Lago di Paneveggio and then was up with those just behind the the first group. Guess this group was very much split up on the next part up to the Passo di Vallés (2033m), and surely did not catch up with many of them, but was still decently quick up there. Seldom have I climbed a +2000m pass this early in the day (apart from when taking part in other Gran Fondo races that usually start early for obvious reasons). I have only been up this pass once before and then from the other side, so it was nice to do this full climb from Predazzo (1031m) with just over a 1000 height metres.
Really lovely weather this day as you can see! They served coca-cola at the top and I was sure to drink some, but this was the only place where Randolomitics had any support along the road until at the finish at Pampeago. Had to go into the restaurant to get a stamp on the card that we were supposed to get stamped in true brevet fashion at crucial places along the road to prove that we did actually do the route as we claimed to. Then a speedy and long descent down the valley to Falcade and further on. I am a bit worried at the speed Italians use to descend in, but tried my best not to be an obstacle for the others. I feel like I am getting slower the more experience I gain, but guess I was simply taking more chances when I was younger and my technique is not really the best either.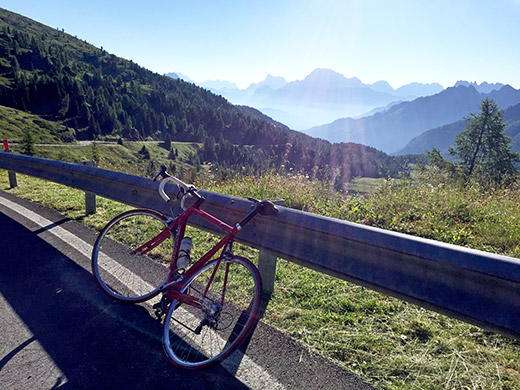 Those doing the shortest circuit (probably the guys that were also the fastest up to Passo di Vallés turned off on the way down to Falcade to return over the Passo di San Pellegrino/Pas de Sèn Pelegrin (1919m) and some people stood their waiting for their friends and wished us other good luck on our way. I had signed up for the medium course as I do not see much point in just doing a small tour in the morning, nor do I like to do multiple days rides without sleep. I very much like to eat and sleep somewhat normally if possible, so one day events are great and esp. if they can be finished while it is still light outside so dinner can be had in the evening.
Now the medium course in Randolomitics is not the simplest one day ride either as you can see on my final figures for the day with 227.22 km and 6715 height metres and a lot of quite steep parts. This was enough of a challenge for me. I have been to all the passes in this ride before, but it was still a nice event in an area I much like and anyway had plans to visit some nearby roads afterwards. Only the Monte Grappa Challenge was a little harder challenge than this and not so much of a difference really – mostly the worst was that the climbs there are even steeper and also that you have to return to the same place all the time which makes it easier to feel like it is time to give up before the finish. Both are, for example, a hell lot harder than the classical Ötztaler radmarathon.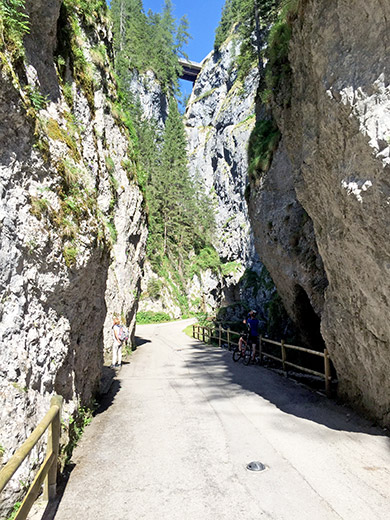 The road is very steep down through Falcade (have also not cycled on this part of the eastern climb before) and it feels like it would be dangerous to have you kids out playing on this road where it goes straight down between the houses. Eventually the downhill got a bit less hilarious.
From the turn-off in Cencenighe Agordino (770m) we kept a good speed up toward Caprile (1002m). I caught up with one other guy who apparently was staying at the same B&B as me (was perhaps too tired in the morning to realise it was one of the persons I saw there). Later a group of local cyclists out training caught up with us and I felt strong and even kept the tempo up for the whole group just before they turned off at Caprile. Then I slowed down at the start of the climb to Passo di Fedaia/Jouf de Fedaa/Pas de Fedaa (2054m, road height 2059m) and decided from now on to take things in my own holiday cycling speed as there were no way I could keep going like this all day long. I wanted to take the classical way up through the Sottoguda passage, but before stopped for a coffee and ice cream at the Topsy bar where we had to get a stamp again (told some others that were about to miss it).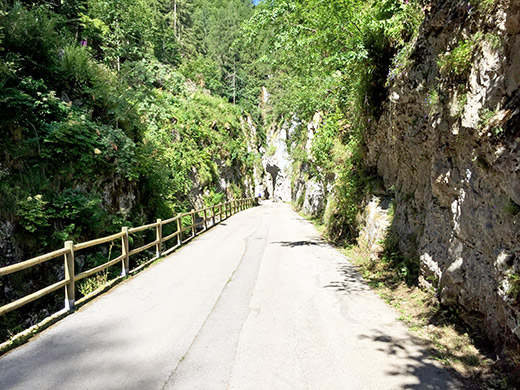 The Sottoguda passage is the old road and it used to be free access here, but now one has to pay 2 euros to get through here on a bicycle or at foot and motorised vehicles are not allowed at all. Still I decided to take the road for my second time (last time it was still free) to get some nice photos and to make the full hard last part of the climb to the pass the way it should be done (a bit harder if you take this road as the climb starts later). Above you see the new road high above.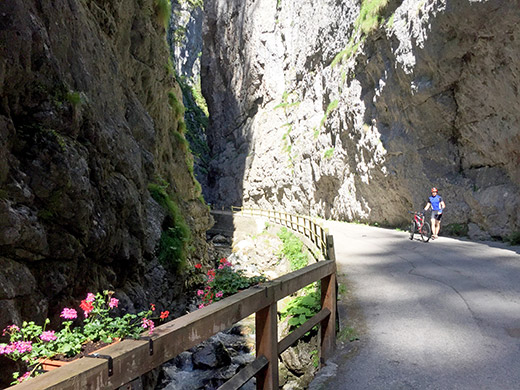 The mountain bike guy here was not in the Randolomitics race.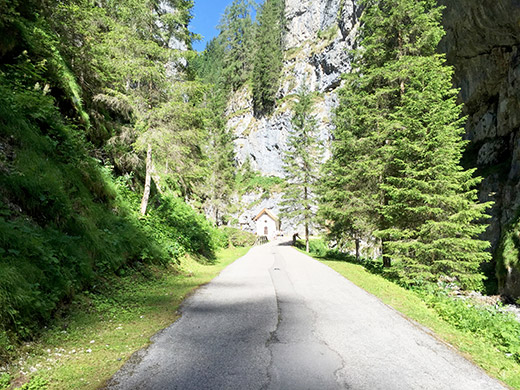 From here the real climb to the Fedaia pass starts and it is a quite hard climb on this eastern side. I felt good at first, but in the end it was a bit hard I have to confess. There are several kilometres above 12% on average. When the asphalt is good on this side people have gained some of speediest descents here anywhere in the Alps on the long straight section early on (above 100 km/h and more). I have only been up to 91 km/h down the east side of the Kühtai pass in 2003, where people not as slow as me also now and then go above 100 km/h (but it does not feel super reliable going over cattle grids in that speed … no cattle grids here though).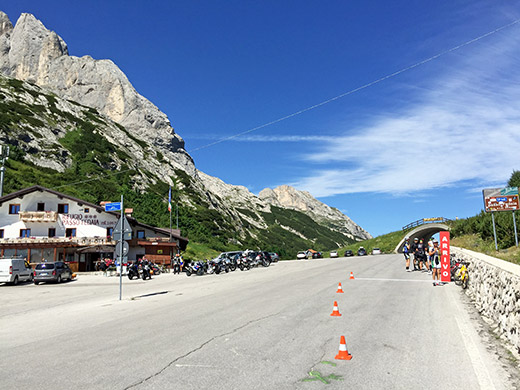 I reached the pass and another guy arriving around the same time as me spontaneously greeted me and me him as it indeed feels like one has done something to be greeted when arriving up here. I am not sure if any of the cyclists up here was in the Randolomitics event, but maybe. Some I passed by and some I did not catch up with.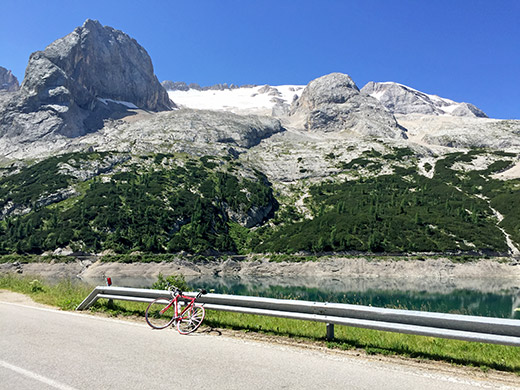 I felt a bit relaxed now that I had climbed one of the two worst climbs for the day and it very much felt like I had control over how to get this done before the day would be over. However, this was still really just the start of the day. Thought glacier might be gone up the Marmolada mountain now after seeing some other glaciers retreating, but it was still there and it looked nice with the lake.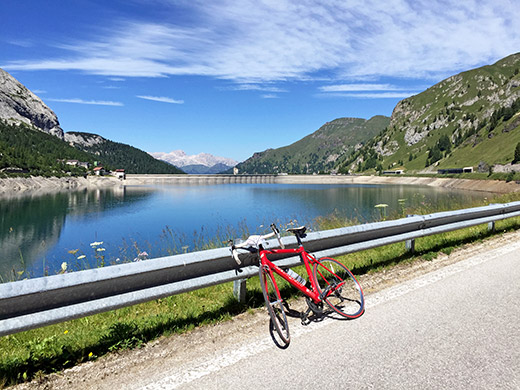 Looking ahead and quite a nice view before the fast descent to Canazei/Cianacèi/Kanzenei (1450m). There I searched for some place to buy something to drink and eventually found a pastry shop on the main road. Now it was quite warm and it would so remain. Luckily I was going to stay at a relatively high altitude for a while now, so it was not as bad as it could be further down the valleys this day.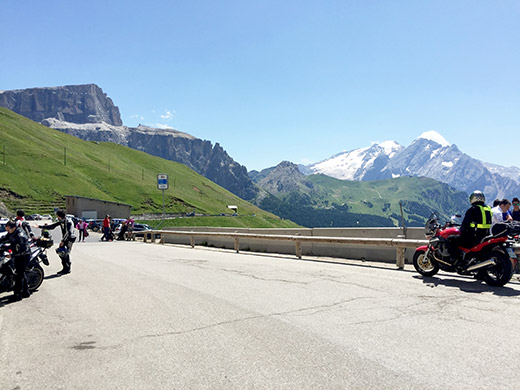 I passed by some riders in Randolomitics doing the same medium course like me on the way up each pass for quite some time now and it was mostly the same ones as I took longer time at the top, was probably going down a bit slower and waited longer before starting the next climb (at times). They were not the fastest, but they were good enough for this and the nice thing with a brevet race is that there is really no competition and we can each dispose of the race day as we prefer (within limits). The absolutely fastest guys and girls more likely go for as good a time as they can, so there is likely more competition at the front, but not being there I just wanted to enjoy the day as much as possible, like all other days.
Here looking back down from the top of the Passo del Sella/Jouf de Sèla/Jëuf de Sela/Sellajoch (2244m). (The actual pass is just after the high point (the first bend on the north-west side) at 2241m.)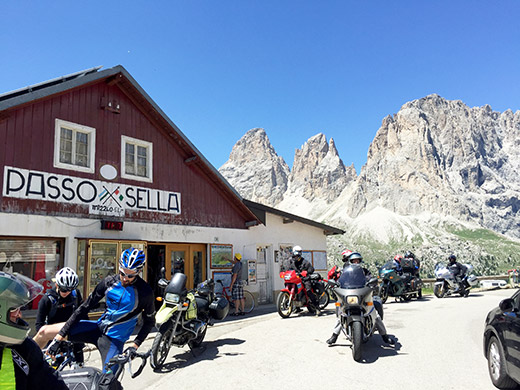 The classic Passo Sella view. Was taking a photo right here back in year 2000, when I came up here from the Ghërdina/Gardena/Gröden valley for the first time over 200 metres height and was quite impressed by it all and still one is impressed by this pass and climb. It is one of the most beautiful passes in the Alps.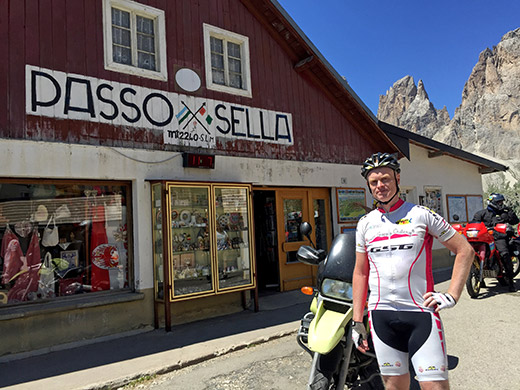 Time for a photo of me to prove I was looking relaxed by it all ;-).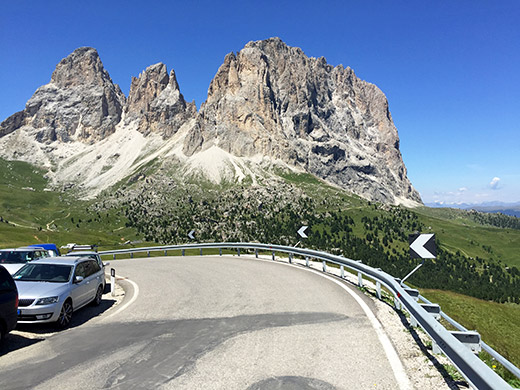 Another view of the famous Langkofel/Sassolungo mountain.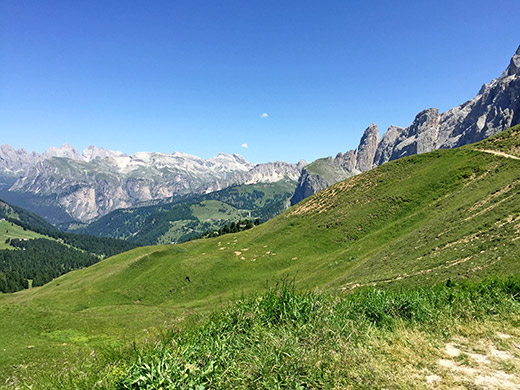 Peeking down the valley at the actual pass (the path to the right is marking the pass).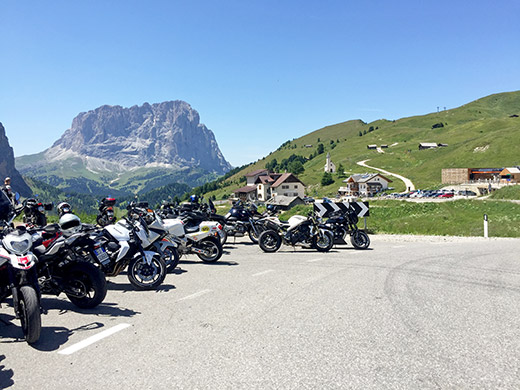 Now I was just supposed to do the Sella ronda as it is called, that I have done a couple of time now after having taking part in the Maratona dles Dolomites three times already (2003, 2006 and 2008, applied for it this year also, but did not get a starting place for the first time and it has become ever more popular). I doubt I can still improve on my best time there though, especially as the road surfaces in the Dolomites are not quite what they used to be combined with me being a bit too careful at times and not training enough maybe.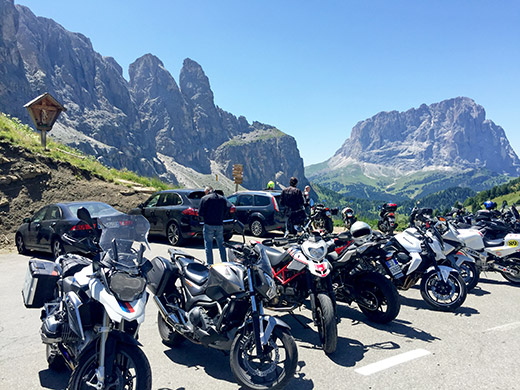 Above I had arrived at Jëuf de Frea/Ju de Frara/Grödner Joch/Passo Gardena (2122m) after climbing via Sela de Culac/Kulatsch Sattel/Sella del Culaç (2018m) from Plan de Gralba/Kreuzboden (1872m). Many motorcyclists out this day on the Sella ronda and cannot blame them. As much cyclists out too. I guess there were less cars than either of the two-wheeled variants.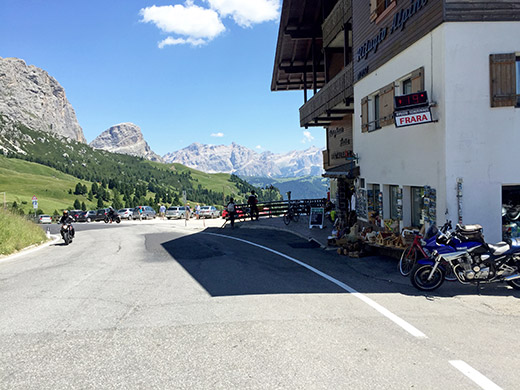 The classic view down the Alta Badia/Gadertal from the pass. The temperature sign on the building is about to fall down – hope they get it back up properly again (only 19°C in the shadows – felt warmer than that …).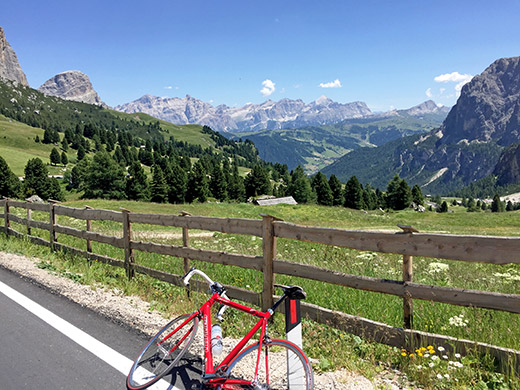 Another view before going down to Corvara. The road surface down there were quite bad and I had to brake heavily in order to avoid some nasty cracks in the asphalt. Hope they restore it to former glory. The first part down from the pass had been resurfaced, but then one has to be prepared for when one has to hang on the brakes as it is now. Back in 2003 I could descend like 3 times faster than now.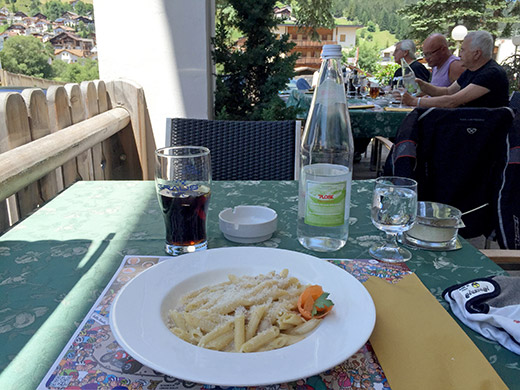 Good pasta rapidly served down in Corvara at a reliable restaurant I have visited before (guess other alternatives would be quite good here too). Then it was up the lowest pass in the Sella ring (the first climb in the Maratona dles Dolomites), namely Passo di Campolongo/Jou de Ciaulonch/Ju de Ćiaulunch/Campolongo Sattel (1876m). Down at Arabba/Rèba (1597m) I stopped for water and was looking a bit curiously on a family of old farmers living with cattle in the centre of the village with hotels around. Nice, but wonder how long they will be around.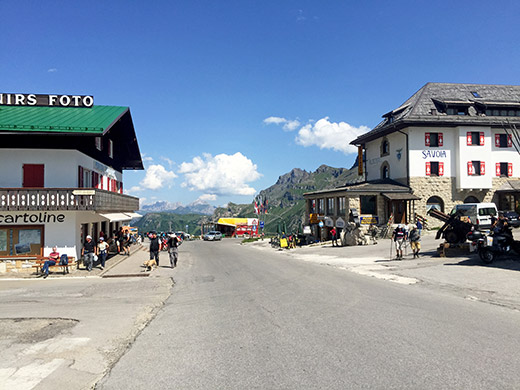 Time to climb the last, but not least, pass in the Sella ring – the nice Passo Pordoi/Jouf de Pordoi/Jou de Pordou/Pordoijoch (2239m). This has quite a lot of serpentines on the way up and again I passed by a few of the slower Randolomitics riders. A classic stamp at the bar at the pass and two photos from the top. Here in the direction of Arabba.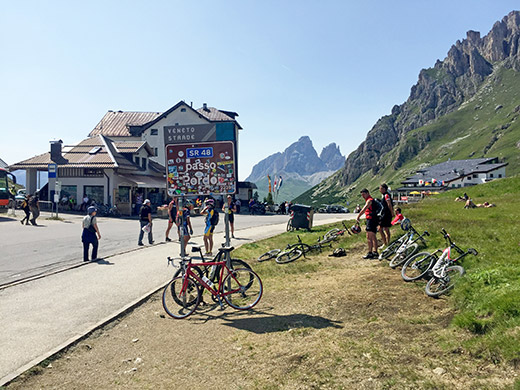 The pass sign all covered with stickers (there were stickers when I started cycling here back in year 2000, but not quite as much as they have these days, but maybe they have just not changed the signs or cleaned them up for long. It has become sort of accepted though and no problem really (except if you want to add your own to a free spot …).
Now I was starting to get a bit tired, but it was a long downhill ride back to Canazei/Cianacèi/Kanzenei (1450m). I was not all that relieved by that as it would get hot now for a while again. I stopped again the same pastry shop (they had a god cake with berries there that I had a bigger variant of now than before). Then it was down the main valley on the busy road there to Pozza di Fassa/Poza (1303m). I did not feel too good at the start of this climb, but stopped for water two times along the road and again passed by the same people I passed by on the Pordoi climb.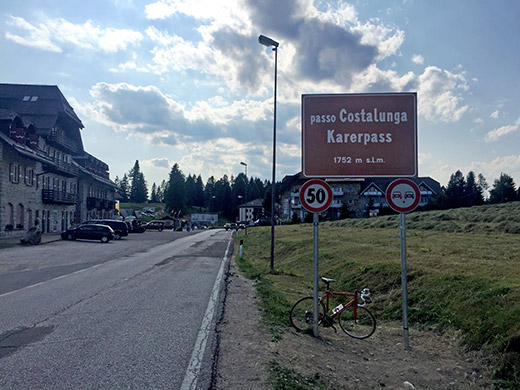 Finally up at the pass, which is not that much of a climb on this side and with three flat kilometres before the pass. Took a photo and continued down the other side on the road toward Bolzano/Bozen.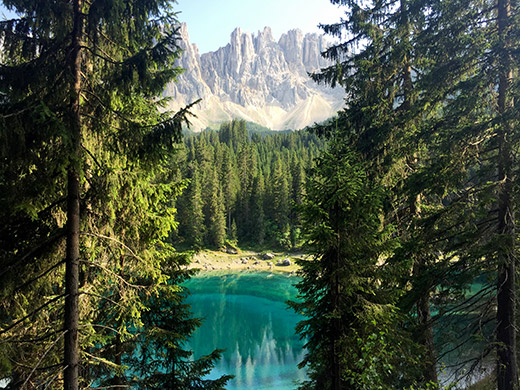 After a little while one comes to the beautiful Kareersee/Lago di Carezza and I again stopped for a photo. Then the others passed me by and I hurried up on the bike and hang on to them on the long and nice descent. I knew this descent from before when I descended it on a wheel that could not free-wheel as the body in the rear hub had broken, but as it had just gotten bad I had noticed that I could get the wheel to free-wheel if I kept the pedal in a certain position and not move and went down in like 60 km/h, but had i stopped to freewheel I would quite likely have had a crash or the wheel/bicycle would have been destroyed (as I noticed when I failed with this manoeuvre in testing it out earlier in very low speed), but I was lucky then, but later still injured my wrist that day.
Finally down at Birchabruck/Ponte Nova (876m) we had to get a stamp, but in the bar they could not help us, nor at the grocery, but at the third kind of gift-shop we got some decals. Some went on and some waited at the café. I bought a (warm?) soda and yoghurt at the grocery and went on and passed by the others soon, saying we would likely not meet again until the finish, because now I felt it was time to hurry up a bit to get finished before dark.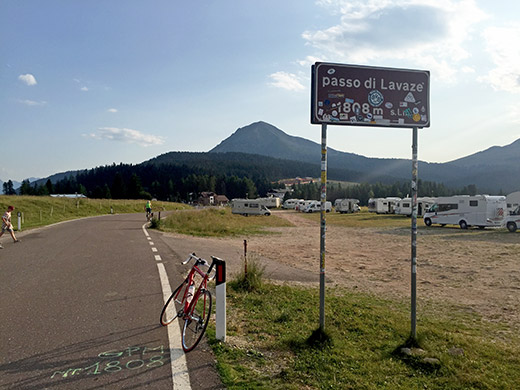 The climb to Passo di Lavazè/Lavazè Joch (1807m, road height 1818m) is by no means an easy climb with 942 height metres, but also a quite steep section in the middle. I did feel quite good though, but almost had to give up going hard near the end as the road keeps twisting around and it is easy to imagine you have reached the pass before you are truly there. Looking ahead at the pass here.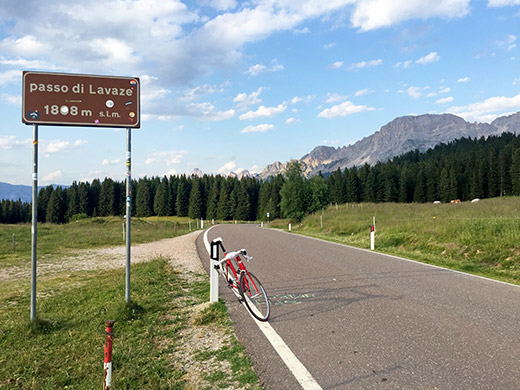 Here I look back to where I came from (the pass is 1807 or 1808 like the signs say, but this is the road where the signs are at (1818m) and the pass is by the restaurant seen (vaguely) in the photo above. It is not the most charming pass in the Dolomites, but there are better views at the nearby Passo di Oclini/Joch Grimm (1990m), which can be reached in a short while on an asphalt road from the restaurant, but that was a detour I was not into doing now.
Full speed down a twisting and entertaining road, and a mostly good road too. Still I reminded myself that I was tired now, so better take things a bit safely down there. Still it felt good that there was only one climb left, so it all felt a bit easier now. Over the cobblestones in Cavalèse (1003m) and over to Tèsero (988m) and I saw the turn-off, but had to get that last stamp and the ar was luckily easy to find as I was on my own now and there were one Randolomitics guy just leaving as I came there. Could have hurried on to hang on to him, but decided to take things easy and ordered a coffee and coca cola and visited the toilet. Now I felt better prepared for the final climb, a climb which was actually the hardest of them all – Reiter Joch/Passo Pampeago/Passo delle Pale (1997m, road height 2004m).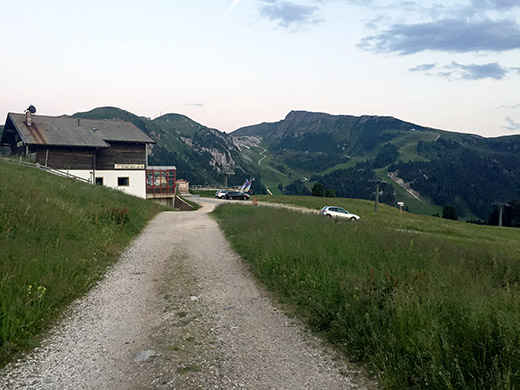 I caught up with the guy from the bar half-way up when he was zig-zagging his way up the steepest part and I demonstratively went straight ahead, while encouraging him to keep going. ;-) It was indeed hard for me too, but it felt all possible and it was good I stopped a little longer at the bar.
The last part is on a quite narrow road that was mostly all gravel for the last 3 kilometres to the top when I went up here back in 2003 and even if the Giro d'Italia had been up to Alpe Pampeago before, they never then climbed the last part, but in 2012 they were up there and I think the road got asphalted for that occasion. It took quite some time before finally reaching the finish at the top and the twilight was upon me. Was there 21:01 (tried to get there before 9 pm, but missed it with one minute, I think). Was asked if I wanted something to drink before going down, but first said no. But then took the photos here and the other guy came up and we talked a little and then decided I could just as well drink a little before going down again.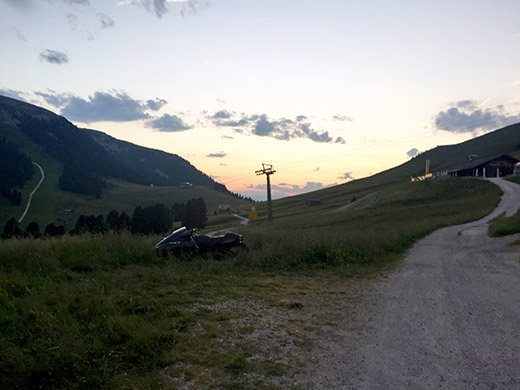 Then I got out to go down and, believe it or not, but then detected that I had a flat on my rear wheel AGAIN. I mentioned it to the guy there and I said I could fix it, but he offered to get hold of another guy with a car and drive me down instead. I also had not taken the lights with me, so it would have gone a bit dark in the steep wooded middle section as I noticed when we went down with car lighting up the road for the other guy going down.
We me the other people I talked to last in Ponte Nova/Birchabruck just arriving at Alpe Pampeago when we were going down, so they were not so very long after (as I had imagined). Had a shower and walked up to the late opened pizzeria and again they only had pizzas to serve, but they were good (the service was not the best though this evening). It would have been nicer to have had something to eat up in lively Cavalèse this evening, but it was not an option cycling up there this evening. The quicker guy I cycled with between the Valles and Fedaia passes and his girlfriend was just leaving the house as I arrived – if I had been quicker, maybe I could have joined them. Anyway I slept well this night.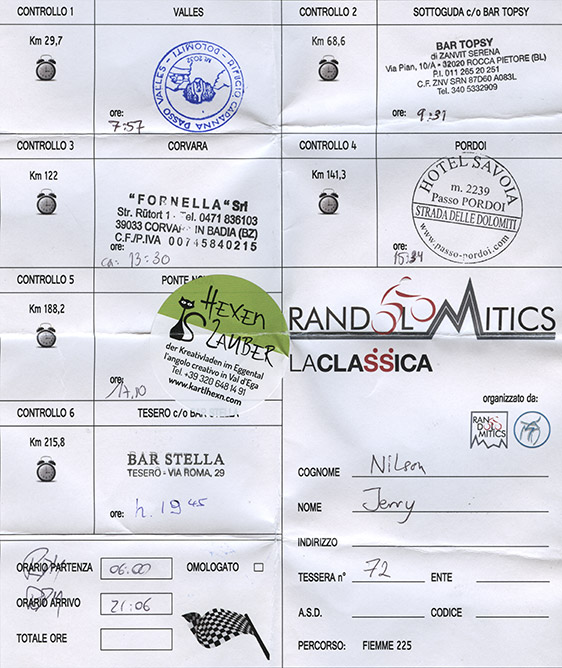 Here are the stamps I collected during the day.