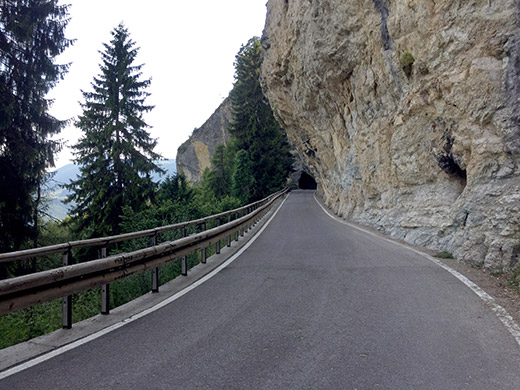 I managed to get up in time for breakfast, but took it rather easy in the morning. Also had to fix the flat from yesterday again and was happy to be able to borrow a good pump from the other guy faster than me in the Randolomitics the day before. It was Sunday now, so just had to hope I would not get another flat until Monday … . I had decided to make the climbs south if Trento that I had originally planned to do before the Randolomitics, but had to skip. This had the positive side of not having to do any real climbing for most the first half of the day as it is quite a bit of a way down to the first climb south of Rovereto. I was originally suposed to take the train from Merano to Rovereto, but now it was better to just cycle down there.
I went down the main road to Molina (which was rather bad) and then continued into the Valle Cembra and took the Valfloriana road on the south side, which is less exposed to sunlight and maybe has less traffic. Met a long caravan of motorcyclists early on though. It is a quite nice valley, but the road only descends in a few places. I stopped by an open bar by some earth pyramids, just before the only crossing over the valley along the way, for something to drink. Very hot now and I moved on somewhat soon. Stopped again at the crossroads at Lona/Lases and got a warm coca-cola in the grocery and something else just before they closed around 12 or something in the day.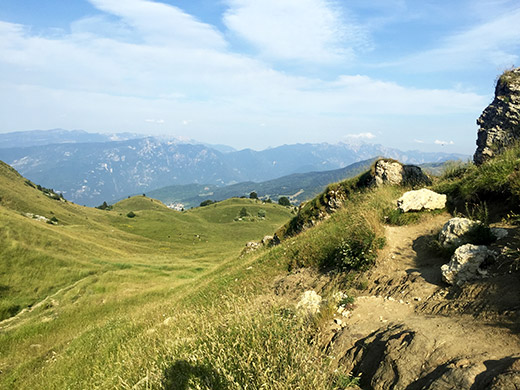 Then hanged on to some local cyclists along the Lago di Lases and a bit further down until they took another road climbing up somewhere (probably to Fornace). Then a speedy descent on a good road (the road in Valle Cembra was all good too). One is not supposed to cycle down on the main road in the valley here between Trento and Bassano del Grappa, so went via Civezzano and up a small road with a short steep ramp before a long descent to Trento, guessing my way down to the centre not wanting to go too far up north.
Just cycled through Trento without stopping and later got out on the main SS12 road south. Stopped by the road-side restaurant La Posta Vecchia, just where one could start trying to climb the hardest climb in the world – the infamous Scanuppia/Malga Palazzo that is strictly forbidden for cyclists and for good reasons as you can neither climb it nor descend it with a road bike and only a few have made it with a mountain bike and think they may have had to adjust their MTBs just in order to make it possible. A good place for those wanting to test brakes and are willing to risk life for it. I tried to go down a bit but got strange sounds from the brakes I have never heard before, when I was up there a few years ago, so stopped while they were still functional. No way I would want to try out disc brakes down here either.
The restaurant was actually rather good for being a road-side restaurant. I mostly just wanted to take some heat out of the middle of the day and get as prepared as I could for later. Then I went through Rovereto and it was still a bit of a way to go to where I intended to start the climb to Monte Bondone.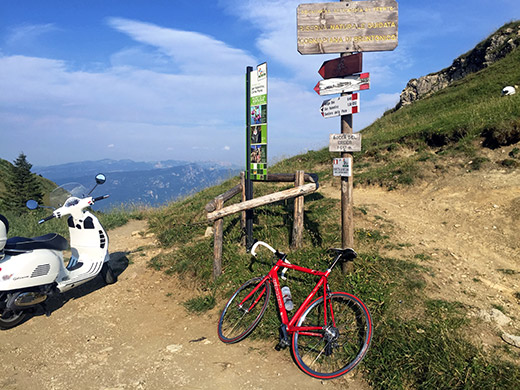 Down at Chizzola (168m) I could not get much lower. Searched for water and possibly an open shop, but found only a credit card machine that I also needed to use. As I left to start the climb there is a good water pipe just where the climb starts thankfully. Now I had thought about taking a special road up there, but got confused and never consulted the iPhone map until later, so went up via Brentonico and the main road to Bocca del Creer (1617m). I should have turned off on a narrow road from Corné (465m) via Prada and Polsa and a road with some shorter gravel sections that eventually takes you to the main road at Passo di San Valentino (1314m) after a descent from Colme di Pravecchio (1516m), but this road will be for another time (it might actually be easier looking at a profile for the climb to Polsa at salite.ch, but maybe that profile is for the easier road that takes off earlier just when climbing the first steep section).
Now the climb from Chizzola to Bocca del Creer is no easy thing. The first 2.7 km is above 10% on average (see Madrera at salite.ch) and with the heat here this is a tough start on a long climb. Unfortunately there is no profile available at salite.ch for the full climb up this side, but guess it is the hardest side up there, in case that is how it felt for me this day.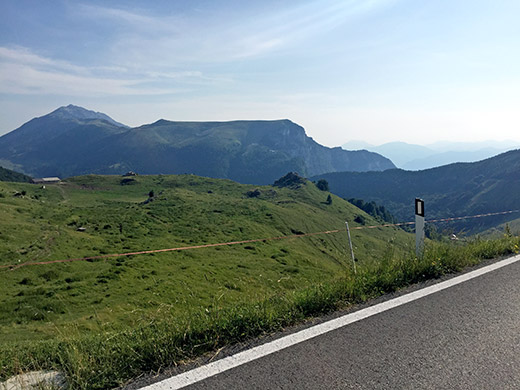 At the top you see the last section of the climb to Bocca del Creer where it is finally a bit easier. The next two photos above are from the pass itself. Then here we have a photo on the nice road down to Bocca di Navene (1424m).
I stopped at Bocca di Navene by the restaurant there to have a coffee and some photos. This is the only place along the long Monte Baldo road where one can see the Lago di Garda on the other side of the Monte Baldo mountain ridge.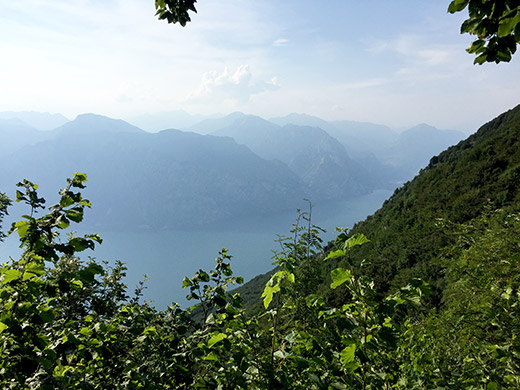 Here I stand leaning out the last point one could get to in order to improve the view from the restaurant, to get a photo all the way up to Riva del Garda on the north end of the big lake.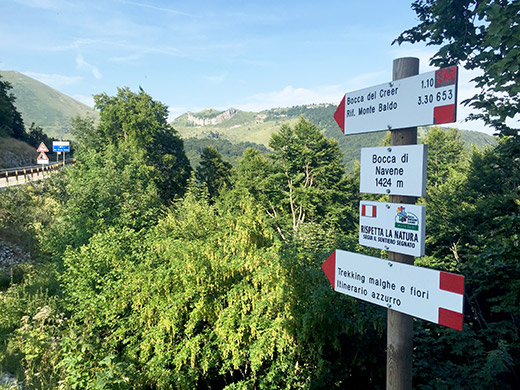 And the pass sign and the view back up to Bocca del Creer. The man at the bar wondered about my jersey for the Monte Grappa and suggested I should rather have a Monte Baldo one (or so I gathered). I continued on the long and winding road that I have visited in this part before, but have never done the whole road down to the south. I passed by the steep cul-de-sac up to Bocca di Tratto Spino/Tredes Pin (1757m) that ends with a gravel section to a restaurant and cable car station coming up from Malcesine by Lago di Garda. Went up that road also earlier.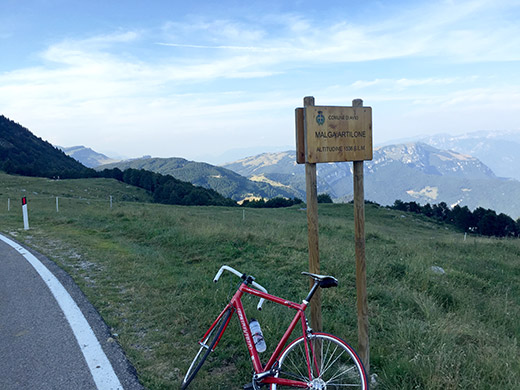 This is at Malga Artilone (1538m) not far from the high point (1614m) of the Monte Baldo road (apart from the Bocca del Creer at basically the same height). A motorcyclist cheered me on as if I was trying to go fast, but I was surely not as I was rather tired.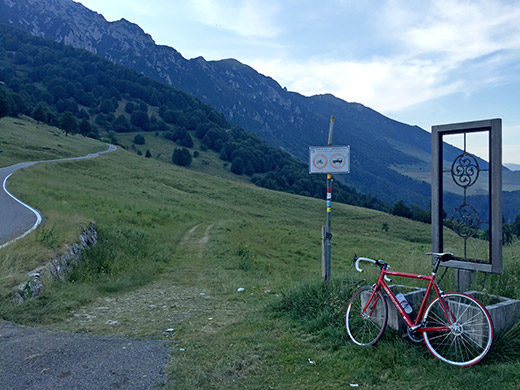 After an abrupt downhill section, I stopped again by the Cavallo di Novezza (1432m) pass, where one cross over from Trentino region to the Veneto one. Here looking back up the Monte Baldo.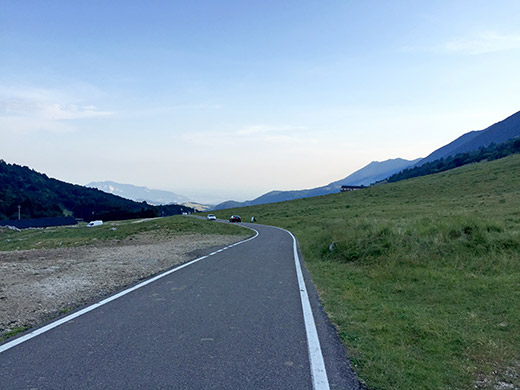 Here comes the rest of the descent and it is long, quite long. A bit further down there is a road choice and I took as planned the road over Passo del Casello (1052m) to Ferrara di Monte Baldo and Spiazzi. The other road was anyway closed for traffic.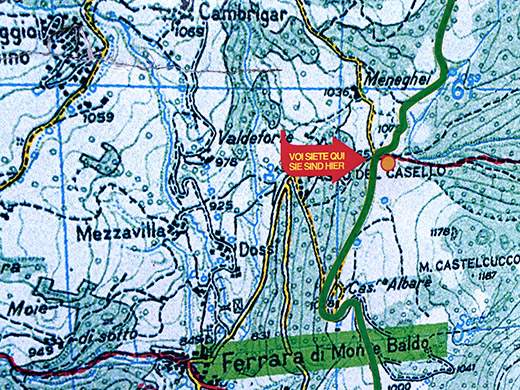 A map at Passo del Casello. Down at Spiazzi a disheveled not very old man on a tractor drove out on the main road looking happy and much like a village joker and I had gotten a bit bitter by now over the increasingly bad road and thought I should have taken a photo of him to say this is now standard transportation in Italy and the height of fashion (it might be the same in fashion stores in Milano, who knows … ;-)).
Oh well, I eventually got down and the road was better here and there. I found the right roads mostly by guessing, but sometimes had to stop to make sure I did not go totally wrong. Eventually I was down on the SP 11 not far from its very start at the beginning of the huge Adige valley from Verona to Bolzano. No more sun now, but it was still well above 30 degrees in the evening down here. Up on the Monte Baldo road it had been quite nice with down to 18 degrees and almost perfect (and the road is almost perfect too in the Trentino section).
Almost no traffic on the SP 11 down here in the evening, but still someone should of course complain that I was not cycling on the gravel-filled bicycle path next by. Thought it got better and started cycled on the cycle path but it soon turned worse again, so I went out on the main road as soon as I could again. Tried to hurry on as it was getting late now and I still had one more climb for the day. After what felt like forever, I eventually got to Rivalta and could luckily cross the river here to Peri (144m) and immediately started out on the climb as I did not want to stay down the valley as I doubted I would be able to sleep well down in the heat here.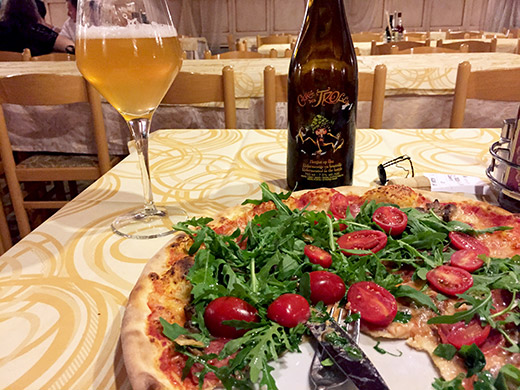 The road looks inviting and it is a popular climb with cyclists in the Verona area as far as I understand and a decently steep one. It is one the most southern climbs east of Liguria and Piemonte in the Alps. It goes first to Fosse (930m), which is the normal end of the climb and the end for me as well this day. However, I only got 2-3 km up the 9.2 km long climb before I was again greeted by a new flat. I stopped and pumped it up as well as I could to see if I could continue closer to the top, but soon had to stop again, and continued like that, but soon didn't get more than 100m before it was time to stop again, so gave up. Walked another hairpin and the started to try and see if one of the few cars on the way up might stop and get me up there before it was all dark.
Luckily a car with a family stopped, but they had just enough space to bring me and the bicycle along too. They were quite nice and helped me get up there and asked for me about a place to stay at for the night and was suggested a bed & breakfast, that I thought sounded like a great suggestion based on my experience with such in Italy, but they were not all that sure and maybe thought it was a bit away from there, but also got confirmed that the bar at the square where we arrived in Fosse was indeed also a hotel, so we went for that and it was great – very simple, quite cheap and nice people. (Thanks!) They did not serve any dinner at this bar, but there were a restaurant 300m away they said – it was almost a kilometre away though, but there it was – a great restaurant/pizzeria and I could have my own special pizza as seen here with mushrooms, fresh tomatoes, rucola, salami, etc. Also a nice big Belgian beer! The dinner costed more than the hotel, but that is how it should be.