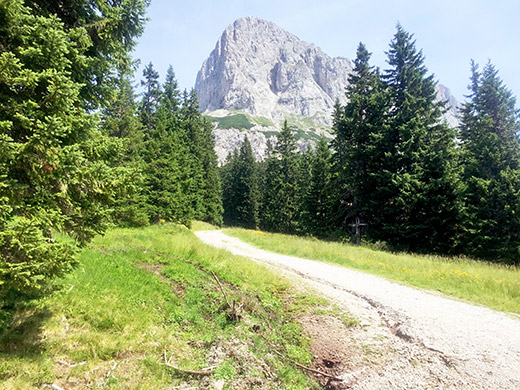 It was a nice and fast descent in the morning from Hohentauern/Triebener Tauern (1277m) to Trieben (698m). Cannot remember if I stopped there (think I stopped shortly by a gas station) and the continued up a rather narrow road at the start to Kaiserau/Nagelschmiede (Sattel) (1101m) – and easy climb.
From there a road goes to Oberst-Klinke-Hütte (1486m), which is another BIG climb. I had forgotten that this road was a gravel road. The gravel starts after half a kilometre by a parking and toll both. The gravel is wide and smooth though, so no real problem here (slightly bad only in one bend). Again a somewhat short climb, but up at the hütte I wanted to continue to the pass just above – Kalblinggatterl (1542m), but the gravel road up there was forbidden for cyclists and there were lots of people out here, so I walked up and only cycled the last metres to the pass.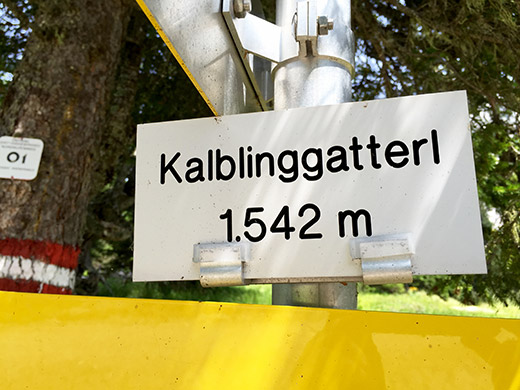 Above the mountain above the pass and here the pass sign. I cycled all the way back, but stopped for a relatively expensive radler at the hütte (also not very nice).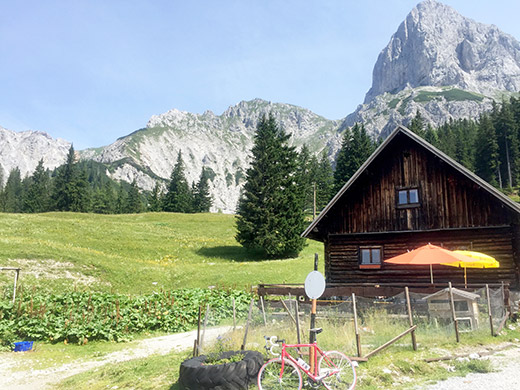 A hazy view from the hütte.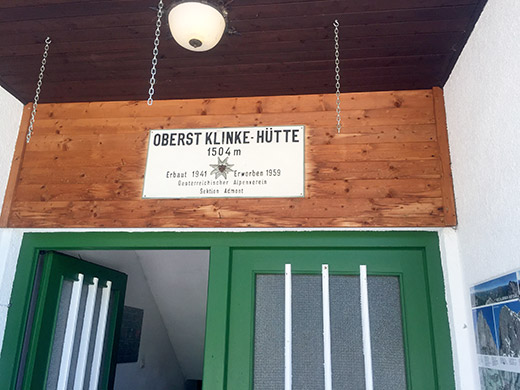 And a photo of the Oberst-Klinke-Hütte sign overstating the elevation again.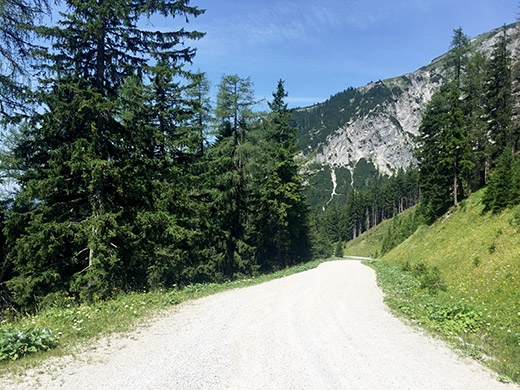 Down the gravel road I stopped for a photo to document how it looked here – not any great views. Down at the pass on the main road from Trieben to Admont (647m) again it was again a nice and fast descent on a good road. The climb on this side is a bit harder and it is also a road popular with motorcyclists.
Down at Admont I was not sure which road I should follow, but followed the small road along the railway as planned. This was not all that good and eventually it turns to gravel and then I turned around and took another road there going over the valley to the main road that I then followed to Liezen, where I stopped for lunch at a McDonalds. This is a very busy town located in an important crossing between roads in many directions. From Admont on I was finally moving back toward the western Alps. I followed the long main road to Gröbming (767m) where I stopped by a café in the centre, mostly because I had noticed bad weather nearby in the Schladming area, where I was going to skip climbing to Planai (1904m), which was a good idea given the weather over there now.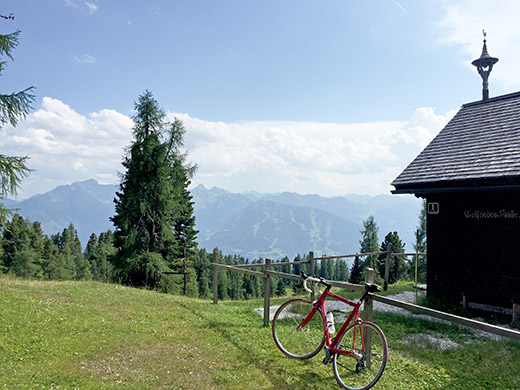 Nothing happened here with the threatening bad weather and it continued to be very hot. I started out on the Stöderzinken road hoping it was not closed for a classic car event up there announced in the town, but it must have been another day. This is a rather popular toll road, but it is not all that exciting after all. There are some decent views higher up where it is also decently steep. At the top there is a restaurant/gasthaus (Steinerhaus), but down a short steep gravel ramp is another restaurant that I decided to visit. I think I had an apfelstrudel and radler again (cheaper than at the Oberst Klinke hütte).
I think you can argue that there is a pass right here in the photo or nearby, but no official pass name appears up here at all. The high point of the asphalt road at Stöderzinken is at 1829m and here at the pass it is 1816m.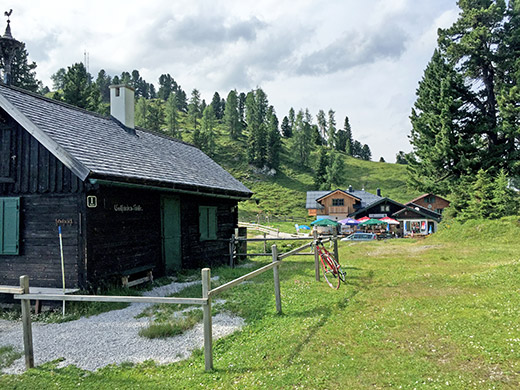 A view back to where I was having eating.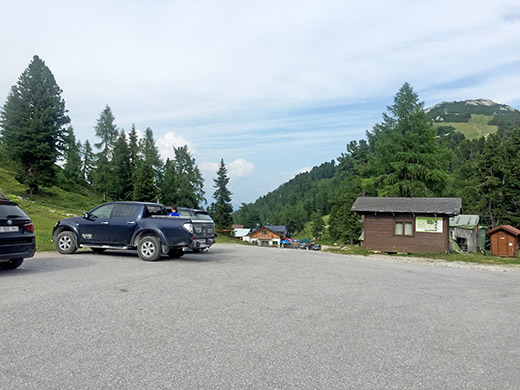 Here is the view from the top of Stöderzinken.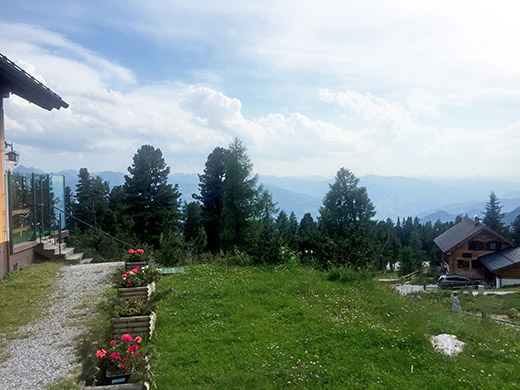 And the view from the side of the top restaurant.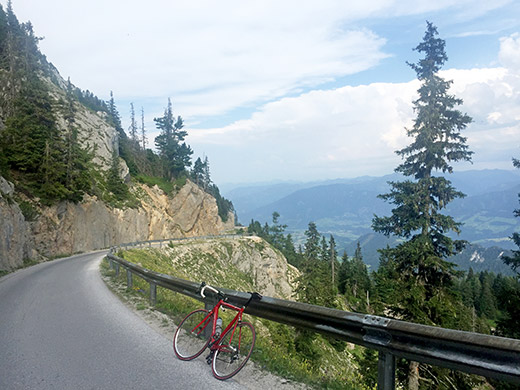 Some photos on the nicer parts of the serpentines on the last part of the climb. Here looking down toward Gröbming.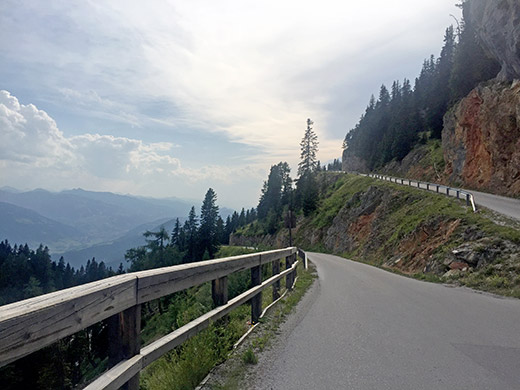 Here looking in the direction of Schladming and now the weather no longer looks ominous there either.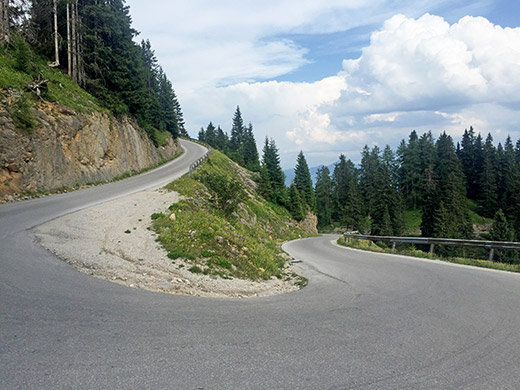 One of the steepest ramps and here it is like 14-16% or so.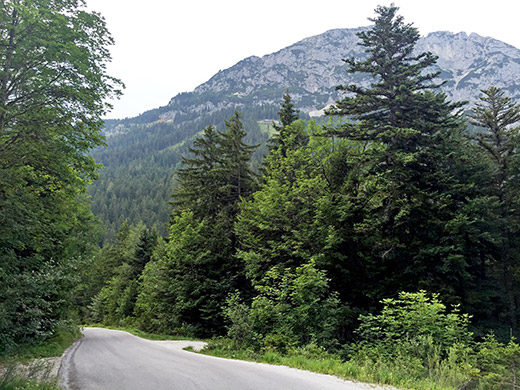 Down in the woods looking back up (there are cables up there that people went down on side by side one and one in good speed, but cannot be seen in the photo here. The mountain looks a bit boring from here. A bit below here Assacher Scharte (1250m) is announced in a bend, but this pass is further away on a path from here, even though one arguably comes to at least one pass (Stöderl) along the way to/from Stöderzinken, this is not one of them.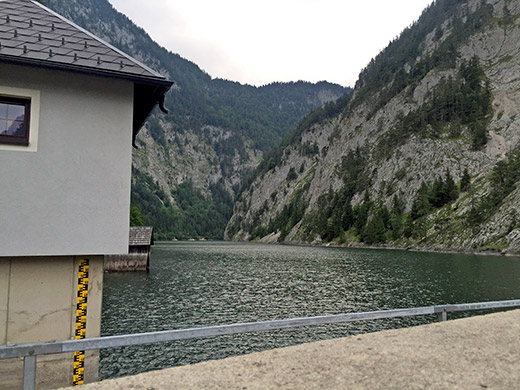 Down at Gröbming I went back on the main road a little to Tipschern (674m) where a quite steep road climbs up the Salzatal. It then descneds a little to a turnpike across the road and then you come to a dam building.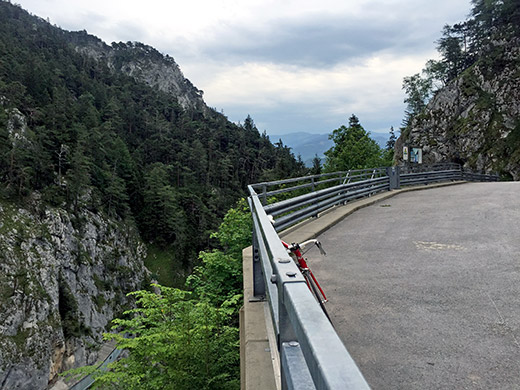 Not many people out here this evening. Only two people packing up by the road block/parking place just before, but met some people further along the very long dam here, the Salzastausee.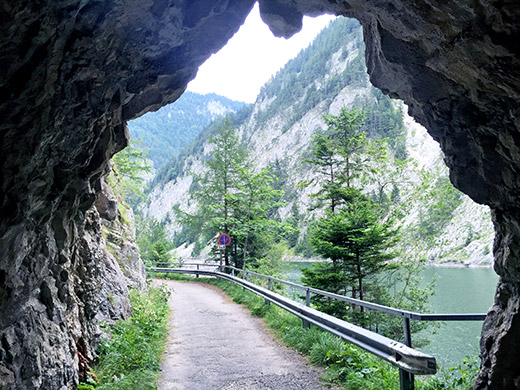 Apparently this road has been blocked for some time and I was not totally sure it would be passable. There are some nice small tunnels early on like this.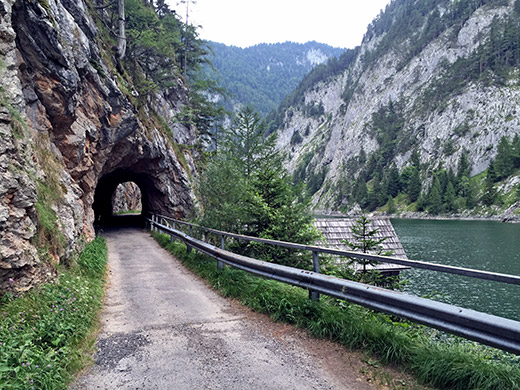 After a while I passed over some short gravel parts and guess that is where there had been landslides making it hard to pass here earlier, but it was all cleaned up, though no new asphalt. Still the road was all fine to cycle on with a road bike if one goes slowly.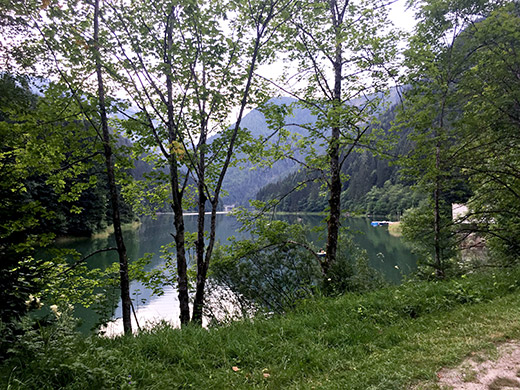 Here at the very end of the long sea and before getting here the road hade become wider and better. I went up to Bad Mitterndorf and noticed the weather again had become much less good and it looked bad in the direction I was going, but just to go ahead and see where I would end up. At Knoppen I had to go and search for cover as the lightening had started to strike down very close to me. I tried and made myself small and go as fast as I could. Saw a gasthaus in Knoppen with a big overhanging roof and went in there just before the sky opened up fully. Now this was a closed gasthaus (the young people living inside nodded at me understanding I wanted to take cover). I had to stand here for almost an hour before the impressive lightening all around and hellish rain stopped a little. A man in a car also took cover under the big tree next to the gasthaus – almost dangerous to drive around in a car in this weather.
When it seemed to almost have stopped raining I went on in a very slow speed to stay dry and started to look for a place to stay for the night, but saw no obvious place along the road, so continued up over Radlingpass (853m) and still nothing, but the rain never ceased fully and it started to rain more now again. It was also starting to get dark. I went down slowly on the steep road to Bad Aussee (652m) and asked at the first place there, but no luck and was asked to ask in the centre of the village/town. There was only an obviously very expensive hotel in the centre, so looked a bit along the road out west from there and found a pension in an old house that looked perfect and indeed they got a room for me at an agreeable rate.
Bad Aussee was indeed a nice little town (or village), I managed to borrow an umbrella and went out to find something to eat. One bar was opened but they only served pizza at this hour and I was a bit tired of pizzas, so went on to near where I came down to the town and got a Cordon Bleu at a restaurant here and a beer to drink. All other places where closed on the way back to the pension. Many nice little shops in this town, but all closed.