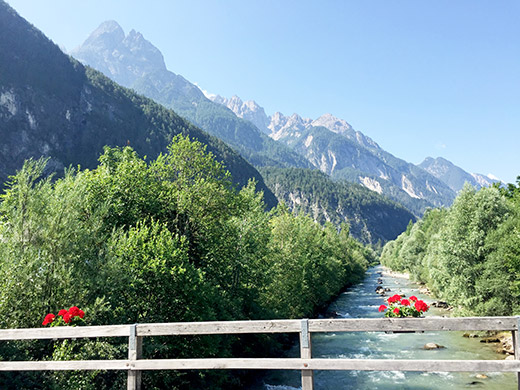 Breakfast as usual and an easy start on the flat road from Winnebach/Prato alla Drava over the border toward Lienz. The road only drops down at a few places and also climbs a bit at one place at least. One could also take the alternative Pustertaler Höhenstrasse here, but it add a lot of climbing, although on a nice road from Abfaltersbach. I would likely have found a good place to stay for the night in Austria too.
At Leisach I stopped and looked on the map and decided to go back some hundred metres to take the planned road over to Amlach bypassing not having to enter Lienz. The photo here is from crossing that river looking back on the Drava river coming down from Toblach and the Italian border. On the left hand side you see the Lienzer Dolomiten, a little group of dolomite mountains outside Italy. Later the road was closed off because of some building on a house, but I could pass by. It was very hot and I found only water, but no shops on the rural road, but stopped at a restaurant in Tristach to get a coca-cola.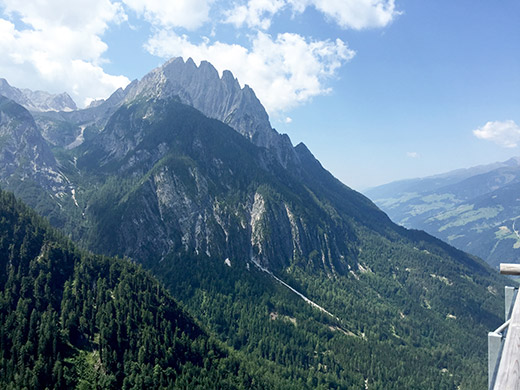 The reason for taking this way was to climb the Lienzer Dolomitenstrasse which is one of the classical extra difficult road climbs in the Alps and I had also realised that the top section could actually be regarded as a pass, even if there is only a path down the other side and no proper pass name is giving (that I know of) and it would thus be one of those few asphalted passes above 1500m left to do for me.
It was going to be a tough climb in the heat, but I had an easy start so nothing to complain much about now. I had also thought to climb two BIG climbs on the way here: to Volkzeiner Hütte (1884m) and the Kalser Glocknerstrasse to Neues-Luckner Haus (1919m), but had to cut out as many not all that important climbs out to make the plan work out. So now I better try and do some of the climbs that made me go the way I was going! The Lienzer Dolomitenstrasse is steep from start (661m) outside Tristach. Photo here from the Lienzer Dolomiten-hütte (1615m) upon arrival.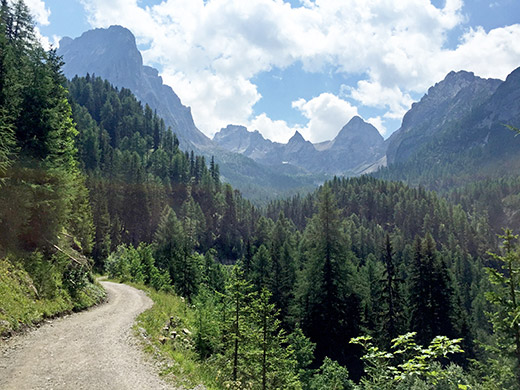 No more road cyclists after meeting two separate ones coming down early on, who might just have been up by a lake here (both rather young and one of them a girl). Half-way up one comes to a toll both where one could just continue up. I caught up with a man cycling up with his child on a tandem-cycle for carrying a young kid on the back. That looked quite demanding and he was zig-zagging, but did not give up and just went very slowly. Then I came up to a mountain biker who speeded up as he saw me approaching slowly and I just could not try to hang on to him, but soon he got tired and I passed him by just as I passed another guy by at the same time.
It was a bit fun, but one is just a sitting duck on a climb like this – you cannot do much else than keep your own speed (whatever that is) if you want to get up. I think I have never been as sweaty in any sauna as up here – it was hot, steep and very hard. Here a photo on the gravel road that continues to the Karlsbader Hütte, a man told me this was nothing for a road bike, but the road did indeed look quite good as far as I went, but really had no plan going up there as it would mean almost the double length and it would soon get as steep as before or close if I understand it correctly. I was just curious to see the views ahead here, but it was quite some stretch before one comes above the tree line here, so turn around.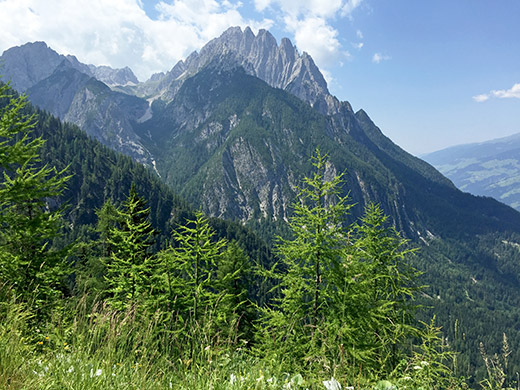 A good thing with going a bit on the gravel road was that there was a very good water pipe a bit ahead here and you also get a great view of the Lienzer Dolomiten-hütte when you return as seen in the photo below!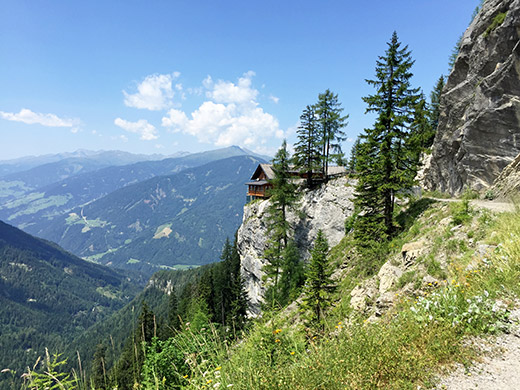 When I arrived at the hütte (that I had originally planned to stay the night at and it would likely have been a nice thing) I stopped to have a Radler and Apfelstrudel mit Eis, as is almost the standard now for me in Austria and available almost everywhere. Did not quite dry up, but could clean myself a little before returning down. When I was going coming back to the hütte the man with his child arrived at the hütte and I gave him my compliments.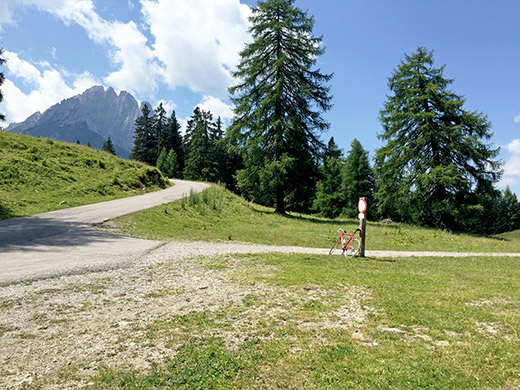 The asphalt runs out like 150m before the hütte at 1610m where there is a sign by the end of the parking place. Just below the parking place is the pass at 1576m height and it is also where the steepness ends.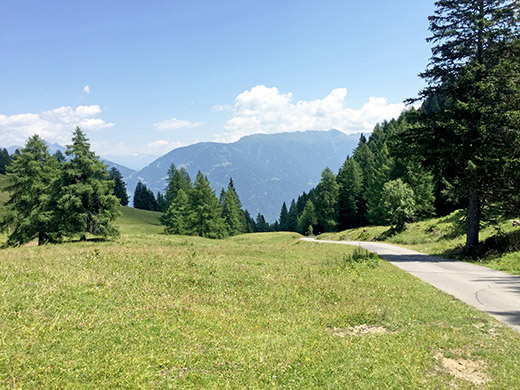 It might not look so steep down the road, but with an average gradient of 13.6%, you know if you have studied the salite.ch website a lot that there are very few climbs with sections longer than 5 km over 13% on average. Monte Zoncolan and Punta Veleno/Telegrafo both are above 15% for 5 km, but here it is over 7 km (for that length they would be rather equal, but they are ultimately harder as they are longer). I stopped a few times on the way down to let some heat dissipate from the rims (even though it likely would not matter much).
The a somewhat longer stretch than I had remembered (from back in 2000 when I cycled up to Lienz on the main road down here) to Oberdrauburg (623m). From there I went in a very good speed to the top of the next pass, the Gailberg Sattel (981m) which I thought should be very easy from memory and given that it was not so many height metres, but one (or just me?) always tend to underestimate climbs and I got tired here too. Then a fast descent down to Kötschach-Mauthen (697m) on a surprisingly bad road on that side, but roads are often in bad shape in the Klagenfurt region of Austria I have noticed.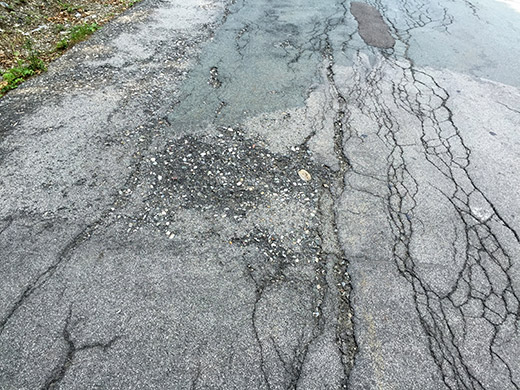 I stopped at a boring café down in the village by the road for a cake and beer, I think. Then continued on the road to Italy in order to return to Italy this day. Here is a photo from that international pass road on the Austrian side! (Even the Italian I talked with later in the evening was a bit surprised the road was much worse on the Austrian side … .) Bad roads can make you tired as much as steep roads and headwind. The Plöckenpass/Passo di Monte Croce Càrnico road is also not the most exciting road on this side.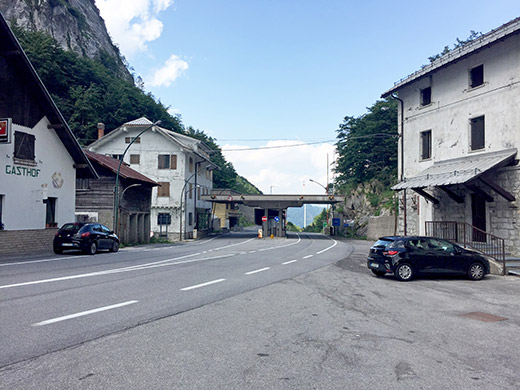 Finally I was up at Plöckenpass/Passo di Monte Croce Càrnico (1358m) and took a photo mostly to document how ugly this pass looks. The golden days have long since passed here I am afraid.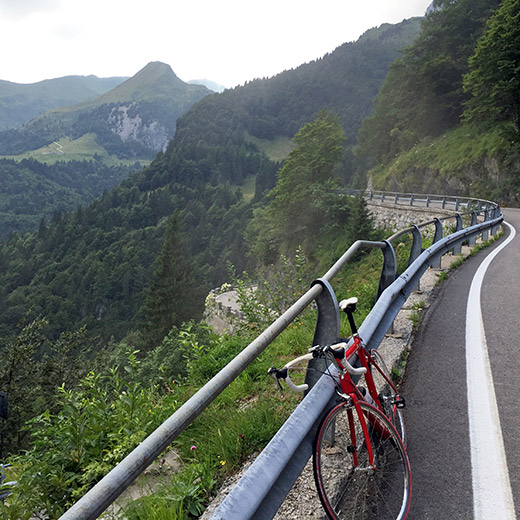 The Italian side is however much more charming and still quite well worth visiting. Not sure how I managed to take a square photo on the way down here, but the controls are easy to touch on the iPhone … . The mountains in the background harbors one of the mythical gravel road passes I have so many times hope to try out, but again had to skip it. It is the Forcella Moraretto/Morarêt (Rifugio Marinelli) (2112m), which might or might not be possible on a road bike. The gravel section on the other side should be very steep and on this side it should not be possible at all with a road bike, even though there should be some concrete sections.
Tried to find another café or grocery, but knew from earlier that I had a hard time finding anything around Paluzza and failed this time too. (Must ask someone next time where they have hidden the grocery store and café.) Nothing in Timau, nothing in Paluzza, nothing in Cercivento (that was open when I was there). So I just continued according to plan over Sella Valcalda (950m), which is another climb easy to underestimate (from start of Cercivento (556m)). After a quick descent to Comeglians (familiar to me now after have been there many times now), I found an old café/bar open and stopped there to have one of the pastries (they only had one sort) and coffee from an old lady not looking too happy about tourists, but it is a nice genuine place for sure.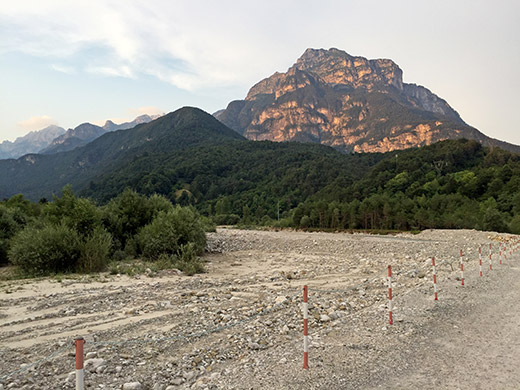 It was now already like 6:30 pm and I had to realise that I could surely not do the Forcella Moraretto/Morarêt this day, but worse I could neither really hope to do the next planned pass for the day: Passo della Forcella/Crist di Forchia (1825m), and still get to Ovedasso as planned for the night, especially not if going over to Lago di Saurias and Ampezzo as originally envisaged. So now I had climbed the Sella Valcalda for no reason at all. It would in retrospect had been smarter if I had done the Zuglio to Fusea climb down the valley toward Tolmezzo instead, which I have not done before.
Oh Well, I cycled down to Tolmezzo and stopped for a quick bottle of soda on the road to Amaro and eventually got to Moggio Udinese, where (I knew before) the road to Ovedasso had been demolished in some bad weather 2-3 years ago and now there was only a temporary road through the river bed, from where this photo was taken. The road was not good, but not so long either before I was back on asphalt. (The plan is to rebuild the bridge again higher up maybe next year.)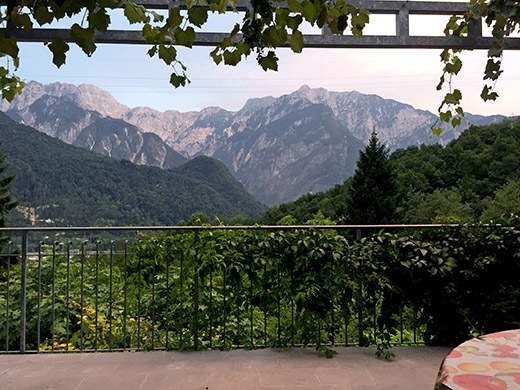 Then in a short while I came to the nice bed & breakfast I had stopped at another time when I came by around the same time (8 pm). The Rosa dei Venti B&B is a bit hard to localise on the Google map, but you will find it near the high point on the road here. Seems like they have updated their webpage recently though!
Here is the view from the terrace where I was having the evening dinner.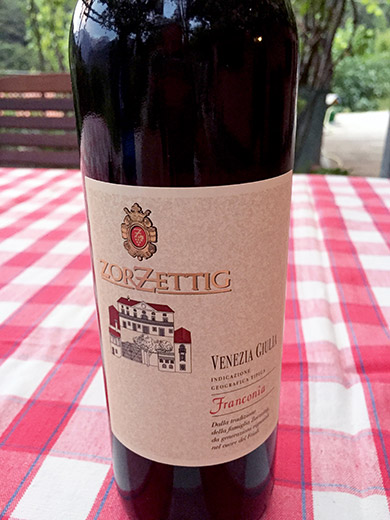 I really like this local wine, but am not an expert on wine, so maybe not the most exclusive, but quite in my taste though. It was a nice evening and even if this place is located along the main road from Italy out of the northeast corner to Austria with a motorway with heavy traffic, you feel quite above it here and the views are quite nice in the area with the very wild mountains and I suspect that many who travel through here fail to see what a nice area it really is.
Lovely stay again with the very nice family running the Rosa dei Venti (much recommended!).