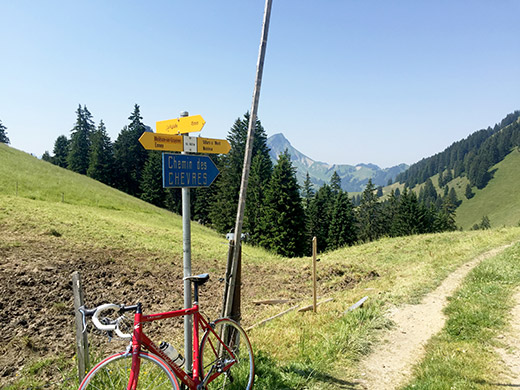 Another nice hot day and it was already hot outside when I took off down from Gros Plané (1476m). First close down to Gruyères there were some concrete pavement, but otherwise perfect. I took a short-cut via Gruyères (known for the cheese and castle, but did not stop as it was too warm) and a tiny private road down to Enney (718m) where I refilled with coca-cola and yoghurt at the grocery. Then up the quite hard climb to Col de la Vudalla (1451m), especially so in the heat, but it would get worse later.
A man told me it was not long down the gravel track to an asphalt road on the other side, but was not keen on starting out already with more walking down tracks, so I went back.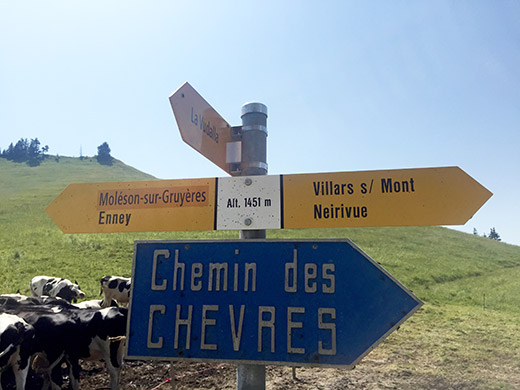 A little before the pass the road descends before clinging to the rock wall and then a final climb to the pass.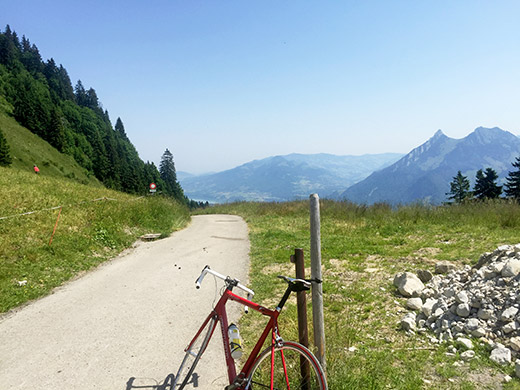 Here we look back and you can glimpse the Lac de la Gruyères.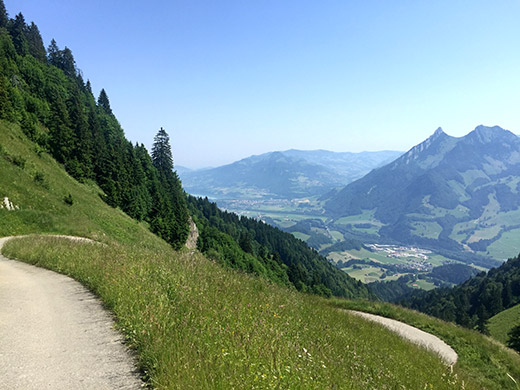 Here you see the last little climb up and you can sense the road by the rock wall ahead.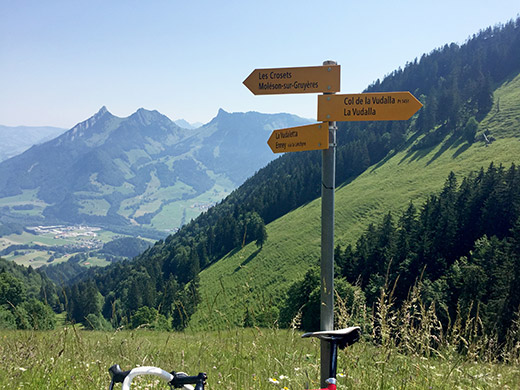 Here just below the pass is the directional sign for this pass not really mentioned anywhere on the Internet before (only one undocumented mentioned before). Also not in the Club des Cent Cols catalogue for Switzerland yet (but hopefully soon).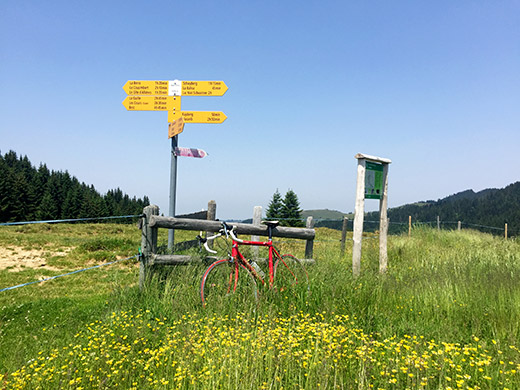 Now I cycled around the mountain across the valley above following the road toward the Jaunpass, which was hard as the heat of the day was full on. It was between 37-42 degrees Celsius in the sun for at least a week every day and sometimes it was around 38 degrees even in the shadows and on top of mountains. Soon after the turn-off for La Valsainte (monastery) and the next pass – Auta Chia d'Amont (1458m) (also a BIG climb), I stayed for a light lunch at the restaurant in Cerniat. The owner had previously taken part in gran fondo events in Switzerland and maybe elsewhere, but had stopped bicycling after an accident. They had very nice ice cream!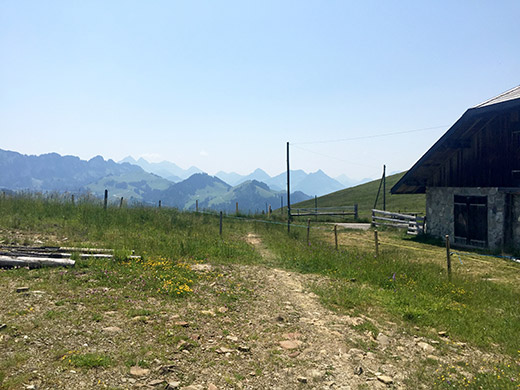 From La Valsainte (1016m) (not easy to get a good photo of the buildings) the real and steep climb starts, but it eventually becomes less steep and at Les Gros Chomiaux (1425m) the road descends again to 1410m before the final easy stretch to the pass (without a proper pass name). Again a short walk down a path to a road that was mostly gravel. It started with asphalt, but was then gravel for a long time, but good enough for a road bike here.
It is a long descent to Plasselb (828m). Some odd guy came going down in good speed on an ordinary bike (maybe an electric one) with a thick jacket on … . I could hardly breath even though I was going downhill. (Actually there is a little unnamed pass above Plasselb at ca. 882m on my way east from there.) I stopped very tired at a café/shop in Oberschrot and waited for quite some time before I felt fine again.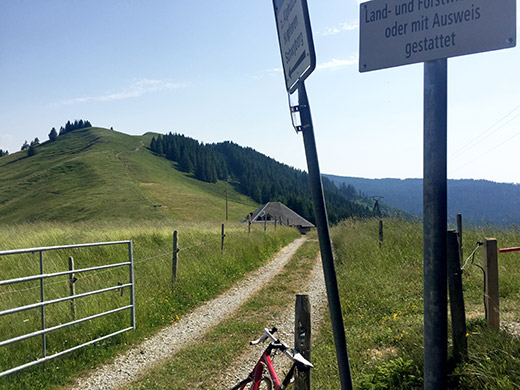 Then I continued on the main road up to Schwarzsee/Lac Noir, but turned off as planned up to Gross Schwyberg on a decently steep road, but doable even in the heat. I stopped at the pass up here at Hapfere Schwyberg (1528m) for this photo and more, but no real pass name, only biting insects.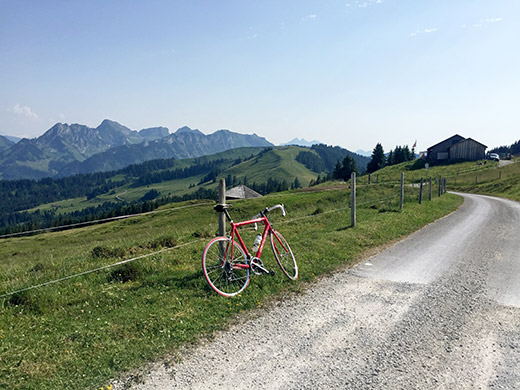 I continued up near the top of the mountain to where the asphalt runs out (1573m).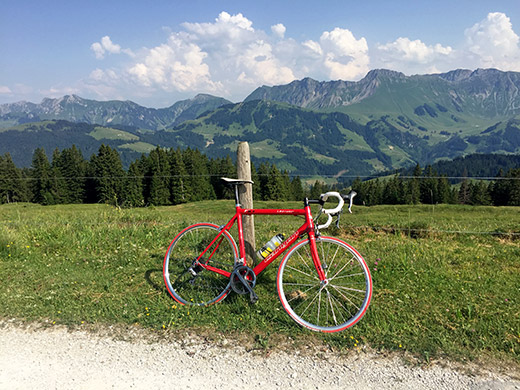 Right across the valley here is where I am heading next!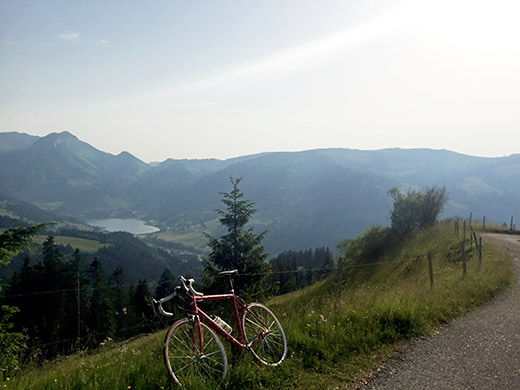 I stopped for a beer at a restaurant at the start of the next climb up the Ättenberg. They warned me the road was steep and so it was. I also managed to take the wrong road (as it looked better at first), so had to descend for a while and start again, but was rewarded by nice views at the top (here).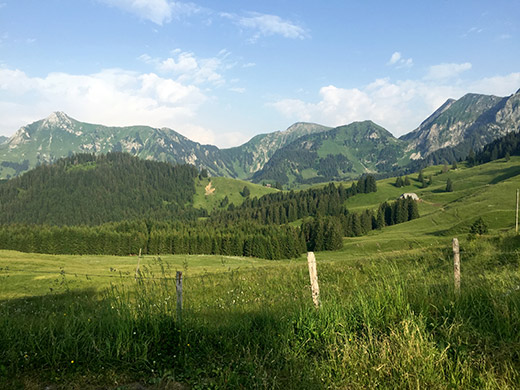 Quite nice up here and a steep descent along the ridge from Ättenberg (1502m) and up to the other side at a crossroads which is called Hohberg (1485m) (one of these points surely is a pass). There were a short stretch where asphalt was missing, but otherwise the road was asphalted from the the turn-off in Seeschlund (1018m).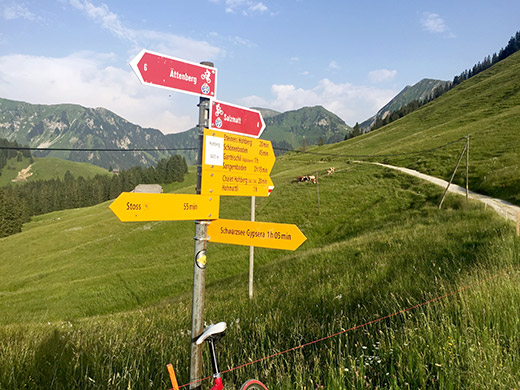 The other side from Hohberg down the Muscherenschlund valley that goes up to the Salzmattpass (1636m) (asphalted only on that side) was not asphalted though. The gravel track was partly possible to bicycle on and partly not. At Steiners Hohberg (1463m) the people living there were just about to leave and looked at me obviously wondering what the hell I was doing up there on a road bike, but then took off when they saw I closed the electric fence after me.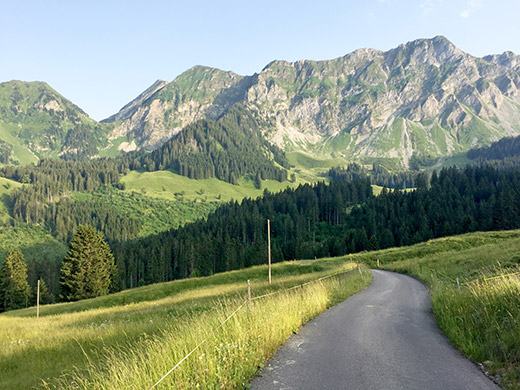 Down from Steiners Hohberg the road is nicely asphalted and it was relaxing (but not too!) to get down to Sangernboden (977m), where I did well to decide to stop for the night as a hotel. I thought I had read somewhere that the hotel here was no good, but it was indeed quite good and at a good price too with good food.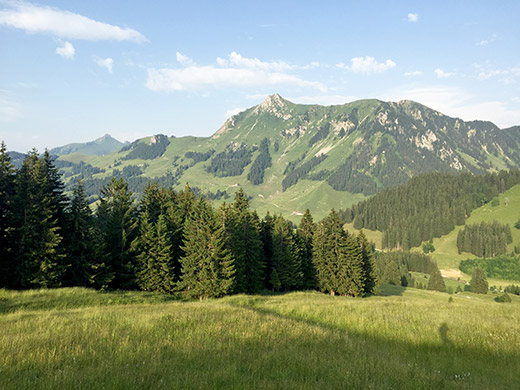 I was going up the mountain on the other side here next and I never saw a hotel along that road in the morning, so lucky I was staying in Sangernboden.