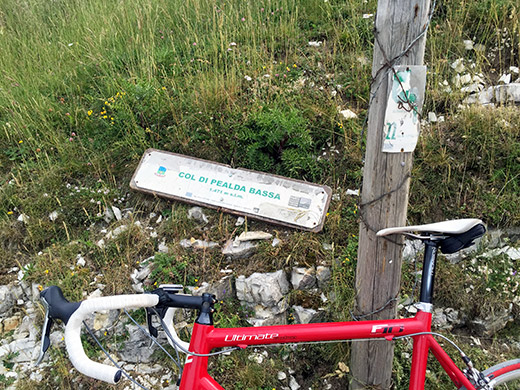 This day offered a rather cloudy weather, so not as warm as before, which was nice, but also not so nice views, but then again this is not the nicest of areas in all honesty (being a bit spoiled by even nicer places). Fixed the flat in the morning and then I was off again. The road from Peri (144m) to Fosse (930m) could be seen as only the first part of the climb up to Col di Pealda Bassa/Fontana del Colle (1470m), which is a pass, but passes are usually not referred to by Colle or Col east of the Bergamo area in Italy, so one could argue that this pass is not properly named (as they would in Club des Cent Cols).
I had read that the road up from Fosse to the pass should have some kind of "ecological" asphalt surface, which must be a joke as it was clearly a typical gravel surface for like 2 km and not the best, but good enough for a road bike. Anyway this was the road I started out on in the morning and I was happy I did it in the morning or I might have got very tired about it. It is quite a climb from Peri.
It is however even harder, and quite so, from Sdruzzinà (160m) also down by the SP11 in Valle Adige. The road descends steeply and extremely unevenly to Sega di Ala from the pass. Here looking in the direction of Sega di Ala and Sdruzzinà.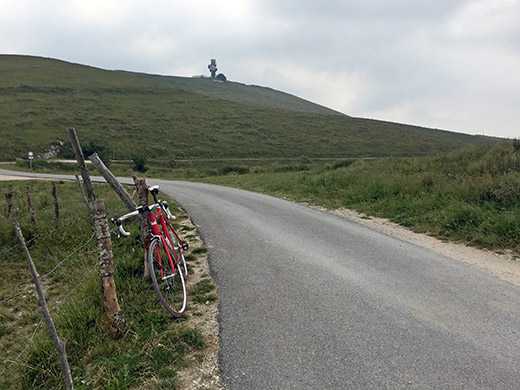 Here is the sender tower and Monte Cornetto (1545m) separating this pass from the Passo Fittanze della Sega (1380m) that I was heading to now via the descent to Sega di Ala. I climbed to Passo Fittanze another year from Sdruzzinà and it was quite hard, but this last section is only climbing moderately.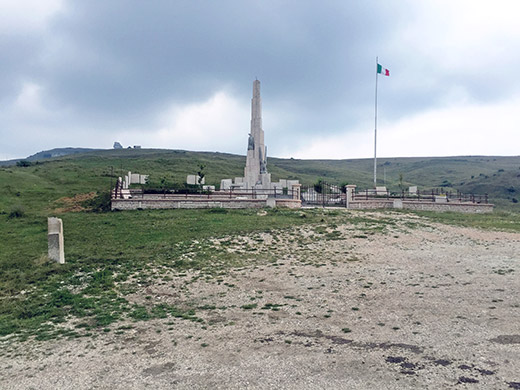 The reason for visiting Passo Fittanze again was that I had forgotten to go to a nearby pass I was not thinking much of last time I was here. This is the monument at the Passo Fittanze.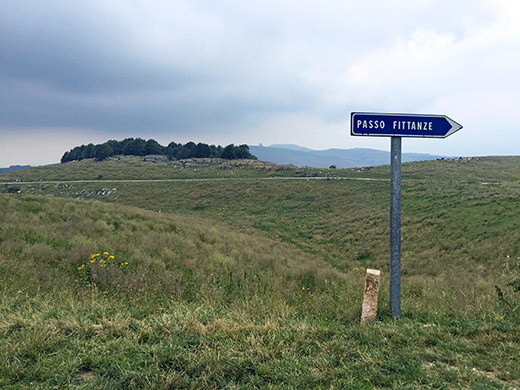 From Passo Fittanze a narrow asphalted road goes to the mountain ridge and follows it for a long time as a gravel road, which I took upon my previous visit to the area. However, at the junction where the gravel road starts one could go south. Only a kilometre and half or so down this road one comes to the pass in question: Bocchetta della Vallina (1487m).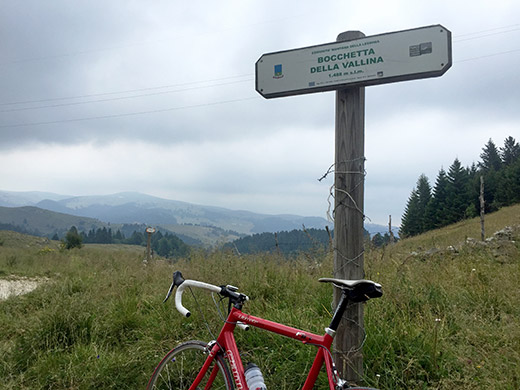 This is a very tranquil road with lots of cows along the road.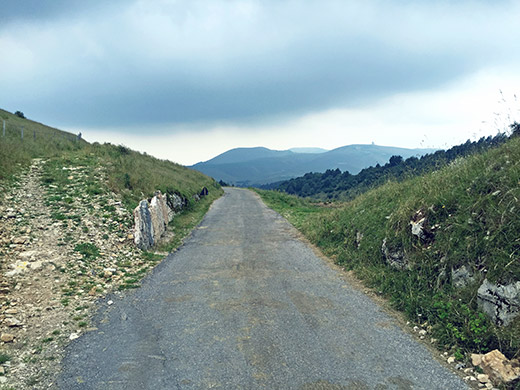 The road here continues down to Verona, but I was on my way up toward Austria, so I turned around and went back the same way, stopping to take some more photos along the way.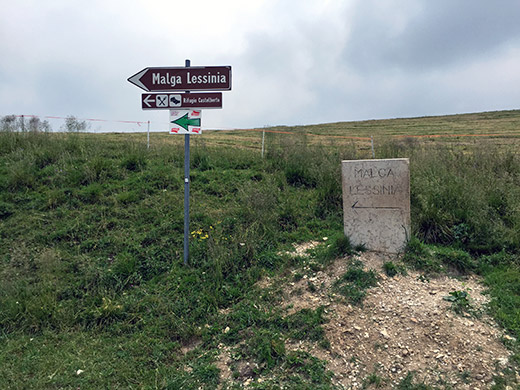 This is at the turn-off (Bivio del Pidocchio (1568m)) for the gravel ridge road – quite a nice road in fine weather and possible with a road bike. This is also the high point of the asphalt road.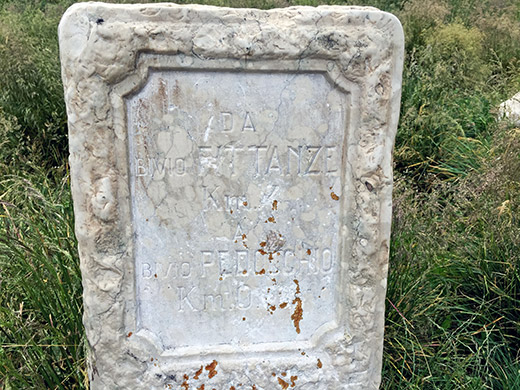 A prominent road sign showing the distances, but hard to see now.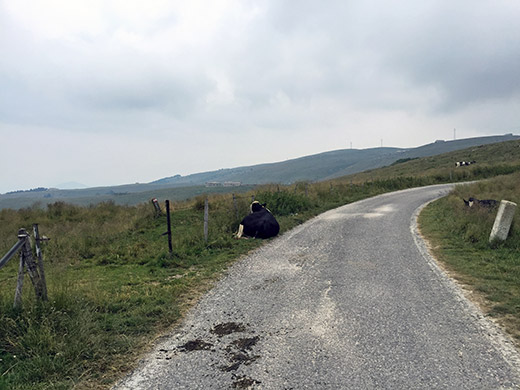 Some lazy cows and the lazy looking landscape.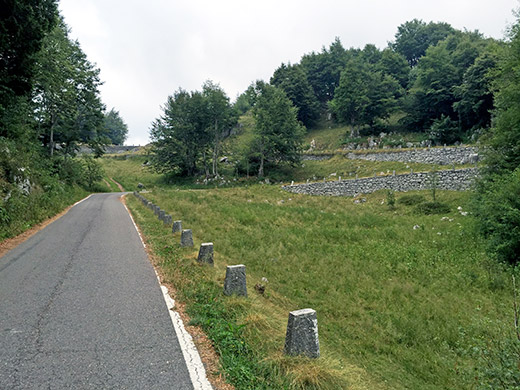 Here the road from Fittanze to Pidocchio looks quite nice, but the surface deteriorates drastically half way up the serpentine in the photo here. Soon in need for new pavement there if they want to keep it as an asphalted road, but it makes for a good and nice local tour from Verona.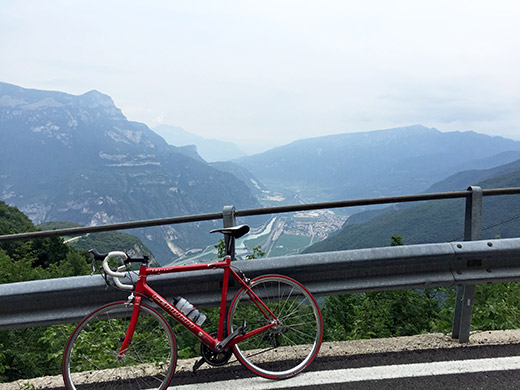 Down from Passo Fittanze to Sdruzzinà it soon gets really steep and I was a bit worried with all the braking on not having used a proper pump to inflate the tyre in the morning and the heat builds up quickly in my H-Plus Son rims – cannot tell for sure if they get hotter than my previous Mavic CXP33 rims, but it seems so. All aluminium rims will get extremely hot when you have to brake as much and as forcefully as on descents like this. You better use a good high pressure rim tape and maybe even doubled with some fabric rim tape. Also important to try and stop holding to your brake constantly, but that is easier said than done on long really steep descents. First time I was really worried was when I went down the Monte Zoncolan to Ovaro some years ago with the Mavic rims and they were indeed so hot that I could not touch them with my hands. Some say hydraulic disc brakes would be better, but there has been problems with such on very steep descents too and if they stop working they will not be of any help at all, while with ordinary brakes your tube may burst on the descent. Both could be fatal, so better take things a bit easy on extreme descents.
Down in one piece with a little ache in my hands from braking – that is actually something which is a bigger problem than ache in your back or elsewhere when cycling in the Alps. Quickly up to Ala and from there I managed to catch the next train. Could not get the ticket machine to work, but jumped on the train and hoped to explain the situation. It was fine and bought the ticket on the train without a problem. Now on my way to Brixen/Bressanone via Bolzano/Bozen (no change of trains this time).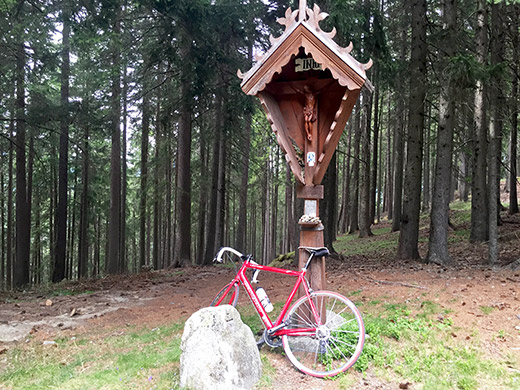 A relaxing journey again in the middle of the day. In Brixen the first bike shop I checked out was closed, so stopped by a konditorei (café) to have a sandwich, cake and something to drink. I had been able to locate several bicycle shops in the Pocket Earth Pro app on my iPhone, a service which sometimes can be really helpful, so went down the centre of the city to ask at the two shops there and they were open. The first was a Bianchi shop which had some nice green (celeste) coloured tyres, but I really wanted to get two new red tyres to replace the bad tyre in front and the almost now worn out rear tyre (they only last two weeks when cycling like this).
The second shop was not really focussed on road bicycles, but a man there were very nice and helpful and suggested I go to a shop on the main road just at the south start of the city (not far from the train station, but south of it). I stopped for another coffee and ice cream as the shop was likely not open yet anyway. They open like 16 in the afternoon (not much working in the middle of the day in such shops in Italy, with some exceptions).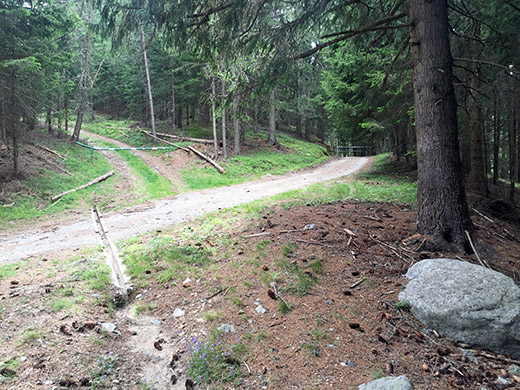 The little shop on the main seemed very popular and I was lucky to get in as number two or so, as they soon had the shop filled with customers and had no time for anyone. Guess they could be open 24 hours a day and still have a lot to do, but instead they were closed most of the day – not all that clever, but maybe it was an extraordinary today.
No time to argue and they had no red Michelin tyres, so settled for their last two red tyres from Bontrager. They did not seem to quite understand why I would want a foot pump to inflate my tyre with – and the people here were supposed to be very good on road bikes … did not feel too convincing. Oh well, made sure to do everything very carefully and correct and took my time. Then finally off around 16:30 for the climb that starts on the others side of the train station on a steep road to Malsitter/Masitter Jöchl (1534m) (the name is mostly written as 'Masitter' on maps and I had come to believe that was the right spelling, but locals corrected me on this up at Passo di Éores/Halsl/Kofeljoch later. I do notice in Google street view that there is a sign by the Masitter hof just stating Masitter (and not Malsitter), just like the oldest maps suggests, so maybe I was right after all. Oddly enough many German speaking people here around use the Italian names of the villages rather than the German names that one would suppose they would use, but in the case of Bressanone/Brixen it could have to do with 'Bressanone' being in use also in earlier times.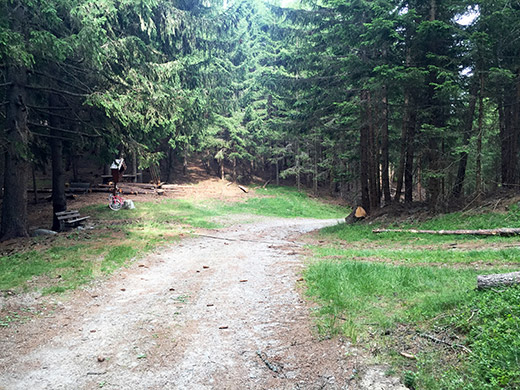 After Tils/Tilles it gets really steep. Later it will get easier again and the road even goes downhill a little near the last end. The last little stretch is through a dense forest on a road I thought was gravel, but it is indeed asphalted all the way to the pass, albeit pretty bad old asphalt with some very bad drainage gullies at a few places. Also somewhat steep. The pass itself is very much a disappointing place. I took one photo looking out over valley (Schalderer Tal/ Valle di Scaleres) on the other side a bit along the gravel road that continues at the pass flatly (with a turnpike/bar across), but one could not see much between the trees so left the photo out here.
Took some photos at the pass to document it a bit. There is indeed a higher mountain named outside it on the flank of the mountainside here, but it is not much higher.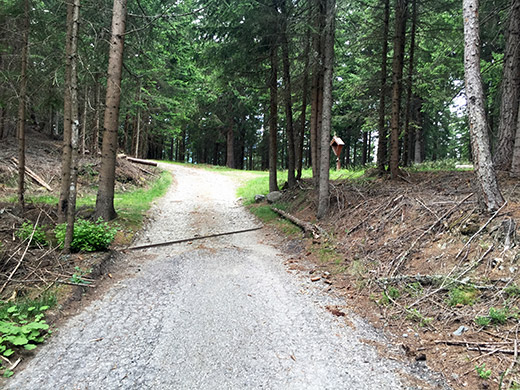 Here you see the asphalt running out just as one reach the pass.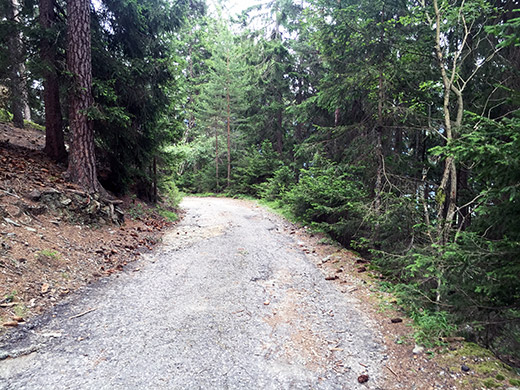 And here you see just how bad this asphalt road is (it was actually a bit worse in the first steep section, but mostly because of two drainage gullies where I could have had an accident when going down). Luckily I had new fresh tyres so it it all felt pretty fine anyway.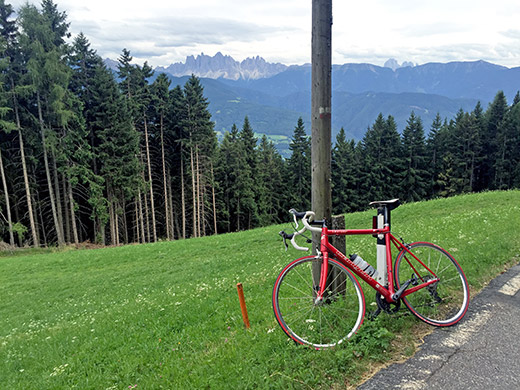 Here are two photos from just below the last wooded section and as you see there are good view from up here, just not at the pass.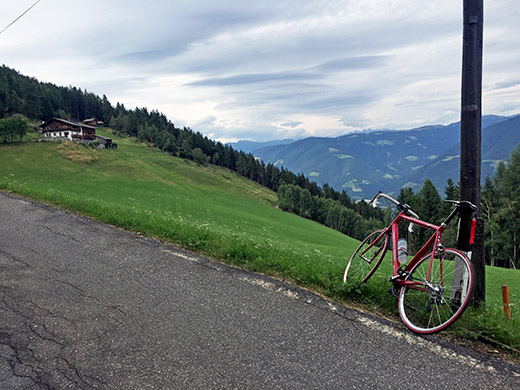 This is the Masitter (hof)! Malsitter is probably a later spelling due to some mistake down through history, but it appears for the road on the current maps and also on an older map. Likely the addition of the 'l' came with the Mussolini IGM maps where they clearly did not pay too much attention to the names actually used in these areas and sometimes just made up Italian names from nowhere (but there is no Italian variation suggested here).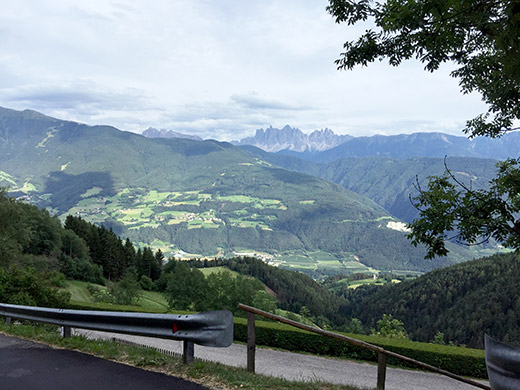 Further down the road in the steeper section.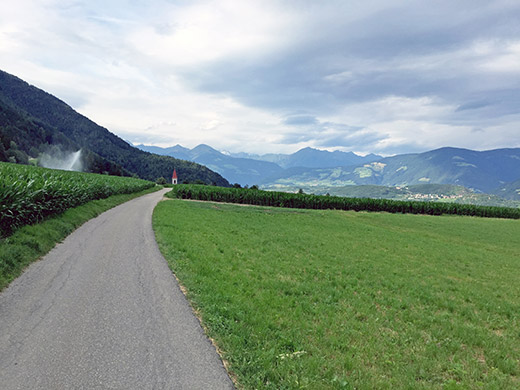 Here two photos from the nice short-cut road over from Gereuth/Caredo to Feldthurns/Velturno. Looking up north to the Austrian border mountains near the Brenner pass here.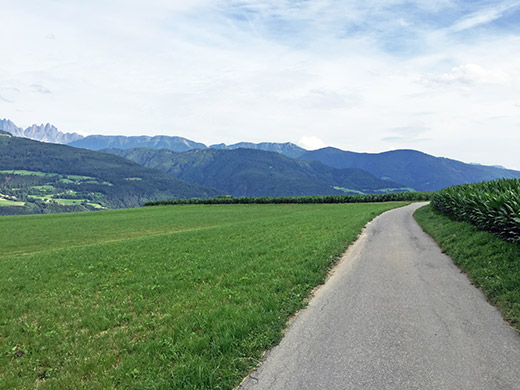 Here looking down south and across the Adige valley to the Dolomite mountains on the other side. I stopped for a coca-cola and yoghurt in Feldthurns/Velturno and then took a peculiar short-cut road down to the main Brennerstrasse. Right here is a road that could have been the start up the other side and the Vilnösstal/Val di Funes, but they have not built a crossing over the railway here, so one has to go back up north a little and then back down again to start the climb up this classic valley which has been famous for providing photo for Kelloggs corn flakes packages and more.
I had originally planned to go up this valley all the way on a gravel road from Zanser Alm/Malga Zannes (1678m) to Schlüterhütte/Rifugio Genova (2300m) and Kreuzkofeljoch/Passo di Poma/Furcela de Munt de Furcia (2340m), but had to skip this just as many other curious climbs I had thought of in planning.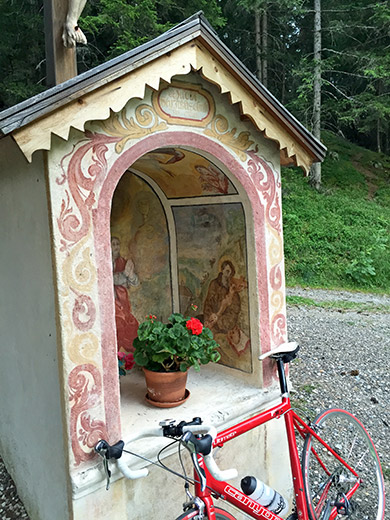 It was starting to get late now, but I was climbing up in the remaining sun, so it was a nice evening. I decided to go to yet another curious little pass to verify if it could be qualified as an asphalt pass just like the previous one, namely Vikoler Jöchl (1407m). The road up there is great, but the last 390m to the pass is on a gravel forestry road and even if short it is not possible to use with a road bike and I had to walk nearly all the way back and forth. This is from the pass.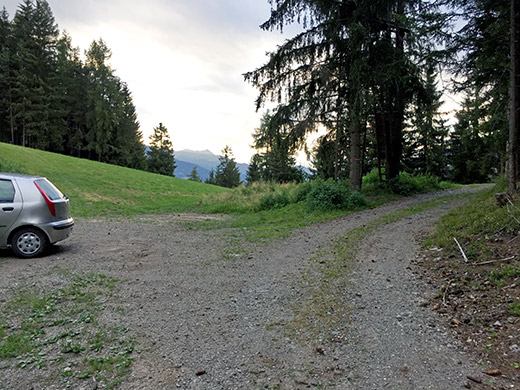 Here is the view down the other side of the Vikoler Jöchl (1407m).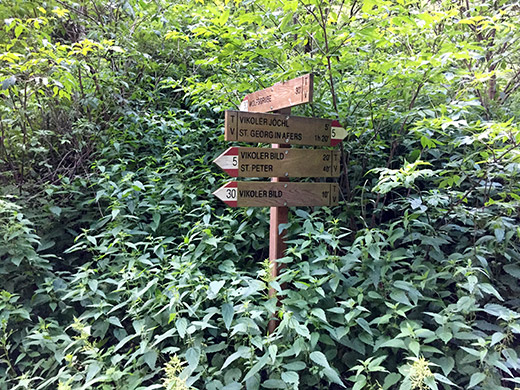 One of two or three directional signs pointing out the pass, but as so often (in Italy) no pass sign at the pass itself.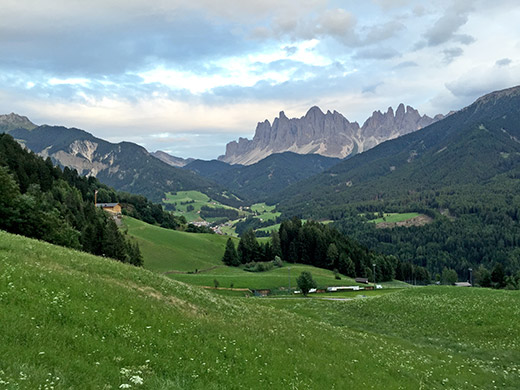 Lovely views when descending back on the nice asphalt road from Vikoler Jöchl to the road up to Jù de Börz/Würzjoch/Passo delle Erbe.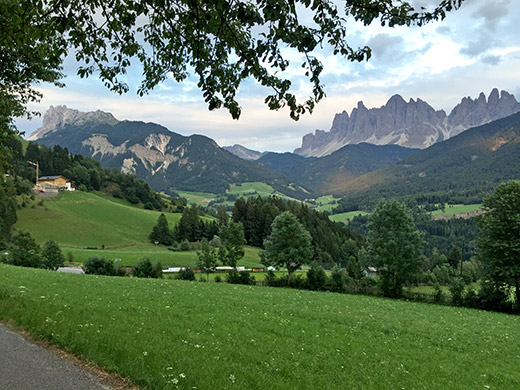 And again with a nice branch lining the mountain ridge nearly perfectly. It could have been a bit more sun lingering on the mountains, but otherwise one of the nicest photos from the Summer.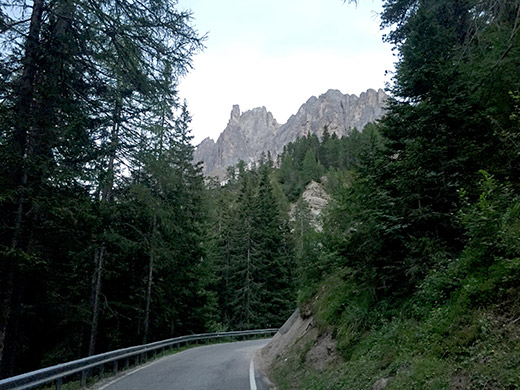 Now I was going to stay at the next best place, but there were not so much open lodging along the road up above the Villnösstal. It was already twilight when I reached, after what seemed like a very long time, the Russiskreuz/Sella di Russis (1729m) (a pass parallel to the Vikoler Jöchl), but no real descent on the other side if one continues up toward Jù de Börz/Würzjoch/Passo delle Erbe.
By the next pass, the Passo di Éores/Halsl/Kofeljoch/Passo Rodella (1866m) – a pass with disputed names, but did not raise that discussion at the gasthaus where I stayed for the night at here (the first of the two: the Edelweisshütte). Apparently locals call it Kofeljoch, while Halsl is the name that appears on other maps and also what the second gasthaus here is named after (the Halslhütte). The Passo Rodella is the Italian name variant here, while Passo di Éores is a local Ladin name prefaced by the Italian designation of a pass. The local technical maps provides no name, nor is there any pass sign or directional signs I know of here. Few passes are as complicated as this when it comes to names.
The stay at Edelweisshütte was good and got a lot of food and talked with the friendly owners quite some time before it was time to go to bed.