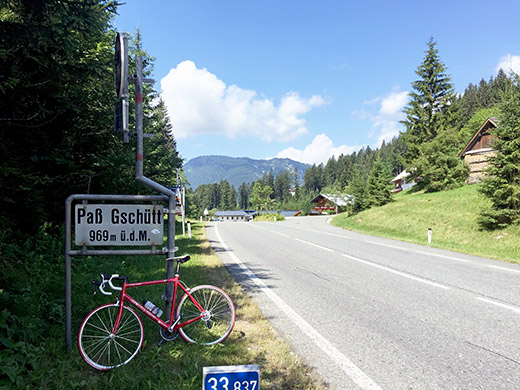 After breakfast it was fine weather this day again and steep at once out of Bad Aussee along the same road I was staying on (the short-cut road to the Pötschenpass-road). There is otherwise not much climbing involved to reach the Pötschenpass (997m). The landscape is nice and the road is wide. The road via Obertraun would likely have been much nicer though, but wanting to collect another pass, it was natural to take this road.
Down at St. Agatha (539m), I crossed over to Au (taking the wrong road at one place, but soon getting back). I stopped at a dirty looking grocery shop for a coca-cola, yoghurt and banana. The continued along the lake toward the 'Romantikstrasse', but turned off at Gosauzwang (517m) for the next pass to be climbed.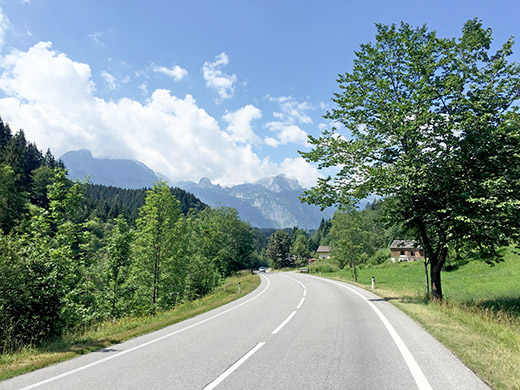 Paß Gschütt (957m) is quite a bit harder climb despite being lower than the Pötschenpass. It is especially steep from Gosau (736m) with almost constantly 13% on a big wide road to the top. It is not very long though. Actually the 'Romantikstrasse' is also this road, but it was perhaps not all that romantic. Nonetheless there are nice views around Gosau and on the other side it is nice as you wheel down the valley (see photo).
Lower down there is a turn-off on a small road following the Lammer river and i took that road instead of climbing up via Abtenau. I tried to find some place down where you meet up again with main road to stop for refreshments, but nothing here. It was now very hot again, but just to go up the next small road from here as planned.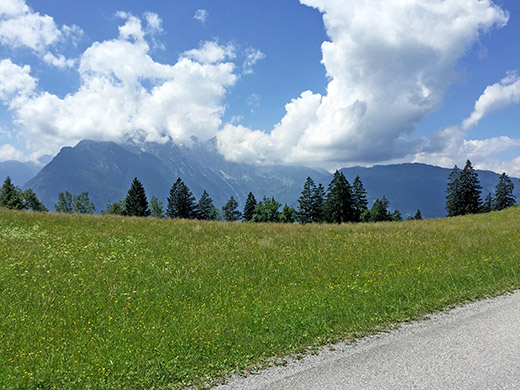 The road goes a bit up and down, but mostly up. It is a bit hard to describe where this road goes, but it goes via Weitenau to Wegscheid. Luckily I found water after a short while along the road. Then it got steeper, but higher up you get to a very nice area with an almost flat road. I believe the photo here is from that area or close by.
Not sure Wegscheid (908m) really is a pass (very vague if so), but it appears in the Cent Cols catalogue over Austria (a pretty useless catalogue that leaves out most of the obvious passes in Austria). From here another tool road starts (tool booth much later) up the Trattberg. This is a road I have not read much about and also figured that there is a pass at the end of this road, even if it also lacks a proper name.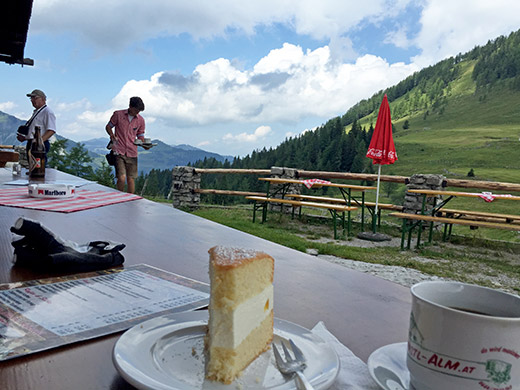 The road is easy at first, but becomes a little harder higher up, not unlike the Stöderzinken road. By Enzianhütte (1460m) the climb continues a bit further on the back of the mountain to a viewpoint at 1547m. From there the road descends abruptly to Hinter Trattberg (1442m) and the pass here.
Passing by a gate here I could go down on the continuing asphalt road to Christel-Alm, where I stopped for coffee, topfentarte and hollundersoda. All very good and at reasonable prices served by nice people at this place. Hollundersoda (elderberry soda) was something I have come to like a lot instead of having a radler (soda and beer mixed) as it is an even better thirst quencher. Nice views sitting on the outside talking with an older man from Germany.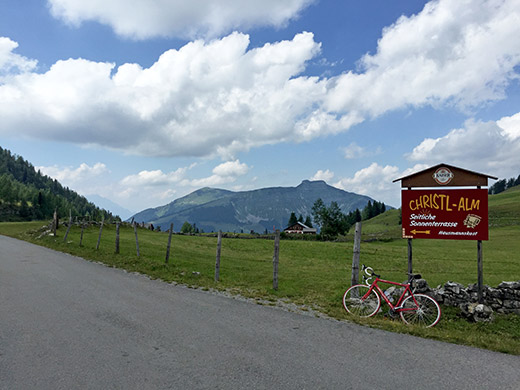 The sign at the pass for Christl-Alm (also another sign for the restaurant behind in the photo), this one is a bit further ahead and to the left of the road (I think you can glimpse the roof in the photo by the road.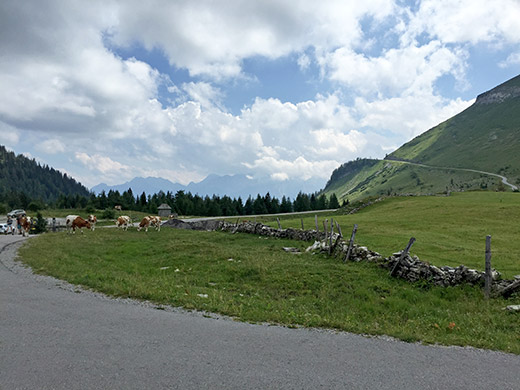 Here is the last stretch down from the high point of the road and now the cows ahead here had perforated the path around the gate with cow dung – had to tip toe carefully around there now.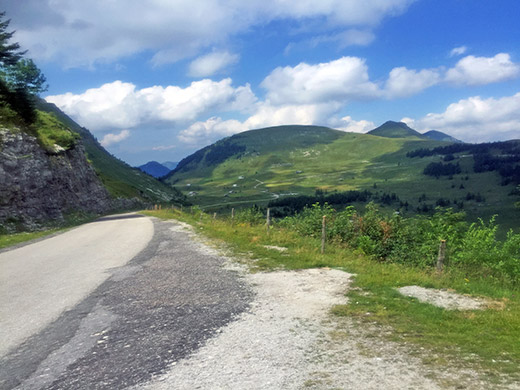 This could have been the best photo from up here if I had cleaned the lens properly, but I tried to sharpen it up a bit. This is from the high point of the road.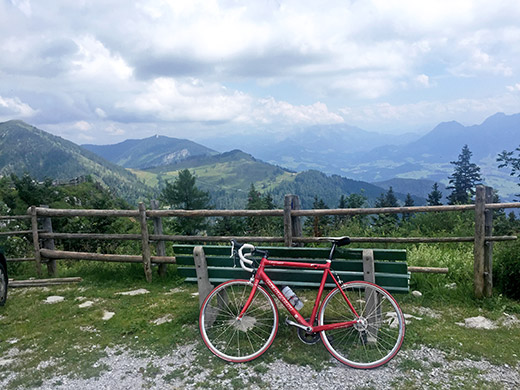 Here I look back up the valley with the 'Romantikstrasse' and from here it looks a bit more romantic.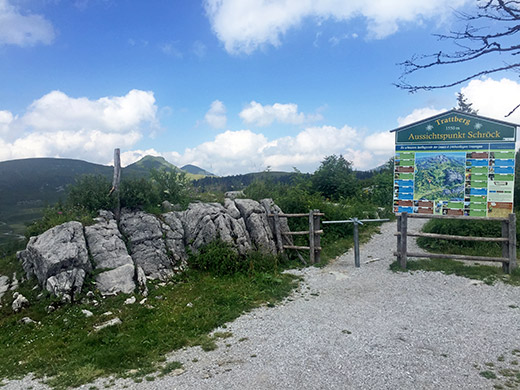 And a photo of the Trattberg sign stating 1550m, which might be the height of the viewpoint behind there. Now I went down. I more or less guessed my way down as I knew more or less the direction to go in, but it was slightly confusing and I took another small road down from Trattberg – the first asphalted turn-off on the return after the toll booth that looks like it only goes to a farm there, but it goes down. Asked a man there just for to make sure it was okay and it was.
Then the road goes a bit up and down before finally going down to Bad Vigaun and the main road to Hallein (445m). I went into the centre of Hallein and got an ice cream from an ice cream bar there and a coca-cola. Terribly hot here, but it was starting to get better. Talked briefly with some other cycle-tourists that had just started out on their cycling vacation, then struggled straight up through town on big cobblestones, passing by a bicycle repair shop, which would have been handy given the surface here. Behind the church here a bicycle path short-cuts up to the road that goes to Germany. This bicycle path was (as befits bicycle paths, not really maintained) and it was also like 20% steep with lots of debris on the ground. Made me wonder how many cyclists really use this path :-) as I could just about get up there myself.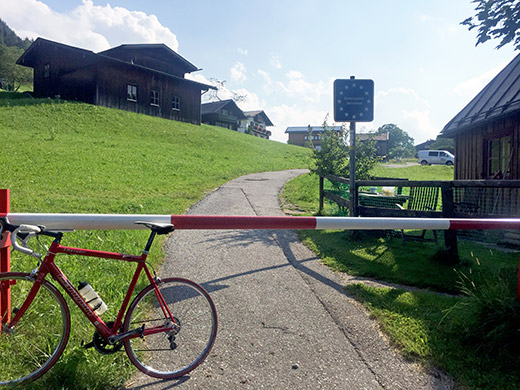 One could after cycling a bit along the main road take the Alte Dürrnbergstrasse, but it looks like about the same steepness as continuing on the main road (anyway I was not clear that one could take that road a short while). But then I decided to take the short-cut road through Bad Dürrnberg along the Hellstrasse (properly named if 'hell' had meant hell in German). This is the steepest road I have have managed to cycle up, I can now say. I was passed by by an ambulance on the narrow road going to the hospital just above and it felt good to have an ambulance and hospital nearby as it could very well come in handy here. This was a long ramp at 29% constantly, it started at just below 20% and was tough already when coming to this part.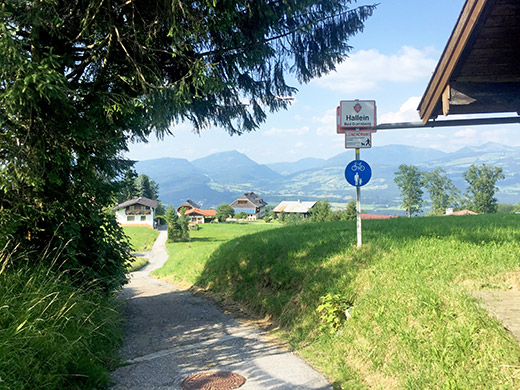 Now I made it and got ab it confused when coming out on the main road, but found the next short-cut very soon almost across the road here, where one climbs straight up to the border at Gmerk. Now this stretch also had a ramp that was at least 29%, but maybe even 30%, but my computer never got up over 29%, so maybe that was it. This ramp was thankfully shorter or I would not have made it. Then it continued steep to the border where the photo here and above are from. In the above photo I look up to the little pass at the border and in the photo next by I look down where I came from.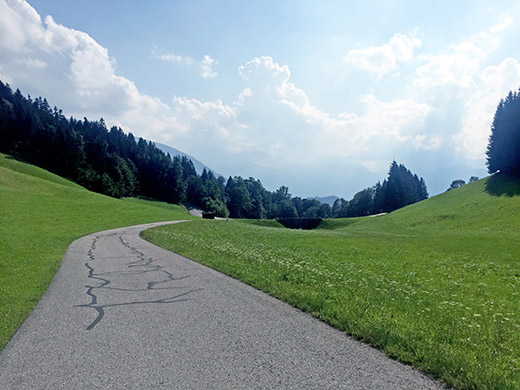 This is from Gmerk (935m) where there is a short descent to the Rossfeldstrasse. The climb up to Rossfeld was relaxing by comparison and it got easier as I got higher up.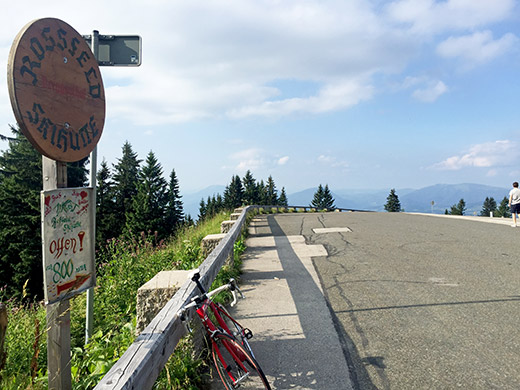 Here is the high point of this road Rossfeld (1540m), which is one of the highest asphalted roads in Germany.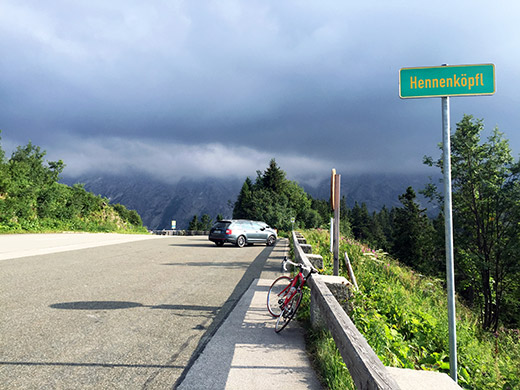 Looking in the direction ahead and noticing some clouds.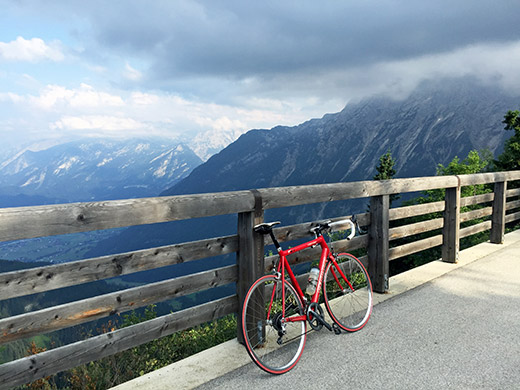 Just after the high point one has the best views along this road and here one is at the Hahnenkamm that marks the border to Austria, which is what you see down here.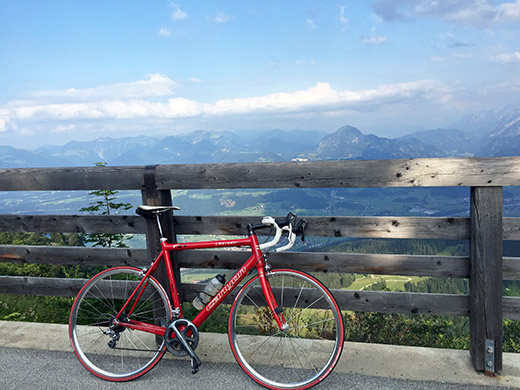 Here I look in the direction of Trattberg where I was earlier.
Then I continued happy down the other side, just to shortly be met with a man in the road saying it was not allowed to go down that side as they were recording a film. I got angry and said that I am sorry, but I need to get down this side and simply continued despite his protests. Also noticed he called his friends further down, who also stopped me and I argued with them a little and said I really had to go down and would be quite and careful and they reluctantly let me go. I mean what the fuck – no one saying anything before you have cycle all the way up here and started to descend and then someone thinks you can just cycle around the mountains and up the other way … right, forget it. I got by them fine and do not think they were recording right when I passed by anyway. Then I had the road for myself which was lovely.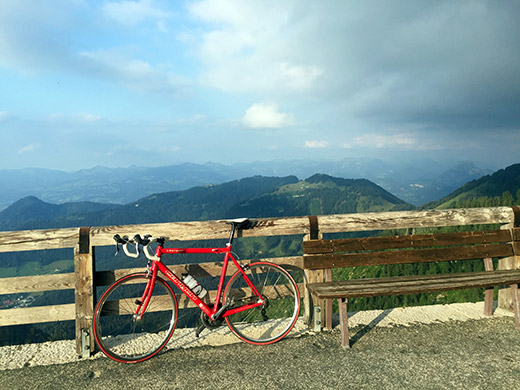 I ahd plans on visting a gravel road pass nearby here, but forgot about it in the discussion with the film team and was anyway a bit late now. I was looking to go on short-cut gravel road over to the road to Hitler's Summer house – the Eagle's Nest. That road is strictly forbidden for all traffic including cyclists and I have read about fines for those not respecting this, so was a bit worried.
I had, however, studied the bus schedules up and down here that is the main reason for the restriction as there is no place for meeting with those big buses on this road (higher up) and they stop going around 5 pm. So I figured there would not be any traffic after 6 pm and now it was soon 7 pm, so it should be perfect. I found the right road over and skipped taking the alternative road up that is allowed to cyclists and is also asphalted (badly) as it is a quite boring alternative all in the woods on the back side and with a very steep part at the end as I understand. There was only one car early on and I stopped on the side of the road looking another way just hoping he would not complain and no complaint there so I continued up in lovely weather. Here I had just reached the end of the road at 1715m.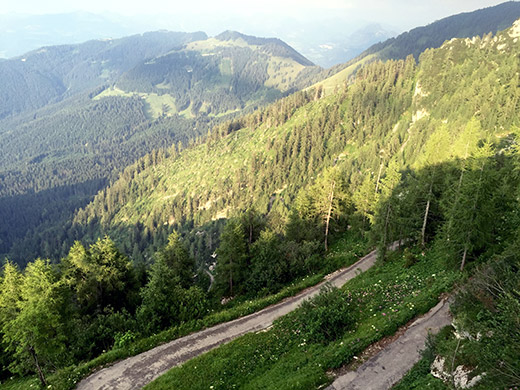 Here I am looking down the serpentines in the woods on the alternative road up here. Maybe for another time, but it looks a bit rough.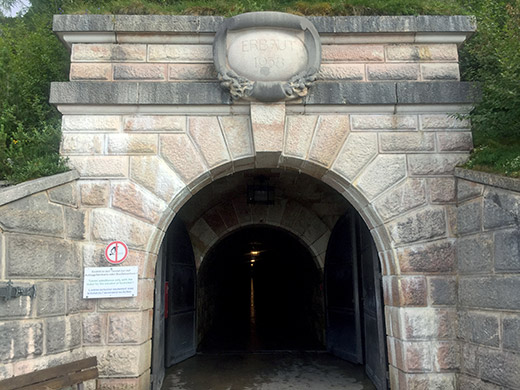 Here is a well-built tunnel to an elevator taking people and material up to the house on the mountain built in 1938. I did not go into the tunnel, partly because some people stood nearby outside and maybe would complain. Also I wanted to see if I could go up toward the house on the path up there. I had heard that one could perhaps even cycle part of the way up there and now I noticed it was indeed an asphalted path up there.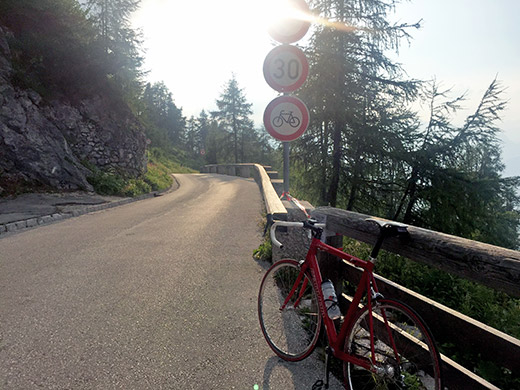 Here you see the cycling forbidden signs at the top of the road I climbed up here and the path up to the left also have an identical sign forbidding cyclists up the path there (you can only glimpse it vaguely in the photo here). But up I went. The serpentine path had all too narrow bends so I had to put down the foot at nearly every bend both on the way up and down, but otherwise I could cycle all the way up to the last staircase just below the Kehlstein hütte/Eagle's Nest (1834m). This should be like the second or third highest asphalted place in Germany (Nebelhorn is above 2000m, but it is not really possible to cycle up there with a road bike).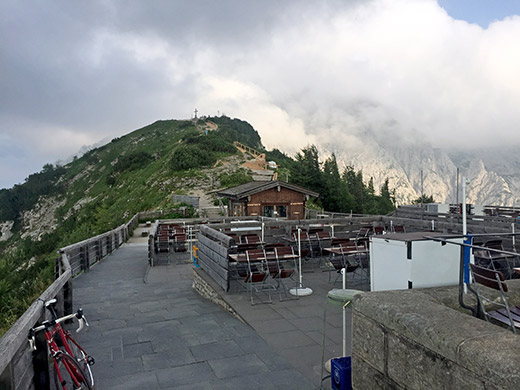 Up by the terrace where there is an open restaurant during the days and you see the very high point of the mountain with a cross ahead here.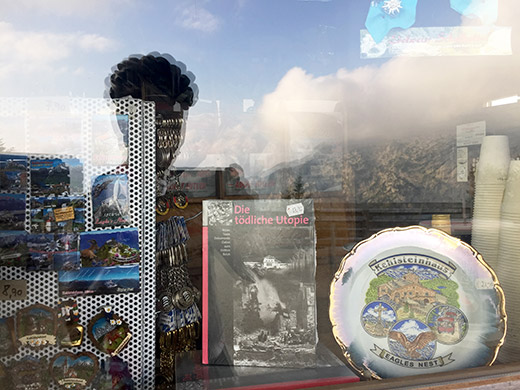 Mixed assortments of memorabilia from the gift shop at the top.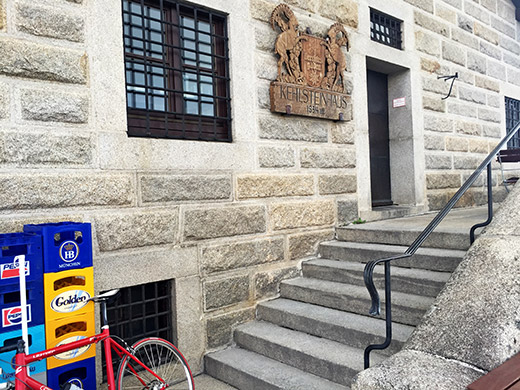 The house and sign.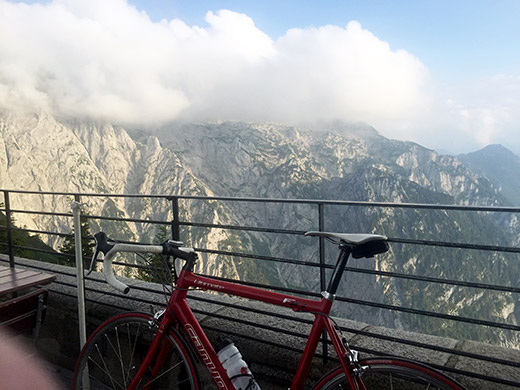 The lovely view from the terrace (esp. if I would have kept my finger fully out of it).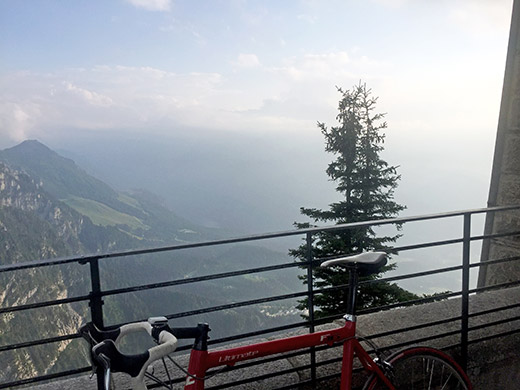 Really steep down here!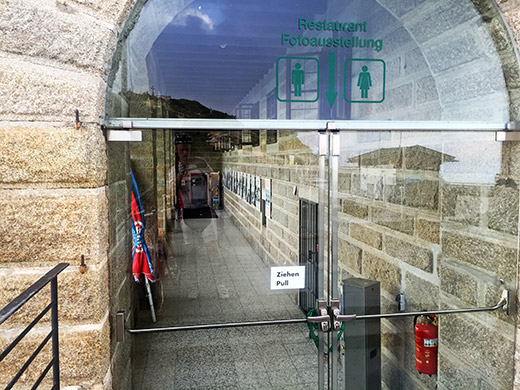 The house has a big exhibition, but it was of course locked up for the day now.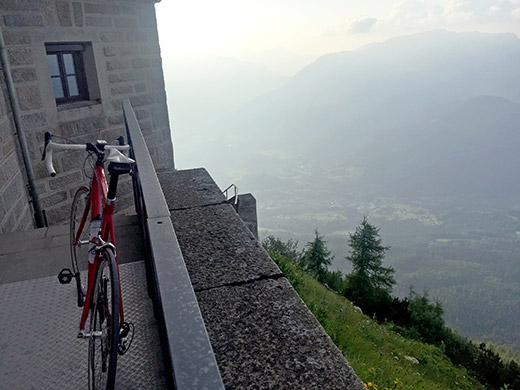 Here the staircase starts down to the asphalted path.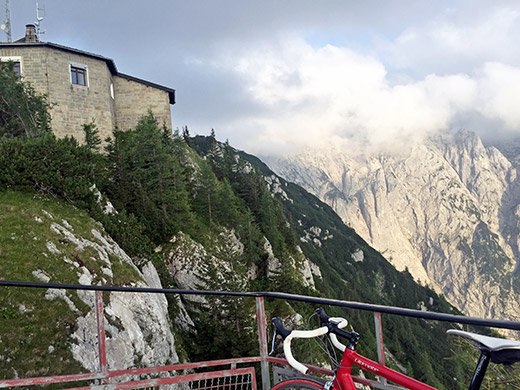 The view from the viewpoint place just below the stairs. The place that offered the best views and guess many photos have been taken from here.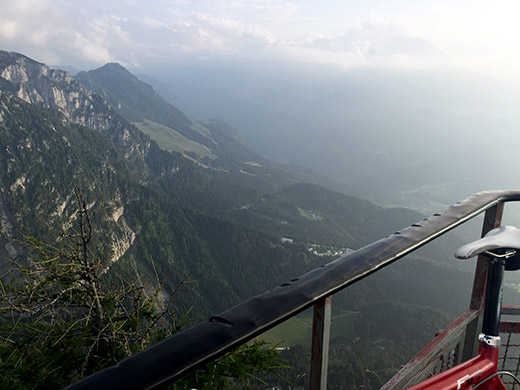 Looking down the valley ahead where I was going. Just here I met another cyclist coming up this late evening (now around 8 pm). A local guy on a mountain bike who had climbed the wooded side. He said it was just the normal local tour up here, joking, but a nice place to climb to, it is.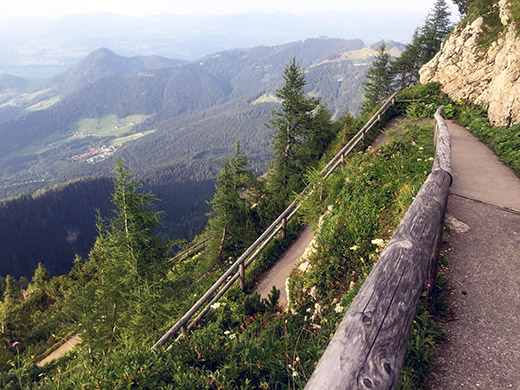 Here we have to document the asphalted path down also. The curves looks a bit tricky, right?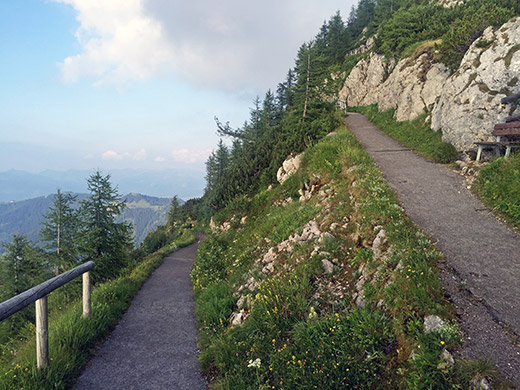 Quite a nice path when no walkers on it!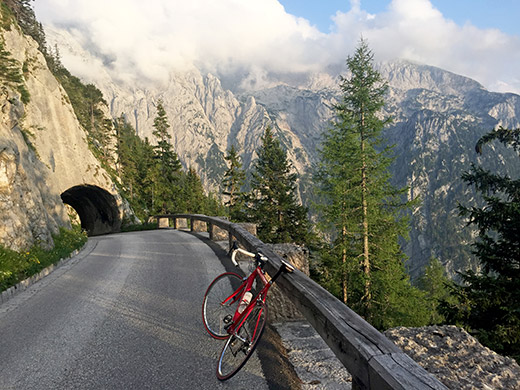 Wanted to hurry down a bit too also to catch the nice tunnels while there was still some sunlight left. Very Nice evening and it felt really good there should be no more climbing this day.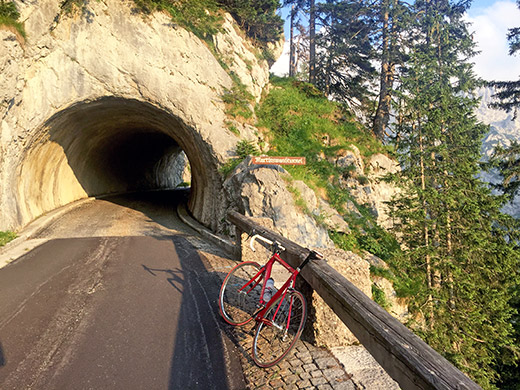 And the Martinschwand tunnel was possibly the nicest of them all. Cobblestones in the tunnels. Down by the tool both there were no people so maybe I would not have been stopped even if coming up from there, but the extra stretch there is no fun anyway, but road is rather steep all the way down to Berchtesgaden (actually it is steepest below the tool road up here, just above Berchtesgaden).
I had noticed the Zum Türken hotel just below the tool road when planning and hoped to find lodging there for the night and stopped to ask. The owner was standing outside there and she told me it was full and one anyway has to stay for several nights at once and moreover they did not serve dinner as I thought from having read on the website, but probably that was old information. She said they had a restaurant, but that was like 5 years ago. So I continued down the steep road to Berchtesgaden and climbed up through the city and noticed luxurious 5-star hotels, and that was not quite what I was looking for.
Found nothing else of interest here so continued down again on the main road toward Ramsau. I asked at one place, but it was fully booked and then asked at another and they had an expensive bed in a poor-looking place and no food, so I went on and just before Ramsau I found one busy little gasthaus and with some doubt they agreed to give me a big double room for a good price and as I was all too late for food, I could not get anything proper, but the nice man there made me a wurstlsallad (quite big with lots of sausage), breda and good dark beer. So it all ended very well. It was also ridiculously cheap for what I got. Not sure I paid more than €30 something for everything incl. a great breakfast. A very good place this – Altes Forsthaus Ramsau (expect to pay more, but it will still be worth it!).