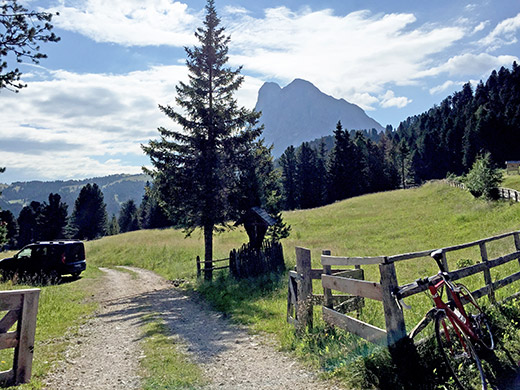 The stay at the Edelweisshütte was pleasant and I was met with an idyllic morning when going up for the breakfast. When it is warm like this, there is surely no problem with staying at this high an altitude. This was the second and last Dolomites day this year, but as it is a lovely area there had to be a lot of photos. This was the area that really got me into cycling in the mountains and should be the first choice for the cyclist curious about cycling in mountains.
This is the exact location for the Passo di Éores/Halsl/Kofeljoch/Passo Rodella (1866m). No signs (well many signs, but only directional).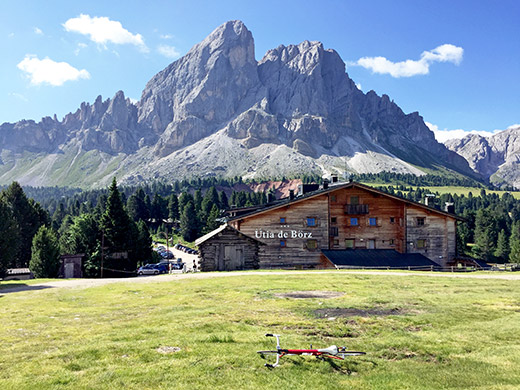 There is then a short descent and then the climb starts up to Jù de Börz/Würzjoch/Passo delle Erbe (1996m) (I think I might degrade it to 1992-1994m eventually as it might be more correct, though it is clearly higher than 1987m as the sign here says). The restaurant/hotel here is located at exactly 2000m height (front side, even though it states more on the front of the restaurant), and the pass is just below. Had to walk up here to get a bit better view than on my 3-4 previous visits and indeed it is pretty nice from above the pass here.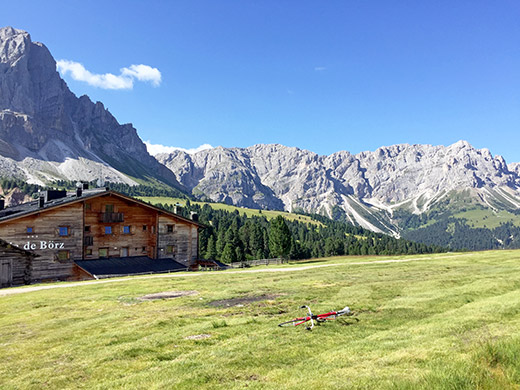 This is looking down west.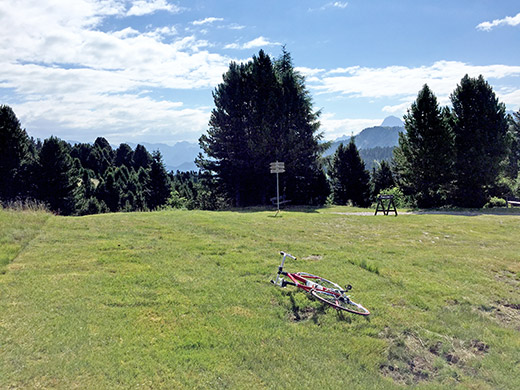 Here is the view east from the same place. Not so good views as it should be partly due to some trees here.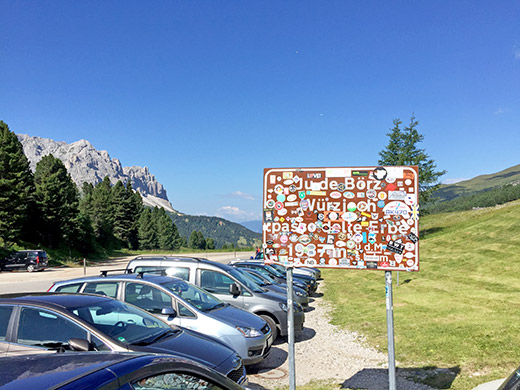 The sign is hardly readable now due to all the stickers. Maybe they should save it and replace it with a new one. Could maybe be interesting historically with all the stickers, but nice to start with a clean plate now and then I guess. Really lots of people up here already. Most walkers tend to want to be up early before it gets too hot and that's reasonable.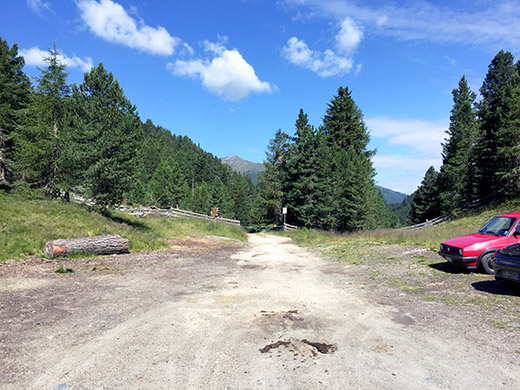 Trying a last time in vain to find any sign of a name for the pass below, which is pretty obvious and also marked as a pass on the popular TCI maps, but only the name 'Pé de Börz' appears on maps, which means just like what one would expect: the parking place of Börz.
Nothing there, save some signs etc. and a bus stop. So, down to Antermëia/Antermóia/Untermoi (1515m). I found no open shop in passing by so just continued up (as there is no way straight down from here).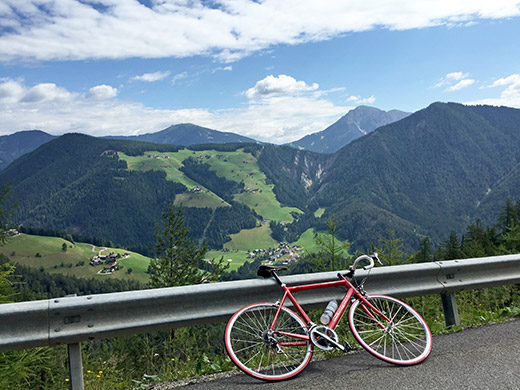 Here I was stopping near the top of the road to Picolin/Pikolein/Piccolino to take a photo of a pass across the Alta Badia/Gadertal – Jù/Joch/Giogo (1575m) that I was going to later in the day. Behind that pass you can see a similar depression on the horizon and that it si the higher Furkelpass/Passo Furcia/Ju de Furcia (1759m).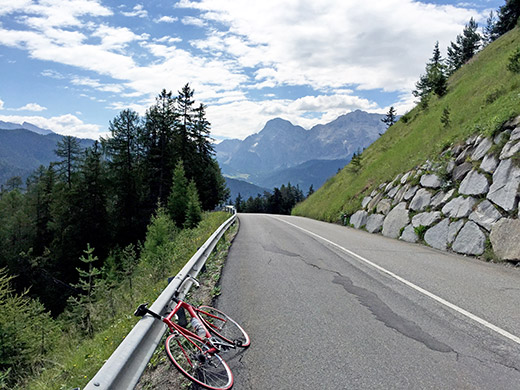 But before going there I had two other passes in mind in the Alta Badia to do that I have not been to before. Here we look ahead. I continued down to S. Martin/St. Martin/S. Martino, but before the village I turned into the road up to Lungiarü/Campill/Longiaru.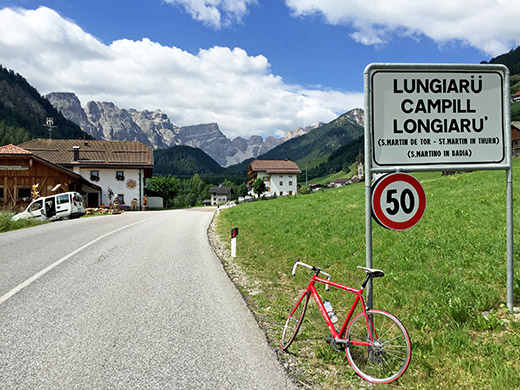 There were some work on guardrails along the road, but it is a fairly good and easy road up to this nice village. Impressive views as one enters the village and the weather is perfect.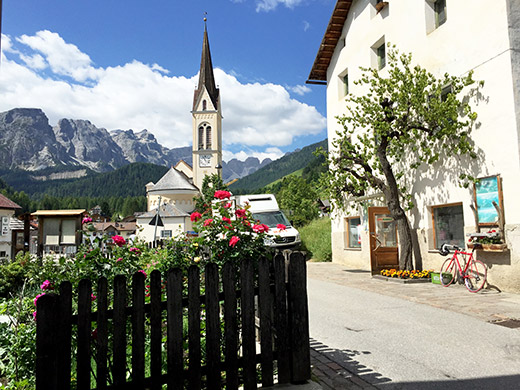 I looked around the village for a bakery or café, but there were only two restaurants and the little grocery seen here. So went in there and bought coca-cola, yoghurt and something more for a quick lunch. Nice views from the bench I was sitting on here! Maybe the nicest of all photos this year. There ere water right across and filled up the water bottle before I left.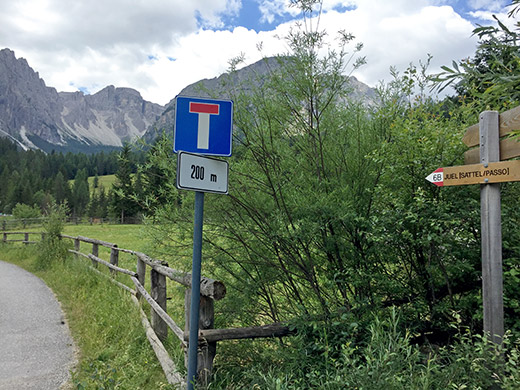 The road continues asphalted up to the point of the photo here of the directional sign for the next pass – Juel/Sattel/Passo (1725m). The road ahead here is indeed asphalted for 200m more or so, but then it turns into I believe a less good gravel road than a much longer road running around the area and crossing the river quite a bit up here. I took the longer road I suspected it to be better.
The road was likely much better, but still it was just about manageable with a road bike (yet again), I really tried to cycle it all as it was long and I had new tyres, but eventually had to walk a few very short stretches. Although very nice to go to Lungiarü, I could not recommend trying this pass from this side on a road bike as long as they will keep it as bad as this (and likely they will). There views are also less good along the wooded road here.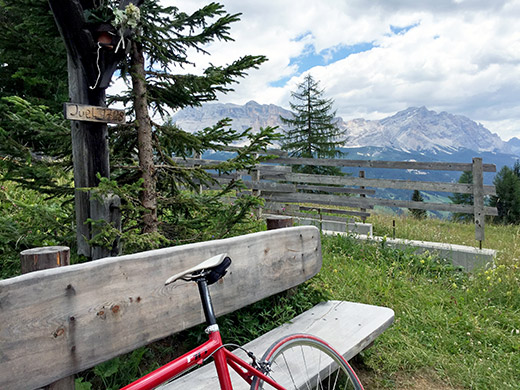 From the pass and down the other side it is however quite beautiful. Here at the pass itself, where the road follows the ridge for 200m before it goes down the other side. The gravel road is ca. 1.1 km long before asphalt is reached down in Pescol. This stretch is fairly good gravel and could be handled with a road bike.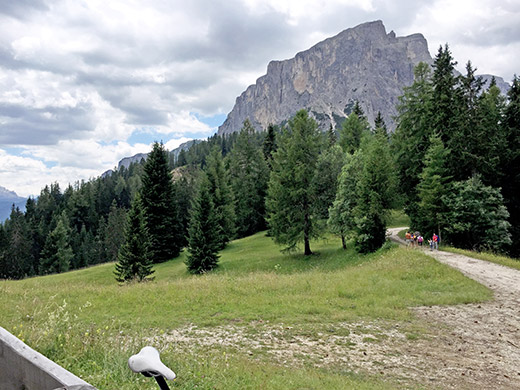 Here another view from the pass looking south on the road to follow down to Alta Badia.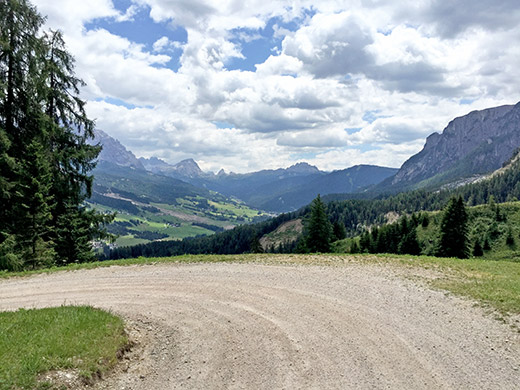 Nice views up in the direction of the Valparola pass on the gravel section.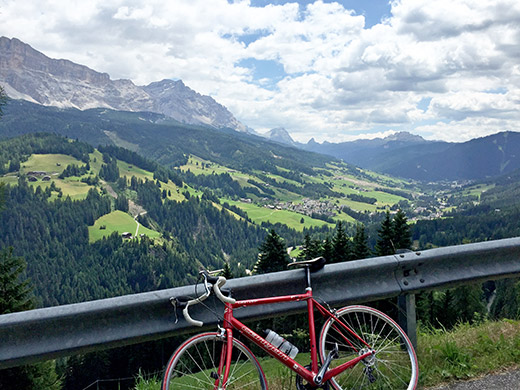 Another view up the Val Badia from after coming down on the asphalt section below Pescol.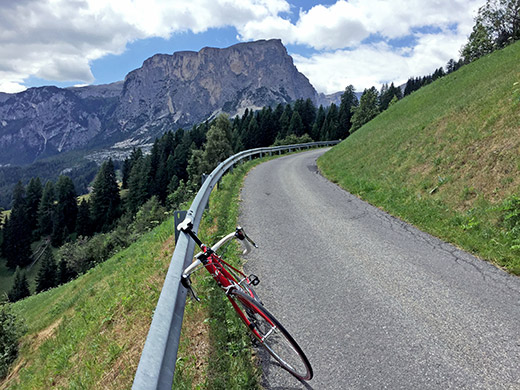 And yet another view back up. Now I was descending to Pedraces. There were some nasty problems with the road further down and some gravel to negotiate, but hopefully you go up this road before going back down again, so you will be aware.
At Pedraces I found no good place to stop at, so went up to San Linert (which is where one usually collect the starting package when taking part in the classic gran fondo event Maratona dles Dolomites). Here they had a café and I stopped for a café and ice cream, I think. Yes, just remembered an odd detail – they had no god parking for road bikes, so placed it a bit wrong and then the plastic cap at the end of handlebar came off and I rescued it from below the rack their – had a problem not having fixed it properly (was a bit sloppy in putting on the new handlebar tape, okay).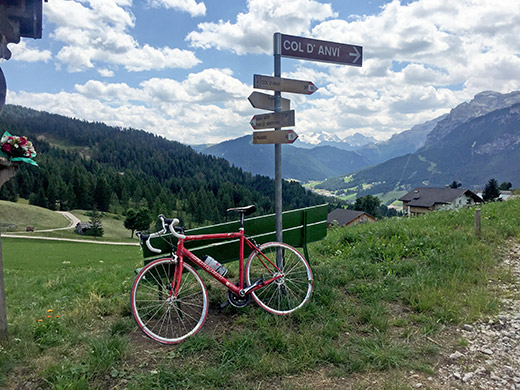 Now up another small pass that I had recently discovered in the local maps for the area and actually the only pass I have found out about since I started to study maps in more detail some more than 10 years ago. The pass is named simply 'Le Ju' and as far as I know no one has yet mentioned this pass at all on the Internet. It is just a minor pass on the flank of the mountainside up here, so of course not meriting much discussion, apart from offering quite great views.
Here we look up toward La Ila/La Villa/Stern and Corvara.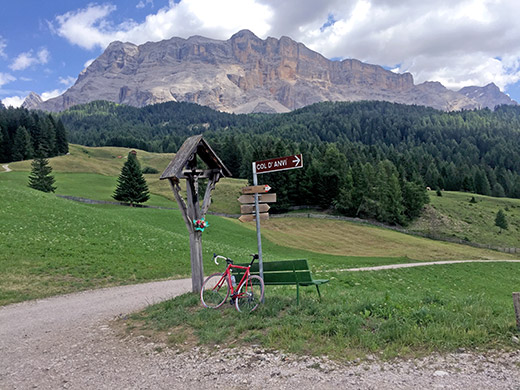 Le Ju (1617m) is reached after 250m of easy gravel road from Valgiarëi. It is located at the turn-off for the Col d'Anvi. (Col de Lastëi (1663m) is the higher mountain outside making it a kind of a pass.) Quite great views here.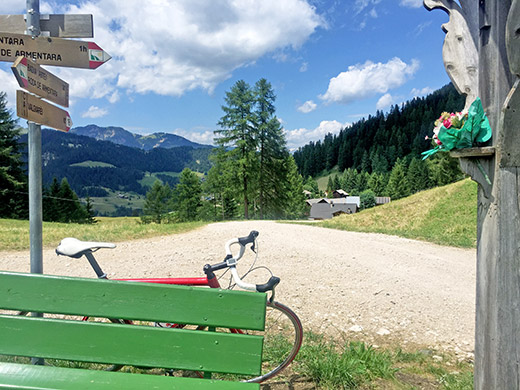 Here we look back down the gravel road from Valgiarëi.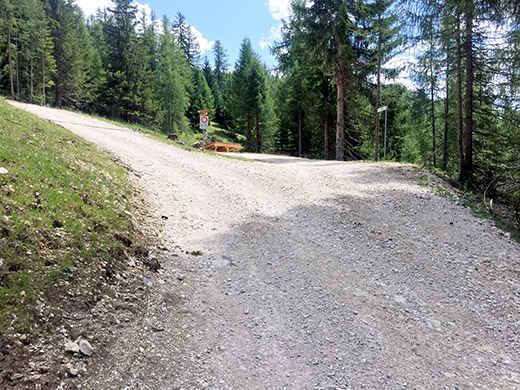 I decided to try and go down the other side and in the photo the steep road going up is a popular walking route up to La Crusc at ca.2050m, where there is a restaurant/rifugio and a church, just at the foot of the great mountain seen in the photo above.
Unfortunately that road is no good with a road bike, but would otherwise be a quite popular destination for sure for road cyclists. On the descent the road turned worse before it finally got better. It is dangerous to try and cycle down! So much better to go back down the same way, unless you got a mountain bike that is.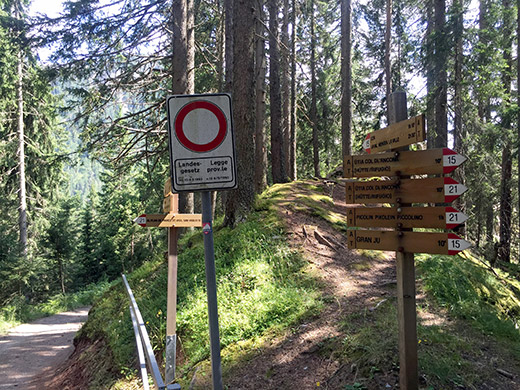 Still I kept the spirit up, but too many bad gravel roads can really get you a bit tired. Now the main road down the Alta Badia/Gadertal was in a quite sorry state now – the roads here have nearly always been in optimal condition, but now the hopeless Italian economy has managed to make it footprints even here. I had to zig-zag down this big road in order to avoid all the cracks and problems. Tired I got down to Picolin/Pikolein/Piccolino (1103m), where I figured out the steep narrow short-cut to take to the start of the climb to the next pass, mentioned earlier, namely Jù/Joch/Giogo (1575m) just above Gran Ju (the village named after the pass).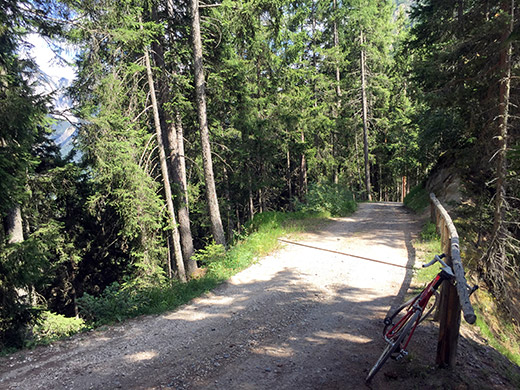 The actual pass is usually located at the very low point on the ridge, but there is no pass crossing there. The main road turns to gravel after a tunnel above Gran Ju and after a while one should take the road going to the right as that and following that road one come to a cross-roads right at the pass (photo above from there), where one could descend on the ridge and I also did so for a while, but it is steep and it did not seem to give me any better views to go the the very low point so turned around half-way down there (I think the photo was from there or just before I turned around). It is 400m easy gravel road from Gran Ju to the pass on this side.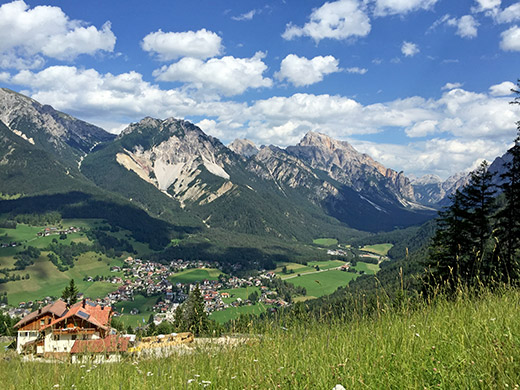 Down the side to Al Plan/St. Vigil/S. Vigilio (1184m) there is 650m gravel road and it would have all been possible with a road bike if it was not for a very steep ramp where the road also is a bit too bad, so you really have to walk here (if you care at all about yourself and the bicycle). But once back on asphalt it is a nice road down here with good views up toward Pederü and the mountains above.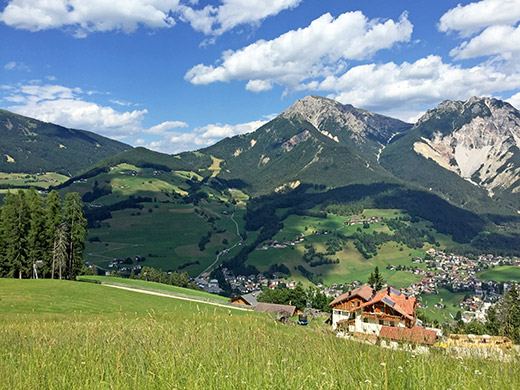 You also have good views up the narrow and steep Föjedora valley (only for mountain bikers, as far as I know) and also up to our next pass, the Furkelpass/Passo Furcia/Ju de Furcia (1759m) and the Kronplatz/Plan de Corones (2274m) (not quite seen in the photo here, but to the left up there).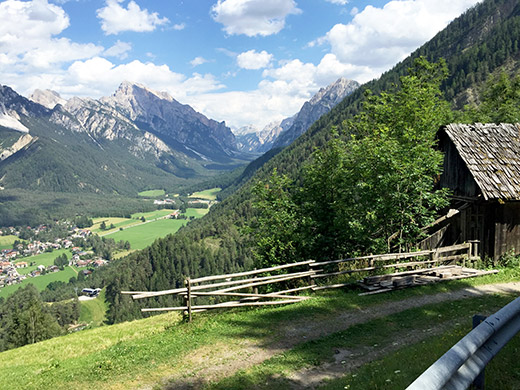 One more photo up the valley from lower down before the final descent to Al Plan, where I got a bit tired by only finding bloody boring hotels all around and it looked like there must be more hotels there than inhabitants. I had not realised it was such a boring place when I had just quickly passed by it earlier. After circling around the village for quite some time I eventually found a café at least and stopped again for ice cream and coffee, I think.
Had a hard time finding water, but think I eventually found some and then started out on the quite hard climb up to Furkelpass/Passo Furcia/Ju de Furcia with the intention to continue directly up to Kronplatz/Plan de Corones. So I just turned off the road and started out on the climb to Kronplatz/Plan de Corones and had remembered it started with concrete surface that I rememebered as quite good, but now it was not so good and also full of gravel and with nasty drainage gullies.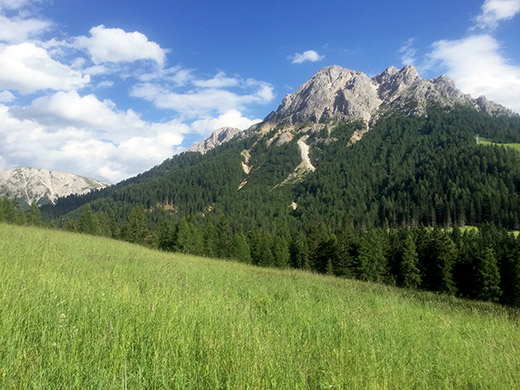 Decided to push on as well as I could in the hope that the gravel road after would be okay as it was ridden up before the Giro d'Italia visited it with road bikes and then the road was improved. But for some reason I cannot admit that this road should be good enough for road bikes really – at least not now when I was here. I got a flat on my new tyres and that was it. Walked a few metres more to see if the road suddenly got better, but not anyway near there, so gave up on it.
Had long thought to do this steep climb (up to 20% and more at the end) and believed the gravel road would be better than what it was as the people who have climbed up here would never go on some roads I have been up, or so I believe, but let us just say I failed, it is okay with me (it is a steep and bad road, but if you do it, fine, maybe you are lighter than me and have more luck with your tyres). Fixed the flat and walked back down to the road and continued over the Furkelpass. I cannot recommend trying the Kronplatz/Plan de Corones climb though. If it is not enough with a terribly bad road, the views are among the least good in the area that you can find. It is only popular because skiers come here in the Winter. A hazy view from where I went back again on this climb.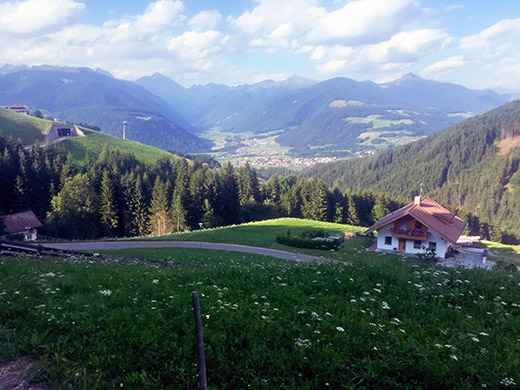 Even the road down from Furkelpass/Passo Furcia/Ju de Furcia was also not all perfect, but still fine. Now we are getting out of the Dolomites and in the photo here we are overlooking the Austrian mountains to the north.
Down in Mitterolang/Valdaora di Mezzo (1043m) I got something to drink and eat at the grocery shop in the village and then managed to get to an open bicycle shop and borrow a pump and get a new tube before they closed for the day. Then I took the hilly alternative road up to Toblach/Dobbiaco on the same side as Mitterolang/Valdaora di Mezzo. It is not without climbing and went pretty fast here and eventually descended from 1267m to Welsberg/Monguelfo (1090m). Then changed a bit back and forth between the local roads and the main road, where it have no tunnels.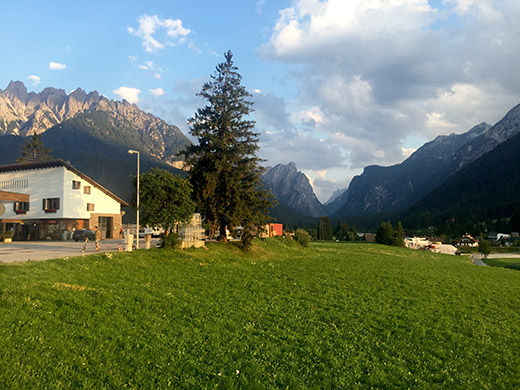 Finally I was up at Toblacher Sattel/Sella di Dobbiaco (1217m) and took a photo here right from the busy main road and toward the big mountains up around Tre Cime Lavaredo/Drei Zinnen and in the direction of Cortina.
I tried for quite some time to find a good place to stay at in the village of Toblach, but all good places were fully booked. Maybe I could have found a room at one of their pretty expensive hotels, just like another time, but know that I once also had a very good and affordable stay at a B&B there too, so was not happy with that. Still some old women there managing lodgings, but no luck this time and it is a village where it is hard to find free rooms.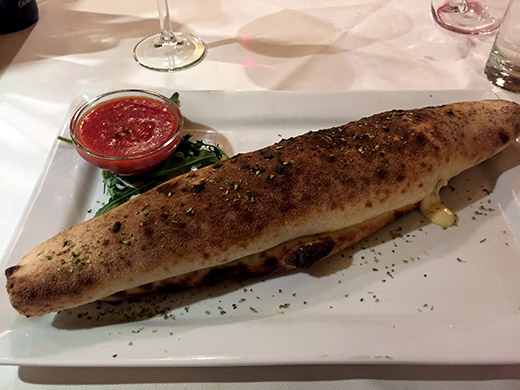 I continued eventually even though it was turning to twilight outside now and was not all that keen on cycling on the main road then, but hurried on and the traffic was not so bad this late. Went through Innichen/San Candino and knocked on a door there, but no answer and saw nothing else of interest. Continued and stopped by a place outside the village, but no good and continued on to the Austrian border. Just before reaching the border I saw lights up the last village and it looked like a hotel so went up there.
Here they did have a free room and food and was not all that expensive, so that was it. Winnebach/Prato alla Drava was the stop for the night and a pizza for dinner.