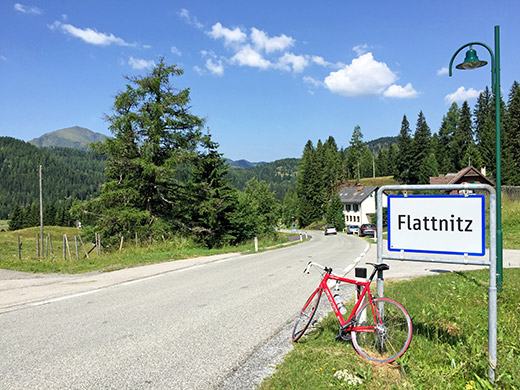 Yet again in the green hill Alps of eastern Austria that is not my favourite area, but it is still a nice area for sure. A nagging unrest about having left a possible paved pass unvisited in this part of the Alps drove me to do this big detour once again. I was supposed to have visited the Klosterneuburger Hütte (1878m) another time, but got here all to late in the day and then skipped it. But that gave me the opportunity to also visit a few other climbs in the area I still was curious about and it is also an area with lots of roads still to be discovered by me. I still this year left a big area near Vienna of lower passes and climbs in the very easternmost Alps for yet another time. Austria really occupies a big part of the Alps after all.
Best thing with the breakfast this morning was that the man instantly without me asking put out both a half litre of juice and half litre of sparkling water in carafes!! This is exactly how it should be every morning, but never is. This is what you need most of all in the morning after cycling long distances in hot weather. Then I got the normal coffee and bread and maybe cereals (do not remember). That touch with the carafes made me rates this place much higher alone than what I would have done otherwise. Those things are the things cyclists does not forget!
It was a sweet morning and I found the short-cut road over to the Flattnitz road. The road up there is a bit steep in places, but one the whle it is not a terrible climb. I passed by another cyclist and said hello, but not much cyclists out here otherwise. I took one more photo at the pass height, but this one was nicest.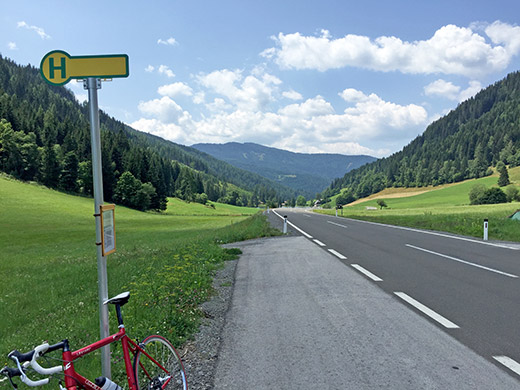 From the Flattnitzer Höhe (1430m) I went back again a short stretch to take another road over an unnamed pass, but maybe it goes by the same name (Biermanstiegel (1371m)). The road down from here is quite speedy at first, but the road surface was not the best so had to take it easy a bit further on. Then it was down this very rural valley to Preining/Wöbring (852m), where I took a small road going north again and met a road cyclist here coming down fast, but later I wondered if he had dared to go down fast on the upper part of the road as that was in a very bad state. There is an unnamed pass here at Auenwinkel (1175m) (also a high plain at a corner of the road).
Down the bad road and crossing into Steiermark, where I think the road got better. Then instead of going to Murau, I went up to Harmhöhe/Im Tal (1096m) (from 950m), crossing into Kärnten and back again. Well back in Steiermark the roads were good. From the little pass I went down to Sankt Lambrecht where I stopped for lunch (pasta and radler). Here is the view from Harmhöhe back over a small see which is not quite visible here, but there were lots of people swimming there.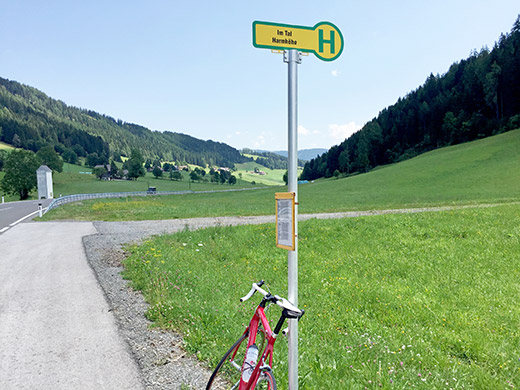 Here is the view toward Sankt Lambrecht and the bus sign announcing the name.
After the lunch in Sankt Lambrecht, it was terribly hot again and now I had to go down first to the Neumarkter Sattel (895m) by a golf course (must have been rather tiresome to play golf even in this heat). Then down to Teufenbach (743m) where I stopped again by a good grocery store to drink two sodas and a eat a banana.
The main road down from Murau to Judenburg was not the most fun and the traffic got heavier as I went on and eventually there were some road work and I guess they will not let cyclists use the main road down here soon and at one place I eventually had to turn off, but because of the road work I had to use the main road to another turn-off at Sankt Georgen and down to the river by Pichlhofen, from here a nice small road took me to Pöls with more climbing involved than I had thought (the road was very "Swedish" in going up and down, but mostly up). I stopped again in Pöls just to drag out on time in order to make the worst part of the day go smoother and drank another coca-cola by a Spar shop, before continuing. Now it was around 4 pm so the worst heat should be over now.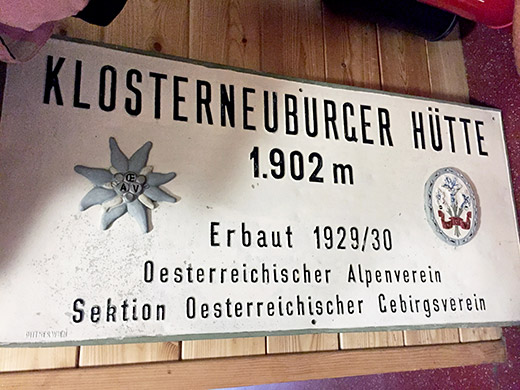 To Oberzeiring I took the short-cut road (Römerstrasse) and continued after filling up some water to the turn-off for the next climb, which was at last the climb to the Klosterneuburger Hütte (1878m) in the Wölzer Tauern. This is also a toll road, but with little traffic. A young little girl was helping out cleaning up the road surface at the start of the climb (thanks!) and then it was a somewhat steep climb up, but uneven and never really steep, which may be why you might not have heard much about this road before.
It is a quite nice road in parts. The surface leaves a lot to wish for higher up, but it is no real problem with a road bike either way. One reason this road is not so popular I believe are the many wind power stations at the top littering the otherwise nice mountain ridge. The sign for the hütte was tucked away near the toilet inside, but I got a photo of it anyway.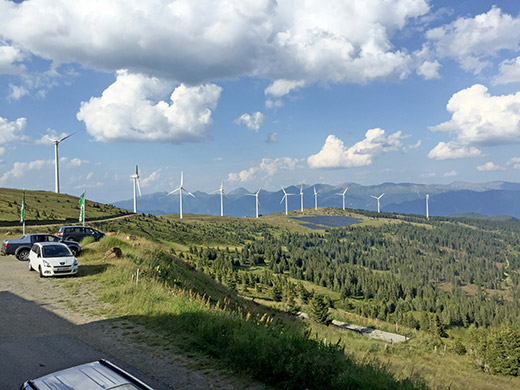 The views from the hütte are still quite nice. I stopped there for an apfelstrudel, I was going to say, but think they were out of it and got some other raspberry (?) cake instead and a radler, but continued soon again.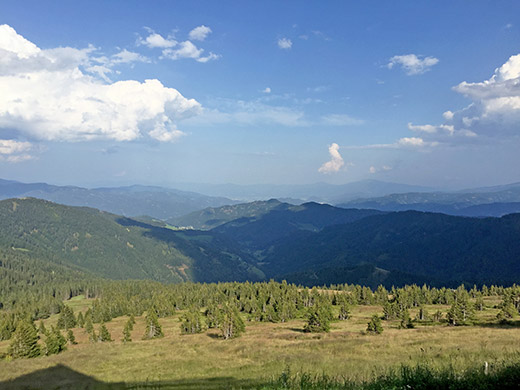 Here is the view straight down to Oberzeiring where I started and where I climbed up to the left in the photo.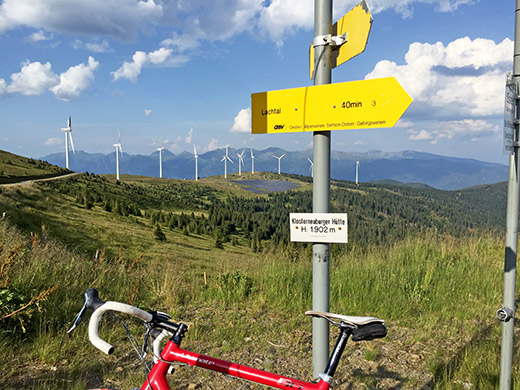 All signs says 1902m up here, but it should be a bit under 1900m here. As you look down the ridge it looks like there could be a pass over there somewhere and I went looking carefully at 2-3 possible places along the ridge to see if I could find some good case for postulating a pass here even though none is named on the maps, but it was slightly unclear.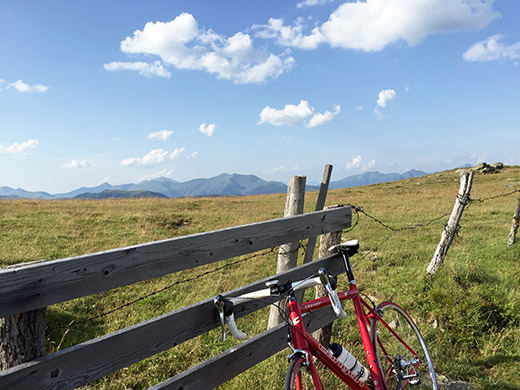 The name Wölzer Tauern happened to have been placed on one map at the location for this photo or one of the next two, but no signs saying anything suggesting a pass is located here. There are paths down the other side at some places that looks a bit like passes, but still it is all a bit vague.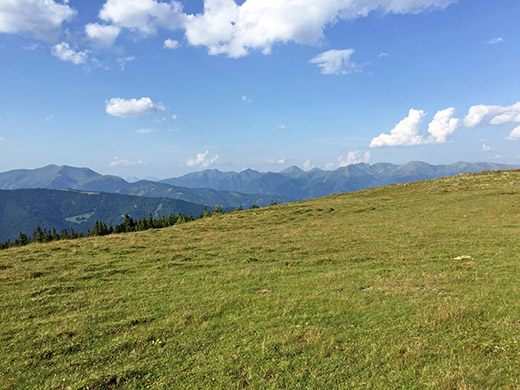 Nice views on the other side of the ridge at the highest possible pass place.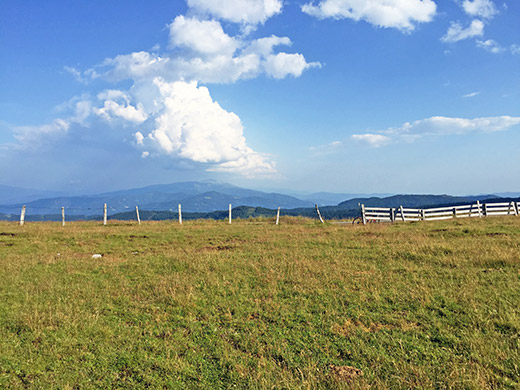 And looking back from the same place carefully avoiding to include the power stations.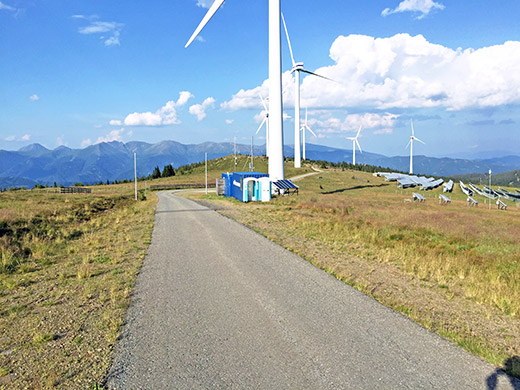 Okay, some power station photos and more documentation of the ridge up here.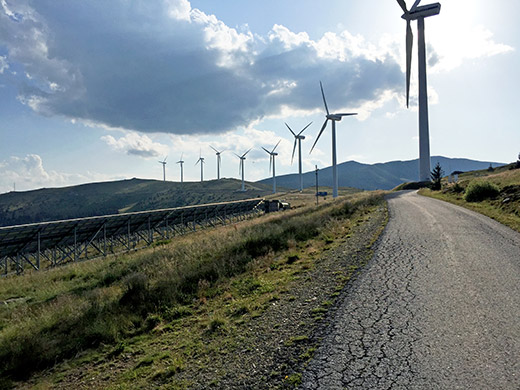 This is the last stretch of the road which is quite nice to the hütte. The hütte is before the end of the photo (the mast at the end is only reached on a gravel track).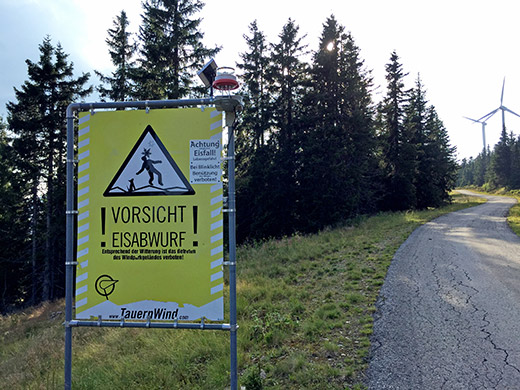 Last photo of the power stations (the first you see on the climb) and a warning sign to look out for giants snowflakes! (Ice could fall of the big blades in the Winter.)
I now see I skipped including a photo documenting the place (boring) I do regard to be a pass a little before this warning sign. This have been listed by some other pass collecting cyclist as 'Zeiring Sattel', which is for all I know a name he made up. However that was what called my attention to this being a possible pass, and indeed it is hard to avoid that it looks like a pass when studying the maps, so I think I will continue to also regard it as a pass even though the locals may not necessarily see it so. (Austrians are a bit sloppy about naming their passes at all really.) There is an obvious gravel road coming up here and there are a choice of one track/path and another gravel road going down the other side here at two different places. I list it as Neuperhauserboden (Zeiring Sattel) (1699m).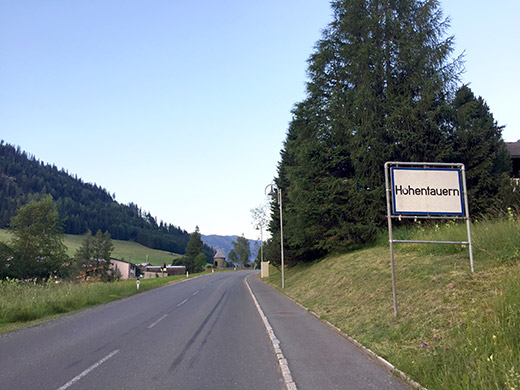 Then I finally went down the road back to Oberzeiring and now the temperatures were very reasonable again. I continued the nice and easy road winding its way up to Hohentauern/Triebener Tauern (1277m). There is not really any steeper passages along this road, but the length makes for expending a bit of effort to get there. Here the first sign for the village with the same name as the pass.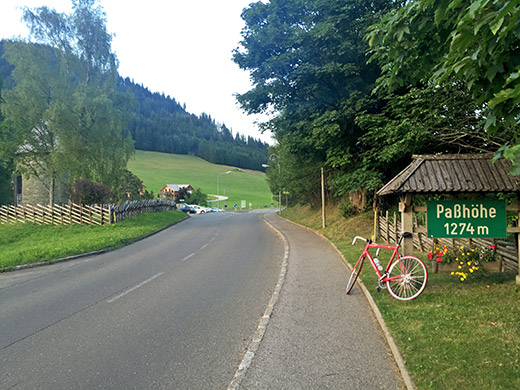 And here the pass sign without any name.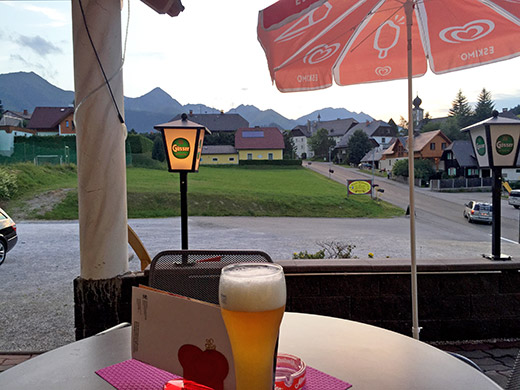 I looked for a place I had looked up beforehand that I was supposed to stay at one night earlier (just exactly one day behind in the plan again despite skipping a lot of climbs), but did not find it. There was one hotel at the top that looked slightly expensive, but tried at another one just a bit down the other side and it was not very cheap, but rather normally priced and very average in every way, it turned out. Typically here was the only place I met other Swedish people who was staying here on their way back to Sweden as it had been too hot for them down in Croatia so they went back home a bit earlier and decided to go a bit up the mountains this way. The people were nice at the hotel and it was okay, but I cannot really recommend it. One of the lights were out here in the photo and that sort of sums this place up.