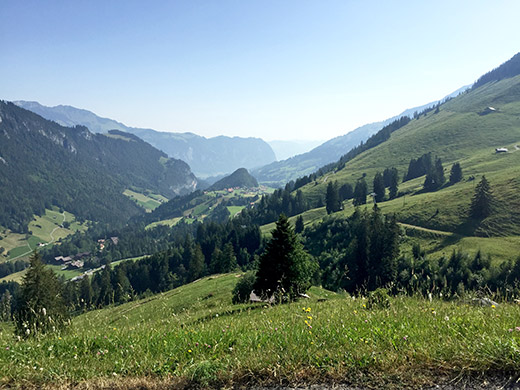 The view down Diemtigtal was nice in the morning. It was again already warm at start, but down we had to go. Down the Simmental to Wimmis (630m) and finally we made some real progress in moving east through the Alps, but still several "stumble stones" on the way.
I continued from Wimmis on the small road also suggested for cyclists, I think, all the way to Mülenen (691m) with an up and down just before. Here I was out on the main road, where they do not seem to like cyclists very much, but the road gets wider after Reichenbach. There are smaller road a bit more up and down on either side though and cyclists are apparently supposed to use them, but what do I care – sometimes I do, but just wanted to get ahead now to Frutigen and from there it would be the same road anyway, only more narrow, but of course it is fine cycling on busy roads with many cars if they are narrow and unsafe, and otherwise not, as makes a hell lot of sense … (no). (I had planned to take the bicycle suggested road as I had planned to stop by a hotel along this road originally.) I had thought there would be some open café in Frutigen, but there were none on this Sunday. A small bakery was still open and I got a coca-cola and a cake there and then they also closed. Terribly warm, but the road ahead up to Adelboden was nicer and not steep.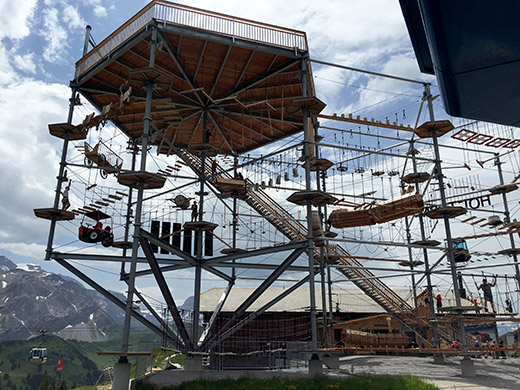 I stopped again in Adelboden by an open café and then continued up to Sillerebühl (1973m) on a nice asphalt road also frequented (much more so) with the so-called "Trotti-bikes". It was hard, but I got up and had very nice views. The weather looked gloomy up there, but it got better later. Here is a fun attraction at the top (no, did not go up there with my bicycle!).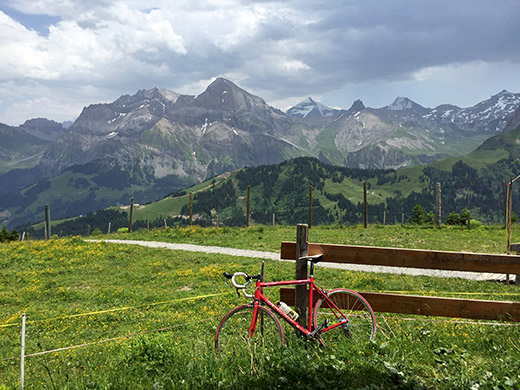 I took a lot of photos up here! The reason for going up here is that I thought there is a pass on the way near the top, but it is not all that clear one should regard it as a pass, nor does it have a pass name (again, but I am mostly now exploring pass candidates that are not already well-known). Still it is good enough for being called a pass at altitude 1935m and thus it was the highest pass in all the Alps I had not visited prior to this tour. The other side down the other valley is a gravel road for some time (Some went down there on their Trotti-bikes, so it could not be too bad or they did not know what they were doing. Hard to says even though you could see the road well from above.)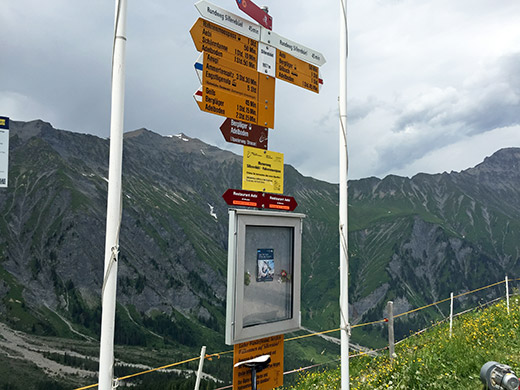 The sign at the mountain top.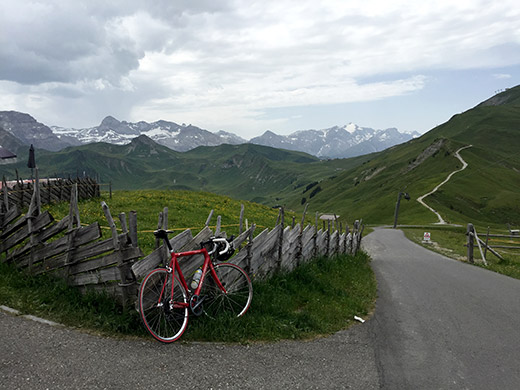 Down there you see the pass (1935m) I am talking about.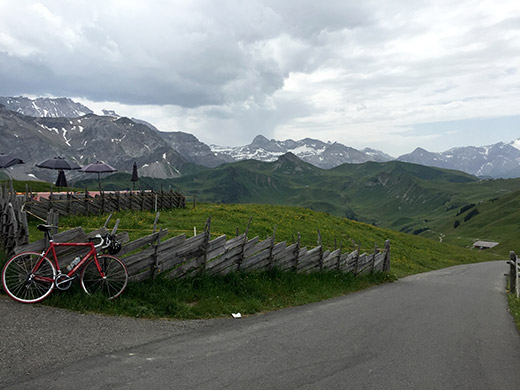 Here you see both Hahnenmoospass (1950m) and Bummerepass/Pommernpass (2055m) in the distance, where I later decided to go next, as planned.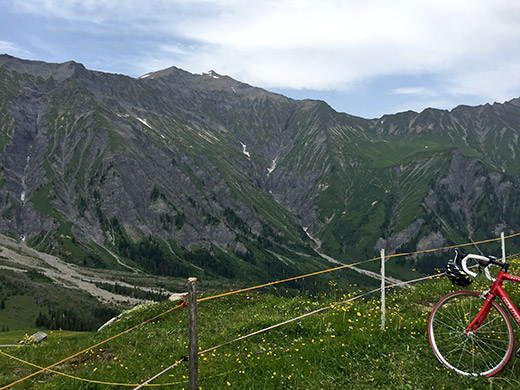 More photos (and still I left out some).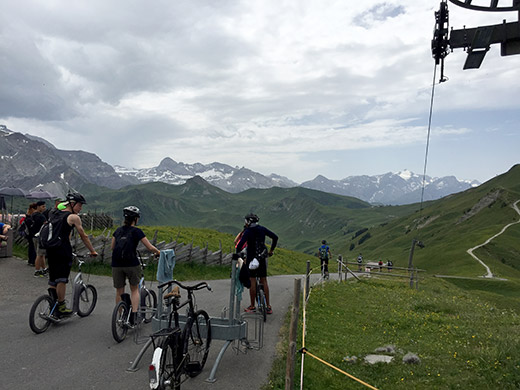 Finally a photo of the Trotti-bikers starting out down the steep last section up to Sillerebühl.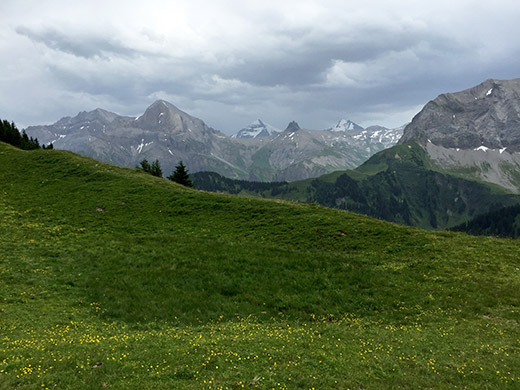 Good views.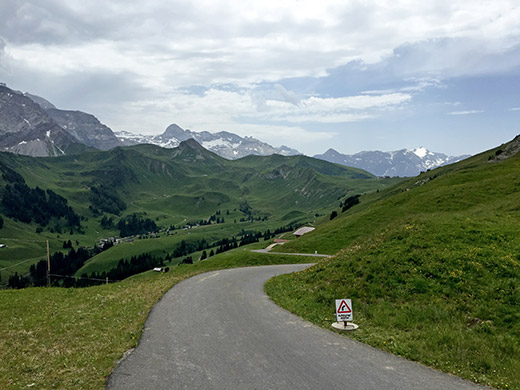 Here another photo toward the Hahnenmoospass from the pass.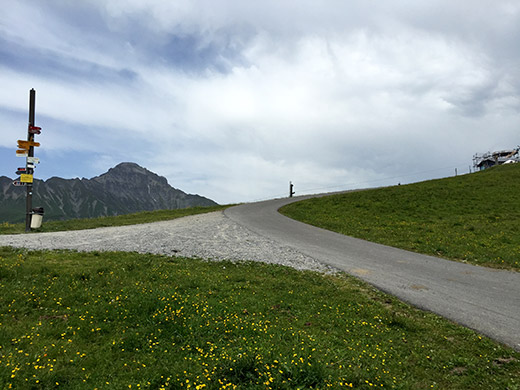 And looking up the steep final ramp from the pass.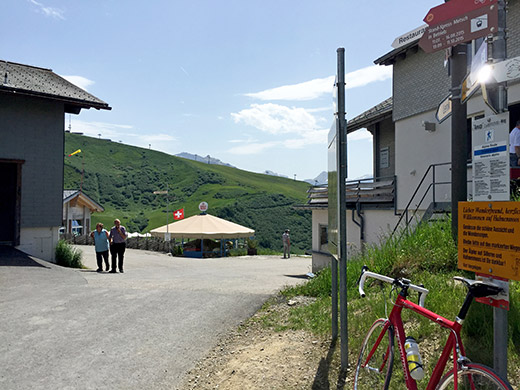 At the first real switchback down from Sillerebühl there is a short-cut gravel track over to the asphalt road to Hahnenmoospass. After staying and thinking hard about taking that road or forgetting all about Hahnenmoospass this day, I decided to go to Hahnenmoospass. It is just about possible with a road bike (does not look so, but it was ok) and anyway it is a short cheeky short-cut for the lazy of us. Still a bit of steep climb up to the Hahnenmoospass, but no big deal. Here is the pass sign. Was resting in the shadows up there for a while before going on.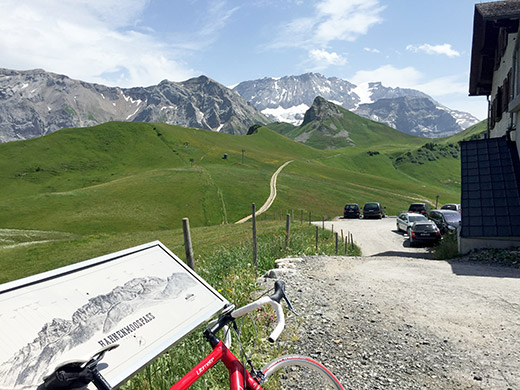 Here is another panorama pass sign. One reason I wanted to get to Hahnenmoospass again despite being here before was that I had no good photo opportunities then and now the weather got really good again. I stood looking there for some time at the gravel road that would take you to Bummerepass/Pommernpass (2055m) and that I had thought to do, but now was very tired of gravel roads (as so often). However, while I was standing there trying to decide an old couple on mountain bikes went by and rather quickly gained ground, so I figured that it couldn't take too long time to get there even if I would have to walk most of the way.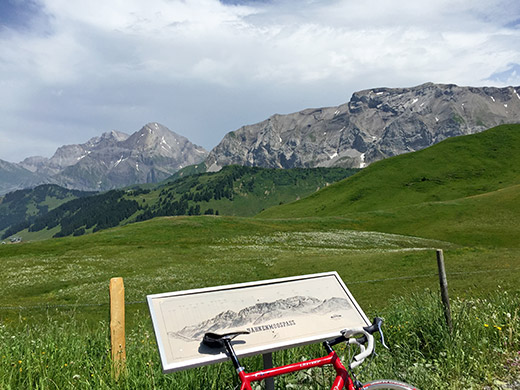 One more photo and off I went. Sure enough I soon had to walk, then bicycle a little again as it got flatter, but it was walking more than 50% of the way to Bummerepass/Pommernpass (2055m).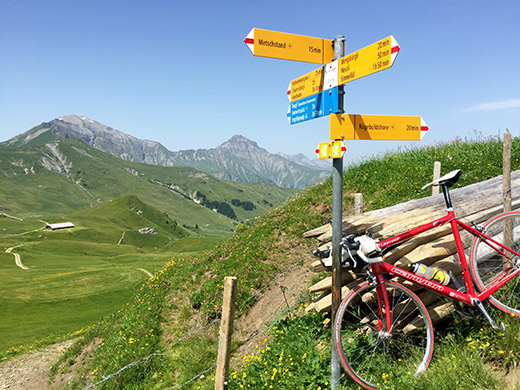 The last little stretch up there is a simple path. In order to have my bicycle at the pass sign I had to lift it over the gate here and got stung by one of those evil insects, but what don't you do for a good photo!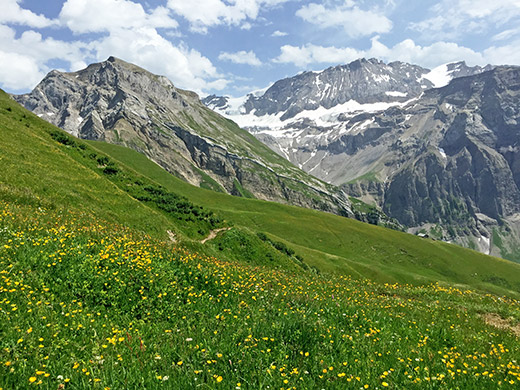 Really lovely views up here and I can't say I regretted going here and it was also one more of those elusive (for the road bicyclist) passes above 2000 metres!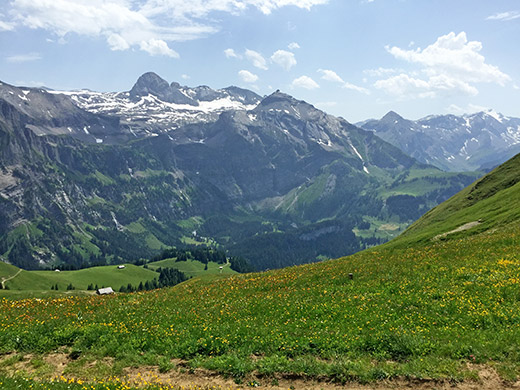 No need to explore the other side of this pass unless you actually have a mountain bike with you as it is single trail for several kilometres here.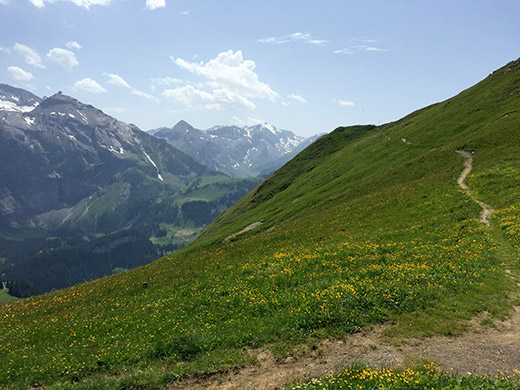 This trail leads of along the ridge simply.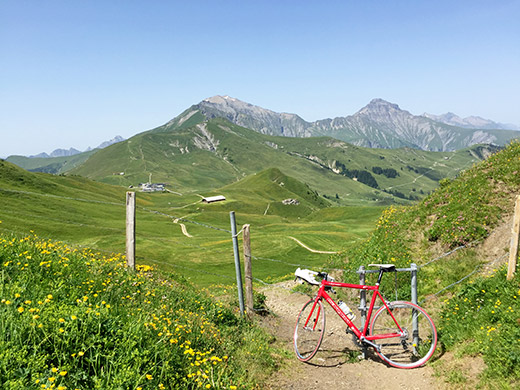 Looking back to Hahnenmoospass and the road I had to go back on.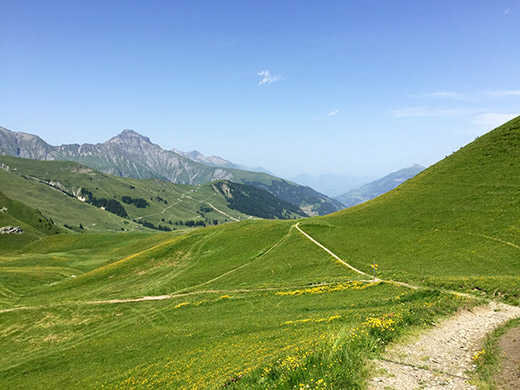 There is this road down the valley, but it is not a good choice with a road bike and it goes over yet another pass.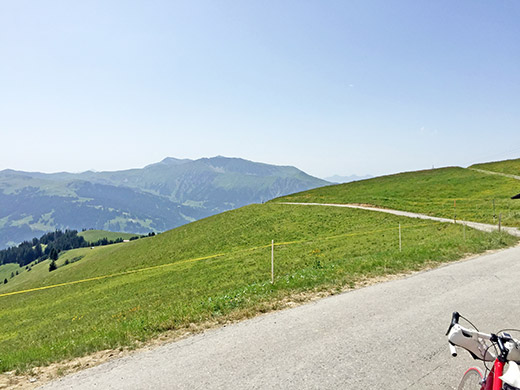 Back on the Hahnenmoospass-road and nice asphalt, but here I am looking down the Lenk-side to Bühlberg (1658m) where it is only a steep gravel road, partly too steep to handle going up with a road bike (walked up there the last time I was here).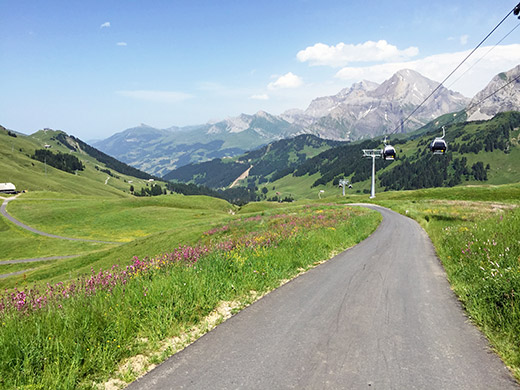 Here is the nice steep road back down to Adelboden. Time to get worried for heating the rims too much again! Further down I followed the Trotti-bikers, but that small road eventually turned to gravel, but only for a short stretch and one arrives at the bottom of Adelboden on a private road.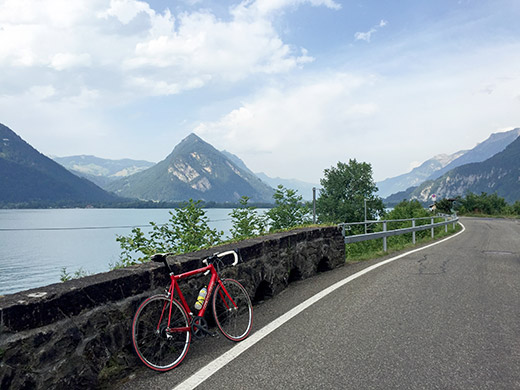 Down at Frutigen, I opted for the alternative road to the main road on the left side coming from above. This turns into a very tiny, but nice road coming out on the main road where I had originally planned to start climbing up to Ober Geerene (1764m), but I decided there was no real pass up there and it was also too damned hot here, so skipped that possibly otherwise quite nice and steep climb.
After a short stretch on the main road I took off on the road up to Aeschi (862m) which is more of a pass, but without name. I went up in good speed, but sort of crashed in the heat once again as I reached the top, even though it was merely a 170m climb. Stopped by a kiosk to have an ice cream at their only little table inside. Then it was a nice ride down to the Thunersee and Interlaken, where this photo was taken. Up to the left in the photo you can see where I went next.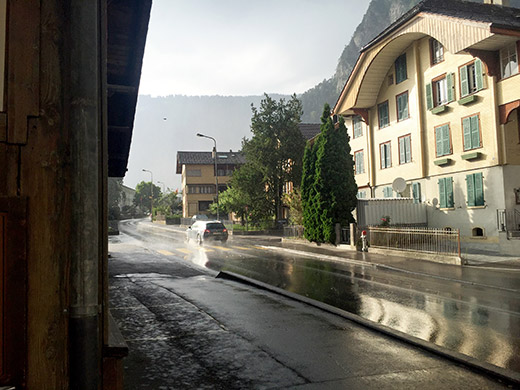 I stopped again in Interlaken (563m) by the Jamming Corner reggae bar for a simple sandwich and coffee. As I got out it soon started to rain as a thunderstorm passed over. It quickly disappeared and I was lucky to find cover before proceeding on the road up to Habkern.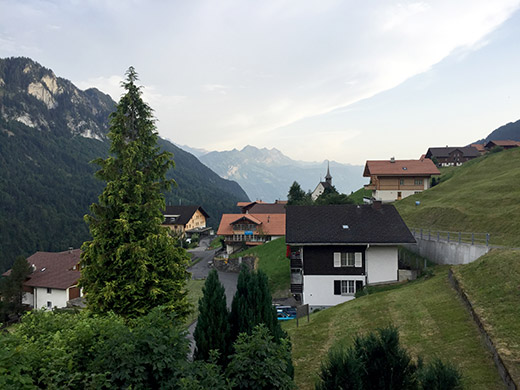 The road to Habkern is a very wide and good road, while also quite steep, which is a bit unusual. Now, they were just resurfacing this road and it was no fun with the road also being very wet, but it all went well. I had thought to get to the top of another unnamed pass here this day, but after all the delays (mostly willingly), I had to accept stopping for the night at Habkern. I first asked if I could climb the pass and get back and still get something to eat for the night, but they were not that happy with this and also I might not have gotten back while it was still light, so it was likely best I just waited to the next morning to do the second part of the climb.
I had a thin looking crêpe-like pizza, which they said was a local dish. I was the only guest at the hotel and it felt like the house was very much mine. A good place. Cannot really see why stupid tourists stay down in expensive and boring Interlaken when they could take a bus up here and live better and cheaper … . Here the view from my house ;-).