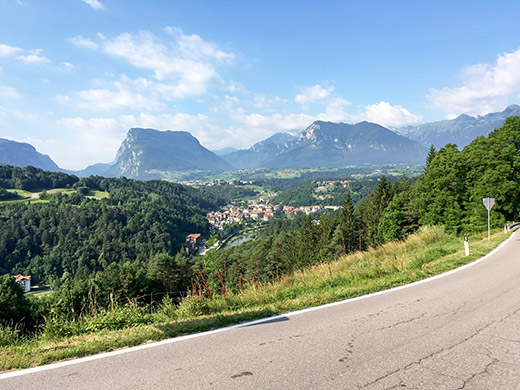 From Sarche (250m) I went west to Ponte Arche on the normal road, which is allowed here even with tunnels and even though there is an alternative bicycle path, as it should be elsewhere too. The road then descends sightly to Ponte Arche, but the main road ahead there was closed to traffic so we had to take a bit of a detour with some extra climbing, but at least this offered me this nice view of the area.
Maybe I should have taken the road over Stenico as it would be less cars and likely more scenic, but decided to follow the planned main road down the valley and took off a bit before Preore (530m) where the first proper climb of the day started.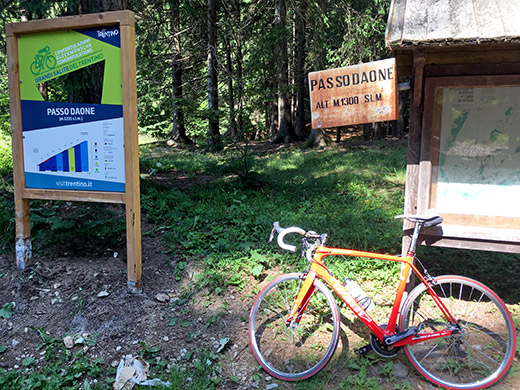 The climb up to Passo Daone/Pra da L'Asan (1292m) is quite steep and a local good cyclist easily overtook me and I did not really try to hang on. It was also getting quite hot now and I raised my speed a bit more higher up and met him as he had turned around likely before the pass (as he wasn't that fast).
It is quite a nice climb on this side, but the pass itself is without anything of interest apart from the signs here. The road down the other side is through dense woods all the time until you are down the Val Rendena up to Madonnna di Campiglio and Passo Campo Carlo Magno (1683m).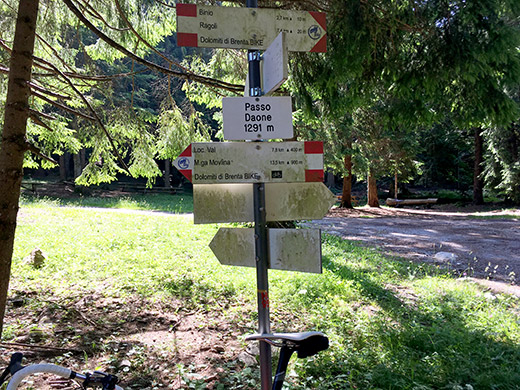 Another sign showing a more exact height. Down in the valley I kept to the right hand side of the valley and the smaller less busy road to Bocenago from where I went down to meet the main road a bit before arriving in Pinzolo.
I stopped by a café in Pinzolo. I remember having a hard time finding a good place to stop at in Pinzolo on my previous visit and this obvious road side café was also not particularly good, but at least I got to rest a little. Then I stopped again for a coca-cola from a grocery shop before leaving Pinzolo for good. The road up the valley starts climbing more like a pass road after Pinzolo.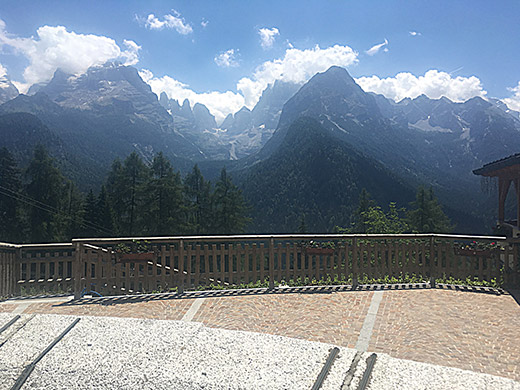 I stopped at photography spot by a well-located hotel just before Madonna di Campiglio for another photo, but had not got the lens dry and clear, so had to sharpen the photo a lot to make some sense. At least you get an idea that it looks beautiful here.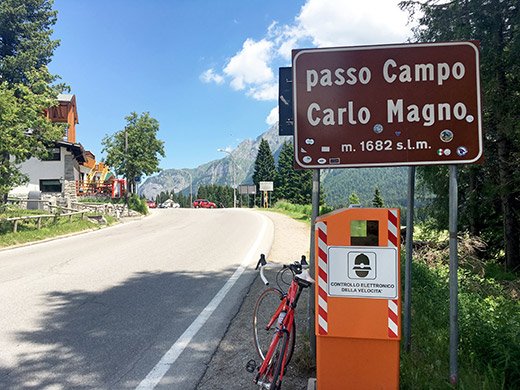 I cycled through Madonna di Campiglio and start to learn this road now. Then a short climb up to the Passo Campo Carlo Magno (1683m) for yet another visit, but this pass is very strategically located. Thought about going up to the highest point above the pass on a steeper road to Malga Zeledria (1775m) but wanted to focus on getting as far as possible today instead.
So instead had a nice ride on the good road down Val Meledrio to Dimaro (764m). Yes, I had thought to take a short-cut down to Commezzadura, but obviously forgot about that.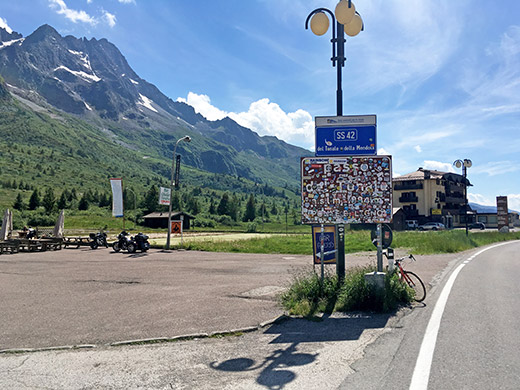 The road up the long, long Val di Sole and then Val di Vermiglio only starts to climb in Ossana (982m) where Val di sole splits into Val di Vermiglio and Valle di Peio (a dead end for road cyclists). The road is not steep, but because it is long I eventually got quite tired as I approached the Passo del Tonale (1883m). I stopped by a grocery store at the ski resort up here for a coca-cola before stopping to take some photos at the pass sign.
I have been here before but then forgot to take any photos and it is arguably not the nicest of passes, but it is moderately nice on the climbs on both sides and would be nicer without the ski resort. It looked good here today in the nice weather.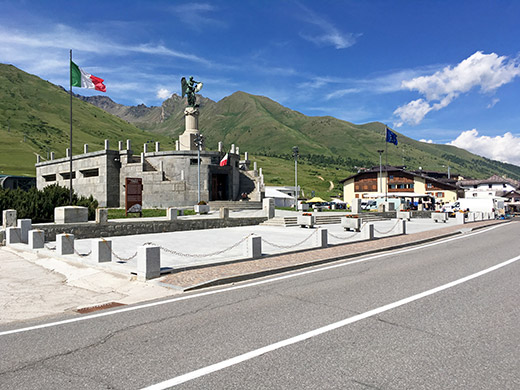 What I had not looked up is that you can climb higher on asphalt here up to a hotel La Mirandola at 1972m and from there a gravel road continues above 2000m, but still no +2000m asphalt road here, but going up there would make it a more impressive climb with better views. It is up in the direction this photo of the monument was taken.
The road down to Ponte di Legno (1298m) was nice and I was soon down by the turn-off for my next pass of the day and the highest point of this Summer's tour, namely the Passo di Gavia (2618m) (pass height is often given at 2621m, while the old sign said 2652m, but the technical maps are at 2618m, while I think it is likely 2620m as the SRTM1 data says ;-)).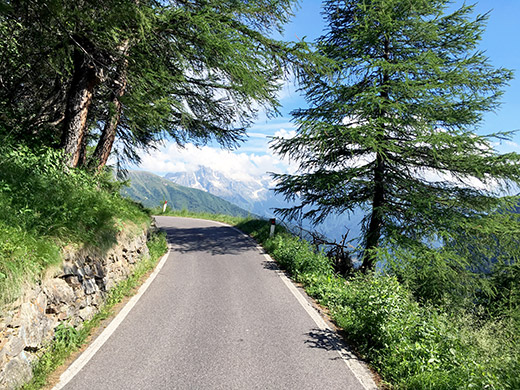 I stopped on the way up just before the road stats to get narrow and steep (the actual pass road) at Albergo Pietra Rosso (1583m) for something to drink and a visit to the toilet before continuing up the nice and narrow road. In this photo you see just one of the nice places along this part of the road.
After stopping the climbing I felt nice and easy, but this is a long climb and in the last section I got really tired and perhaps I started to feel the height just before the top, but I allowed myself to stop for some photos, which I did not have many of from my previous two visits (one in the Gran Fondo Pantani race where it was cloudy and then only on my very first tour of the Alps in 2000 when I did not have much film roll left and only had three photos on the Bormio side and two at the top).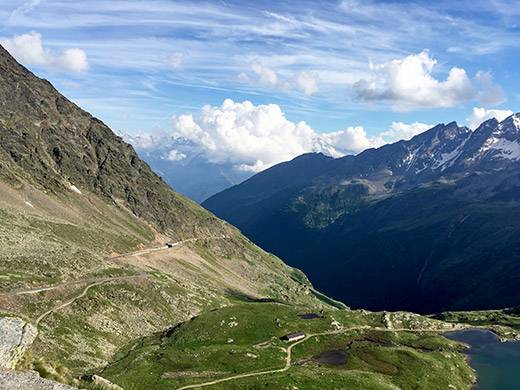 Here I am up on the last section above the long tunnel and one get a sense of having climbed for quite a while up here with the views back down the valley.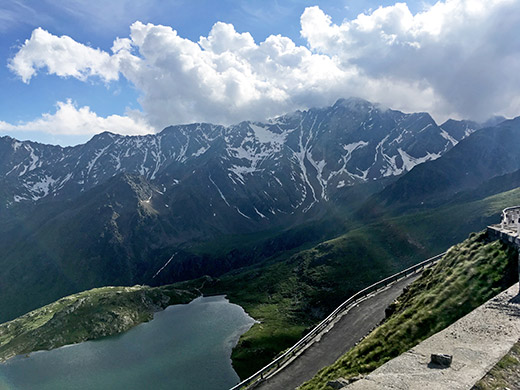 One more photo from the same place as above.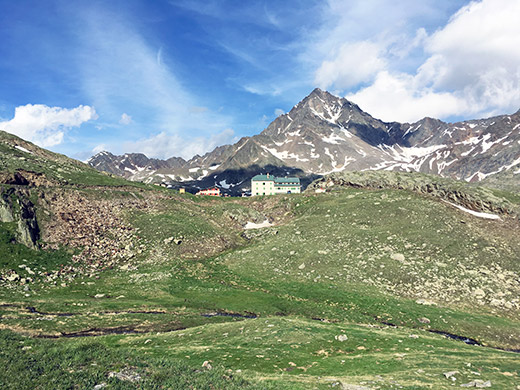 Then a last stop and here I was getting tired for real. Thought it was nice with a photo showing the destination as it appears when it finally became visible.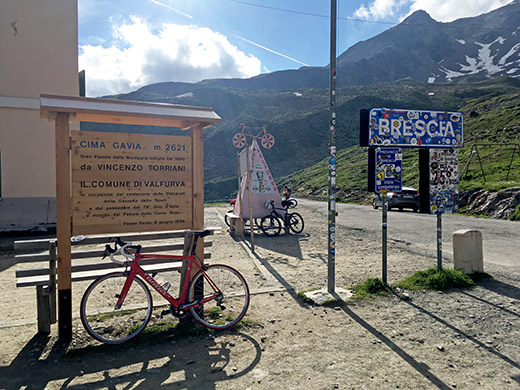 Ok, I made it this time too! And now there was a new wooden sign. Here looking back.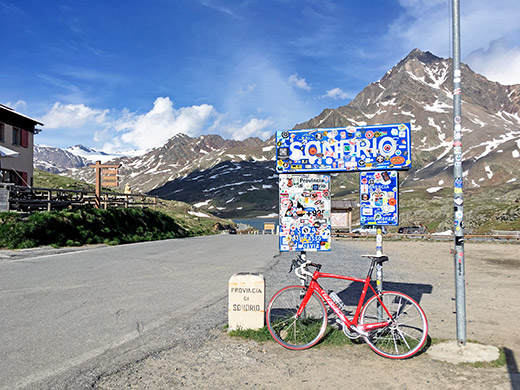 Here the classical view at the top over the lake and the obscured sign (too many people putting up club logos etc, but also understandable).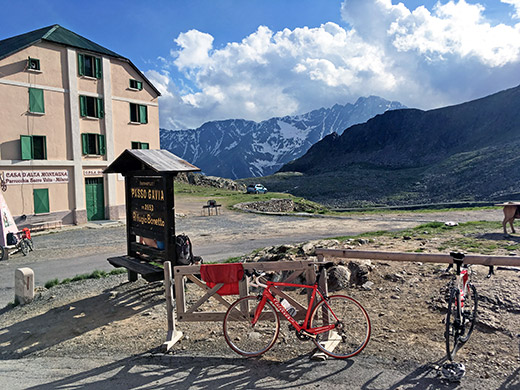 Really lucky with the nice weather and a very moderate amount of traffic. But there were a few more cyclists hanging out at the rifugio Bonetta/restaurant at the pass, which had a nice hanger for bicycles. Last photo looking back here. Also the asphalt goes up here, so there is surely asphalt at 2621m even though the pass might be a little lower.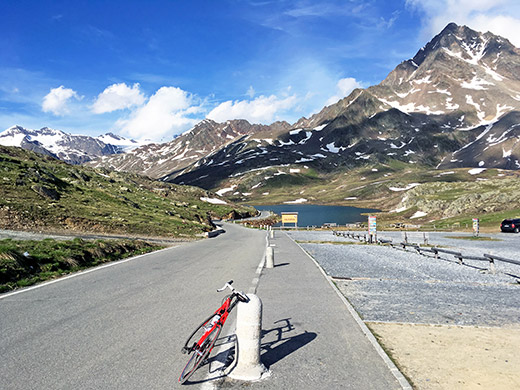 An unobstructed view of the Lago Bianco before taking off down the Valle di Gavia to Bormio (1200m).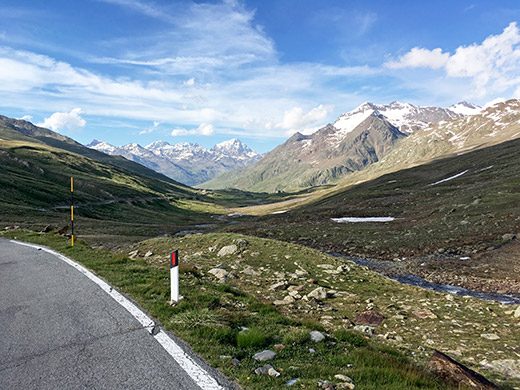 And one last view down toward Bormio. It was actually starting to get a bit chilly now, which I had not noticed when climbing up in the sun, so I tried to hurry down, but the surface of the road was really bad now on both sides (on the way up it does not really matter, but no fun on the way down). Anyway, I got down well although not exactly in racing speed.
I had not quite remembered that there were many villages after S. Caterina Valfurva on the way down, but there are. I stopped in Sant'Antonio (1345m) and had a soda and some dry cakes or what it was (did not find anything good to buy in the small grocery). That was really the last stop for the day apart from filling my water bottle once well out of Bormio that I just continued through and not sure if I even had to look on the map, but might have stopped once just to be sure I took the right road via San Gallo and Premadio, where the road climbs steeply up through the village.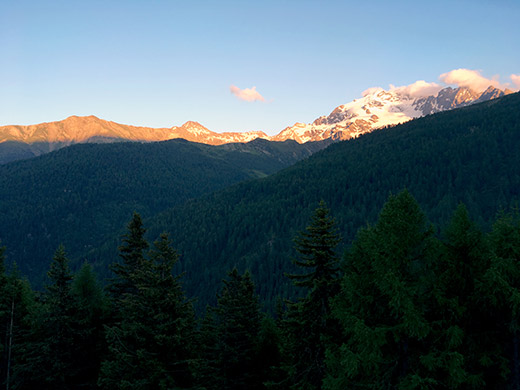 Then I just followed the main road toward Livigno, which I have never cycled on before here. It started to get late now and before reaching Valdidentro and the start of the proper climb up to Passo di Foscagno/Pass da Fus-chagn (2289m) I was not to be seeing any sun around me again this evening. I continued in a steady good speed optimistically in the hope of reaching a hotel between the Foscagno and Eira passes that I had planned, but this was a long day and the cycling got heavier the further up I got. Still I thought I could make it over the pas before it got dark and then I would be very much at the hotel still in time to have something to eat, hopefully.
However, when I eventually reached Arnoga (1881m), which I had thought was like 100m lower also, I was very tired and it was now past 20:00 and there was a hotel looking inviting. I gave in and decided to cheat and get to Foscagno in the morning instead and likely have better photos then too. It was probably a wise decision as I at least got a bit less tired and maybe would have a problem getting warm food that late if I had continued. This place was very good and good food, but it was expensive for being in Italy. Here was a last photo out from the room window seeing the sun descending on the mountains up in the direction of the Verva pass (only for mountain bikers).