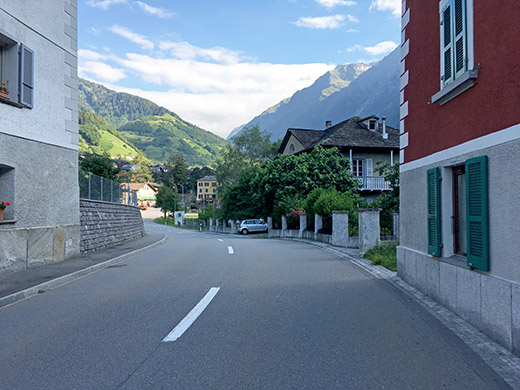 Yes, the weather was great in the morning. I went up a bit early and there were no breakfast here, but had a coffee at the bar before leaving and a coca-cola and banana at the grocery down the road. Took this photo up the Valle Mesolcina and now it of course looked very nice up there.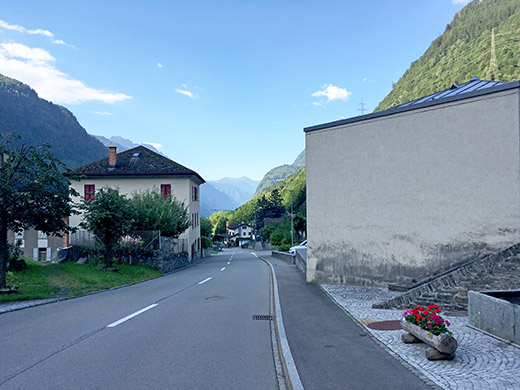 Here the inviting downhill through the rest of the valley and it was indeed a nice morning. Slightly chilly at first when one has no real cycling to do. But I soon got down into the sun and it got warm and nice.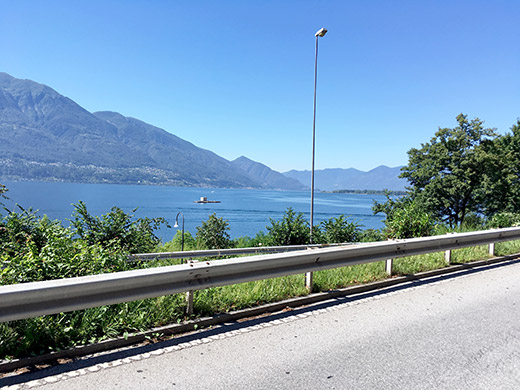 The last part from Grono (where I had hoped to get the day before) to Bellinzona was not so nice though, but expected. I reluctantly went over to Gorduno as a car driver also suggested as I stood looking on my Pocket Earth maps, but I knew that road from before I knew that would likely be the best. Have had so much problems getting through the Locarno area before, but now with the OSM maps downloaded in advance that should be avoidable. One could go over on that road further down in Bellinzona, which was what was on my mind.
The road on this side down the valley floor to Locarno is the shortest and follows the side of the mountain, but it is also a quite busy and not very wide road, nor is it particularly flat as I had thought. Had to stop while I could get a glimpse of the Lago Maggiore (got perhaps a better view later, but too many cars so this was enough for this time). Down in Locarno after stopping to wash my bicycle at a well-located car wash just before a hill up to Locarno. Went by mistake down to the sea front in Locarno and should have looked a bit on my maps, but found my way back up through some narrow roads to the best road over the bridge to Losone, where I stopped again at a grocery for soda, water and yoghurt and now it was very warm.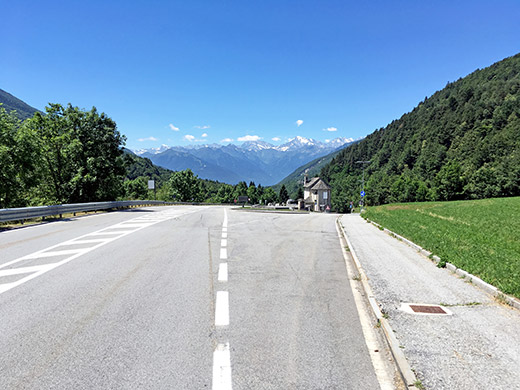 On my way up to Intragna I realised that I was shorter on time than I had thought. It had taken a bit longer than expected to get here. I had even though that maybe I could go down to Cannobio and climb over Passo Scopello (Pian dei Sali/Piano di Sale) (964m) in good weather and not in terrible rain like in 2013 (my only other crossing there). The narrow road up the Centovalli where also a train goes up (that one is not allowed to bring the bicycle on as I had thought a little about) is quite nice and disturbingly seldom climbing much, so it takes forever getting up to Italy and Malesco.
Just as I crossed into Italy the road was barely in a usable state any longer. Italians have more or less given up on their roads as it seems lately – maybe there will only be mule paths in Italy outside the motorways in a few years if the trend continues.
I was getting slightly desperate now as I noticed that no matter how I counted I had to go in max speed all the way to Domodossola to stand a chance to catch the train I had booked and it was starting to get tough, but I told myself that this was the only work this day and I could rest on the train later so I went as fast as I possibly could up to Passata Druogno (831m) and felt like my legs were like jelly at the top. Stopped for a quick photo as it looked good here and wanted a last fine photo for the day even if it took a few seconds of my precious time.
Now full speed down and no thought given to the bad road which was mostly better again from Malesco and down, but with some problems. I really went as fast as I ever would do down this road and surprised myself that the descent took like max 15 minutes, but at the bottom I had less than 20 minutes to the station and still a ride to get there and I did not quite know the road, but managed to guess right from memory and signs.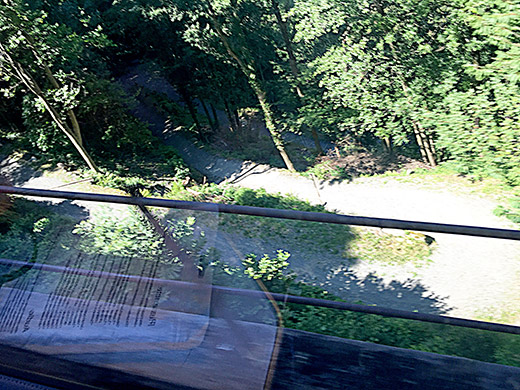 I had just enough time to get the ticket and a big bottle of water and then jumped on the train all sweaty, but relaxed. The ride over the Simplonpass to Brig is really fast (at least in comparison to cycling over the pass, which would have been nice).
Got on the connecting train to Martigny and found out (as I had forgotten) that I did not have to wait in line to buy a ticket for the train to Chamonix. I had not been clear on whether to cycle back over Col de la Forrclaz to Chamonix, but I continued in the lazy train riding mode. Called my sister to see if they fancy having dinner this Saturday evening in Megève as it would be perfect for me as I needed to get there to collect my starting kit for the participation in the L'Étape du Tour the next day. They were thinking it was a fair deal me paying for dinner and they taking me there from Chamonix, so it all worked out fine with no more cycling this day.
In the photo here I caught the gravel road going up from Vernayaz directly to Salvan, but doubt it is really possible to handle with a road bike, but if it would be possible it would make a hell of a climb directly Col de la Gueulaz (1966m) and I had some thoughts about trying it out at the end of the holidays (and thought many times about it before after discussing it with a Russian cyclist like 10 years ago who went down there), but it never happened this year.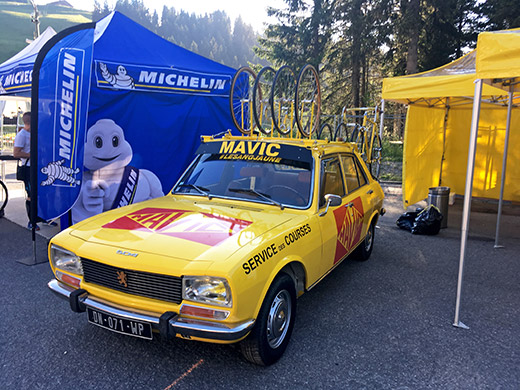 Got a shower and borrowed some clothes and off to Megève we went. First I wanted to get the start kit to be sure I was all set for the next day. It turned out the collection of the kit was up at the altiport quite some distance away from the centre of Megève and the busses had stopped going up there for the day now, so we went up with the car. We met cyclists going up and that likely would not be up in time before they closed for the day – hope they got to start the next day anyway. This event is not the most well-organised Gran Fondo like event, but it is fun and attractive as it offers the participants to ride one of the day rides of the actual Tour de France that year but a week in advance of the real race.
Here up at the altiport in the photo.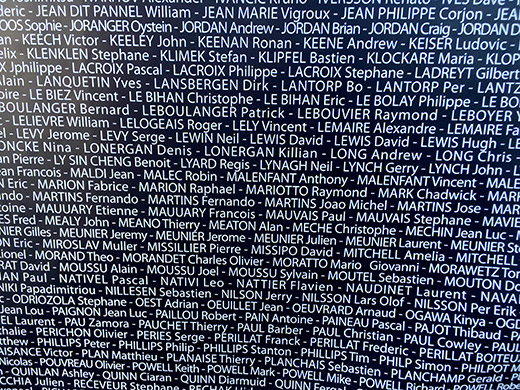 We had a good dinner but inside in a very warm restaurant in Megève. Eventually I also got a ride down to where I was to stay for a few nights now, with some friends (three of the four people I met up with for dinner at the Maratona dles Dolomites the weekend before) in Le Flumet on the south side of the road over Megève. People there had just gone to bed and turned off the lights for the night as I arrived and had to sleep on a sofa. Typical participants in such events always goes early to sleep and then one should be up super early so that the really slow should have time to finish before the evening. Oh well, I survive even though I see no point in not partying the day before an amateur race like this. I slept well at last as it had been a rather long day even if not so much cycling as the days before.