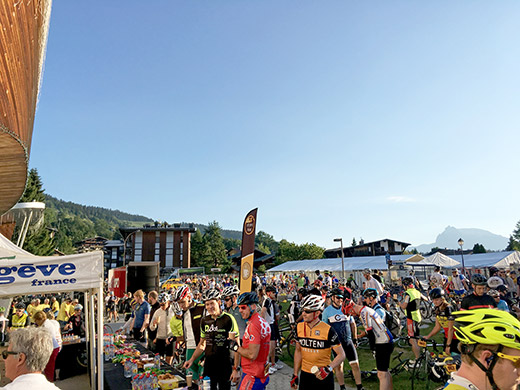 Had to go up somewhat early as I was sleeping in the same room used for eating breakfast and the rented châtel was full this morning with people participating in the L'Étape du Tour race. Still I felt decently fine as I had not been cycling so much the day before and now did not have to think about getting my backpack and all with me. But I had to get the starting numbers fastened and everything needed for the race – not much for me as I never bring more than a small pump, maybe a wind jacket (but today it was not needed, as I would keep warm on the uphill to Megève, and one water bottle with me and never any food etc. as there are good places to stop along the course for drinks and things to eat.
Fortunately the race did not start so early, but we still had to be up very early as they would later close access from below as the race went down the road we were going up on and some groups started much earlier than the one I was assigned to.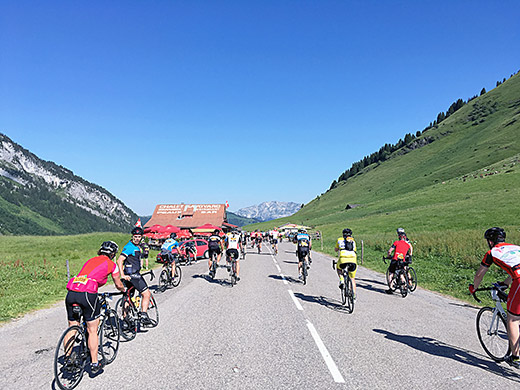 After fooling around for a while we got to the breakfast area, where they eventually had something like coffee to serve, so hanged out there for maybe half an hour or so before I headed to my starting group on the main road together with two other people sharing the same house (hadn't met the nice girl and guy before), who also started in the same group as me. The people I knew from before started much ahead of us.
There was not much congestion on the road so cannot complain about that and we kept a good speed down to Le Flumet and made a little up and down on the road to Col des Saisies before going through Flumet and up the valley to Col des Aravis (1486m). There is not much climbing before La Giettaz (1063m) and the climb is then rather short, so full speed ahead but holding back a little as the day had just started. Here reaching the top of the Aravis.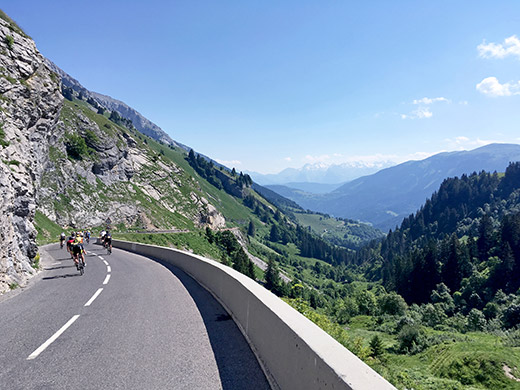 I took it very carefully on the descents as I was still worried about the ribs not having healed enough yet (still only one and half month since I fractured one or more of them, the doctor in Sweden thought a scan was not needed). But went a bit faster now than on the Maratona dles Dolomites the weekend before. Felt relatively good and did not stop at all until half-way up the next climb to Col de la Colombière (1608m) which I have also just visited once before and both these passes I climbed from the other side earlier. Drank some coca-cola and continued up to the pass.
Just crossed the pass as a guy cycling with a beer cage on his bicycle (in front) also crossed the line (passed him by later in the day on the way back after the race). Took a photo down the nice north side of the pass, which is also the harder side, and it is very nice as you can see here. Again carefully down here, but not all people are taking care enough even though they are light-years after the best riders and have no need to take chances. This descent is indeed a bit dangerous and so I would learn more about after the race unfortunately.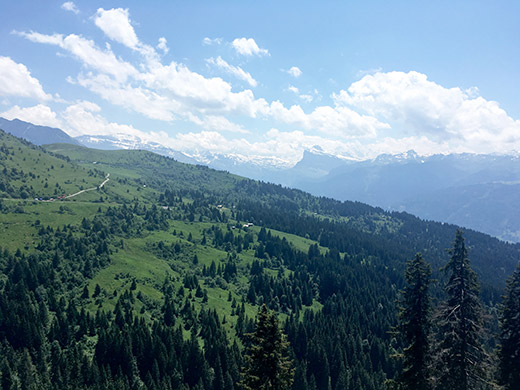 All went fine and I came down to Scionzier (493m) just hanging onto other people and not all that organised yet. Unfortunately (or perhaps fortunately given how hot it got now later in the day) the organiser had left out one climb that the Tour de France was supposed to also climb and one I had actually looked forward to also climb in a new direction for me – the Col de la Ramaz (1612m), but the local authorities had deemed the road to be too dangerous for so many participants to pass by there, so this climb was cancelled to much disappointment.
However, one tends to adapt to the length and estimated hardships to make sure one gets really tired at the finish nonetheless and thus we had less reason to take it easy. I hanged on to the fastest guys I could get hold of on our way from Marignier. At first I was not sure I could hang on or at least not contribute much to keeping the speed up as it went fast enough for me. But when closing in on Mieussy (where we should have turned off for Col de la Ramaz), it turned out that it was mostly I and one other guy (Spanish I think) who were actually keeping up the speed and we lost the others behind, but soon got new people around us that we caught up with.
After a long ride with pretty flat road we eventually got to Samoëns (698m) and time for a well-deserved little longer stop to prepare for the final climb, which is not to take too lightly. The Col de Joux Plane (1690m) (not really the pass, but the high point of the road near that pass) is feared by many and it has become a real classic from this side and raced before in the TdF. This climb is 11.6 km at 8.6%, which is a respectable steepness for being in France. (The hardest asphalted variant is 11.2 km at 8.9%.) The main problem now was perhaps the heat for most. With Col de la Ramaz before this, I am sure a lot of people would have given up this day. I here look back over the last part of the climb and the mountains to Switzerland behind.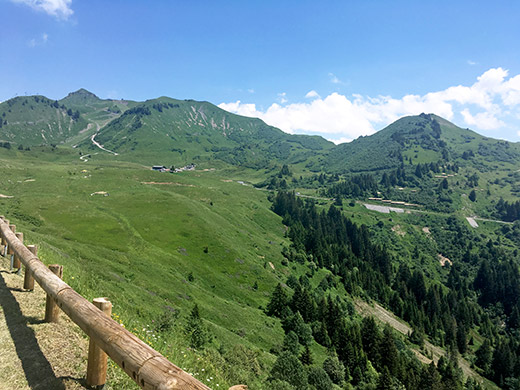 Here another photo of the Col de la Joux Plan area. I was actually having a god time going up and there was only the odd cyclist passing by me, while I passed by hundreds and hundreds, if not a thousand. Higher up people stopped and was walking and I wondered how early they must have started. Some took a rest in the shadows. That all made me just feel better as I knew heat was something I could deal with relatively well. I still had to hold myself back a little as it is easy to go just a bit too fast and hit the wall. I let some other guy go ahead, but caught up with him later on, and it is always best to keep one's own speed.
The road then goes a bit up and down before the final descent after Col du Ranfolly (1656m) and the only real pass on this road. Now I was more worried than before as people now were more tired and could then do even more stupid things, myself included. I only wanted to keep a decent speed and be a finisher. It was downhill all the way to the finish now and it was fun, but now the race felt indeed a bit short. 22.65 km/h for 5h23mins7secs. Aravis took 31mins; Colombière 50mins41secs and Joux Plan took 1h11mins26secs. For the climbing in total I was no. 2971 of 11164 finishers. But since I am not descending very fast the overall placement was 3519 (maybe I took a bit longer stops than others too). Number 410 out of 1619 in my age group. Much timing facts in this race and I think there were classifications for each climb too. Anyway I made a bit better than at the Maratona and was happy with that.
Now the boring stuff: Marie who arranged the living at the house in Le Flumet had crashed down the Colombière as someone was driving dangerously and had landed in front of her on the ground. She had to go with ambulance to the hospital and had broken 2-3 teeth, but luckily there were no more serious injuries than that, but it kept down the spirit for us staying at the house. She was soon back from the hospital and things soon got better. Not quite in the same category, but the food at the finish was also a disappointment and it was terribly hot and only some warm water to drink. Met with the other friends, but they soon took off to go to Marie in the hospital, while I stayed as I was supposed to meet my Italian friend Gabriele who I was riding the Nove Colli race in May with over at Cesenatico.
Eventually I found my way out to some tents where one could buy some nice cold beer and sat down to chat with some English blokes and this event is really popular with English cyclists and I guess they make up like 30-40% of the participants. A bit like with Germans at the Maratona dles Dolomites. Some of them lived in Verbier not so far away. It was hot and my Italian friend took time to show up, but eventually announced he had arrived. I stood a long time in line to get another beer for Gabriele (they had problems serving enough – big business this hot day) and at last got one and got in to see Gabriele who had had problems with the heat. We talked for some time and eventually got out of the area together and split up as he was staying in Morzine.
Now it was time for the second part of the day! I guess I had not really appreciated how far it was back to Le Flumet from Morzine even on the shortest way. The asphalt sucked the tyres so it felt like there was no air in them as I rolled out of the hell-hole of Morzine (might be a nice place on other days). It was getting a bit late and I realised I should hurry, but first there is a pass to climb, which is the Col des Gets (1161m), but it is just like 200 height metres from Morzine. Then a long fast ride down to Taninges with quite some traffic and other cyclists. Then yet another little pass over to Cluses – Col de Chatillon (741m). Eventually I got on the long, long (or so it felt now) way up from Sallanches to Seuil de Megève (1107m) (also a pass). Some really good guys overtook me while talking and I hanged on for a while but let them go a bit ahead (at least one of them was from Romania of all places and he complemented me for my bike, but guess he had a decent one himself). I did not think so but I actually managed to get back up to them at the pass again and they thought I was very fast – and still they were not even very tired, yeah right ;-(. Anyway we flew past the other cyclists struggling their way up.
Stopped at the other end of Megève to look at the time and to hear if my friends were going to have dinner in Flumet or not, but they had eaten some near the hospital and was going to be late back. The two guys passed me by again and asked if one lap of the race was not enough perhaps, but they also lived down somewhere the same valley. Anyway I did not see them again. I went out and had a nice dinner in Le Flumet on my own around 20:30 just in time.