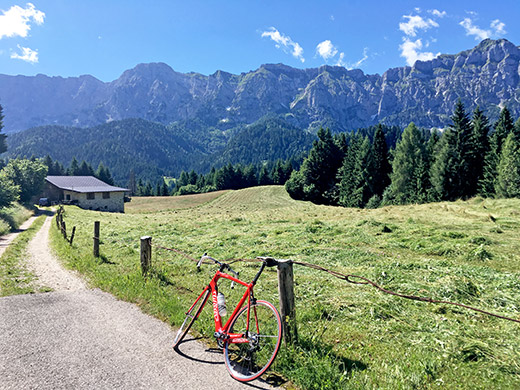 Must say that I was happy to do the pass I skipped at the end of the day before this morning as it was very beautiful up at Caltena. Also seems like I took the harder climb up there, and especially thought so on the way up in the morning, but on the the way down the other side to Transacqua/Fiera di Primiero it was less obvious as both variants up there was terribly steep.
The climb from Mezzano (640m) up to Iner (1210m), where the asphalted road ends if going straight up as long as possible is a harder climb than going to Passo Cereda or Passo Rolle from Fiera di Primiero, despite being much shorter. According to the profile at salite.ch it is up to 22% which I believe is accurate. Because they measure the climb to rifugio Caltena they get an average steepness around 10%, but to Iner it is 13.9% on average for 4.15 km and then the last part is less steep. As the road climbs all the way to rifugio Caltena from Fiera, they get an average steepness there at 11.5% with max around 20%. The climb up from Val Gardena to Seiser Alm/Alpe di Suisi might be as steep for the same stretch (it was 12.9% for 5.76 km), but these two were the steepest climbs this year. At Iner there is a gravel road continuing along the mountain for a while.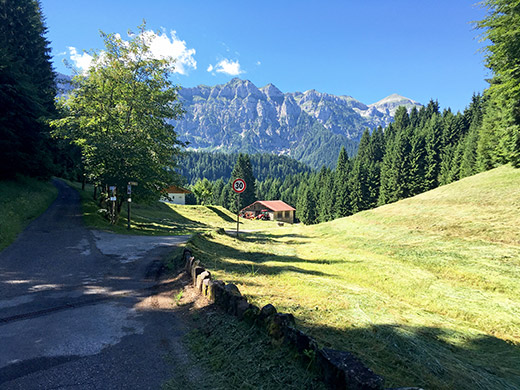 Before the last little wooded stretch up to Iner there is an obvious pass without a pass name which you see in the photo here. Just a hundred metres or so behind me in the photo here another road takes off to Caltena and the rifugio.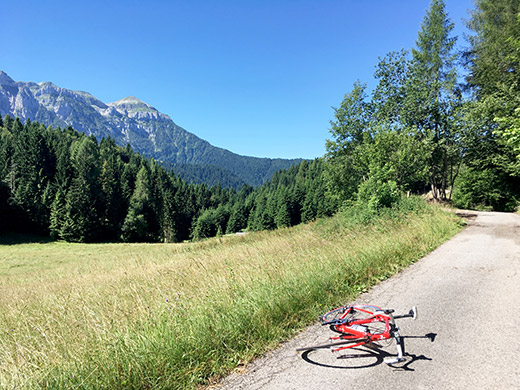 This road is all asphalted, which is not clear from any maps and it is not in Google street view. This road goes via an obscure pass and the only pass named up here despite that there are several other more obvious passes. This is called Sforzčla del Zat (1222m) on an older Trentino map of the area (a map that shows many names in Trentino based on investigations of local names).
This is where the pass is supposed to be located or next to the road – I went up on the ridge just next to the road to see if maybe there was a sign here, but no sign.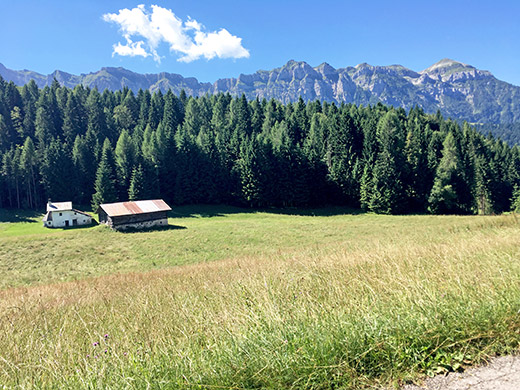 Looking in the same direction as on the first two photos and the same mountains behind there.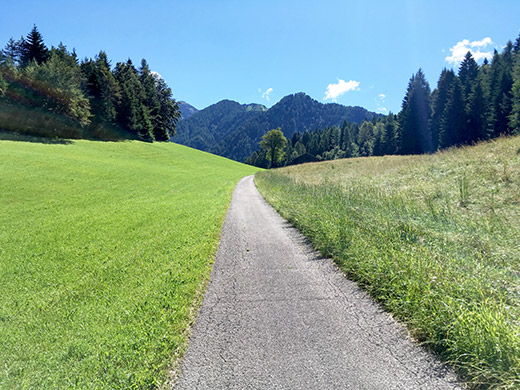 Here I look ahead and i all looked like a pass here, but guess the pass is really supposed to be on a path of the road where I stopped.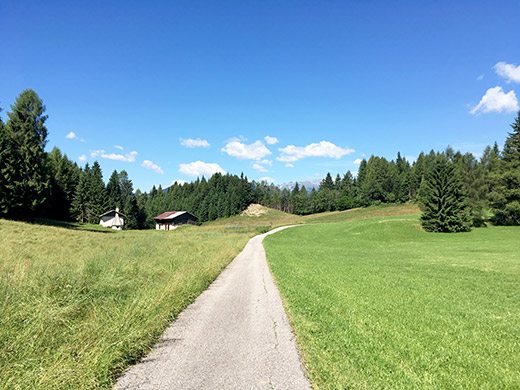 Another photo looking back to what could be the pass, but … .
Then I realised the road was actually still going up a little to this place which looks more like a pass between the two roads up to Caltena (1238m) and anyway it is a lovely place with a lovely little road, so couldn't help myself from taking more photos.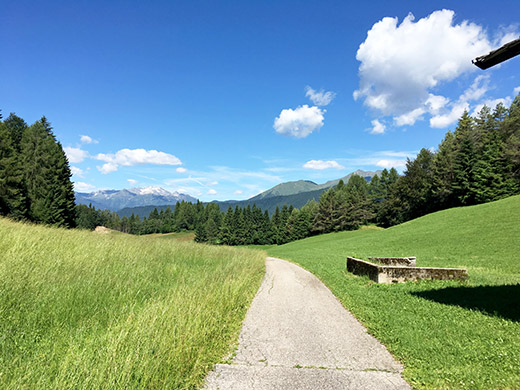 The view from the road was better, but thought the house with the sign for Caltena was nice also so decided to keep both photos here.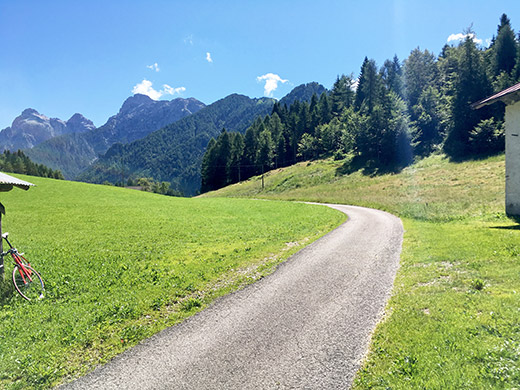 And here the road more decidedly goes down the other side.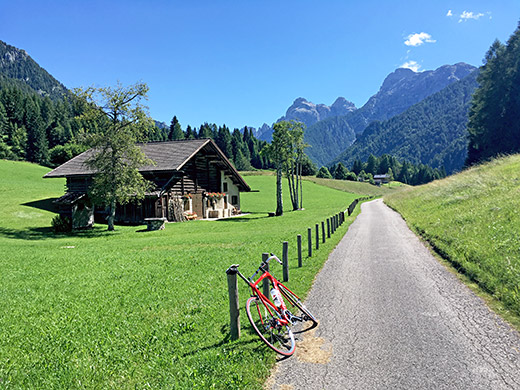 A well-located house and quite lovely here.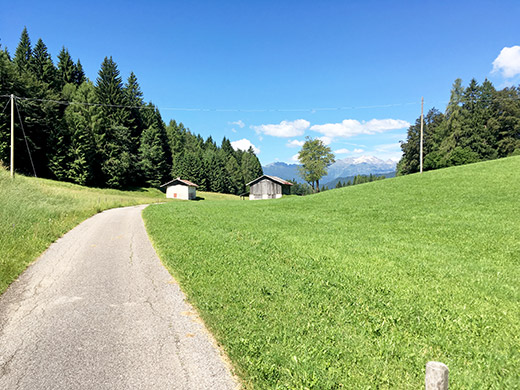 A last looking back over what would seem like the more obvious pass here.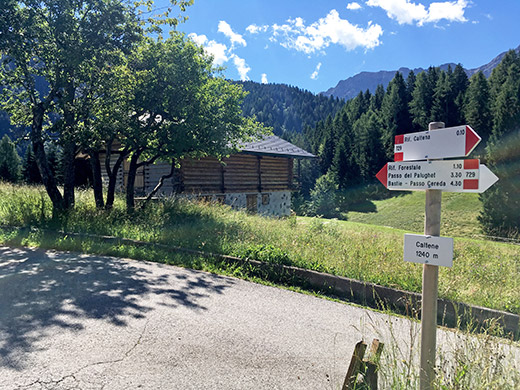 The valley may go down this side, but the road then starts to climb a bit again to some more houses at a junction.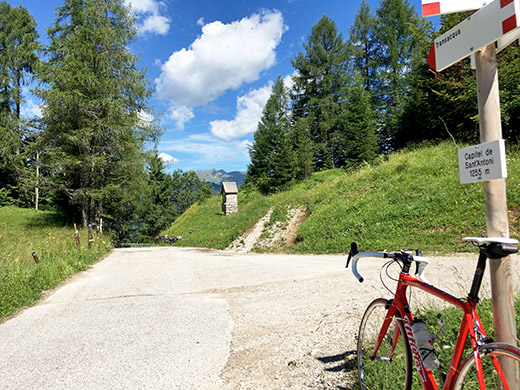 Finally reached the high point of asphalt which is also like on the second photo above another real pass for sure, but also without a pass name and the sign says Capitel de Sant'Antoni (1255m). Here a gravel road takes you to rifugio Caltena (1265m) in 250m.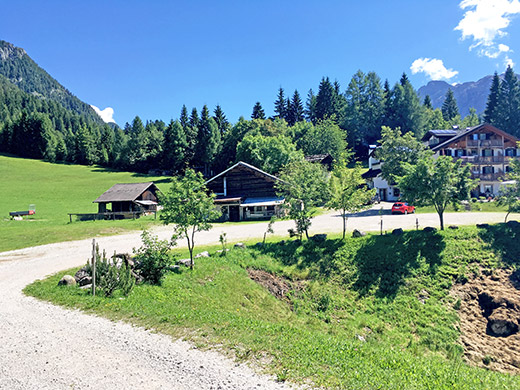 And the rifugio. I did not stop now as I wanted to move on – too much stopping for photos already.
Stopping on the way down at one of the few not so steep places to catch a glance of the nice mountains up above Fiera di Primiero on the way up to Passo Rolle.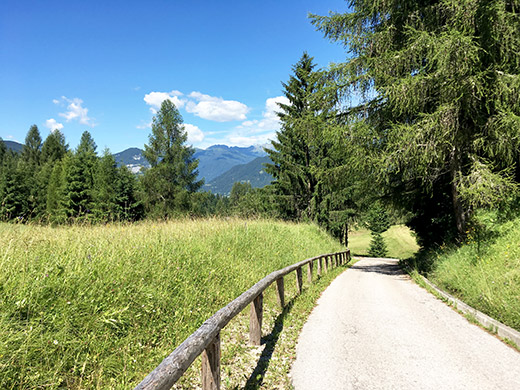 Another photo to exemplify how the road looked – very narrow and good. The road was steepest toward the end of the descent not unlike the road from Mezzano, but this side is more open scenery and less twisty.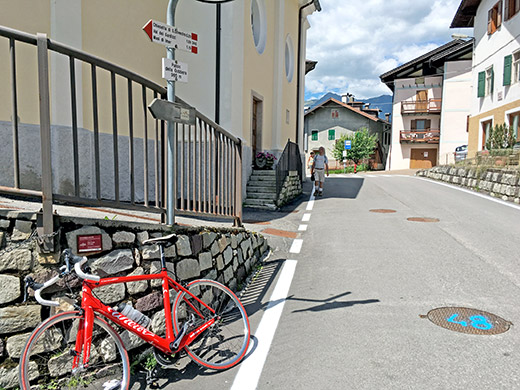 Stopped by a bancomat in Fiera to get more money and then continued down via Mezzano again and then straight up to Passo della Góbbera/Passo de la Gňbera (988m) which also turned out to be a bit more of a climb than I had remembered it to be. Still it is not a hard climb by any means.
There is indeed a proper pass sign here and think I saw a real road pass sign when I was here the first time in 2003.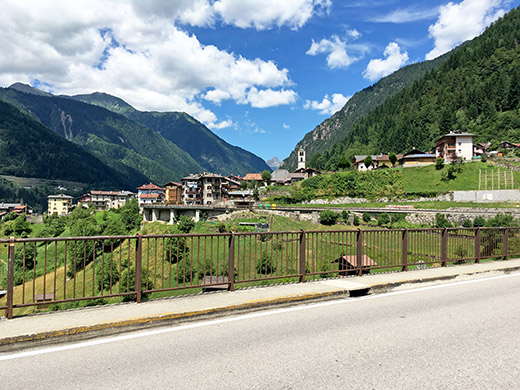 It looked very nice almost everywhere this day, like here when approaching Canal San Bovo, where I finally stopped for a break at the café in town as the grocery stored just closed before I arrived there.
Then down to the valley floor and crossing it on a bridge where the climb starts up to Passo del Brocon/Broccone (1618m). This is a long climb as I remembered it going the same way in 2003, but not a steep one and here I was right. I saw a man selling fruits and groceries from a delivery car in Canal San Bovo and he had apparently taken the same road and stopped to sell at some places along the road by the small villages up the mountain side. He recognised me and we waved. I have not seen much of similar delivery cars in this part of Italy (down in Sicily it was common).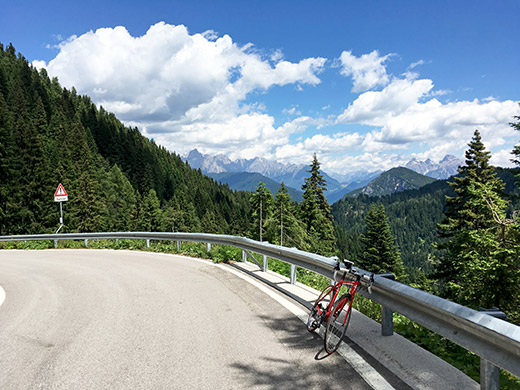 Here a view back from just before the pass, which is not very nice itself. Here I say goodbye to the central Dolomites for this time, but will see parts of the Dolomites later again around Madonna di Campiglio. Not sure exactly where they draw the lines for the boundaries for the Dolomites, but you can recognise the typical mountains, while I guess there might be border-line areas with mixed stones.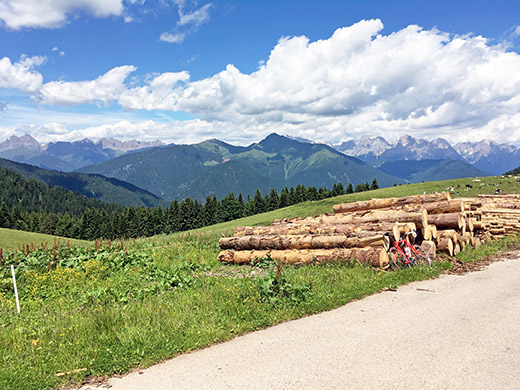 I had originally planned to get all the way up here and above to Malga Arpaco to stay at for the night. Still wanted to go up there to the highest asphalted point above the Passo del Brocon. For one thing one obviously have better views from up there! A little road starts just by the two restaurants/hotels at the pass and reaches in a short while the highest point on the east of the pass just before Malga Arpaco (1670m).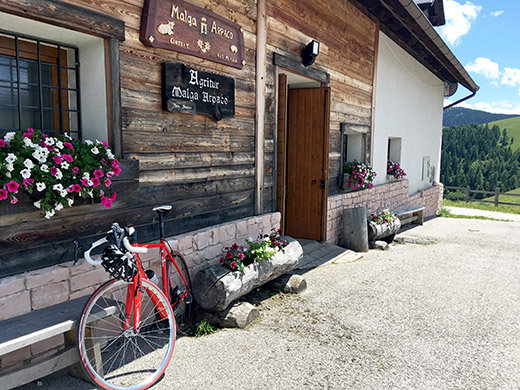 I went down to the Malga and got in and had some cheese made at the farm, water and a lemon soda.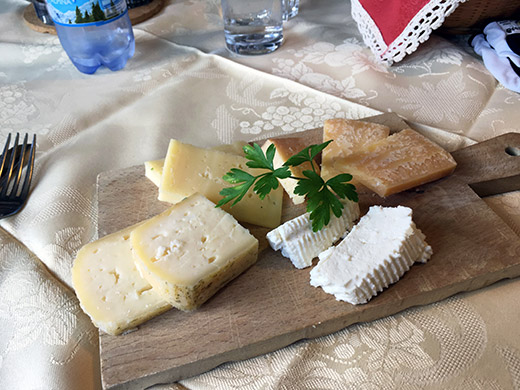 Very good cheese!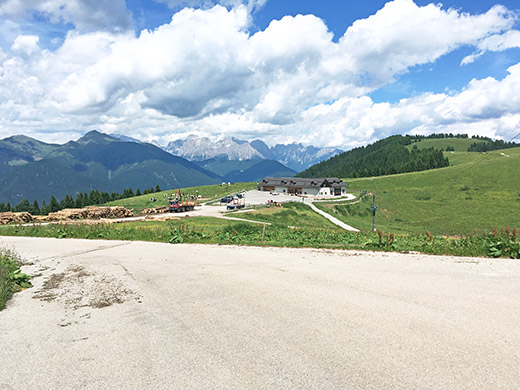 This is the absolutely highest asphalted point (maybe 1680m) and I am still looking back up in the direction from where I came.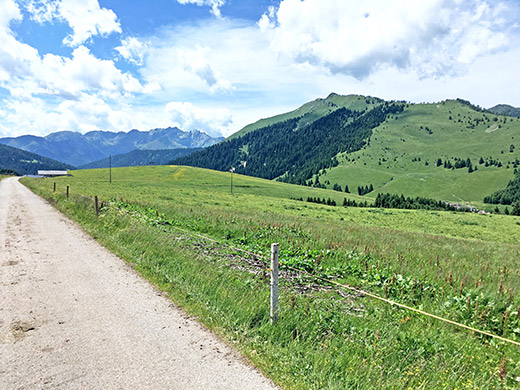 Here is one photo looking in the direction of where I am going now. In the middle to the very right in the photo you see the Passo del Brocon.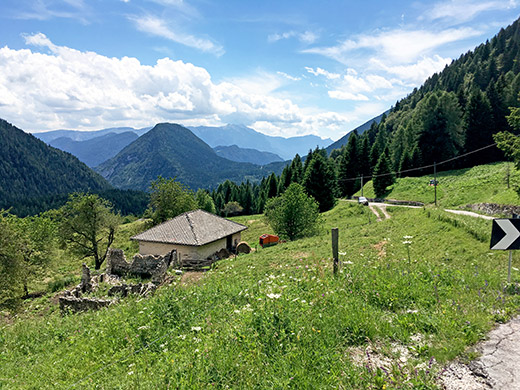 Just as last time I took off on the road going off the main road at Malga Marande (also another obvious pass without a name, but as it makes very little distinction from a road cyclist perspective to the Brocon pass, I have not included this in my list of the highest Alps passes (but sometimes comes back looking after proper references for it … ). In 2003 they told me at one of the restaurants at Brocon that the road had just the other day got completely asphalted for the first time for a rally event some days later and it looked new then. Now it had become bad in some places along the way. It is also still a somewhat dangerous road.
Here you see the next little pass ahead that I am heading for – the Forcella Brentana/Castel dei Corni (1263m) (that I also found on the older Trentino map in the toponymy list). It looks sweet from here, but was rather boring actually.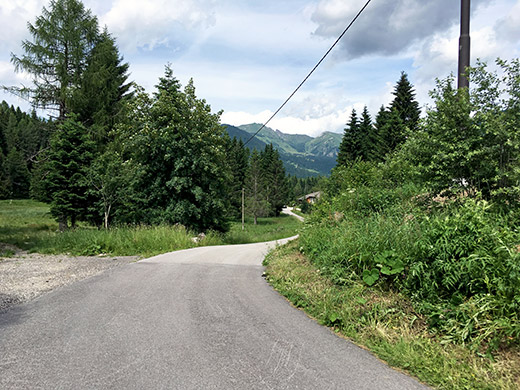 Here I look back just before the Forcella Brentana.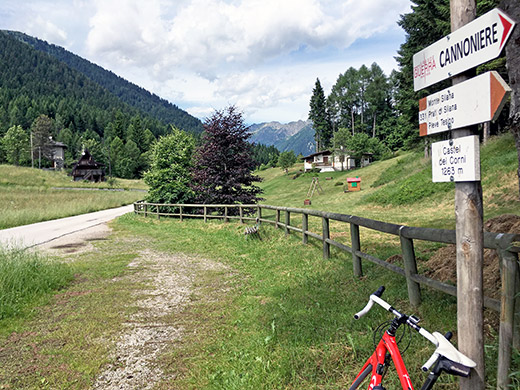 The sign only states Castel dei Corni (1263m), but this is a well-defined and named pass.
I had not been down on really low altitudes for a long time now, but now it was time to descend to warmer altitudes. Down at Castelnuovo (353m) I stopped for a coca-cola before I continued on the main road through Valsugana toward Trento. With a bicycle one is supposed to take off on the road up via Roncegno, but I didn't like that detour so continued for a while on the now bigger main road to Novaledo or just after. Then I came to Levico Terme where the next climb was planned and had planned to go up here many times before on the road to Vetriolo Terme and Panarotta.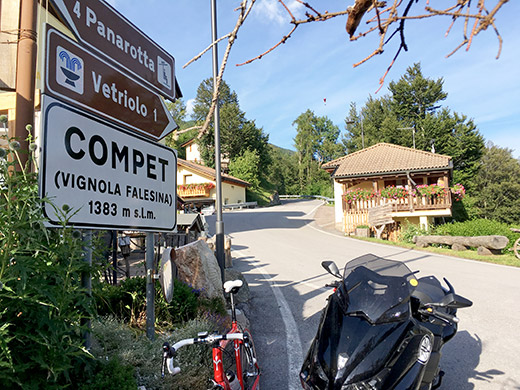 I was however a bit late again now, but decided I should at least go to (Passo di) Compet (1379m), which would be one of the highest passes left for me here around. It is also regarded as a pass on the same older Trentino map, but has no official pass name (as far as I am aware).
The side from Levico Terme is the god and wide road side, so it makes a lot more sense to descend this side (as I had planned earlier). Still it made no sense to go in a circle here no as I wanted to get beyond Trento for the day, so the wide road up here. Tried to find a short-cut early on, but it turned out there was road work there and then I got back on the main road and stayed there.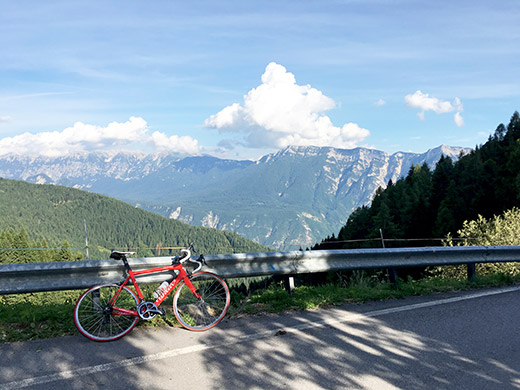 Here is the view back over the Valsugana at the top. I had of course wanted to continue the fairly steep last part up to Panarotta (1765m) but another time and it is also neither a BIG climb or a pass (though there is a gravel pass a bit after the end of the asphalt road that I had also hoped to visit).
The narrower road down the west side turned out to be pretty dangerous to descend and be warned! There were also debris on the surface, but here I met a couple of cyclists coming up.
In the photo I am just below the pass on the west side and from here the road is tricky down to the valley and close to the Sella di Vignola (557m), which marks the high point of the main road from Bassano del Grappa to Trento.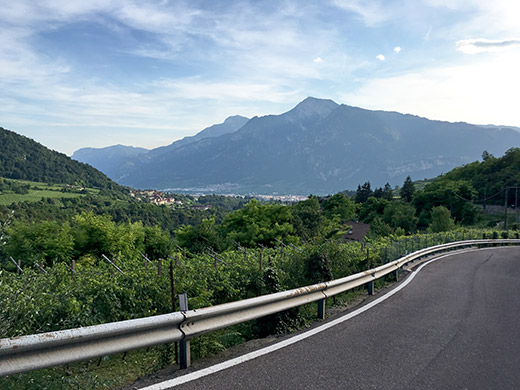 After passing through Pergine Valsugana the road then goes up again as you are again not allowed to cycle on the main road and you have to take a quite small road that on the other hand gives you some views over Trento and Monte Bondone like in the photo here.
A short while on the main road again before entering Trento and think I did not take the shortest road, but anyhow managed to find my way through Trento very quickly without looking at maps and got over on the other side just where the Monte Bondone road starts. Now I was not going up the classic road to Monte Bondone as nice as it is. I had studied whether the main road up the valley here to Val del Laghi was allowed or not for bicyclists and even though the many tunnels up there I had not found a cyclists forbidden sign in Google street view. However, it turned out that now it was so sign-posted just as I had feared earlier (maybe I heard it somewhere).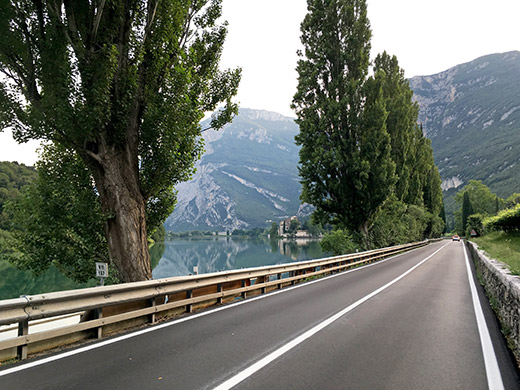 I was really late and I knew the road over a little pass on a road from the Monte Bondone road which is the alternative road for cyclists would take a hell lot longer to get up here. So, I decided to ignore the bicyclists forbidden signs which after all makes little sense as this is not exactly a motorway anyway. Just plain nonsensical fascism as it is and I took the chance not getting into trouble with some policemen not having anything better to do than to hassle cyclists. I was lucky even if maybe 2-3 car drivers thought I shouldn't have used the tunnel road.
At some places after the tunnels I took an alternative road and sometimes I was apparently on a section of the forbidden road again. I think the authorities in this area and in Riva del Garda (thinking of the forbidden tunnel out of there which is the only road choice going west) just enjoy to harass cyclists as it makes no sense whatsoever here (and at the tunnel road sections it could be a recommendation as many cyclists might not enjoy that road). Eventually I got off that main road for good and here I am riding toward Sarche rather late now. And now it was lovely again.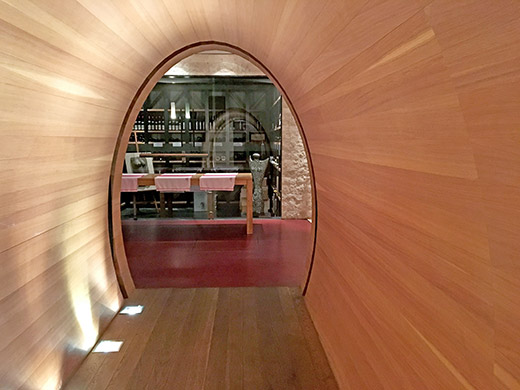 I had actually planned to stay in Sarche and stayed just at the hotel in the centre I had planned to stop at and it was ok. Went and had dinner at a big modern building. I think they were some kind of wine reseller as the whole building is full of all kinds of wine and even down here in the cellar as you see. Had some nice dessert wine just because of their assortment. Then had a nice ice cream near the hotel before washing my clothes and sleeping.