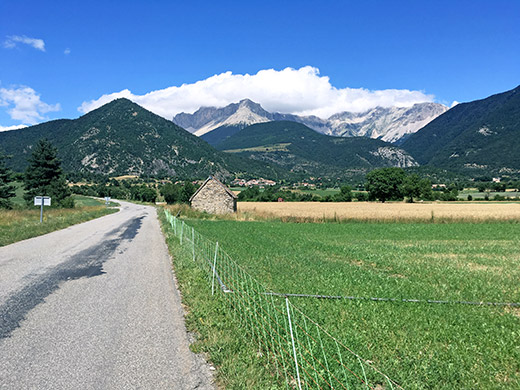 Time to get going and I was supposed to get off early, but it was a gloomy morning and still wet on the roads. Not too happy about getting out in the chilly weather to descend toward Albertville, but got on my way, but it was no fun getting dirty and wet that early and I was getting late, so stopped after a while to see if I could get a ride down to Albertville where I had planned to take the train south. I was lucky as a man going to the Pyrenees stopped and he often shared his car with other people through a popular service in France (that I do not remember the name of). Luckily he knew some english and we had a nice conversation on the way down to Albertville.
Eventually found the train station after having gone in a circle around it without seeing it or any signs for it. Got tickets via Grenoble (with a very short time between trains there) to Veynes-Devoluy a station after where I ended the little tour at the end of May (and one the same train to Grenoble where I broke my ribs). Now almost strangely people were super-friendly at the train station and on the train and so it continued until I was back in Chamonix – felt unreal after quite the opposite experience in May (maybe my sister had been telling them!? ;-)).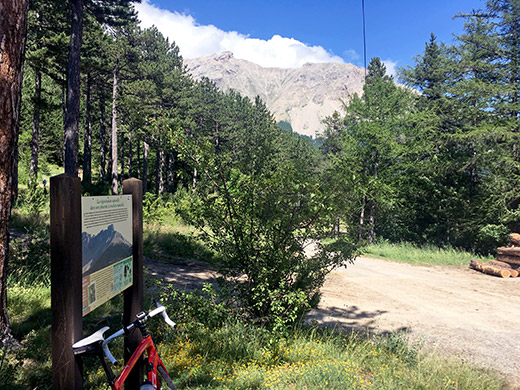 It felt strange to being back in nice Summer weather after two dark days, but soon got back into it. On my way here to the pass I had to skip climbing in May – Col de Gaspardon (1437m), which was the most off pass still left on my to-do list and it was a bit unlucky I did not have time to do that also in May (would have saved me some train riding now). I was now heading up just below the high mountain in the middle of the photo above.
In the photo here I have reached the pass at last (after a work call – couldn't they have had a problem on the 2.5 days until I got going again, oh well (it got solved)). This obscure pass only leads to a house a bit down the other side and with a road bike one has to go back down again the same way. Anyway I made this also now.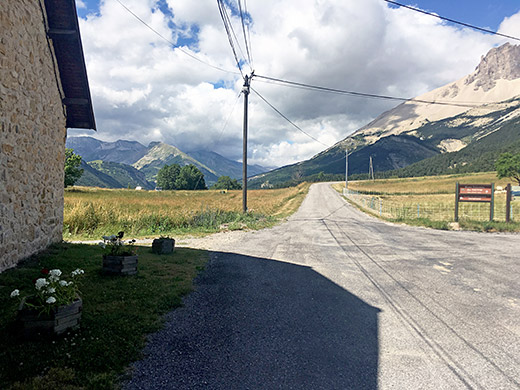 In this photo at the last houses below the Gaspardon pass there is a more obvious pass right where I stand, but this has no pass name. Nice view looking north here though.
Back down again to Montmaur which has a nice little castle, not really visible in the distance in the first photo above. Filled up water and continued back the way I came and passed over Col du Pignon (824m) to Aspres-sur-Buëch, which was the place I ended my cycling at on May 29th. I just continued as I had to do some cycling now.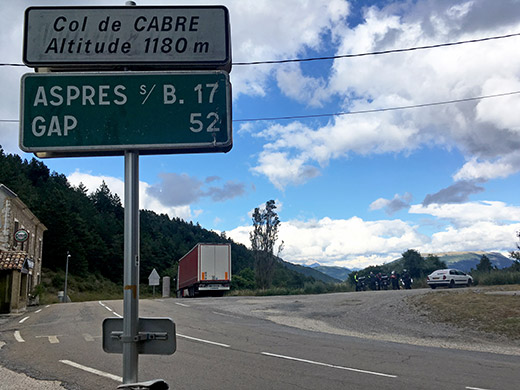 The next pass was also not so hard though, but practical and a new one for me. Here at Col du Cabre (1180m) I had another photo (hard to find the right angle here). This is the main road from Die to Gap, but not so much traffic (the train also goes under this pass). Now I was in Drôme and everything is a bit more rural in style than in the Haute-Alpes.
I stopped down at the first village, Beauričres, by a grocery which was quite peculiar or at least the people here. Very local style even if on a main through road, but nice people. Not too obvious the man there really understood how the cash register worked … . Had some big pastry to eat inside the shop and a coca-cola. Not sure I needed all that after the little cycling and now I would likely not get over any more passes this day.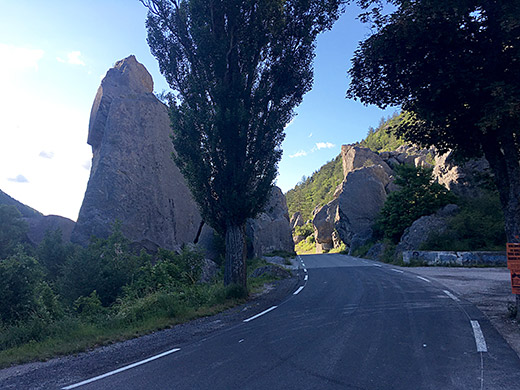 Here at Pont du Claps a little before arriving at Luc-en-Diois. Still quite a bit to go before arriving in Die.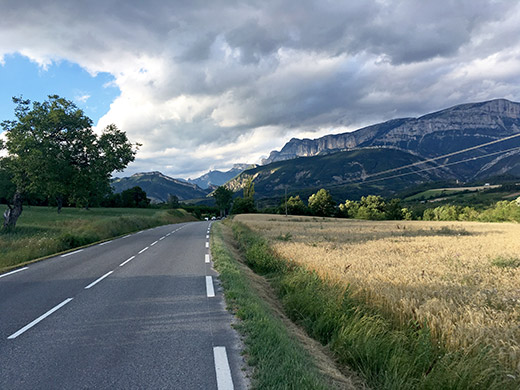 Here in the photo I am eventually closing in on Die, never having arrived here from this direction before. Very nice weather, but now it is getting late and unless there is a hotel open up at the next pass Col de Rousset (tunnel) (1250m), I would be better off staying in Die for the night. I did not want to take the chance on going up the Col de Rousset now, so started asking for prices and rooms in Die, but only one of the three hotels in the centre had a free room and as it was a double room that they asked a lot of money for.
Eventually found a hotel by the main road close to the turn-off for the Col de Rousset and even though that looked more expensive, it was cheaper and they had a free room (only thing was that they were working on the hotel, but it was all fine).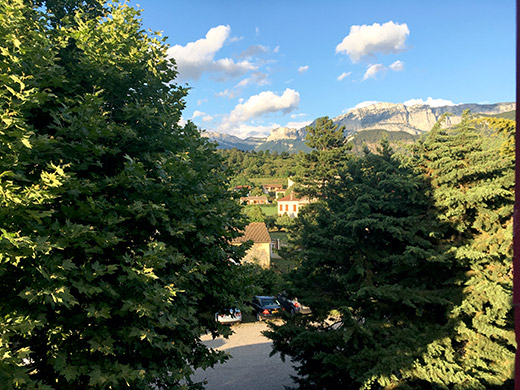 Here a last photo for the ay from the hotel room and the sun is still up. Probably it was a good idea to stay down here and could not see the next day if the place at the pass would have been possible to stay at. A bit short day, but at least over 100 km, which is okay given I was riding on trains half the day.