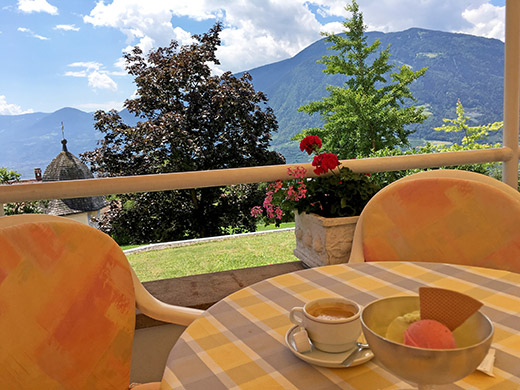 Time to go to Alta Badia, and decided to take the shortest road there, but not the one with the least climbing involved, so perhaps still not the fastest road. Had originally planned to go up to Kurzras/Maso Corto (2033m) as I had planned before, but had to hurry on. Thought that maybe I should just follow the cycle path down from Glurns/Glorenza which goes just outside where I had spent the night even though I do not like cycle paths. Well, it started fine and hanged on to another guy riding rather quickly down, but eventually overtook him and after a while the path went in strange loops and I had noticed the guy was no longer behind me, so had to cycle back and go out on the main road again (so much for those damned bicycle paths!).
The main road down the Vinschgau is rather busy and also quite narrow above Schlanders/Silandro, but easy to follow. One cannot cycle through the tunnel before Naturns/Naturno though, so there will be some more bike paths and small roads again, but one could go back up on the main road in Naturns/Naturno again and so I did. Cannot really explain how to go and never remember between the times I have gone here – only knows that I never managed to find the same way on any visit here.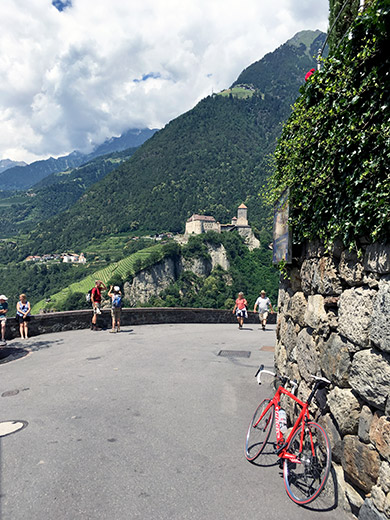 Eventually one comes to the last descent into Meran/Merano where it is also forbidden to bicycle these days (it was not on my first visit there, I think). But there is a good alternative road road clearly marked here. On the way down there I decided to take the "shortcut" over Tirol/Tirolo as one should get a closer look on the famous Tirol castle there and one could by-pass Merano on the way up to Jaufenpass/Passo di Monte Giovo. The road I took was however very steep at some points. I went up long through the village hoping to find a place from where to see the castle I had seen earlier on the climb, but it was not visible at any place along the road through the long-stretched village. Went down a little bit and into a hotel that also served ice cream and had nice views down over Merano.
As I left I found out that people walked a bit below on a road toward the castle and followed it and indeed here one got a view of the castle (it was after all the castle road … ).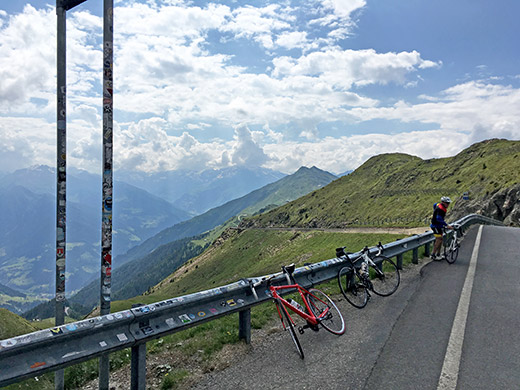 It was now very hot and I had to stop again before reaching the start of the climb up to Jaufenpass by a grocery in San Martino. In St. Leonhard/San Leonardo (675m) the pas road starts and I have never climbed from this side before, which is the longer side. It is not a very steep climb, but it is a quite long one!
I thought I should stop another time on the climb, but did not want to stop at the first place I found, and later I found no obvious place to stop at, but stopped for water before the final section of long serpentines to the top. As sometimes happens I felt like almost giving up at some places along the climb, but continued and eventually got up and now it was at least not so hot any longer. Here looking down the valley of the climb and as you can sense it is a long one indeed.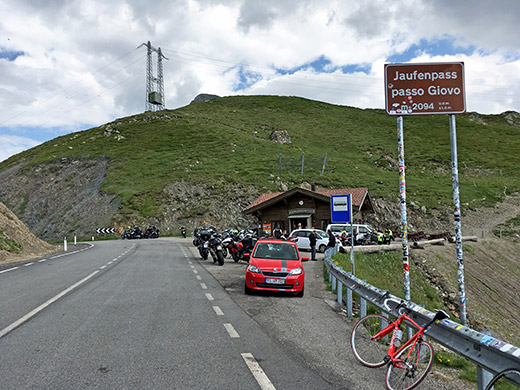 Jaufenpass/Passo di Monte Giovo (2098m) is one of the longer climbs in all of the Alps counting from Merano (317m).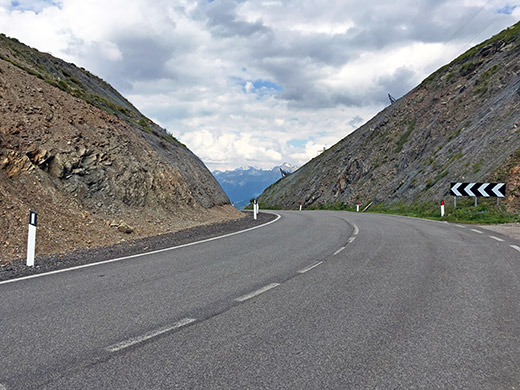 Another view through the pass opening and the mountains on the border to Austria.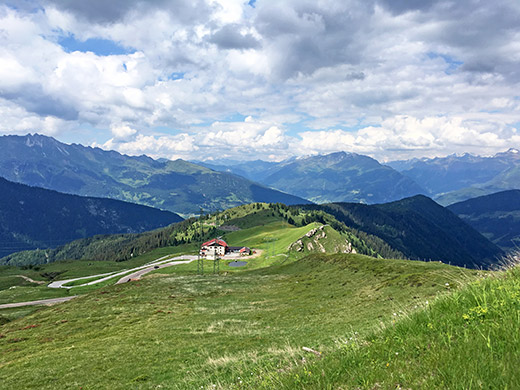 It is quite nice looking down toward Sterzing/Vipiteno and the Brennerpass is hidden behind the mountains below. I stopped at the Jaufenhaus below in the photo here as it felt better to stay up at altitude rather than below later on.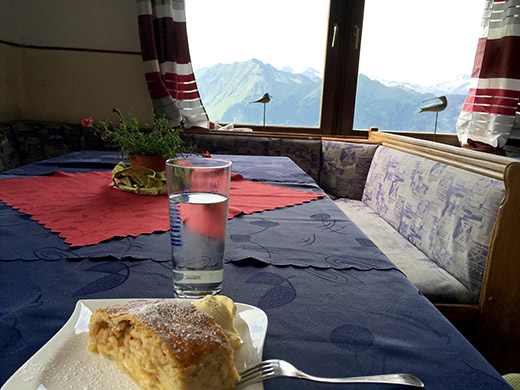 It turned out they had one of the best apfelstrudels I have ever had (at least the size was one of the bigger I have seen) and also got ice cream to it as I prefer (could have needed a little more to the big apfelstrudel). Also I was lucky to find out I could get elderberry soda (very nice thirst quenching soda that is common in Austria nearby).
It was a nice descent, though the surface is not as good as it has been. Found my way over to the main road going down toward Bolzano/Bozen/Bulsan. This road was a bit longer than I had remembered it to be, but eventually I got down to Franzensfeste/Fortezza and turned off up in the direction of Bruneck/Brunico via Aicha/Aica (not sure if this is faster than the main road) and then tried the bicycle road, but soon walked over on the main road again and followed it up the Pustertal/Val Pusteria. By Niedervintl there were a severe traffic jam, so I could overtake any car that has passed me by on the way up here and some hundred more while they hardly could move at all, so basically had the road for myself.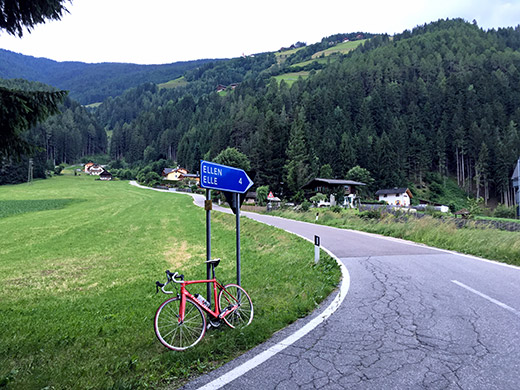 Eventually I got rather tired and decided to make one more short stop before going up to Alta Badia and stopped by a café in Kiens/Chienes for ice cream and soda of some kind. Then after watching some hundred cars passing by I managed to get over on the other side of the road and then turned off the road a few hundred metres later to Ehrenburg/Casteldarne where I had stayed a night before at a very good hotel (Gasthof Obermaier) just by the nice castle there, but was disappointed to see that this was closed (thought it was closed down, but see on their website now that it was just closed for two weeks around the time I was coming by).
I continued up the shortcut road to Gadertal/Val Badia over a little unnamed pass by the road up to Ellen/Elle which looks like a nice place to go and visit sometime. This road is now in pretty poor condition and it is also closed to general through traffic, but with a bicycle there is no problem coming up here and then there is a normal road down to Gadertal.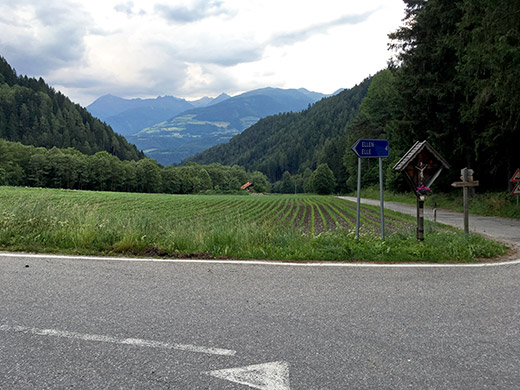 There are alternative roads up the Alta Badia, but I was late and tired and simply wanted to get up as fast as possible so I would get dinner before going to bed, so took the main roads which nowadays is mostly through tunnels up to Zwischenwasser/Longega (1012m). I was getting seriously tired now and most of all I had a lot!! of pain from saddle sore, so I had to stand up half the time.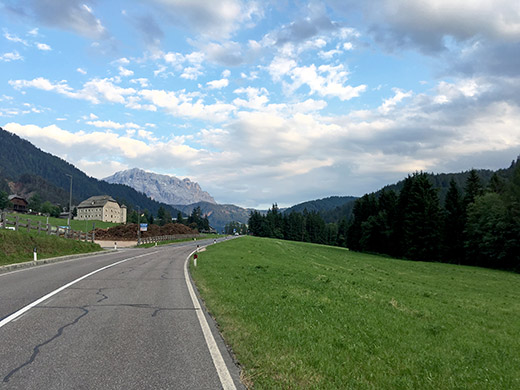 Eventually I caught sight of the dolomite mountains upon arriving in Picolin/Pikolein/Piccolino where I had a last photo for the day. despite what it looked like, it started to rain just as I arrived in La Ila/Stern/La Villa (1439m), but not so I got soaked luckily.
I got my room and mentioned I had stayed there two times before now, which the lady did not quite seem to remember, but guess it is hard with so many guests. I had a shower and hurried down the main road and found a restaurant I had not visited before where I got a good pizza (a maratona pizza, I believe it was) and beer. Then back to wash the clothes and sleep.