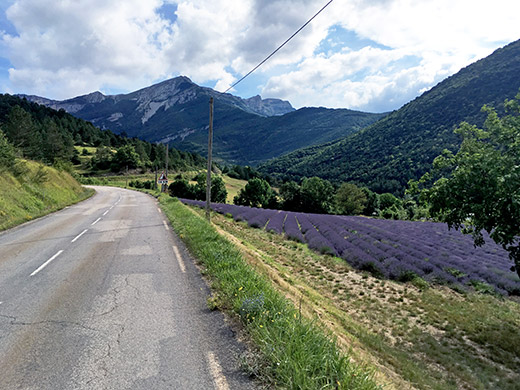 In the end I did not manage to do more kilometres this day than the day before even without riding on any trains. It was a lot more height metres and more passes though, but still far from the days before my recent rest days. Never got quite back into tour mode after those rest days and I surely do not recommend such days, but sometimes they are unavoidable (more or less).
Here stopping to have a photo of the nice lavender fields popular here and to the south in the area (stopped on the way down here for a similar photo another year). I do not think there are any such fields north of the Col de Rousset (at least not near the mountains, but maybe).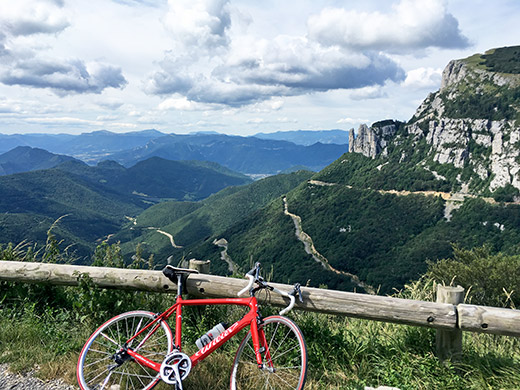 I remember the long serpentines down the Col de Rousset from my previous visit and had thought it would be a bit of a challenge to go up this way, but it was actually rather quick and easy.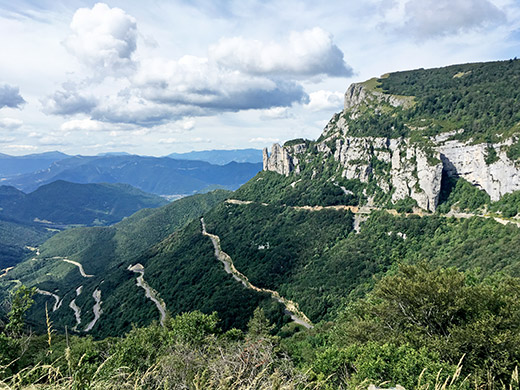 I could not decide on which photo to show as more serpentines was visible in the photo without the bicycle, but the bicycle photo maybe looks best, so we have both here.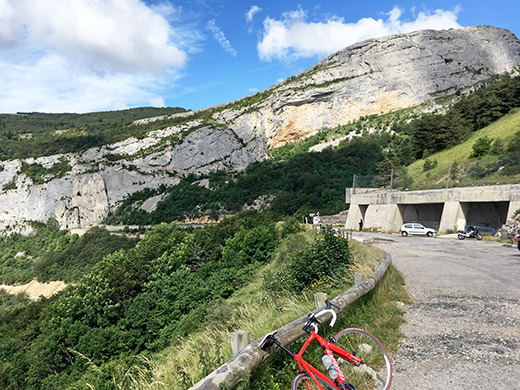 Here is the south entrance to the tunnel at the pass, which is at 1250m height and it is a good climb from Die (396m) but still less than a 1000 height metres and never any steep.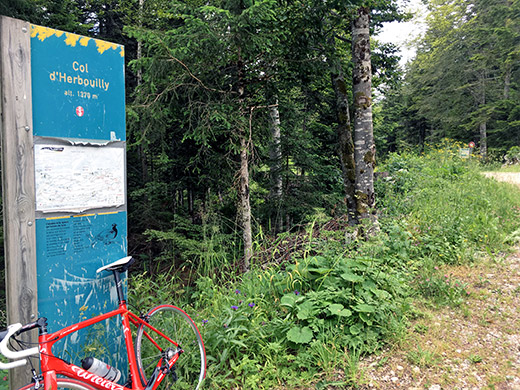 It was actually a little chilly down the other side at first, but this was a fine day as far as I could make out thus far and expected to get far today, but the weather soon changed.
I stopped by a restaurant/bar in St-Agnan for a coca-cola and ice cream. Not sure I needed to stop so early (maybe was worried to not finding a place again for some time) and then I stopped again in St-Martin for a coffee as the weather started to get bad and had some rain drops and wanted to see where that was going before going up the mountains. Oh well, now I was going to get ahead I thought as the rain stopped before really starting. I went up the nice road to Col d'Herbouilly (1370m), where it was no longer nice, but maybe the french people thinks so, but to me it looked like every boring wooded road in Sweden.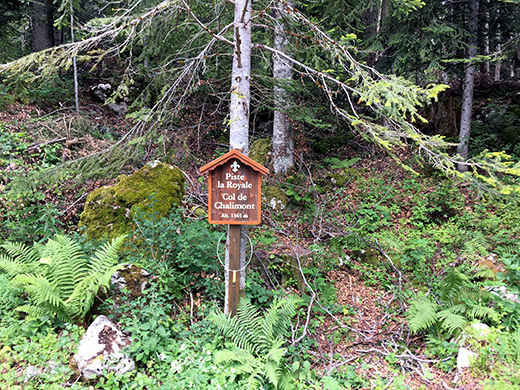 Curiously there are two passes next to each other up here in the woods and not really sure both of them are proper passes, but both got signs for sure. I don't think the Col de Chalimont (1361m) really is a separate pass, but there must be some history to this.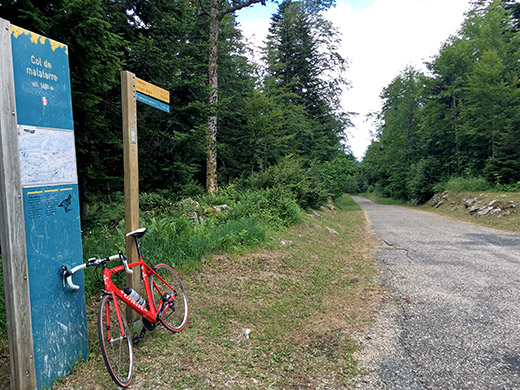 Now I was on my way to a curious pass above 1400m as could be expected, but it was nice to include some of the higher passes below 1400m too and do not have many passes left to above 1300m either, but will likely not go after them all as there are many uninteresting passes below 1400m and seldom the climbing is very long to reach them. More challenging then to do more other +1000m climbs instead.
It was possible to do a kind of a loop road up to Col de Malaterre (1454m) and so I did. Very gloomy weather now up in the woods and the road was a very narrow forestry road, but paved and steep in a few places. There was a short asphalted road that continued up at the pass and I could not resist to go up there in case there was some lovely views over the area from there. Up at Plateau de Château Julien (1515m) there was not really anything to see either apart from a mountain biker on her way out on one of the paths up here. Guess they ski up here in the Winter.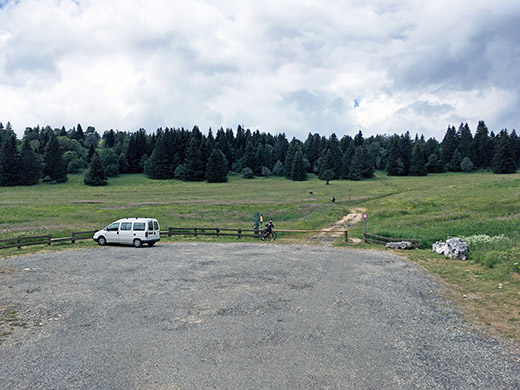 Back down via the Auberge de Malaterre to the main road again. Soon as the views opened up ahead it was now clear that the weather was about to get worse ahead and quite soon it went that way (apparently it was coming my way). I did not get far and stopped at the next Auberge de la Glisse to take shelter from the rain now pouring down heavily outside. Quite disappointed now, but eventually I could start to get going again maybe an hour later.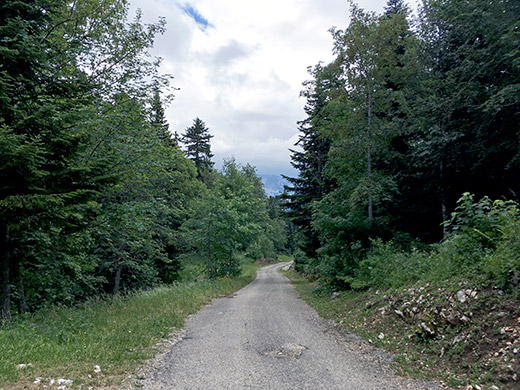 Here looking down the steep and narrow road to Col de Malaterre.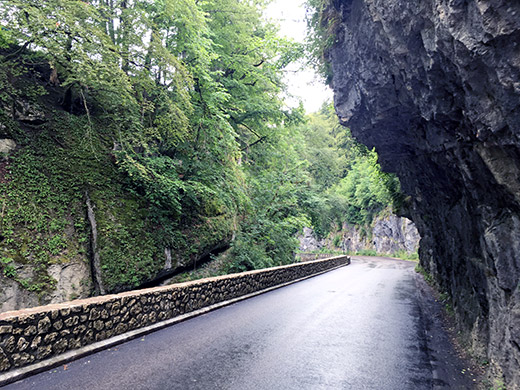 One reason I was disappointed is that it is no fun descending on wet roads and I had some time of going down now. It is always easy to say one should get going while the weather is fine, but then it is also easy to stop at places. I was taking a short-cut down on a private road at Bois Barbu (apparently even forbidden to cyclists, but I took the chance). Now this road is very steep down quite unlike most roads in France. One comes then down to just where the road down through the Gorges de la Bourne starts. It would have been a lovely ride down here in good weather, but I was freezing and had to go a bit slow. It was supposed to be Summer, but I had like 9 degrees for quite some time here.
Anyway I managed to stop and take two photos even though it was hard to move the fingers.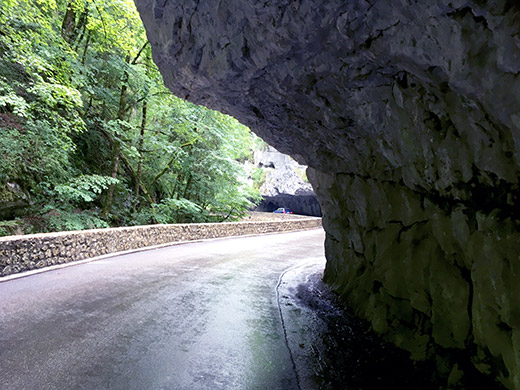 It looks nice for sure.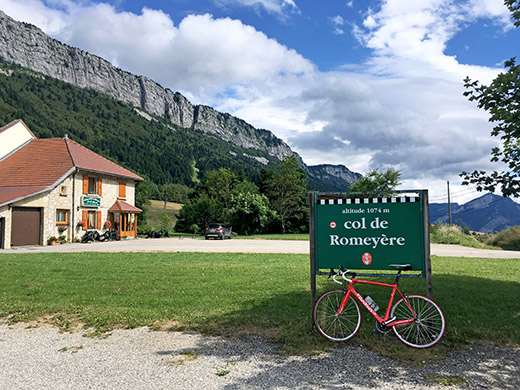 Eventually I got down through the gorges and got on my way up to the next pass and got warm again and also the sun came back with nice weather. I thought the bad weather was over for the day as I reached Col de Romeyère (1069m). I started out on the climb to the next +1400m pass for the day.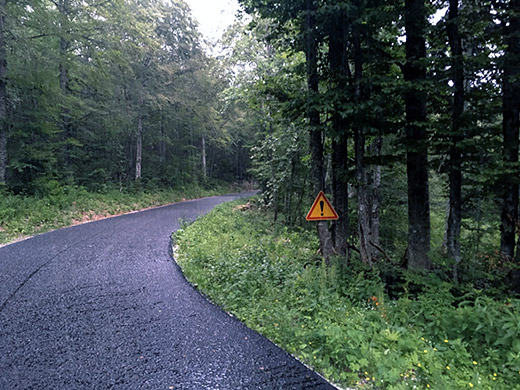 The road to Col du Mont Noir (1421m) was nice, but soon the weather got bad again as I passed by a couple cycling up here too. Now it was a hail storm that greeted me and it was at worst up at the actual pass. I am impressed that I managed to take a photo (while cycling) and with a suitable sign. Very dark up here now in every way including the new asphalt surface, but it was quickly getting all white and a bit more hails and I would have had a problem getting traction on the road. It was like cycling over a bed of ice cubes and the hails were rather big.
I hoped it would end so just continued and the hails ended, but was replaced by heavy rain coming from nowhere from what I could make out beforehand, but surely not ending. Now it was even colder than before at 7C – this was an ordeal and down I went on the slightly steep and winding road to Malleval where, when I planned taking this road the year before I had planned to stop there for the night, so knew there should be a place there to take cover. The time had passed on and now it was 19 in the evening already. I found the place and went inside and looked at the time and decided that this was it – it was still quite a way down the valley and the place looked fine and likely better than any place I would find coming down from the mountains. This tour through the Vercors could have been much nicer, but through I got. This place was quite good and had some nice beers. Talked a little with a religious Russian couple, and apparently they are meeting up here once a year or so oddly enough. The auberge Les Galopins I can recommend!