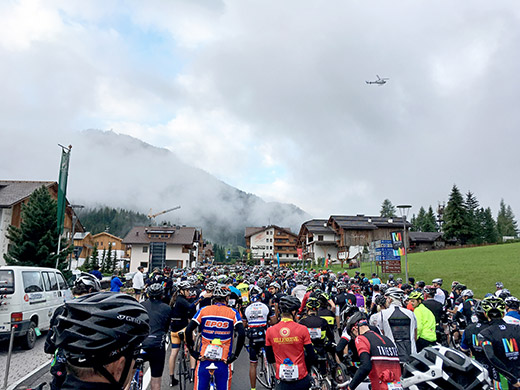 Thought I should be able to get a bit of sleep even if going up much earlier than usual this day as I planned to sleep as long as I could without missing breakfast and the start of the Maratona dles Dolomites. However, I had forgotten that there would be a lot of people and activity going on earlier, so woke up an hour earlier than my alarm clock went off. Looked out the window and saw cyclists on their way to the start. Went back to bed again and slept a bit longer.
I went up ca. 5:30 and the race started at 6:30 and when I got up the helicopter was already circling in the air above the start and speakers were talking etc. I had breakfast and everyone else at the bed and breakfast (Pic Ander) had already left, so had a relaxing simple breakfast. As I put on my cycling shoes the starting shot went off, but I knew the last group would take some time before they got on their way, so no hurry.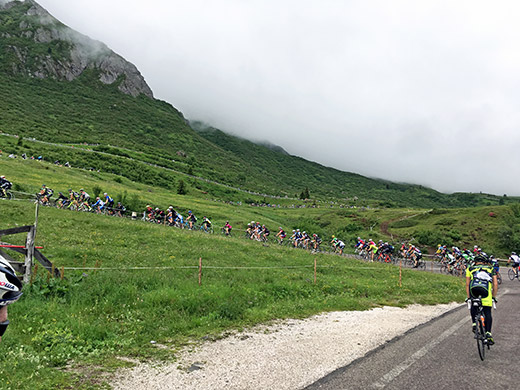 Went down to the start and took the photo above and looked around. I was among the last there, but I was not the absolutely last one to arrive there among the 8727 who started this year in the 30th anniversary edition of this very well organised event. I had decided to take it very easy as I was in no way fit for competition this time. So it felt very relaxing knowing that I had no ambitions whatsoever on getting a good time this year. All I wanted was good weather and to manage to be one of the finishers and hopefully not the last one.
Here we are climbing the Passo Pordoi/Jouf de Pordoi/Pordoijoch (2239m) and if you look closely you see the winding road full of cyclists ahead of me. This is after the first easier Passo di Campolongo/Jouf de Ciaulonch/Campolongo Sattel (1876m), that we climb twice.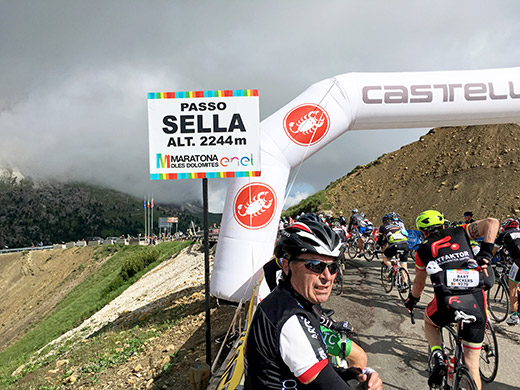 Even if I took it easy I was mostly passing by people all the time as I had started among the last ones and was only rarely passed by myself, and then usually on the descents where I took it very easy and had like a few hundred people passing me by on every descent (or so it felt like), but I probably passed by nearly all of them again after a while on the next climb.
Here we arrive at the Passo del Sella/Jouf de Sèla/Sellajoch (2244m). Another cyclist had music playing on the climb and he kept about the same speed as me, so I had music along all of this climb and some loud bells earlier on by locals along the road. Now the weather started to get quite good. It was smart waiting to go to the start in the morning as it had been cold and rainy during the night, but I had no wind jacket or anything else than my short cycling jersey and it was only a bit chilly at the start and then all fine.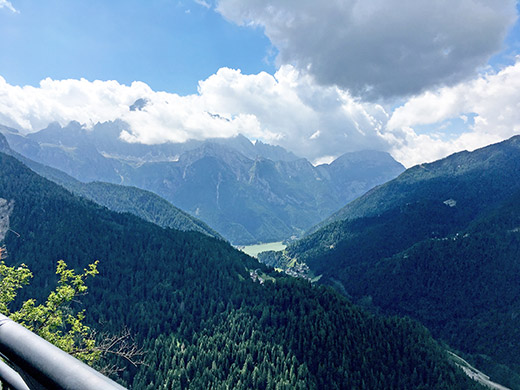 We then passed over Sela de Culac/Kulatsch Sattel/Sella del Culaç (2018m) and Jëuf de Frea/Ju de Frara/Grödner Joch/Passo Gardena (2122m) before then again going over the Passo di Campolongo/Jouf de Ciaulonch/Campolongo Sattel (1876m). Then the only little stretch of somewhat flat road down via Livinallongo and up to Colle Santa Lucia (1436m) (not a pass, merely a high point on the road to Selva di Cadore and the next pass).
Very nice views from the Colle Santa Lucia, in the photo here, and also there were one of the many good stopping places for drinking and eating provided by the maratona.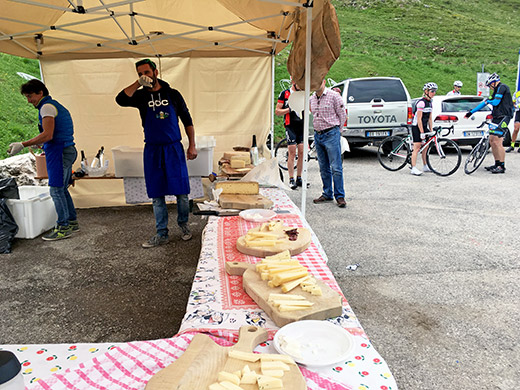 After the descent we came to the start of the climb to Passo di Giau/Jof de Giao/Jou de Giau (2232m), which is the hardest one on this maratona and the one most feared, by me also, as it is steeper and it was also much warmer here now (the only place along the route this year where hot weather was a little problem – last year it should have been horribly hot).
Luckily I was not in a hurry and was not so exhausted as usually when I arrived here, so just took it a bit easy at first and let some pass me by and could then later turn up the speed and pass by some of the same passing me by earlier. I felt quite good for the first time, out of the four times I have been taking part in the maratona, at the top. Stopped to take a lot of photos as it felt like this event was now soon over, so better enjoy it while it lasts. Some fine cheese here to taste.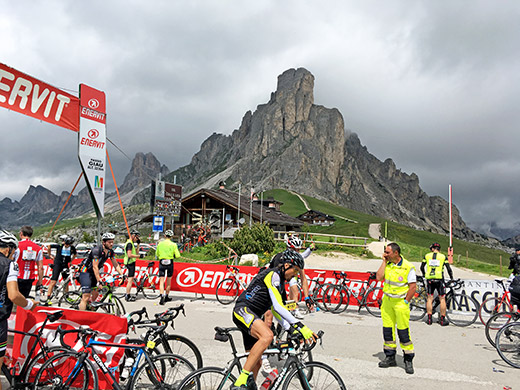 Here the classic view at Passo Giau.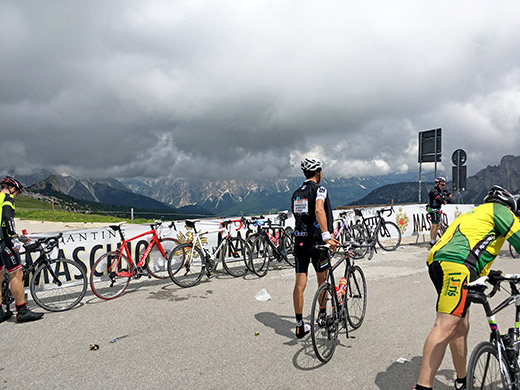 Looking ahead down toward Cortina with my bicycle on the other side of the road.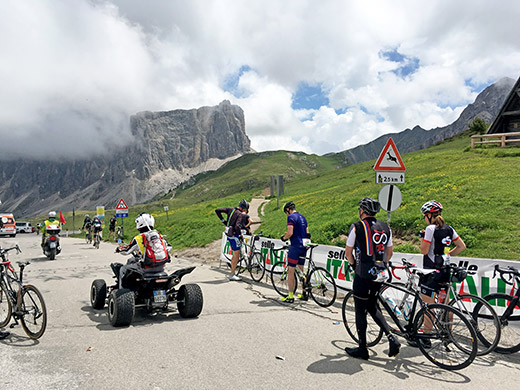 One of the four-wheel support vehicles and the mountains to the south of the pass. Time to leave for a long and somewhat tricky descent (there had been one accident down here I think) and I knew the bends were a bit special down here and people tend to be rather tired down here, so drove very carefully down.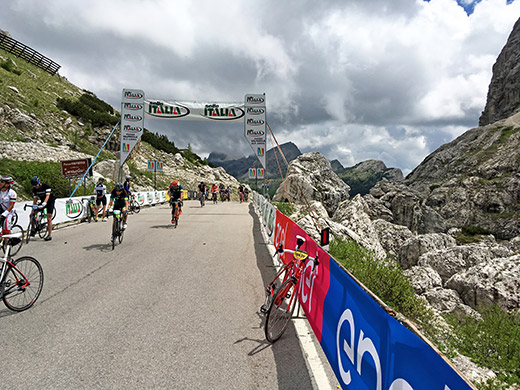 On the way up to Passo di Falzarego/Jou de Fauzare/Ju de Falzares (2105m) I finally got up to my friend Fredrik Granlund who usually is a bit slower than me, but he had started a bit ahead of me and had worked on well. Talked for a while and then continued up to the pass and directly on up to Ju de Valparola/Passo di Valparòla/Valparolapass (2197m), where I stopped for a few photos for the last time.
Apart from a little extra climb that they had included in the maratona in the last couple of year in the village of La Ila/Stern/La Villa, this was really the end of the hardships.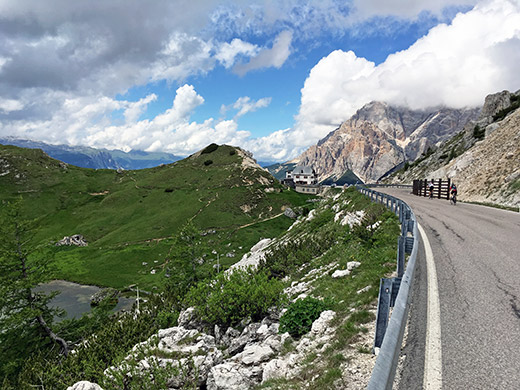 Here is the walking pass for the Valparola and where the long descent starts. It is a bit fast and had many edges on the road that was a bit testing for the spokes in the wheels even if I did no go very fast, but the wheels kept up fine for the rest of my tour this year.
I looked a bit forward to the steep 'Mür dl Giat' as they call the road in La Ila/Stern/La Villa, but some people were a bit in the way of me so I had to go very slow at first, but then found an opening and overtook a bunch of people as I sprinted to the top (useless, but one always get a bit of a boost knowing it is the last thing for the day). Went rather fast for the last bit into the finish in Corvara also and put on a little sprint there too for fun – must feel a bit tired when crossing the finish line after all! Horrible time this year compared to earlier times. I finished in 6h 9mins last time, but now a bit older and taking it easy I finished in 7h 44mins 50secs … hmm. Well, I finished on place 2584 (always finished among the 1000 best before) among the 4470 taking the longest route, so right in the middle or slightly after (more good riders every year also!). Number 486 in my age category (out of 832). On the Passo Giau I was however 1784 (out of 4470) and 287 (832). On Mür dl Giat I was 1749 (of 4470) and 259 (of 832). They should really turn off the timing between the climbs!! (And then they should have groups based on weight instead of age … then we could talk placements ;-).)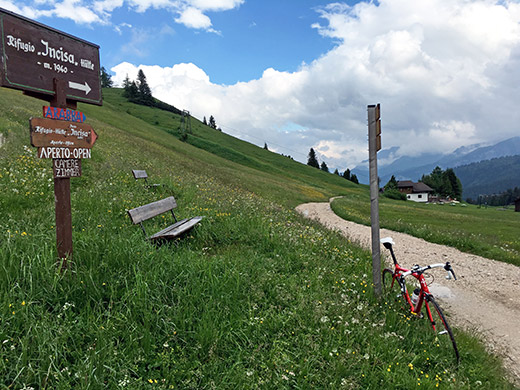 After waiting for my friend and eating a lot of good food at the finish he went back to the hotel and as it was not dark for long I decided to do another little climb. Time to try the gravel road taking off the Campolongo/Ćiaulunch road going to Ju d'Inzija/d'Anzisa/Passo Incisa (1940m). It should not be so long and looked okay on images/photos I had seen, but hard to tell and a local (from Al Plan) told me this side would be best but that even mountain bikers complain about the quality of that road, but maybe not so much on this side (I think).
It was just about possible to do with a road bike – some nasty stones on the gravel road, but the main problem was a few pretty steep ramps, where I had to walk up one of them toward the end. Also I had to stop for rain that now suddenly came with an afternoon shower. The road was still usable after the rain though, so continued to the top and the weather was fine again there. Here I look down the bad side of the pass – I think you notice the road already here has pretty big stones on the surface (one would have thought it was better down to the rifugio at least, but … ).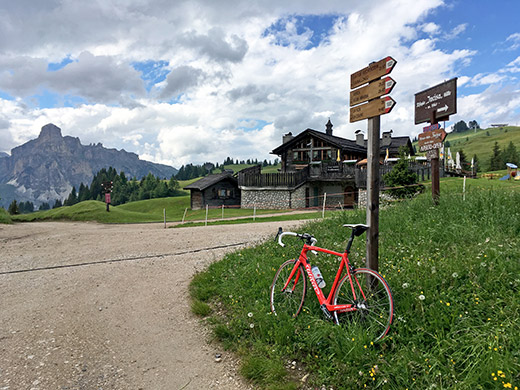 There were thankfully very nice views from the pass which made me feel better about having tried this awkward road out. If it would have been a better road, it would have been a parallel alternative road to the Campolongo/Ciaulunch road, which would have been popular choice for people not going to the Pordoi pass.
Here is a new built restaurant at the top (closed). From here a road I was curious about also continues up to a high plateau above called Pralongia (popular skiing and walking area). The road up there was super steep gravel though, so no way I would even try it. (It was much above 20% and with loose gravel.)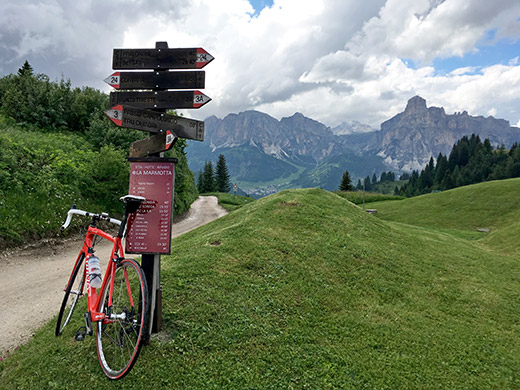 Very lovely views down from where I came up in this and the last two photos below.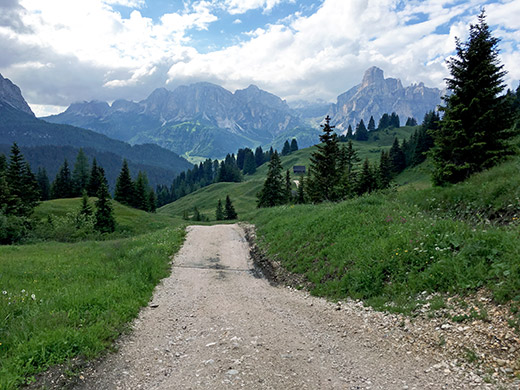 I think I am standing here in the ramp where I decided to walk up, think I walked down also as the gravel was rather loose here.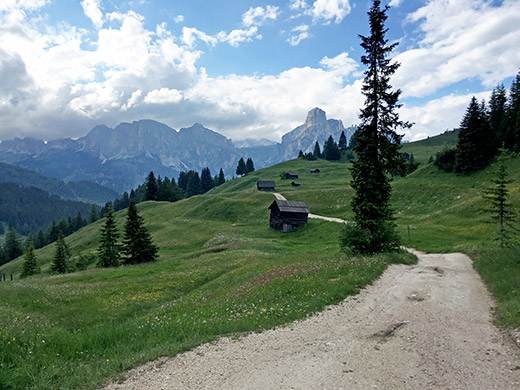 Back down to the golf course where the road up here starts and luckily without any flat tyre. Went down to Pic Ander and took a shower and rested shortly before deciding to take the bicycle up to Calfosch/Kolfuschg/Colfosco (1600m) where my friends stayed. I looked at the bus time table, but it said there were no busses going this day, but then it turned out they had started to go again and I could have gotten up at the same time with the bus (but not sure if I could have catched one on the way back anyway). Unlucky with a little rain shower again just before the village (on the start of the climb to the Gardena pass), but got very little rain and soon found the restaurant where we all had a very good dinner (even if in a very hot restaurant). Go back safely before it got totally dark in the evening. Quite a lot of climbing this day! (Only one day with more climbing on this tour later on.)