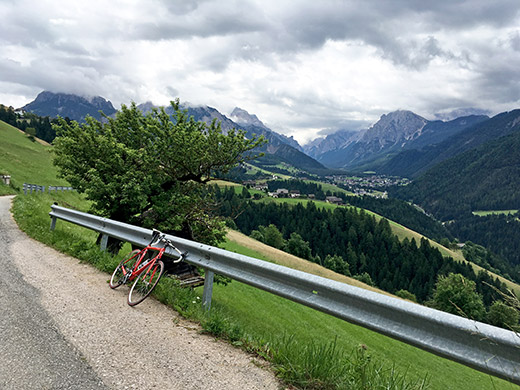 This morning I was indeed a bit tired and slept a little longer. I started by going down the valley just as planned, but had already decided not to go to Drei Zinnen/Tre Cime di Lavaredo and more as originally planned. No, today was a day to just take things easy (easier) and do a little loop including the start of the planned day tour that included the Krinner Sattel (1287m), which was anyway the only new pass really planned for this day.
At Longega/Zwischenwasser (1012m) I went in the direction of Al Plan de Mareo/St. Vigil in Enneberg/S. Vigilio di Marebbe but turned off on the first asphalted narrow road on the left hand side. After a while one comes to a road that goes nicely down parallel to the valley floor down the valley and a good choice of road for cycling, but I wanted to explore a higher going road, so I continued in the other direction up toward La Pli/Enneberg/Pieve and Al Plan, that you see in the photo here, but then turned off to Ćiaseles.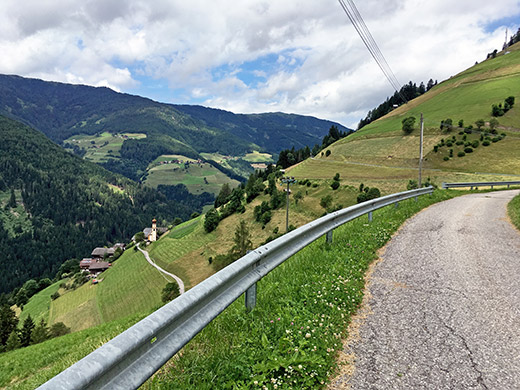 Here you see the road by the little church in Pliscia I passed by on the way up here. Across the valley you see the little village of Tintal, where I took cover for the rain when I went up that road some years ago.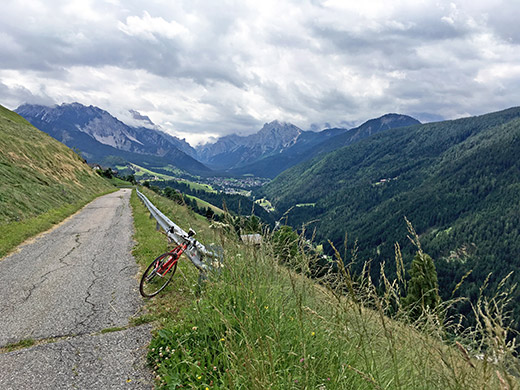 And yet one more view back to Al Plan before reaching La Munt and the high point of the asphalt road that ends there.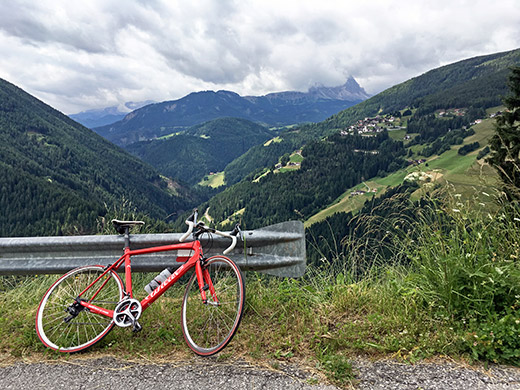 Here is the view up the Alta Badia from just before La Munt and you see Rina/Welschellen on the lefthand side on the mountain where a road continues up to Jù de Börz/Würzjoch/Passo delle Erbe (1993m).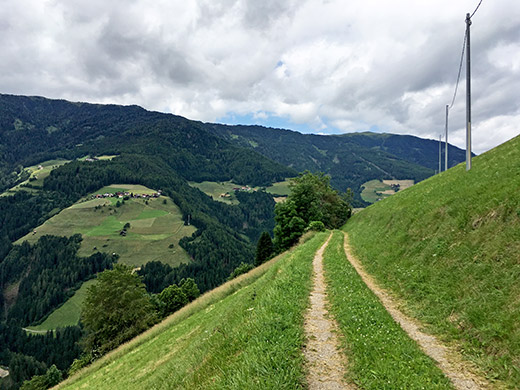 The road ahead looks a bit less used, but so far so good and I hoped it would be like this over to Pfaffenberg where the asphalt returns. Right across the valley now you see Tintal again.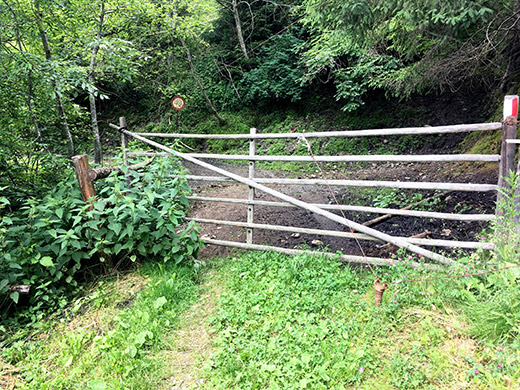 However – the road ahead through the lower La Munt was not good and was only used by cattle and some four wheel drive vehicles for all I could tell. I had to walk and avoid walking in the loosest places.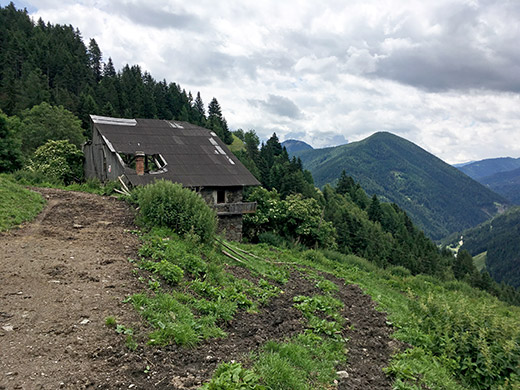 It soon got even worse by this abandoned house, where I had to try and balance walking up on some cow trails to avoid the mud on the road and still later got problems engaging my cleats in the pedals (but it went fine later again). (The worst part of the road is behind my back in the photo.)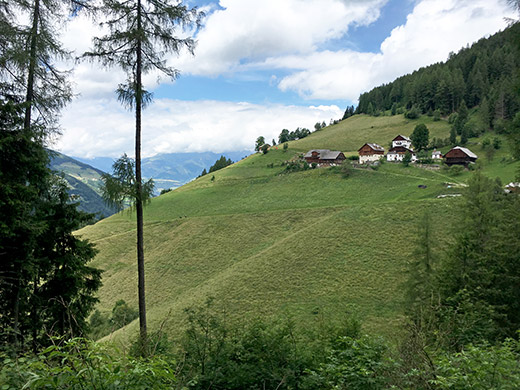 Just before reaching tarmac again I got a glimpse in the woods of Pfaffenberg and the sunnier area ahead of me.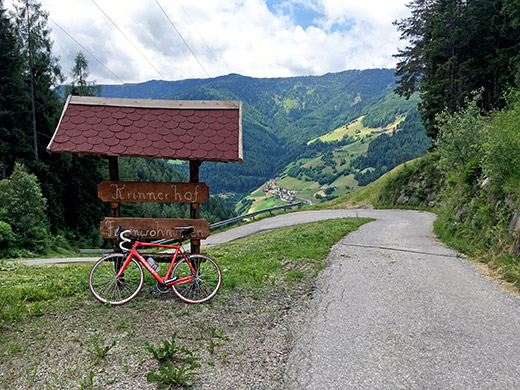 Here I am at last at the Krinner Sattel (not seen any Italian or Ladin name for this little pass anywhere, but we are moving into the more decidedly German speaking area here). There is a bad track up to the Pfaffenberg road from the lower asphalt road I mentioned earlier and it would have been smarter taking that track even if walking that part as it would be quicker, but then again I had nice views up at La Munt and before. The road down in the photo does not go down to the lower asphalt road!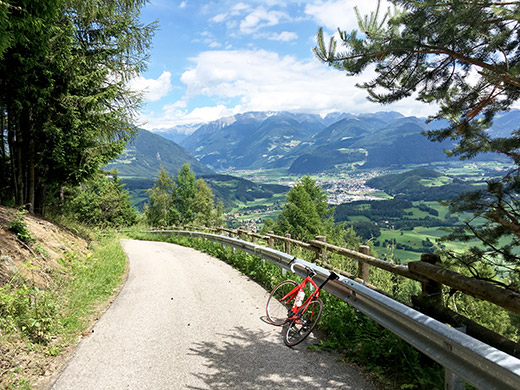 The north side of the pass is all asphalted and even though it is less than 400 height metres to conquer up here it was a surprisingly steep road on this side! Still it would be easier to go up this paved side :-). I continued to the east by the first houses when coming down on a road that soon turned to a gravel road to Stefansdorf/S. Stefano, where I stopped for a little sandwich and coffee by the first café.
From there on it was all asphalt on first a normal road to Reischach/Riscone and then small roads via Hotel Royal Hinterhuber and on to Niederolang/Valdaora di Sotto where I followed the bicycle route sign for Toblach Panoramaroute, which I guessed was likely the shortest way up to Ju de Furcia/Furkelsattel/Passo Furcia (1759m) (not that those who put up signs for bicyclists would ever consider informing about the fastest way somewhere as cyclists are never bothered about anything else than getting entertained by circling around on weird routes and getting lost, which I am good on on my own, as it was). Eventually I just was at the start of the climb up this pass without getting through Mitteroland/Valdaora di Mezzo, as I had thought I had to go through. Wanted to stop again, but found no good place along the road so just climbed up to the pass on the steep road I have climbed before.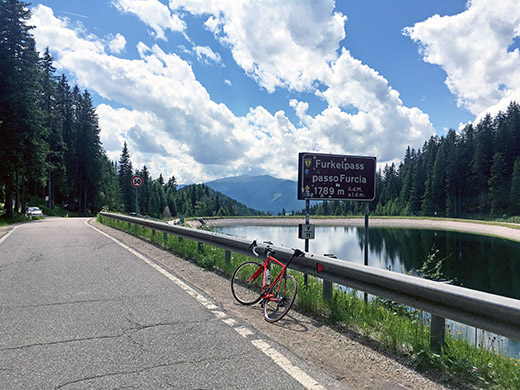 Just after the pass a gravel road goes up to Kronplatz/Plan de Corones (2274m) which is known to be very steep, but even so road cyclists have been up there and it even figured in Giro d'Italia some years ago, but when I eventually was here the last time to try it, I got a flat rather quickly and turned around as I thought it was not only steep, but quite a bad gravel road even by my standards. So was not interested in trying it out this time either.
Thought to stop at the restaurant up here, but continued to the next place, but they did not really have anything to serve that I wanted, so continued down the steep road to Al Plan. On my way up to the pass I had came to think of doing something more this day now that I shortened it down drastically from the original plan and decided to go up the Val dai Tamersc/Rautal to rifugio Pederü (1548m).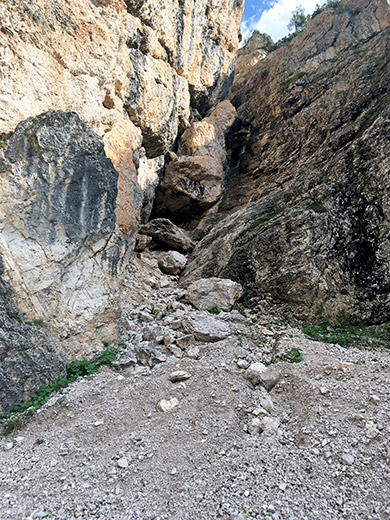 I stopped for an apfelstrudel and hollundersoda on the way up the valley. The road up the Val dai Tamersc/Rautal is nice and sweet and never steep (slightly rough in a few places). I also (of course) came to think of the famously steep road up to Fodara Vedla and the also very steep jeep road up the Limojoch. Now none of those roads are possible to use a road bike on more than short stretches, so I had no hope of cycling up them, but wanted to have a look on the steep concrete ramps up to Fodara Vedla that I had only seen in photos before.
I started walking after cycling 100m up the gravel road and walked slowly up the concrete ramps and continued until it did not look like it got any steeper above. Big rocks on the side where I turned around at one of the bends as seen here.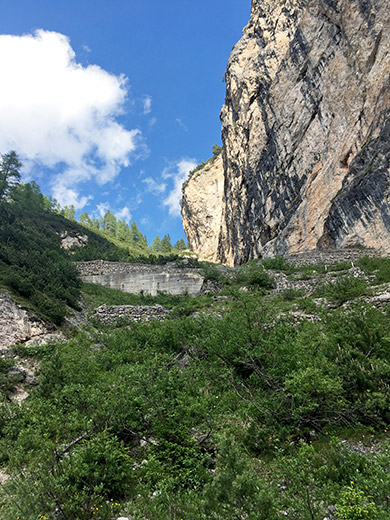 Here I am looking up the twisting road that seemed to get simpler up there, though walkers told me it was dangerous above too.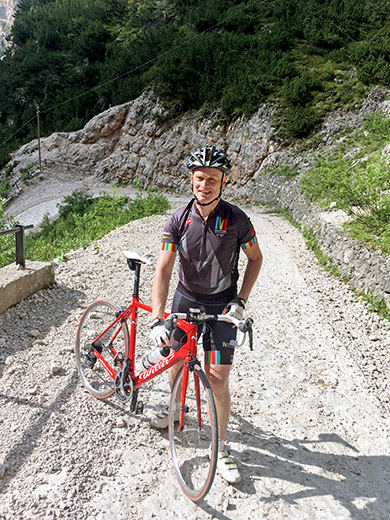 A family from La Ila/Stern/LaVilla stopped and took a photos of me at maybe the steepest place. The road never got steeper than ca. 30-32% or so (certainly not 37% as I had read before). Still it was so steep that people with proper walking shoes was falling while I went down again. Stones on hard concrete is not a good combination. I had to be very careful!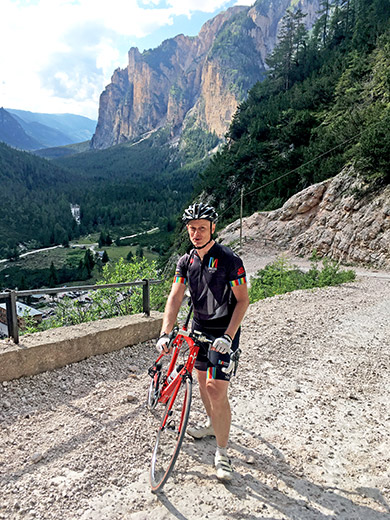 And one more photo with lovely views of the valley I went up and down, and the mountains.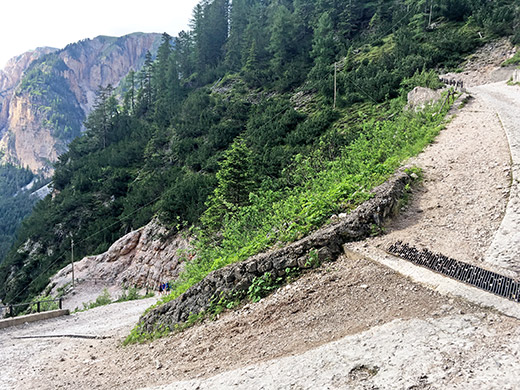 A pretty steep bend on the way up.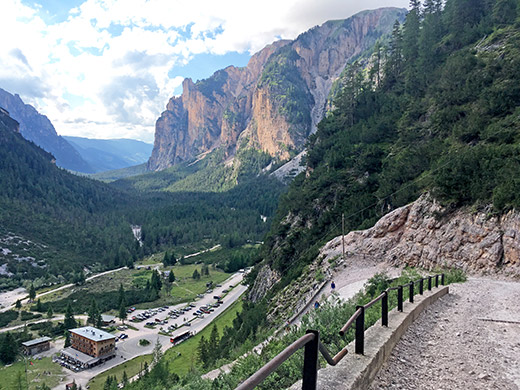 One more photo down the valley including the rifugio Pederü (where the asphalt road ends).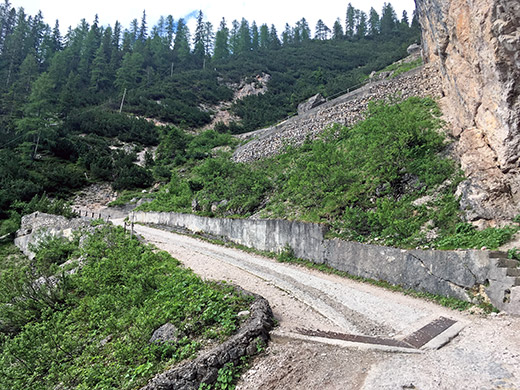 As seen here it is a very narrow opening which makes the road hard to build any less steep.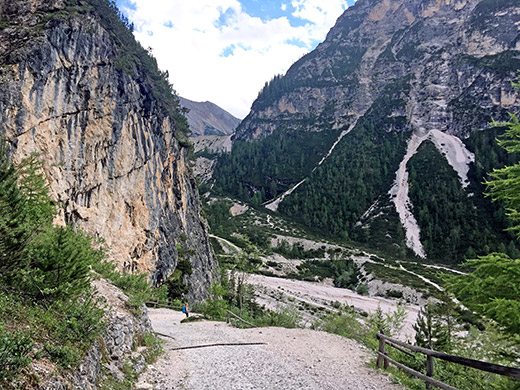 Here I look up in the direction of the road to Limojoch, which I believe is quite popular with mountain bikers. The Fodara Vedla road is possibly popular with them too, but it is not really possible to climb with a mountain bike either and few would go down here either, but some have of course – just hope their disc brakes will keep up and even so even to fall with the stones.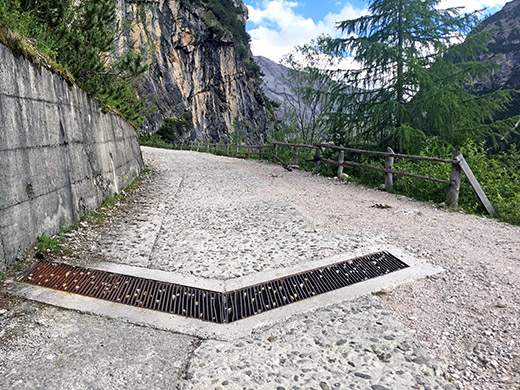 These drainage gullies are not a road cyclists best friend as you can easily get stuck here if you would have tried to cycle.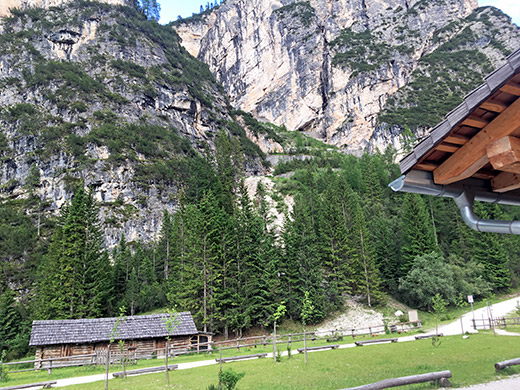 While you can't really see it here there is a white ordinary 4-wheel drive car in the photo here driving up the Fodara Vedla road in rather good speed and he looked like very used to the road and likely owns one of the houses up at Fodara Vedla. Otherwise there is a jeep taxi taking passengers up the road and it actually went up just as I came down.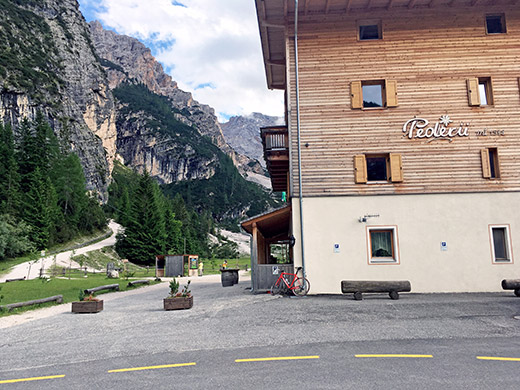 Finally a photo of the rifugio Pederü before returning to Longega/Zwischenwasser (1012m) and then back to La Ila/Stern/La Villa. This was the last day and now I went to maybe the only restaurant (La Tor) that I had not visited before in the village (down to the left of the main road as you enter the village from below). Here I had the best food I had found in the village – Maccheroni "La Tor" (in padella) (pasta dish).