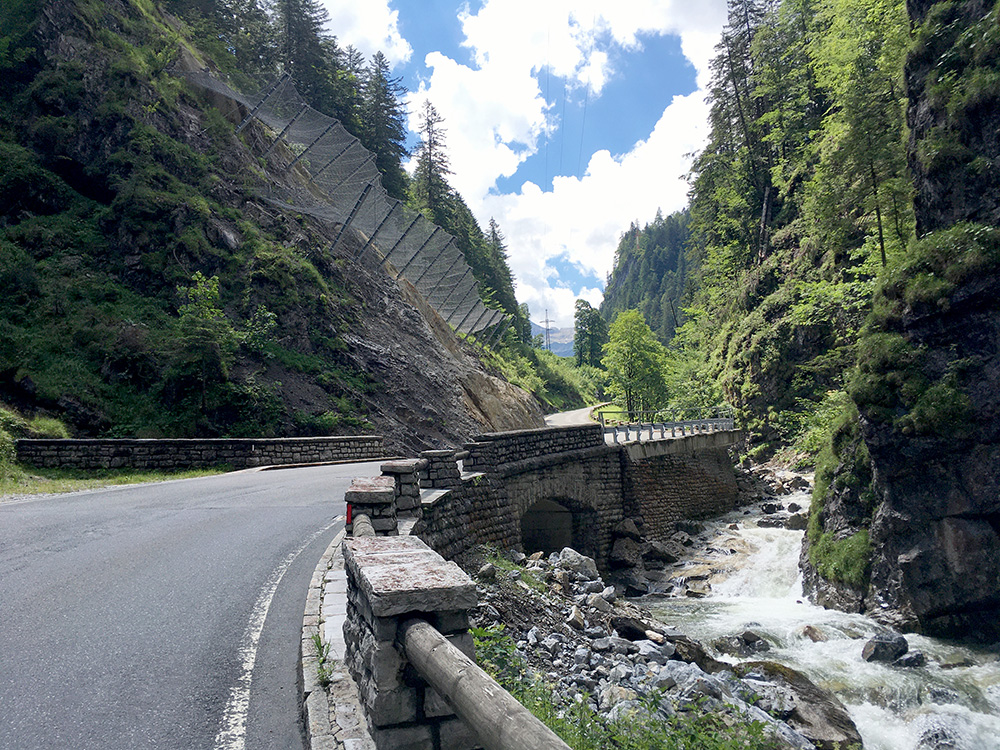 Nice weather continued. I felt slightly tired though from the days before after going over the unnamed pass at St. Martin am Tennengebirge (972m) and coming to Radstadt (827m). I stopped in Radstadt shortly, but then stopped again at the last place before the real climb up to Radstädter Tauern/Freithofhöhe/Obertauern (1739m) starts, in Untertauern. It was hot and I soon moved on, but felt very tired up to Radstädter Tauern. Stopped for this photo which was the same place I also stopped at on the way down for a photo on my first visit to this pass back in 2004.
Once up at the pass I visited a café to buy something to drink away from there (as it was cheaper), but then I was smart and left my backpack there to do some local climb continuations.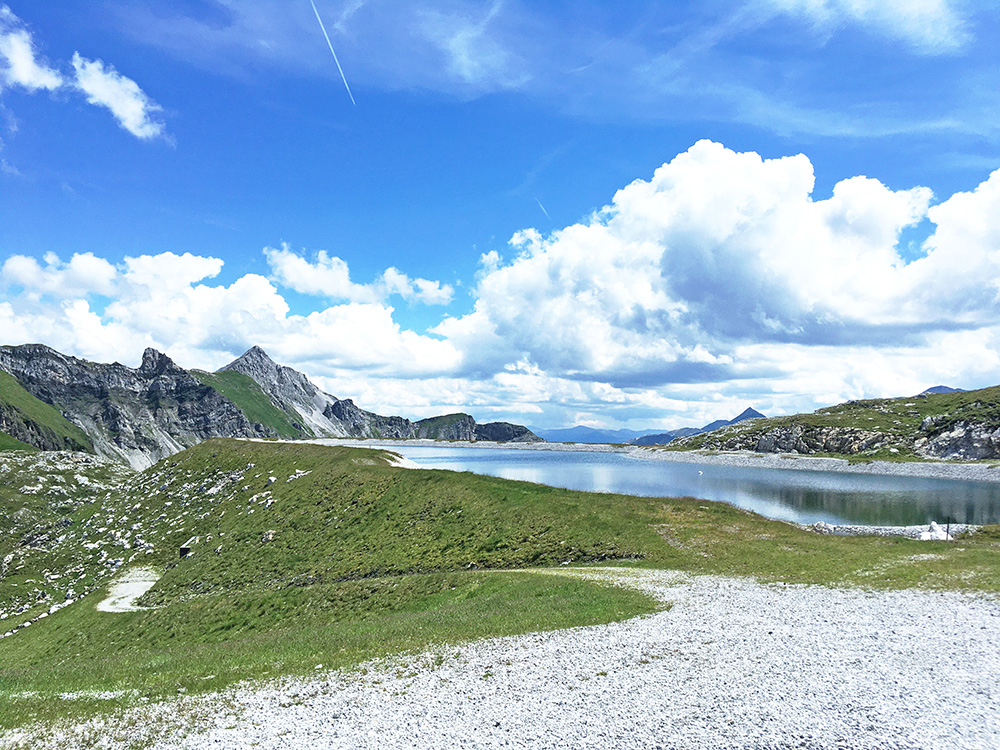 I noticed that there was asphalt up to Seekaralpe/Seekaralm to ca. 2000m, but only late last year when starting to plan I noticed there was maybe also asphalt on the other side (west side) up even higher to Brettsteinalm/Brettsteinalpe (Zehnerkar bergstation) (2191m) and asked the Winter open restaurant at the top about the road and they said it was pretty much all asphalted (I think they said it was all asphalted, which was not quite true), but they also noted that it was maybe not so easy with bicycle … .
It is 16.5% for 1.9 km! A hell lot steeper than Monte Zoncolan for example. RidewithGPS says max is 25.2%, but they consistently fail to measure the true maximum steepness (I guess they must be averaging over a bit longer stretch or something such). It is very clearly above 25% in at least one place. I have made up to 29% at least with a backpack on and was not really close to make it up the two steepest places and had to walk a little at these two places – it of course matters how long the steepness last and it was fairly steep before and after the maximum points too, which might have been the real problem here. The steepest kilometre was 17.4%. The steepest 200m later on was 20.2%. In between there is a gravel stretch at ca. 11-12%.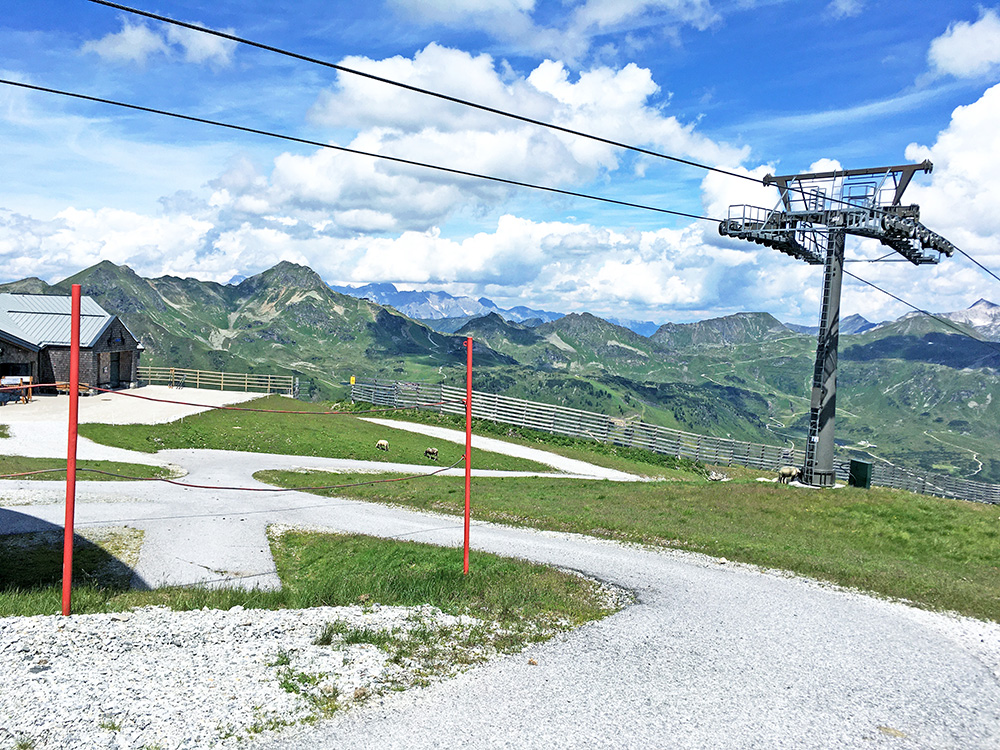 On Strava I am number 3 out of only 6 recorded rides up here even when walking I had 4.7 km/h – to get a KOM here you have to beat 6.0 km/h! Sounds like achievable, at least before you try it. Lighter gears and I could possibly do it, but not easily. Really great views up here made the struggle worthwhile. Above is the Speicherteich Zehnerkar (reservoir) at the end by the Zehnerkar bergstation. Here we see the Brettsteinalm and the Gamsmilch Bar (not open now).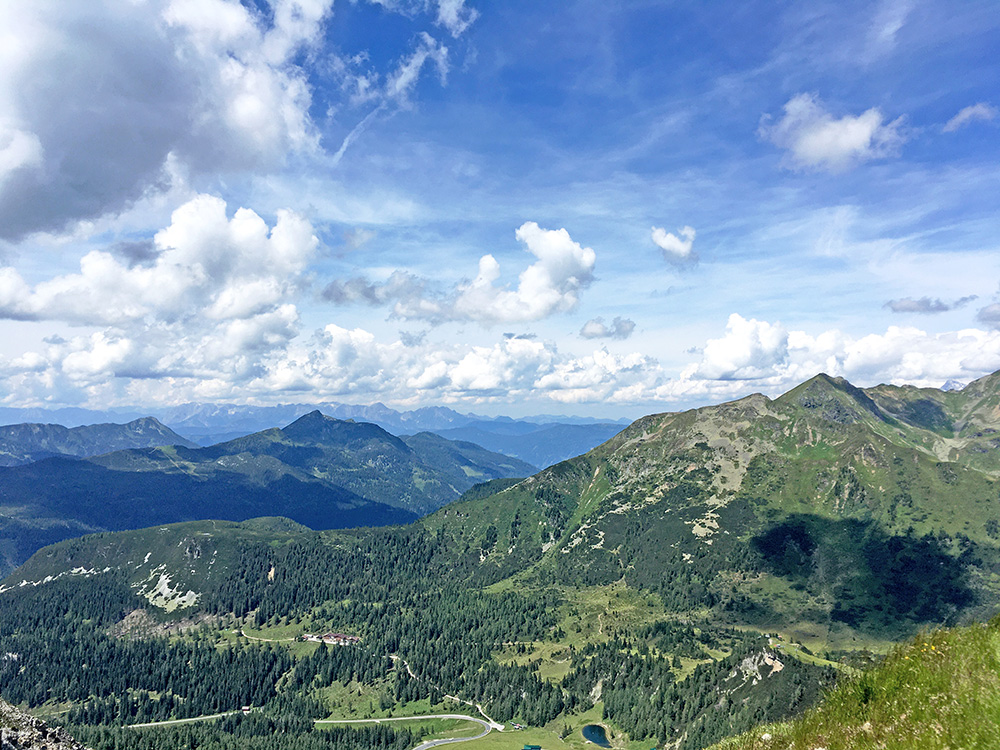 Here we have the view back north and you can see the Tauernstrasse below.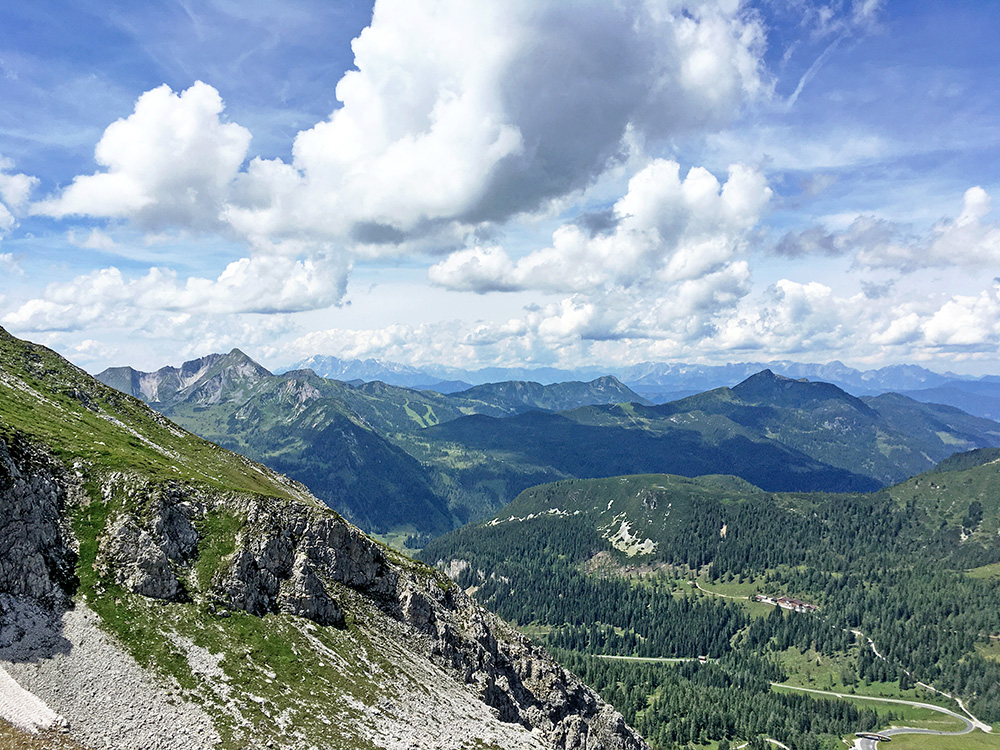 Looking a bit more to the west here from just above the Gamsmilch Bar.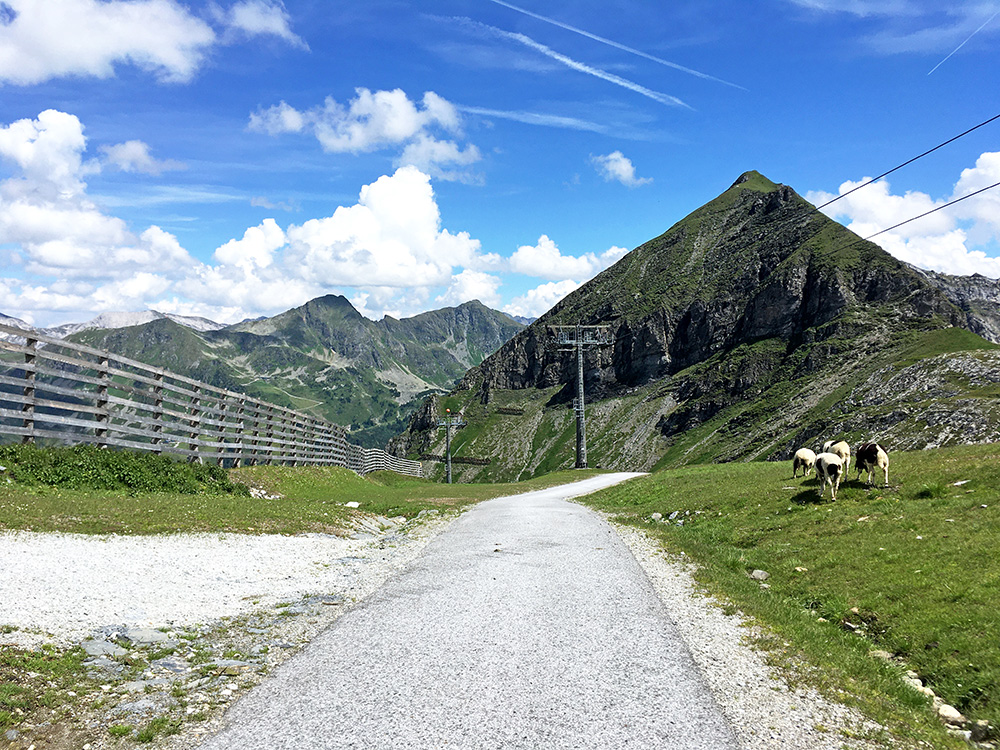 The easy last part, but the road goes above 20% just where the road disappears.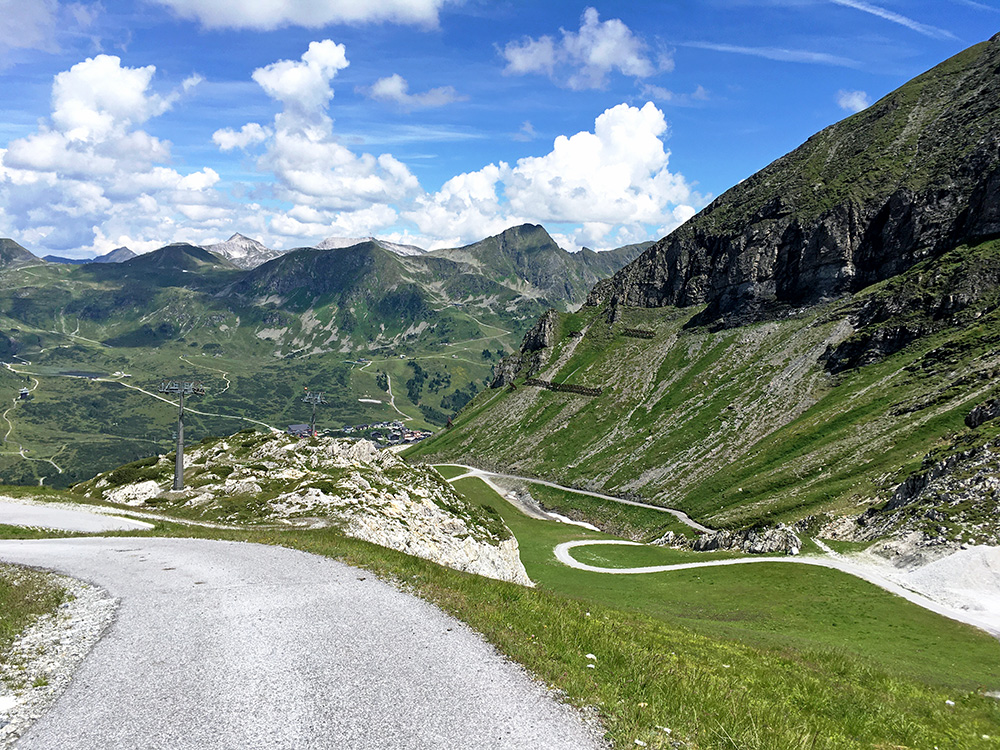 This is from the steepest part which is also narrow and twisty. The flattish stretch along the side of the mountain below (not the first part) is the gravel stretch and that is the easiest part up here after the initial climb from the Tauernstrasse.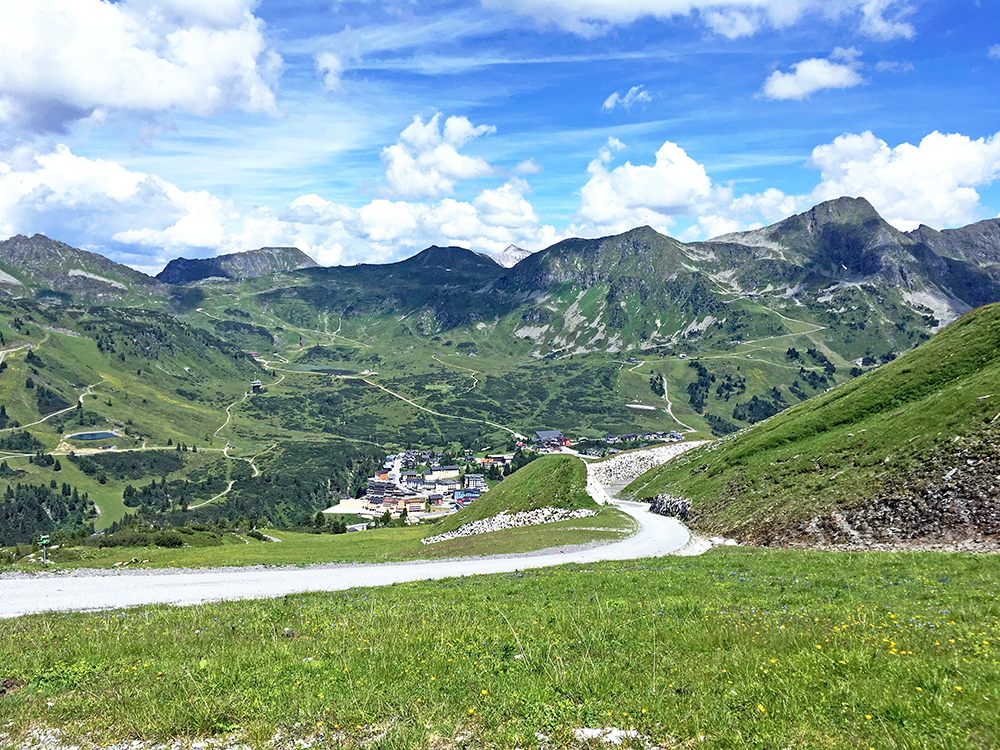 This stretch was not so bad and I cycled that, but with some stones in the odd passage. Now one clearly see the Obertauern village also. The road going up in the middle on the other side is the road I was next going up.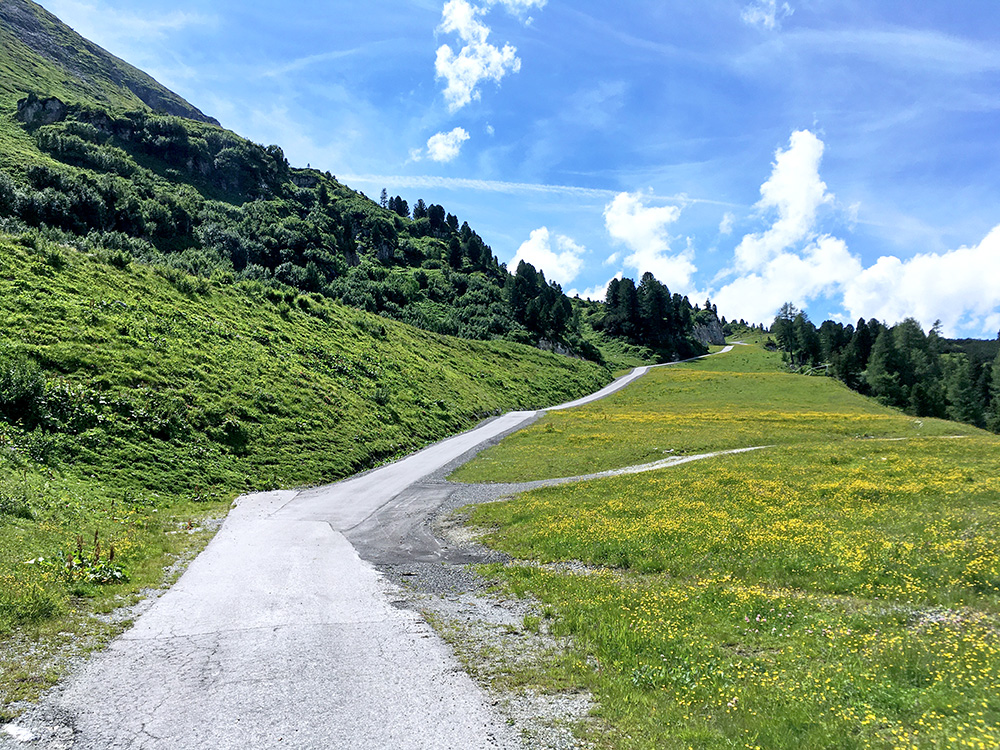 Here is the first steep ramp, which I made it up through, just that it continued and got even steeper at one point later on. This ramp is ca. 17% with some drainage gullies.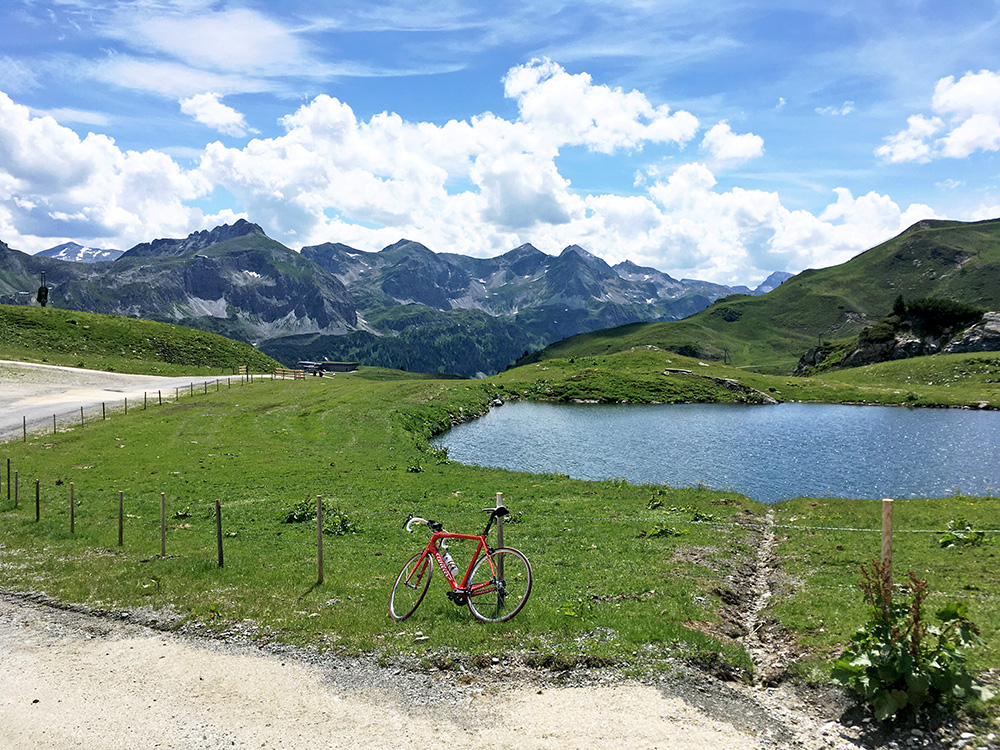 I started on the Seekaralpe/Seekaralm climb right away when I got back down. It starts with a slightly steep ramp, but is then easy going up to the Seekarhaus (1797m) (even a slight descent on the way). There were some construction work there, but I managed to get by. From there it is quite steep again, esp. the last ramp up to the end of the asphalt road which is almost flat for a while. The highest point of continuous asphalt is exactly 2000m. From there the road continues down to Grünwaldsee and a restaurant. There is another road continuing up here and it is gravel, but with 50m asphalt just up by the sea a short way from the fork below. This is the place for the photo here (2030m), next to the Hochalmbahn station (not seen). The gravel road continuing up was steep and a mountain bike would be needed there.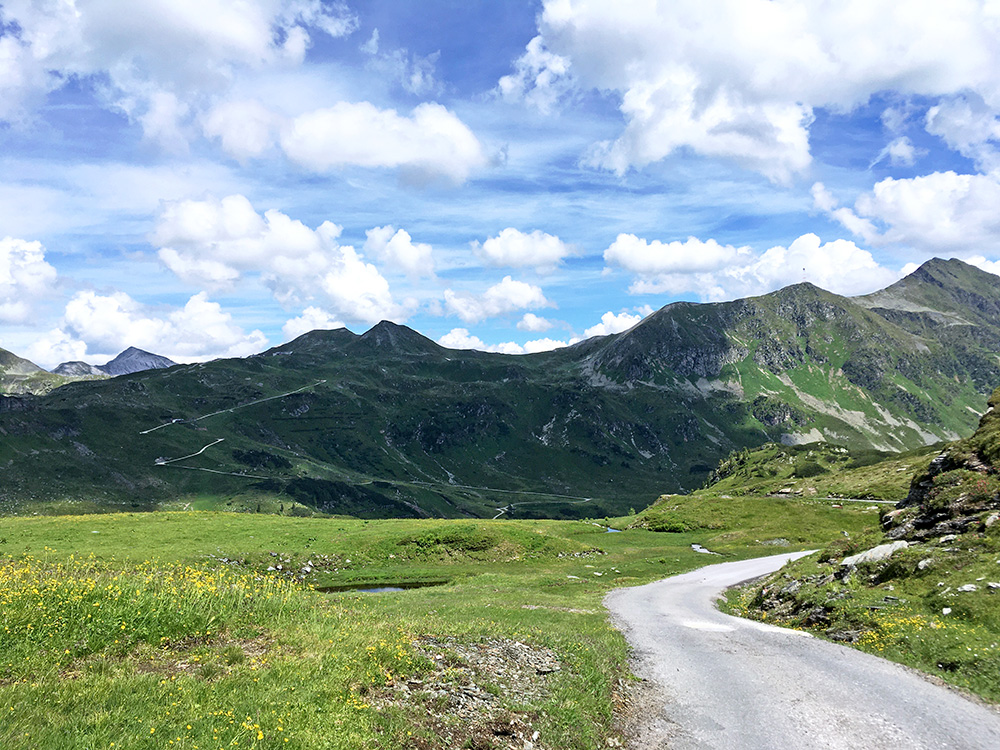 This a bit on the way back looking back (and it is 1999m here after a 2m descent before). One see a gravel road going up on the other side of the Seekarhaus. After the bend ahead the steep descent starts (ca. 21% max). The steepest kilometre was 13.2% (three sections of 200m with 14.6%). On Strava I was number 5, but now number 8 of 62 climbs up the steep part. Again I guess it is mostly mountain bikers going up here, but it is worthwhile with a road bike too and makes the Radstädter Tauern a much more impressive climb – this road also starts exactly from the pass height (while the Brettsteinalm road starts just before on the north side).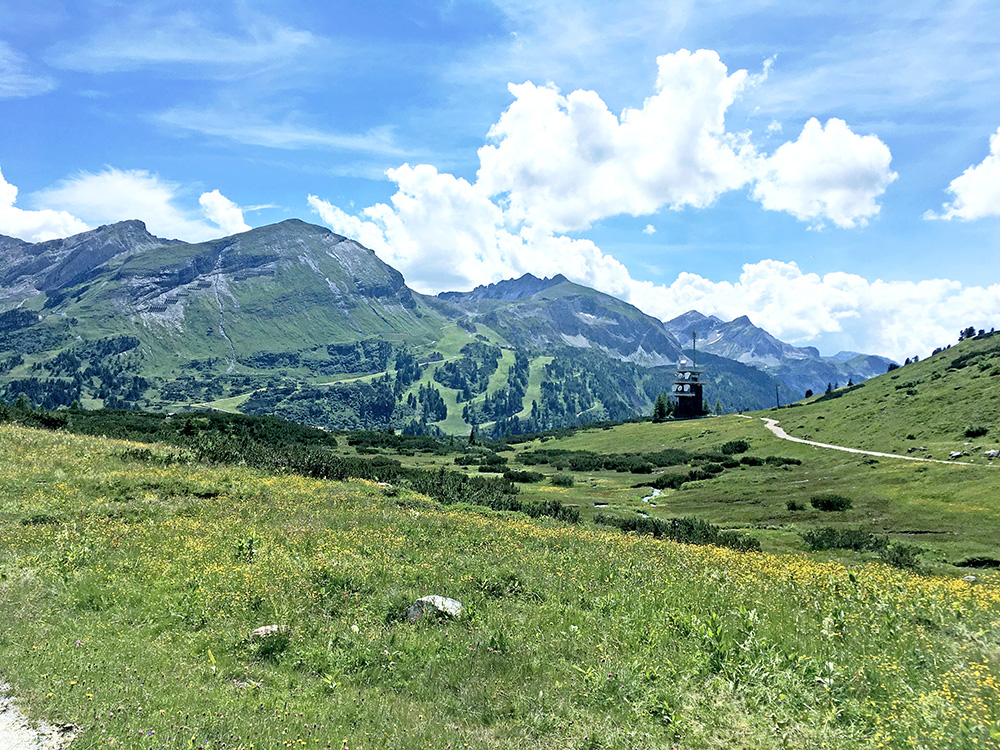 Down below Seekarhaus I had a good view across to Brettsteinalm and the road you see there is the ramp in the photo above.
I collected my bag and eventually was on my way down the south side. Now finally coming down into the more central Alps, but it starts up here. This was a fast descent and both times before I had climbed the south side and it is a boring almost straight stretch up here that is somewhat demanding because of how monotonous it is. I had suspected it would be nice going down here and the road was mostly fine enough to dare going down without braking (even if I tend to be a coward these days). I could rather easily go at an average of 67 km/h most all the way (6 km) down to when it goes almost flat (max 85 km/h) and I am sure others go even faster. I followed the main road until Sankt Michael im Lungau (1045m), where I stopped by a café for a final stop for the day.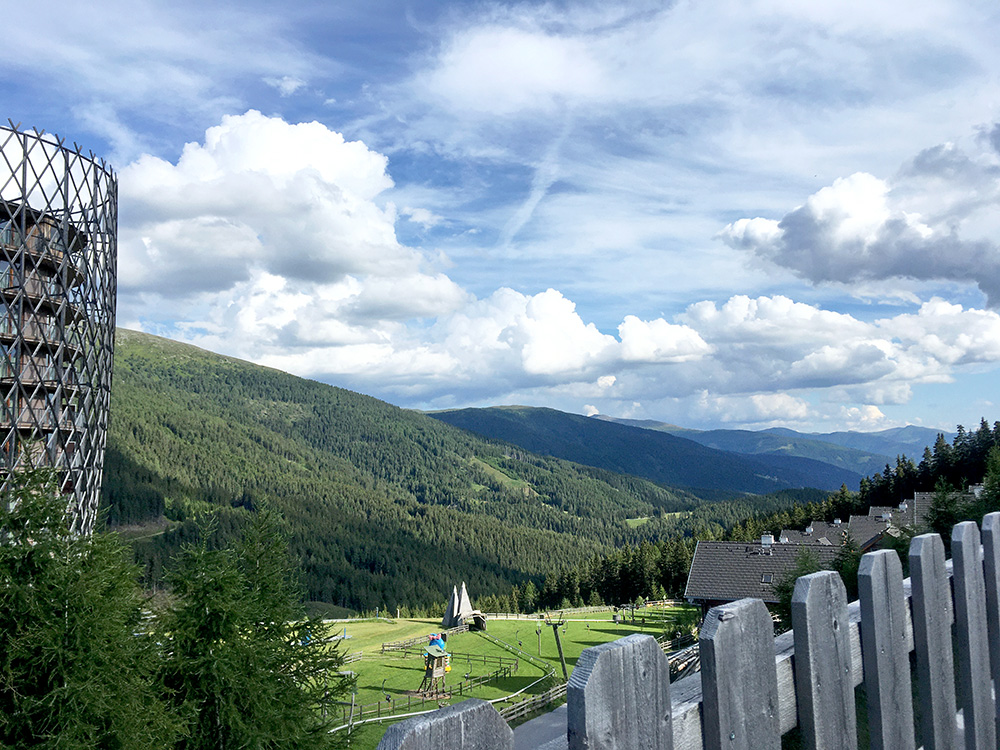 Now I only had the Katschberg/Katschbergpass (1641m) to climb. I have climbed this side before and I knew it was not easy. In fact I think it is the steepest pass road in the Alps relative to how big the road is (there is a motorway tunnel for heavy traffic luckily). It is 12.3% for 4.5 km, the steepest kilometre is 14.3% and the steepest 200m are 16.1%. It felt like 16% most of the time, but my guess while cycling at 16% steepness was correct at least for part of it then (I seldom look at steepness on my computer while cycling).
I realised the view from Katschberg was very boring ad that there was some side roads and followed the main one in trying to get a bit better views, but it was not easy as they more or less by design had closed off any views with buildings and fences. This was the only view south you can get from asphalt at Katschberg.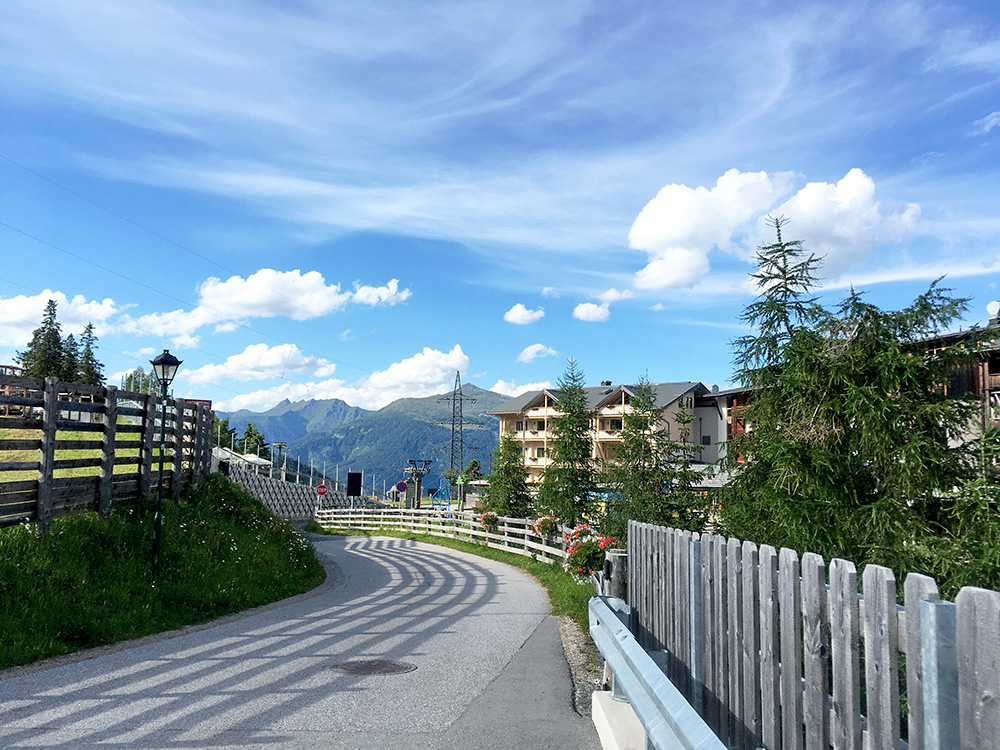 This is the view back north (I noticed looking on the map now that there is a road through a tunnel here that would likely give some maybe better view in this direction and the road will reach just above 1700m).
The road is fairly steep and narrower and more twisty on the north side. Further down the road is not in a very good shape, but it eventually gets better again as one approaches Gmünd. At Trebesing I went up to take the higher road on the west side of the valley down to Lendorf and Möllbrücke. It turned out that this road was closed, but I tried to pass by and that worked fine (with a bicycle). I stopped in Möllbrücke another time, but it was not memorable, so decided to go up the valley as planned to Mühldorf. Here the hotel I had planned to stay at was closed, but luckily they had another one by the main road and that was all fine. Not very memorable either, but had something to eat and drink and it was quite ok.