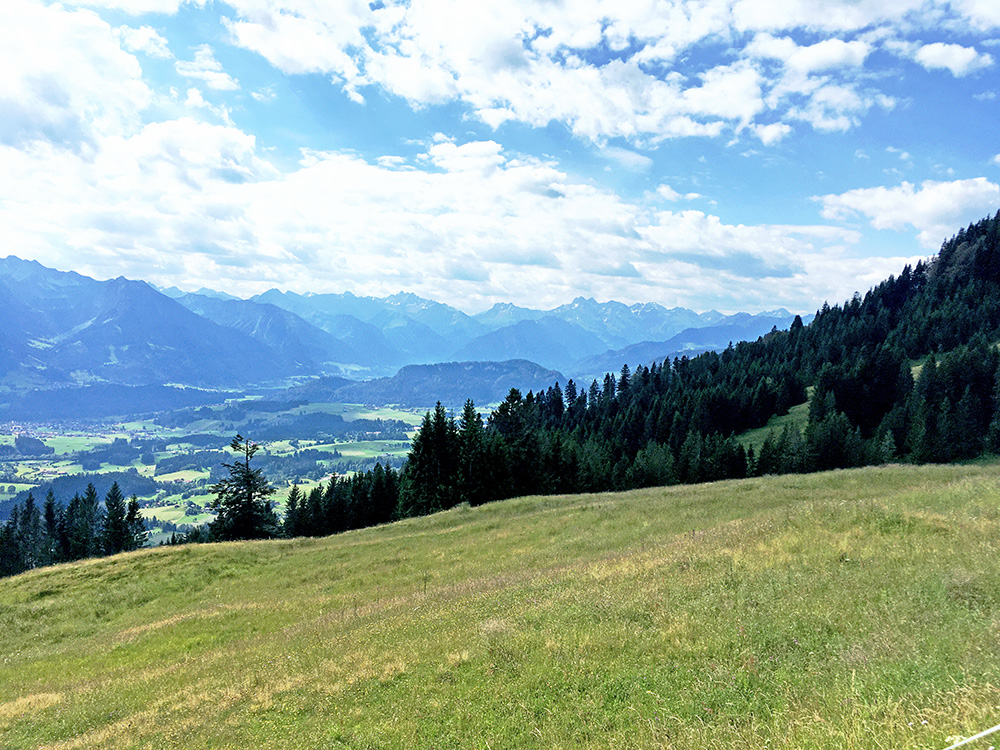 Think I got something for breakfast, but was fairly fast off for the day (never really before ca. 09:00 for me though and this was 09:02 I see). I had decided to climb the Ofterschwanger Horn BIG climb (Nebelhorn is also a BIG climb) and it is the closest climb from Sonthofen (743m). I have found a short-cut road up there that was all paved, but the BIG climbs are typically steep enough even without short-cuts, so I was a bit worried and rightly so. The steepest section is at least over 18% for ca. 450m and had to walk the steepest ramp at the end (up to around 27-28%, I believe).
Then I got up to the normal road which was much easier. However, this also started to get a bit steep and at the end there is a long quite steep ramp too, but that I made fine (over 21% and at least 15% on average, which is more like on Monte Zoncolan). The road goes to 1348m and then there is a short descent to an unnamed pass at Fahnengehrenalpe (1329m) and this is the view down south from there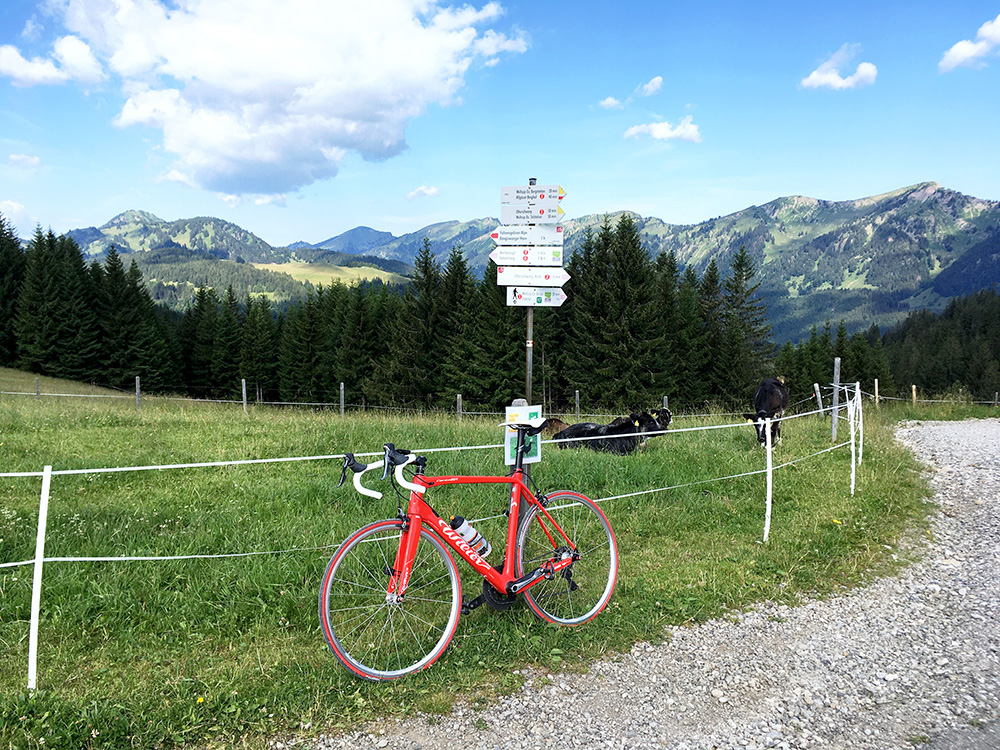 The pass sign only has the height but no name. Looking westward here toward the valleys and mountains I visited last time I was in the Sonthofen area.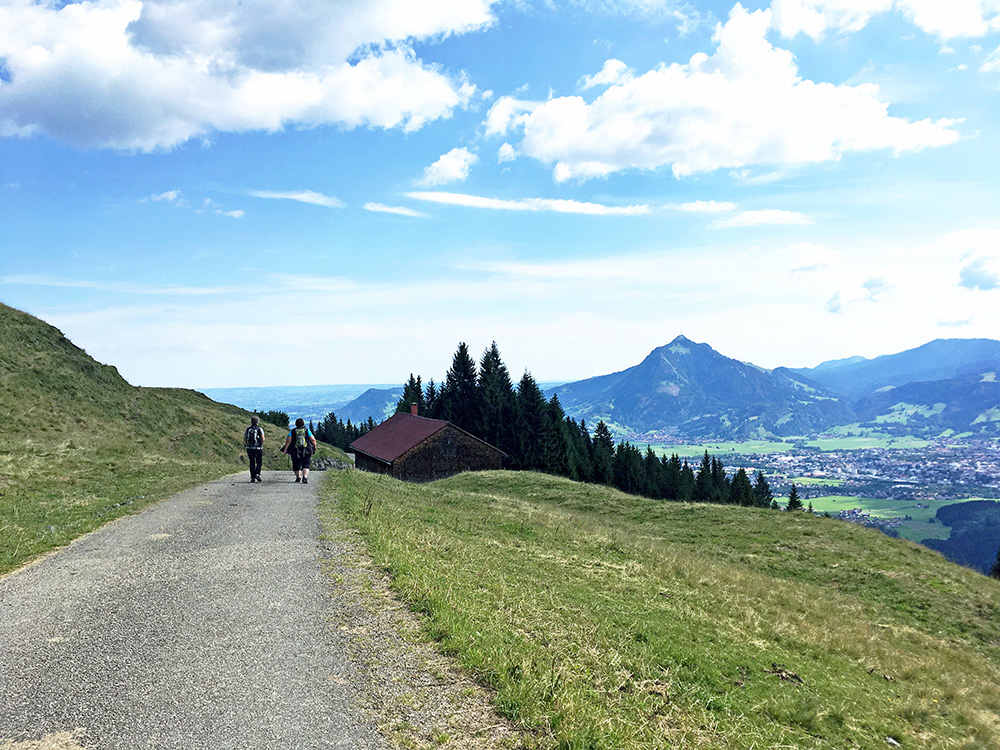 Back to the high point looking up north and there are not so many more mountains up north here.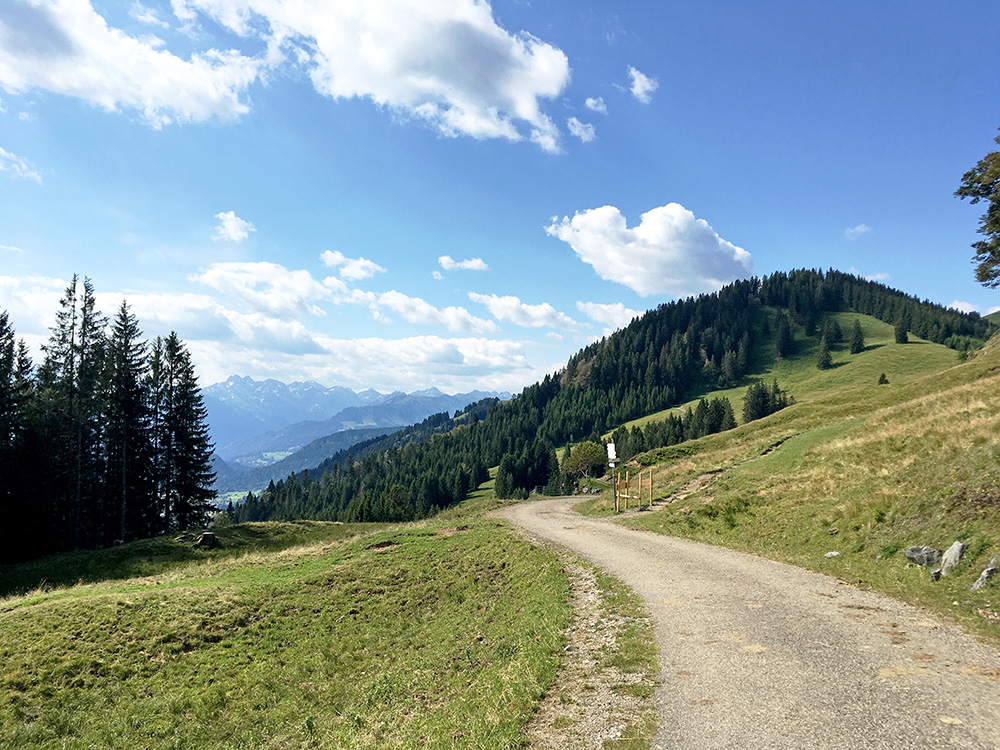 Looking back a last time before going back down.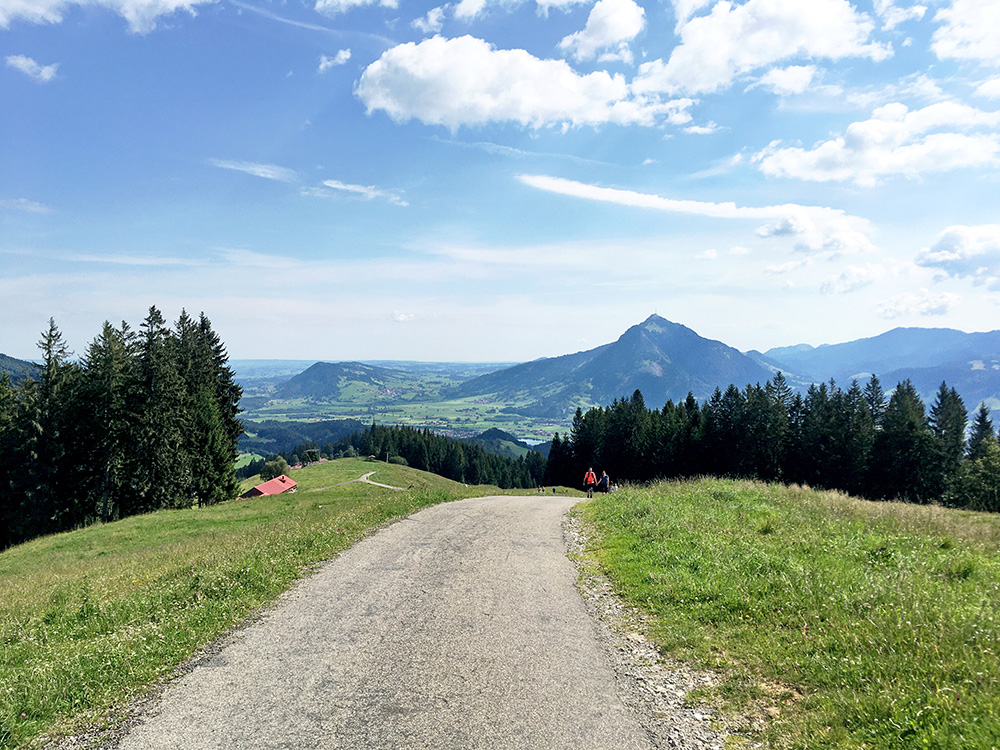 Had to stop for a photo from the steepest ramp on the normal road.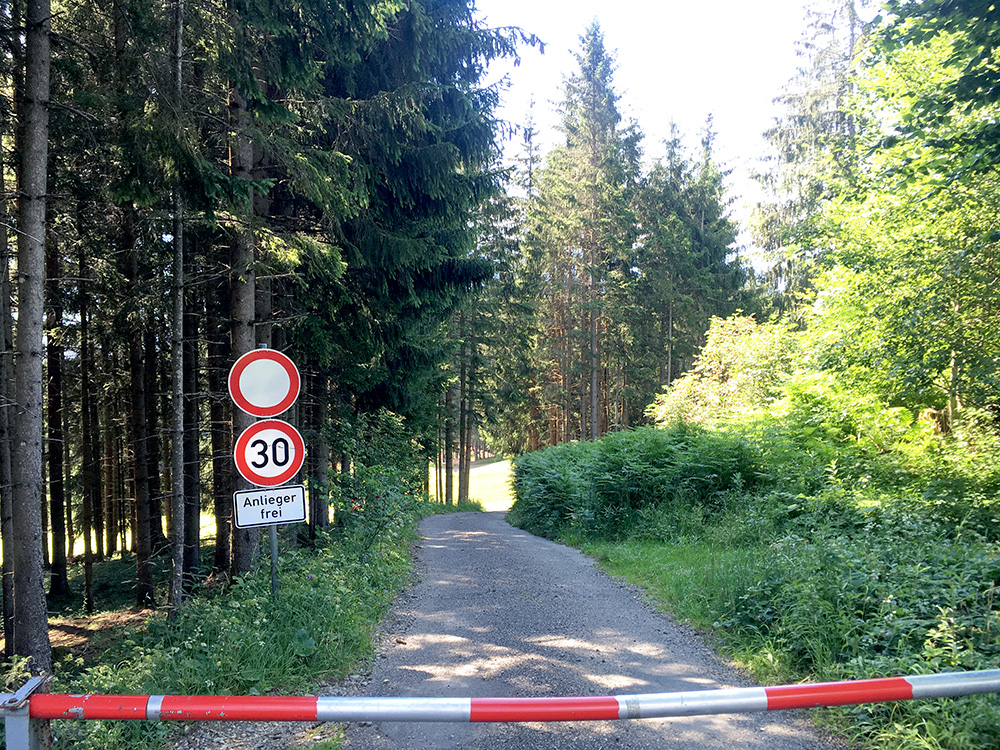 I decided I could as well go back the same way as I went up as I likely could cycle down it and so I could. This is the start and soon after the sign it is much above 20% and no real chance to go faster than 30 km/h on this road, as long as the brakes function.
Out the east side of Sonthofen and I stopped by a cheese shop as that was the only open place along the main road. Had something to drink and had to remember to put on the face mask when entering the shop (not much of that in Austria or in Switzerland, but everywhere in Germany and in Italy and on the border areas it was a bit fifty-fifty inside Austria).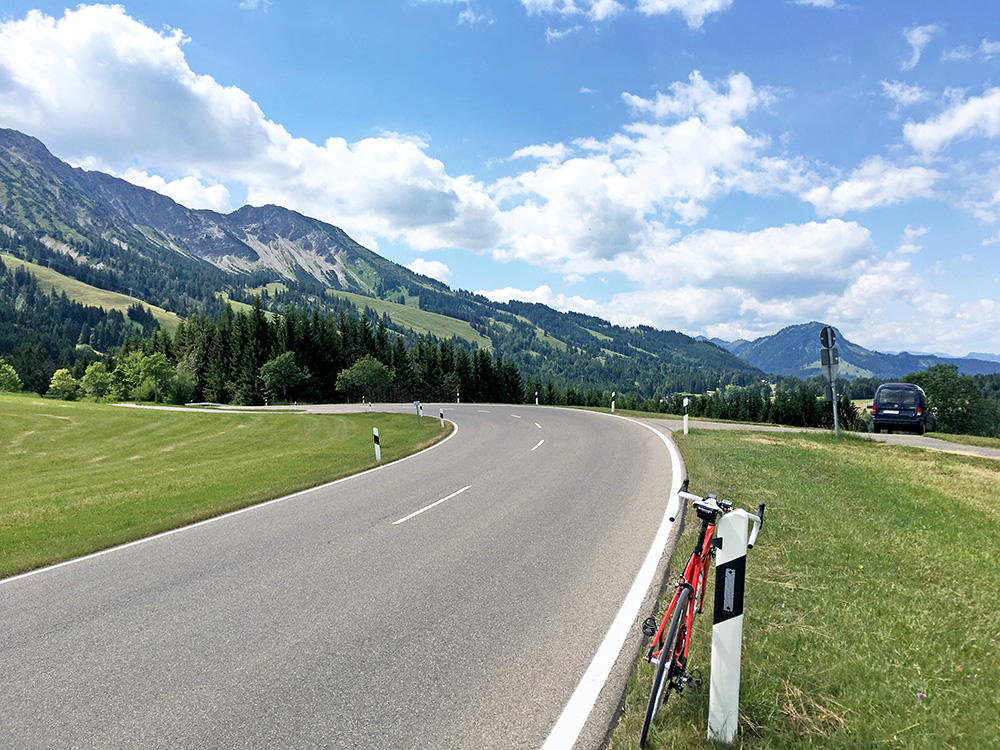 The road up to Oberjoch is nice and good with some traffic. There seem to be an old road that is steeper that I noticed and that one likely could part of the way up (if one wants a steeper climb and less cars). Here I am up at Oberjoch looking back.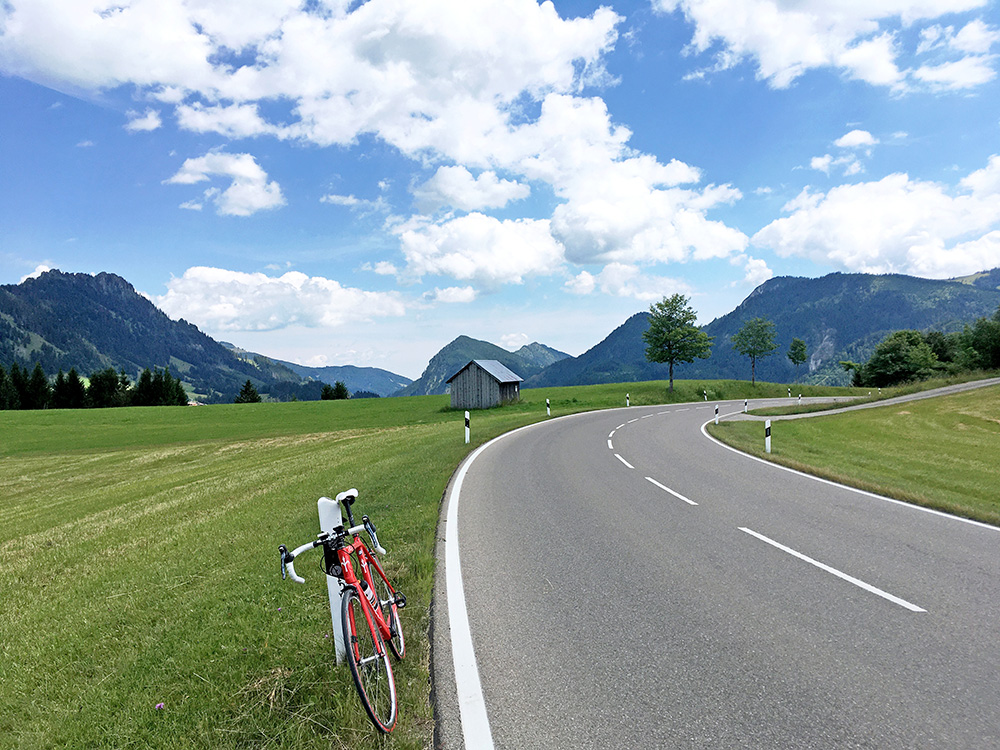 Oberjoch village is actually also a pass and maybe the more obvious one, this is however higher and is close to the border. The Austrian border is just down the first ramp from here and one could hardly stop even if one would have wanted it before rolling into Austria. This road is even nicer than the one up to Oberjoch and it goes a bit up and down (mostly flat) on the high plain here to Haldensee. At the east end at Haller there is also a pass (Wasserscheide Vils/Lech (1153m)), but the only noted pass is more of a special passage lower down – the Gaichtpass.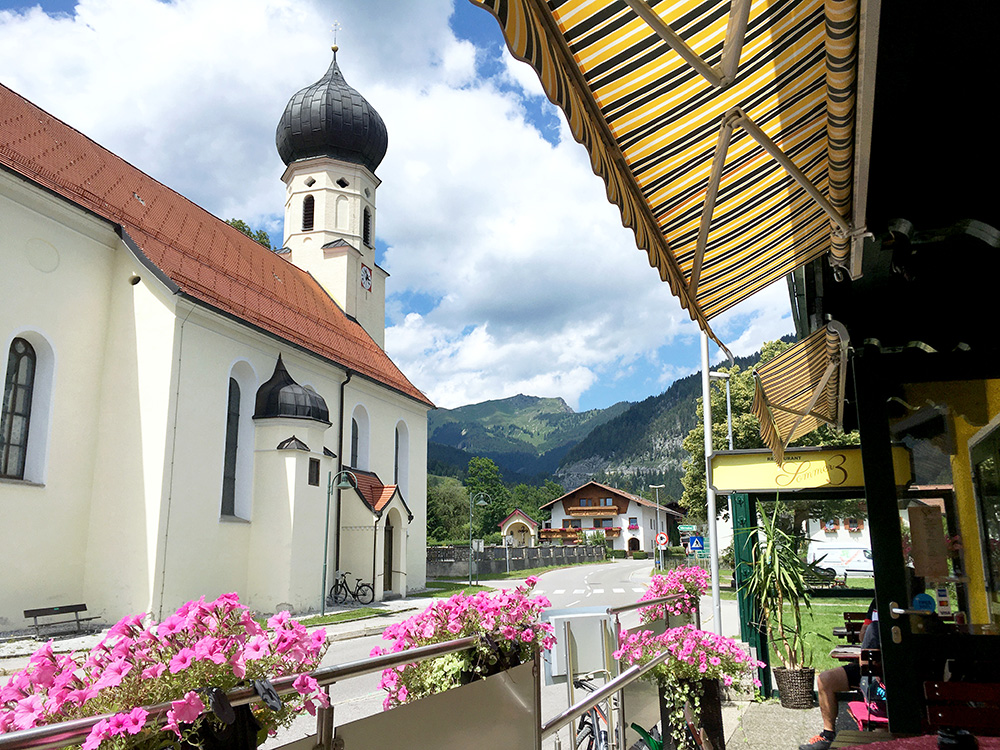 The road ends down at Weissenbach (885m) in Lechtal where I stopped for coca-cola and an apfelstrudel, I think. I noticed the nice view back up the road I descended and took the photo here. Up the Lechtal the road is almost flat until Stanzach where I turned off for the next climb.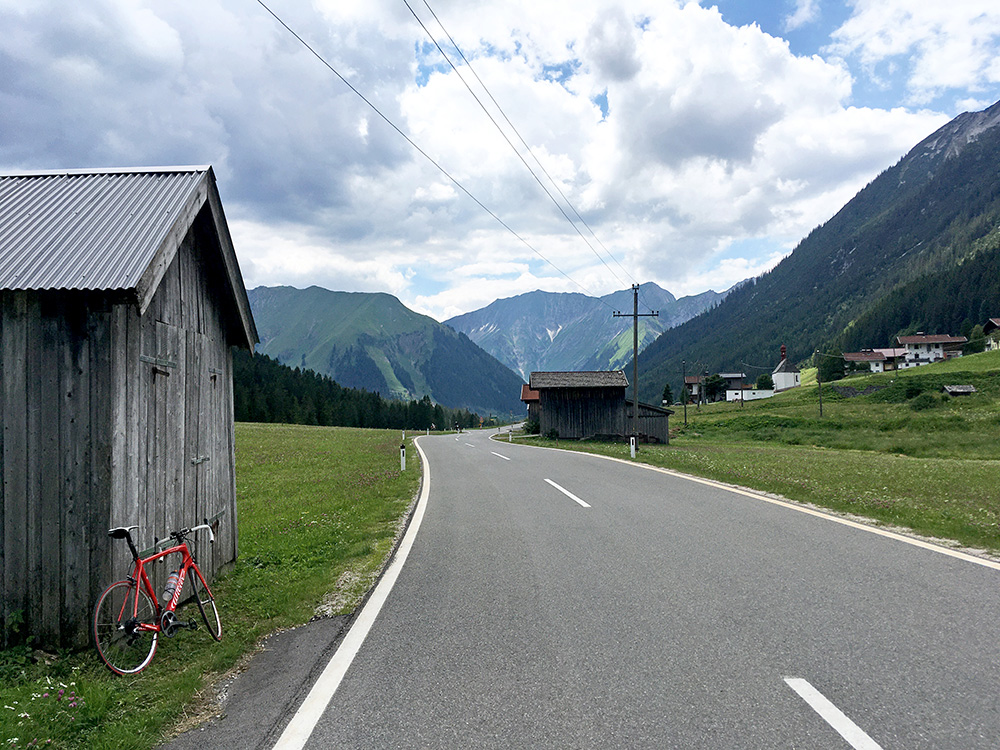 The so called Namloser Sattel (1359m) and the twin pass, the Berwang (1349m), is another great road with a real Alps feeling and little traffic. No really smashing views at the Namloser sattel, but quite nice on the way here.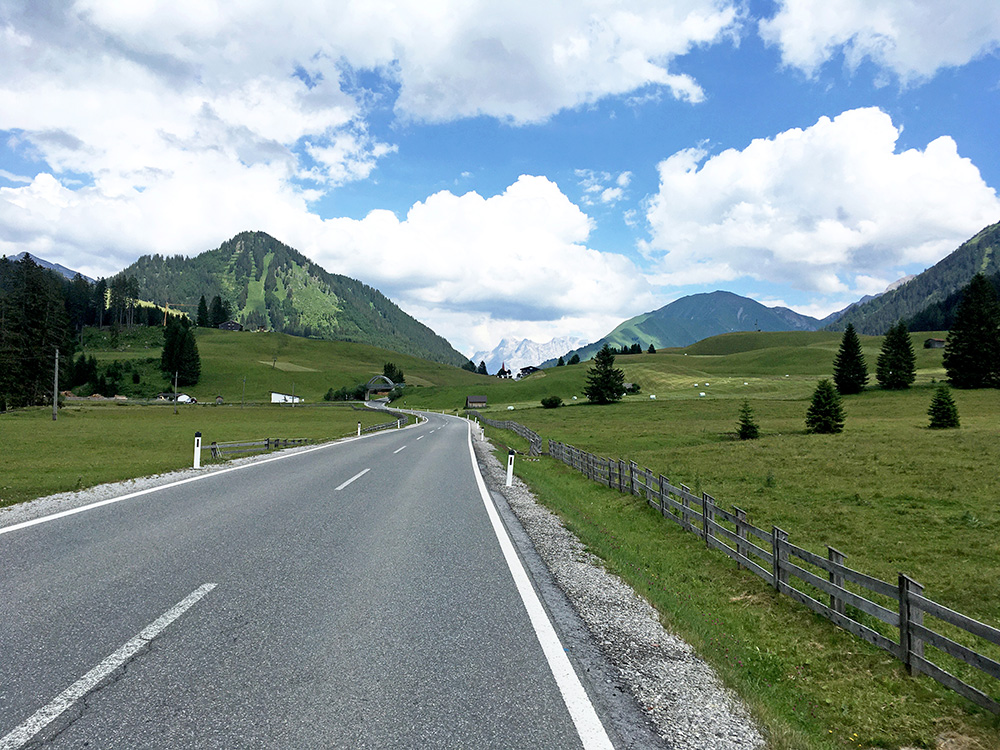 The road is getting flat as one approaches the Berwang with great views ahead here.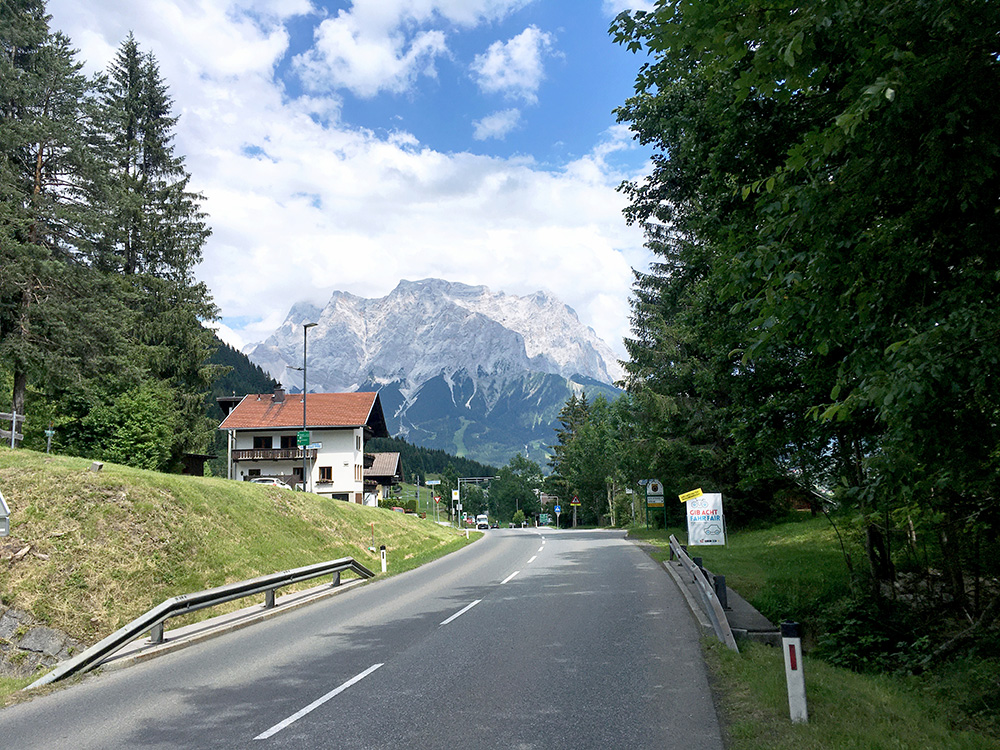 After Lähn Sattel (through which I went on the local road that was really bad and with road works) and on the way down to Lermoos I got some nice views of the Zugspitze mountain group (highest mountain in Germany).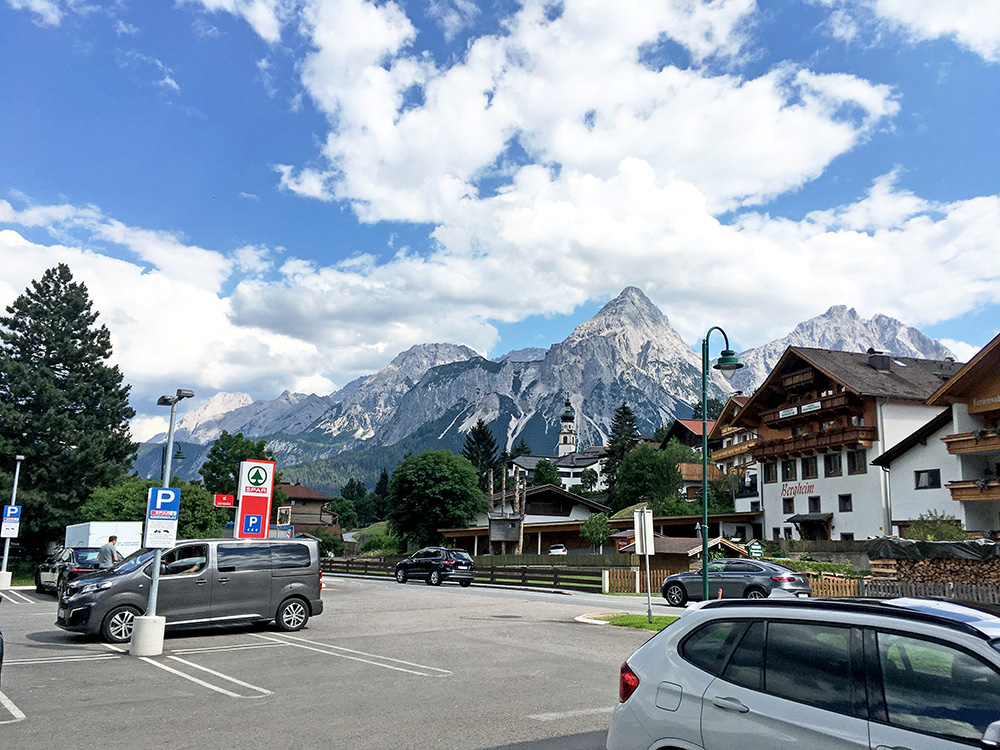 Down in Lermoos it was time for something to drink again and the views from the parking place outside the shop was unusually good for a place such as this.
Then on to Ehrwald (964m) and time to climb the Ehrwalder Alm that I had planned so many times to visit, but last time (2015) the weather turned really bad after having climbed a curious border pass nearby called Hochthörle(hütte) (1483m).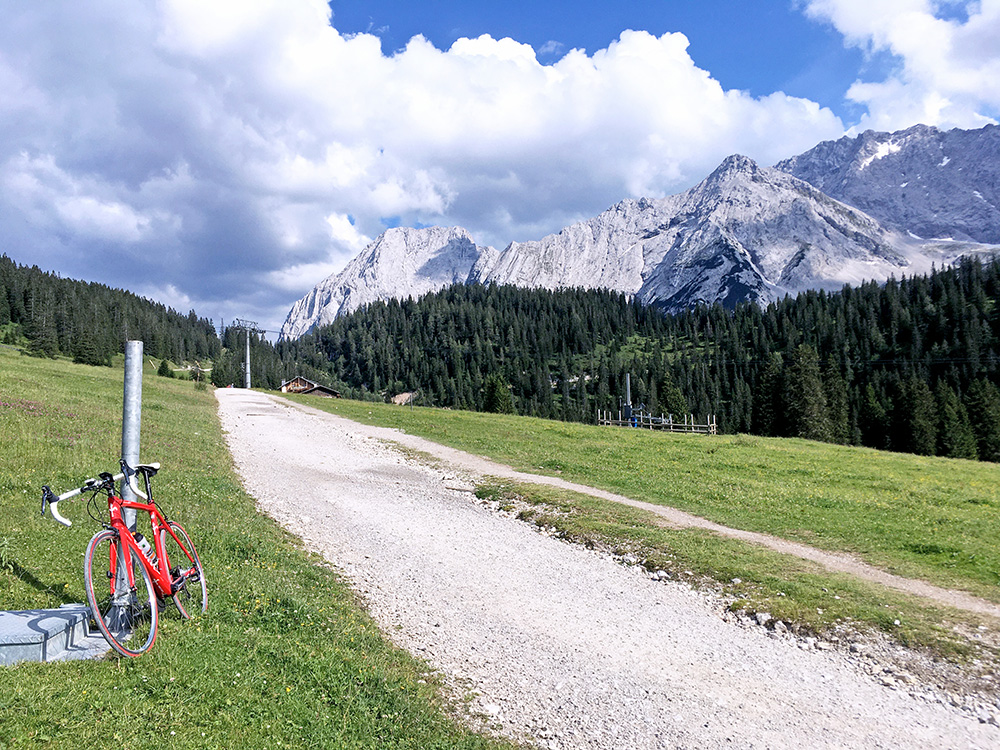 This climb is famously steep and so it was, but it is not so long after all. 12.2% for 3.9 km and 14.2% for 2.2 km, with max around 18%. Asphalt stops at ca. 1502m, but after 455m the asphalt comes back for the final ramp to ca. 1538m where I stopped to take this photo of the gravel track that continues and the mountains above. That road looked a bit too rough for a road bike unfortunately as the passage over here would have been really nice if it had been better.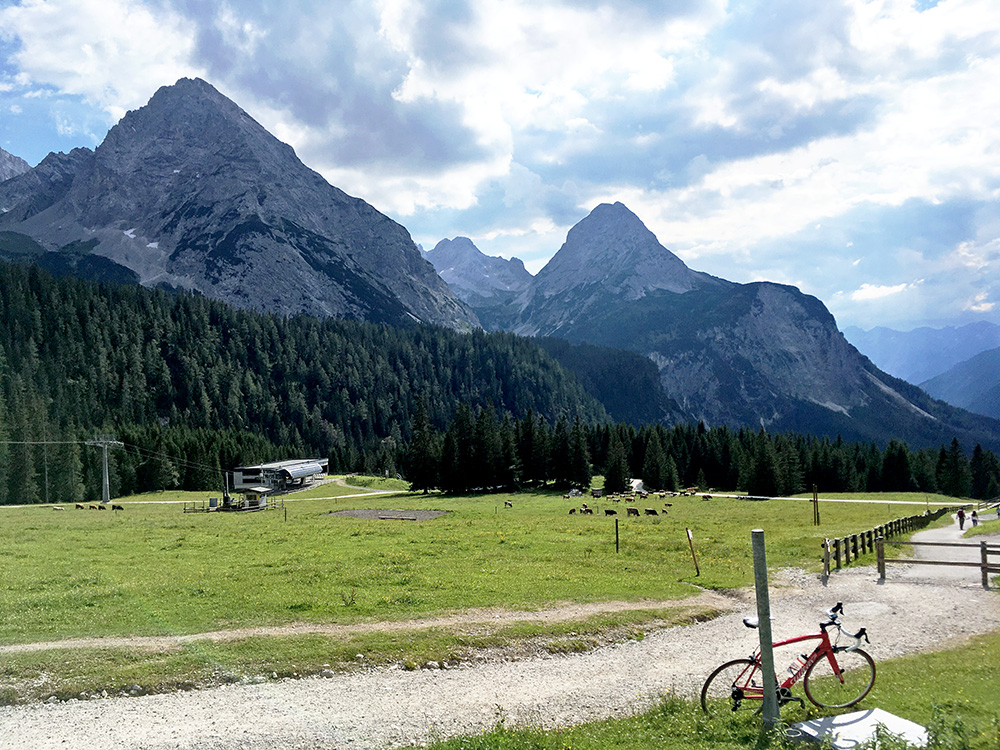 The mountains on the south side here.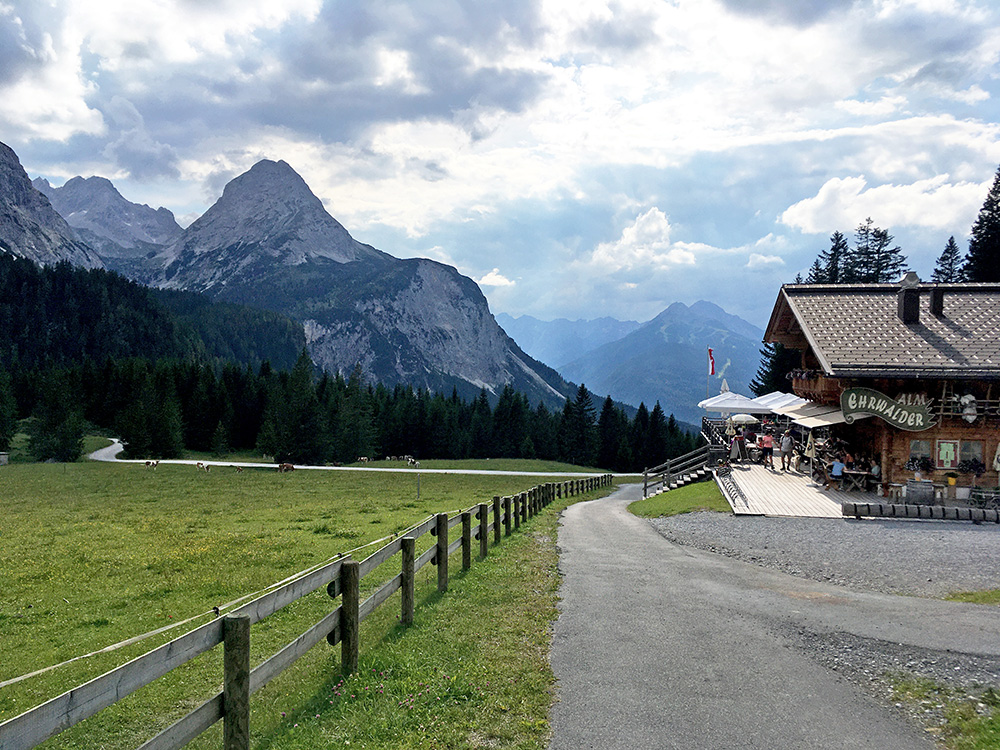 A good view of the Erwahlder Alm and the final ramp. I did not stop and instead continued down and then directly on to the next little climb.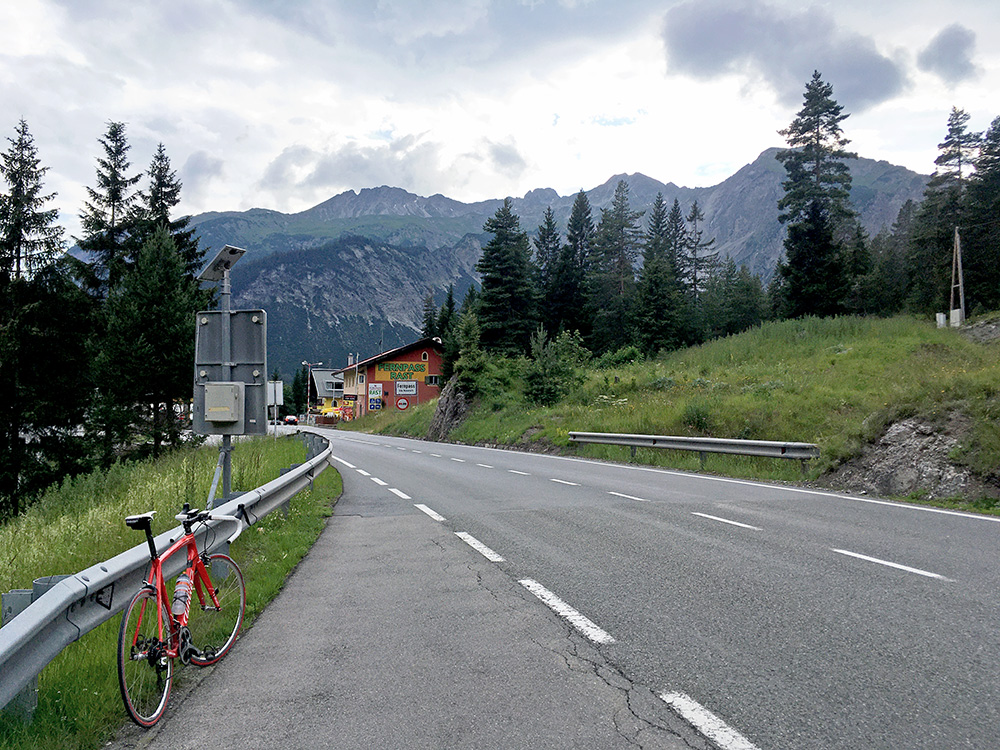 Finally I was going to see the Fernpass (1213m), which has a very bad reputation among cyclists for not being a cycling friendly road. Personally I can get irritated over heavy traffic and did so the next day, but most often I have no real problem with it as I have been used to cycle on big roads since the early 80's and I much prefer it to using cycle paths every day of the week. Cycling over passes like this really makes you feel like a touring cyclists, rather than just being out training, doing some fast riding or recreation of some sort. This evening and now in corona times, the traffic was rather moderate on the Fernpass road and I enjoyed it. There were a few lorries, but only once a little annoyance, but the lorry drivers were respectful (as they always used to be, but might be getting less so now I hear). It was a nice road and a pleasant experience to cycle over this pass on this day at least.
The descent on the north side was really sweet and fast with no cars having much of a chance overtaking you, so no problem there either.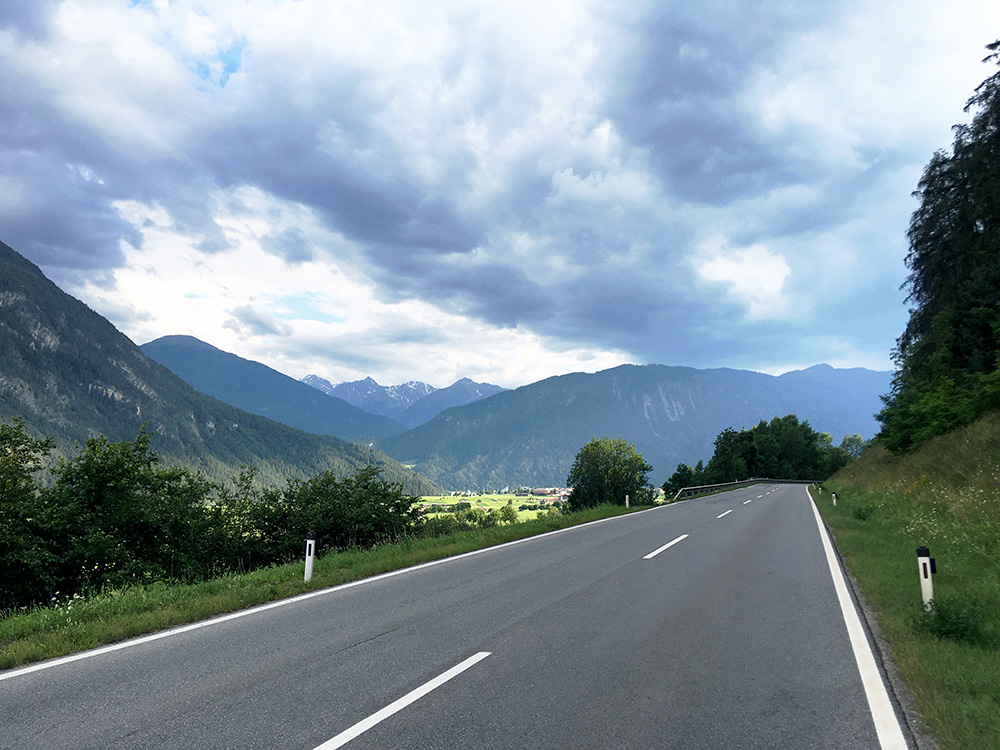 Down at Nassereith cyclists takes the way through the village and so did I and later stopped for this photo which was going to be the last last photo for the day. I went down the normal car road via Imst and in the direction of Landeck. I really did not want to stay the night in Landeck, but when I arrived there, and first then, I saw a sign saying that I should take the motorway through the long tunnel up to Oberinntal, but that was not really an option and the normal road was closed for road work and unpassable (completely). I knew there might be a little road up at least some way on the other side of the Inn river and stopped to ask a man at a garage if it was passable up to Prutz and he said it was fine for cyclists and paved, but cars were not generally allowed to use it. It was a nice little road, but a little hilly and a few cars seemed to take a chance on this road anyway.
I got up on the normal road eventually after some confusion and continued up to Prutz. Now it was soon getting dark and I first thought of staying at a good bed & breakfast I had stayed at a long time before, but was unsure if it was open and if I could get dinner then, so decided to ask at a hotel. The first looked a bit expensive and the second one too, but asked there and the lady suggested I tried the first (as they was not able to serve dinner, I think). The price was not so bad and I got something to eat and the hotel is a good one and was probably the one with the smartest handling of the dinner and breakfast in regard to corona that I came across on my tour this year. They had very far between guests (well, not so many there) and everything on the breakfast table in individually packaged containers. Another fairly successful day, but now things would change a bit regarding the weather.