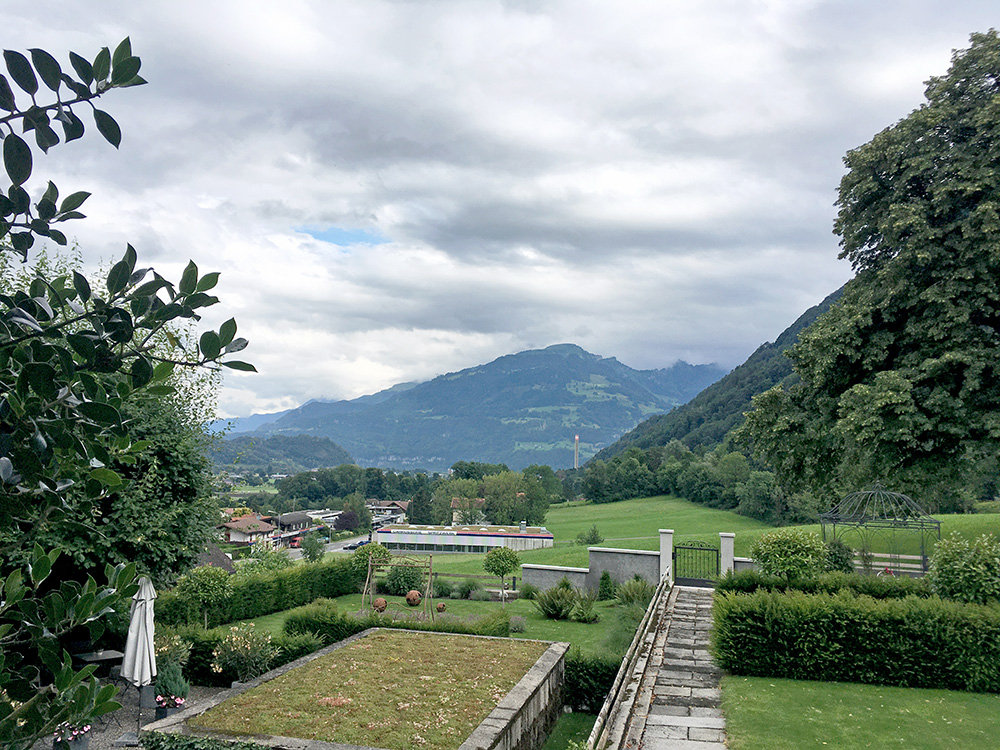 Once again I started this Summer from Bilten – Elsenerhaus bed & breakfast (much recommended), that I reached with train from Zürich airport to Ziegelbrücke and then a short travel with a local bus. There were lots of uncertainties this year with the corona pandemic, but I tried my best not to be part of the problem and all went well.
Numbers: 26 days: 84599hm (3254hm/day); 3710.4 km (142.7 km/day) and for 27 days (with 1st evening ride): 86469hm (3203hm/day); 3788.9 km (140.3 km/day). Always aiming at around 170 km/day, but it is difficult with too much going only up or down.
It was raining when I arrived at Zürich airport and I only hoped it would dry up soon again. As I got to my destination it had stopped raining and the roads were starting to dry up already. I had a few hours before it would get dark, so decided to do a little ride in the evening. Quickly assembled the bike and got out before 17 on a ride to the first two major climbs planned for the tour.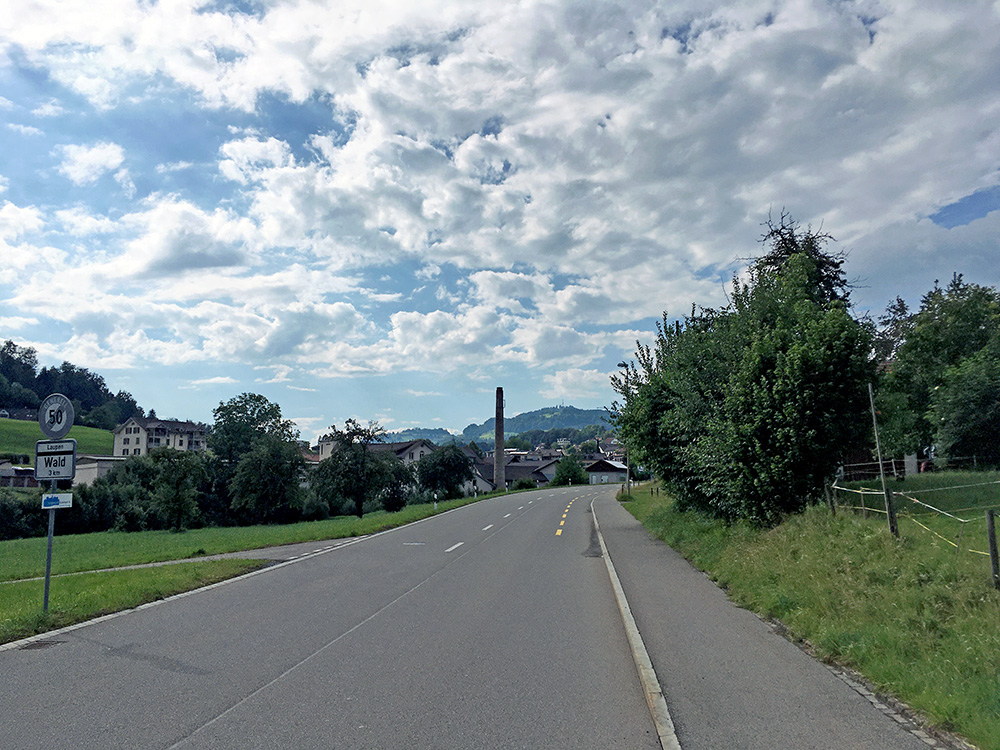 New for this year is that I finally gave in to getting a GPS computer – a Wahoo Bolt (after much research). Happy with the computer, but their speed sensor is total crap and had to leave it back and realised my old ANT+ sensor that came with my Ciclosport CM9.3A worked with the Bolt (much better than their own) and I could use it for both computers at the same time. The Ciclosport still records rides more accurately than the Bolt (and likely Garmins etc. too) – when it works … it stopped being accurate (for height metres and inclination) after a few days again, which is why I had first bought a VDO M6.1, but it only records every 5 secs and also does not use ANT+, so therefore I changed back to the Ciclosport and it initially worked fine again after resetting (but recording at 5 secs). Also the Ciclosport can only record 1 secs intervals for like 2 hours, so the VDO would be as good for long rides (but kept the Ciclosport on as it could use the same sensor as the Wahoo and I could check temperature, speed and time on the CM9.3A while checking the map on the Bolt (which shows temperature ca. 2°C too low).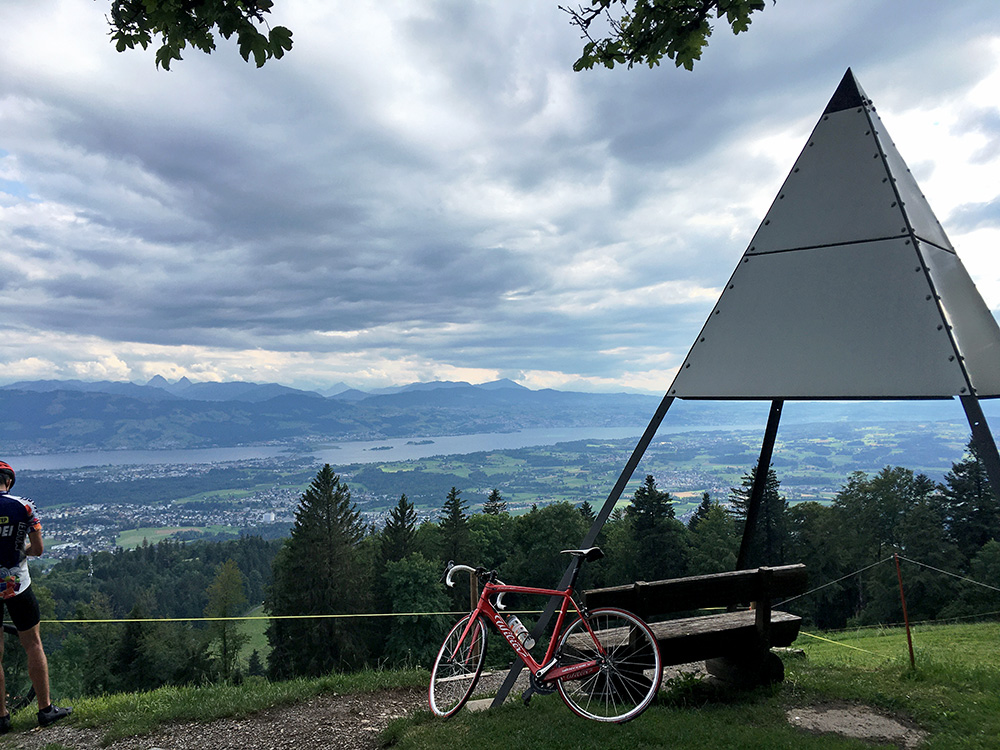 Wahoo does not make use of the sensor values even if they are correct and use them only for the display, not the recording, as I found out (I hear Garmin does use sensor values), but the Bolt is fun and otherwise does what it should do. In short the height gain values are mostly a little too low from the Bolt compared to the truth despite using barometric values (and I think I should have adjusted the length to be slightly longer manually), but on the whole it is fairly accurate. Also got irritated by warning signals whenever going through a tunnel as the GPS signal would think I was off the track. GPS is not really for precision-minded people, but could be helpful in decent tracking and for finding the way – a few times I gained a little time by seeing where I was and I could plan more strange short-cuts and still hope to follow them, but it is not really something a road cyclist must have. Strava is also fun, or would have been when I was faster, and also helps collecting some more data (like mapping time to location). Also, I had to bring a tiny battery backup to make sure not running out of batteries on either the iPhone or the Bolt, but got a light-weight one and needed it.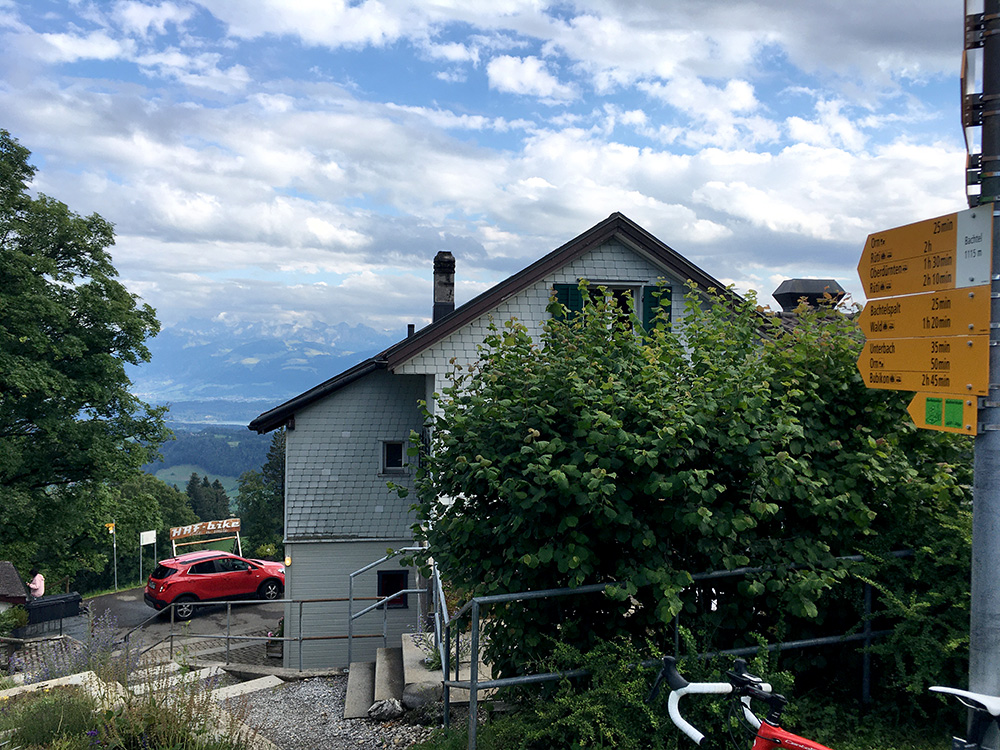 First photo above was taken as I left the Elsenerhaus, second one at Wald looking up the Bachtel and third photo on the Bachtel looking down over the Zürichsee. It was a bit steep up there but skipped a short-cut at the end, luckily, as I think it was not all paved and very steep.
Here the sign for Bachtel (1115m), but asphalt ends at 1111m.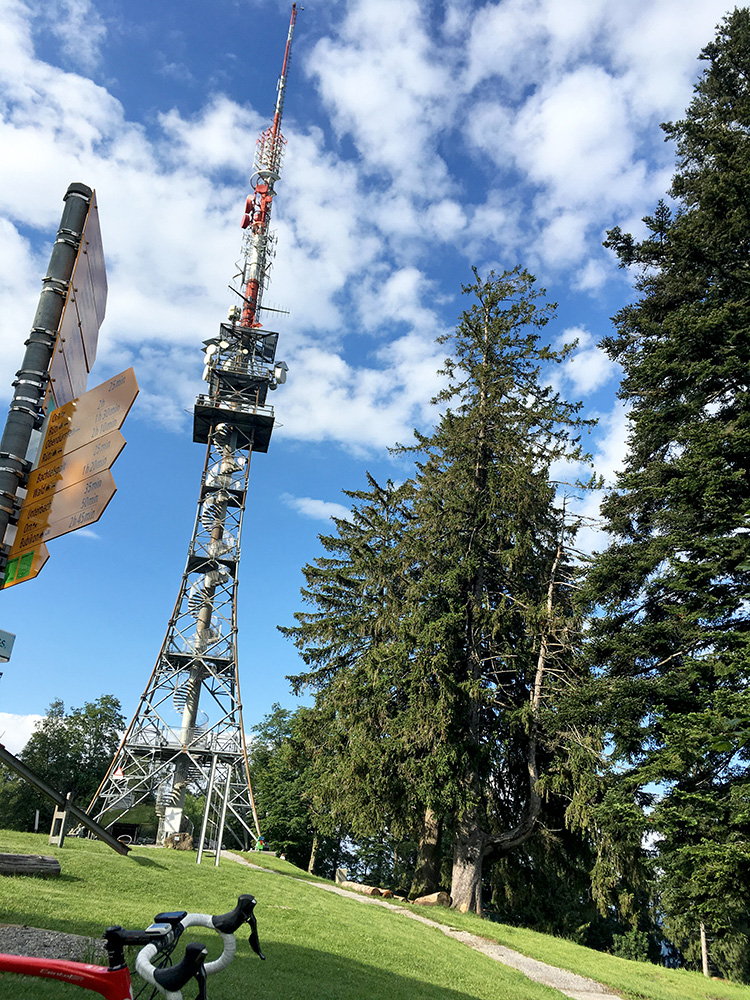 The gravel road to the high point at the sender was not good enough for a road bike, but walked a bit up to see if there were some other views here.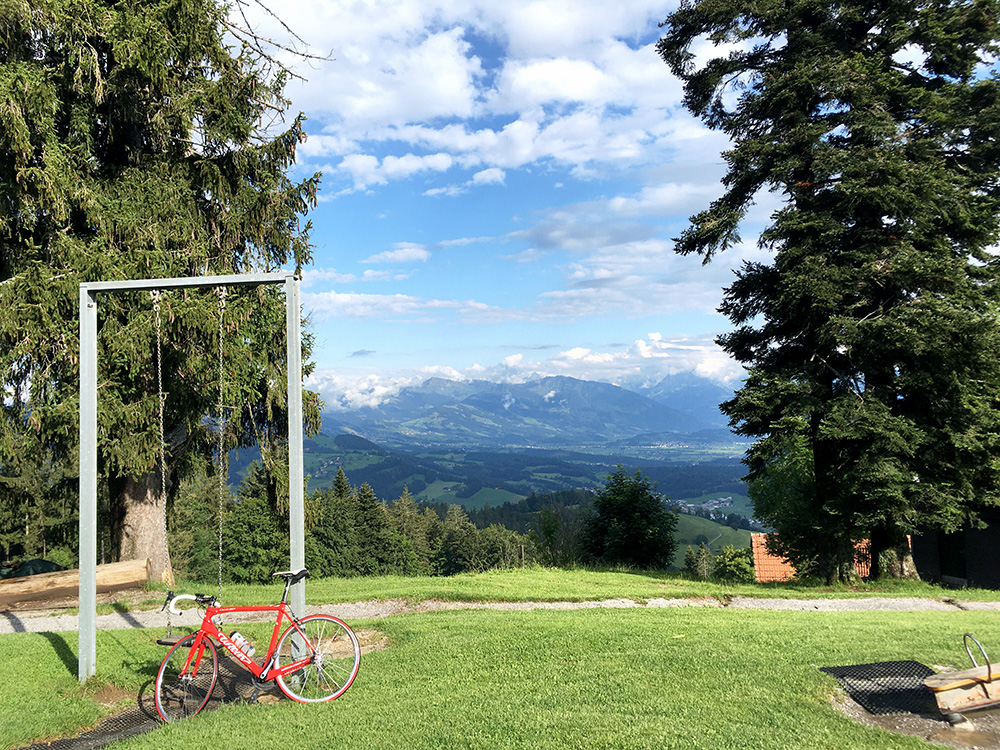 There were one nice view here to the east from up near the sender.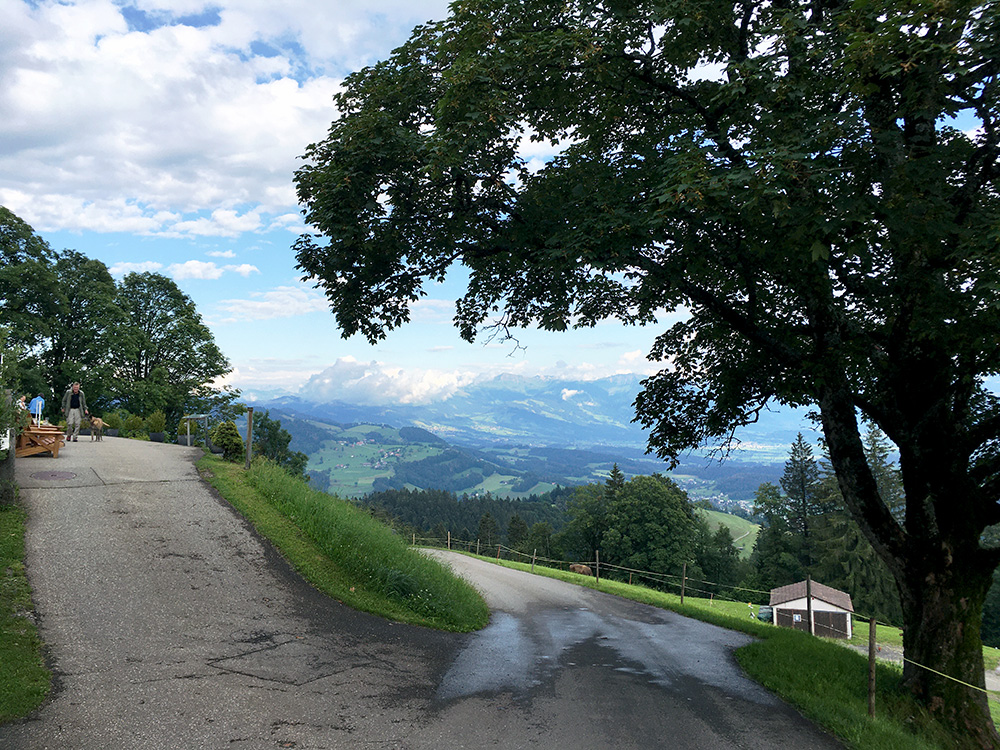 The steepest part up the Bachtel is above 12% for 2.9 km (max ca. 21%). The steepest 100m are ca. 17.8%.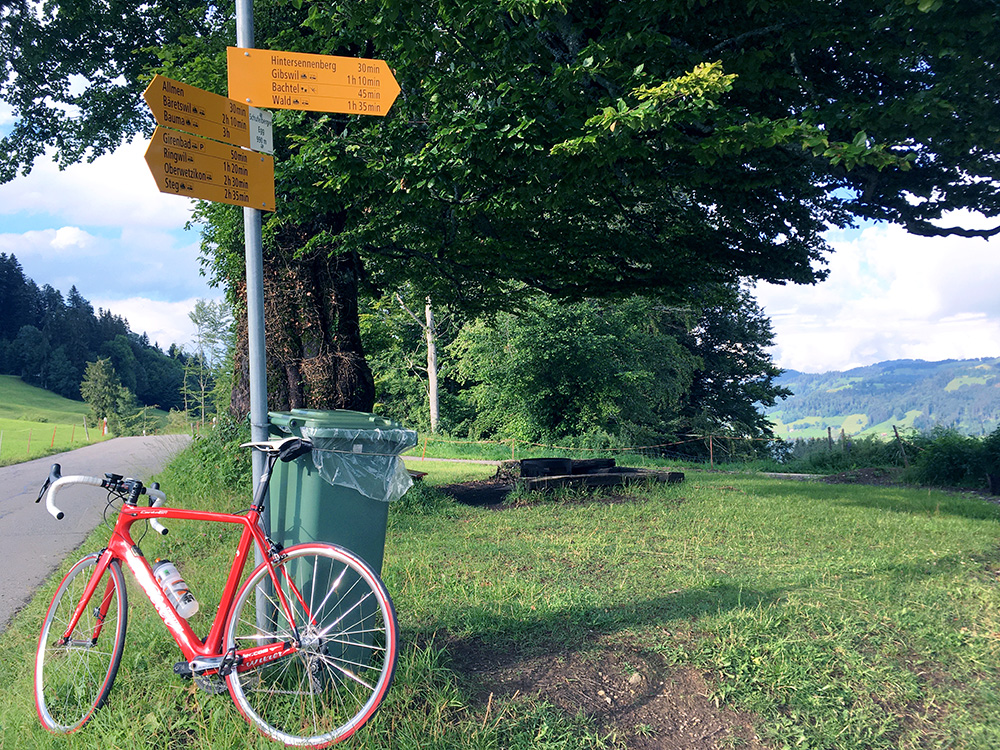 The top section is a one-way road, but at the fork below I went down the other side and then took off the very first (hard to see even with the map on the Wahoo Bolt) and after a little up and down I got to the first road crossing the ridge north of Bachtel. This is a fairly steep road too over the Schufelberger Egg/Bachtelsattel (990m). Then down to Gibswil (756m).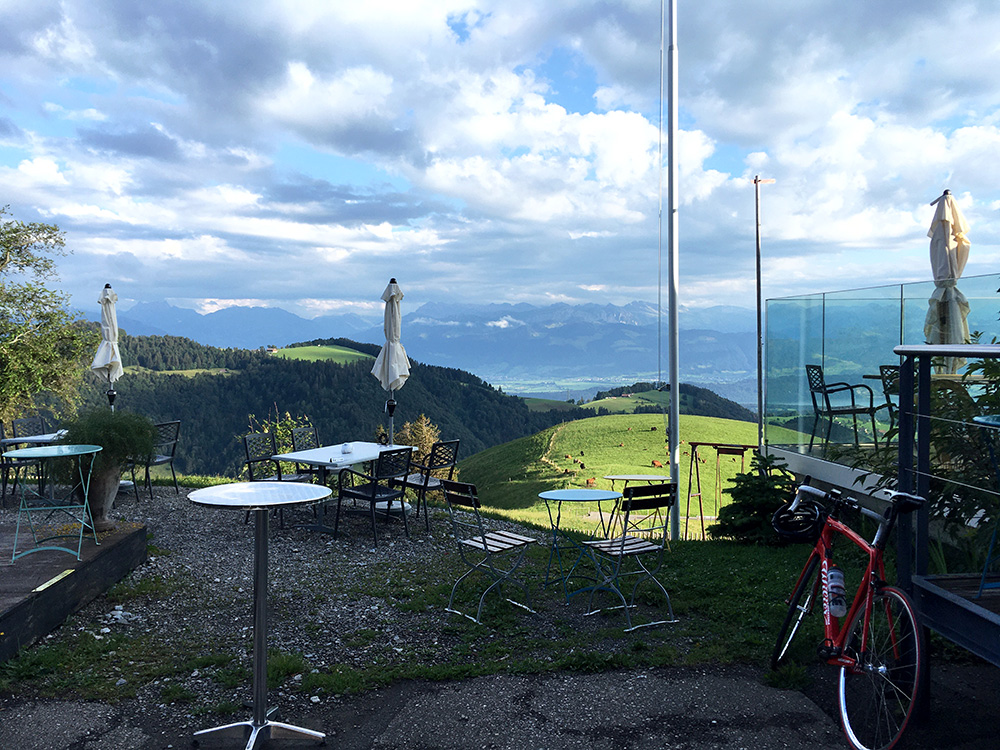 Still fairly high up and not such a long climb to the next place – Scheidegg (1197m), but the end of this climb is much steeper than the Bachtel with 2 km at 15.8% (max ca. 20%) (RidewithGPS figures says 15.1% and max 17.7%, so not quite correct, but the max measurements are difficult if not done manually and the inclination for 100m are approximations). The last 400m are 16.5% (RwGPS says 16.0%, so consistently underestimating). Steepest 100m are ca. 18%.
It was a very nice evening and there was a fine restaurant at the top. I got the idea to eat dinner here so that was done, but unfortunately it was fully booked and sitting outside was not perfect as it was slightly chilly (and I almost always prefer to sit inside).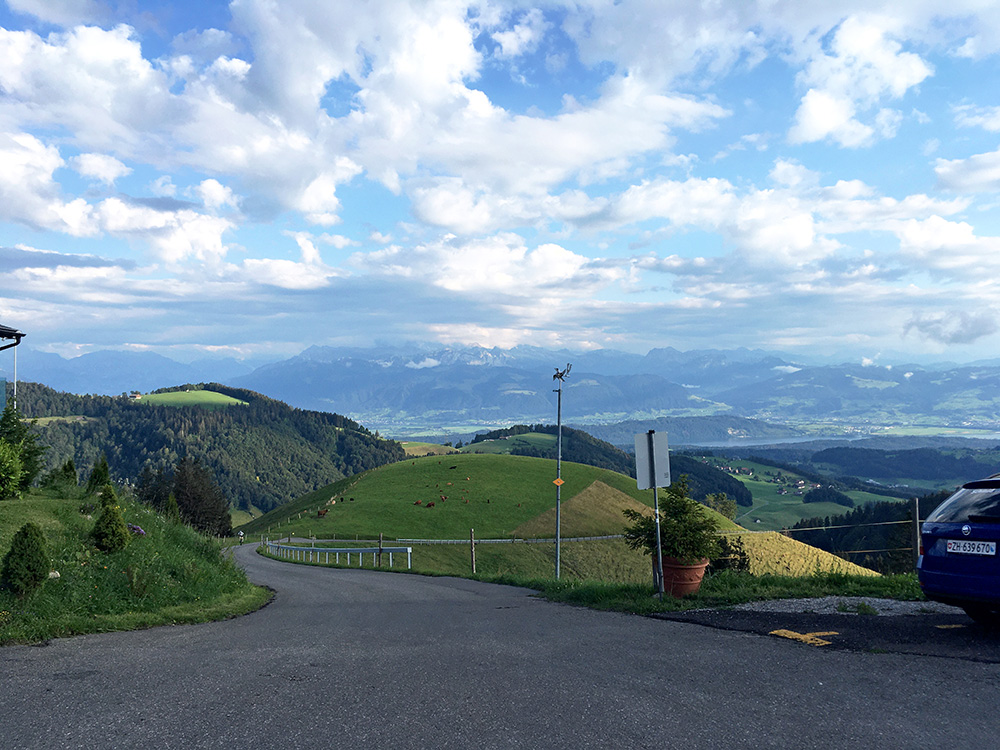 So I went down again after a while and in the photo here you can glimpse a Mountain bikers struggling up the last section (white dot in the first little bend). Gave him thumbs up as it is hard going even with a mountain bike here.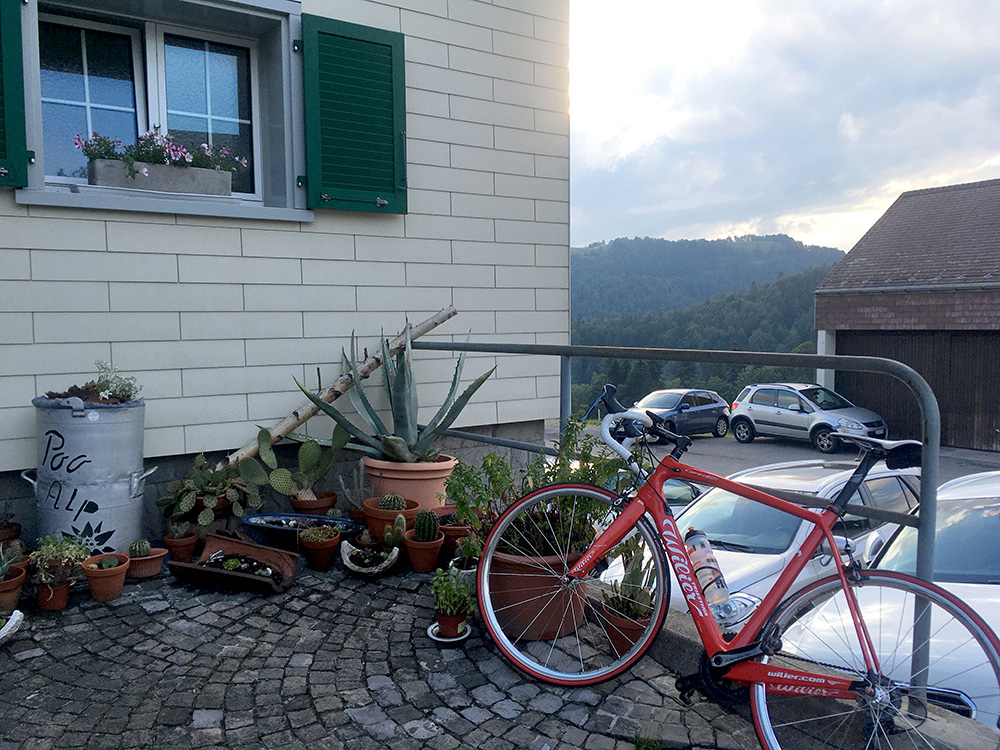 Wheeled down to the fork at Wolfsgrueb (971m) (arguably a pass) and decided to go up the Poo-Alp/Boalp (1096m) which is steep at first, but then flat to the restaurant here. Thought maybe to eat something here too (despite the dubious name …), but this place was also fully booked (here they seemed to care much more with placement/restrictions than up at Scheidegg, but the restaurant looked a bit simpler too, but hard to tell if that mattered for the food).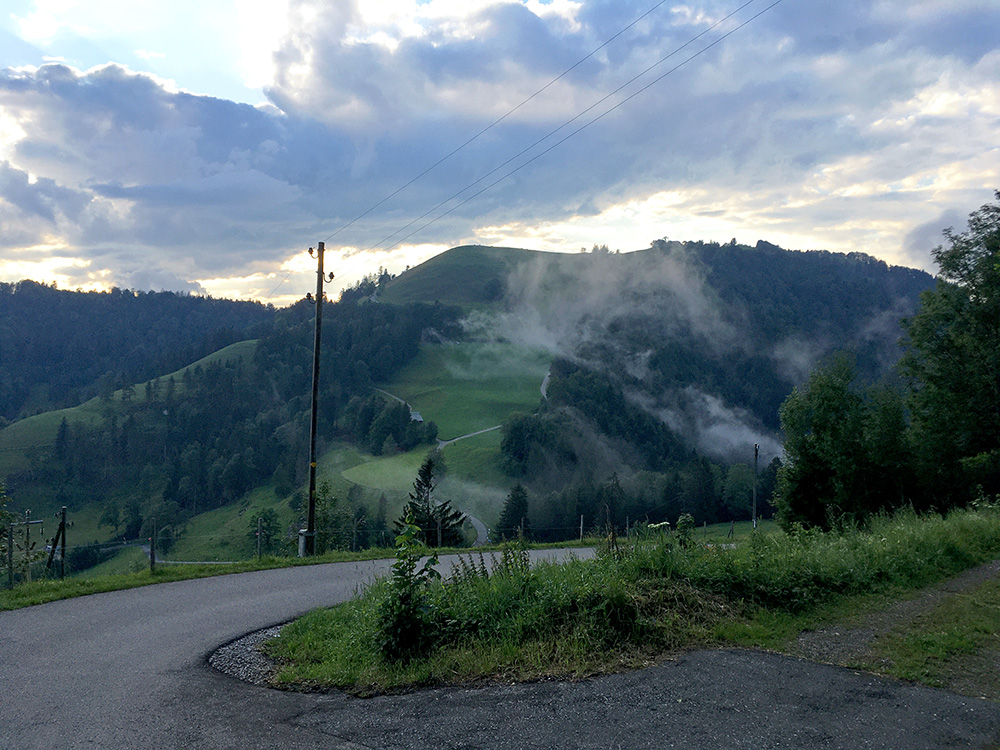 So went back again to the fork at Wolfsgrueb and snapped two more photos from the end of the steep section up to Poo-Alp. Here I am looking up the steep climb to Scheidegg.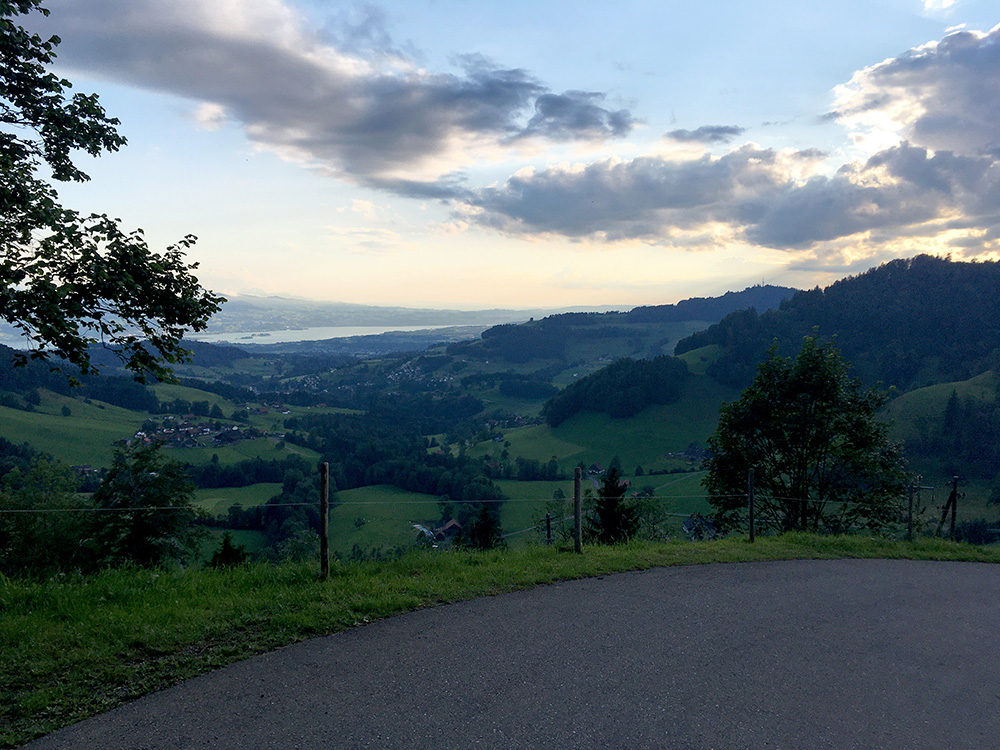 There was also a final look out over the Zürichsee (and glimpsing the Obersee, which the eastern part east of Pfäffikon and Rapperswil is called).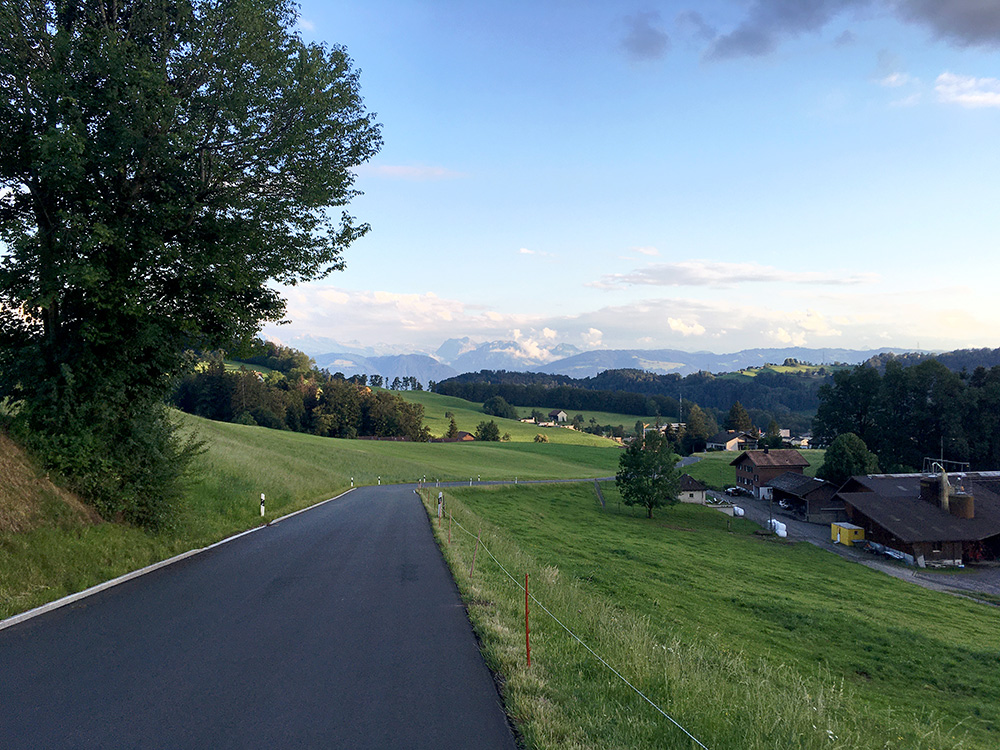 Then down via Oberholz on a road which was not clearly all asphalted when looking at maps while planning, but is was very well asphalted all the way (especially in the part seen in the photo here).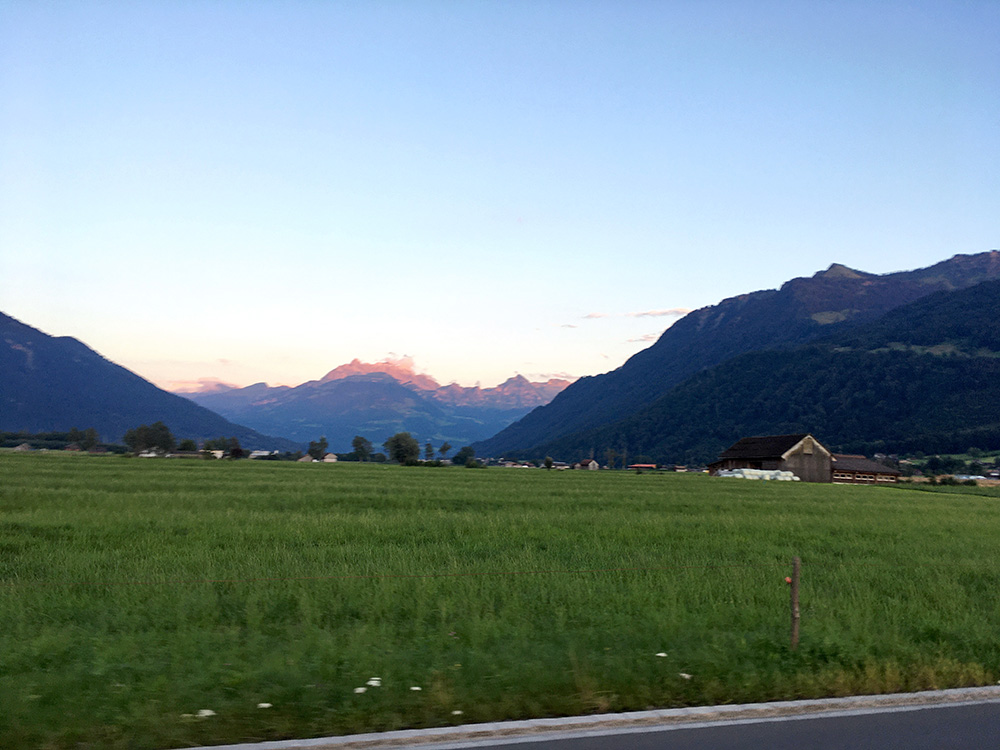 Finally a last photo while cycling across the plain back to Reichenburg and Bilten looking eastwards as the sun was going down. It turned out that I was likely lucky to not getting something to eat up the mountains as it would most likely have been dark here then (and I forgot to take the lights with me). Went to a pizzeria in Schänis instead which is the closest place to Bilten as I think all the place serving food in Bilten was closed (tried one but they only had beers, but later heard it was the wrong one). Happy I got a bit ahead in my plans as I would surely fall behind soon enough anyway as my plans are always a little longer than I can realistically hope to do (just so I do not run out of places to go to and then could instead decide on what to skip on the way).