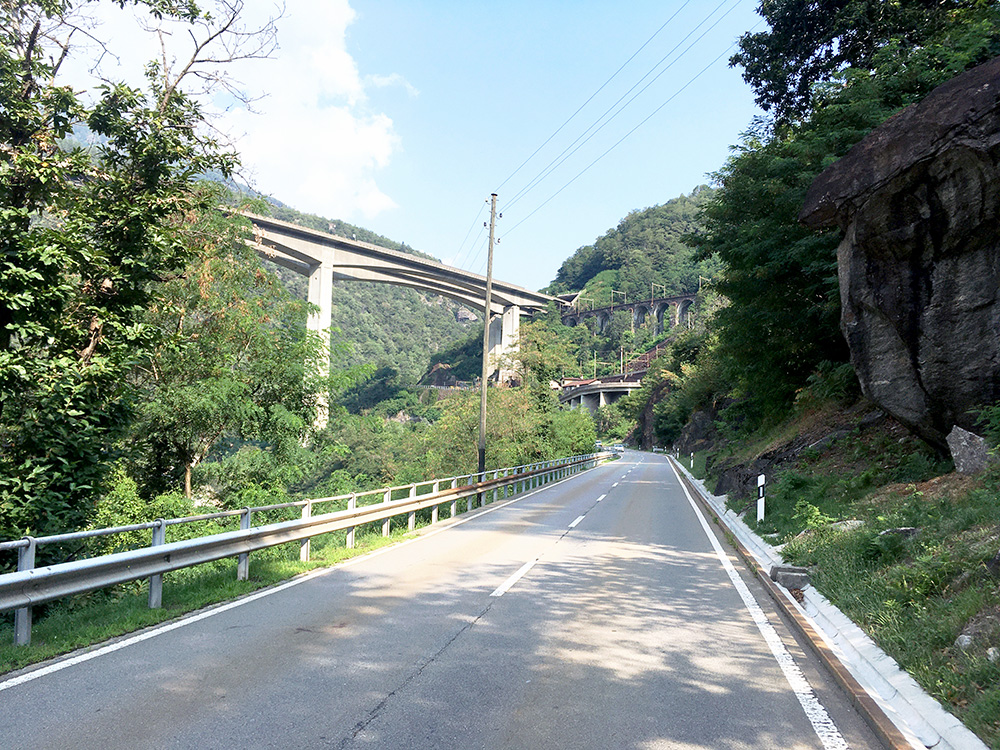 Another nice morning and it was going to get hot. It was the warmest day of the otherwise very cold Summer in the Alps this year. I was going to turn off the main road to Passo del San Gottardo/St. Gotthardpass just after this viaduct. From the turn-off I had 14.6 km to Cascine (Monti di Sobrio) via Sobrio at 8.3%, but 4 km was only at 4% (and slightly downhill shortly). It was already hot at the start so tried to hurry on a little to get up to where it was nicer.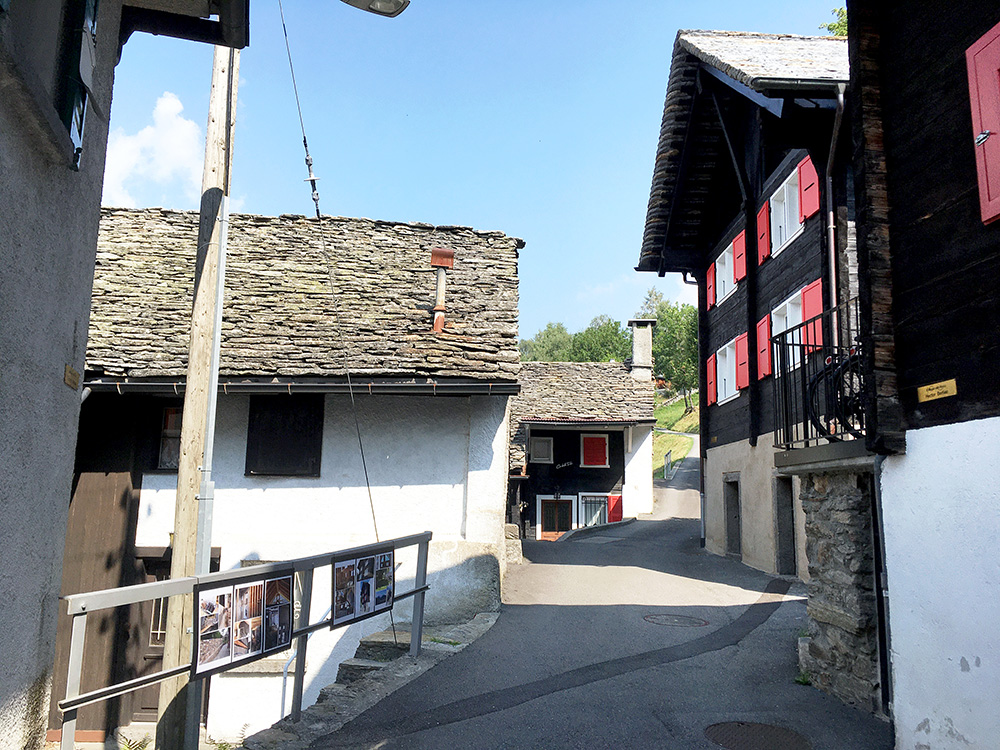 I had seen the shortest of the two ways up here goes via the village of Sobrio, so took that road even though it was rather flat for quite some time. From Sobrio (the photo) to Cascine it was 5.1 km at 10.3%. The short-cut from here to the normal road was 2 km at 11.5%. This short-cut road was not only steep, but also had quite a damaged surface in some places and some metres were just gravel, but it started very nice here.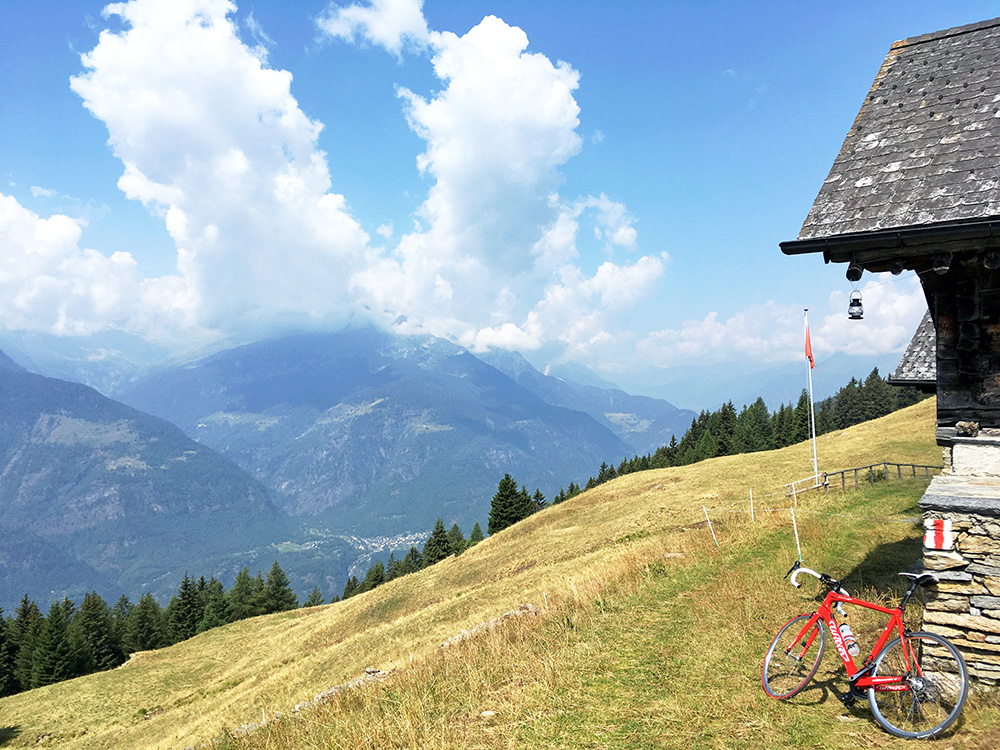 The last stretch to the top at Cascine was steep and again on a rough road, but then the road is flat and descends a little and has some short stretch were the asphalt is nearly all gone, then it climbs a little again and soon one is at the end in Puscett (1685m). Walked a few metres to get better views here. I am not sure I could recommend to go to Puscett and would rather consider the top at Cascine (1645m) as the real end of this climb.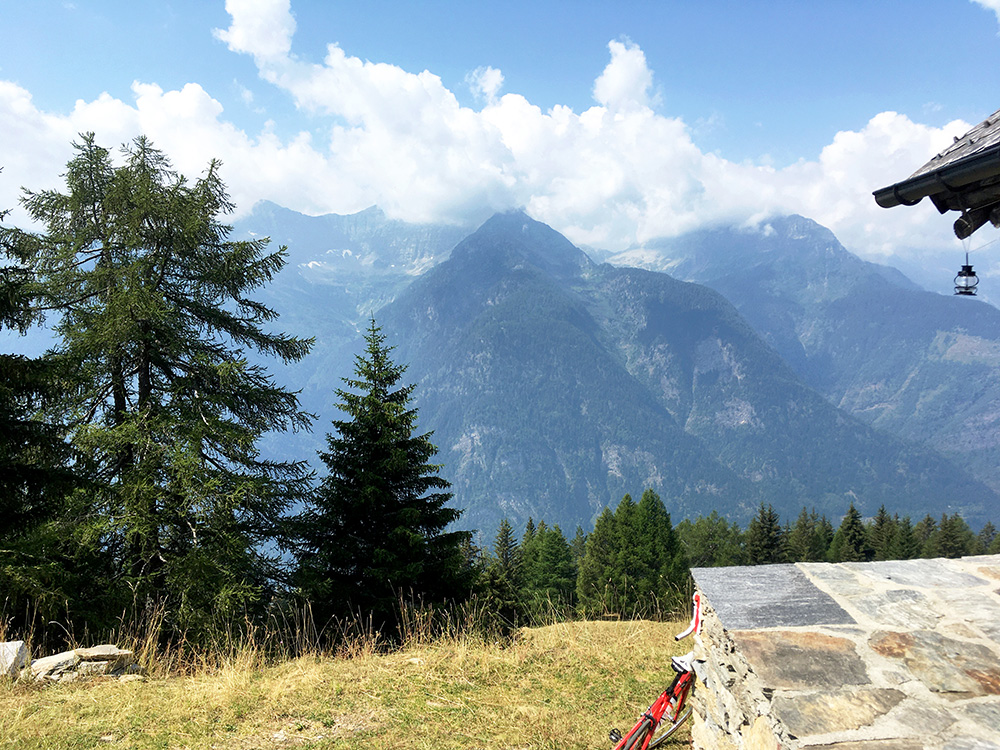 Nice views at Puscett, but you have similar views near the top when going to Cascine.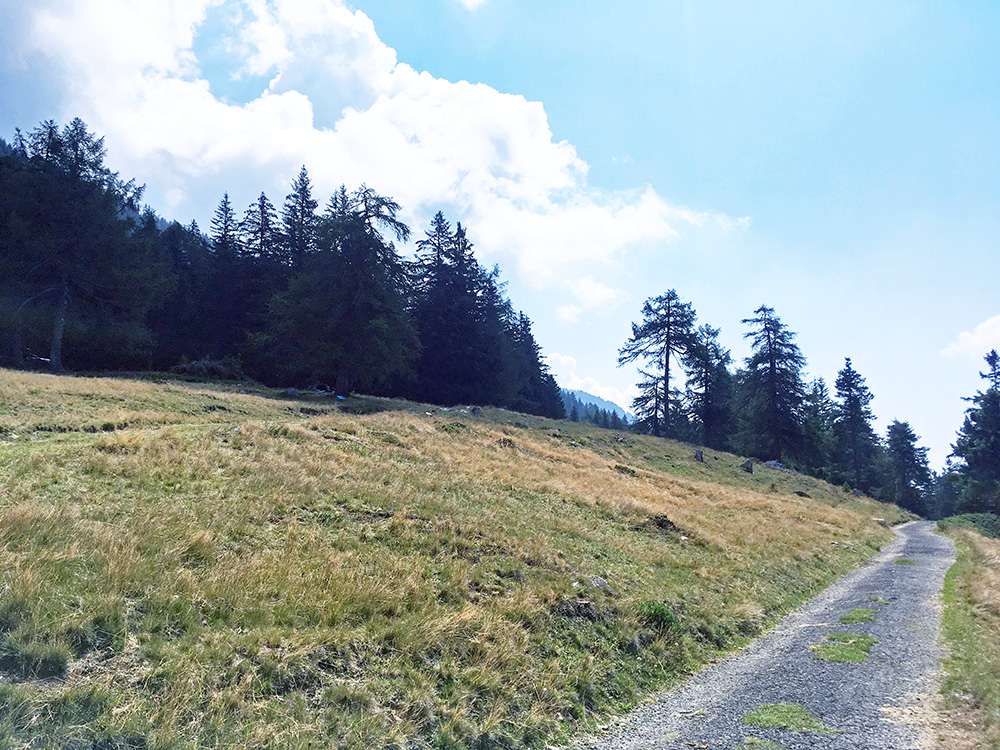 The pavement is sort of asphalt – old and worn (maybe just packed residues from asphalting – hard to tell for me, but would guess on just thin asphalt that has been there for many years).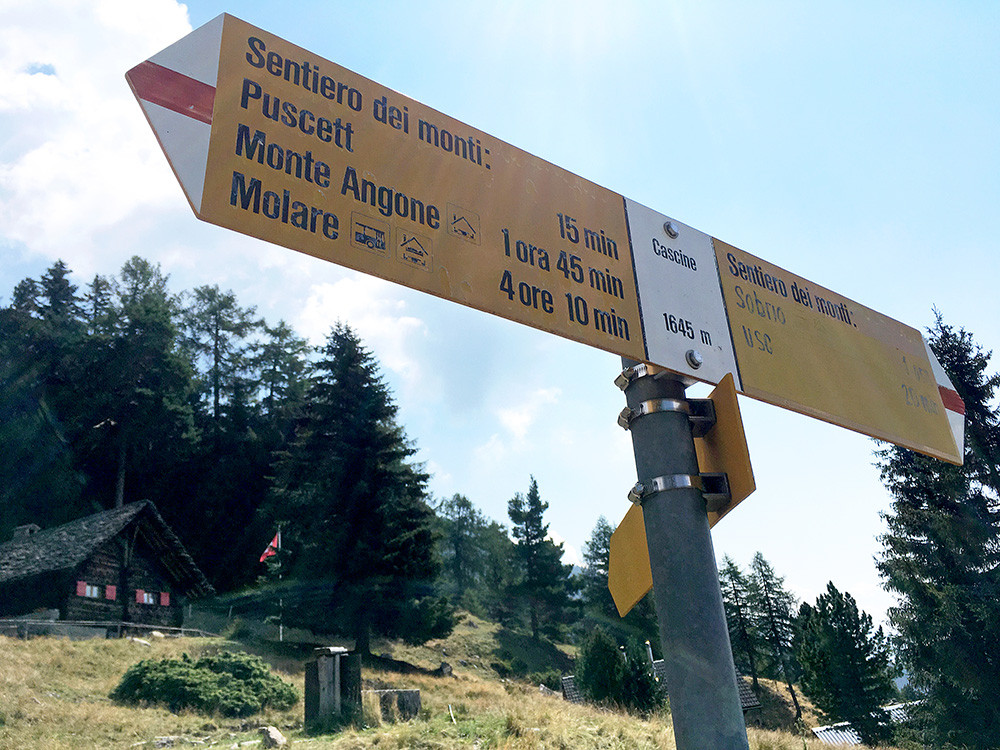 The sign at Cascine.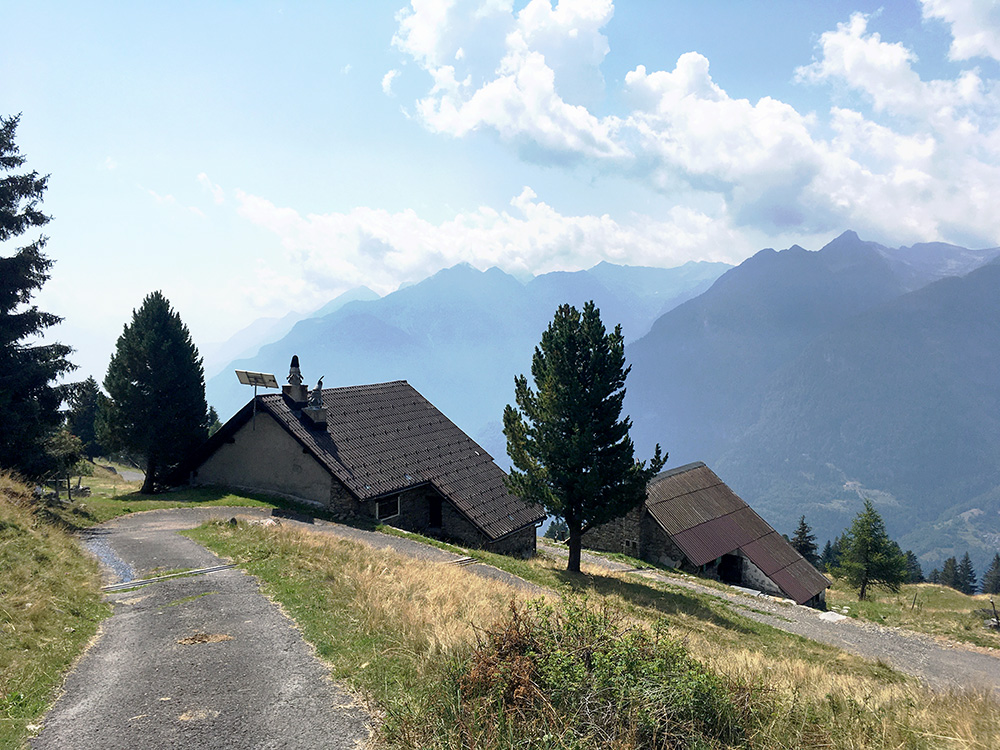 The view down south at Cascine was great!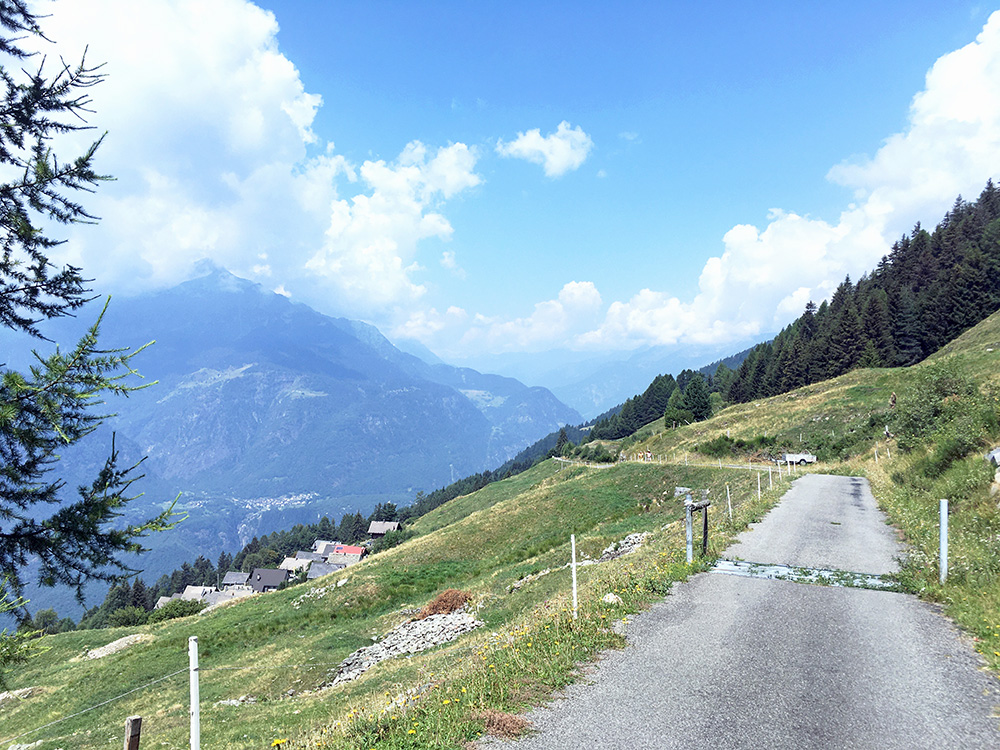 The last section of the normal road to Cascine was quite nice with lovely views up the Valle Leventina.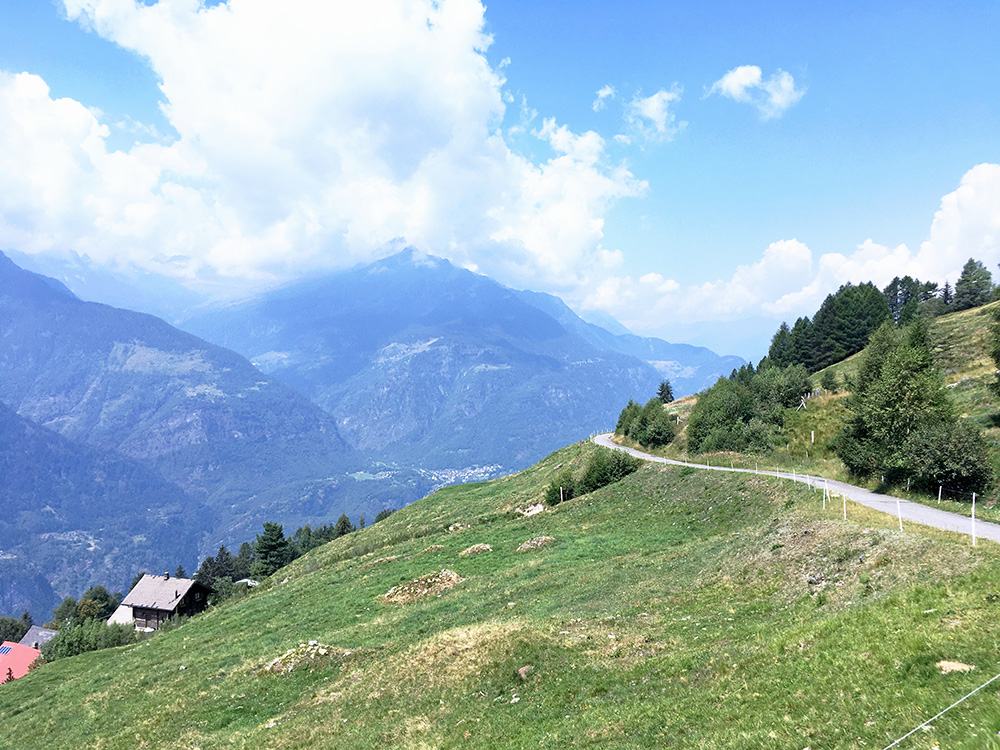 One more photo, before descending to more wooded areas. The normal road also had some problems I later noticed, but it was much better than the road from Sobrio – it can be slightly dangerous, but that should be expected. I would recommend taking the normal road up here though (and esp. back down).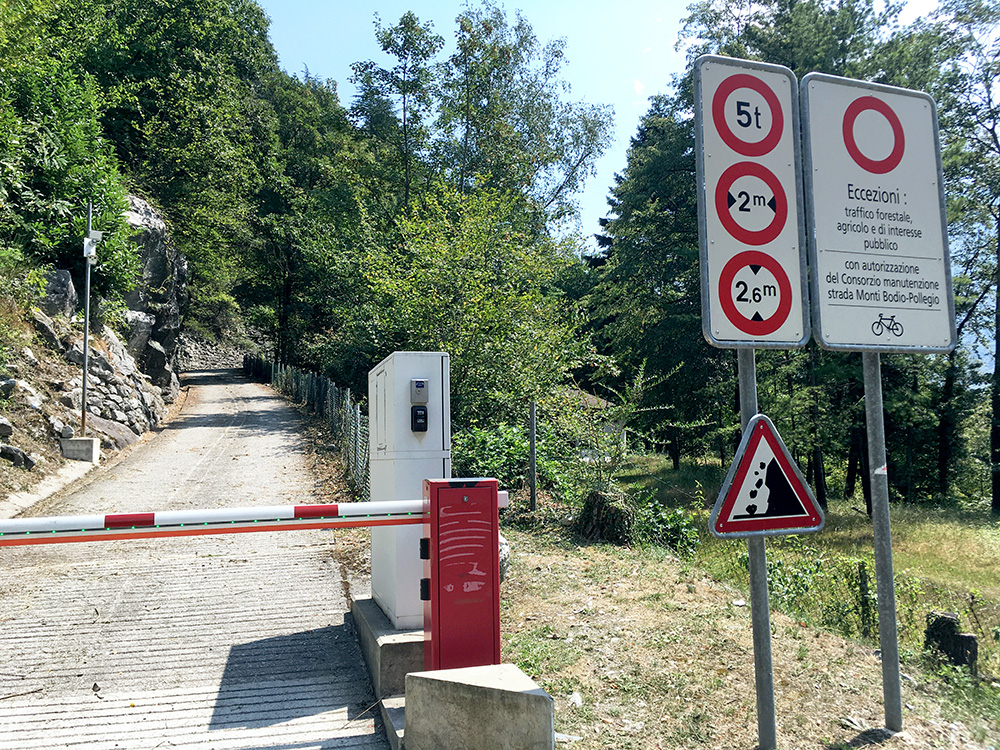 It was a long ride down with much braking. I was really not happy about going down as it was going to be very hot down the valley now. I stopped in Bodio and it was ca. 37°C (even in the shadows, I believe). I stopped at a bar and thought to order a normal coca-cola and maybe a sandwich or something. It is a bit expensive in Switzerland though, but I noticed they had 1.5 litre bottles of coca-cola so asked what the price was and it was not much more than for a normal coca-cola (maybe the double), but I needed it and had also a simple toast. It was a good deal and even though I had been drinking some water just before entering the bar so I should not need to buy more than a normal soda, I easily drank up this 1.5 litre cola. I had found a curious road starting up the mountain from Bodio late in my planning for the trip and just had to check it out.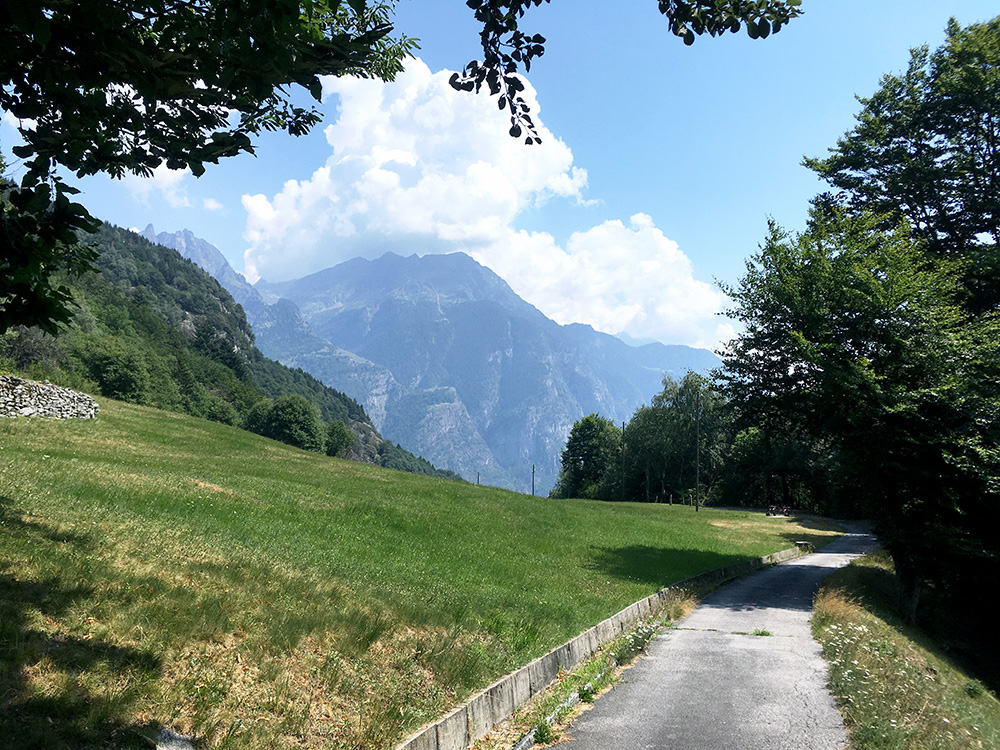 The man here (just as in Austria) suggested it was (maybe) not allowed for me to use. In the sign above I decided the bicycle outside the red ring must mean that I was indeed allowed up here and I braced myself and took off at a good speed considering the temperature now showed 42°C! It was the warmest during this Summer and I had a very exposed and steep road ahead of me demanding concentration. Luckily I once again had thought of leaving my bag at the bar, so it made me feel a little less warm and lighter. The road started with ribbed concrete (just like on Vorder Höhi) and it is a mix of concrete and asphalt all the way up with an incredible series of serpentines that are very tight.
Here I had reached the highest continuously paved point up on the Monti di Bodio at Tèc Nöü (979m). Unfortunately it is not a +1000m climb, but still 649 height metres from Bodio. 5.5 km at 10.8% (6.6. km at 10.0%), max ca. 15% (2.2 km at 12.0% and the steepest kilometre 12.6%).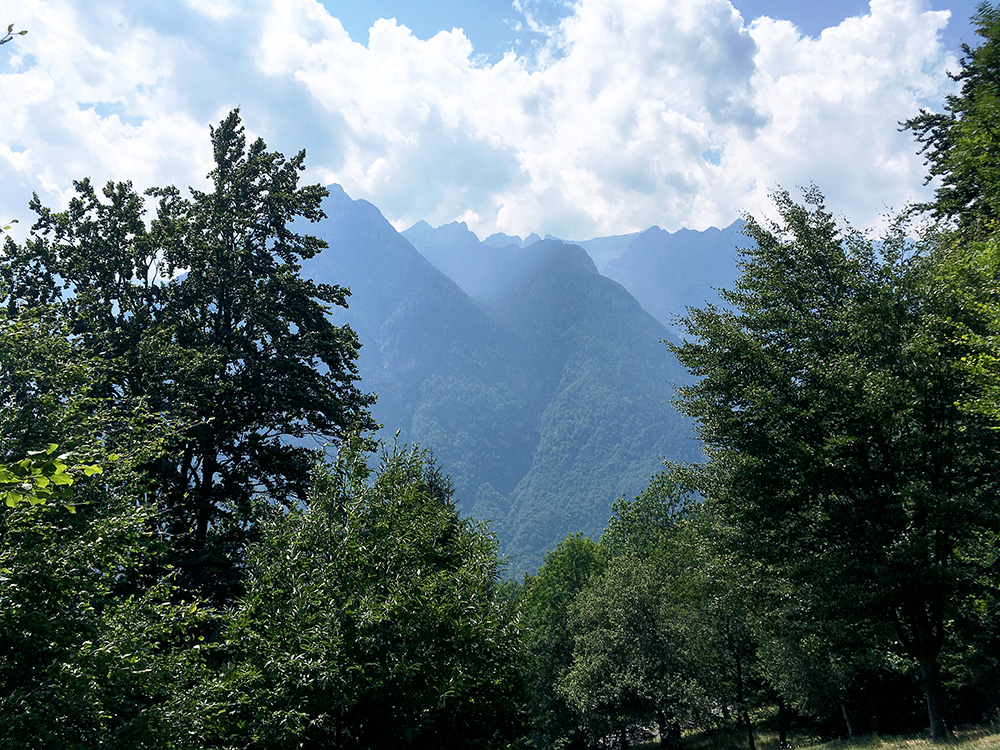 The views across the Valle Leventina is similar to the one up at Monti di Sobrio and the mountains looks very wild over there (almost no roads far up on that side).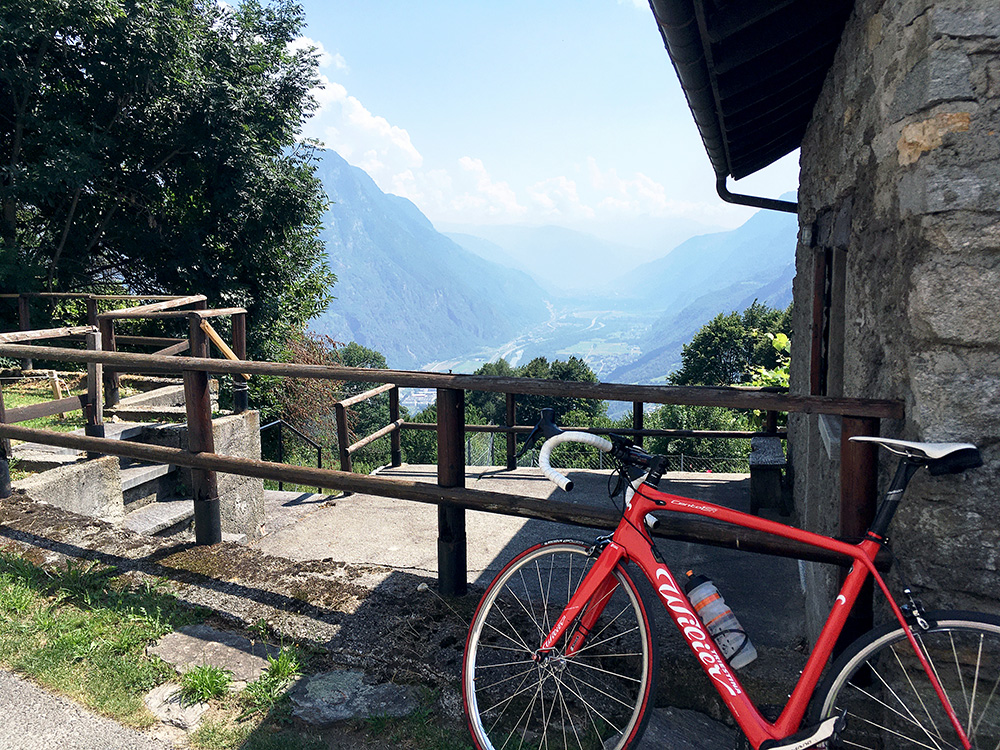 I went down back to the main road and continued the road to the end at Conzanengo and at the end I had good views down below Biasca toward Bellinzona in the haze far away. As it was not so high up it was still over 30°C up here.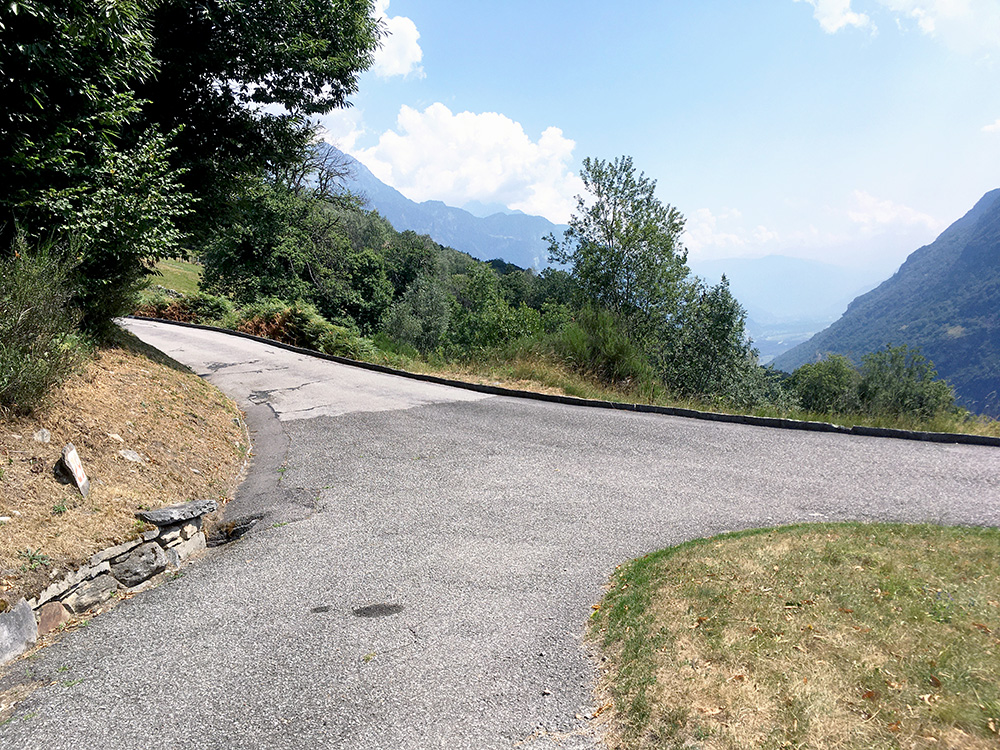 I went back via the houses of Diganengo (970m) that marks the natural end of the climb (Tèc Nöü is a side road a bit further on) to the last serpentine bend mark, saying it is number 29! I went up the concrete tracks here at Bitanengo (the road behind me), but there was soon gravel, and even if saw some more asphalt and concrete ahead that road will soon end anyway, so turned around).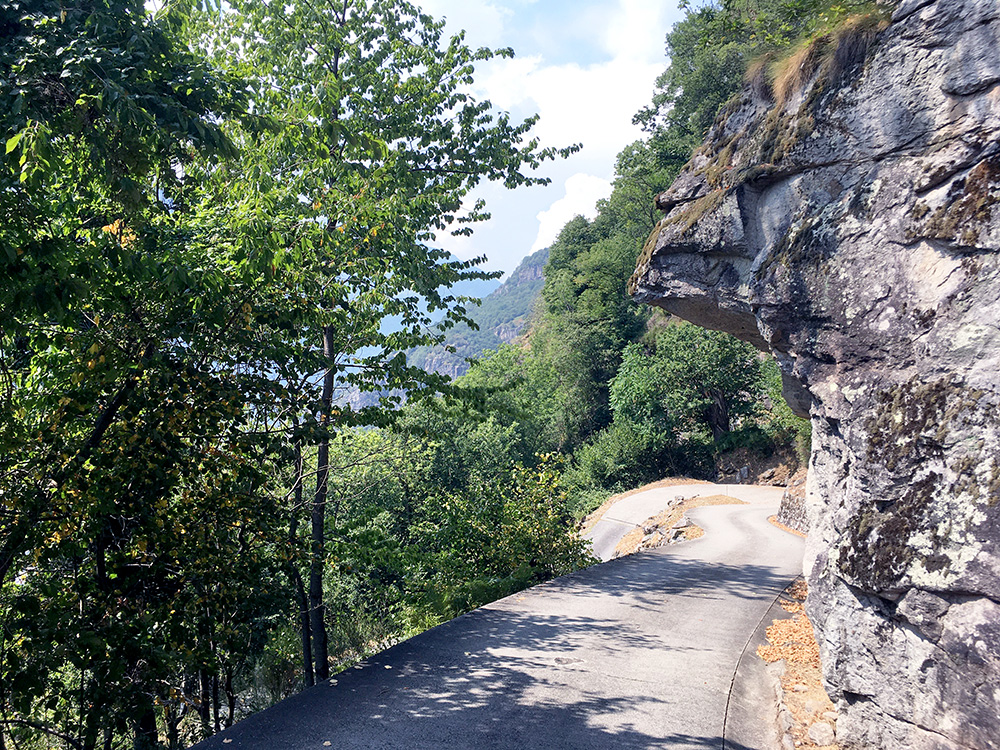 Now I was allowed to stop along the road to take some photos on the way down. I met like 2 cars on the way up and maybe one overtook me that went up, but very little traffic and one of the car drivers cheered me on and all were very considerate here (me too), so absolutely no problem cycling here if you behave well, that is.
I also noticed on Strava later on that it was not like I had discovered this road that the locals somehow had missed as I am, as of the end of 2020, number 30 of 41 riders going up here. I thought I had a fair speed, but it was warm and I was holding back enough to make sure I did not burn out before getting up (not really here for competing you know … and serious cyclists around here are fast, I believe). I had 7.4 km/h and the best had 11.5 km/h (which is very good I must say and maybe 9 km/h would be what I could do on a best effort (place number 17) … like 3-4 weeks after ending this trip).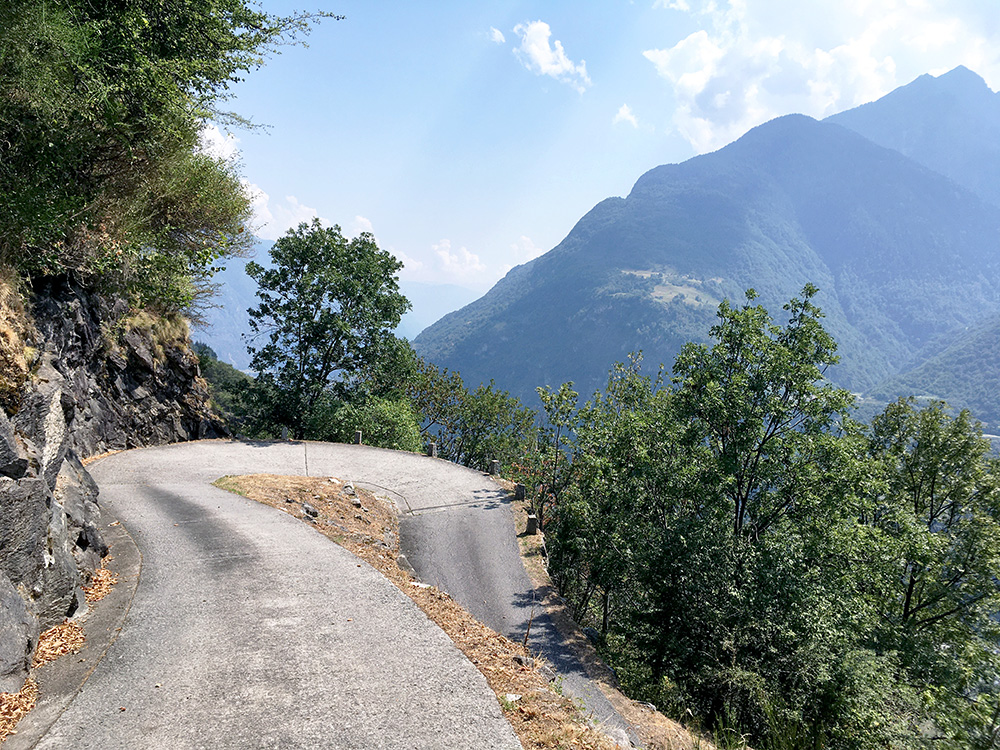 Is this not what we cyclists all dream of how the roads should look like?!?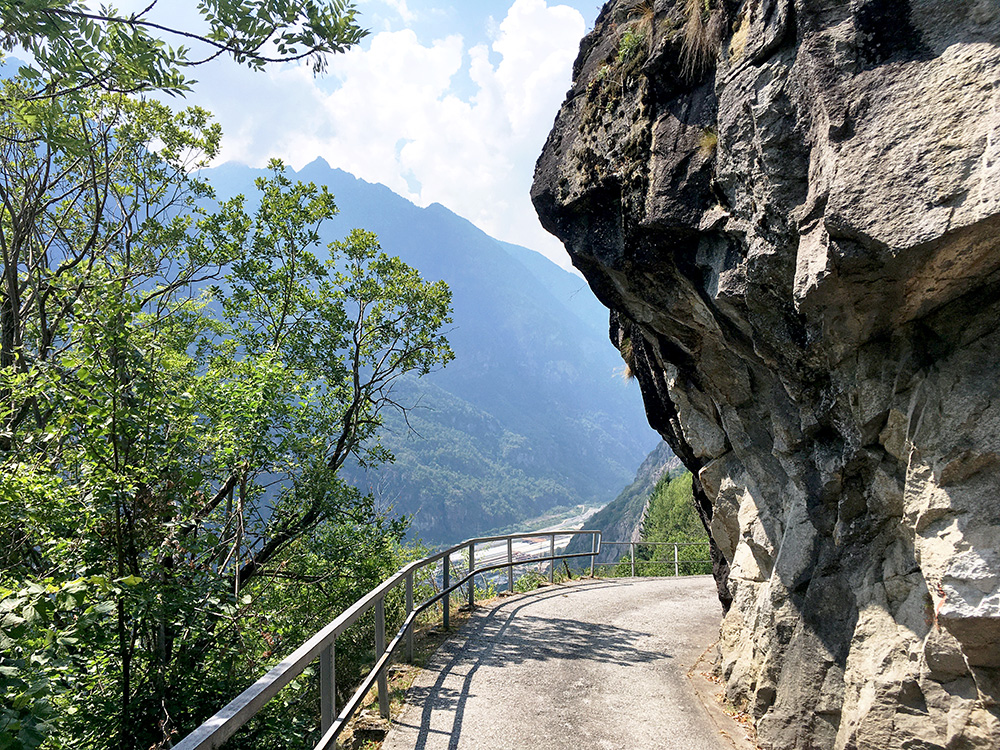 A bit dangerous the road is, but here they even offer some protection. This place and the next photo I think were the only places with any protection at all along the way, so maybe you do not want to win a downhill contest here :-).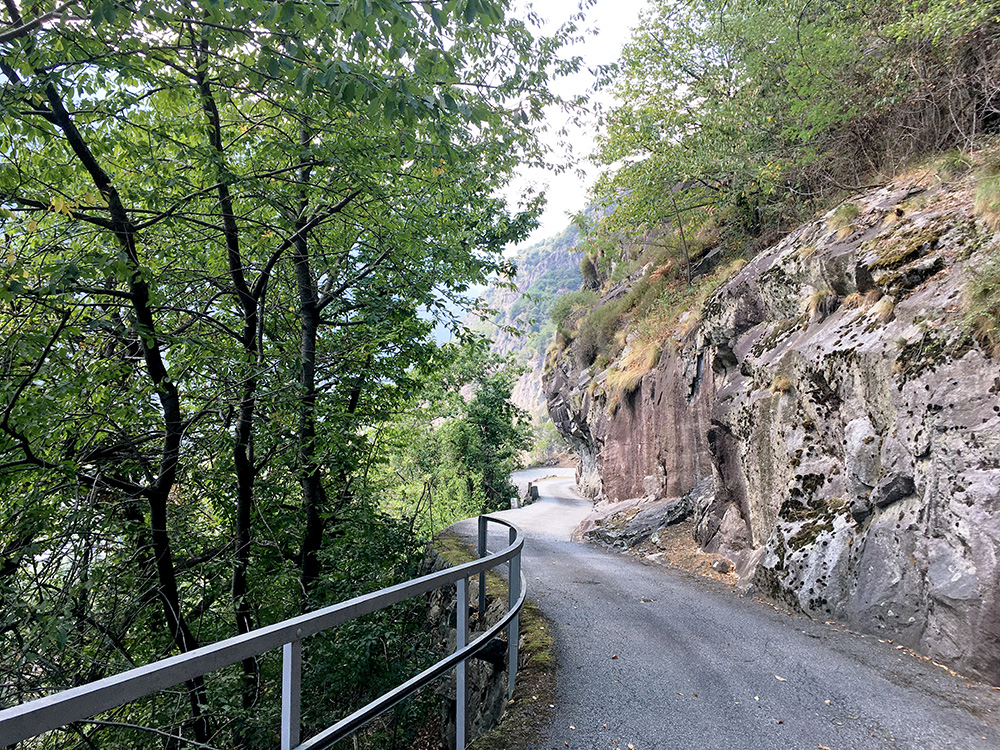 Just another section of the road, but included all the photos I took.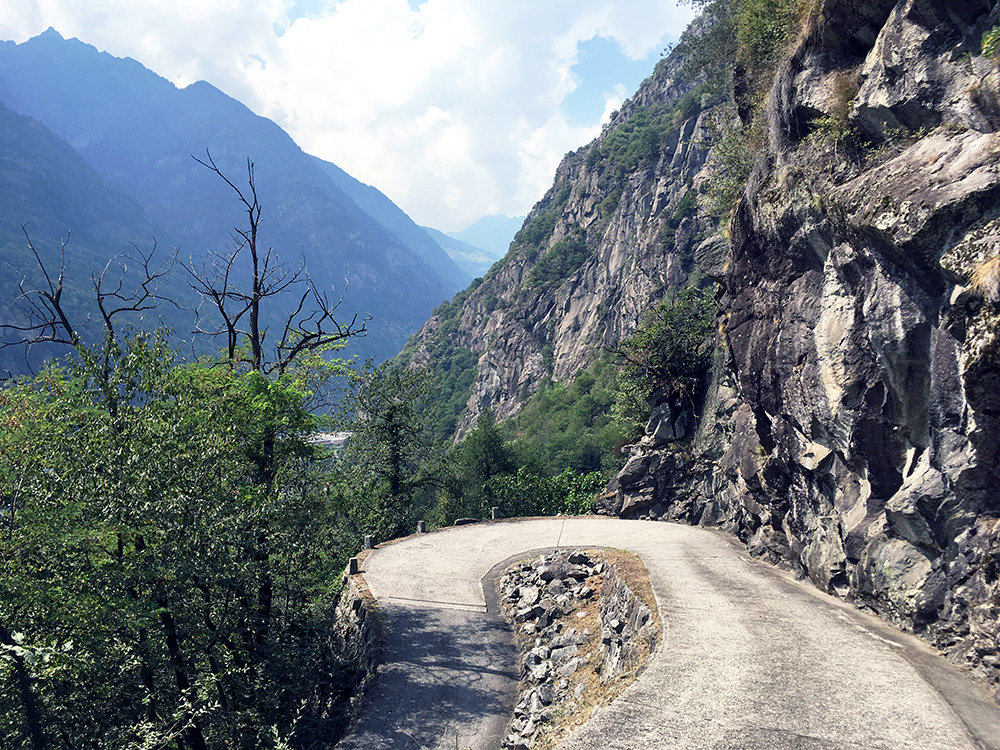 A last photo and that had to be enough I thought, but there are more places like these as it looks much the same nearly all the way.
I was then back to Bodio and the heat, but a little less sweaty now. All went well and I was happy. Now just back to Biasca and up the next valley – the Valle di Blenio on the way to the Passo del Lucomagno/Cuolm Lucmagn/Lukmanierpass.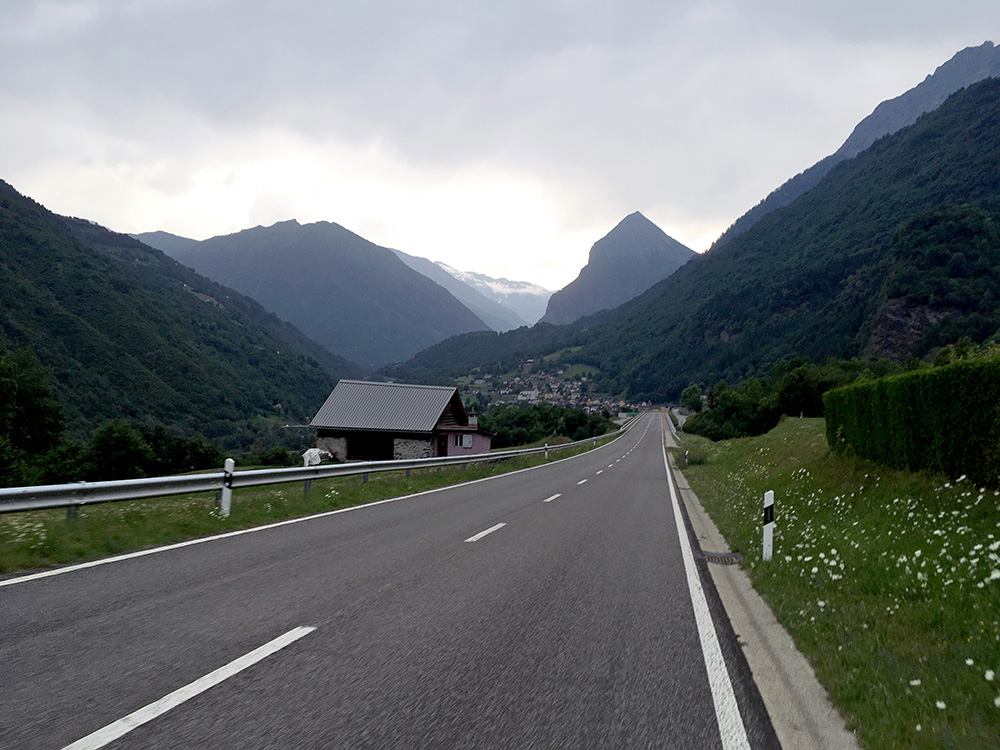 I took it easy and think I had some wind in the back when I started on my way up to Olivone. I was not going to the Lucomagno pass, but had not really decided in which order to climb up a few places around here that I had planned to see. I stopped by the Coop in Dongio to get something to drink. When I got on my way again it was getting late in the afternoon and the weather started to look bad as I came to Aquarossa. Only there I decided not to try the road up the west side of the valley to Addi and above as planned. It was soon getting even more obvious the weather was bad up there as I continued to Olivone. This photo was the only photo this day up this valley just before I started to get some raindrops coming down, but I got all dry up to Olivone and stopped at a shop there to buy some chocolate and something more to drink, but now it was no longer so warm.
It started to rain a lot and I just about managed to stay on a sofa outside the shop not getting wet and talking with some Swiss young walkers from the northern part of Switzerland down here for vacation. It did not look like I had any real chance on this day for another climb, but decided to go a bit up on the highest climb I had planned here to Pian Geirett (2003m) in the Val Camadra (straight up from Olivone). I only got to the turn-off for this road before the rain came back again, but decided to continue as I knew there is a long tunnel soon here and I got there nearly all soaked and continued through it and up to nearby Campo Blenio (1192m) where there is a hotel I had looked up before in searching for accommodations around Olivone. It said it was was closed and I got a bit despairing, but the lady of the house came out and told me they had a bed and I also got some good food. She also knew of the Bodio climb I had made and said "you mean the road that goes like this" and waved with her arms as if it was the only serpentine road around here, but surely it is a remarkable one. Nice place (only two more guys staying there that night).