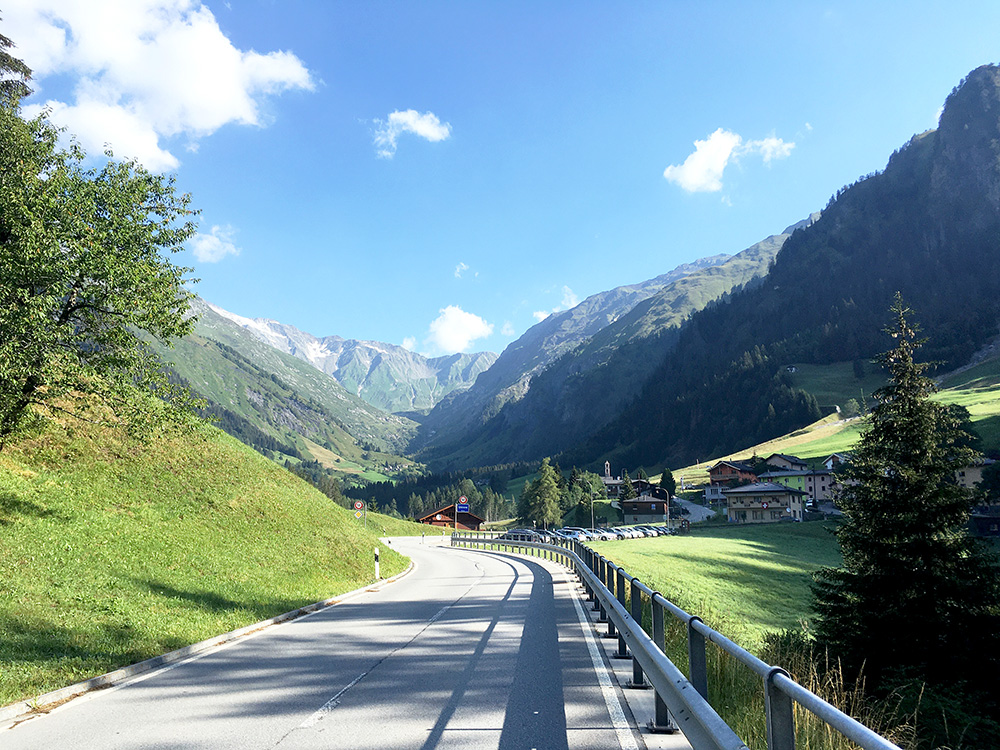 Fine weather all day this day and got fairly long and high, so a perfect day apart from bad traffic for a while between Bellinzona and Locarno (as expected), but that was basically the end of bad traffic on this tour. A lovely start in the morning up the Val Camadra.
Passing by the turn-off for Lago Luzzone soon after this photo, where I have been before and that is a lovely destination too and it becomes even more interesting with a visit to Passo Muazz (1697m). The road descends slightly and cross the river and from there on I had a consistent steep climb to Pian Geirett (2003m). 8 km at 10.4% from the start; 6.2 km at 11.4%; 5 km at 11.7% and steepest kilometre 12.5% with max 16%.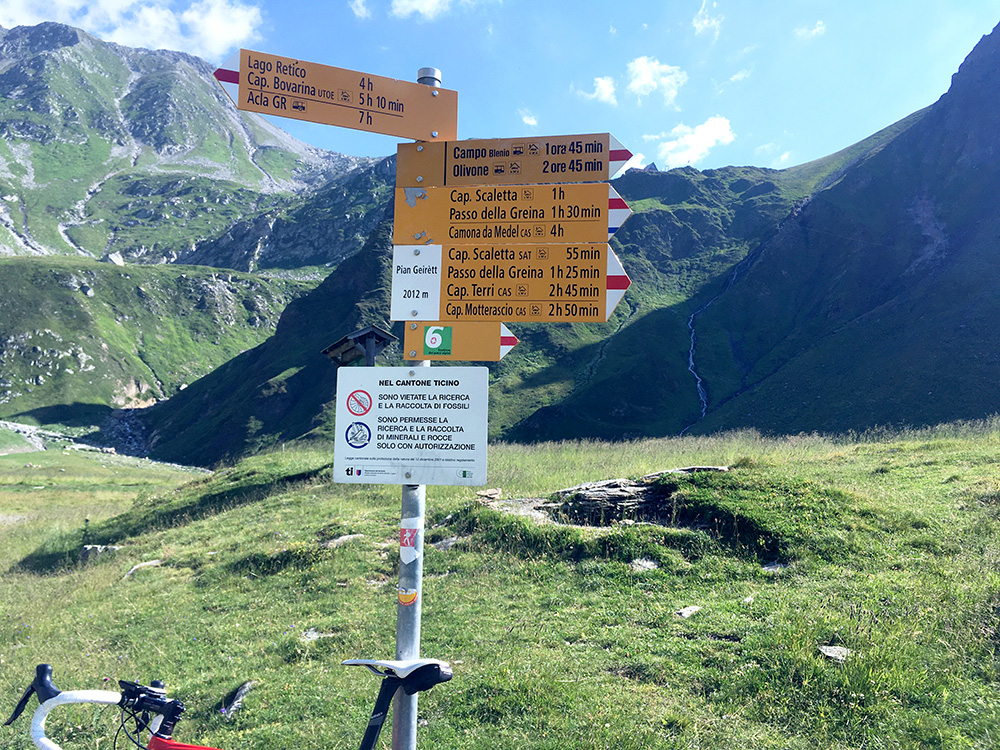 I thought I kept a good speed up, but then again I was not trying spend all energy on the first climb already. 25 out of 77 on Strava at the end of 2020 is not so bad – fair enough for me (faster than anyone weighing as much as me and also faster than anyone as old as me).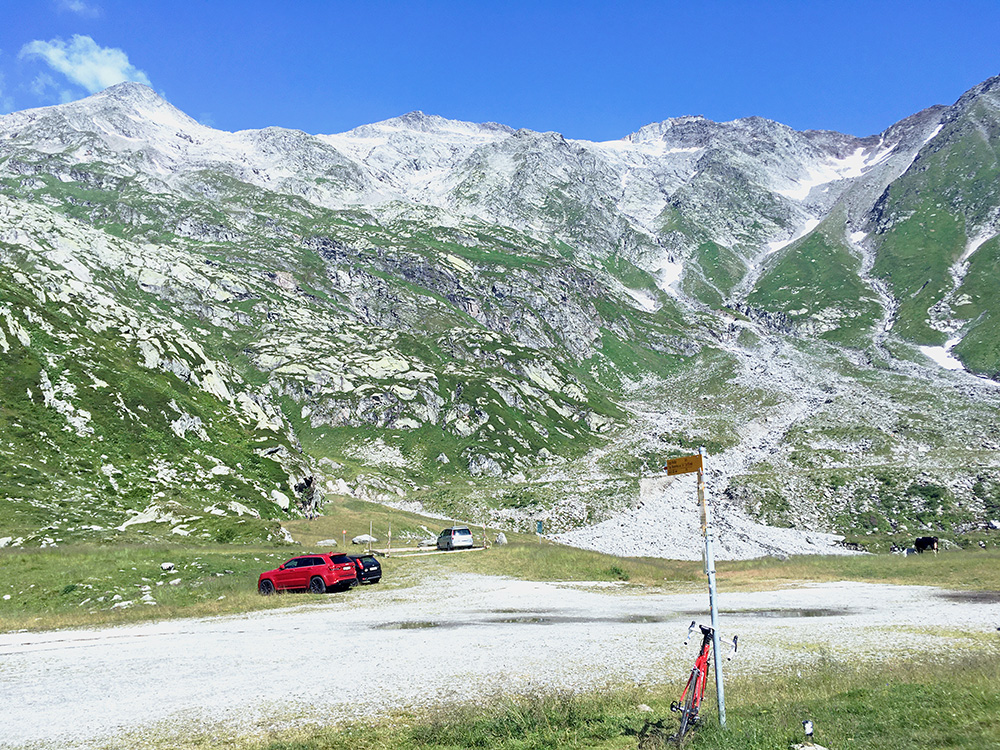 It was warm even up here at ca. 26°C, but it would be worse down the valley.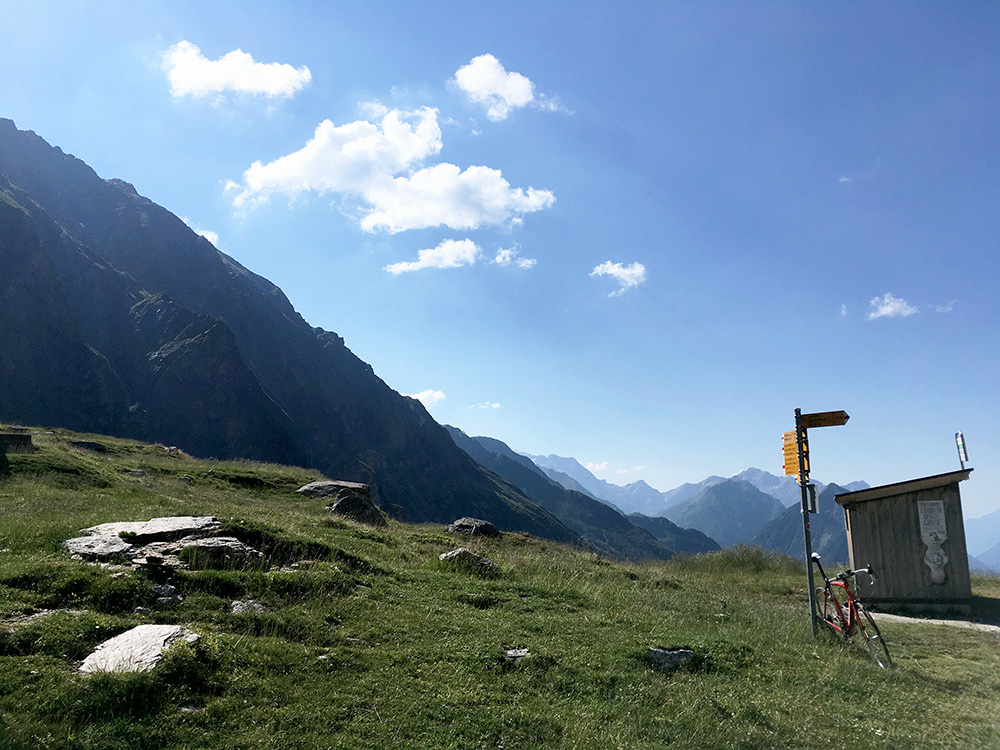 Took some pictures and include all except one lower down as it is hard to choose, although some are better than others.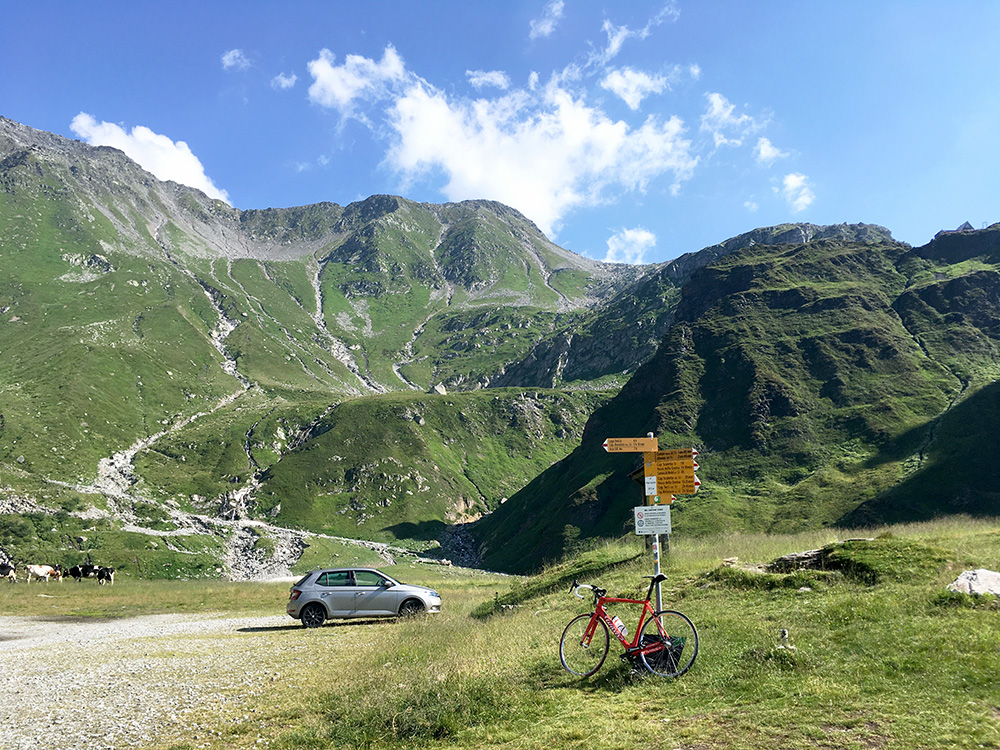 A last photo up in the direction of the Passo della Greina/Pass Crap, that I believe is a popular crossing for mountain bikers (who likely will have to walk some too), but too long a crossing for me. You can see the roof of the Capanna Scaletta up the mountain from where it is an easier passage, but difficulties further down the other side too (probably it is easier going over Pass Diesrut also). The young couple I talked with the day before in Olivone had come down over this pass.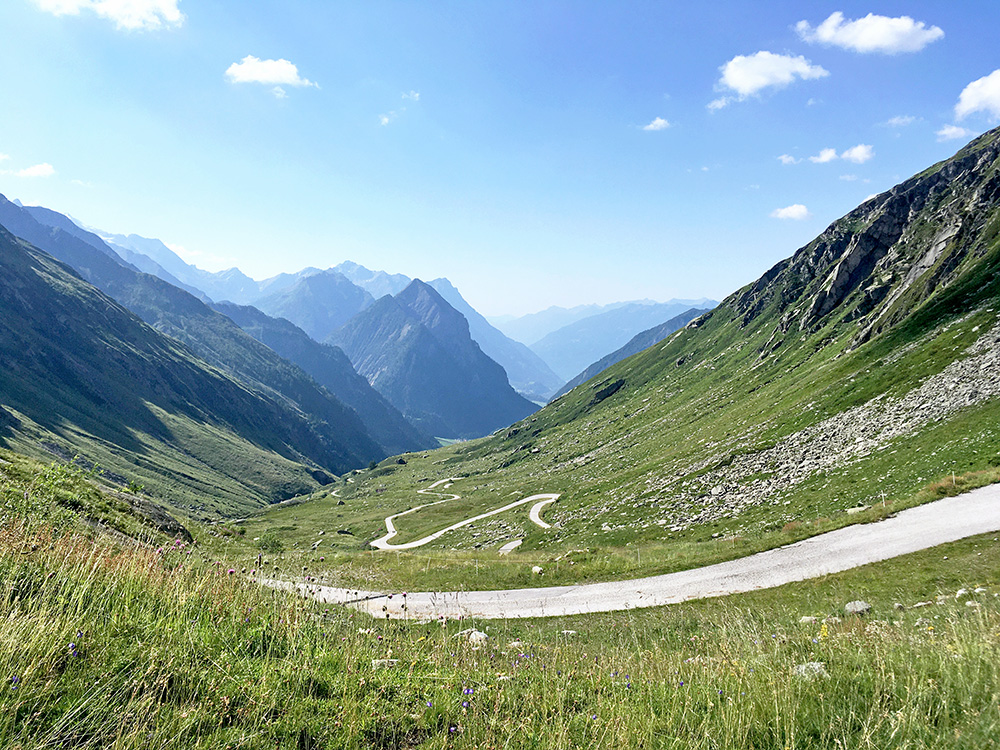 The lovely upper Val Camadra.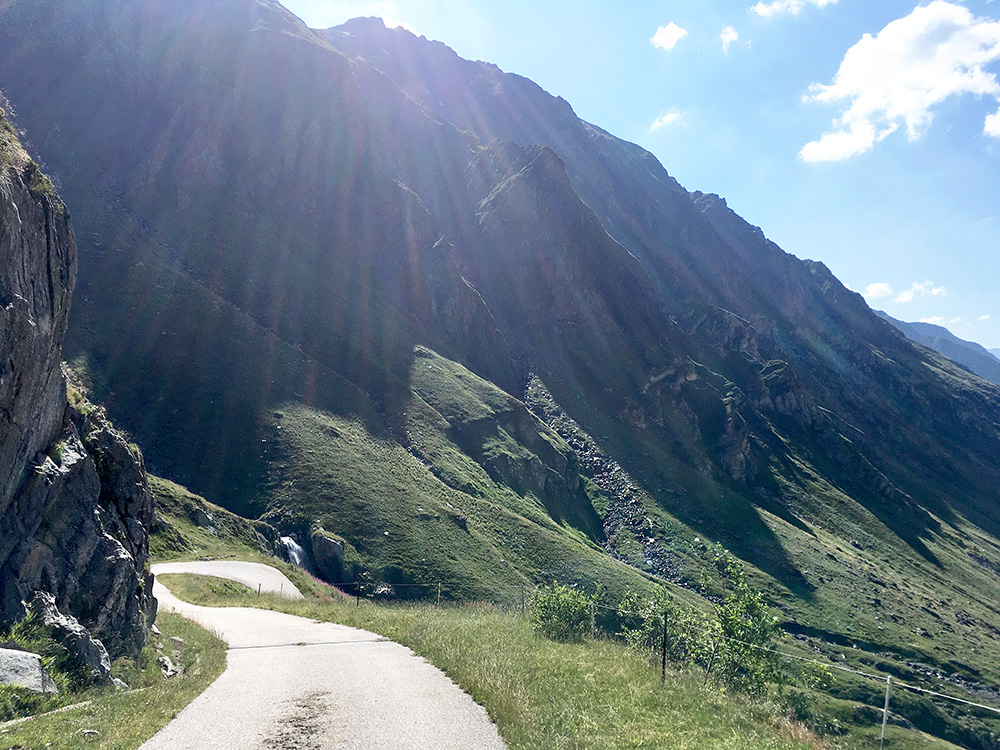 A steep serpentine near the end.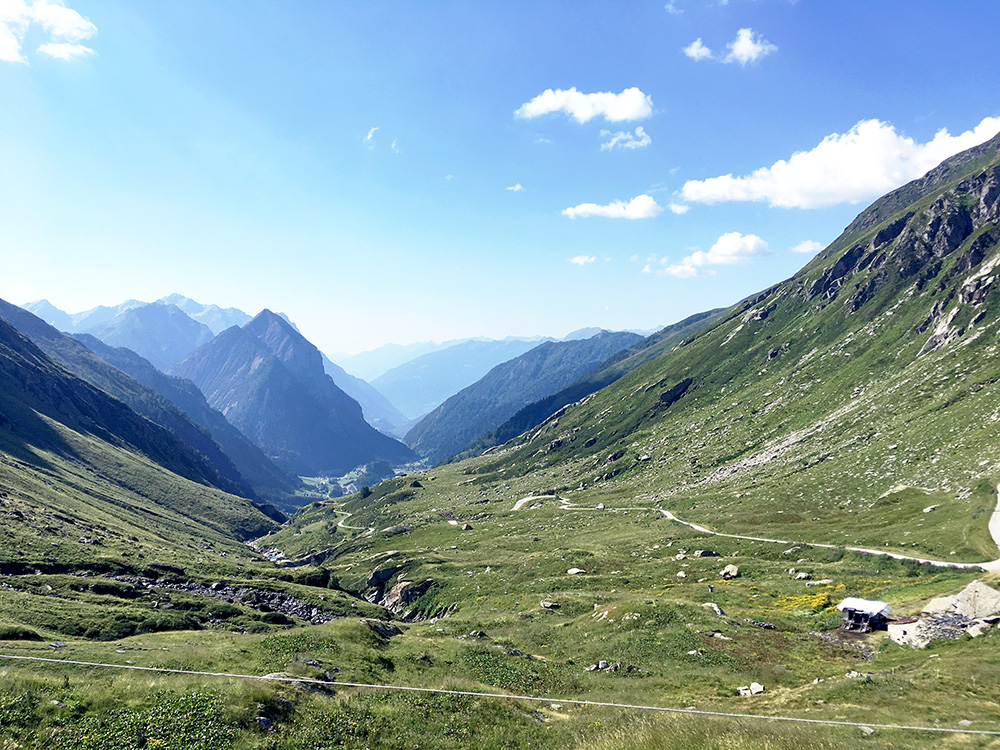 Great views continues further down.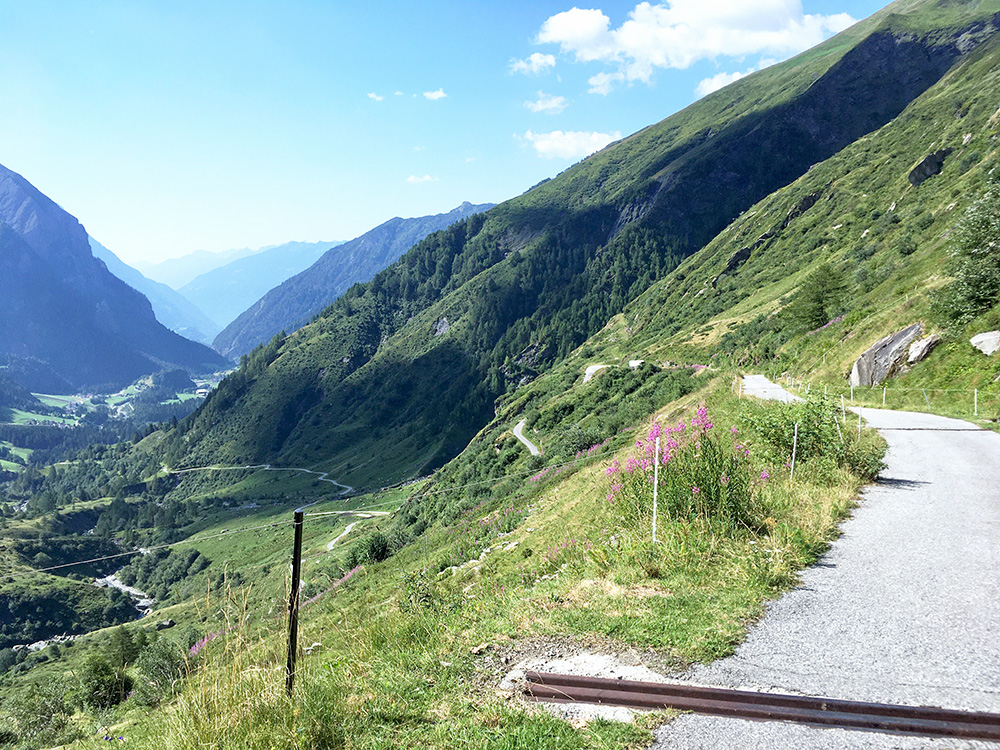 This is the last section before coming back down to the plain just above where I started, which is just below and out of sight at the visible end of the valley below.
I decided during evening and morning to leave the climb up to Addi to another visit. I also noticed when I measure carefully the slope of the steep end up to Capanna Piandios/Pian Daiòss (1912m ) on concrete strips (that I knew was supposed to be steep) that they are over 22.4% for over 800m and no zig-zagging possible, which means I likely would not have managed to cycle up there with 36-28 as I have. I have done up to around 29% two times, but that is for short stretches at most 50m or so and it is a big difference with 800 metres, where I think my max is around 18-19%. Length matters! But it is a good climb even up until that steep section.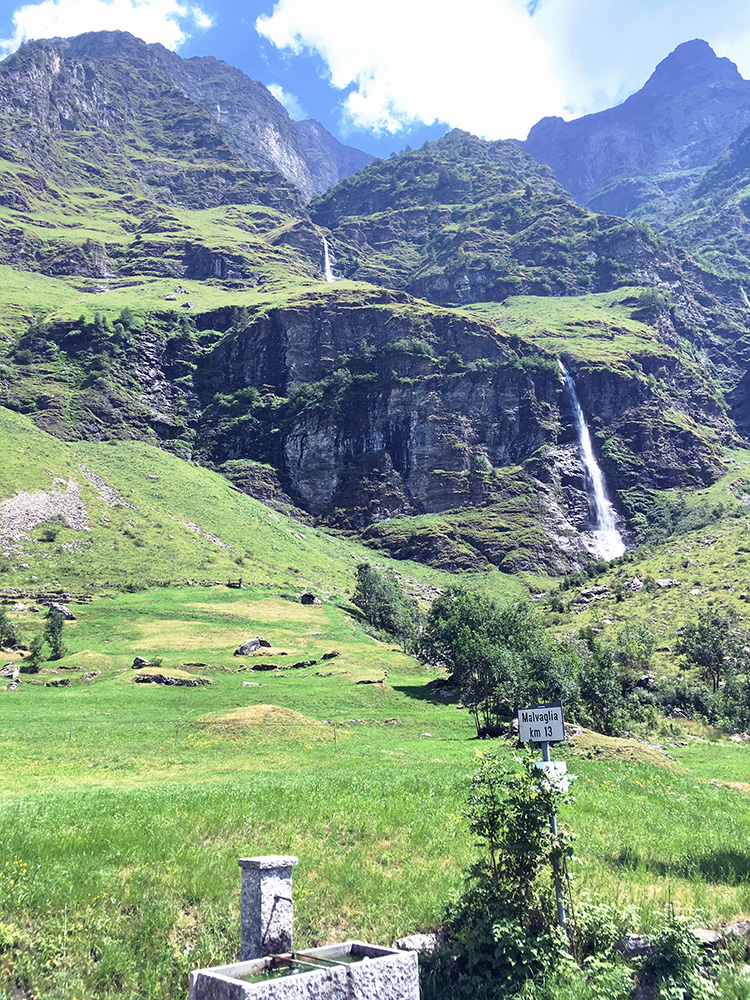 I had another climb still of interest in the Valle di Blenio though. I went up another year the very nice and impressive Val Pontirone from Malvaglia (to Alpe di Cava (2005m)), but at a fork above Malvaglia one could instead go up the Val Malvaglia to Cusiè and that was now what interested me.
It is not such a steep climb, but it is fairly long and it was warm now. I found a grocery in Malvaglia after going through the village and returning to near the main road again and had something to drink and a yoghurt. In the photo here I made the first section and the flat middle section and reached Dandrio where I filled up water (looking at the photo it almost seems to be coming straight down from the waterfalls above. It was around the warmest it got on this day here and the computer recorded 36-40°C.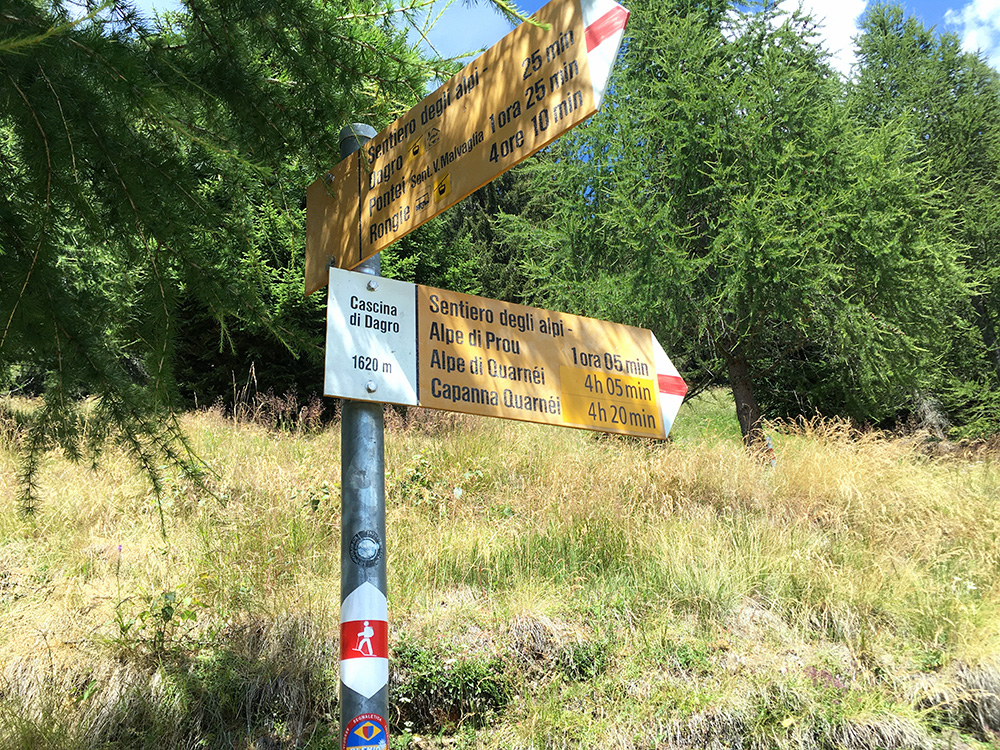 I had however seen a more interesting end of the climb than Cusiè, but the problem was that there was some gravel stretches on that road. I could not quite make out beforehand how much gravel and exactly for how long (also satellite images are usually a few years old). At first it looked like maybe the road to Cascina di Dègro/Dagro (1622m) had been all asphalted, but eventually my researched proved to be correct. The gravel part was not so long and not so bad, but after the asphalt returned there came yet one more stretch of gravel and this time it was slightly less good, but now I knew it was not far to the end of gravel so I continued (it was even a bit grassy at the end but could cycle it all). The Swisstopo maps are actually almost quite correct here even if they are not intended to show the surface … . It is ca. 1 km + 1km gravel with 0.5 km asphalt in between to Dègro/Dagro.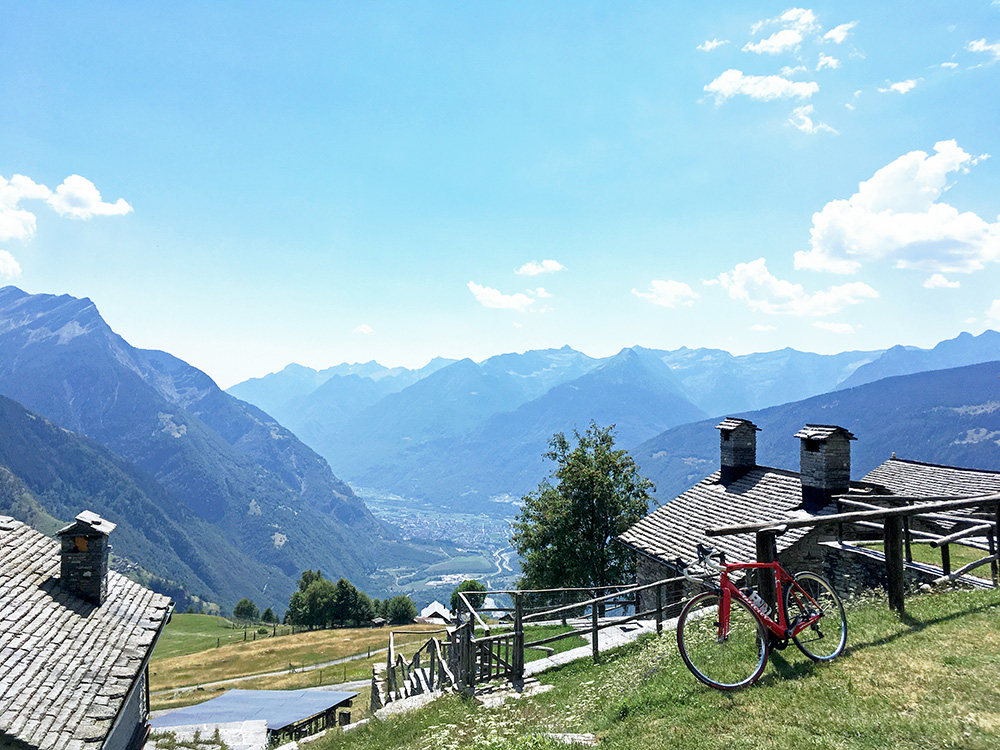 From Dègro/Dagro (1358m) it is a nicely asphalted narrow road in long serpentines to the top at Cascina di Dègro/Dagro (1622m). From there you have lovely views down to Biasca as seen here. There goes a cable car up from Malvaglia to here. It looks remarkably close down to Malvaglia, but the road is 21.5 km long (at 6.3%)!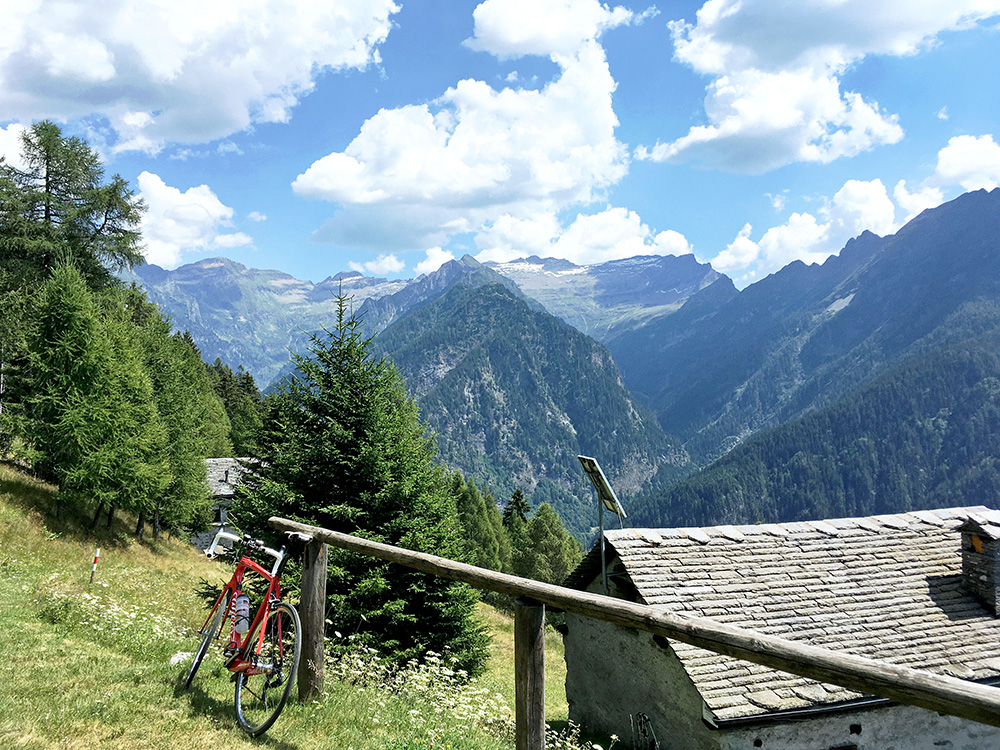 I stopped to take many photos on the way down, maybe thinking to sort them out later when I got home, but only skipped one of them here (looking across Valle di Blenio as it was not so exciting).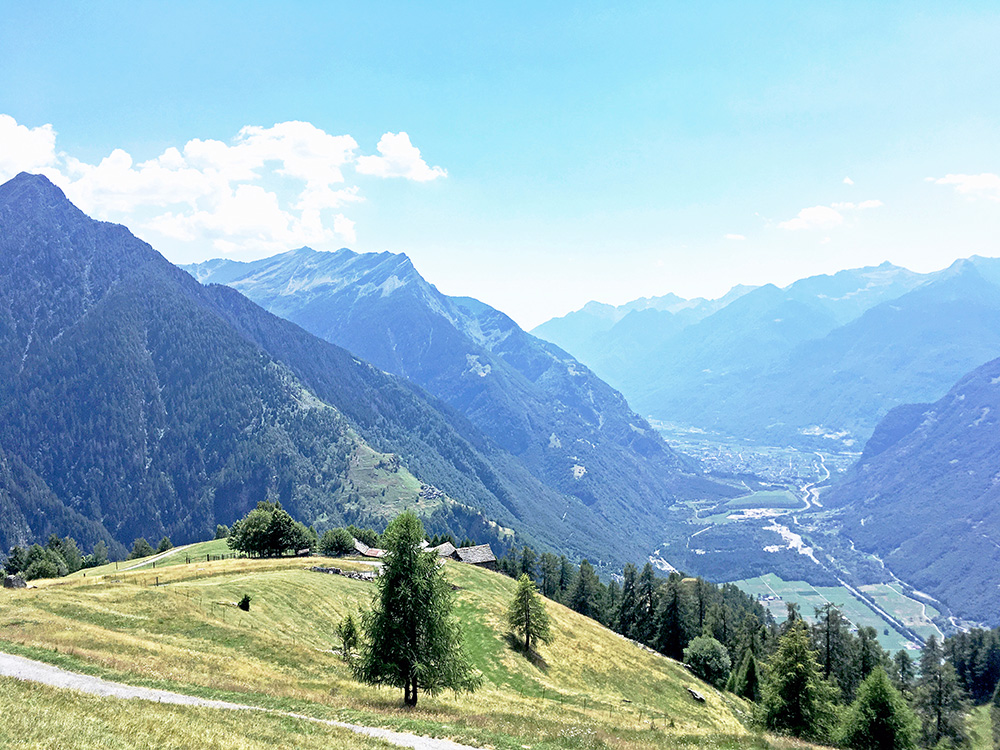 A more open view here down to Biasca on the way down.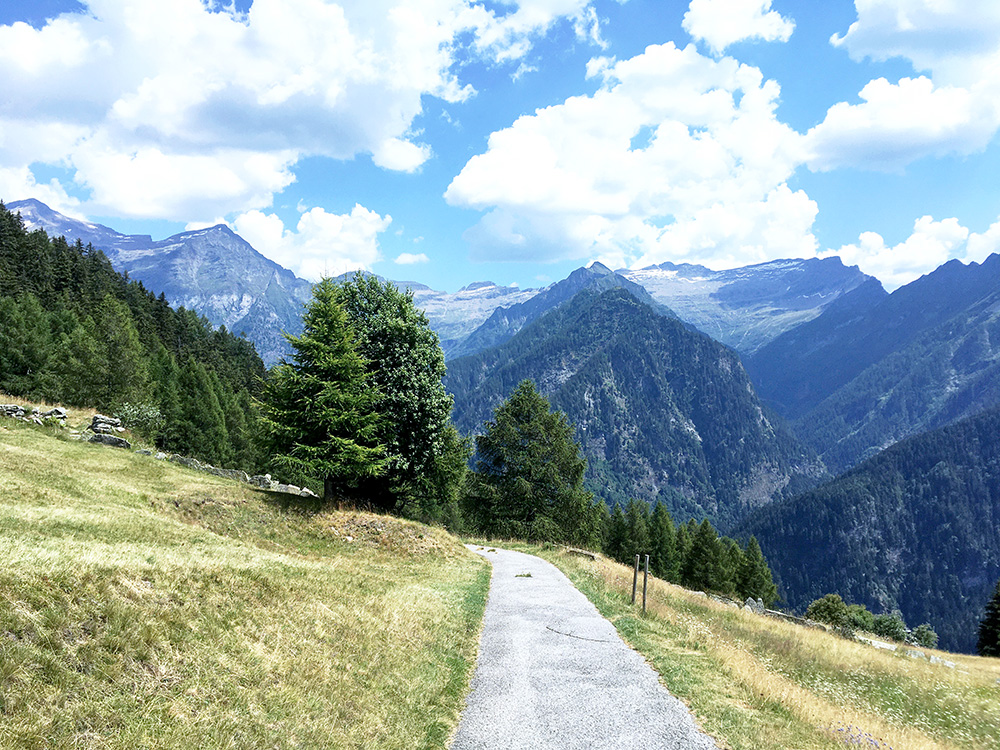 The highest mountain tops up the Malvaglia are over 3000m and in the direction of the photo one finds Cima Rossa (3161m) and more.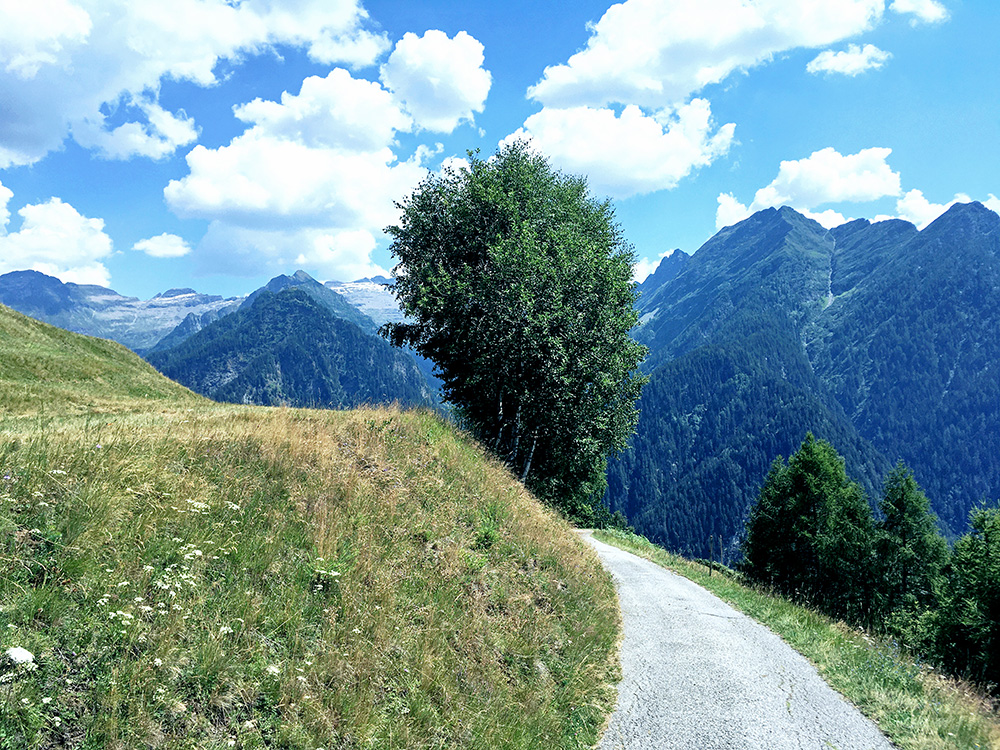 Another photo in the same direction … . If only the road would have been paved all the way I am sure it would have been a rather popular road among road cyclists! (Or should have been so.)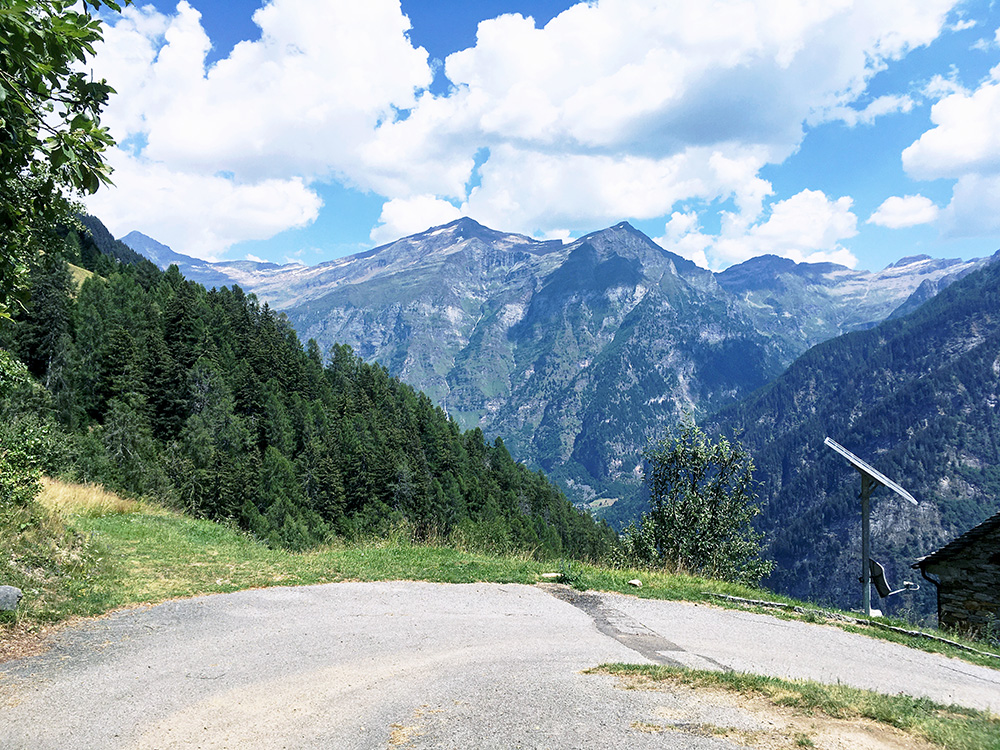 One of the bends with similar views.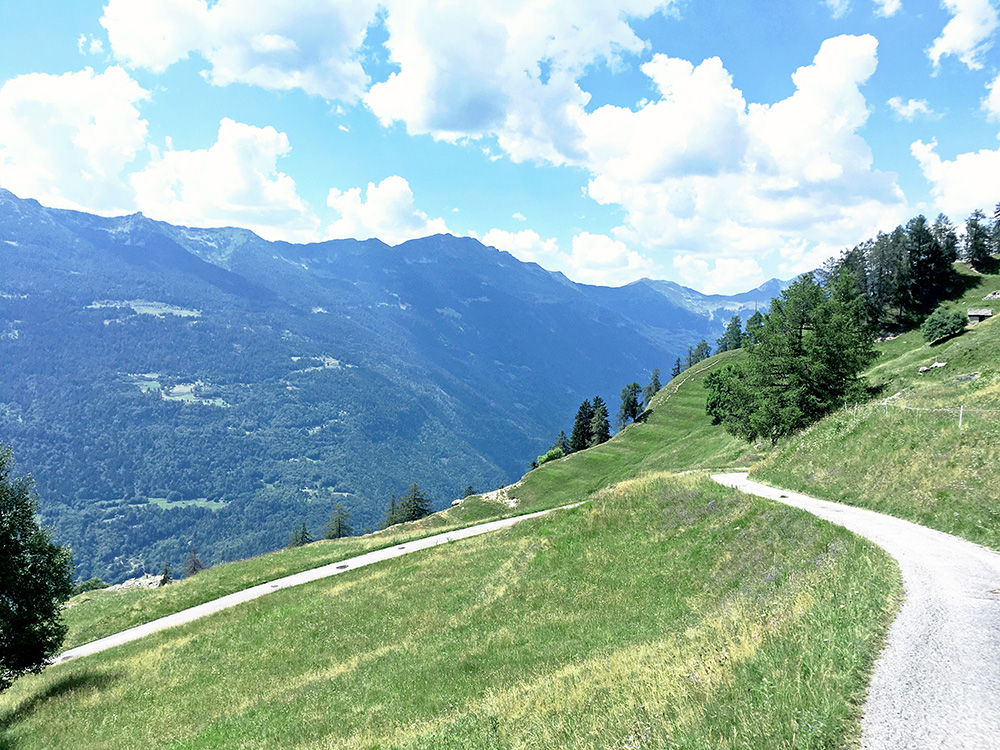 Yes, here we have one view across Valle di Blenio I thought was good enough for inclusion and the roads up the other side I have to explore another time.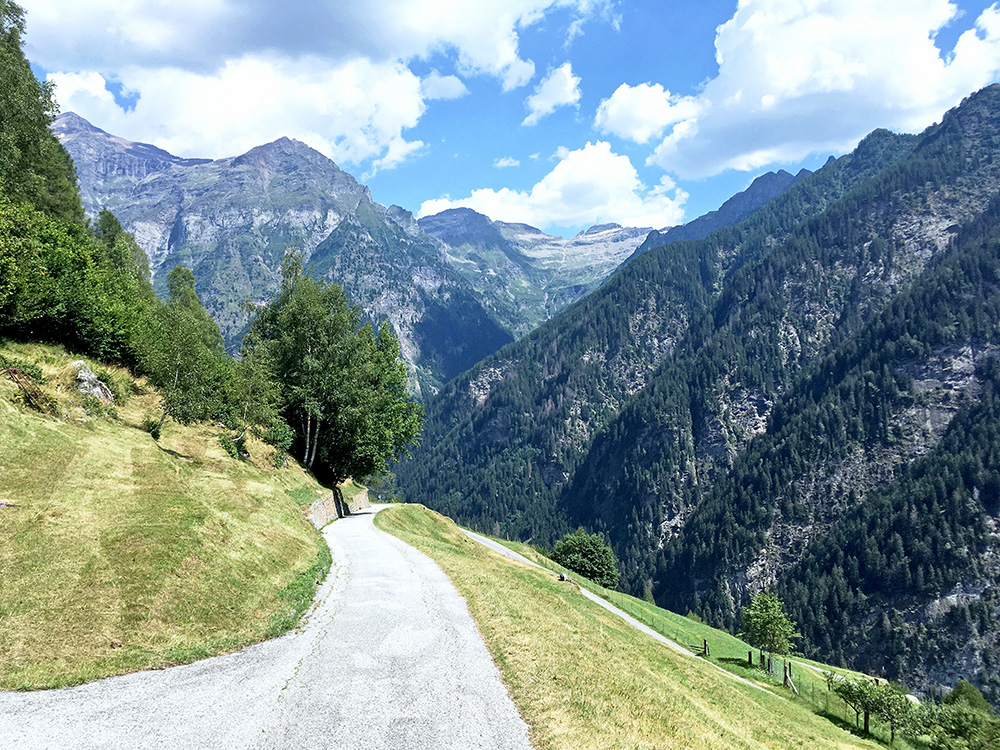 A last photo before going back to the turn-off for Cusiè above Dandrio. Since I knew the road to Cusiè was paved I thought I could as well go up there too.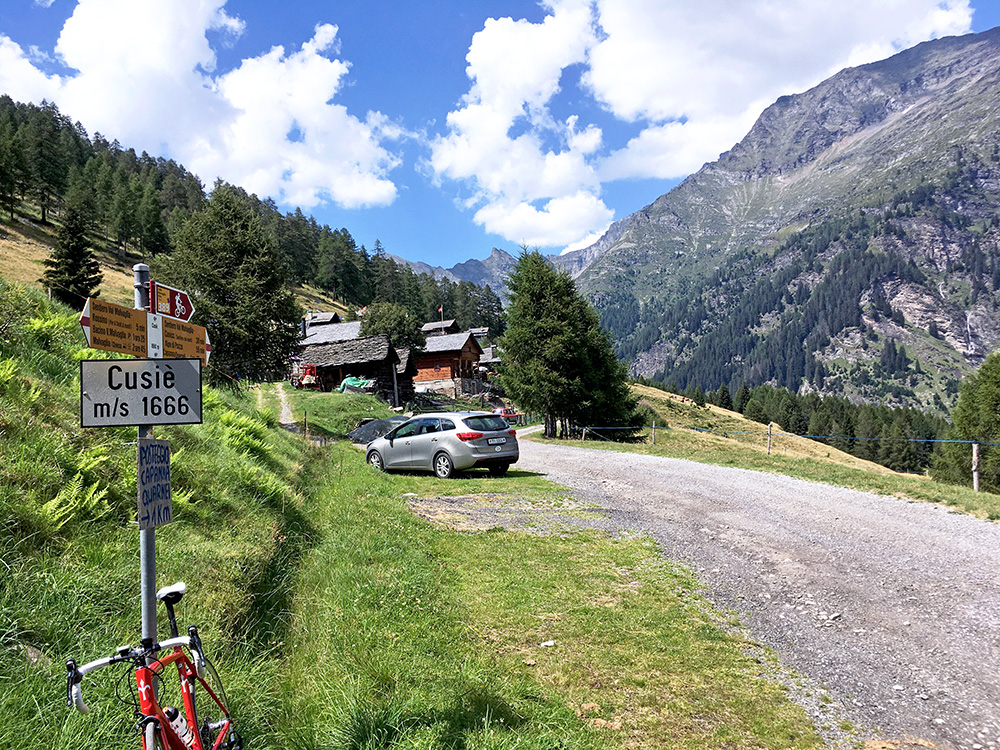 From the turn-off at Anzano (1325m) the remaining climb was not as insignificant as I had imagined though. This climb is similarly steep at over 9% as the climb up from Dègro/Dagro, but 0.7 km longer. There was also a paved turn-off to Ticiall (1548m) on the way up that confused me a bit as I thought there were no other paved road here, but it does not go as high.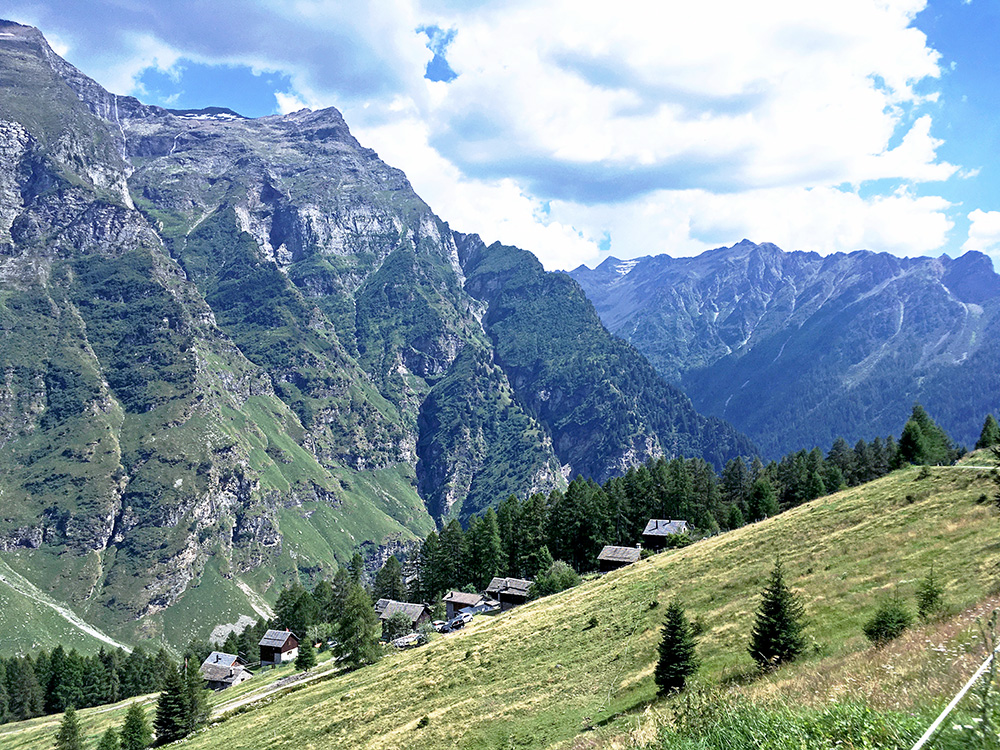 I continued a bit tired to the very end in Cusiè (1652m), but knew there was a short ramp just before up to Alpe Russin/Russign/Rossino (1667m) and even if Cusiè more marks the end of the asphalted road up the Val Malvaglia, the Alpe Russin (as one sign says) is actually the highest paved point in Malvaglia and really the most proper destination for road cycling up here.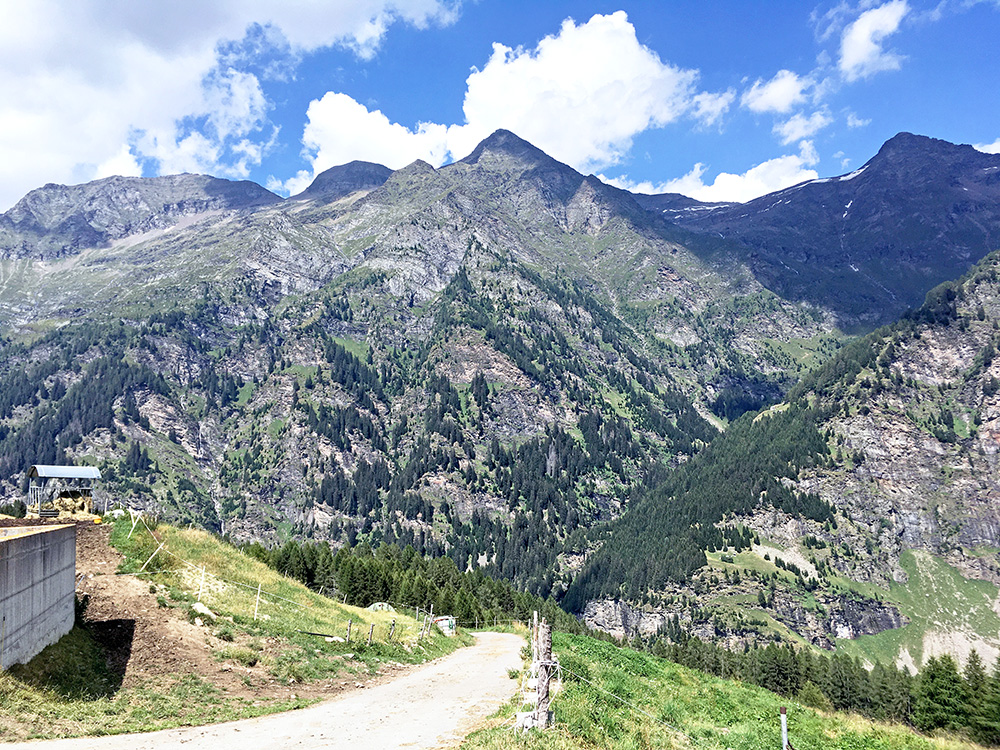 Here I am finally up at Alpe Russin/Russign/Rossino (1667m) too and no more climbing until the evening for me now. The direct climb here from Malvagliga is just above 7% for 18 km.
I stopped at the only open bar/restaurant I saw along the way in Dandrio on the way down as it looked nice when I passed by it on the way up, but the lady there was a bit boring (played bad music on high volume etc.) and the coca-cola was expensive, but at least got to borrow the toilet.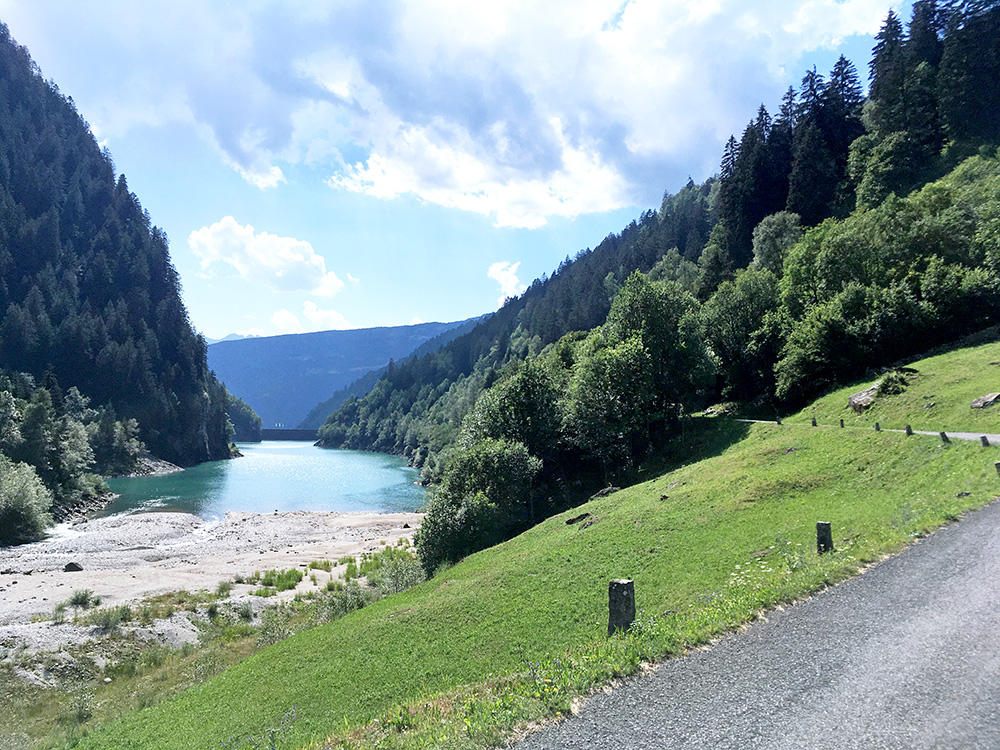 I stopped below again for a photo of the Laghetto della Val Malvaglia along where the road actually climbs a little on the way back.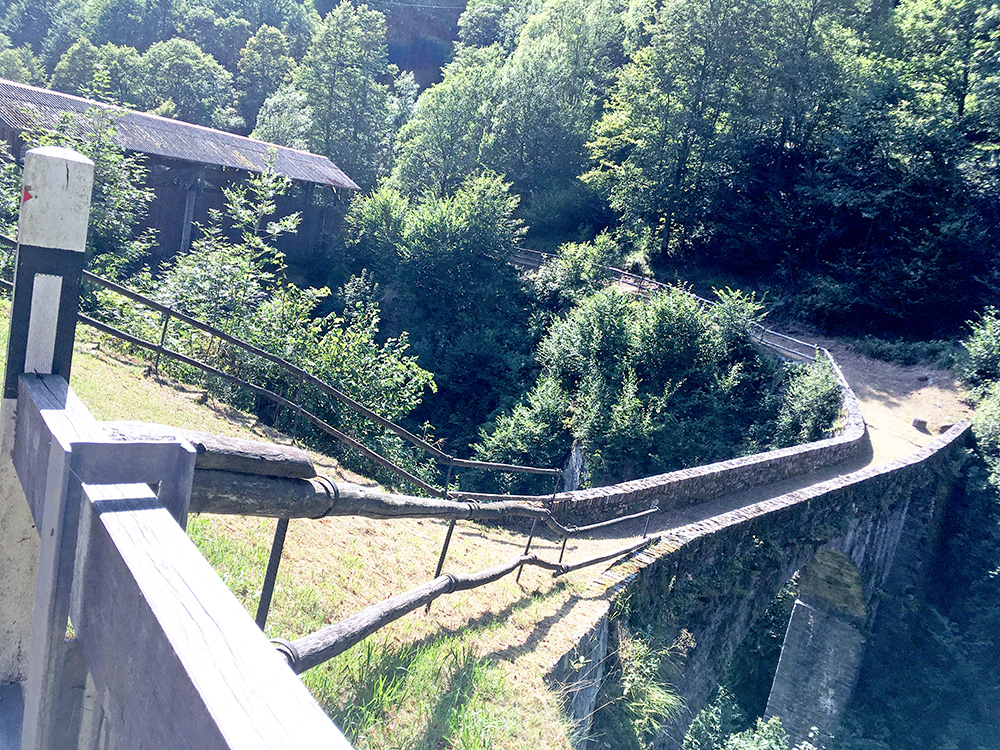 Below the lake this old bridge was maybe the only thing of interest. If they had built an asphalt road via it up to Dègro/Dagro that would have been an even greater climb! There is a path up there from the end of this road – an asphalt road with a newer (covered) bridge just ahead here. I continued down and had a bit close call with a car even though I was cycling carefully (it is a bit dangerous road). Took the steeper short-cut down that I took up the last time (make more sense if coming here from Biasca). Then a long ride down through Biasca where two cyclists passed me by and I hanged onto them and after a while I helped them keep up the speed for a while (they were also touring cyclists on road bikes like me). Luckily I soon came to the turn-off where they continued straight ahead. They thanked me and I silently thanked them for not following me so I could take it a bit easier.
I stopped for water along the quieter right-hand side of the valley and it was warm now. Exchanged some words with two locals there and then moved on down the busy road from Bellinzona to Locarno. Got very angry, but thankfully eventually found a big Coop grocery so I could buy something to drink and cool down a little. Maybe I stopped once again near Locarno. I crossed the Ponte Maggia (213m) in Losone and were finally out of the bad area. Some road works had to be circumvented, but was soon on my way up the Centovalli. It is quite steep up at first to Intragna, but then it is an easy road up the valley to Italy, where the road turns to a mule path (almost) – the Italians do not think border roads are of much interest apparently which I have noticed also at several other border crossings. It really looks poor and miserable for a while as one has entered Italy, but it shapes up increasingly as one gets up after Malesco.
I stopped at the very high point at Druogno (or 'Passata Druogno' as the point where the train station is located is called and it is indeed a pass for sure here). I had hoped to find some cheaper accommodation as this would be my last night in Italy, but only found the big Albergo Stella Alpina in the centre. It was getting late so I was not interested in checking out the other options I saw on Google (and did not wanted to stay in Malesco). I managed to get the price down a little, but it was still rather expensive for being in Italy. I had a pizza nearby and a beer and was happy I got here this day as it was a good location for starting the next day.