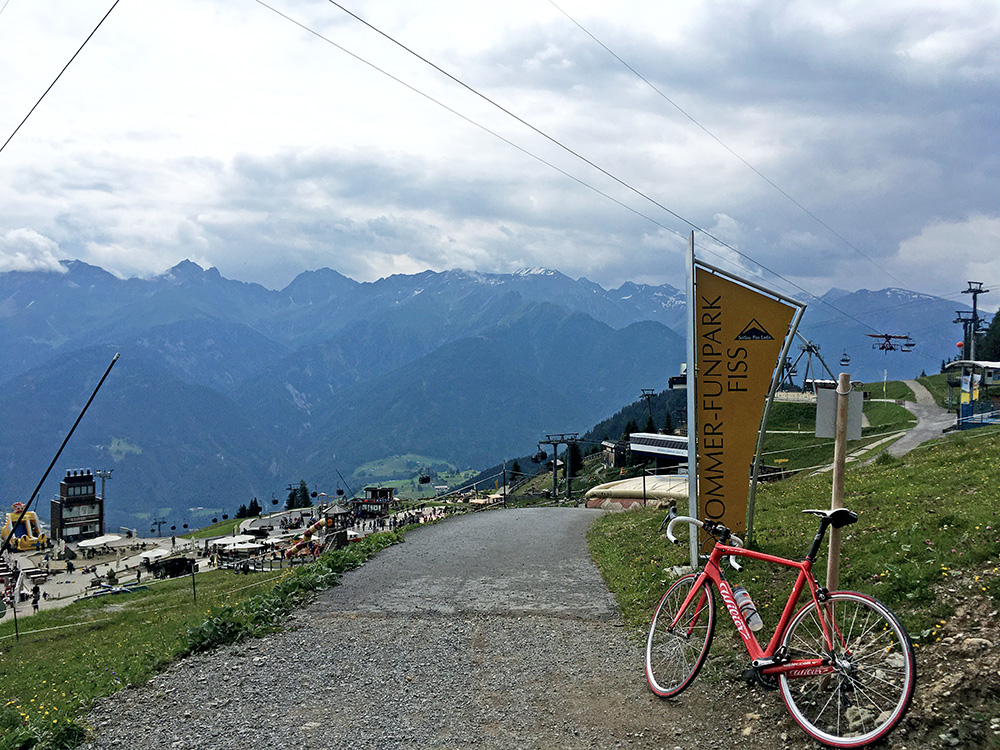 Didn't get more distance on this day than on the first evening ride, but despite the steep climbs on the first day, I had a lot more height metres here, mostly because I took a ski lift down from the first climb. The weather was not looking good at start, but no rain so I just went away following my plan here to see where I got. Also since back in 2004 or so I had thoughts about the possibility of climbing the Fisserjoch (2434m) which should be a gravel road for long at the end but good enough so that it ight be climbed on a road bike. In any case I wanted to do the paved climb (also a BIG climb) to Möseralm (1838m) at Fiss. The road to Fiss was more trafficated than the Fernpass road the day before and was absolutely not pleasant to climb. The road from the boring Fiss was quite steep to Möseralm, which is a place filled with families running around. I got to the end of the asphalt without stopping though as seen in the first photo.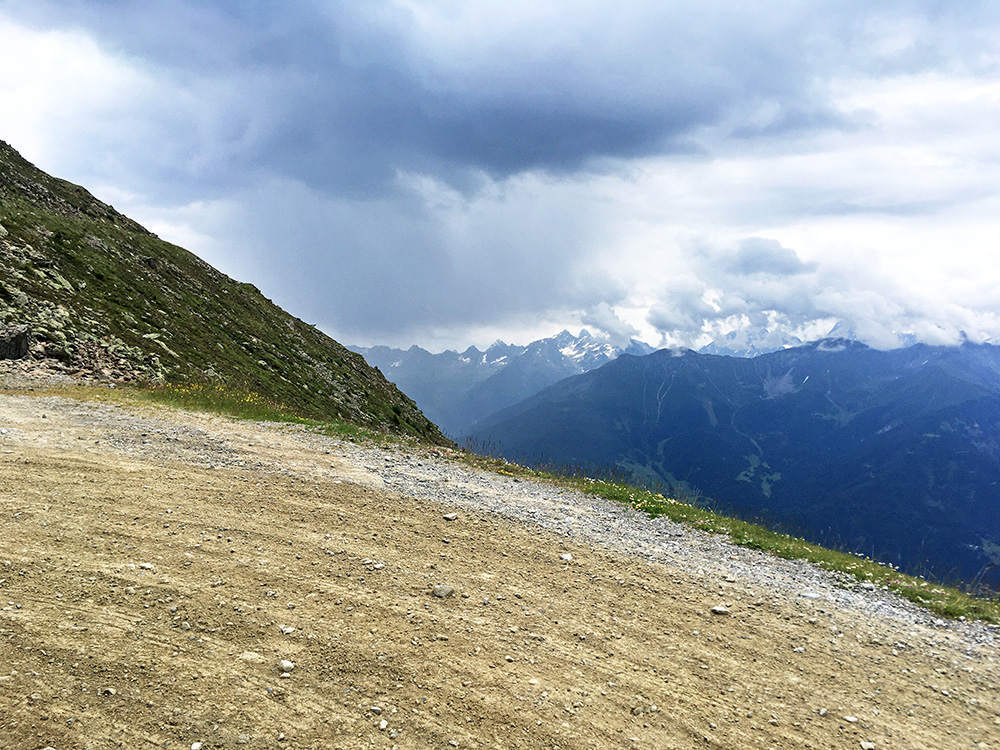 I asked some walkers coming down about the quality of the road up to Fisserjoch and got an unclear description. I knew there could be a problem up to the main gravel road (that really starts lower down, but why go too far on gravel if not needed). I decided to give it a try as the rain was still not in over me. I did have to walk like 50-75m to the connecting road, but could then cycle most of the road to the top. Unfortunately the gravel was loose and worse in most bends so had to walk up like half of them – a bit unhappy with that, but it was not really bad enough to make me stop as I could after all cycle for most of the time.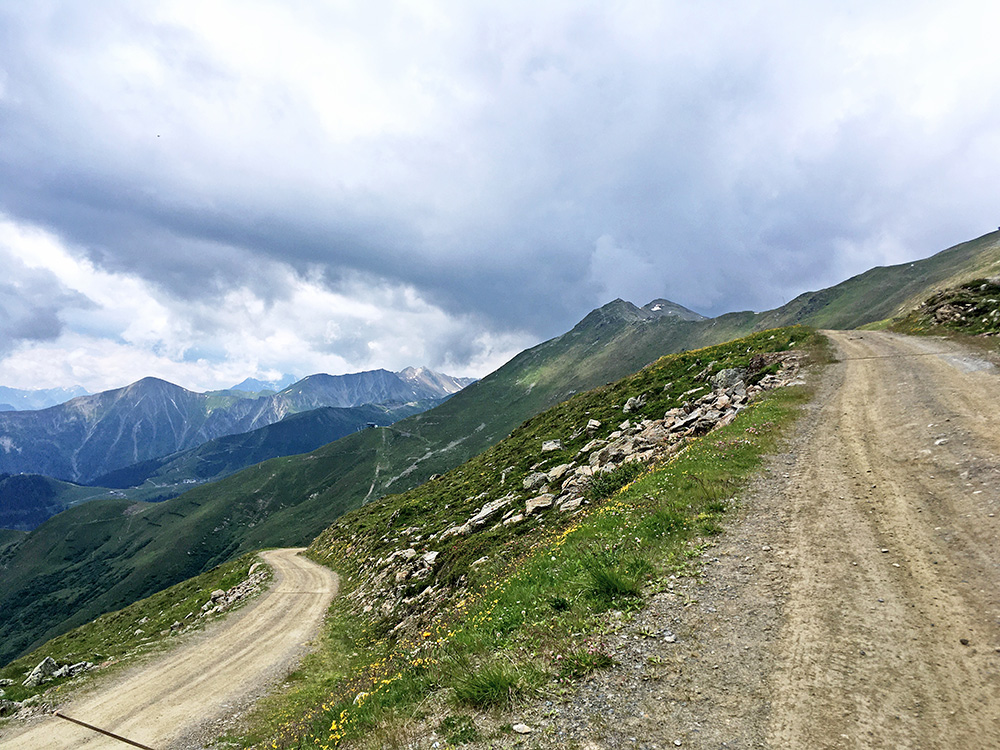 Looking at the skies all around it was not looking better anywhere else, so I could as well just continue according to plan and see how things will go. In the photo here I am soon arriving at Fisserjoch and here the road was quite fine, but could as well allow myself to stop for a photo since I already had to stop several times before anyway. If only gravel roads in the Alps always was this good! (Then there would have been plenty more options for those without special gravel bikes or mountain bikes, but I am out exploring the options for those wanting to ride normal specified road bikes as that is the nicest (and coolest) way to cycle through the Alps ;-).)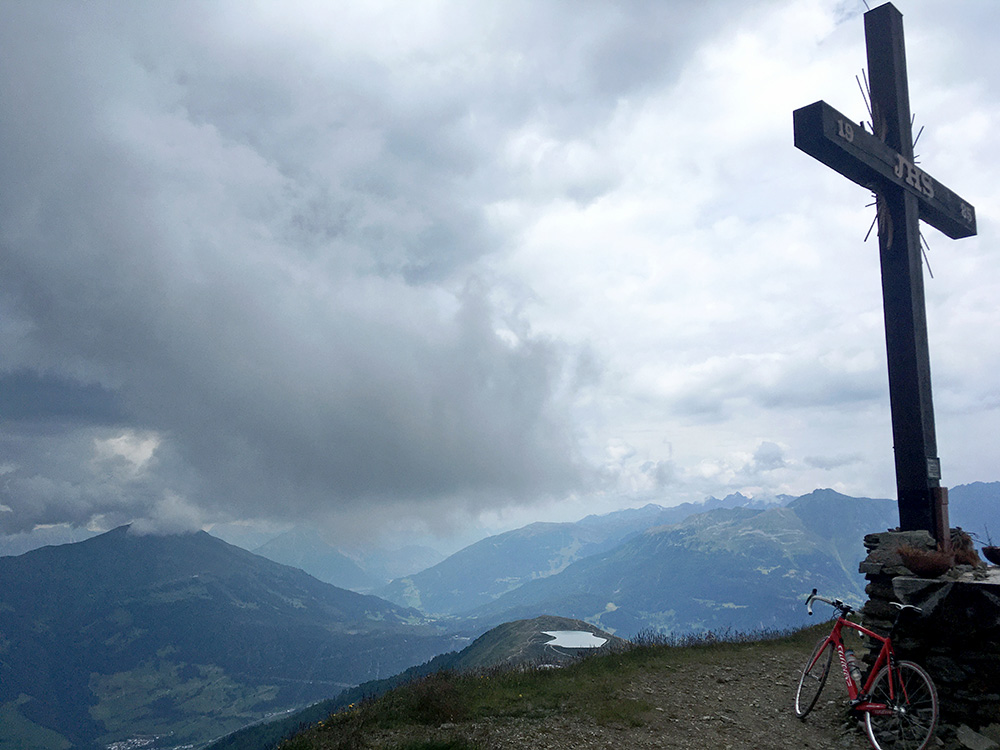 Now, Fisserjoch (2434m) is a rather uneventful place as being merely the pass to which the ski lift goes to and no particularly good views there, but I remembered the road from there to the mountain just to the north, called Schönjöchl (2490m) could be possible to go to and cycled up the road there. Despite the name is Schönjöchl not a pass, but a mountain top. Looking for a good viewpoint, I saw the big cross and that is the obvious viewpoint here around with great views in most directions! I was happy I went there.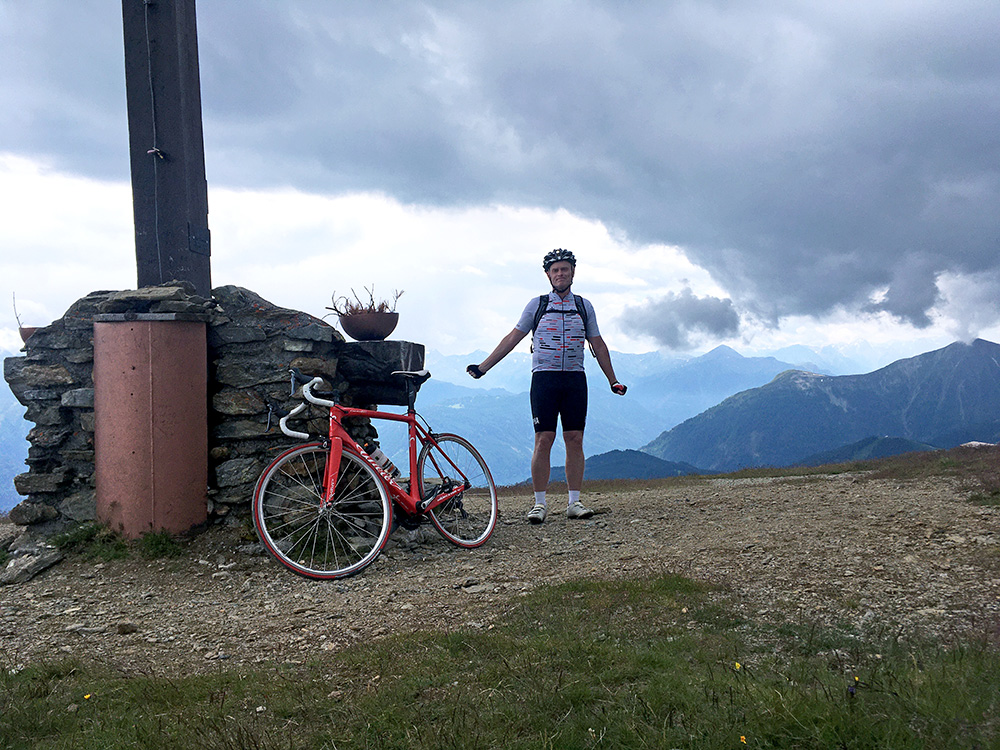 I felt as content with the day so far as I look in the photo here and now it felt like everything else would just be a bonus. Always great to be able to tick off intriguing and difficult climbs from the climb list that has been there for long!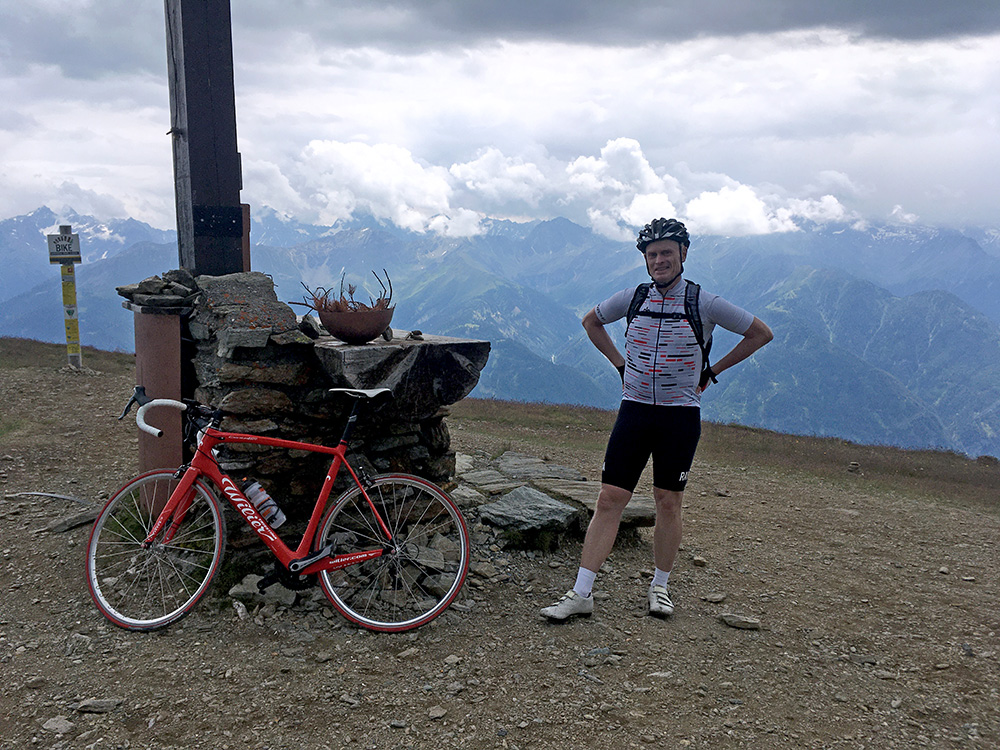 Some more posing when being lucky to have some nice person to snap some photos.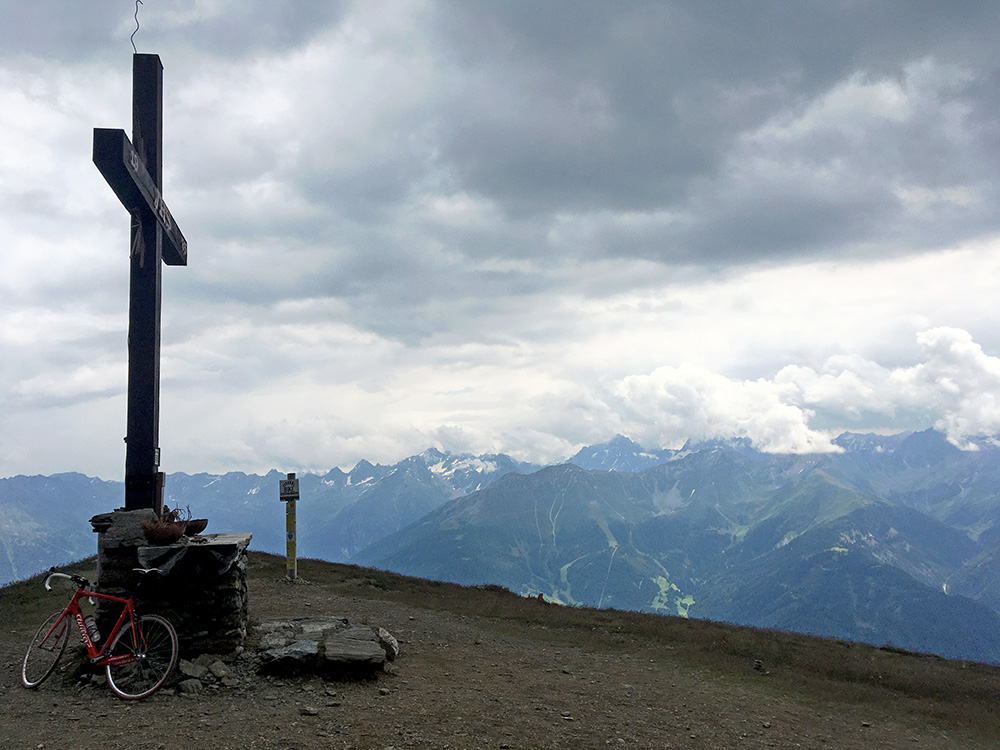 Didn't get tired of the views quickly, but soon had to move on to not to get too cold.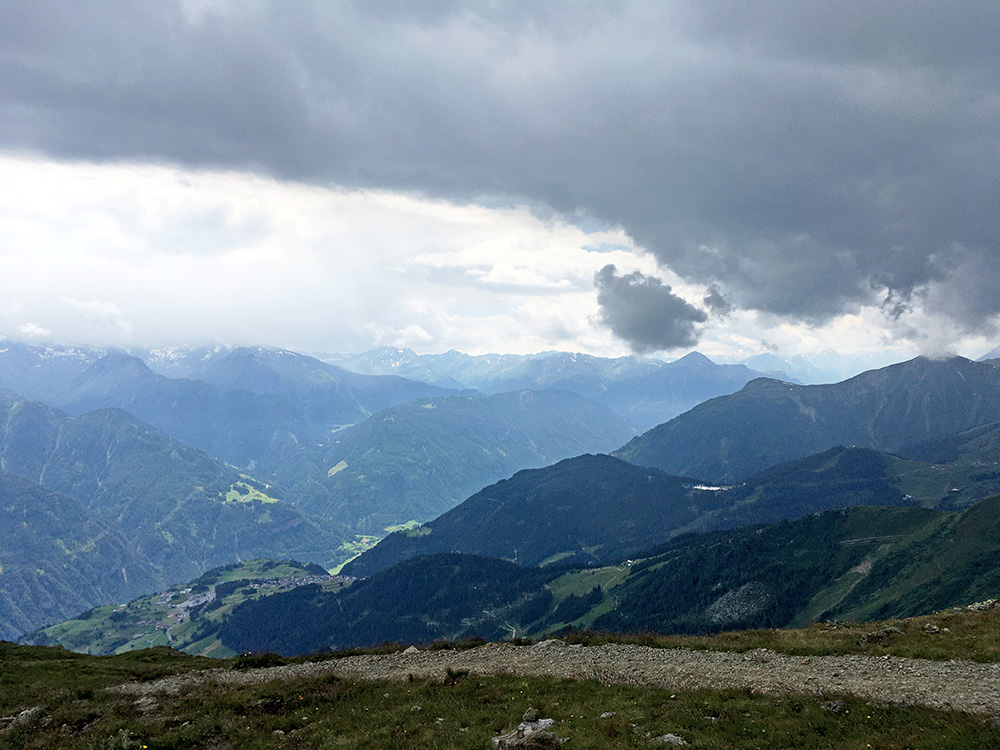 Looking down the valley up to Reschenpass and Engiadina.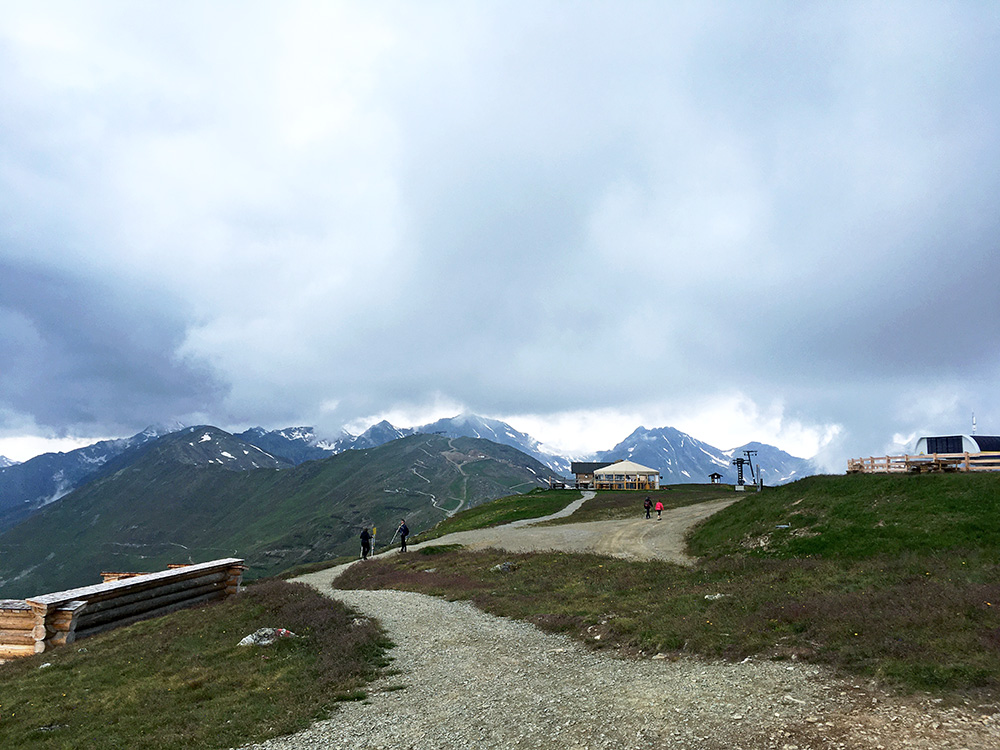 Some boring buildings up here.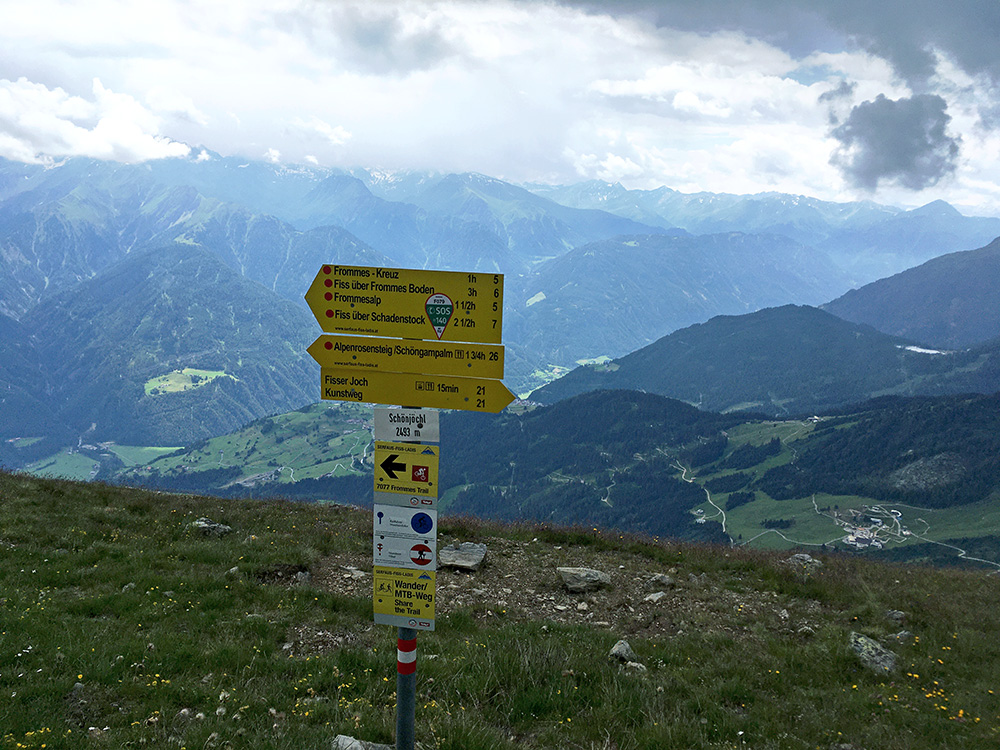 The "pass" sign and almost believing the weather might turn fine now.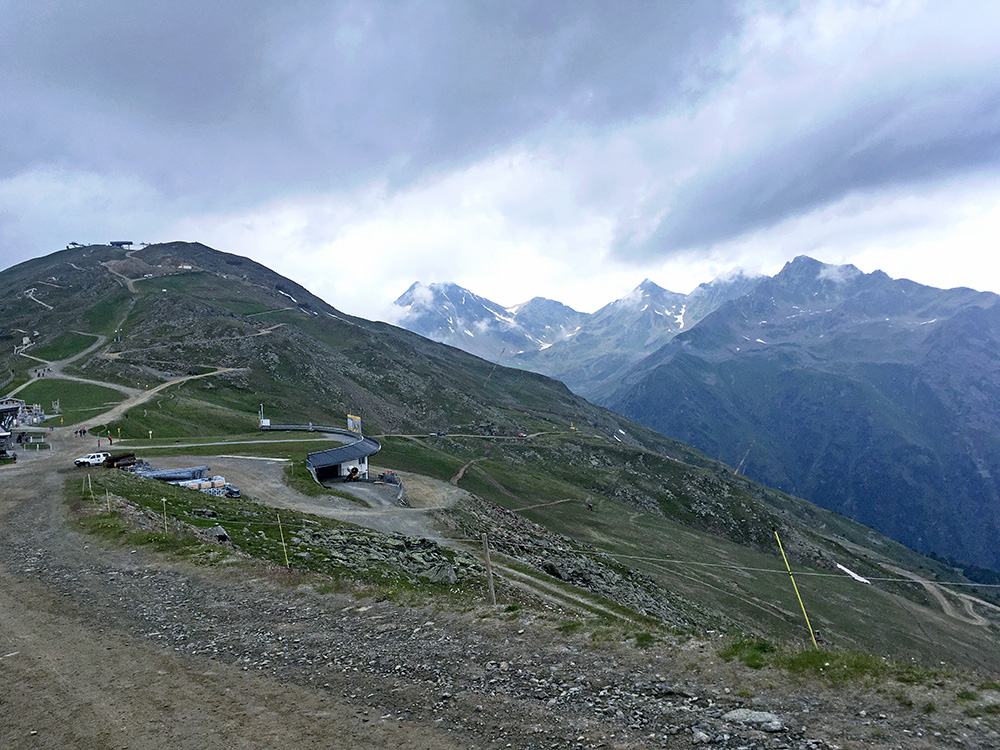 Fisserjoch west side, which I have heard should be a very steep gravel road down there (did not look so steep at the start though). The road going up the ridge on the other side looks quite steep though and I was not in the mood to try it out. It was chilly with raindrops nearby and I just wanted down now. I thought maybe I could use the cable car with paying or without and as I was about to sneak on I was helped in there – quite often it is free going down even if it may cost going up. But contrary to most other cyclists using the cable car I am almost always just interested in going down with them.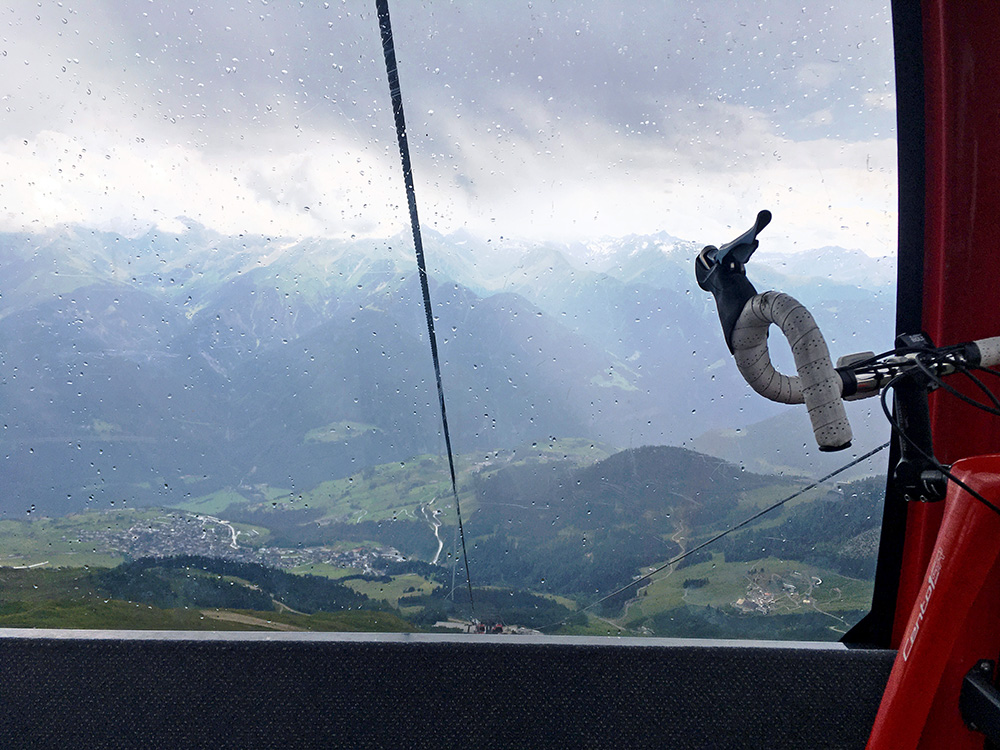 It was a nice and relaxing ride down and I was really happy to see I avoided some rain that came down as I went down.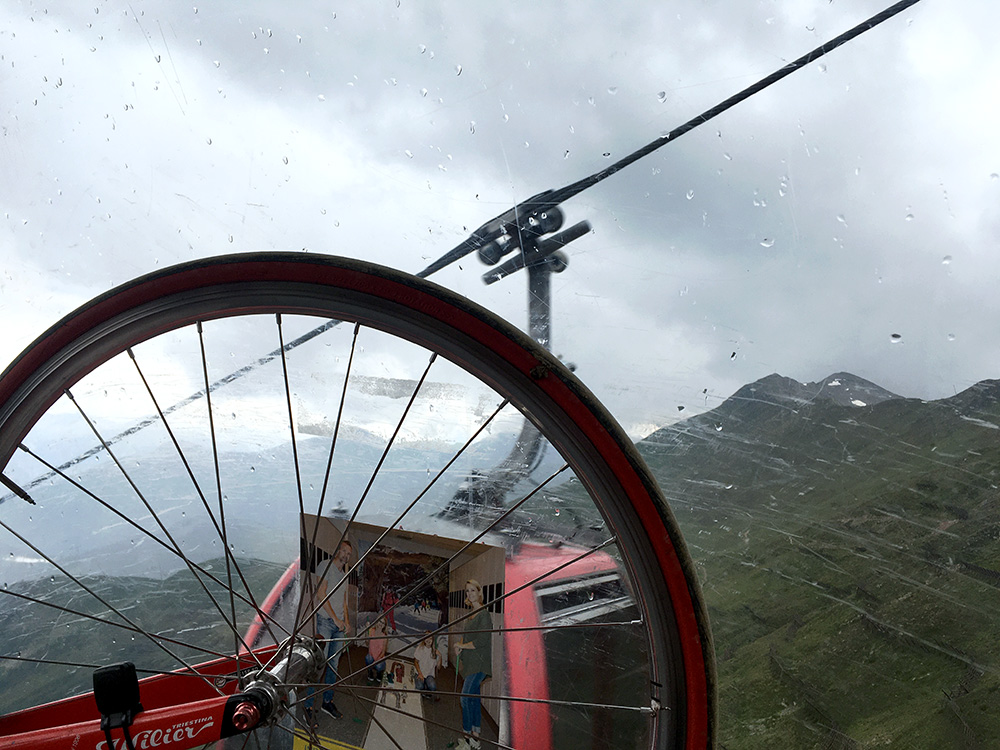 The weather looking fairly bleak now.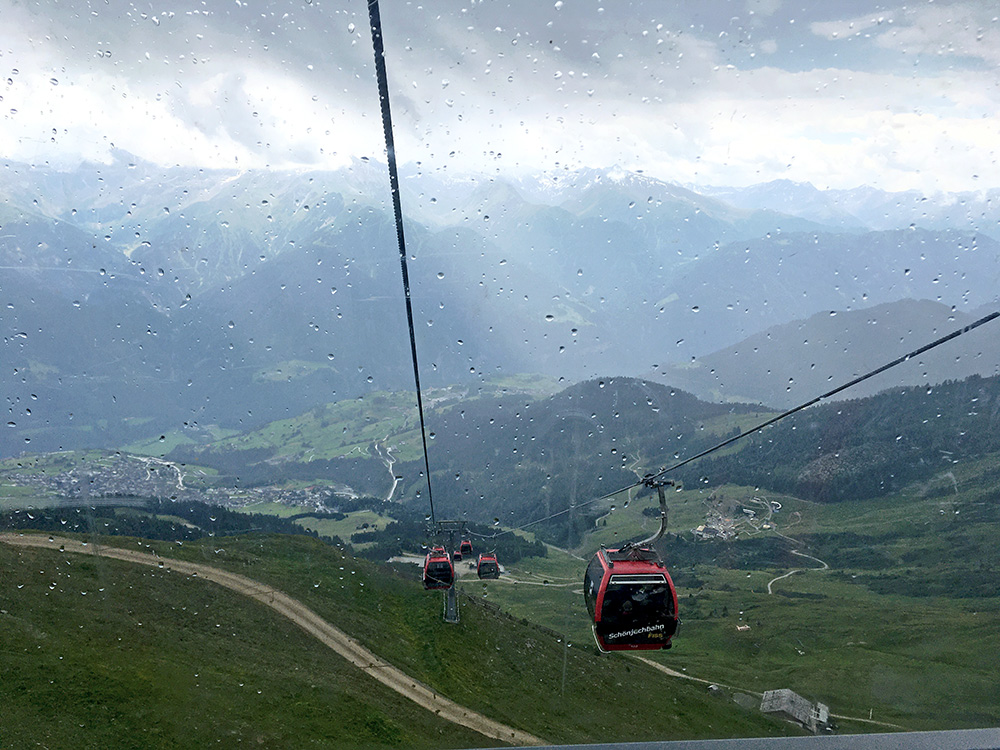 Increasing rain here, but was just hoping the rain would stop as I came down.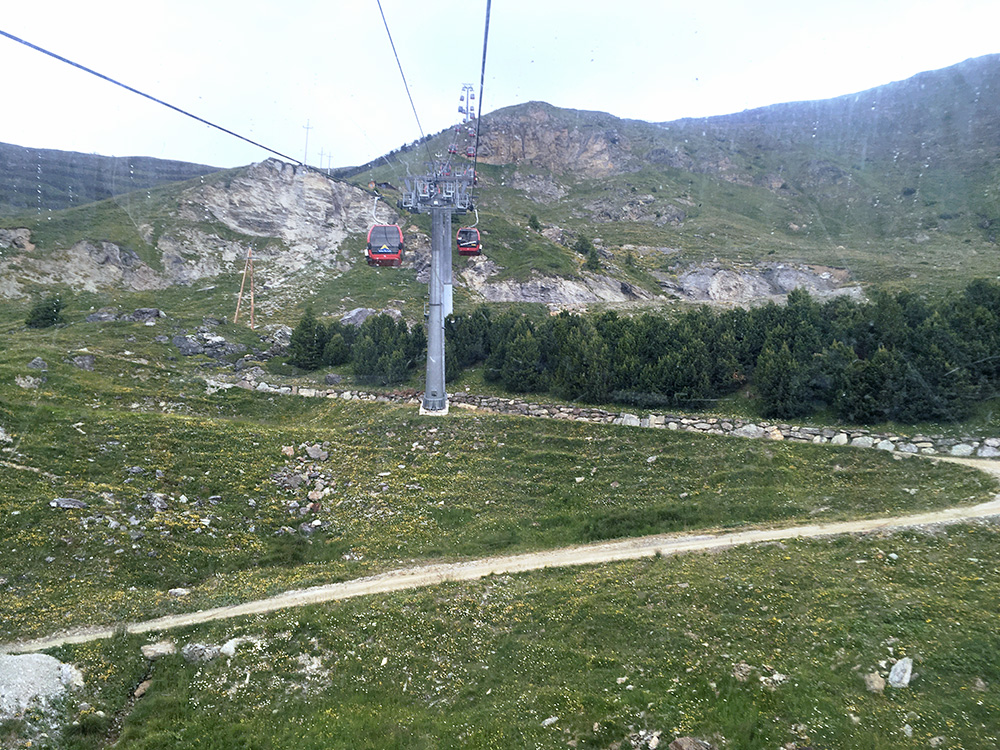 Looking on the road I climbed earlier.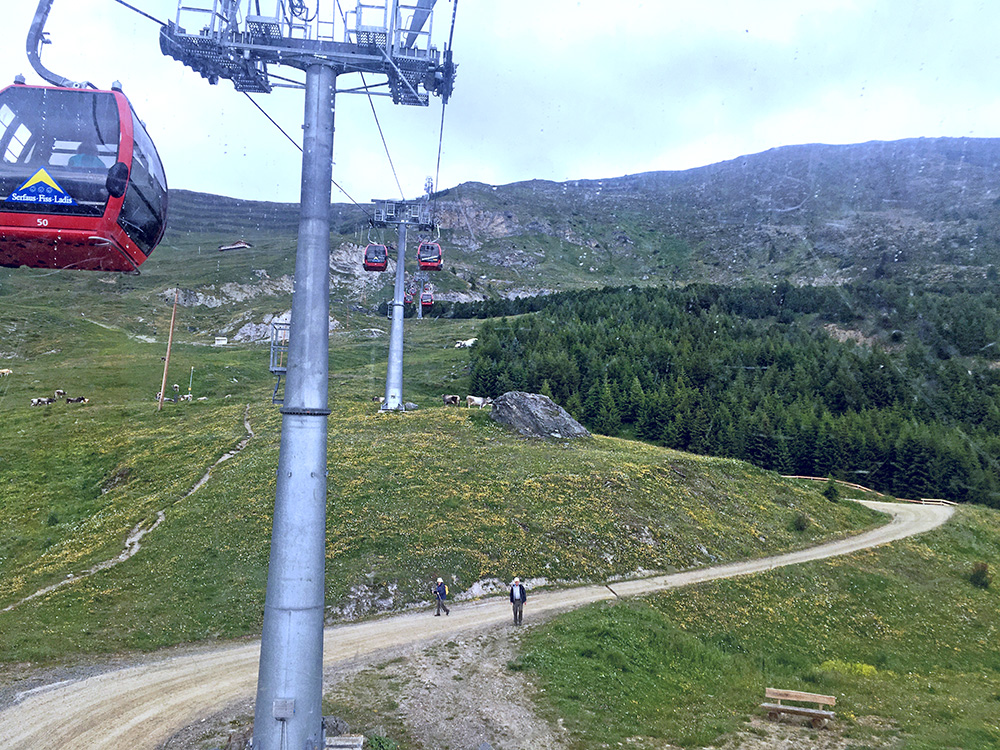 Still many people out walking around. The kids were having most fun I guess as the place seemed to be family-oriented and waved at a kid coming down a roller coaster (or what it is called) on the way up to Möseralm funpark.
Down in Fiss it still rained some and I tried to find a pastry shop or café, but found only restaurants and there were only tourists around as far as I could tell, so continued down and went slowly again as it was unfortunately now wet on the road and I hate to get more wet than needed when cycling the whole day (loose a lot of time on that and maybe I should stop this, but at least I do not end up as dirty – just hard for the hands and rims with all the braking).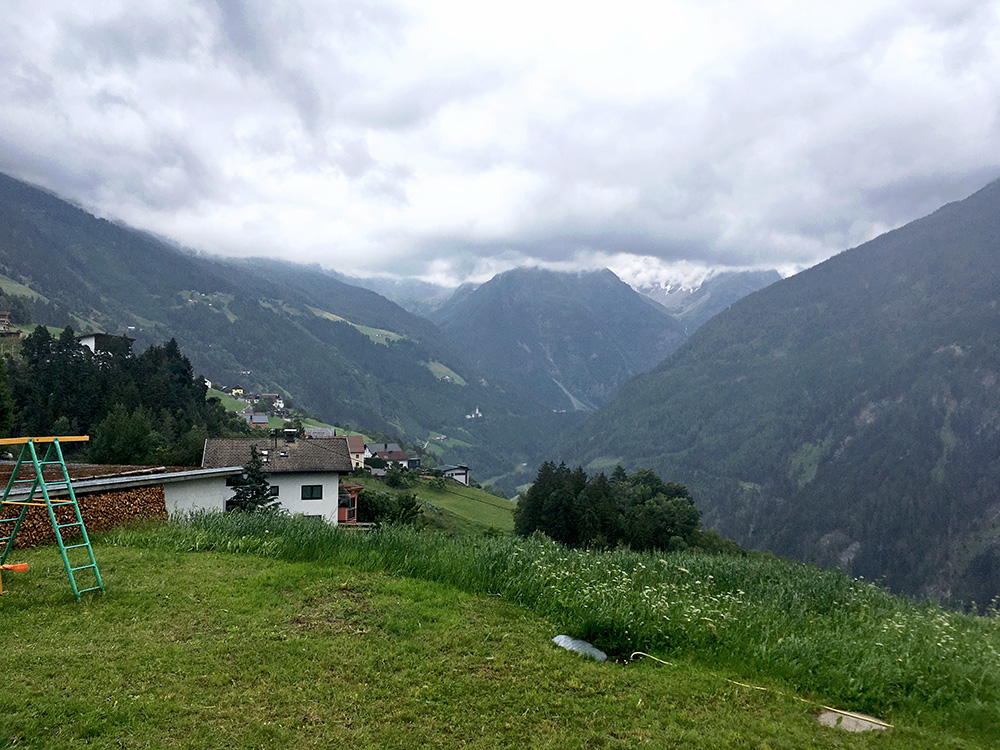 I stopped for a quick coffee down in Ried and then it was dry and hoped it would stay that way, but only got through Prutz when it started to rain again and I turned around for another coffee in Prutz and helped solving a computer problem for a musician I helped setting up at complex solution he had managed to destroy. Left forgetting to pay for me, but later sent them money as I only realised when I was on the way up to Pillerhöhe/Gacher Blick (1574m). Maybe two hours after coming down from Fiss I was on my way, but soon had to stop again for rain at the location in the photo here, looking up the Kaunertal valley that features the very high Kaunertaler Gletscherstraße (2750m) that I climbed back in 2008.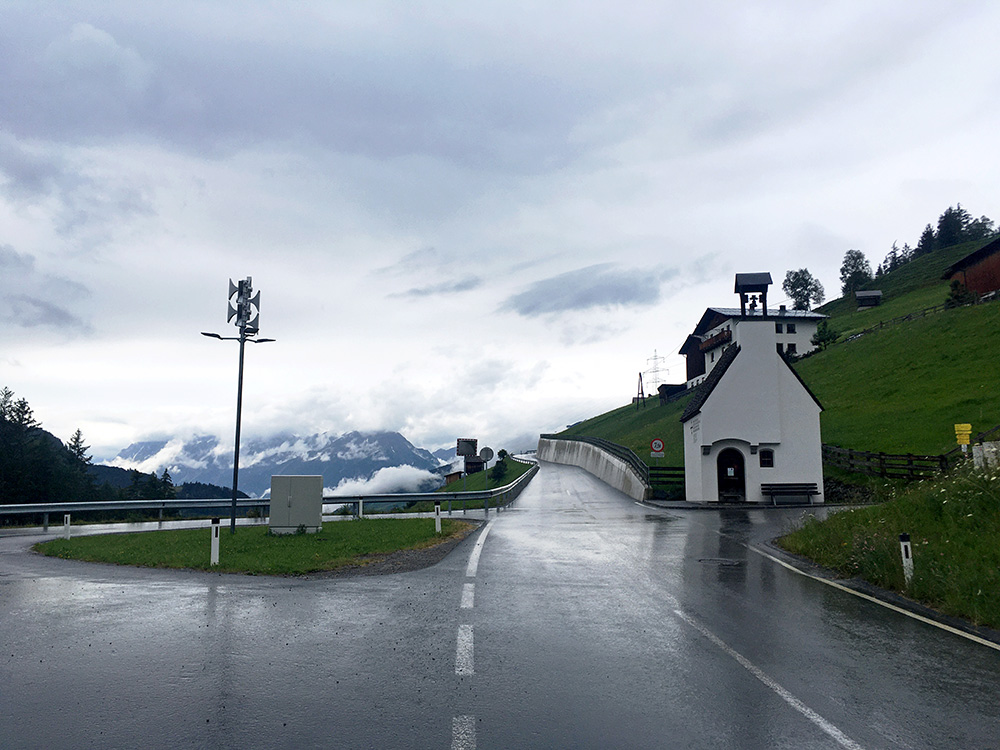 I continued even if it did not stop totally to rain until I reached the high point at Gacher Blick. Here two mountain bikers had came up at the same time as me from the east side that I was going down. I saw one road cyclist coming down from Fiss when I went up, but otherwise I saw no more cyclists this day. I have climbed this fairly steep, but nice side before. The photo here is from a nice place before the top.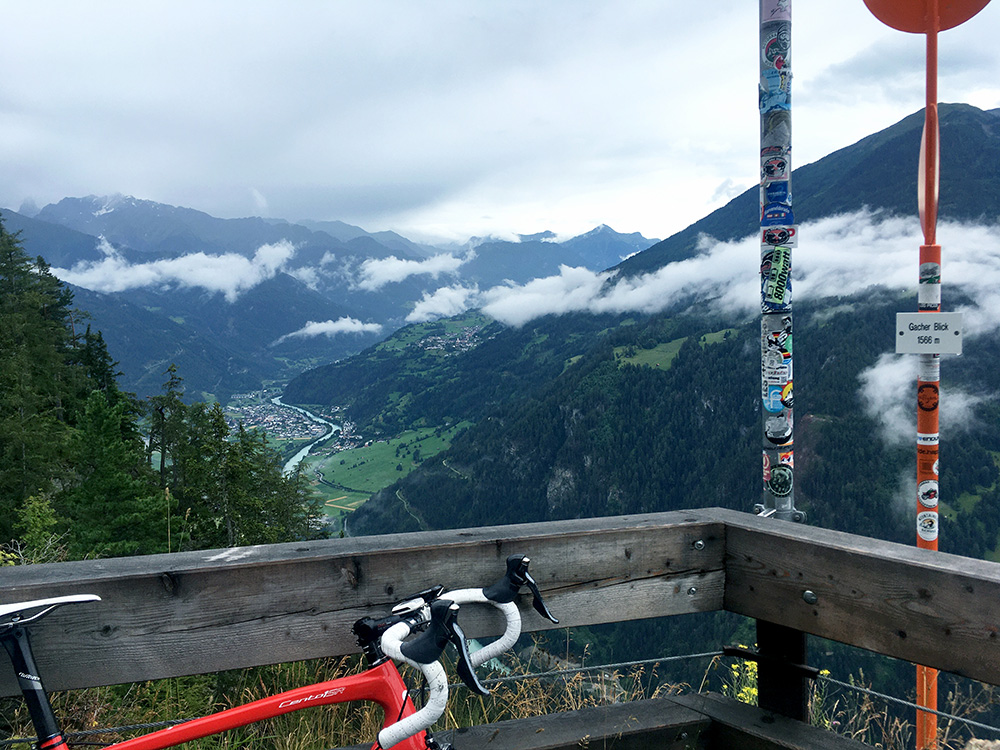 Gacher Blick looking up the Oberinntal. I asked the mountain bikers if the weather down the other side was maybe better – and those were the words for the day – "man kan das nicht sagen"! (I like the dry irony there.)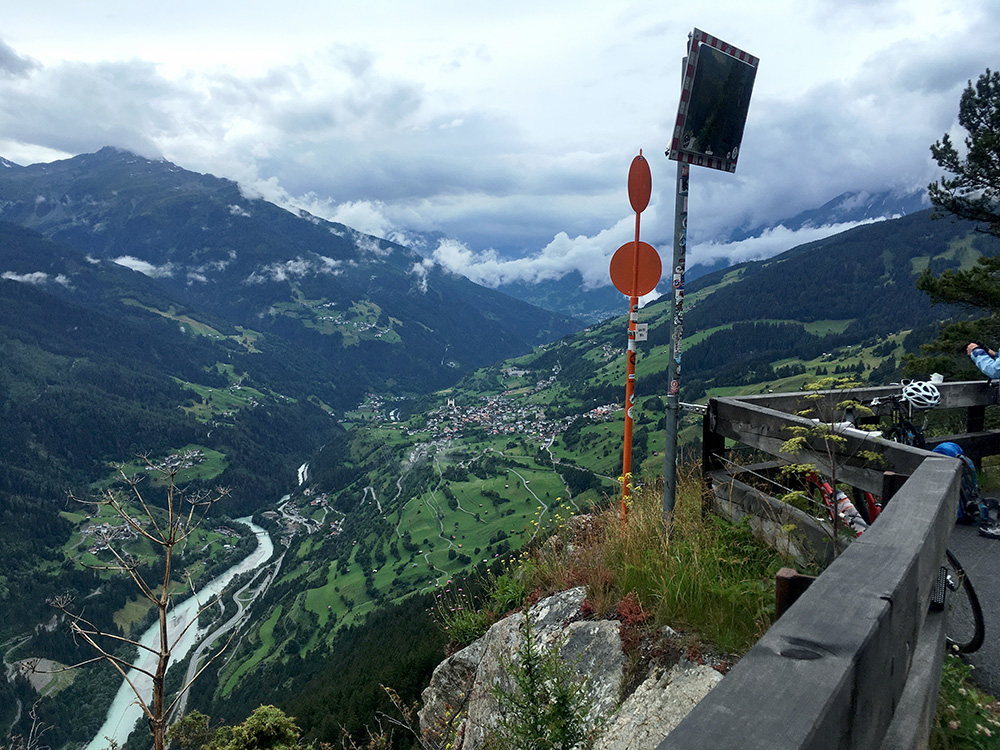 Here I am looking down toward Landeck and now it was time to leave the area and I was hoping the weather was better to the east (as I have heard), but I was not going that fast east.
I again went somewhat slow down over Pillerhöhe (1559m) to Wenns and Arzl in Pitztal (still never climbed up the Pitztal … ). From Arzl I took (again) the "shortcut" road via Wald to Ötztal. On a steep twisty descent I was extremely close to fall and slided 1.5m across the road without any grip, but just as I thought I would fall and injure myself, I miraculously got a grip again and could keep myself on the bike. I believe the trees here let down some debris that made the road like filled with invisible soap. I got really worried and wondered if I dared cycle down wet roads again ever and I was very careful in places after that were there were any trees nearby the road. This was one of two extremely close to fatal accidents on this tour, but luckily I escaped both.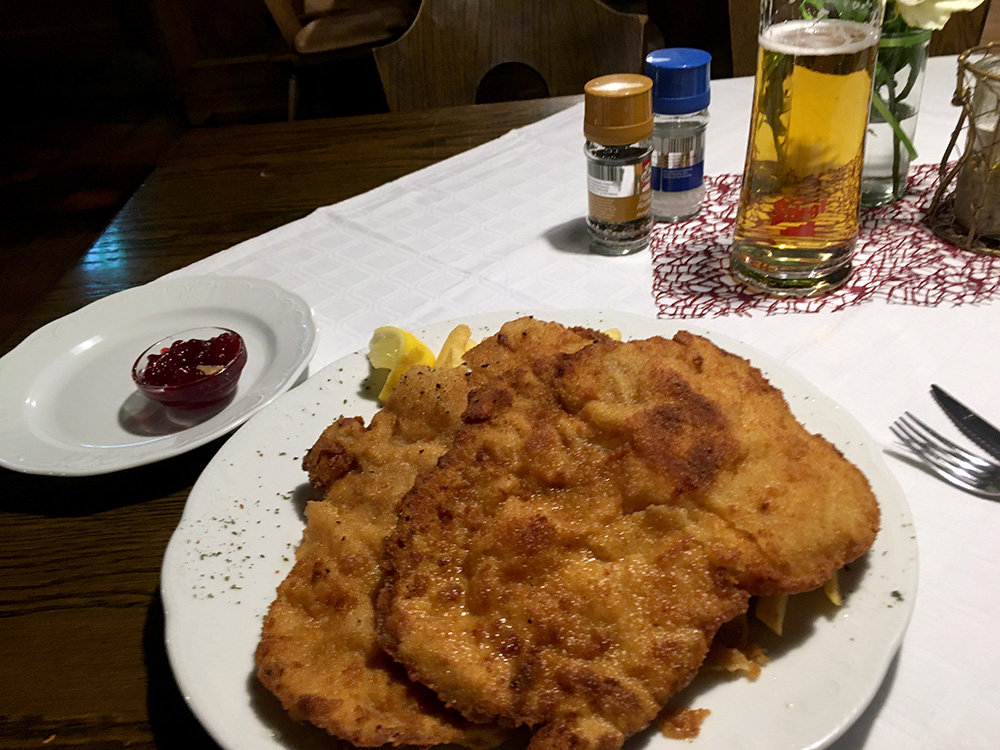 Everything was taking forever this day and it simply was not weather for cycling. I got to Silz and that was actually the place I had planned to stop at and had now already lost the headstart I had gained on the first day. Also I was supposed to climb a local road here before the night, but decided to skip it as it is not the most interesting road either way (but steep and high).
I stopped at the place I had looked up and it was ok, but maybe not as good as the comments on the web suggested, but good. I had a wienerschnitzel and beer in the restaurant nearby. Not many tourists around here.