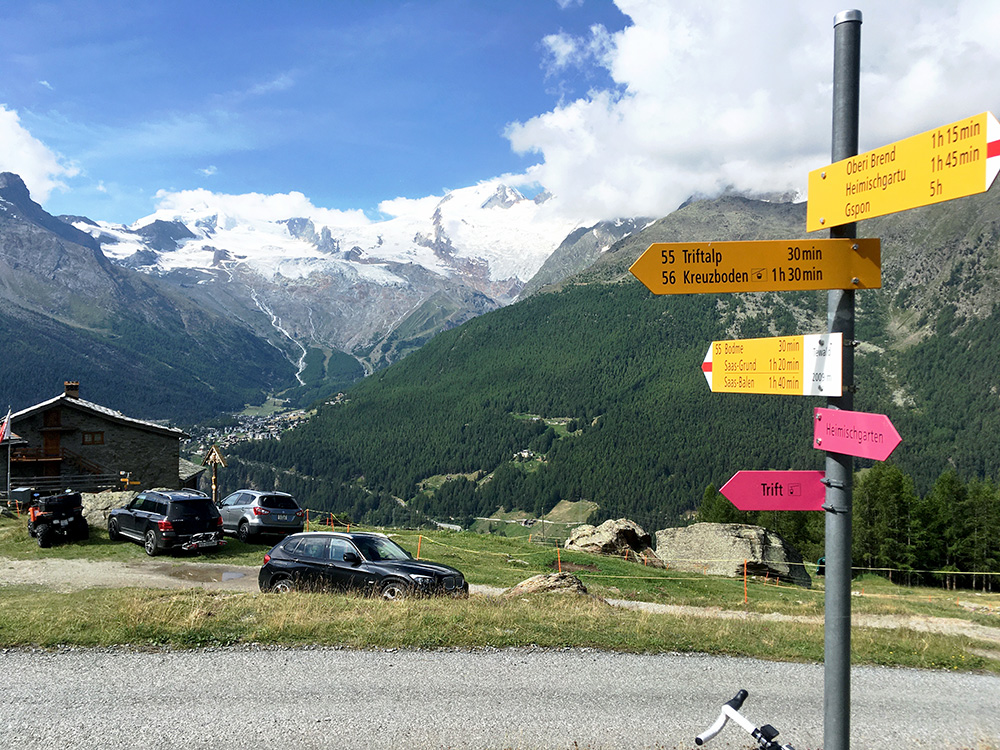 Beautiful weather in the morning (but not such a nice ending of the day). A bit later in the morning, but off at 09:45 and directly starting the first climb from the hotel. I took the planned short-cut up through Saas-Grund (1554m) and that was the steepest section on this day. The steepness is never accurate on Strava and RidewGPS for short stretches (it shows like it was only 16-17%, but was clearly around 25%, but very short and I just made it up the few metres to the main road to Tewald. Here I reached Tewald (2015m) on an otherwise rather easy climb (7.9% for 7.7 km to the last traces of asphalt above Triftalp). (No one had mentioned (on the Internet) the road to Tewald being asphalted above 2000m until I noticed it some years ago.)
The road continues from Tewald to Triftalp (2174m) and although the road have been all asphalted to the next switchback there is only traces left at first, but on the last half (after the track down to Triftalp) it is more asphalt than gravel so fairly easy going and much, much better views awaits up there, even if the views were already good at Tewald.
Passing under the cable car going up to Kreuzboden. Never noticed the sign for Trift (2050m) when taking the photo.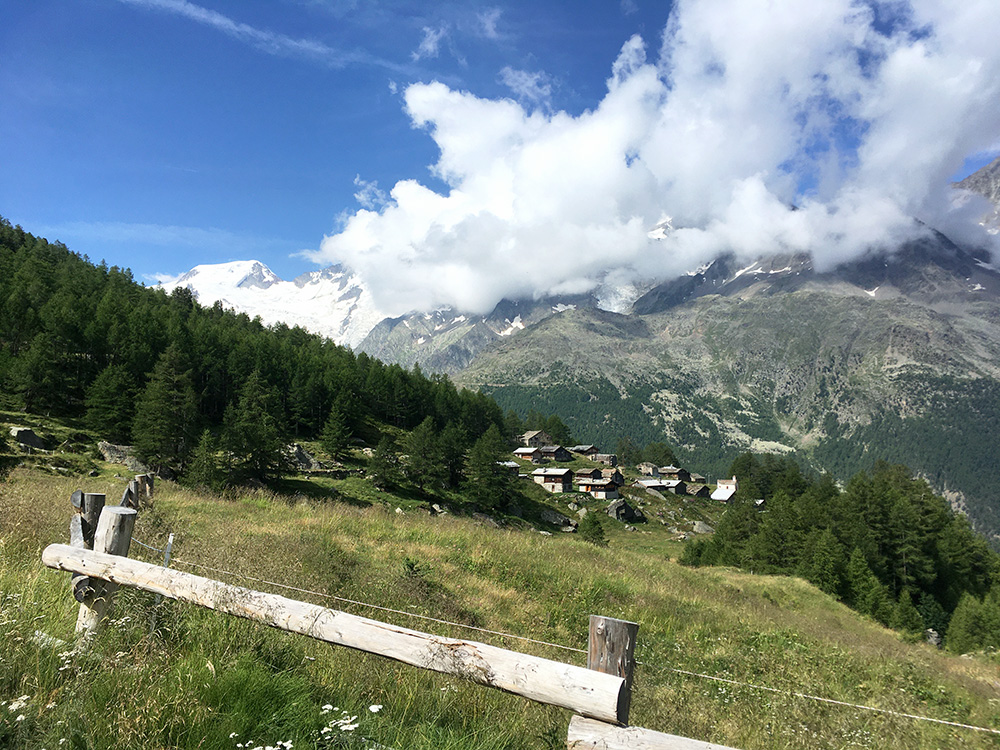 Here you see Triftalp and now the road is better and steeper again.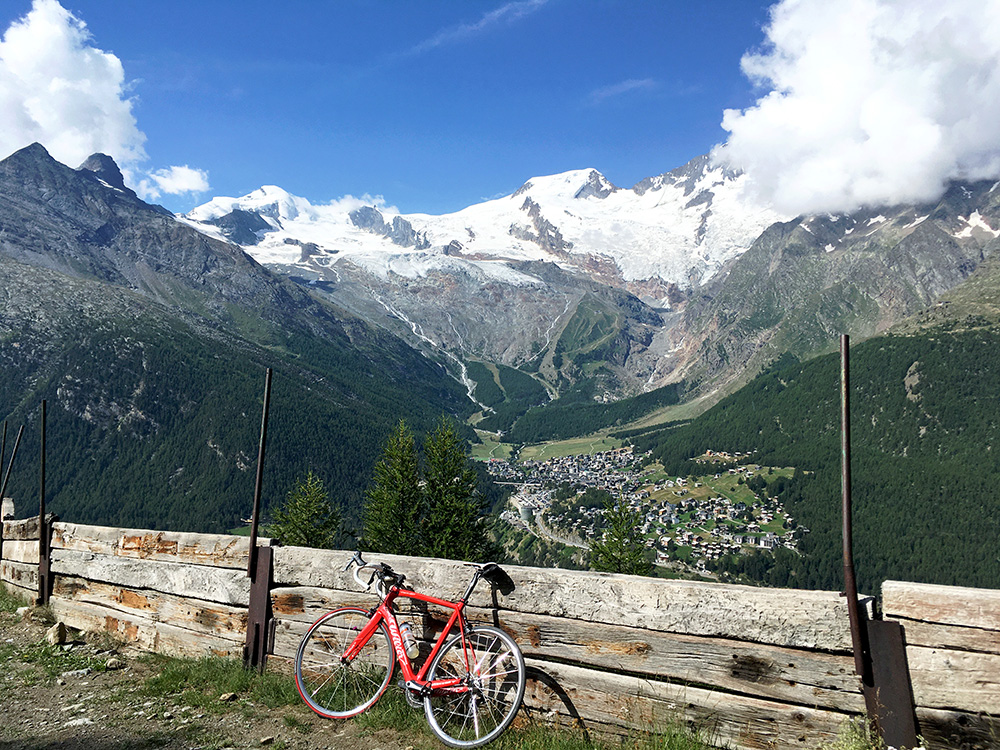 Just a few metres in on the bad track that takes off at the mentioned switchback where the good road ends, you have this great view over Saas-Fee and the 4000m mountains tops behind. I think this is the greatest concentration of +4000m tops in the Alps except around Monte Rosa and Mont Blanc (but I am no expert on this), but it is a bit of an extension to the Monte Rosa range. The highest peak seems to be the Dom (4546m) in the Mischabel range (Dufourspitze is only 88m higher – the highest mountain in Switzerland). Some clouds unfortunately lingering on the right hand side, but still pretty happy about the view. Stopped to take a few photos on the way up as I was worried the clouds would engulf all the high peaks, but luckily they did not today.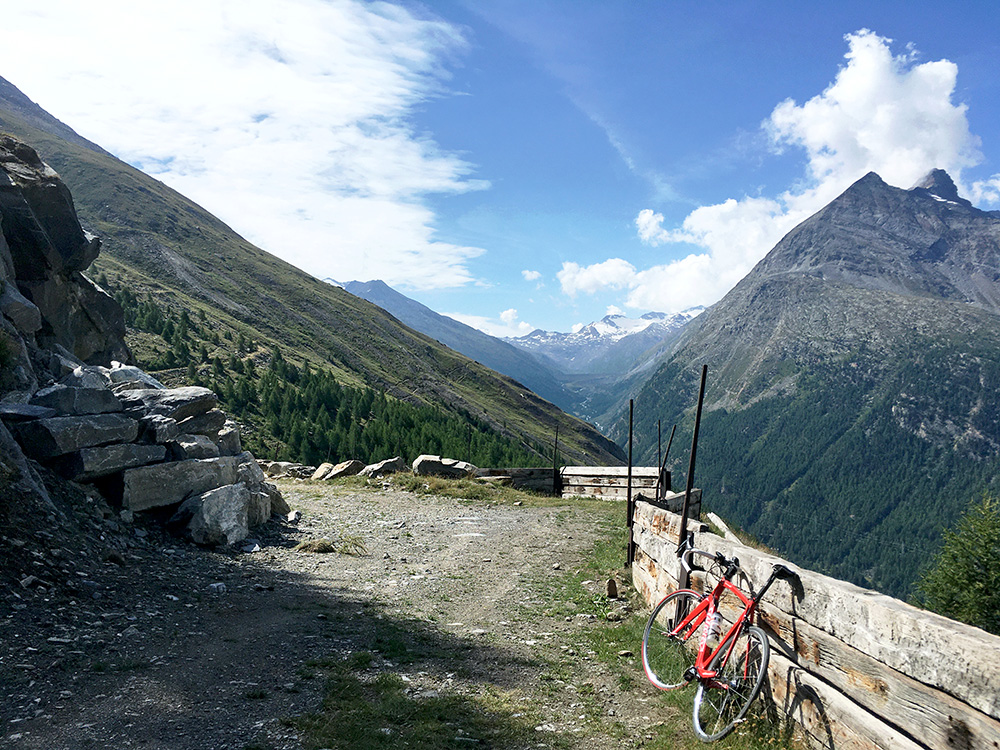 Here you have also a great view up to the end of the Saastal and the Stausee Mattmark (2205m), where I have been earlier.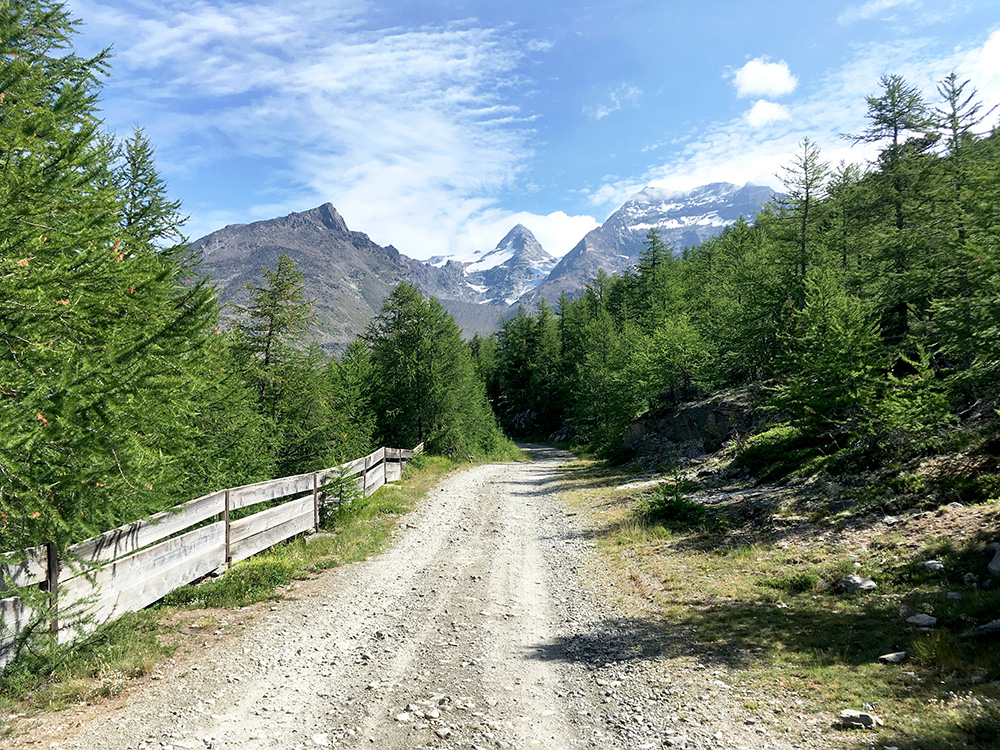 I could not resist checking out the road ahead up to Kreuzboden, but had to walk up the first steep and very stony first ramp. However, even after the ramp there was a bit too much loose stones to make it meaningful to try and use a road bike on, so after a turn and still not seeing up to Kreuzboden I turned around, but decent views from this point (2197m) too.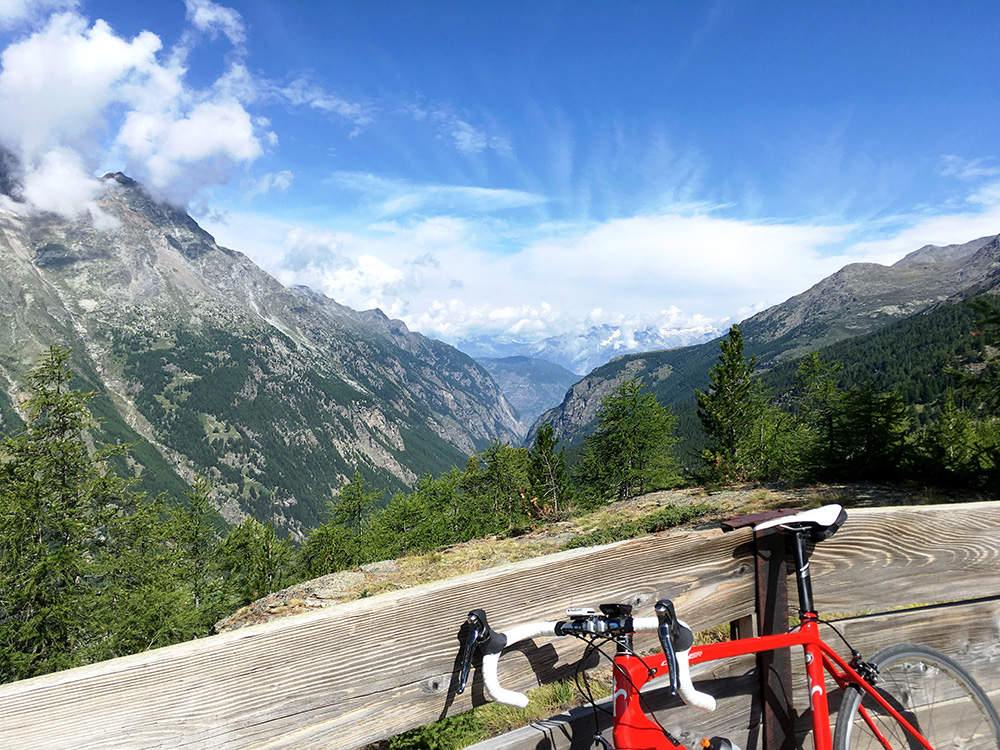 I could also get a bit more far-reaching views down the Saastal and across the Wallis/Valais.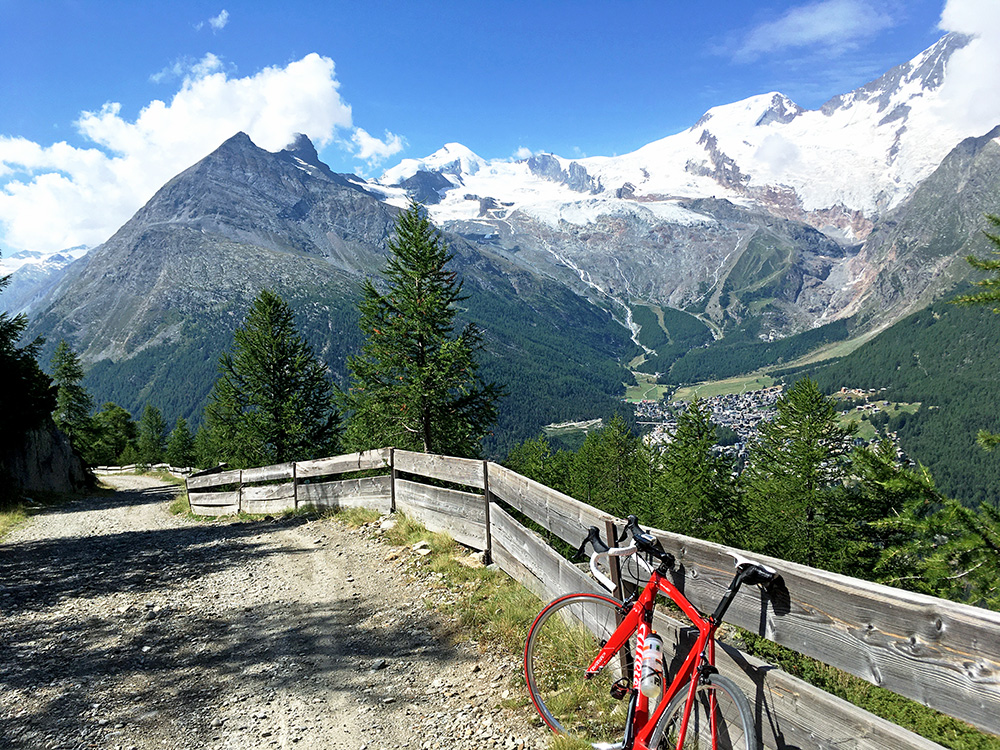 Here the steepish ramp I mentioned and even if outstanding views, you have as good down this ramp as you see above.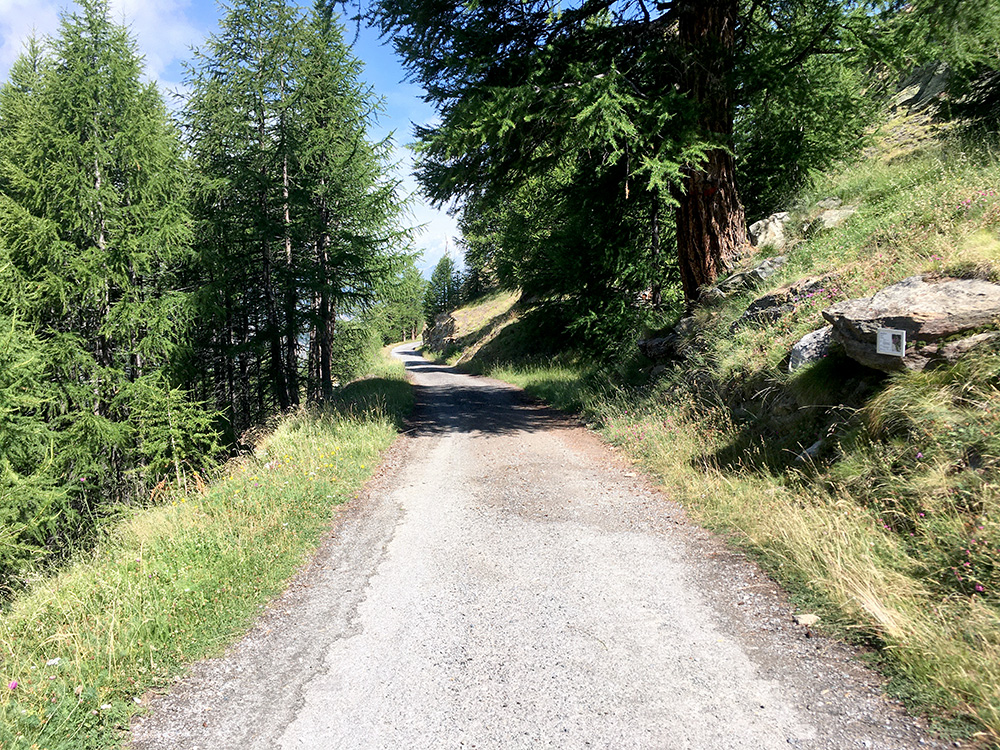 Just for documentation you here see a good stretch at the end of the climb.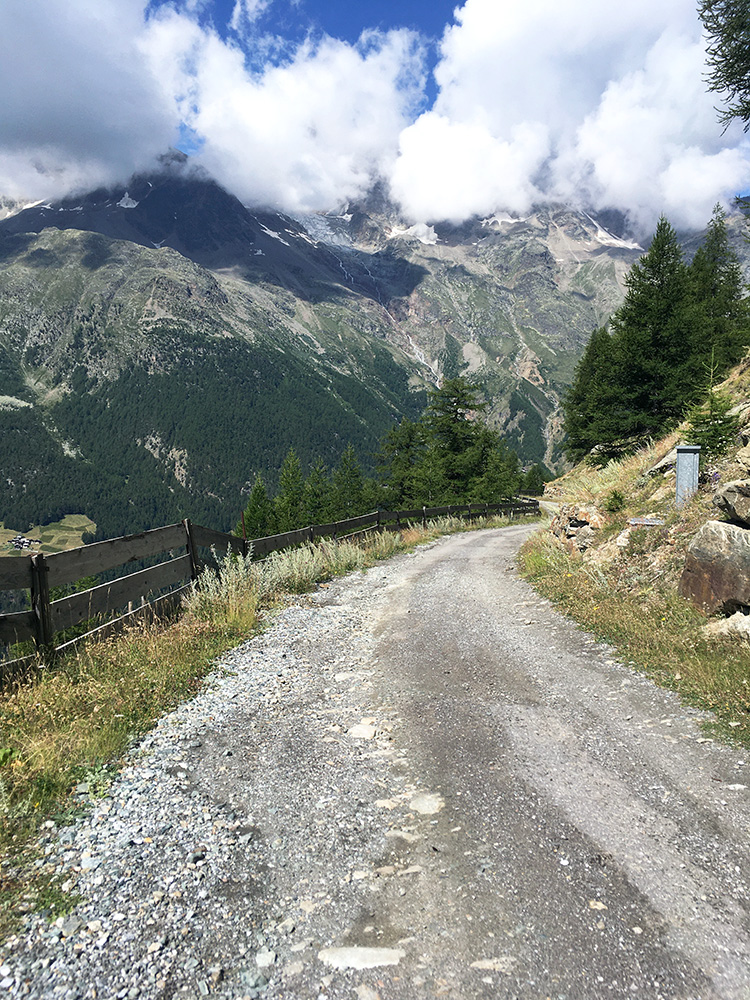 Here you see the first section from Tewald and looking carefully would reveal traces of asphalt here too (anyway the road is possible with a road bike). Then down the serpentines to Sass-Grund and then straight on down to Saas-Balen (1487m). One should really climb up these climbs down from Visp, but touring does not always make for doing things just the right way.
I filled up the water bottle and was expecting a very steep climb as I had read already a long time ago that the climb from here should be quite steep. Actually there are two asphalted climbs from Saas-Balen, the other less known going to Unnru/Unneri Brend (1957m), which I will have to explore another time – a bit boring with too many climbs next to each other at the same time (even though I did not stick to that idea later on).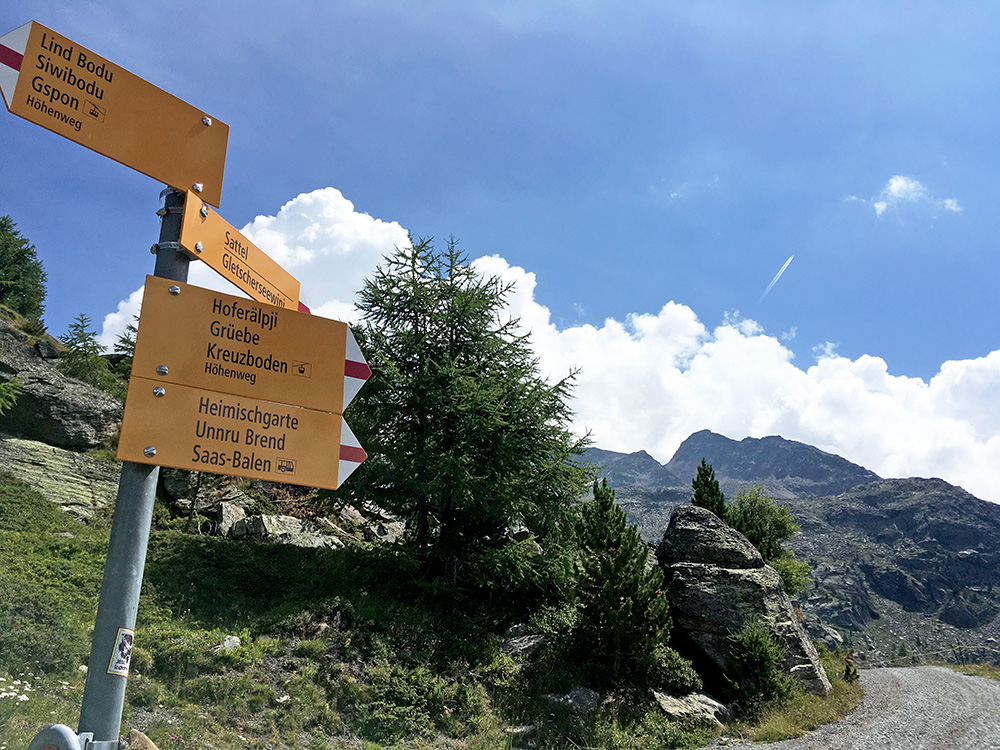 The climb here was to Heimischgarte (2076m) and it is the highest well-paved climb in the Saastal except the road to Mattmark (and if you want to count the full Triftalp climb too). +2000m climbs are always a rarity worth exploring. This climb was made famous already by Denzel in his Grosser Alpenstrassenführer – earlier there were not so many books on the more difficult roads in the Alps and thus even some bicyclists explorers found this book of much interest even if it is written for motorcyclists. The road ends definitely at Grüebusee (2853m) as a rough track just below the Grüebugletscher that used to reach this see, but it has now retreated a bit as so many other glaciers in the Alps. I had long thought about doing this climb.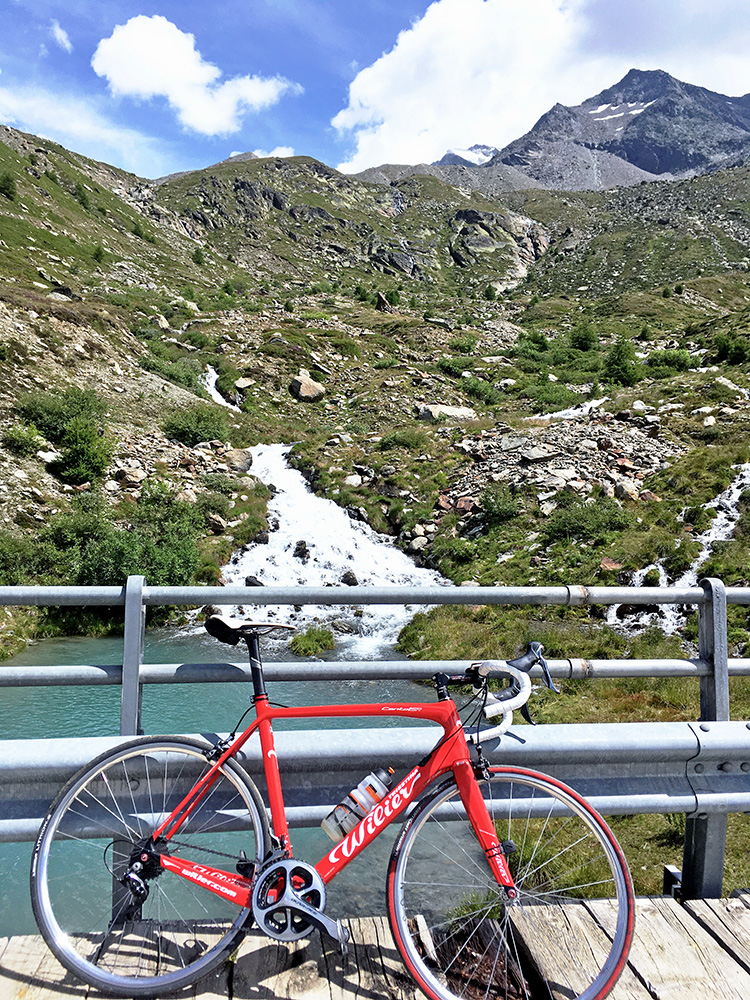 The paved road passes by a nice waterfall early on (took a photo on the way down, but had a finger partly destroying that photo and waterfalls never looks impressive as in reality on photos anyway so left it out. It is then fairly steep, but not as steep as I had feared. I kept wondering when the road would get steep and was sure there would be something steeper ahead and sure enough came a ramp at ca. 18% (max maybe 19%), but it was not so long and apart from it there was not much problems going up here. I then came to the place where I had expected to stop and turn around – where the asphalt ends at the turn-off for Heimischgarte (2076m), but the gravel road ahead looked somewhat okay, so decided to check out how it looked further on.
The gravel got worse and I was close to stop and turn around, but thought I go to the next bend and then I found it was paved and continued and then the next bend was also paved and then the road got better and also paved for a long stretch up toward Hoferälpji (2263m) and the first stop for a photo of the sign above there. I then stood looking on the road that continued up and some mountain bikers came down and the road up had been newly gravelled, which is normally no good, but it looked nice so I decided to give it a try and see how far it was good (I had thought the last stop would have to be at this sign when I planned this tour). It turned out the road was fine with a road bike to the bridge over to Grüebe (Clubhütte Grubenalp is the highest building up here a bit after the bridge). Photo from the bridge (2331m just before it).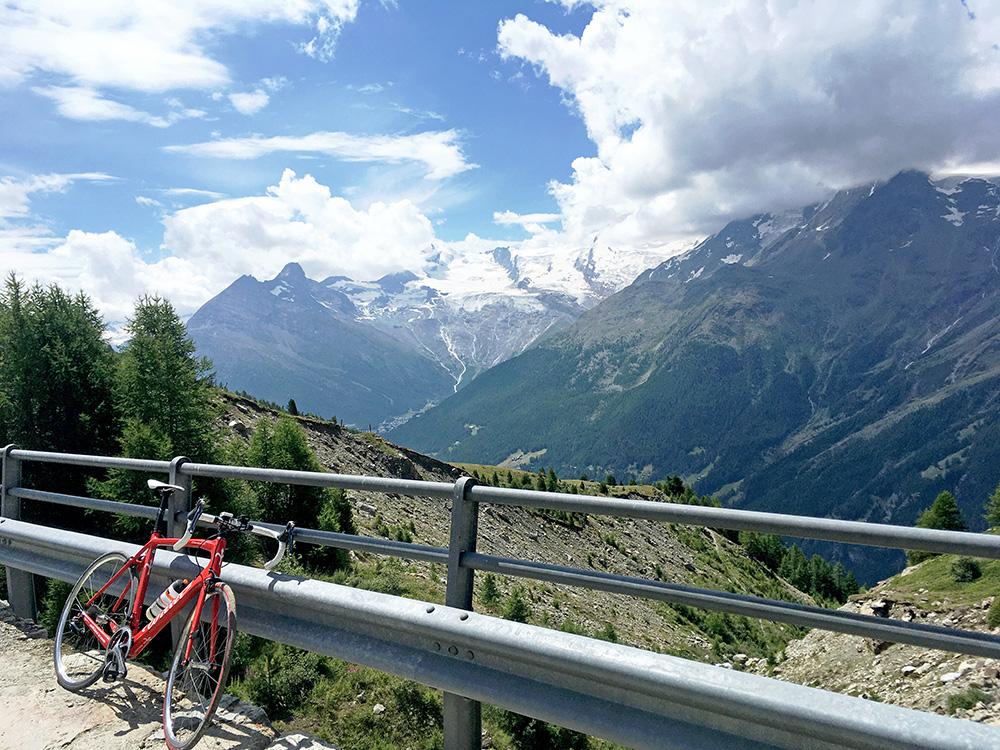 I was really happy this time that I tried to check out the road after the asphalt ended, which normally has bad results for me, but one always hopes for the occasions when it turns out to be meaningful to go on and here it was (no views at all from the first end of the asphalt). 10.0% on average for 8.7 km with some gravel and concrete makes for a fair climb even if only climbing up from Saas-Balen. (22 out of 69 on Strava even when not going fast is ok, but maybe mostly mountain bikers.)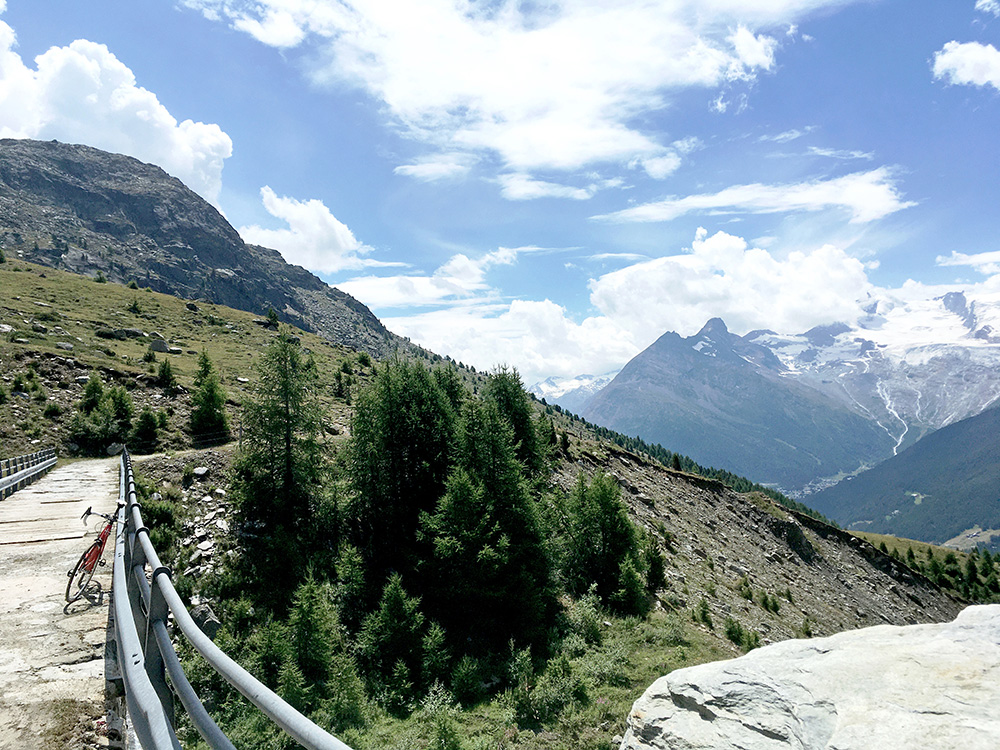 Not really meaningful to continue here as the road stops soon after and only goes down.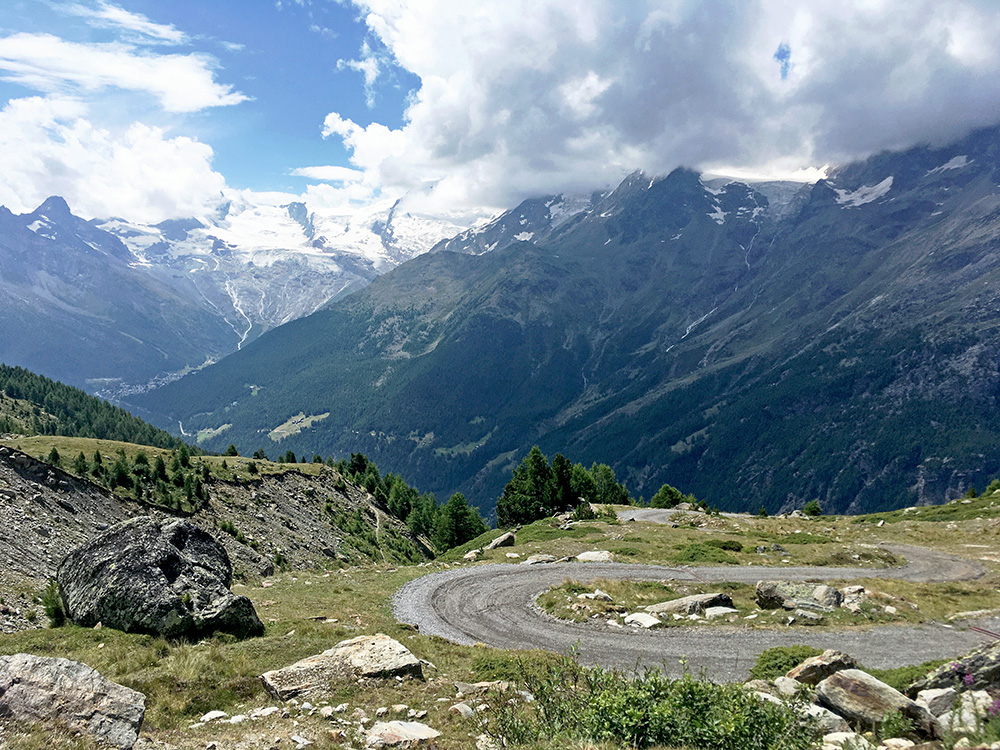 The nice last serpentines up here.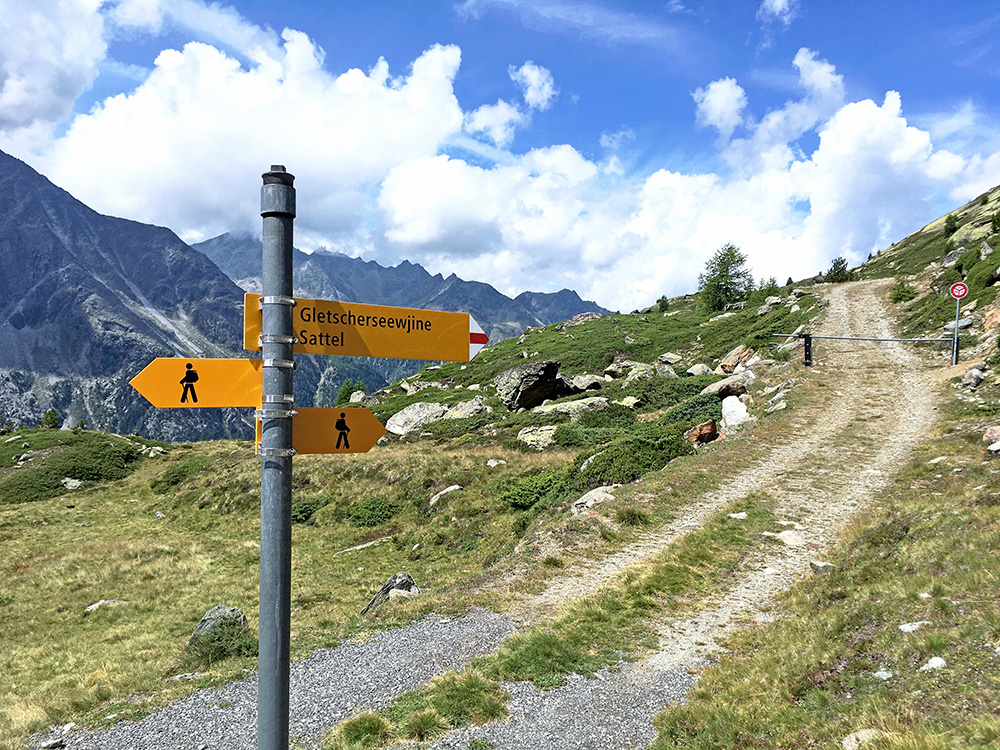 If only the continuing road to Gletscherseewjine/Grüebusee had been possible with a road bike, but the road looked too bad up there.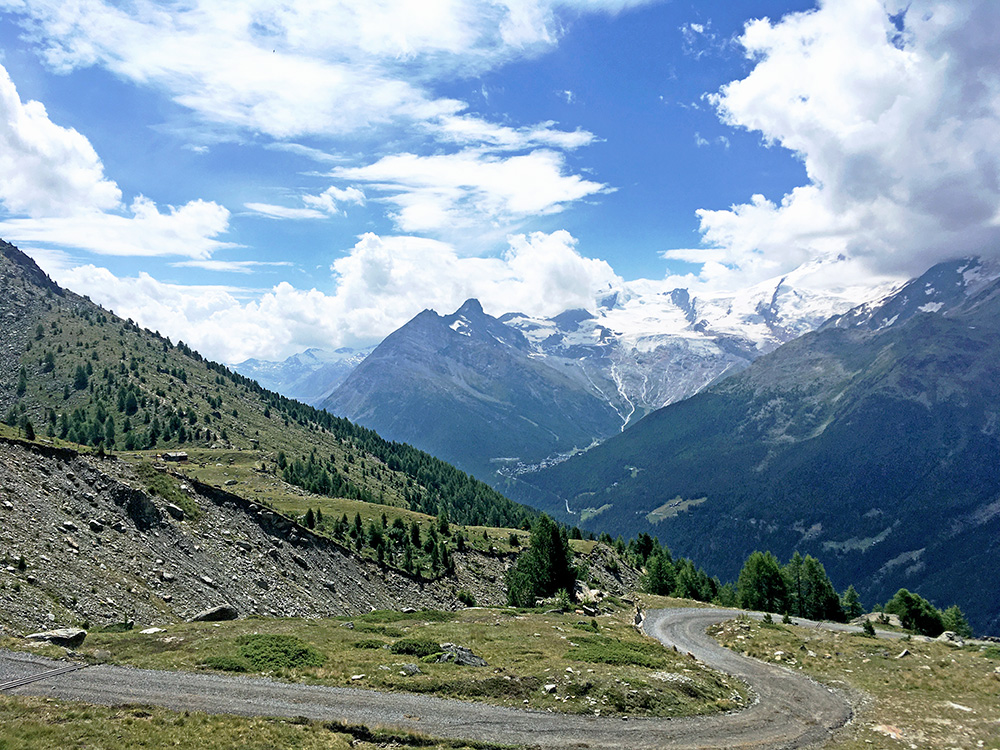 Another view toward Saas-Fee and here you also see the Clubhütte Grubenalp.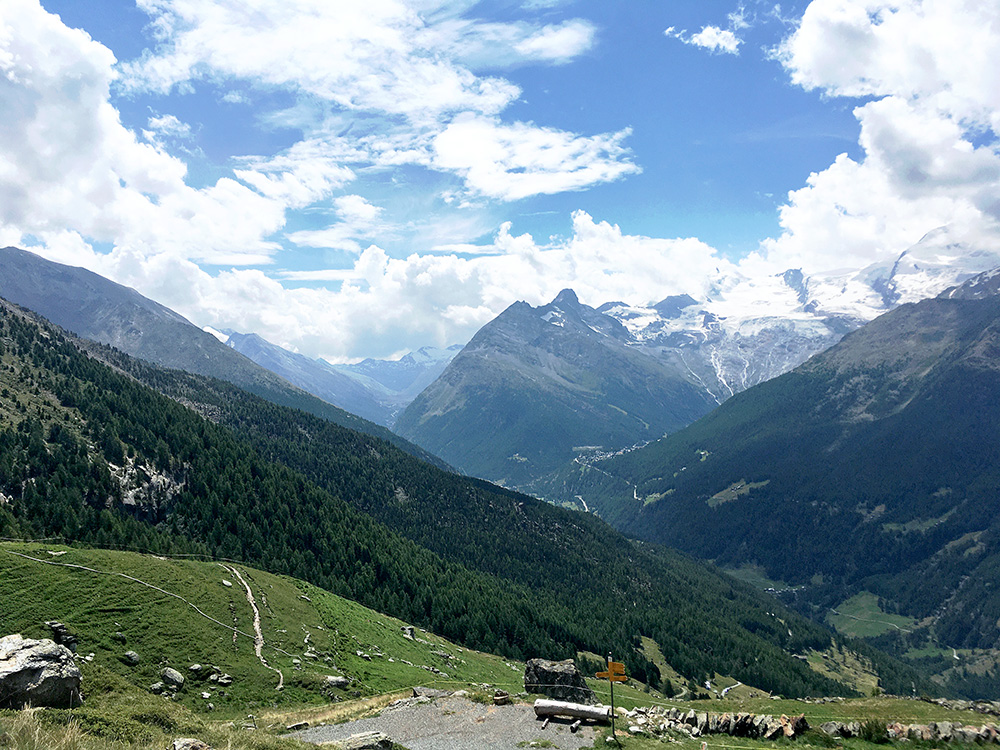 At Hoferälpji one could also see the Mattmark dam up the Saastal, but then time to go down. I really was not too keen on hurrying down with the lovely weather up here and knowing it would get very hot down around Stalden now.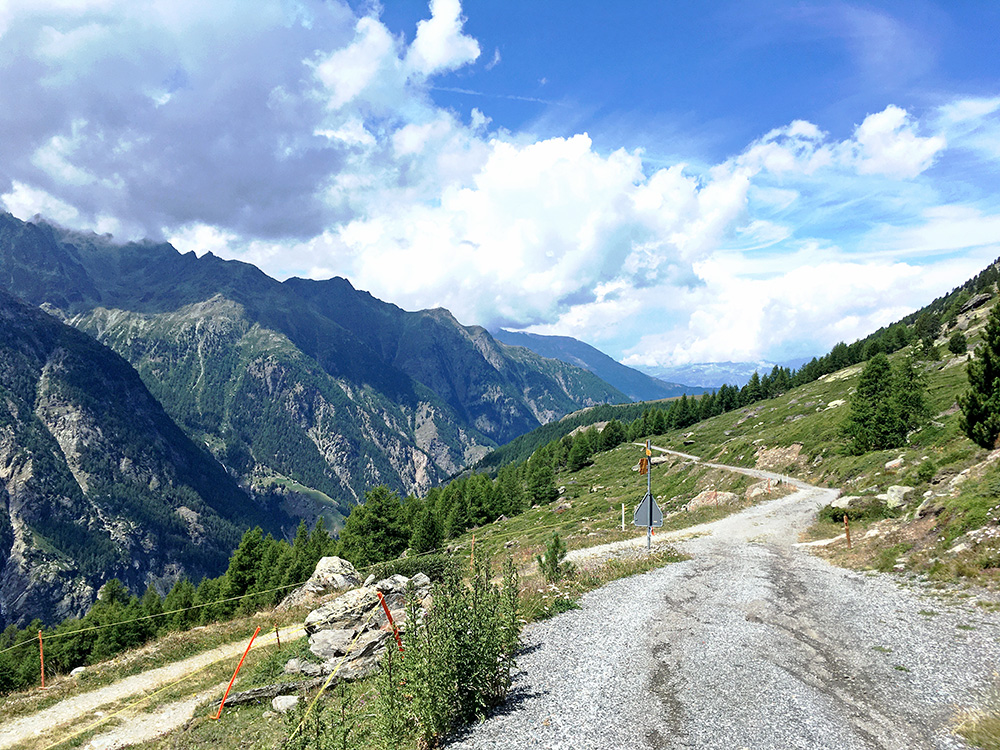 At the Hoferälpji turn-off again and looking down the road I came up.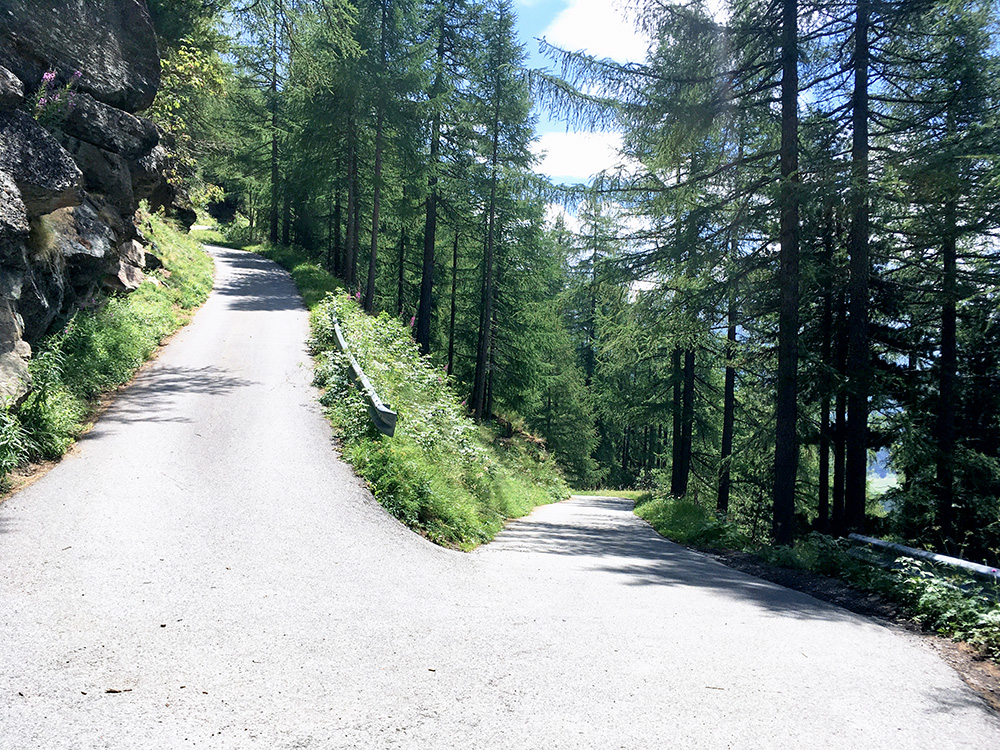 Here is the steep ramp.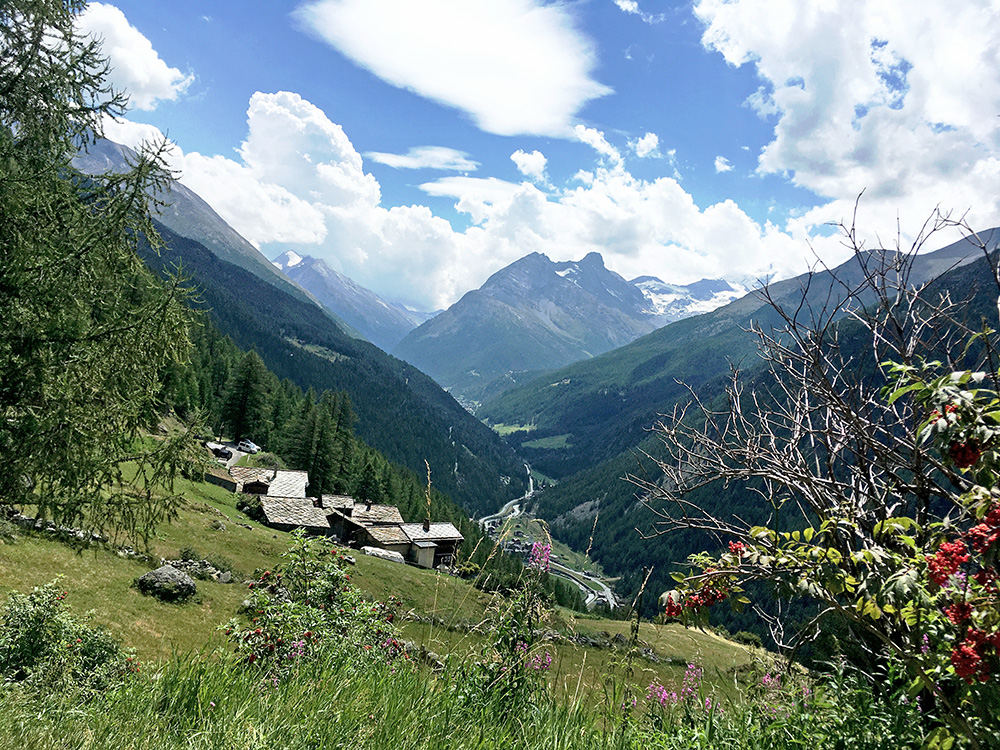 There were also some fairly good views on the early part of the climb.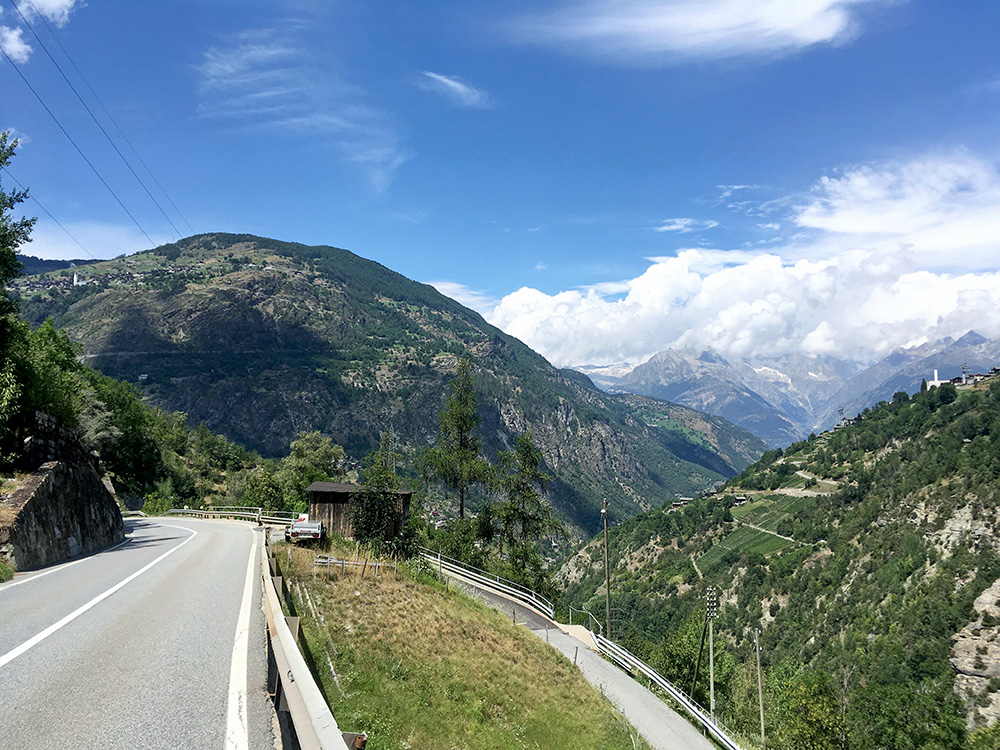 Here I am finally leaving Saastal and seeing Törbel up on the mountain ahead and the next place I was going to now. It was indeed now terribly hot down at the Stalden turn-off (867m) for Törbel and Moosalp. It was like 40°C in the sun at the start and I had to go slow just not to pass out. The steepness was the lesser problem. However, I had 14.6 km at 8.2% ahead of me up to Moosalp(pass)/Col de Moos (2049m).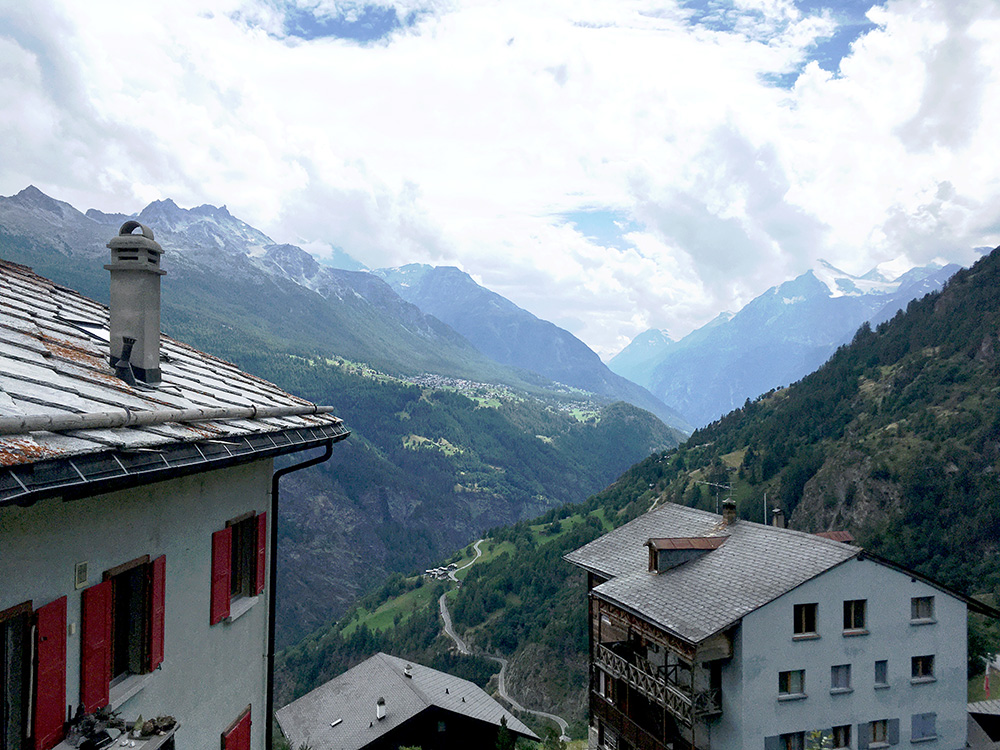 I took, as planned, the steeper of two way up to Törbel – the narrow road sign-posted for Embd. After the tunnel here (which I was happy for too cool me off a little) an even more narrow road goes up in serpentines to Törbel. A sign said it the road was only open to local traffic, but I guessed I could use it too and went up there and this is the steepest part up to Moosalp. Again I had to go slower than normal because it was both hot and now steeper also even if a few degrees less hot. 11.2% for 2.1 km and max ca. 18%. Stopped for this photo in Törbel looking up to Grächen and the Mattertal.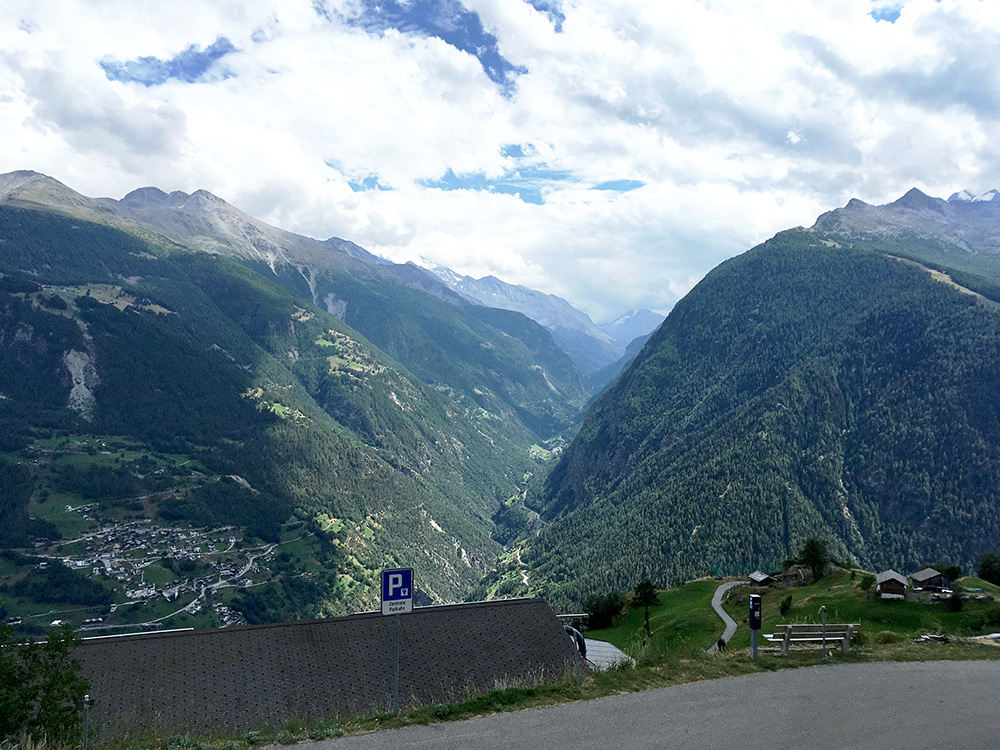 Higher up and a nice view up the Saastal that I had came down just a little earlier.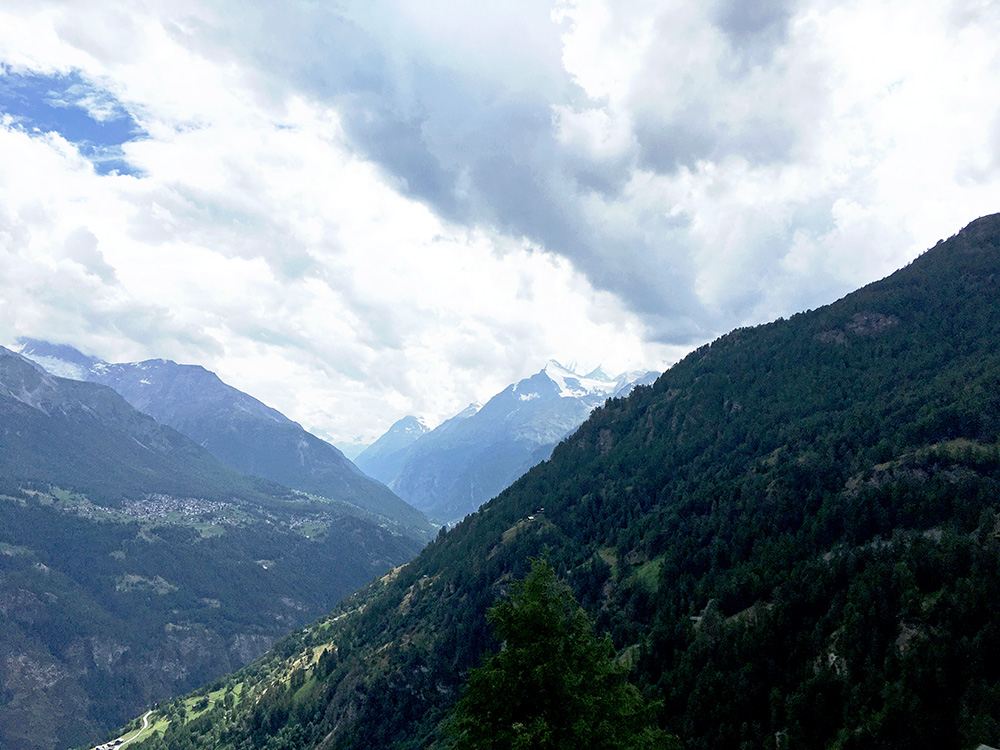 As I got higher up the weather started to become more cloudy and I felt a few raindrops, but only got a very light and short shower. Looking up Mattertal and over Grächen again.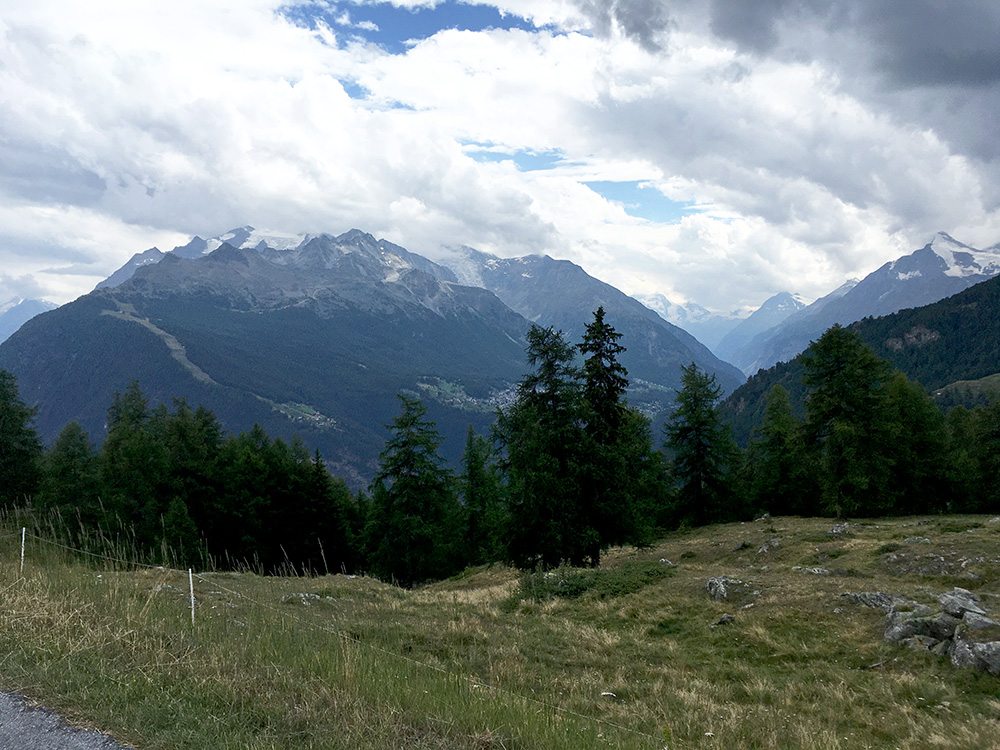 I wanted to take many photos on this climb as I never got any good photo here on my only previous visit in 2002, when I climbed up from the other side to Moosalp and got here when it started to get dark (with a broken rib). Last photo down the Törbel side, but less good views at the top than before.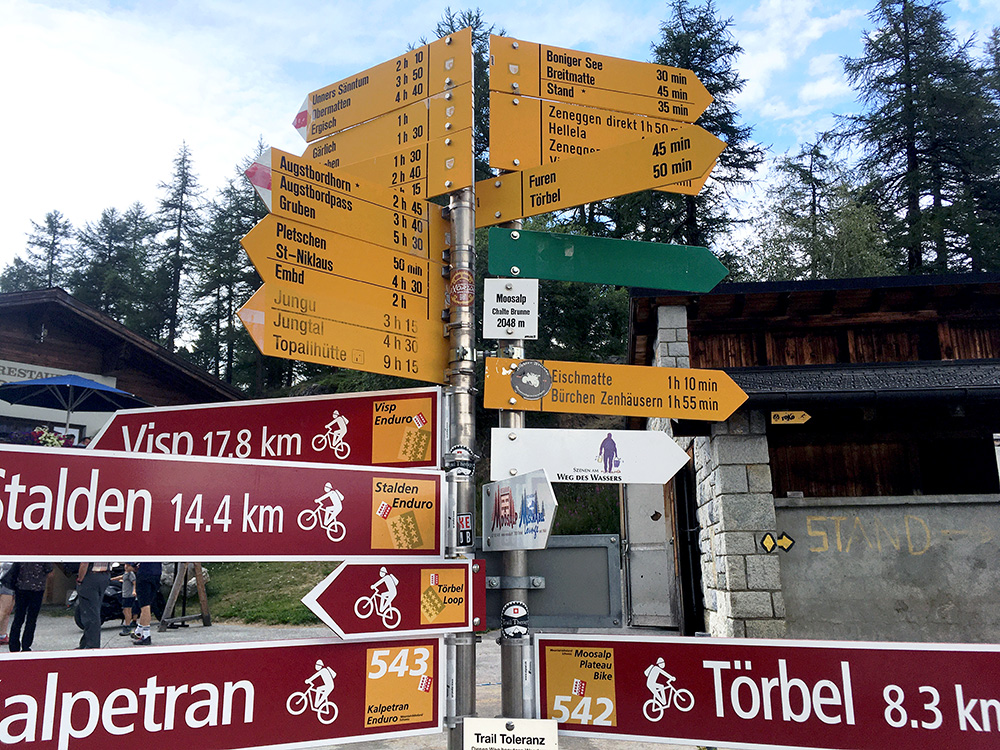 At Moosalp there are not much views at all, but two restaurants and today many tourists. The Moosalp was recognised on the Swiss maps as a pass, but cannot see it now. It was also mentioned at the first restaurant up here and there should be a wooden sign saying Moosalp Passhöhe. I believe it did not have any official pass name all along is because this road is fairly new (completed in 1978 as one could read on the old website for the restuarant Moosalp).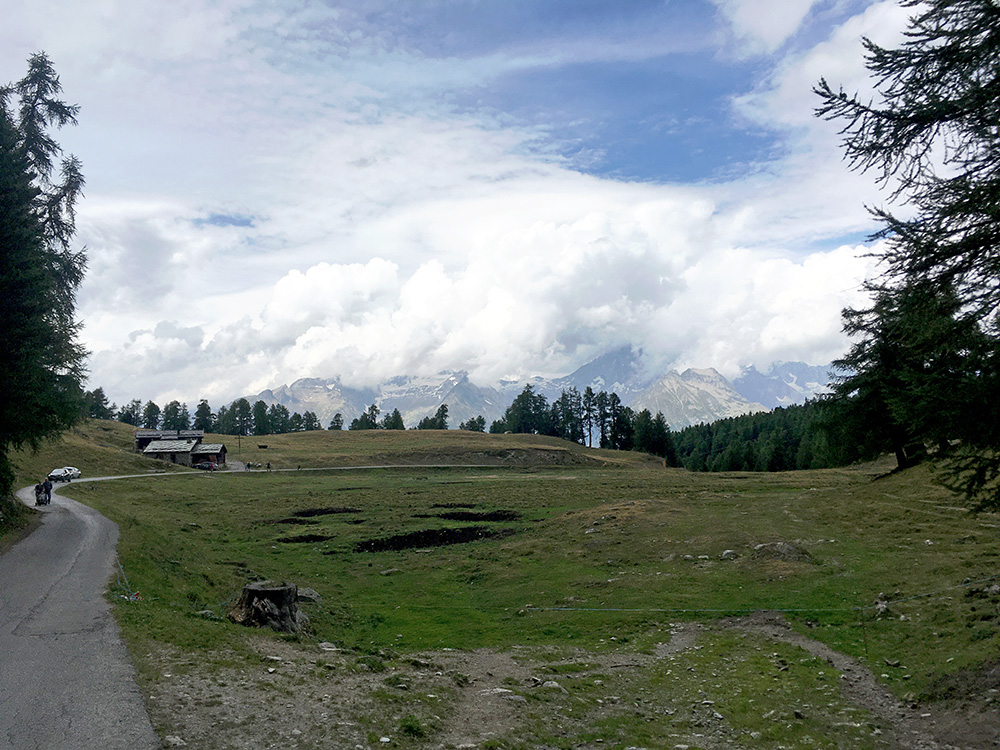 The views on the north side of the Moosalp pass are also great looking over Wallis/Valais.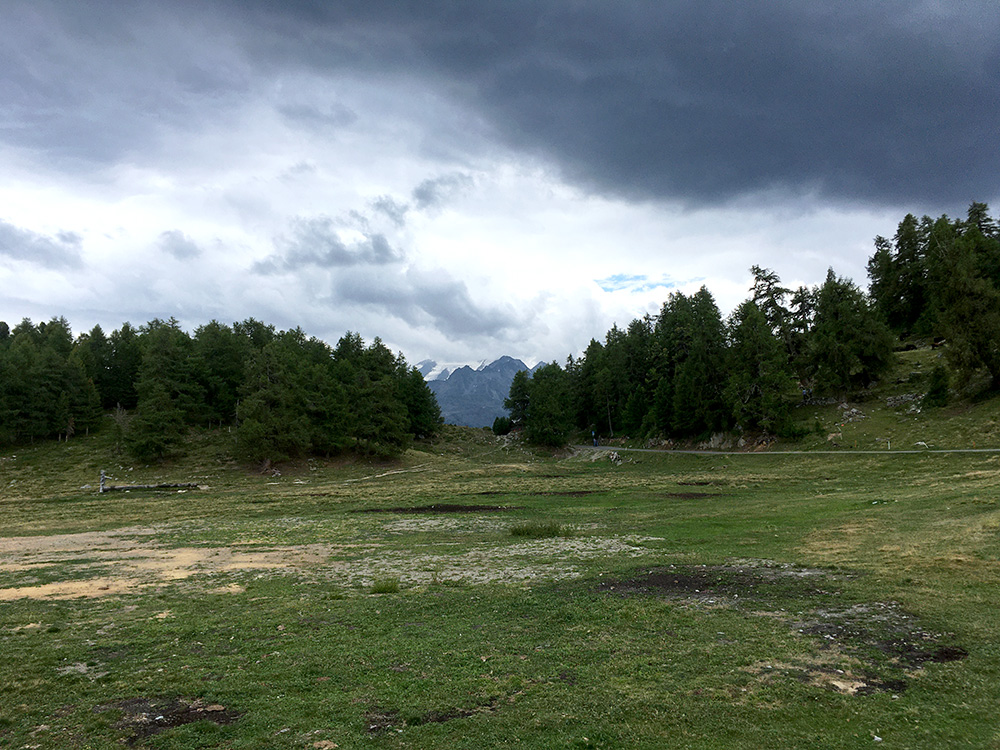 Looking back to the Moosalppass a last time.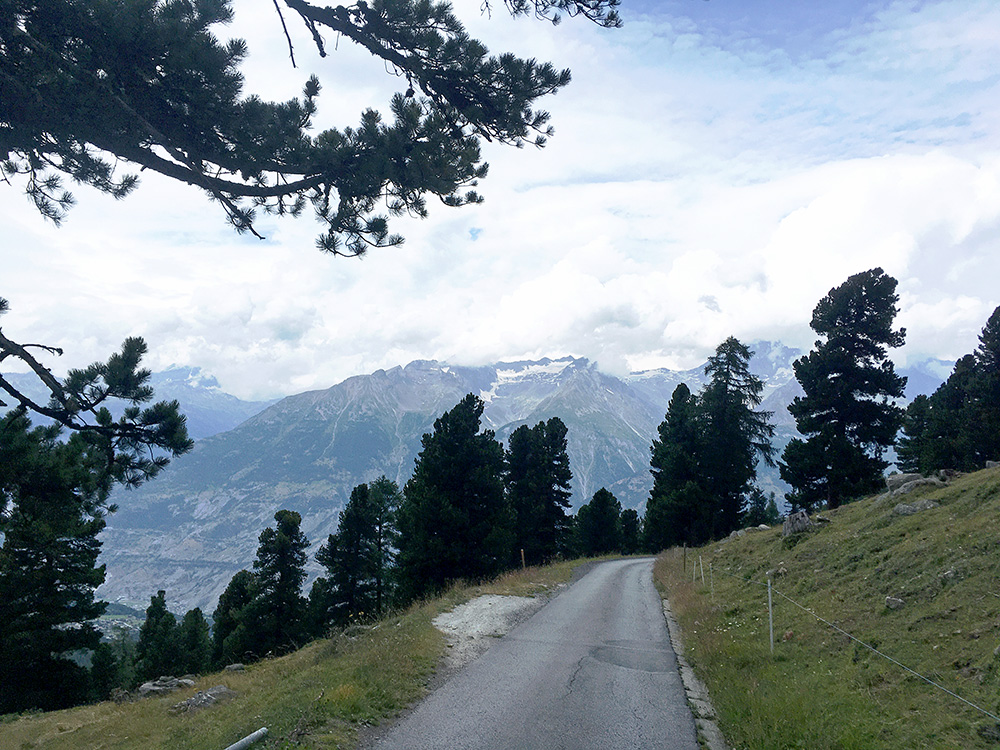 One more photo on the way down the steep part to Bürchen. I then took a very steep short-cut road down through Bürchen, which maybe was good as there were some road works.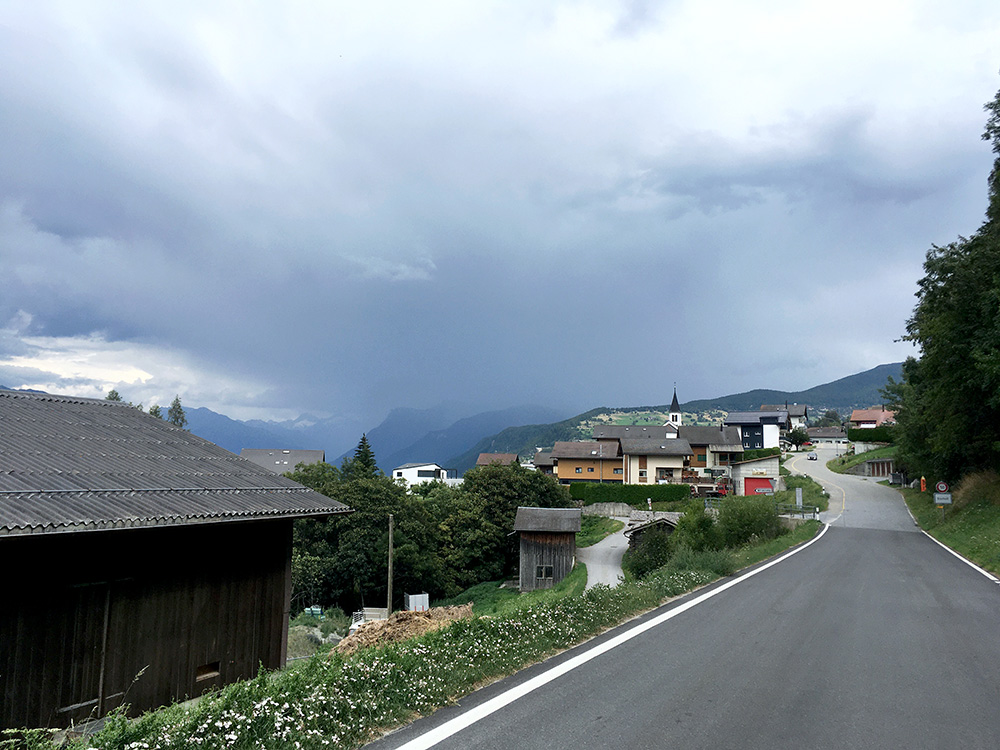 I noticed the bad weather coming into the area once again and was lurching behind me. I tried to find a place to stop at in the Eischoll village, but might have been good I did not find anything and continued on given how it looked behind me now (photo). I still escaped the rain as I moved on.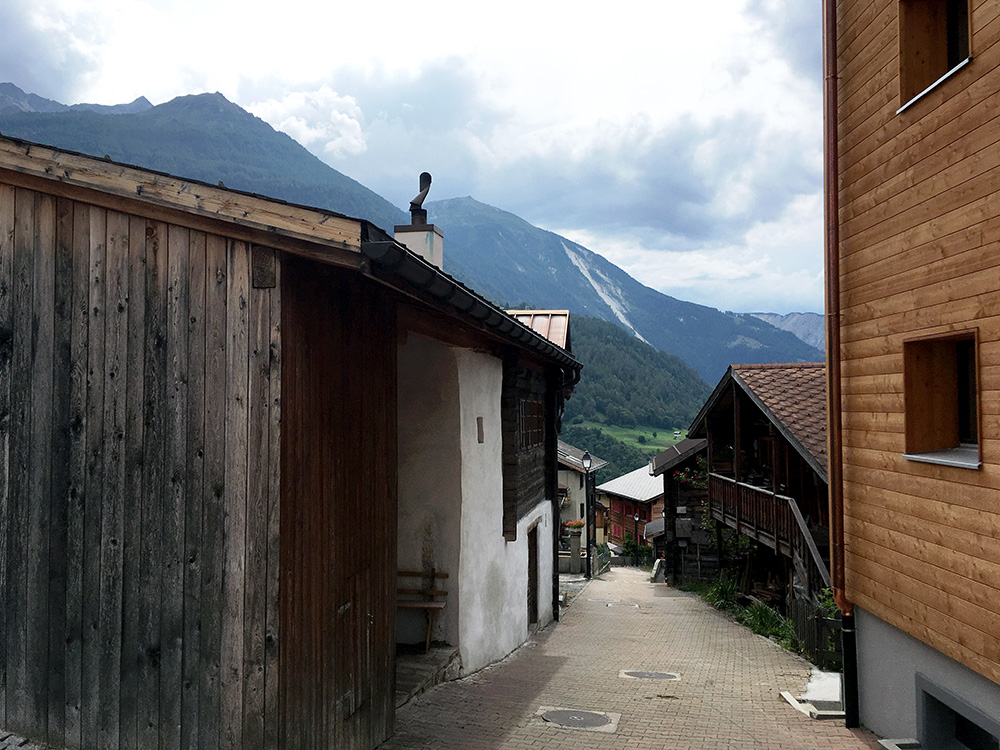 Here in Ergisch I had a last photo for the day before I got down to the turn-off in Turminen (893m) for the climb up the Turtmanntal, the last German-speaking valley to the south when going down the Wallis/Valais. I stopped by a café/bar in Unterems for a coffee and sandwich, but after waiting for 20 minutes and still no sandwich after asking several times where it was, I paid for the coffee and left (I thought I was not in France yet …). I was also feeling stressed by the prospect of bad weather and wanting to get somewhere before the end of the day.
I continued up the Turtmanntal, which is a nice valley even if it looks a bit like somewhere in Sweden, but more mountainous then. I did not get far into the valley before the bad weather caught up with me unfortunately, so I was right in feeling a bit stressed before and maybe should not have stopped at all. I just continued as I knew there should be at least one place to stay for the night at up here (supposing they had a bed for me). I was nearly all drenched and freezing, though I tried to keep up the speed when I eventually saw the sign for Hotel Schwarzhorn in Gruben (1830m) – I never thought I was so close to the end of the valley here until in the morning. Luckily they had a bed for me and dinner too. It was not very cheap, but kind of nice place (quite a lot of people here too though).