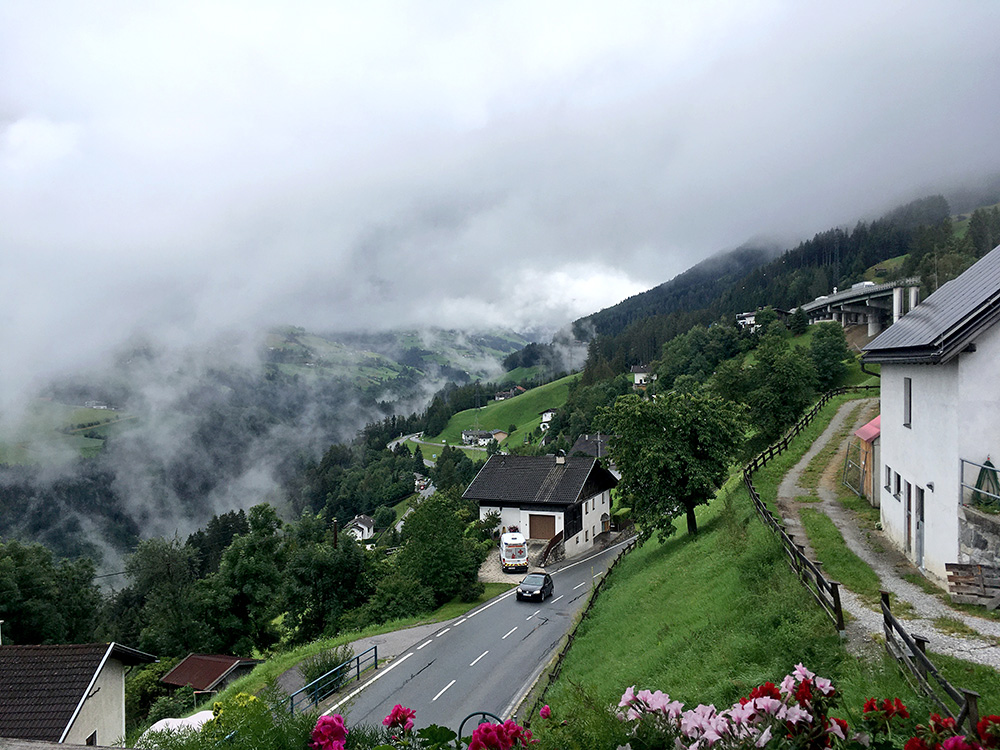 Guess I was not all too eager to get away very early as the rain kept pouring down the evening before and was hoping for dry roads. I went through everything and made sure that things had dried up enough (one or more of these rainy days I think the shoes were not totally dry at start), but first had a good breakfast. The routine were fairly much the same each day (evening: shower, eating and then washing clothes; morning: shower again & shaving; breakfast; packing things down – only way I could get it to work, but happens I have to eat in the evening before I get a shower).
The view up the Brennerpass roads from my bedroom window was kind of nice and it looked like I was sleeping well between two big roads, but one does not really notice the motorway here otherwise and not so much traffic on the other road (did not hear anything from my room anyway).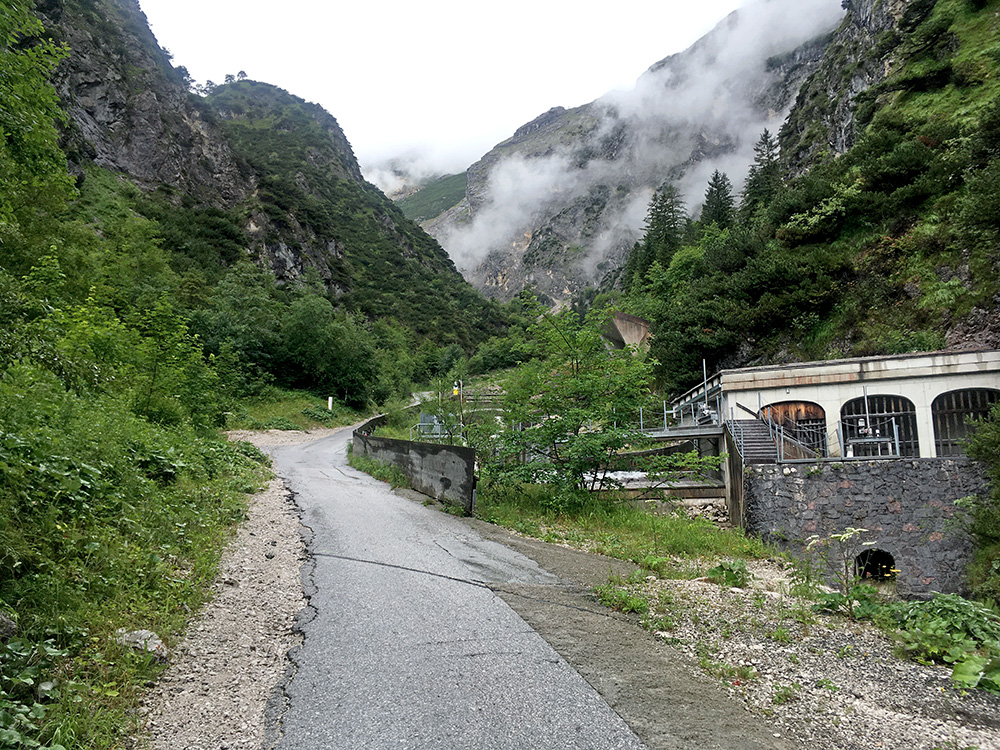 The rain had stopped and it was only semi-wet down to Innsbruck and totally dry when I closed in on the town. I did not go through the city but instead escaped the shortest way out east at the end of the Brenner road and eventually crossed over the Inn valley to Hall in Tirol. I decided to stop here for a coffee and eventually found a place in the centre. It was now nice weather even if a bit cloudy, but perfect cycling weather.
However, I was on my way straight up the mountain here through Halltal. I only got a short bit in on the specific Halltal road before the rain started and had to take cover for a while. I was not deterred though, but I was still a bit worried about this road as I had heard it described as being around 30% steep or more and some had suggested it should not be a BIG climb (which it is). It would not be easier if wet. Here in the photo I stopped to take off my wind jacket as the steepest ramp was coming up here (had been getting a bit cold while waiting before).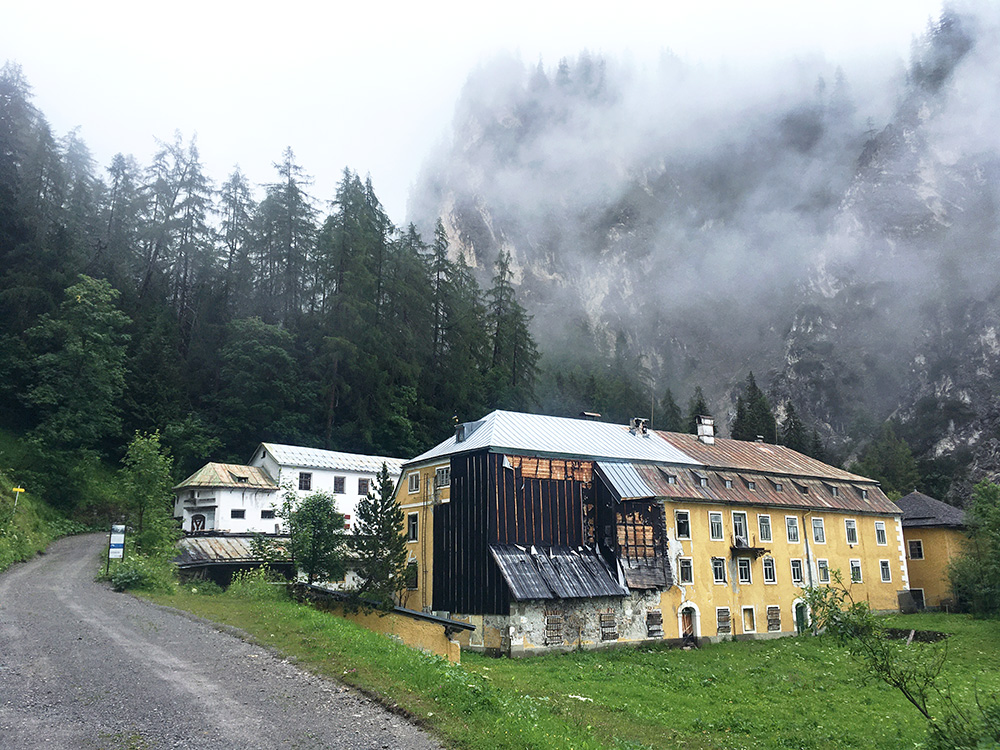 It turned out to not be as steep as I had heard (sort of suspected that) and I could do it, but it was not without effort as it was clearly up around 27% for a while, but no zig-zagging (and the road is not really wide enough for it either and some drainage in the asphalt made it important to go up the right way). Then I was warm enough for the rest of the chilly climb. Once I arrived at a little bridge where the asphalt ends I was almost about to turn around and go down, but I knew the road was famous for the houses above and thought it would be nice to reach some kind of more identifiable end here. The gravel was kind of loose and not so great, so cycled only like half off it and walked some, but it was not so long up. Here I reached the houses.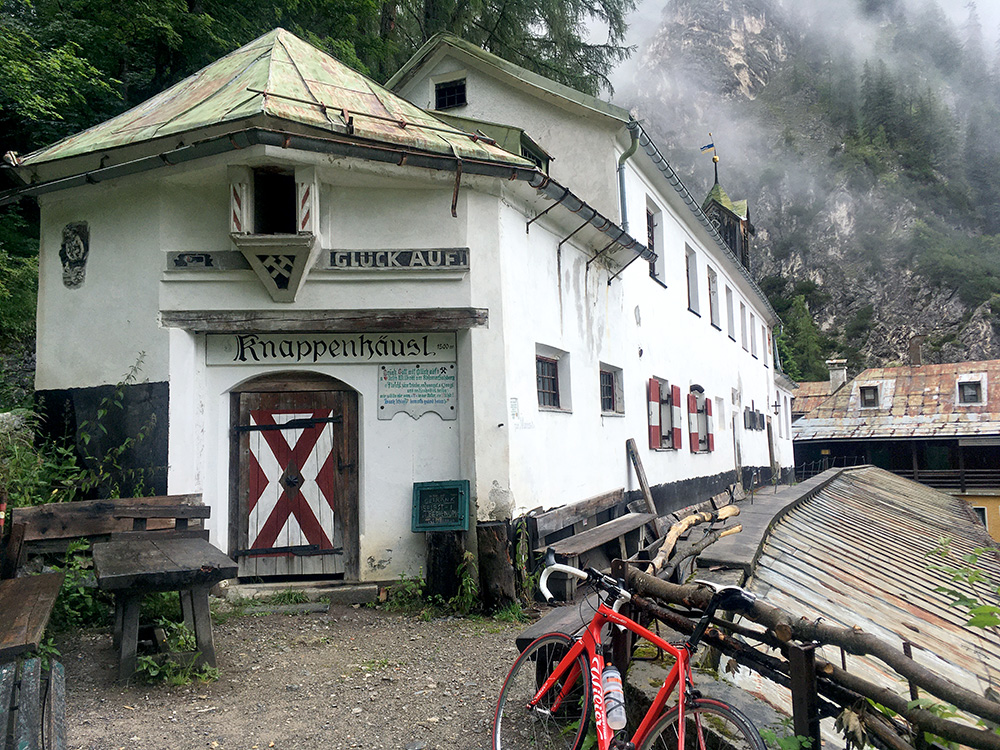 Nice place, but not very well maintained houses. In the Knappenhäusl the door was open and inside one could get something to drink and leave money there. I did not need anything to drink now.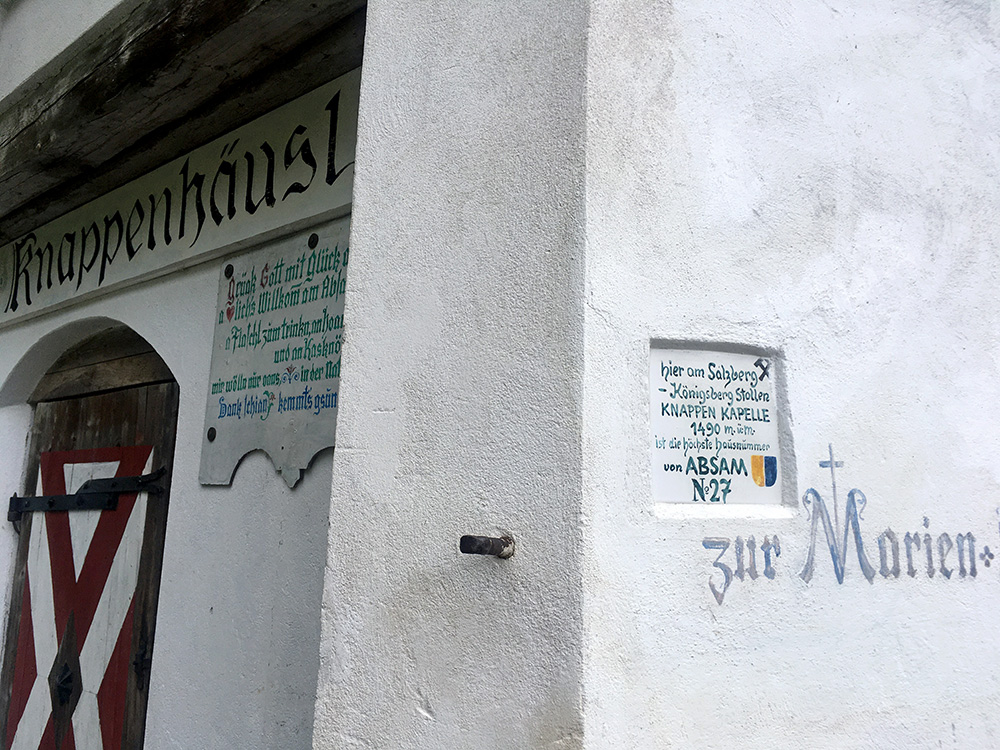 Nice inscriptions on the house.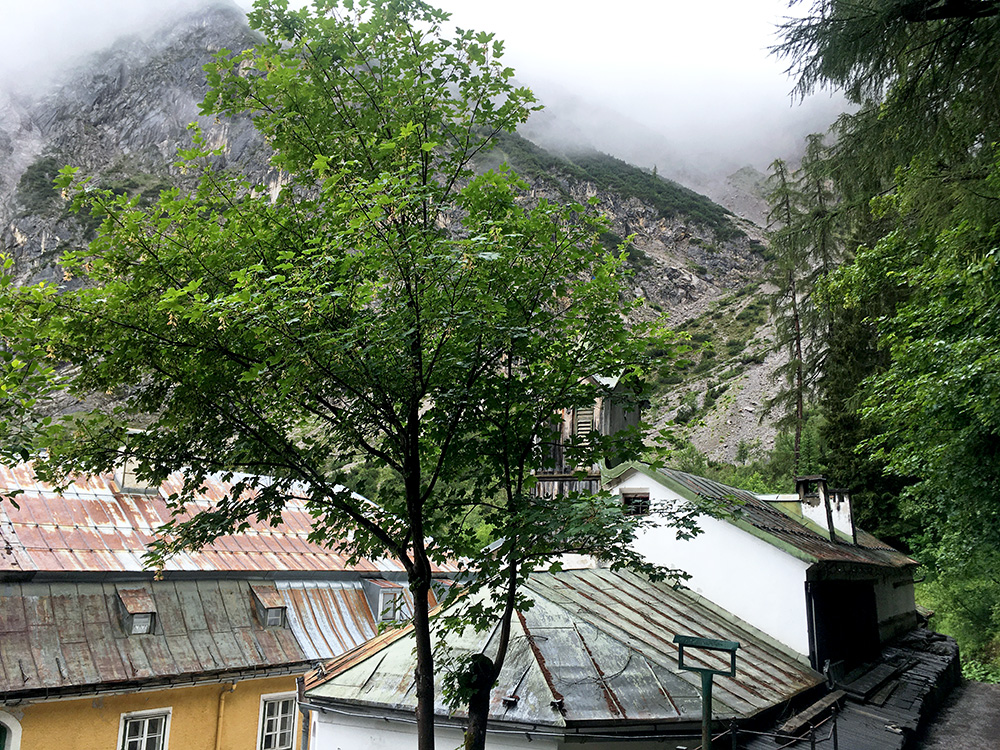 I went above the house where the road shortly was slightly better, but it did not look too fun to try and continue up to a pass up here so I turned around (very cloudy and wet also). There were a sign for cycling not allowed so thought that was a good enough reason to turn around (but could have been for a path – not sure). No good views above either (and example being this photo).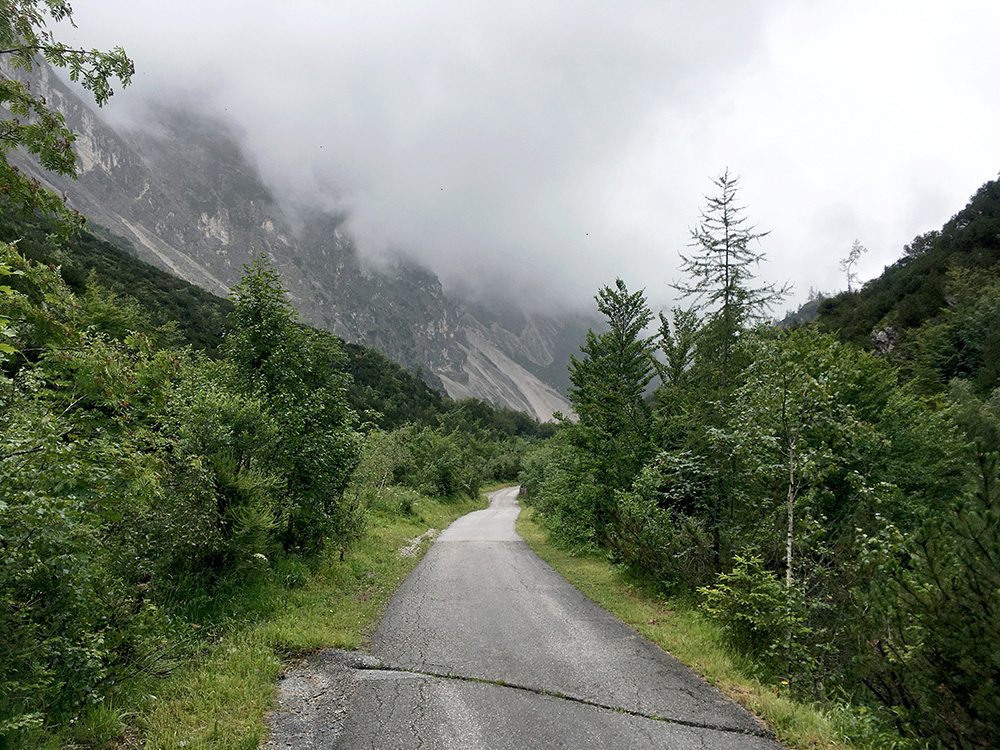 Cycled back down the whole way and was lucky not to have a flat. Once on the asphalt road I stopped a couple of times for photos.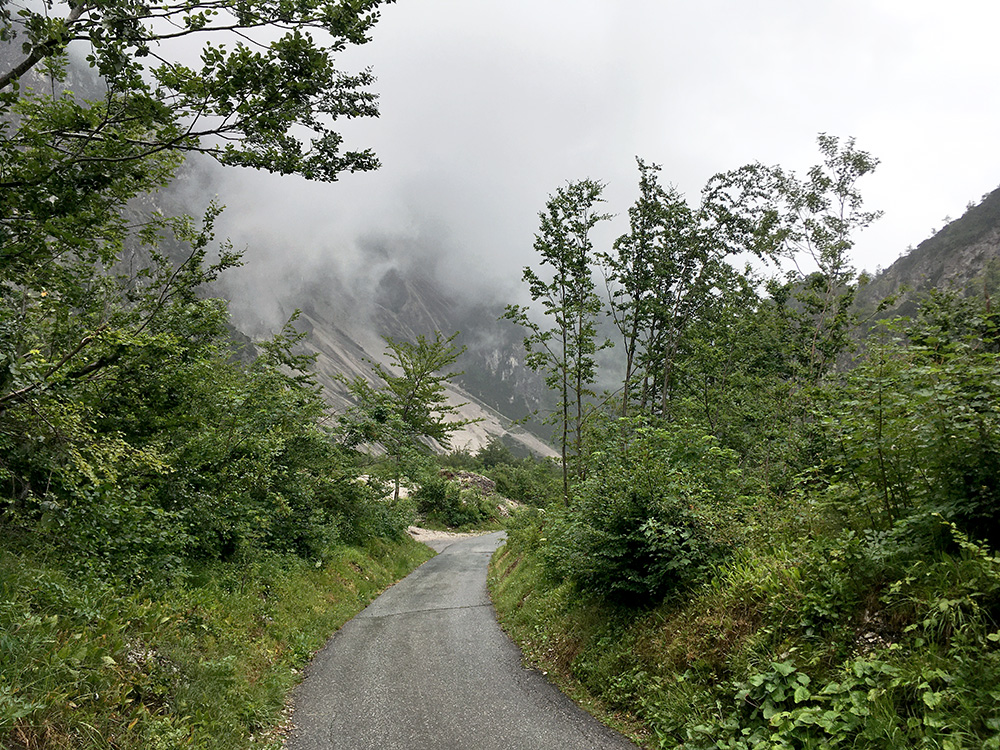 The above and this photo looks rather much the same and had one more from higher up the road (but also similar).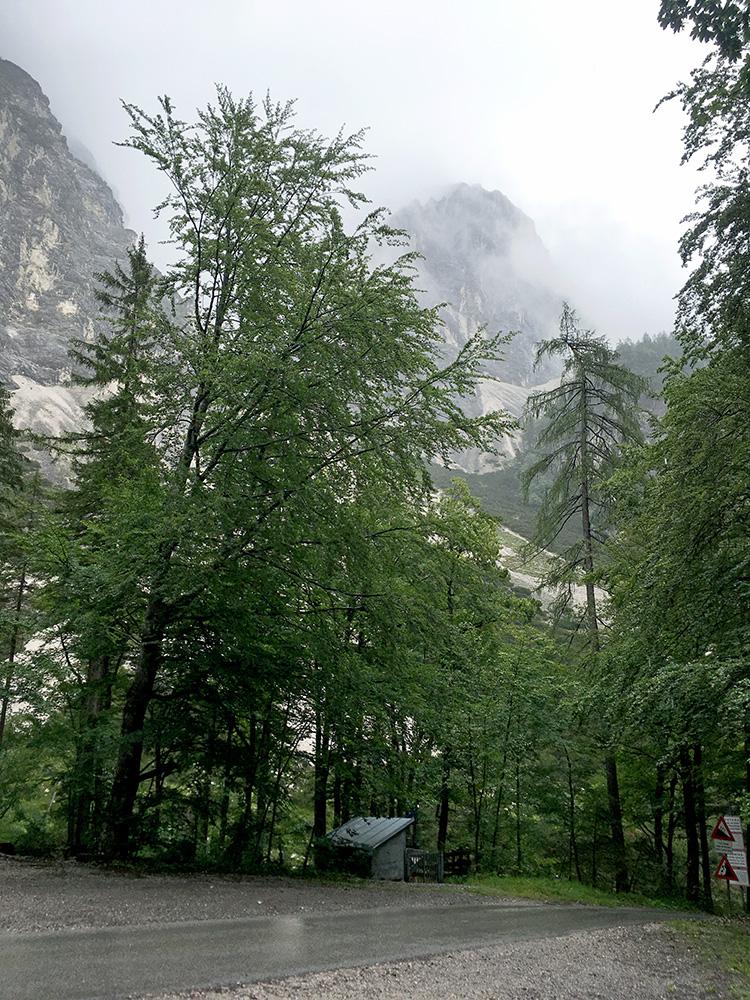 Then just before reaching the very steep ramp again it started to rain very much and luckily I found a cover before I got all soaked. A perfect big house/shelter and the only one up between the place I stopped at on the way up and the houses I went up to. I rained very heavy for like 30 minutes or more. Took this photo and one could glimpse the sign saying 32%, but you cannot see it here.
Of course … before I had got out a mountain biker was coming up (not sure if it was an electric bike, but maybe as he did not seem particularly tired) and after talking a little he parked his bike in the shelter and took off on foot up to a shelter at high up the mountains here (at ca. 1900m I think). There were quite some people out walking in the valley (not on the road though) despite the rainy weather.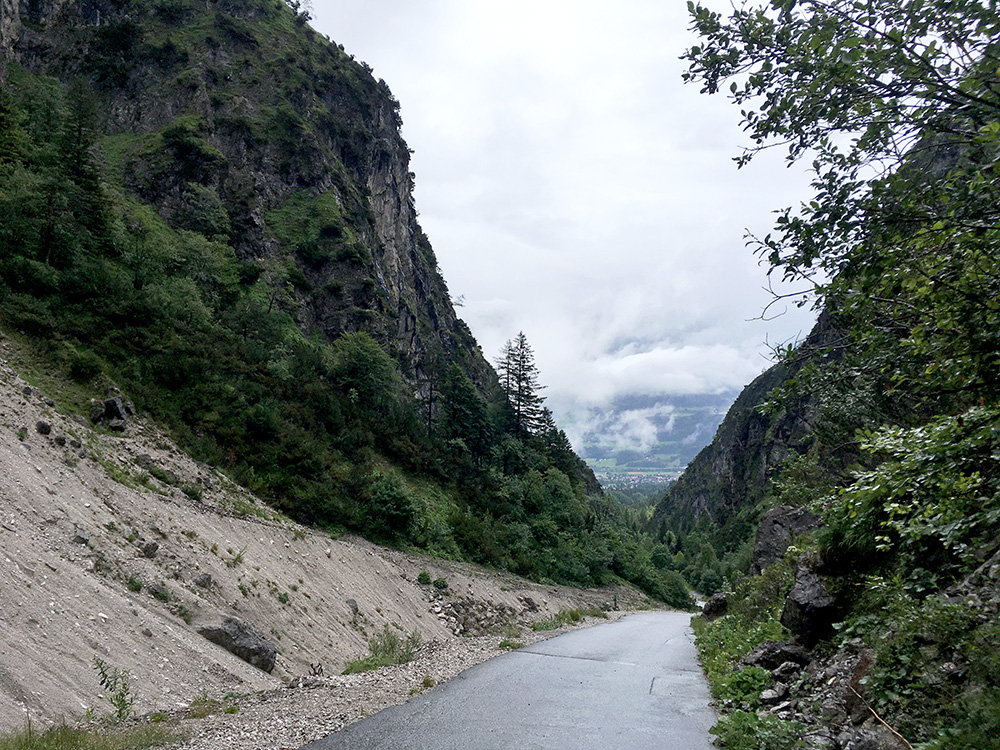 Had to go very, very carefully down as I was not interested in sliding with the bike, but got a good enough grip all the time this day. It is not a very wide valley!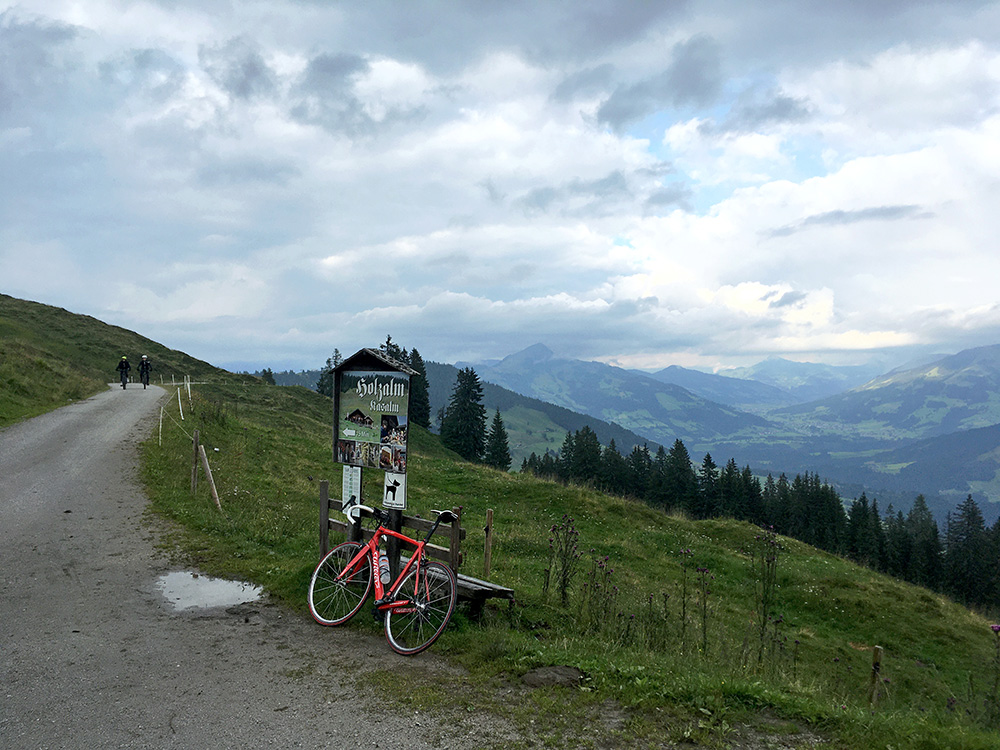 It was a fairly long and flat road to Wörgl via Wattens, Schwaz, Strass im Zillertal and Rattenberg, where I stopped for a coffee break again. In Wörgl (511m) I went up the Wildschönauer Strasse to, yes, Wildschönau.
Wildschönau is a little pass, and after it a short while down the other side a sign says Sonnbergweg to the left and that was the one I took and then the steep part of the climb is from the next sign saying Sonnberg. I see now this road is visible in Google streetview (which it was not when I made the plan). I had not been able to get confirmed that this road was fully paved to the top at Horlerstiegl (1473m), but which is yet another unnamed pass and it was indeed fully asphalted. Here I am up on the road on the other side.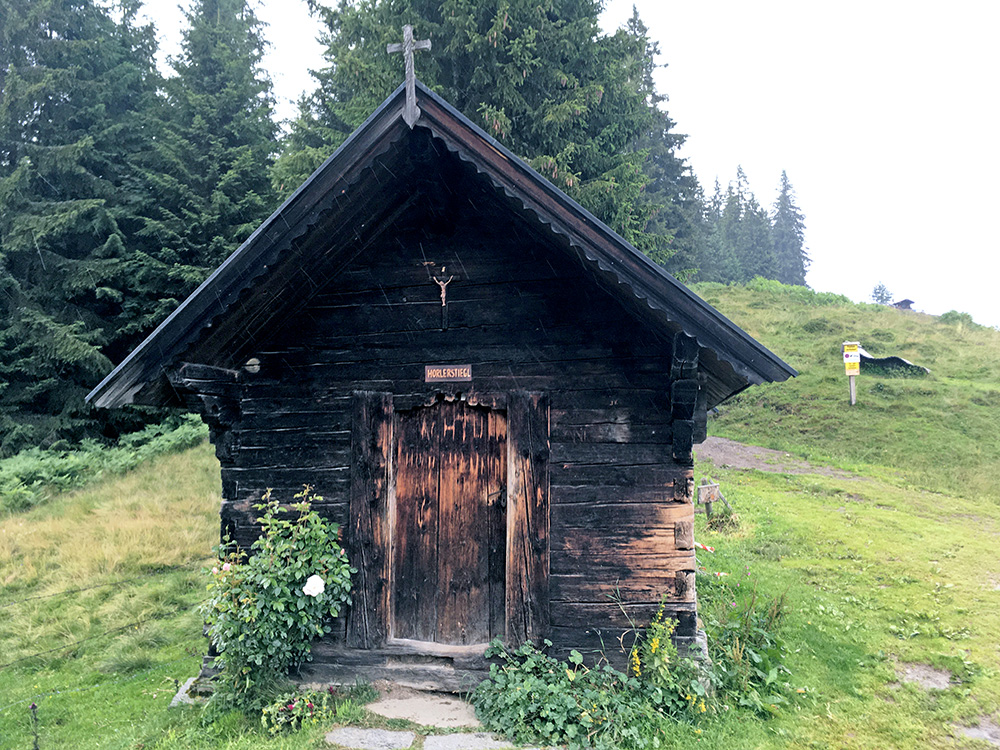 There are no other paved road as high as this near here (from what I know) and unfortunately there is no good road down the east side for road cyclists. It is however 1031 height metres up here from Wörgl and a quite nice climb.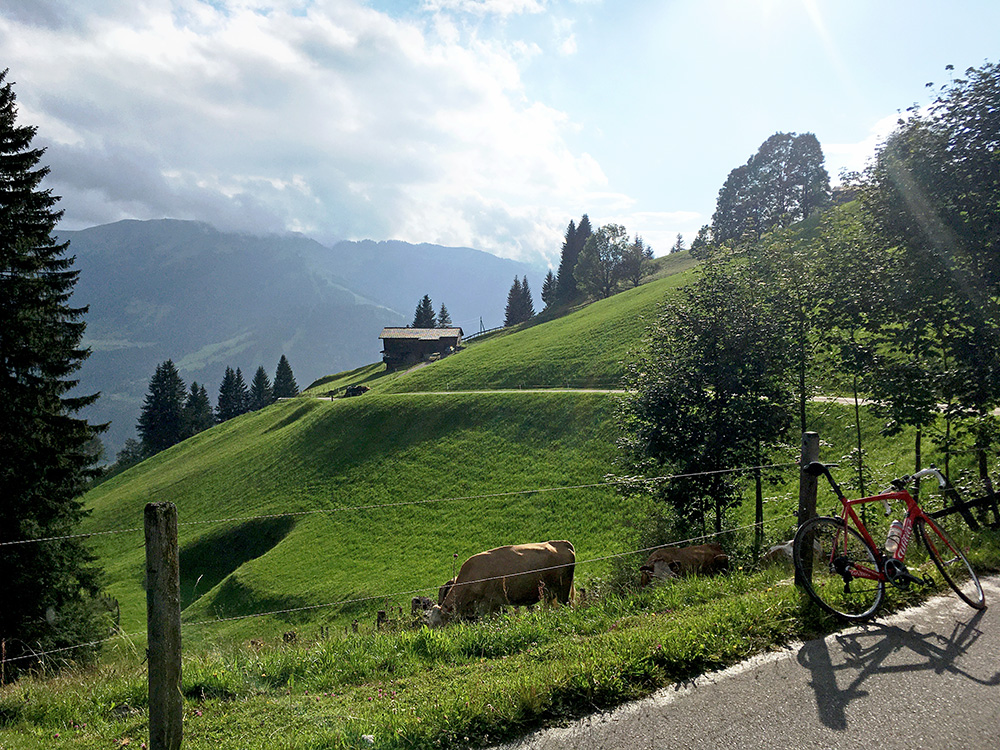 I really had thought the weather would stay good now for the rest of the day, but felt a few rain drops as I started on the way back down again, but all seemed fine so far. A lovely road up here.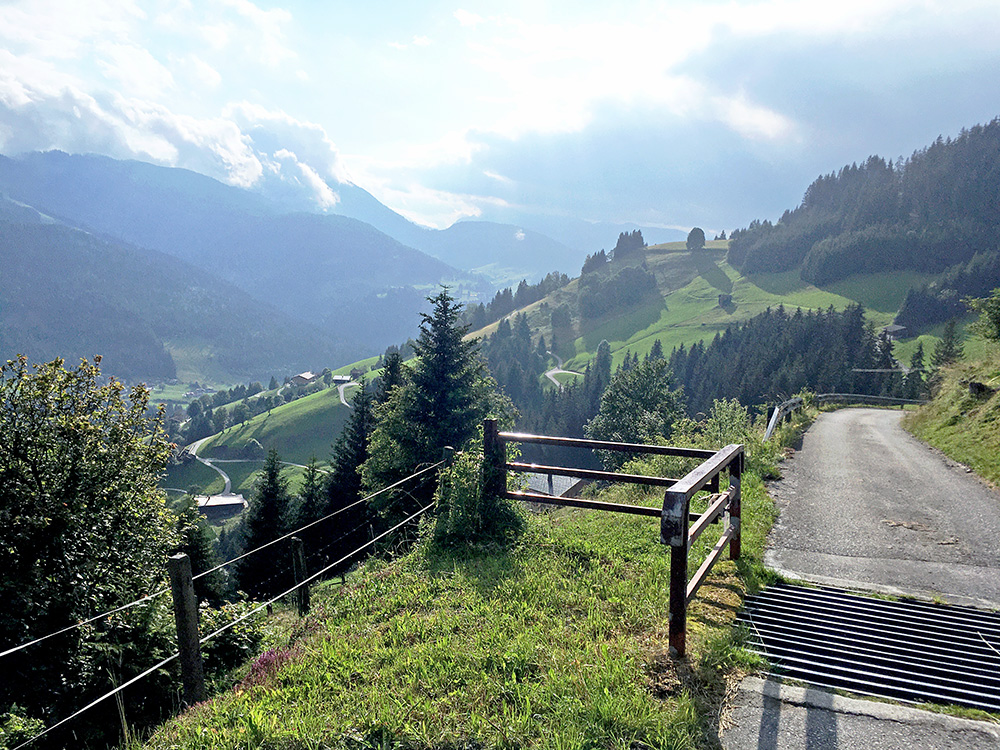 Fine views back down.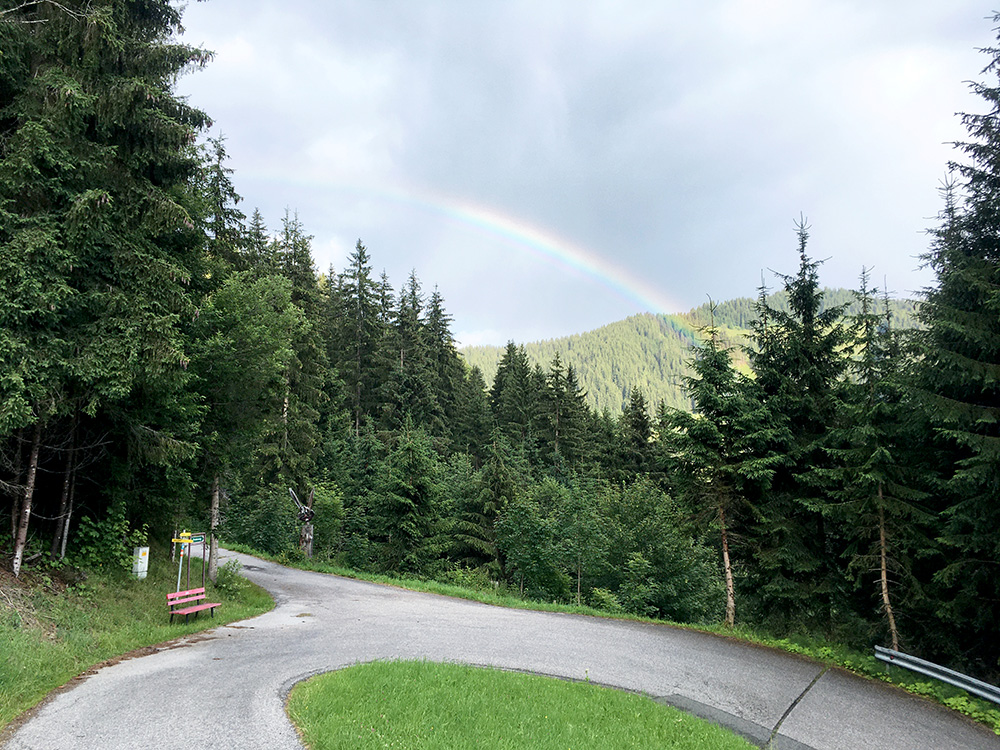 Curves in the air and on the ground.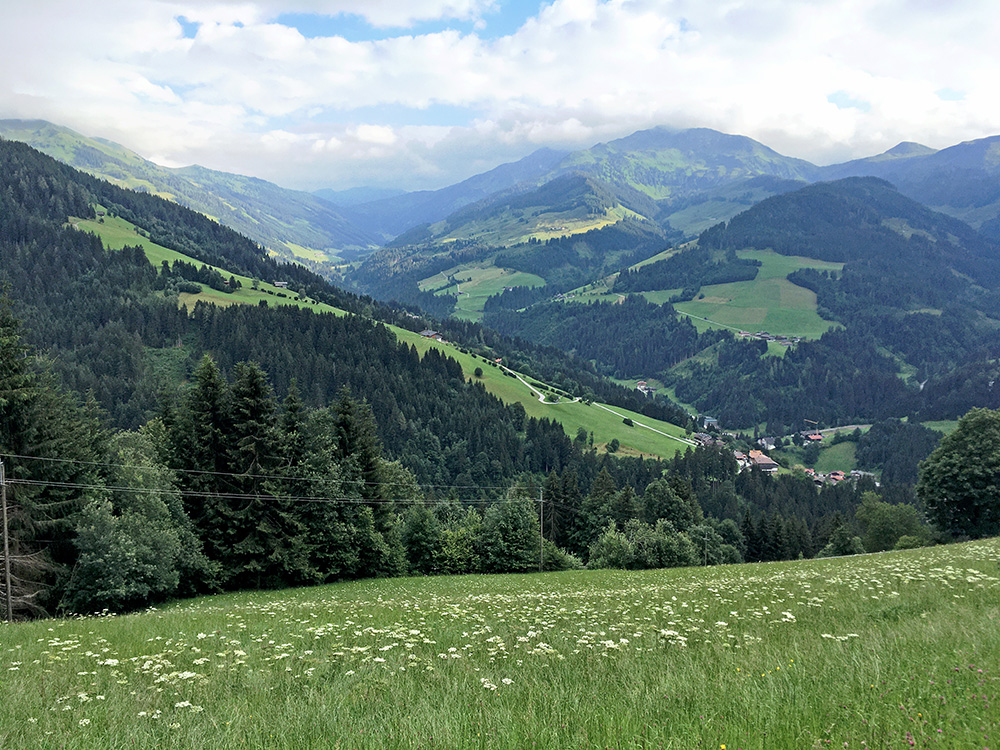 Also nice views up the dead-end Innertal valley here. There is a pass up there below 1700m but with only a path over.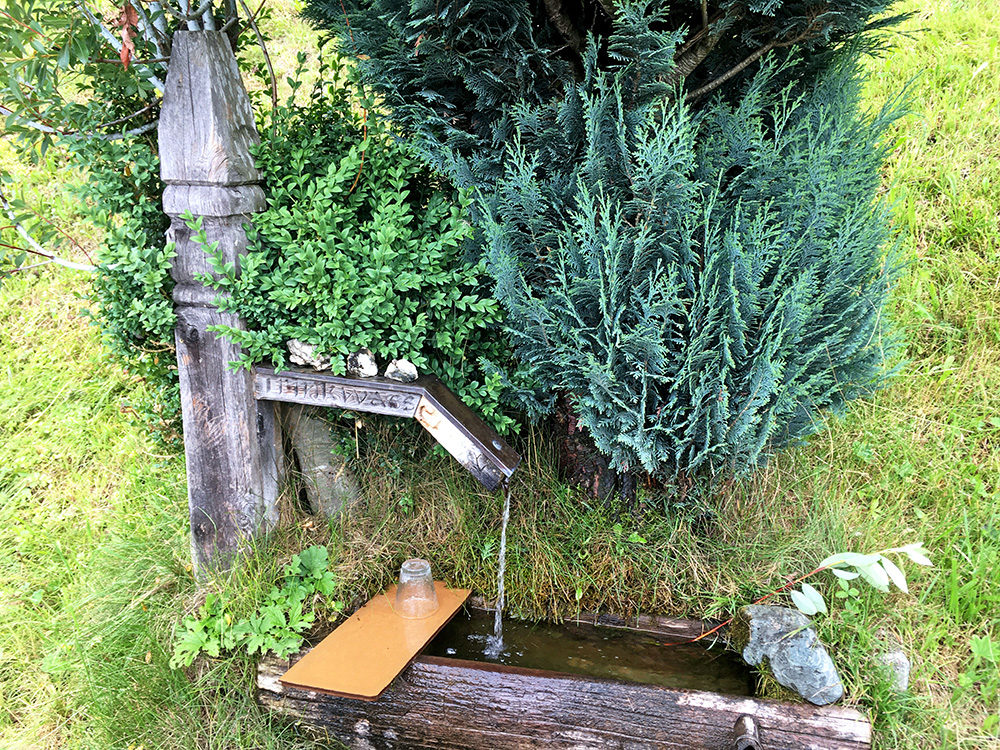 Stopping for water before returning to Wildschönau and just the high point at Wildschönau the rain suddenly came back. I tried to hurry on down to Wörgl and did not really want to stay quite yet (even if nice up here, but then would likely get a wet ride down in the morning and needed to move on a bit more, I thought).
The rain only increased on the way down and I was nearly all soaked when I got down to Wörgl. I just continued back westward as planned, but the rain did not stop. I went to Kundl and hoped to find a place to stay at there and walked into a nice warm restaurant all wet and asked, but there was no place in Kundl to stay at. I got advice to see a place along the way in St. Leonard, but it looked like a place without any food and I could not get up the piece of paper with the address as it was all wet. I continued on and the rain got worse and I was shivering of cold, but got back to Rattenberg where I felt confident that there must be a hotel or something, but looking around I found nothing. The second time I stopped to ask some people working at a restaurant and they told me the directions for Radfeld and a hotel and I went there and it was good and I got something to eat and felt better again.