Very good weather on this day too (a bit hot at times). I had skipped some climbs yesterday that I had thought to include originally: Monte Colmo (1814m) from Edolo and across the valley the Passo del Flett/Fletta (1182m). Today I was almost only focussed on relocating myself westward. I had one non-essential climb included in the morning that seemed like a nice start of an otherwise not so exciting day, so I went up on the Trivigno road (slowly) to Passo di Santa Cristina (1436m), which is a short climb from just below Passo di Aprica. I have been to that pas before when I stayed at Passo di Aprica in 2006 and did the Gran Fondo Marco Pantani that ended with this climb (from the other steep side). I had however noticed the road to Pian di Gembro from near the pass and that it should offer great views down the Valtellina, so that was the goal here today.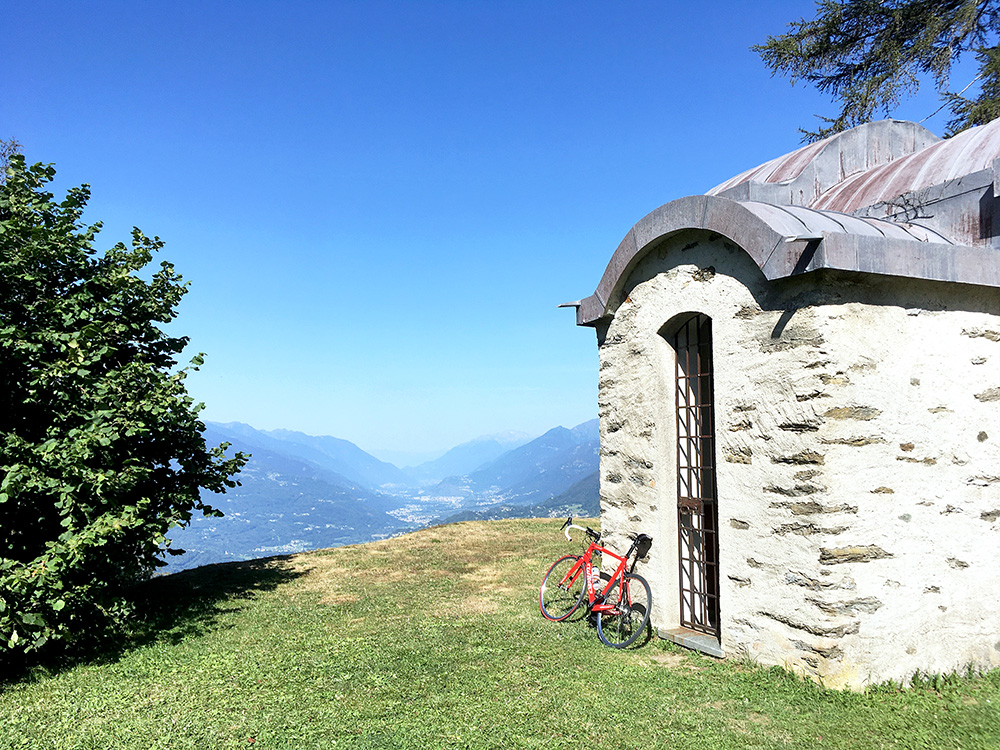 I am starting with the two photos I took after the next two photos, just because they look nicer at the top of the page! Here at San Fortunato at Pian di Gembro.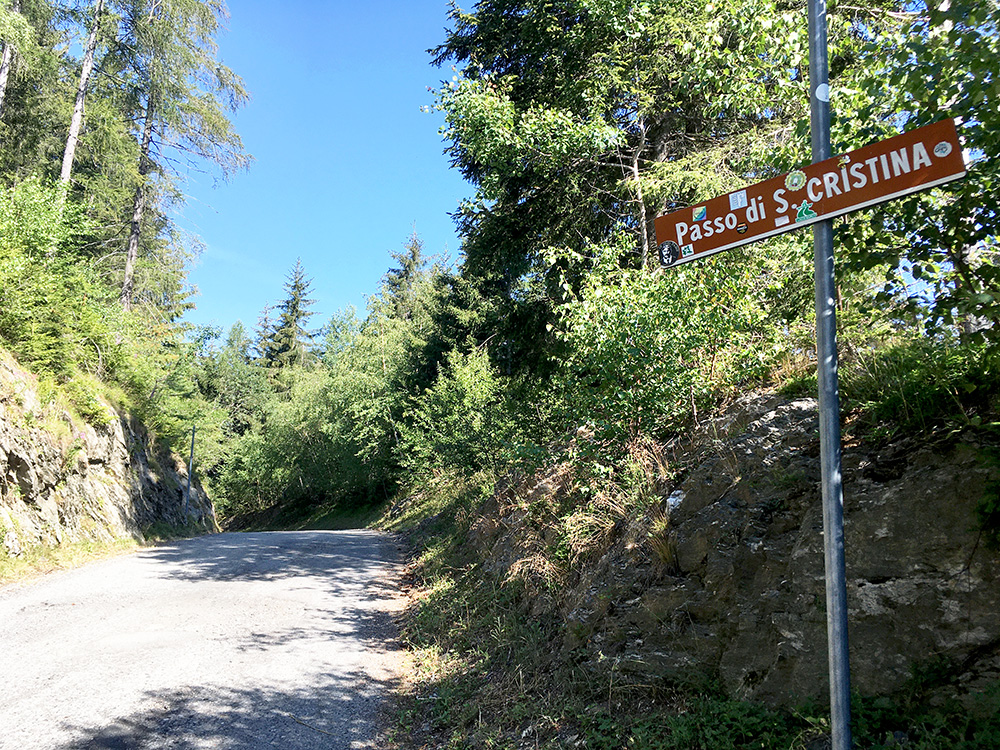 The sign for the Passo di Santa Cristina is still there even if hanging a bit like it is about to drop off.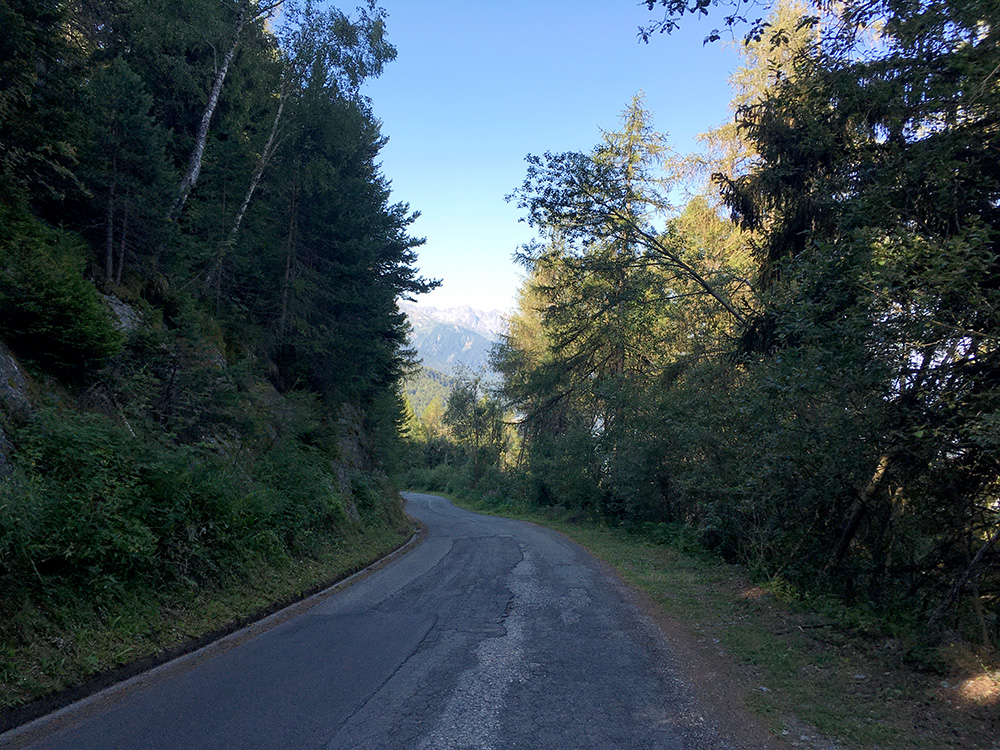 Nice views opens up on the way down the north side of the pass, which is otherwise a rather dull pass if climbed from this side as it is all in the woods.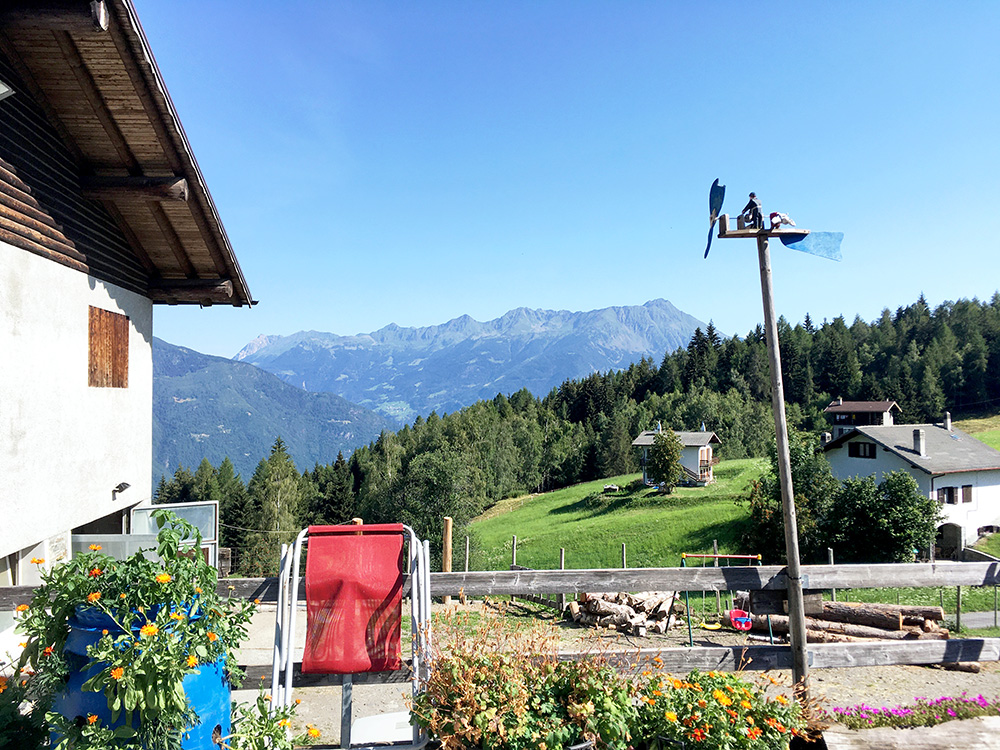 I went to the end of the road at Pian di Gembro to Piscè (1442m) which had like 150m of gravel on the way partly because I thought that maybe this was also a pass even if they are not so good on naming passes up on this ridge (that goes to Mortirolo/Foppa and on). Had to ask a lady to take a photo as they were working just were the best view was. I believe they have a restaurant here and maybe it was open or going to be, but was not sure on this day.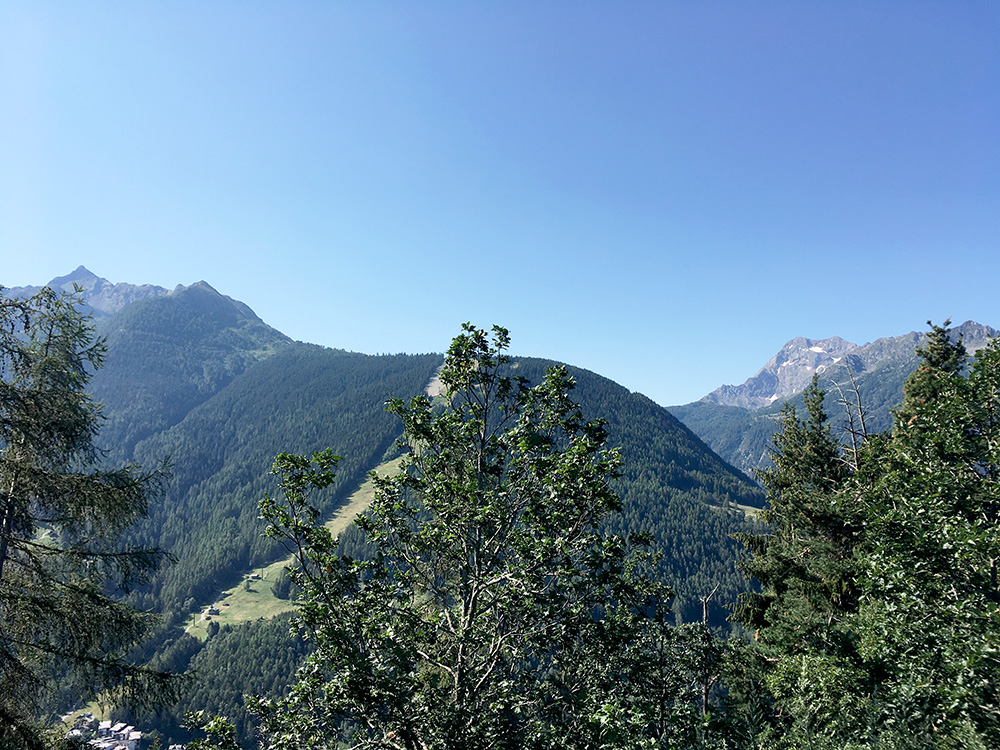 This is the only view down over Aprica and you can glance a few houses down below at the outskirts of Aprica.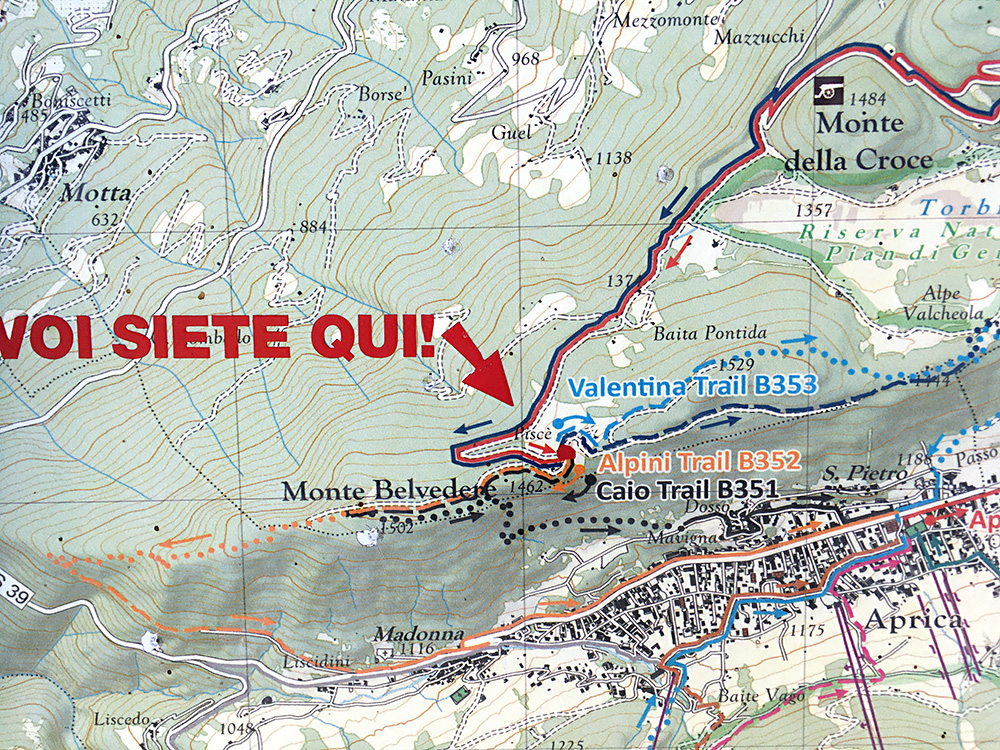 The map at the possible pass (1434m) notes the path going down to Aprica and the mountain top (Monte Belvedere) outside the passage. You can also see that Pian di Gembro itself might be regarded as a distinct pass from both this and from Passo di Santa Cristina as the Monte della Croce separates the two passages. (The mountain top between Pian di Gembro and Piscè, I do not know the name of and the Lombardia technical maps are not exactly "good" … .)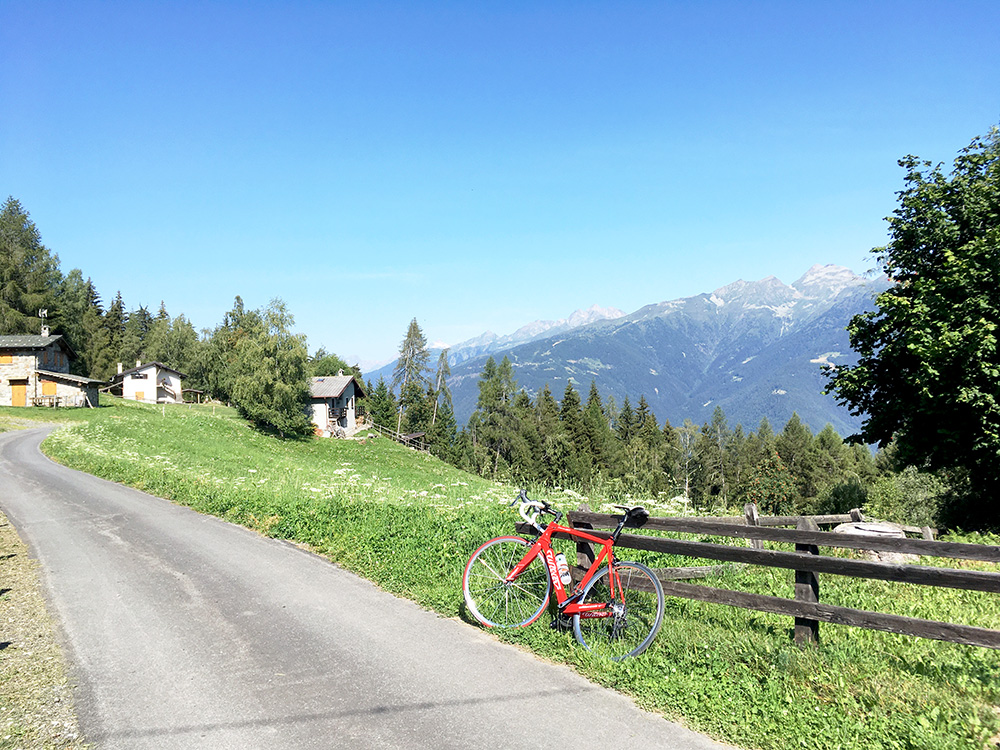 Back again and stopping for some more photos across the Valtellina. There are so many climbs in the Valtellina I have not done, but part of the reason not doing any climbs here on this tour was that I meant to climb many here on my little Spring tour that I first had to move to the Fall/Autumn because of the pandemic and then later on they kept changing the flight times so I would have to change the booking again of my B&B and then decided to move that trip to 2021 instead as I was not sure I could puzzle it all together and was unsure about whether there would be other problems upcoming as well. So possibly I will still do more of those climbs in 2021 supposing things will go better with the pandemic soon.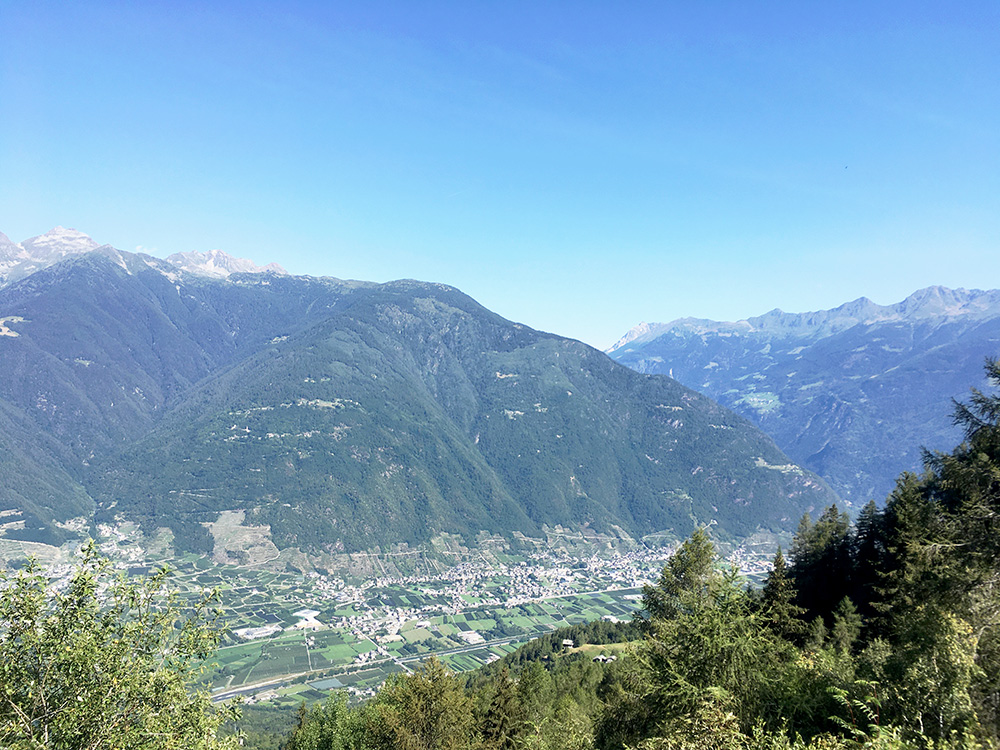 Here I am looking over Tirano (just behind the trees to the right) and the valley up to the Bernina pass.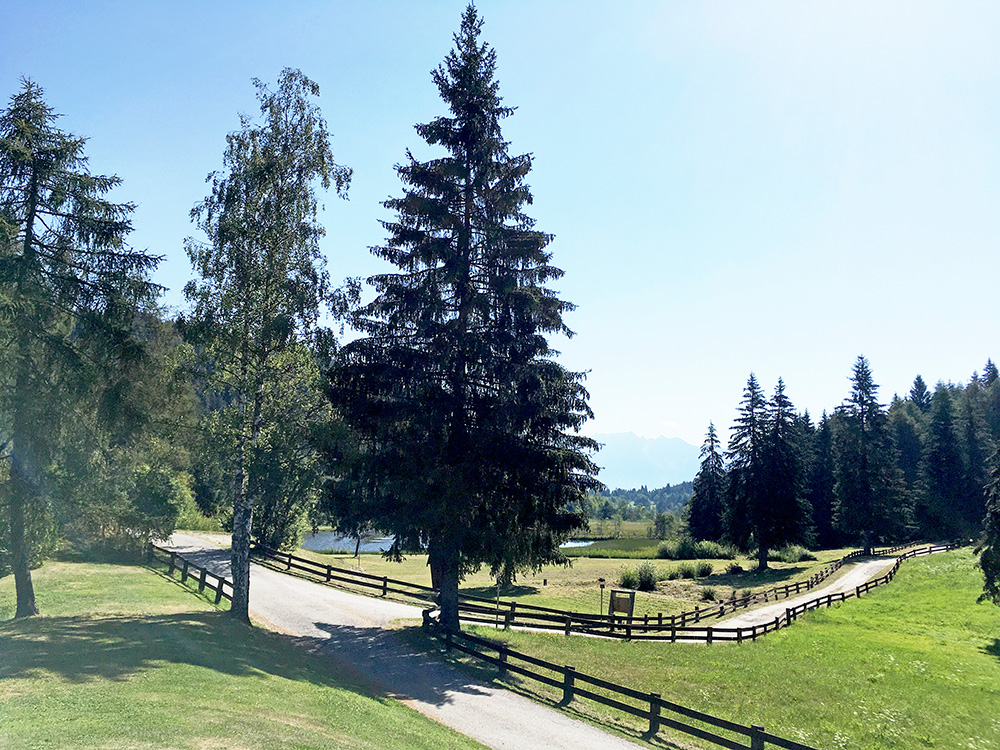 Pian di Gembro is an unusually flat place up here. Said hello to a lady that seemed to be living in a house next by here and left for Tresenda. It was a very nice ride down to Tresenda (375m) and almost went too fast at some place. I knew I had to enjoy myself before I was down there as the travel though Valtellina was certainly not going to be all pleasant. One reason is that the main road (that can be mostly avoided for those wishing so and I guess that means most cyclists) is a very busy road and also ridiculously narrow for a major road like this. Car drivers and trucks do not give much space if any to you and there is no shoulder along most of this way. Still this used to be the only road for cycling on here and I have not explored any alternatives earlier.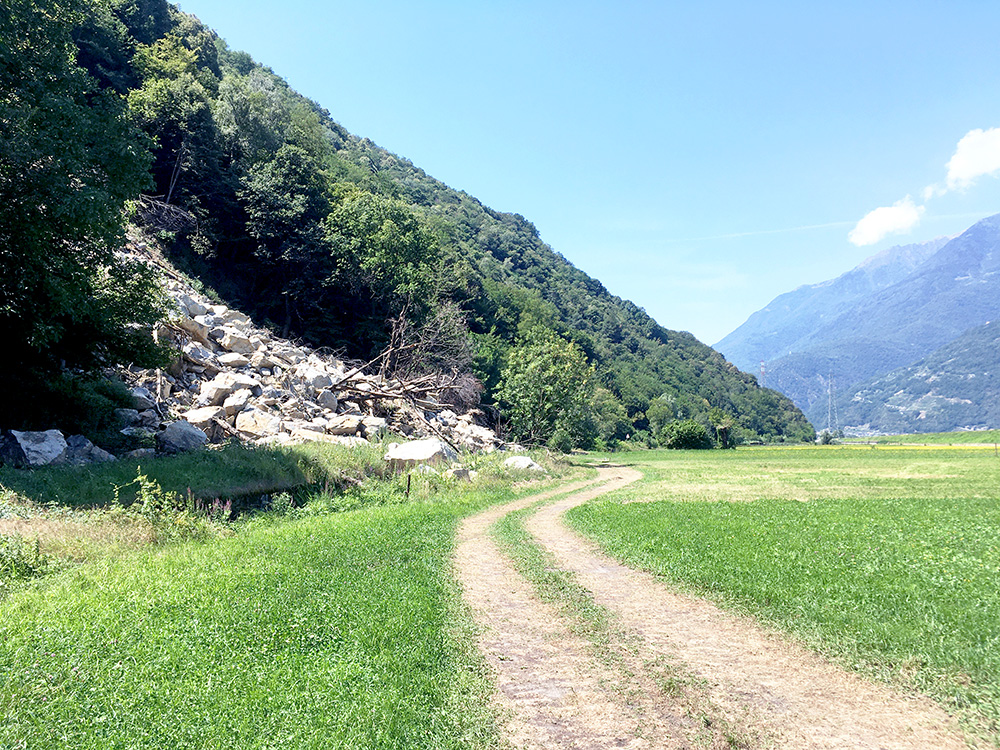 I had decided to try the alternative roads a little later this time though, (but not any bike paths), and went off the road a little too late, but got on the right way anyway. I went off to the south side at Casacce and then through Carolo on a bad cobblestoned road, but then it got better. A little later a signed said I could not go to Sondrio by continuing ahead and as I remembered I was supposed to go via Sondrio (which I was wrong about – should have looked it up as it was an unnecessary detour).
Luckily traffic was a little less hopeless today than it can be, but you need total concentration if you should dare use the main road (and some locals still use it, but only a few these days I believe). It is the worst road in the Alps where you are allowed to use a bicycle and if cyclists really had used it as their preferred road I think it would have been forbidden by now for cyclists. The road is wider and mostly better after Sondrio. I think I could have went over on the south side again at Menegola, but I had taken the inner road through the commercial businesses here and could not then get over here, so continued to San Pietro where I for a second time stopped by the same bar as once before and got an ice cream and coca-cola. I found an underpass to short-cut over to the other side here and on I was again on the calmer south side at last.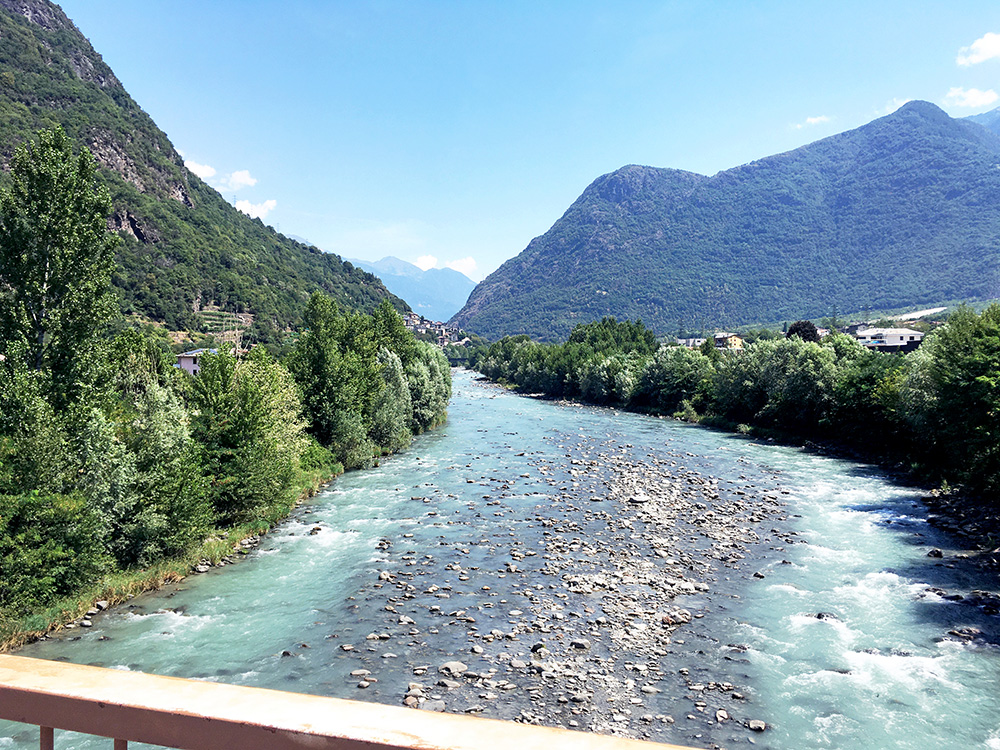 After some improvisational cycling as my planned route was asphalted, I got to another sign saying the road ahead was closed and now I got a bit irritated and decided I just go ahead as being closed does not necessarily mean it is "closed" in Italy. The road was sort of closed as you can see in the photo above, but I could cycle around on the grass and was soon up on the road again and looked like some cars also used that bypass. Maybe the bike path would have been easier, but it seems a bit funky in places and it so boring with bike paths, so will likely never try them. There are however more popular roads on the north side, but they demand a lot of climbing!
After a short while on the main road again I turned off at the first possible place in Talamona to take the northern side road from here to the end of the valley. Here on the bridge over the Adda river looking back.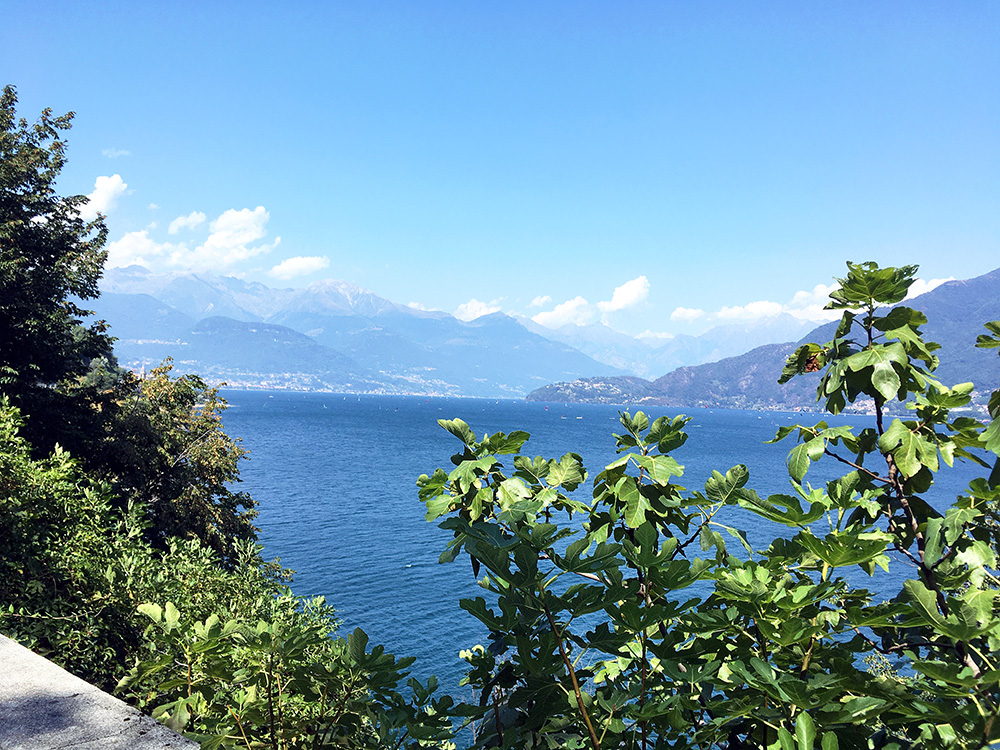 To cross the Piano di Spagna to get to the Ponte del Passo (200m) at the northern end of Lago di Como I had foolishly decided to take the most straight road over and it is a road that is partly concrete and partly gravel and it was very bad, but made it without flats, but will never take that road again. Then I followed the western side of the Como lake. This road later has several tunnels on the way to Menaggio and while most of them are now forbidden to cyclists, some are still allowed. IN at least one case it was a good idea to take the small road outside, and at another tunnel I missed to see it was forbidden, and yet another road outside a tunnel I took I thought was much more dangerous than staying on the main road through the tunnel as it can be very dangerous to get off and on the road before and after the tunnels! A bit confusing, but I made it alive to Menaggio. I stopped on the best road outside a tunnel for this photo (I believe).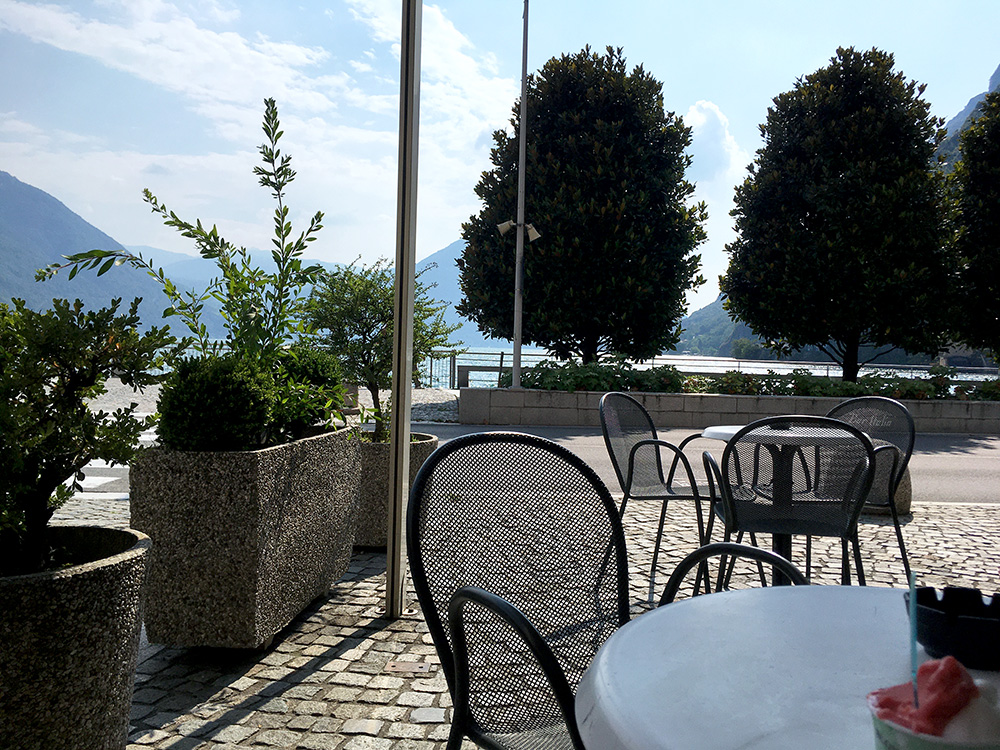 There is then a little pass to climb to go west from Menaggio (201m), which is Croce (386m) and I had found out about a steeper short-cut and used it (max 14% and the steepest on this day). Got down to Porlezza and hoped to get another ice cream before entering Switzerland, but it took a long time find any open business in the village selling something to eat (I thought this was a touristic place) and ended up on the main road leading out of the village (or town) and here was a place with a tired looking man serving me an expensive coca-cola and ice cream. I went to the left and around the place. I should likely have stopped at the beginning of the town somewhere.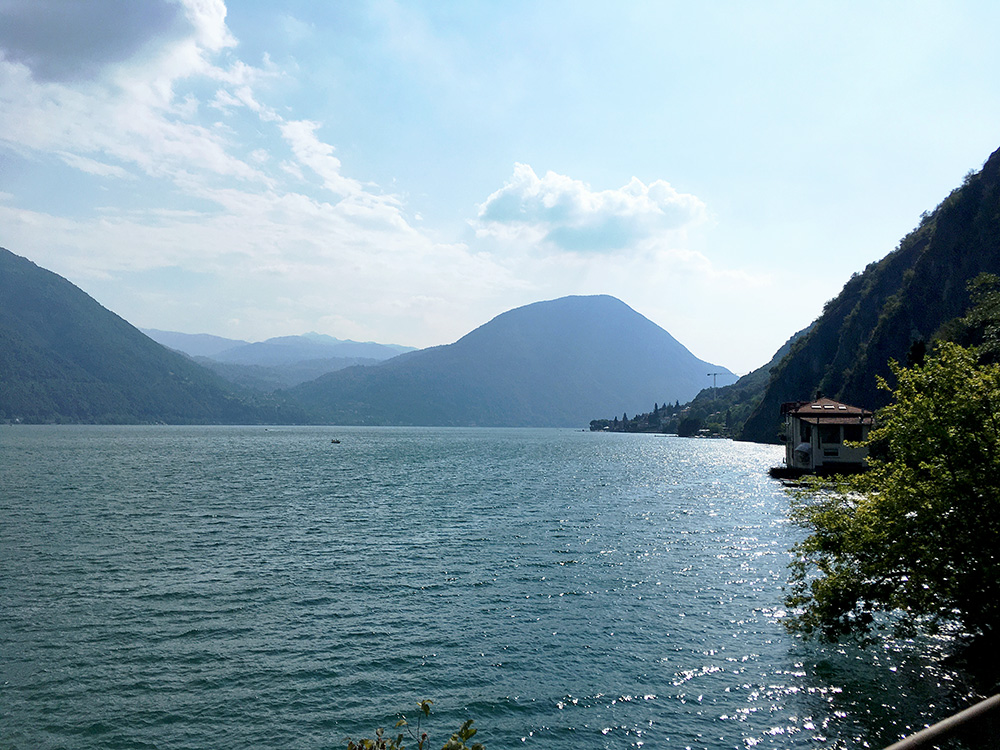 One avoid the first part of the usually busy road to Lugano via a road outside the tunnel and took the photo here from that stretch. As I was getting a bit into the afternoon now the traffic was almost exclusively coming from Switzerland and to Italy, so even if busy it was a comfortable ride to Lugano this evening (good to think about if planning to go here on your trip).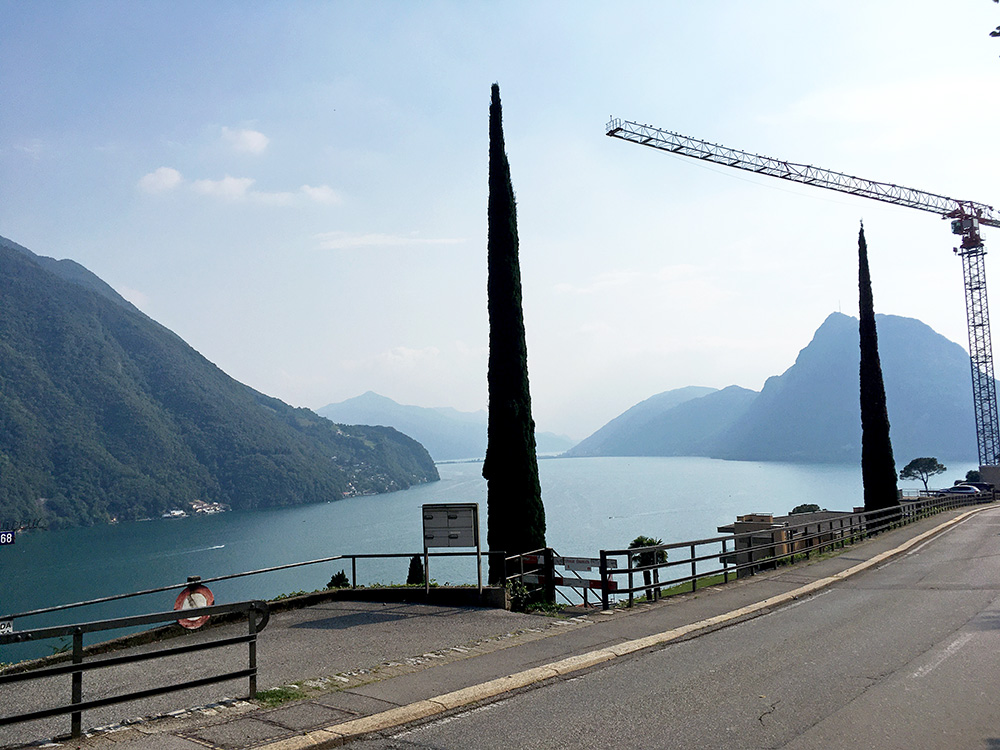 A nice view over the Lago di Lugano when one reaches the high point before the descent into Lugano. This was to be the last photo for the day as the views were not so exciting on the way up in Switzerland over the Passo Monte Ceneri (556m). Always feels like car drivers are more considerate to cyclists in Switzerland, but not so much in the areas where they speak Italian though. Since I had the Wahoo Bolt I could now navigate the hopeless suggested road to Bellinzona for cyclists (almost not possible to follow even with a GPS device), while all functional roads in the whole Bellinzona-Ascona-Locarno regions is off for cyclists, who are suggested to use unfindable bike paths that cannot be used for bicycling (if you ask me).
From Bellinzona up north things are better though. I continued straight on to a place I had looked up in advanced and at first it looked closed, but luckily it was not (as there were not many options along the way up here). It was somewhat cheap, but I think they charged me slightly more than they said and it was not as good as some comments on the web suggested (but again people never says anything relevant when leaving comments on lodging).