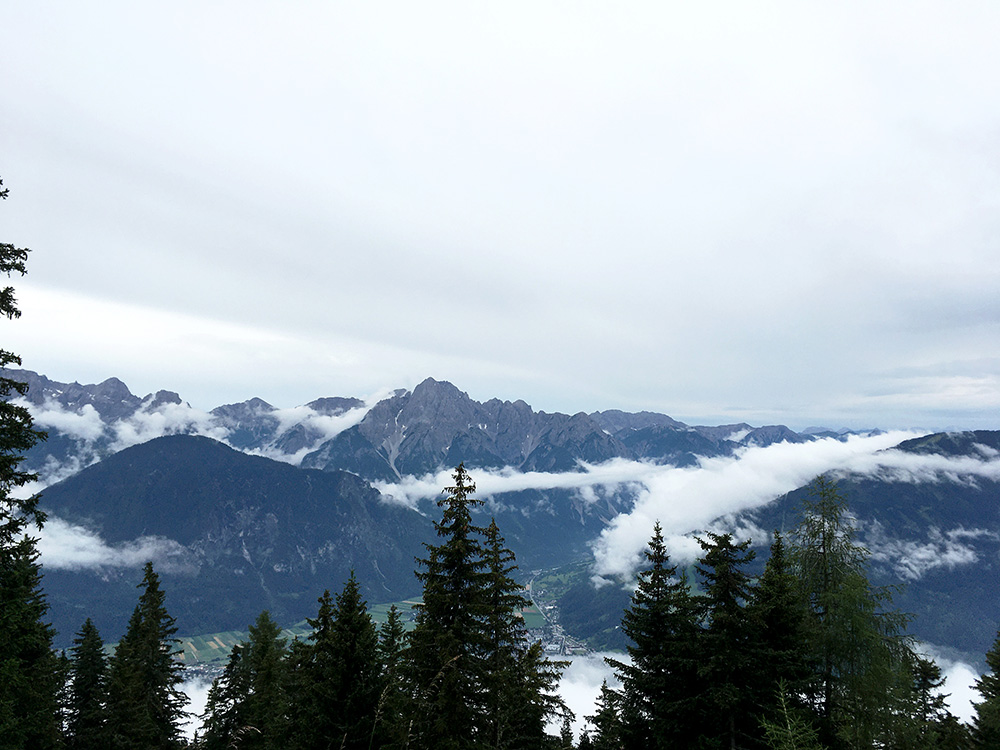 Think I woke up a bit early, but otherwise I got away at a similar time to when being a bit late – 09:26. The view here was from the breakfast room just before leaving. Ok, not raining, but it did not look like a normal Summer in the Alps. All the Alps seemed as if frozen and cold.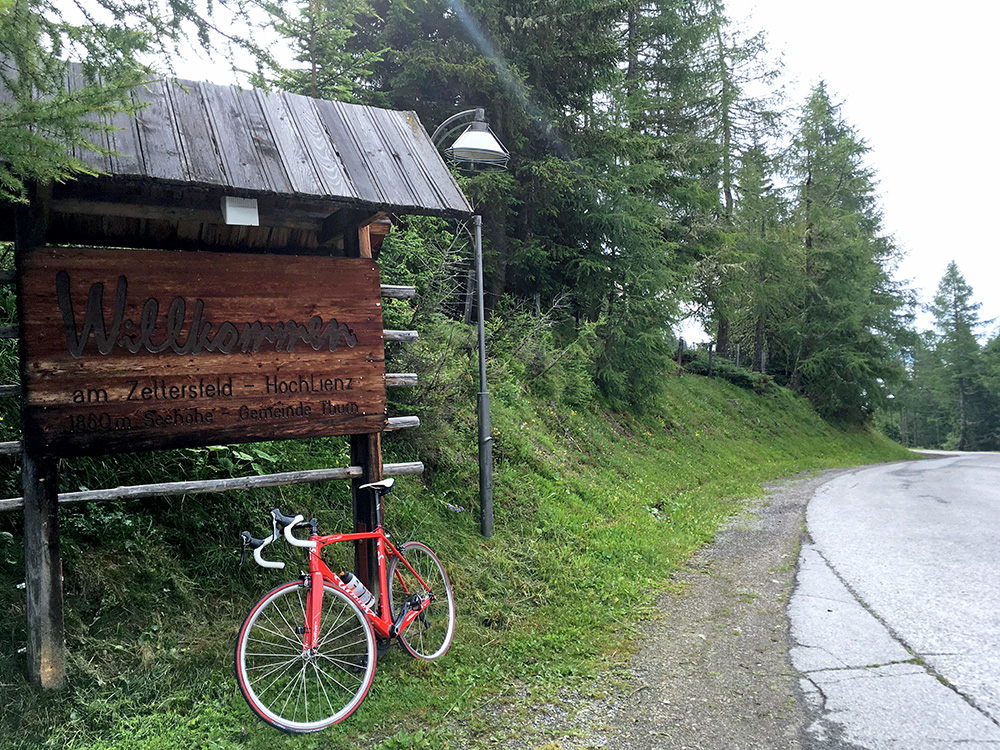 Up at the top all too quickly to get warm. At least around 12-13°C. Down in Lienz it was around 18-19°C, but think I kept my wind jacket on for some time as I was rather cold when coming down there.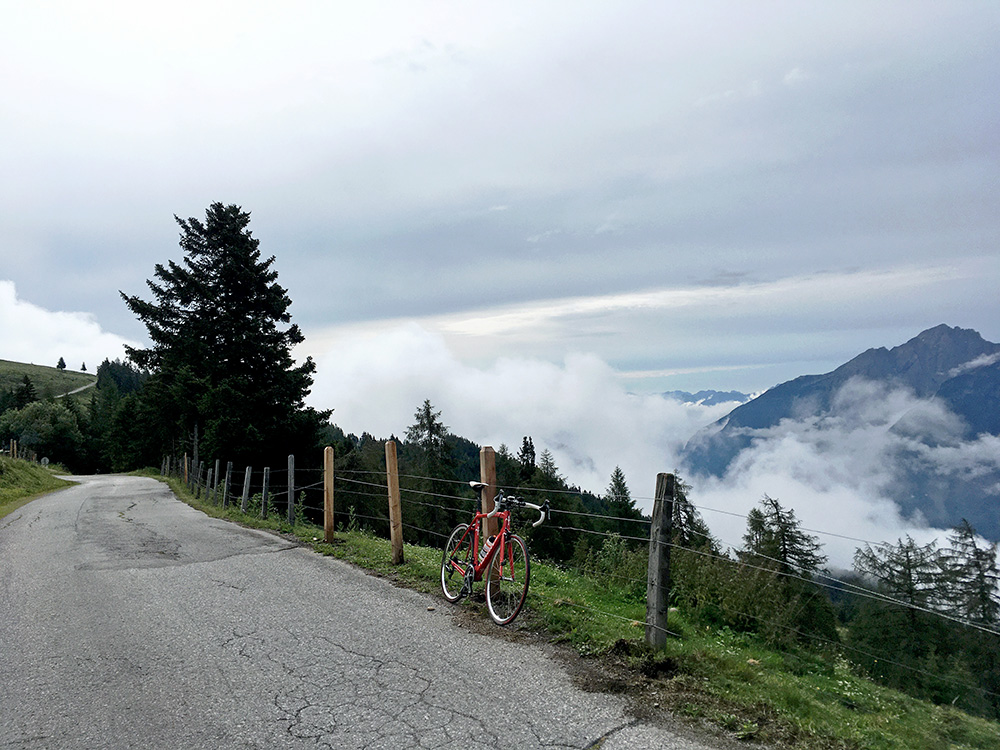 The roads had just dried up and I was very happy about that. The road ahead looks like it could have better views, but it is a gravel road (not so good) – I went up another nearby gravel road a bit to get better views, but they were not much more open, so skipped that photo.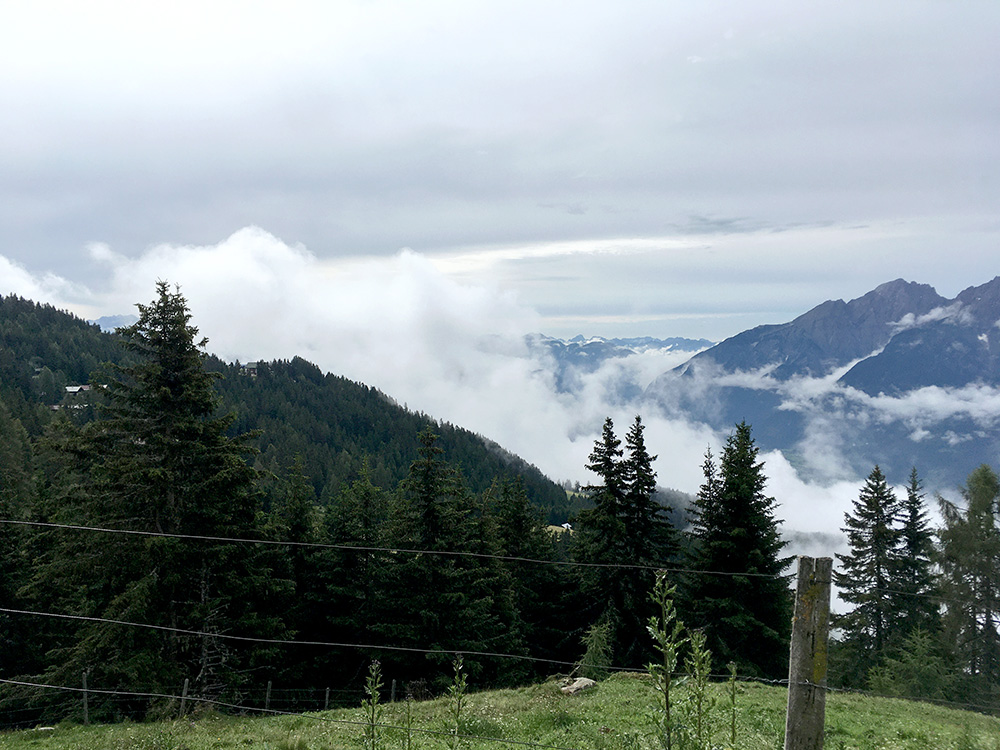 The cloud cover was compact and there was not a chance of any hope for better weather any time soon.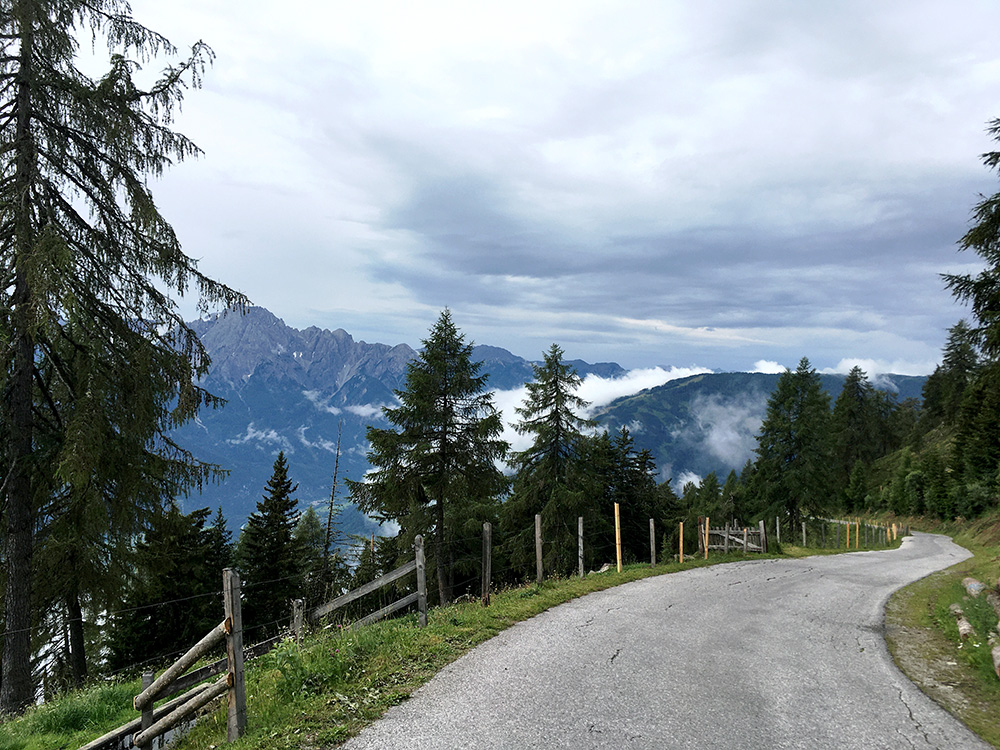 Looking in the other direction and here the road start going down steeper.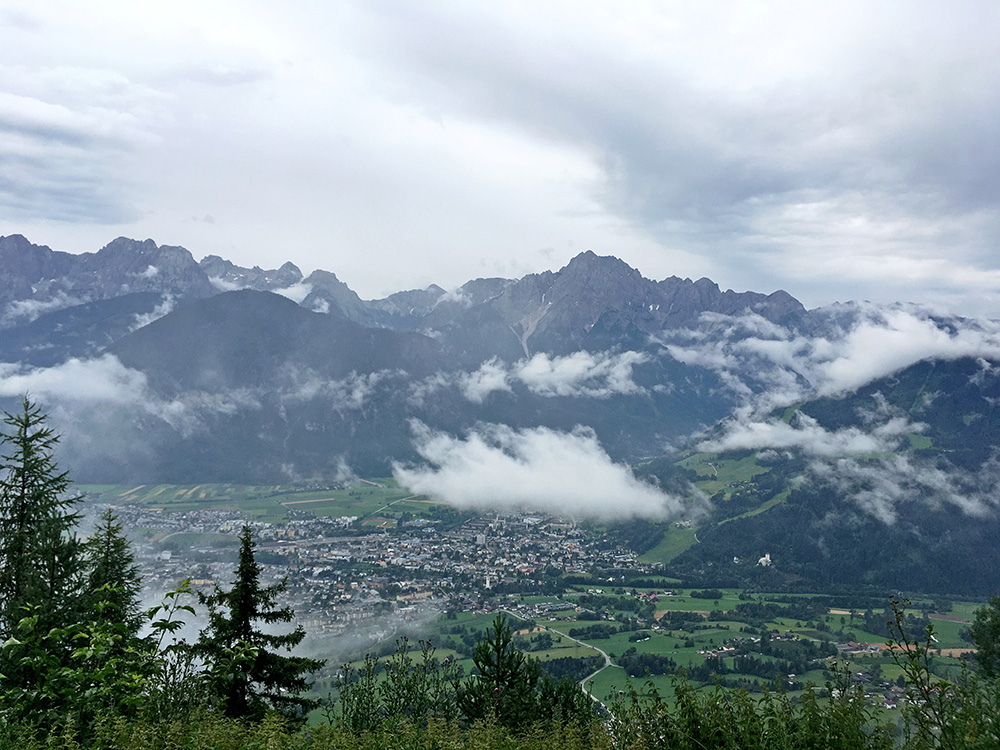 Stopping again a further down at one of the few places with some good views on this climb.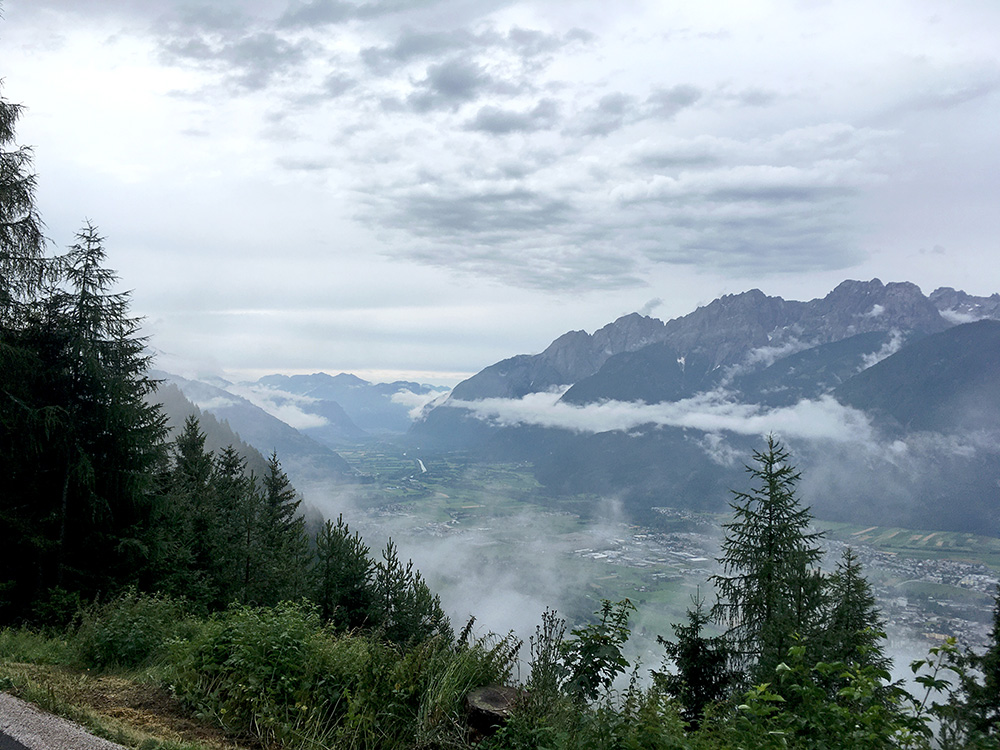 And a last view up the Lienzer dolomiten.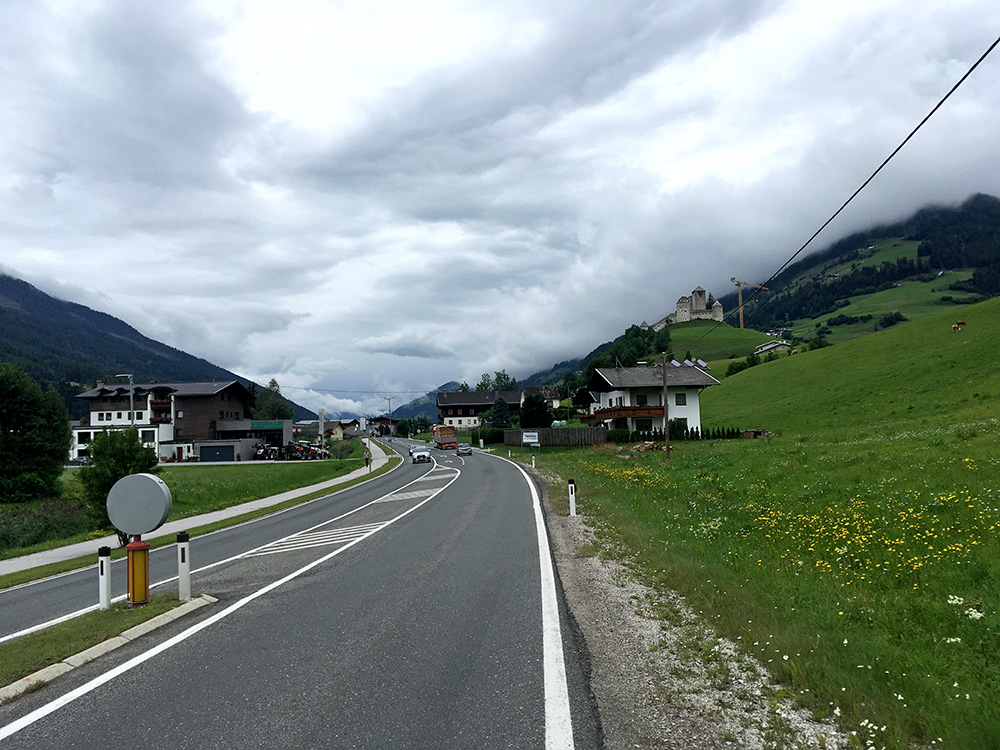 As it did not rain it was actually a fairly good weather for cycling down the valleys. Here passing by Burg Heinfels (photo while cycling).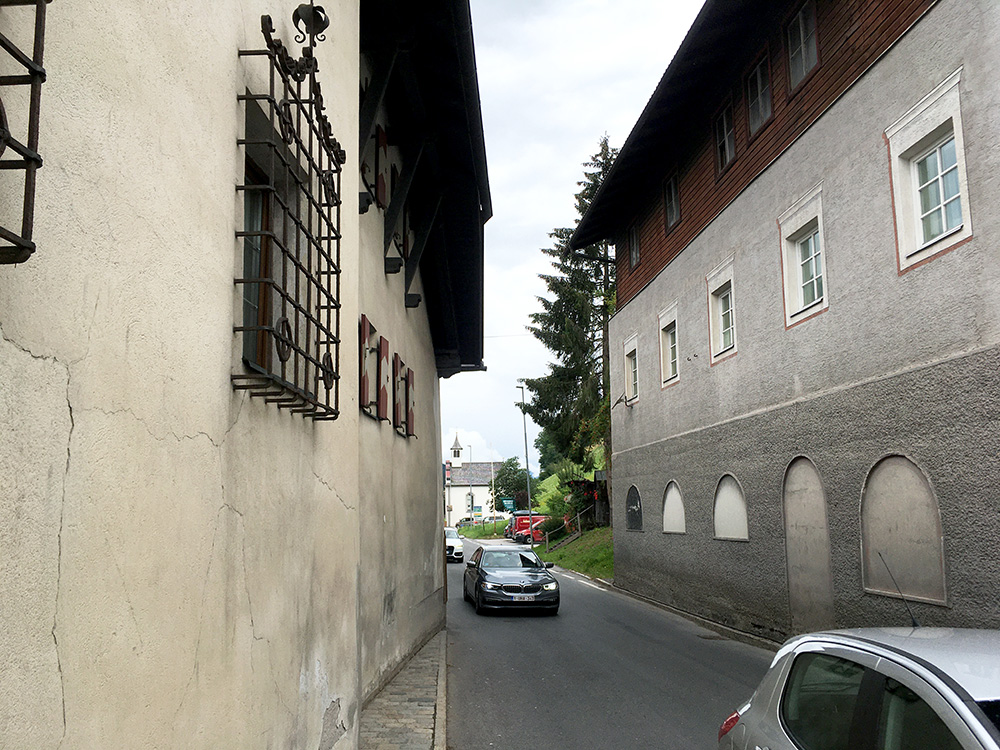 I stopped just later in Sillian looking around for the best place and finally decided to visit the big chocolate shop and café in the centre. Here in the photo is the international highway :-). I kind of enjoyed that the main road went through the centre were kids were running around on the road. So boring with all big roads going around the cities to let them die down. No speed bumps needed here with such a passage.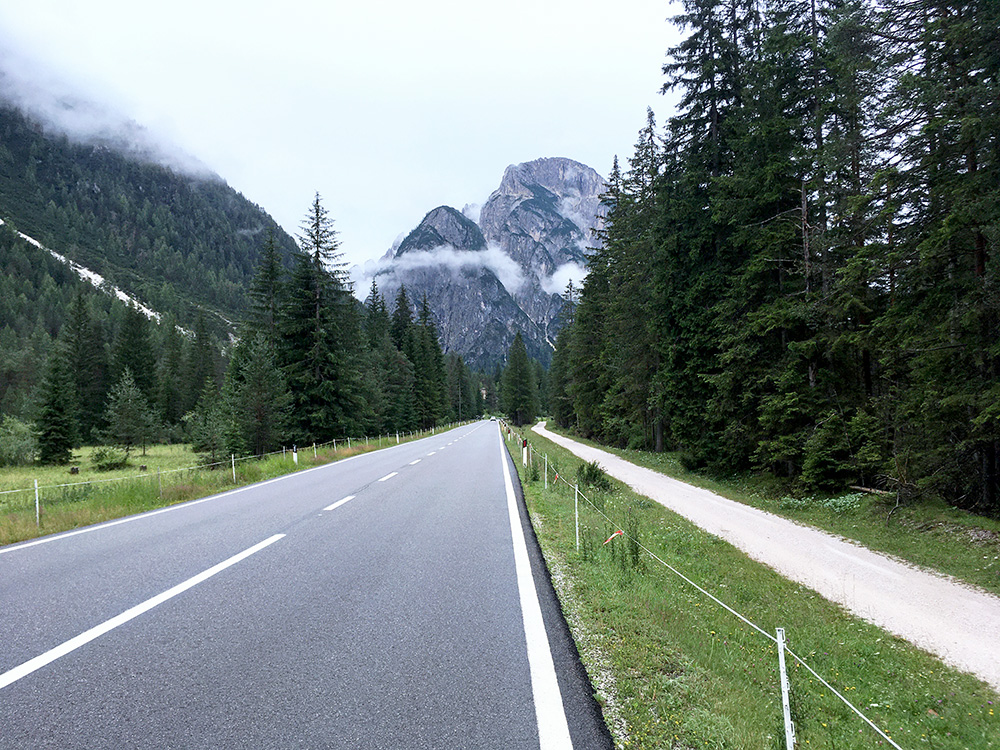 Then after one car driver got irritated because a lorry driver was a bit worried overtaking me, I was back in Italy and once off the main road in Toblach/Dobbiaco by the Toblacher Sattel/Sella di Dobbiaco (1210m) traffic was much easier to handle (it is between Sillian and Toblach were one might want to consider using the bike path, but otherwise it is fine – down west from Toblach it is fine, but one has to take an alternative road at maybe two places and toward Bruneck/Brunico it is a bit narrower again at places).
It was quite nice on the road down south from Toblach/Dobbiaco and I was happy the views were as open as they were despite the chilly weather.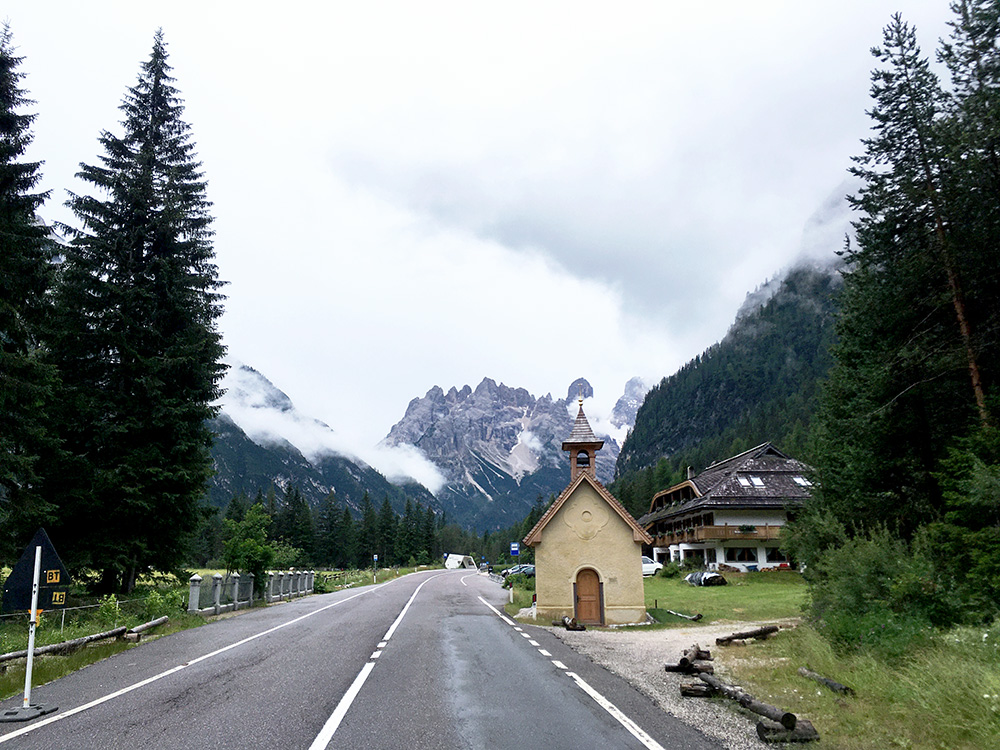 More photos along the way up the Höhlensteintal/Val di Landro toward Misurina.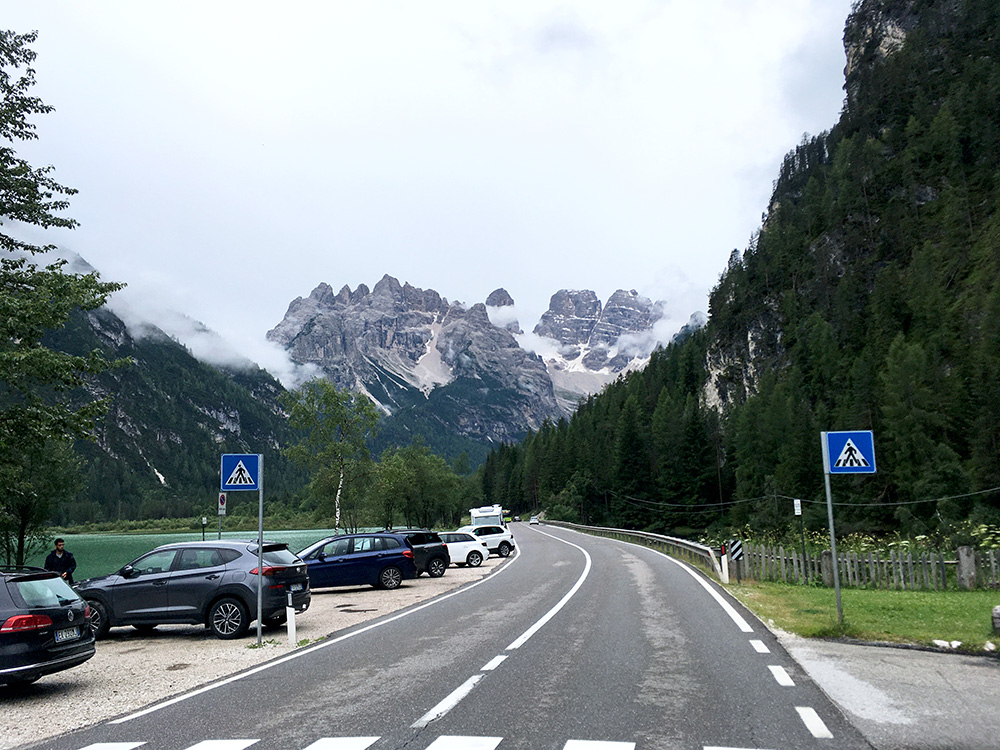 A last photo of the Cristallo mountains from the Lago di Landro/Dürrensee.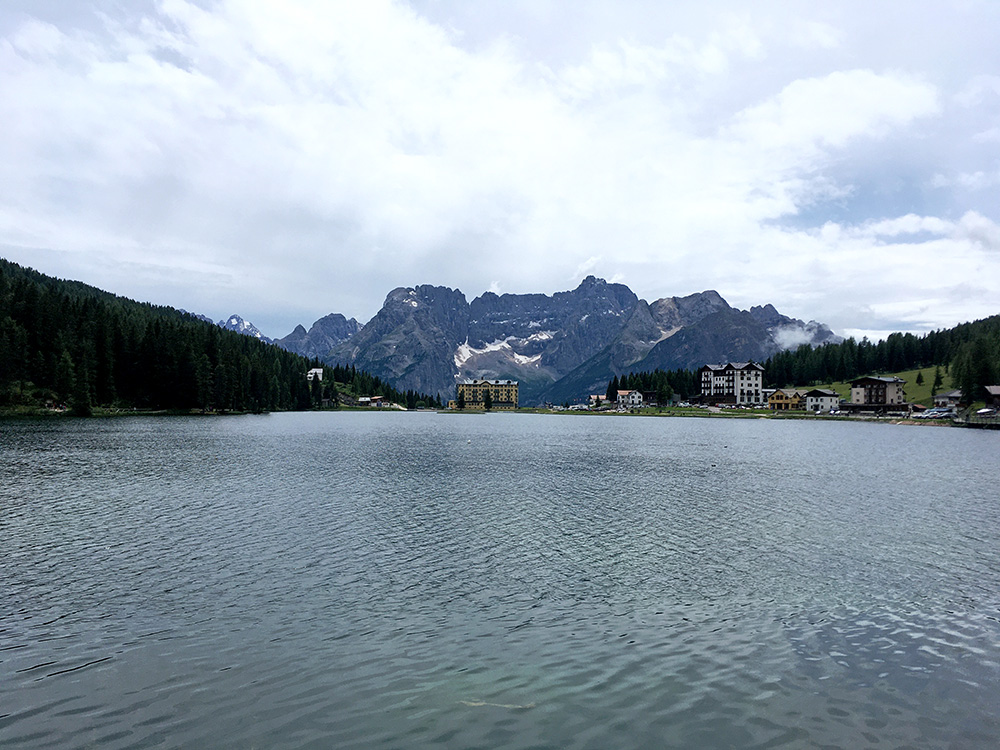 After some climbing I reached the Misurinapass (1760m) and stopped (a bit pointless) for something to drink again. I felt and was a bit slow on this day and it was not very inspiring to climb up these roads in the cold weather, but I got on my way again.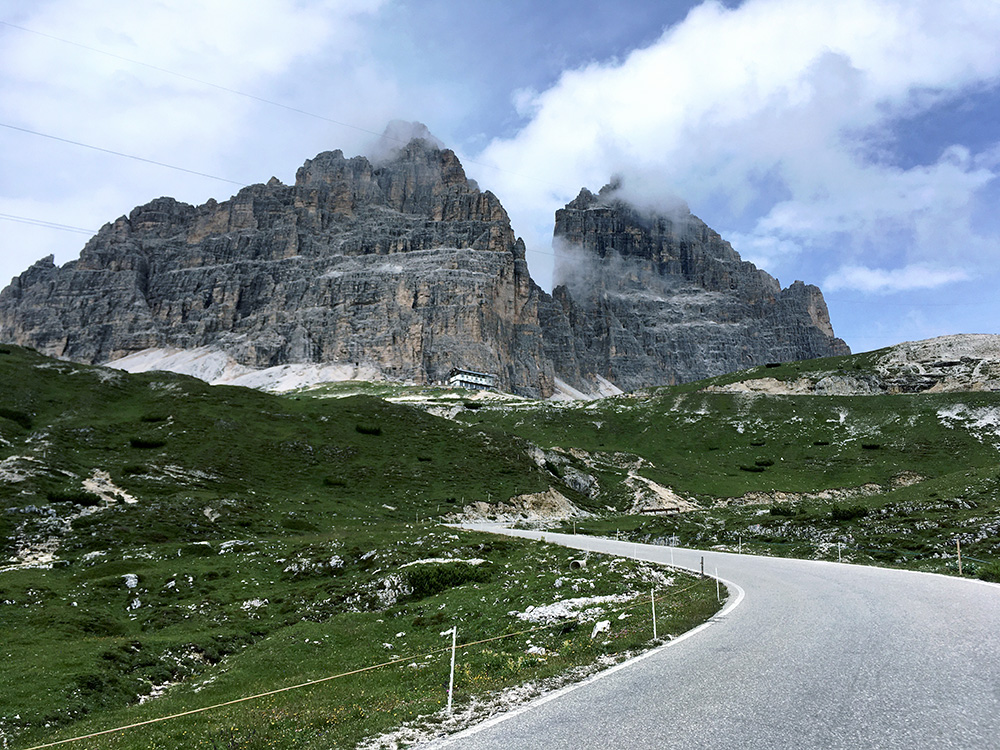 The road to Tre Cime di Lavaredo/Drei Zinnen (2355m) that I have only once climbed before I had long thought to revisit. It is steep with 4 km at 12.4%, 3 km at 13% (steepest kilometre is 13.8%), but not so long. I never went up to the parking at the end on my previous visit in 2003 though, and only went to the Forcella Longères/Rifugio Auronzo (2320m), but then continued on the gravel road and later track up to Forcella Lavaredo/Paternsattel (2457m). I had thoughts about visiting another pass on a path this time, but it was cold and wet all around so not at all inspired to research the paths here this time. Photo while cycling up the last part.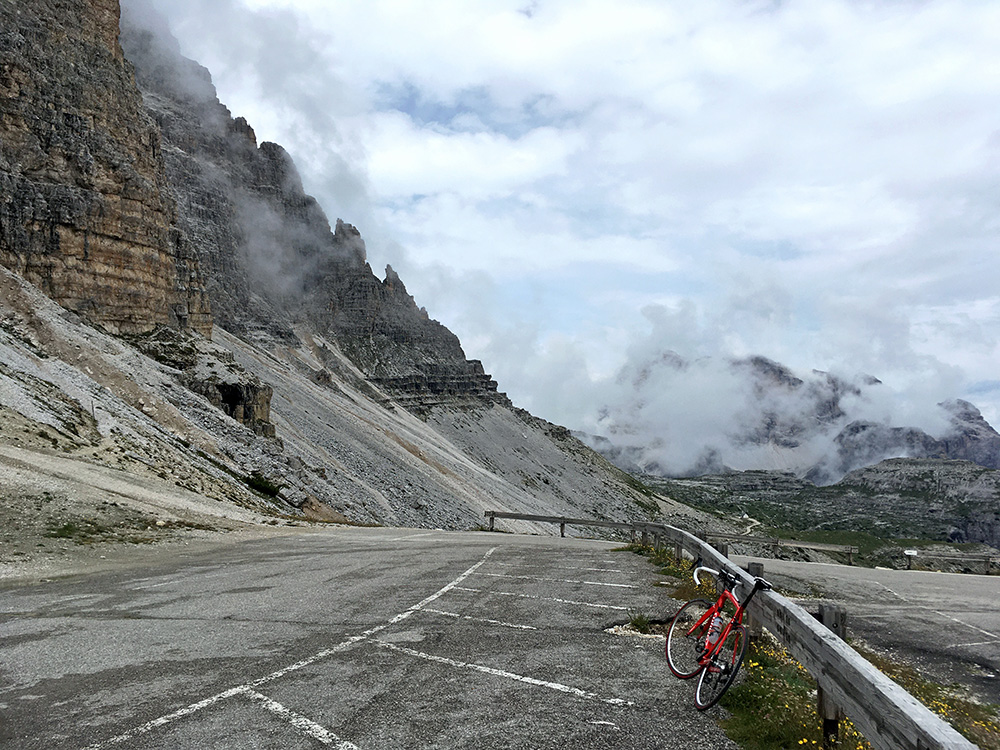 It was like 12-13°C again up here, but think it felt colder. It was quite fascinating though to climb up here in the Summer with nearly no tourists in sight at all. I met one cyclist (maybe two). I wonder which year that could have happened on last time, in the Summer with dry roads in the middle of the day?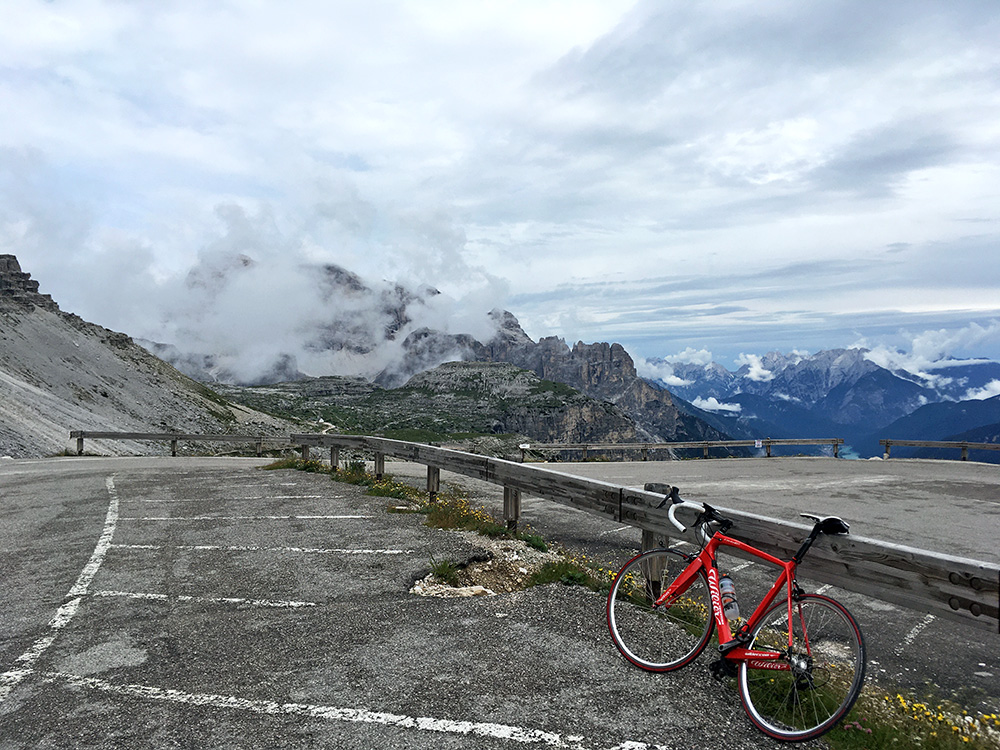 Could not help but going around taking photos and not sure what were the best views (so many).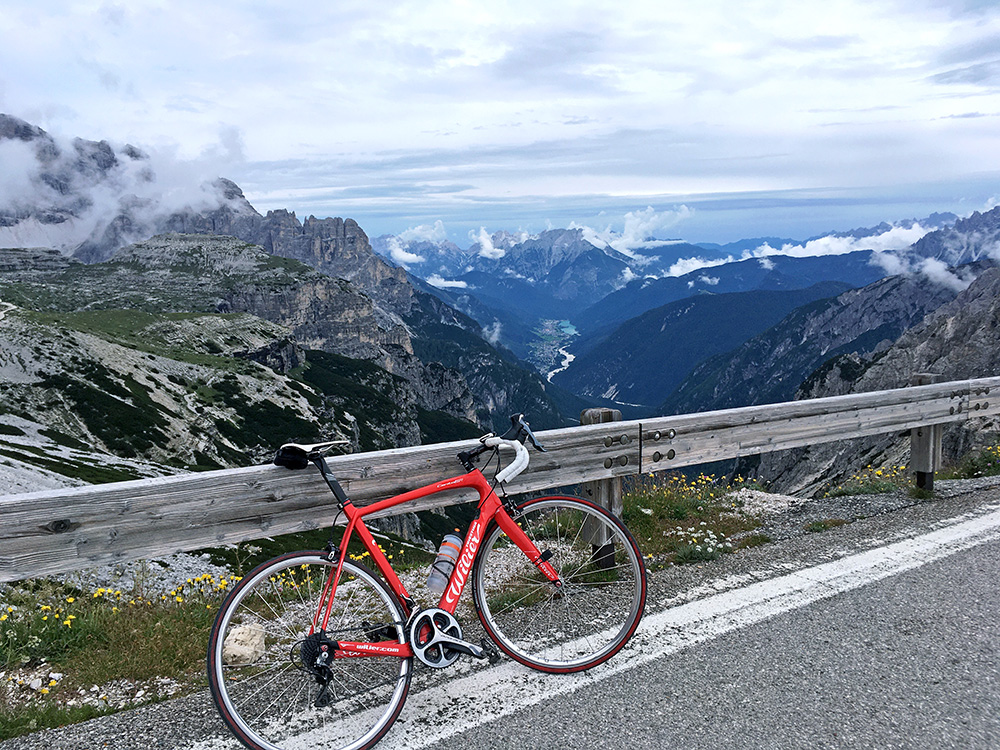 Still compact clouds in all directions as far as one could see, but mostly very high clouds.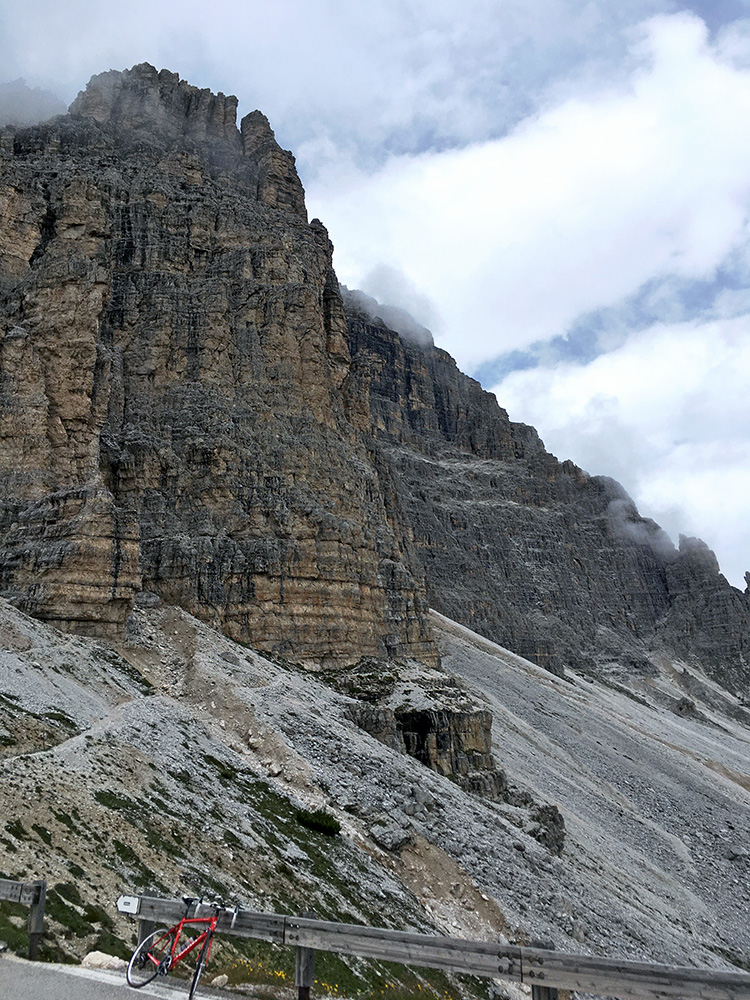 These mountains are very impressive, but maybe even more so at Forcella Lavaredo/Paternsattel, which I urge you to go and see even if you have to walk part of the way there.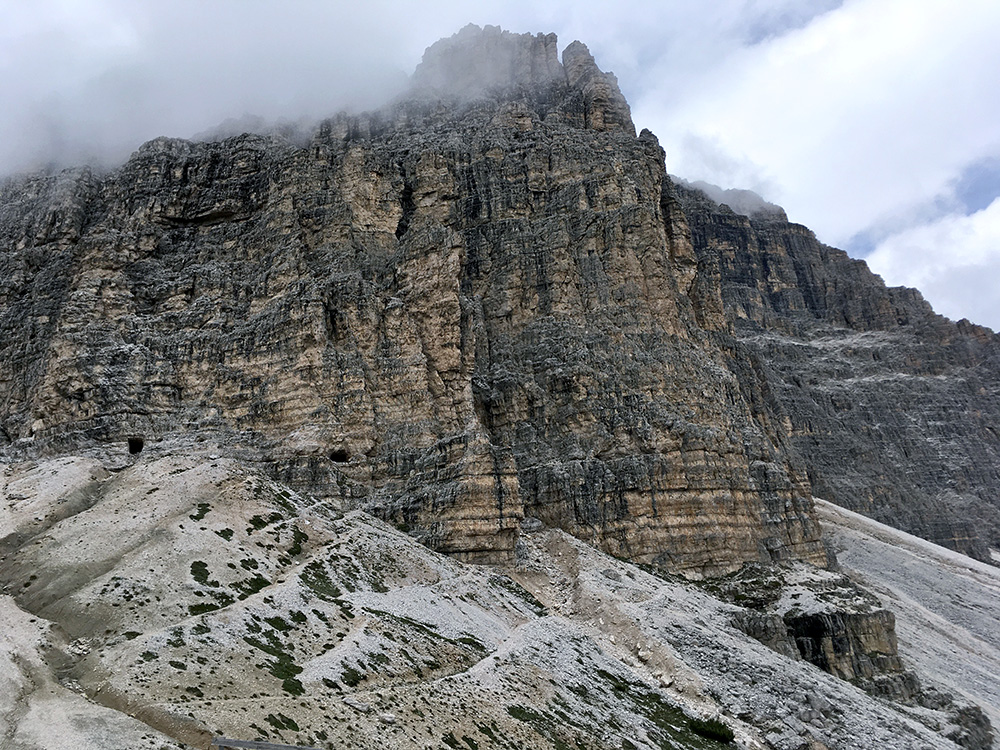 Another photo and you can see some dug out openings in the rocks likely part of the military defence up here in the first world war and it was an unlikely and impressive place to conducting war at, but back then the high mountains made more sense strategically to possess than they would today.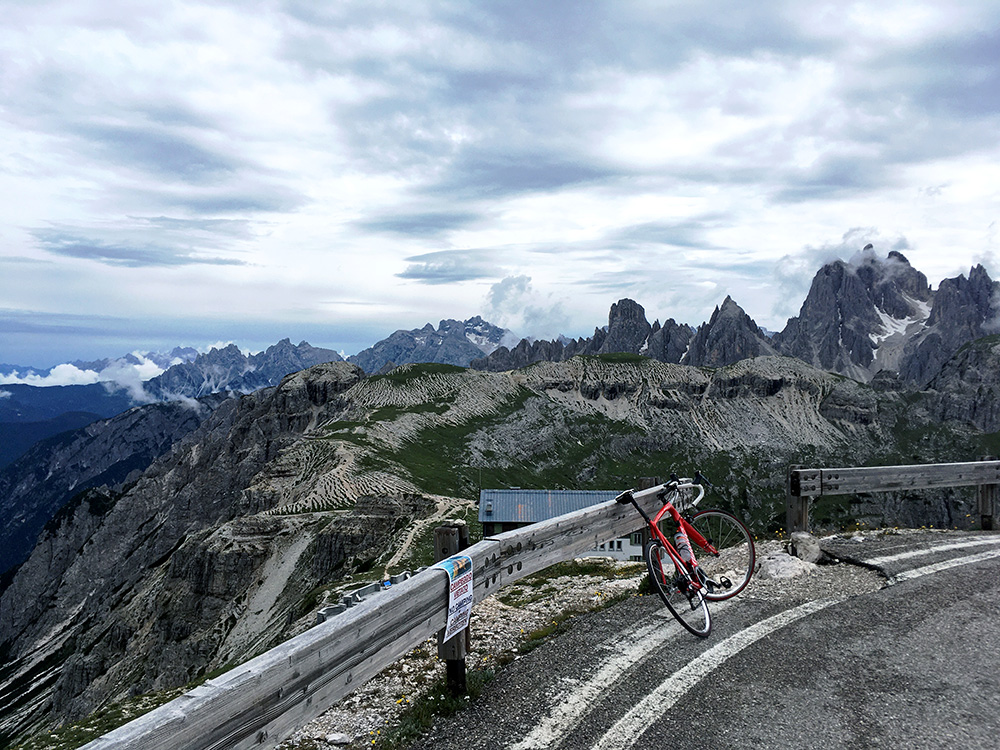 Looking in the opposite direction and to the left is the huge Vallon de Lavaredo and to the right the Val del Cadin di Longeres and in between the Forcella Longères (noted further down the ridge at Kompass and one Tabacco map (no path cross the ridge there though), but otherwise noted just below the rifugio on or just below the track to Forcella Lavaredo.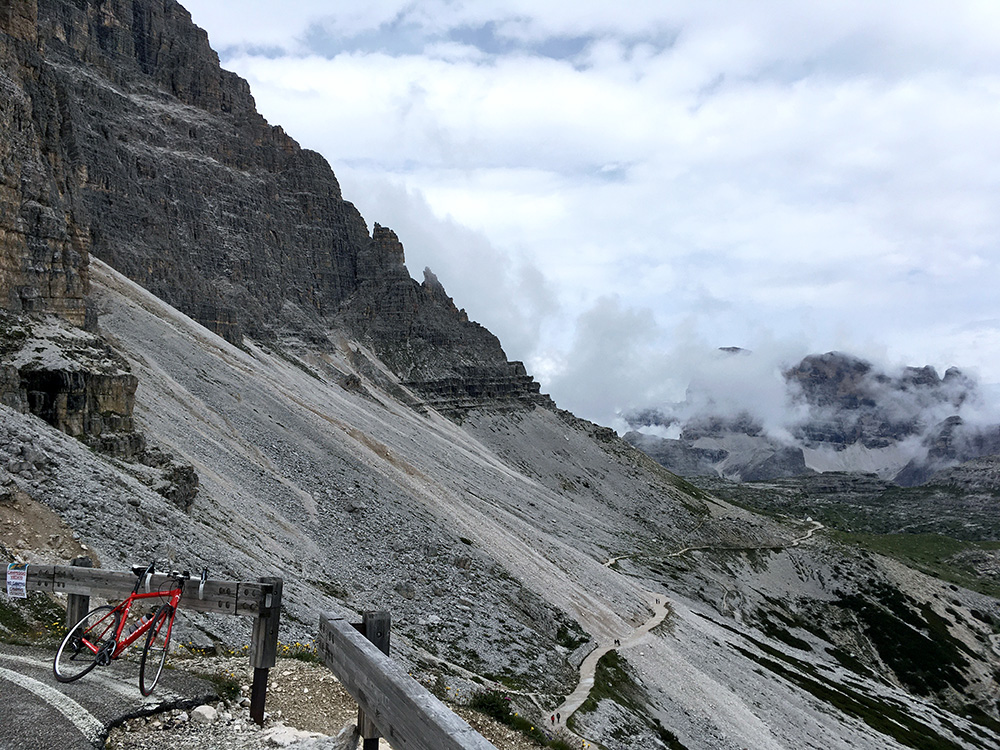 Here you see the gravel track/road that continues around the corner you see and then at rifugio Lavaredo one walks (with a road bike) up to Forcella Lavaredo/Paternsattel (2457m).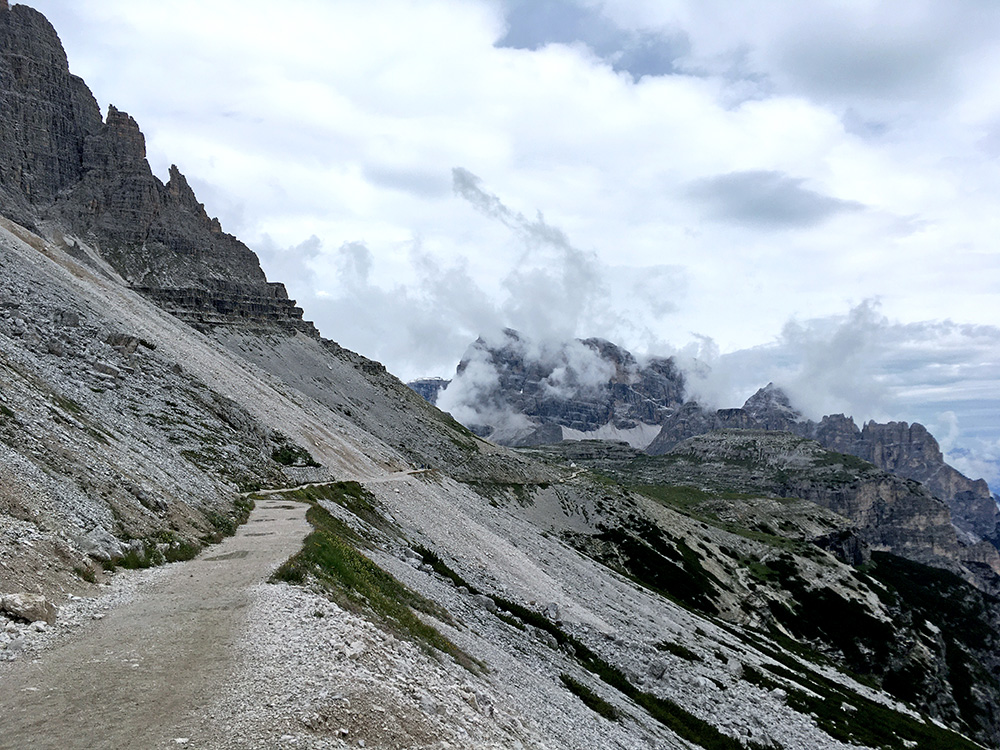 I went down there to start out on the gravel road I managed fine to cycle on back in 2003, but it was wet and I was a bit afraid of getting a flat, so stopped soon.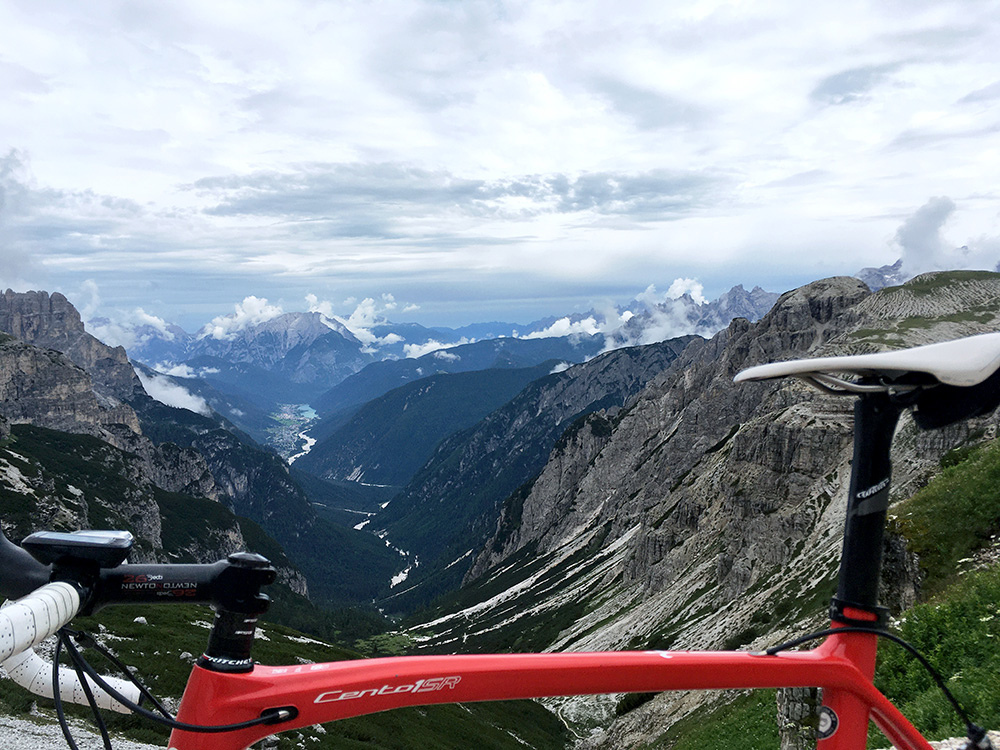 Just wanted to take a photo from (or near) to where I had a photo of me taken by some other tourists in 2003. Only my bike had to pose for the photo this time.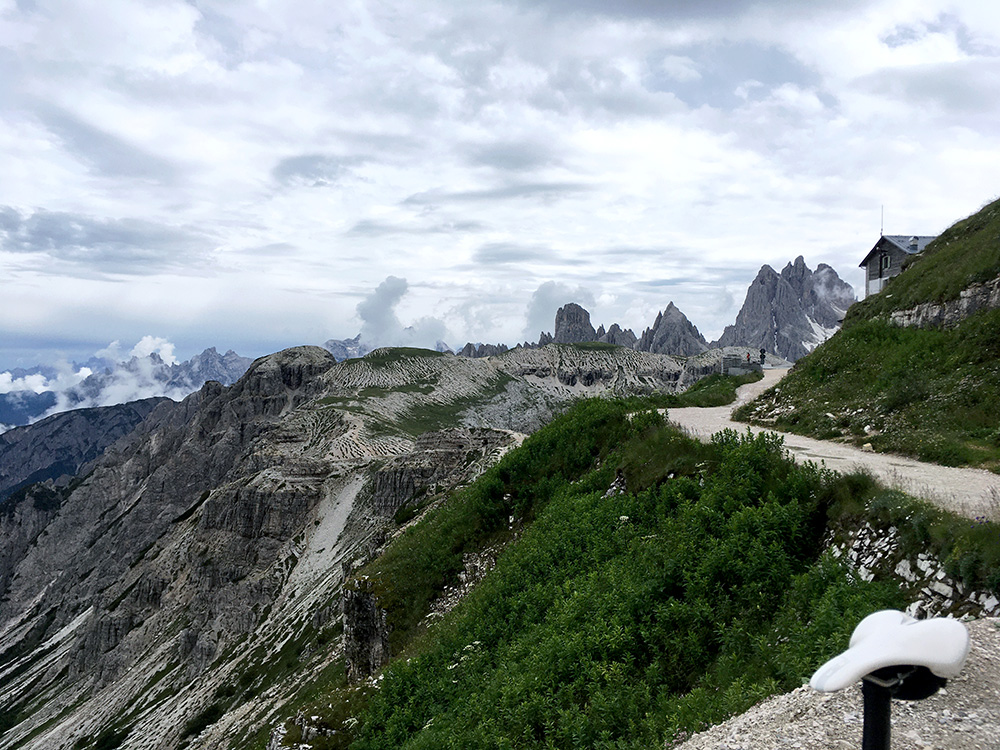 Looking back and you see I did not go far.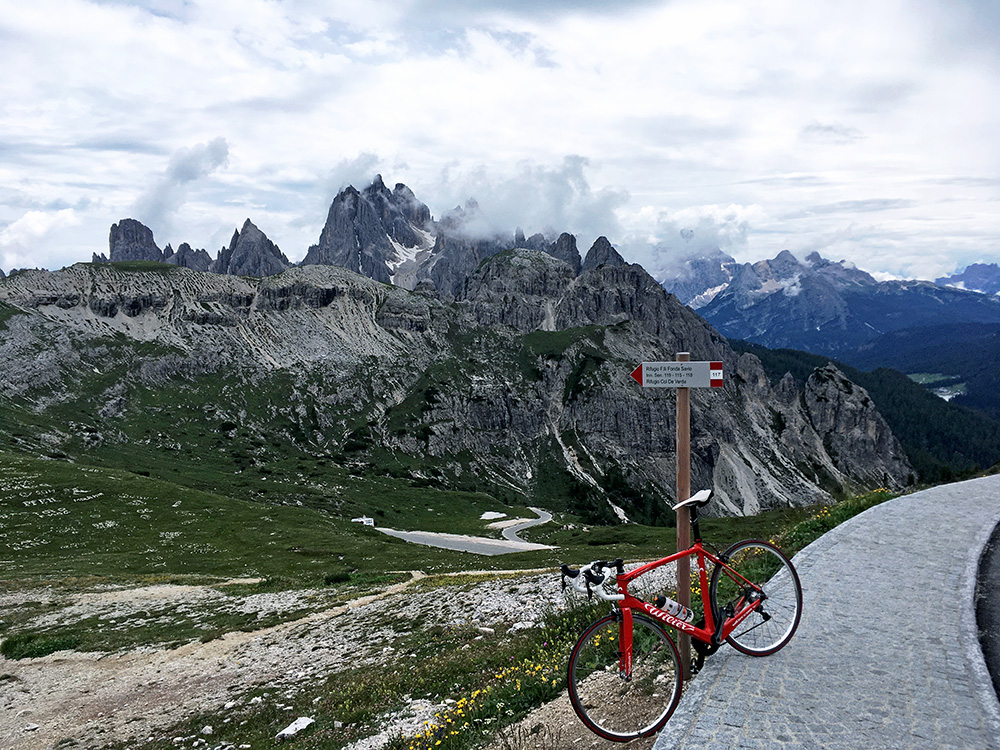 Here just below the rifugio you can glimpse the road I was coming up in the Longeres valley.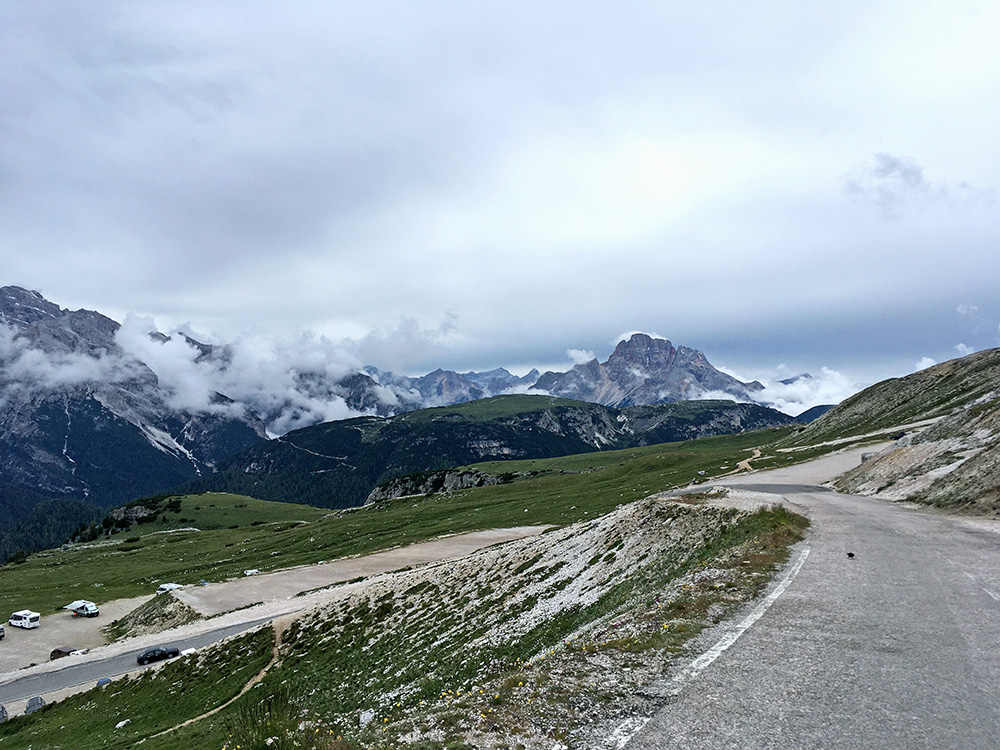 Since I had a photo of Monte Piana to the west and a road I had thought about climbing again as I never went to the top when I went up there once before and could possibly have done it on this day (it is normally not allowed at all for cyclists and enforced by the jeep drivers there, though I was allowed to pass by by begging a lot earlier), I include this also even if not as spectacular views there. It did not feel so inspiring on this day to try it and there is also some gravel and I doubt the road is better now than before (probably worse). I was also a bit worried the weather would get worse before I got out of here.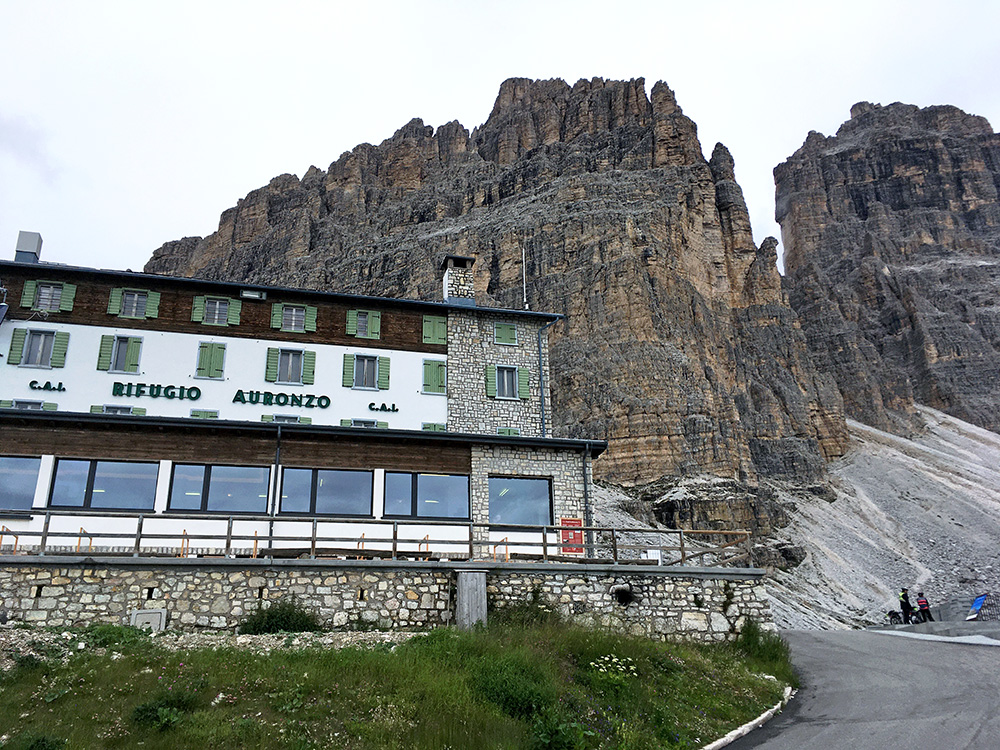 A last looking back up and two asian tourists can be seen here – about the only ones I saw not looking like they were from Europe this Summer, but they could very well be from Europe too, of course.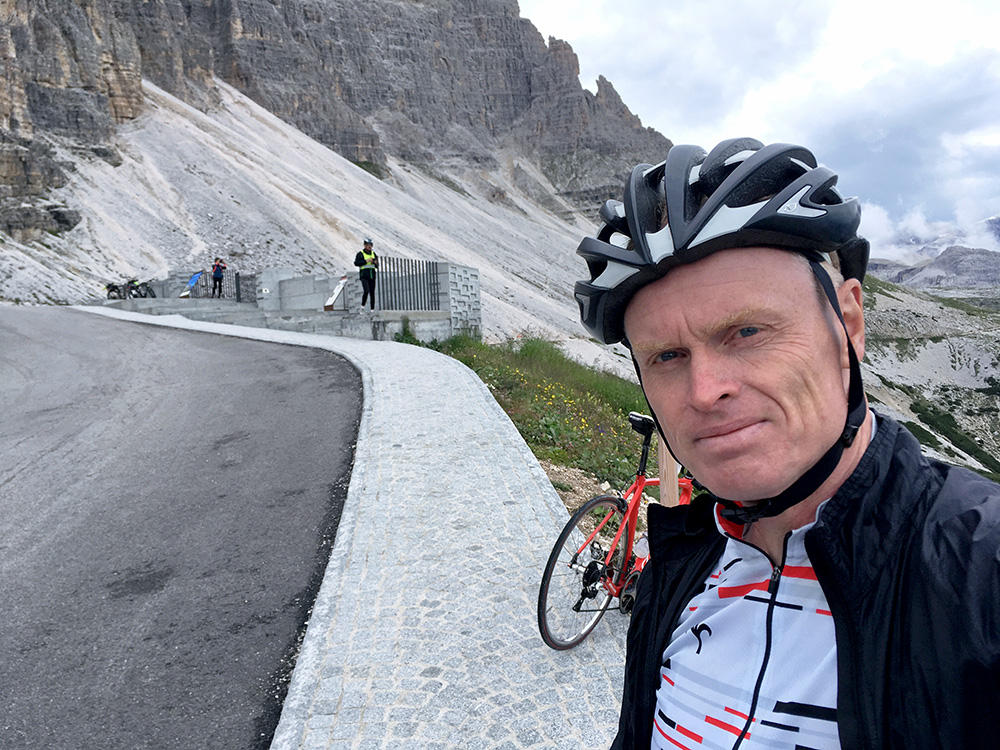 Finishing off with a selfie before going down and I was starting to get cold now. Kept looking at the temperature as I descended I believe, but there is usually a long lag before it adjusts. It was cold until I got back to Toblach/Dobbiaco. Then a long (longer than I remembered) way down to Brunico/Bruneck on the main road (mostly), but found a short-cut road just before the main road turn-off for the village.
I just kept going and decided I go as far as I could until I need to stop for the night. So I went up the Tauferertal/Val di Tures on the main road via St. Georgen/San Giorgio (818m) and Mühlen in Taufers/Molini di Tures (849m) I took a narrow and steep short-cut road up the Mühlwaldertal/Val Selva dei Molini to Lappach/Lappago (1445m), where I asked at a place I had found when researching places here, but it was no longer in operation and the lady asked me to try at a hotel higher up after a tunnel, but it was also full and I got advice to ask at the Schuesslerhof (one of the last houses in the upper village). This was the best place I stayed at this year – no real competition (despite many others being quite good too). Everything was great (great food, great room, great hosts, great location and even nice other guests) and of course it was maybe also the cheapest one (as is almost always the case). I was also lucky as I might not have found many more options up this valley.