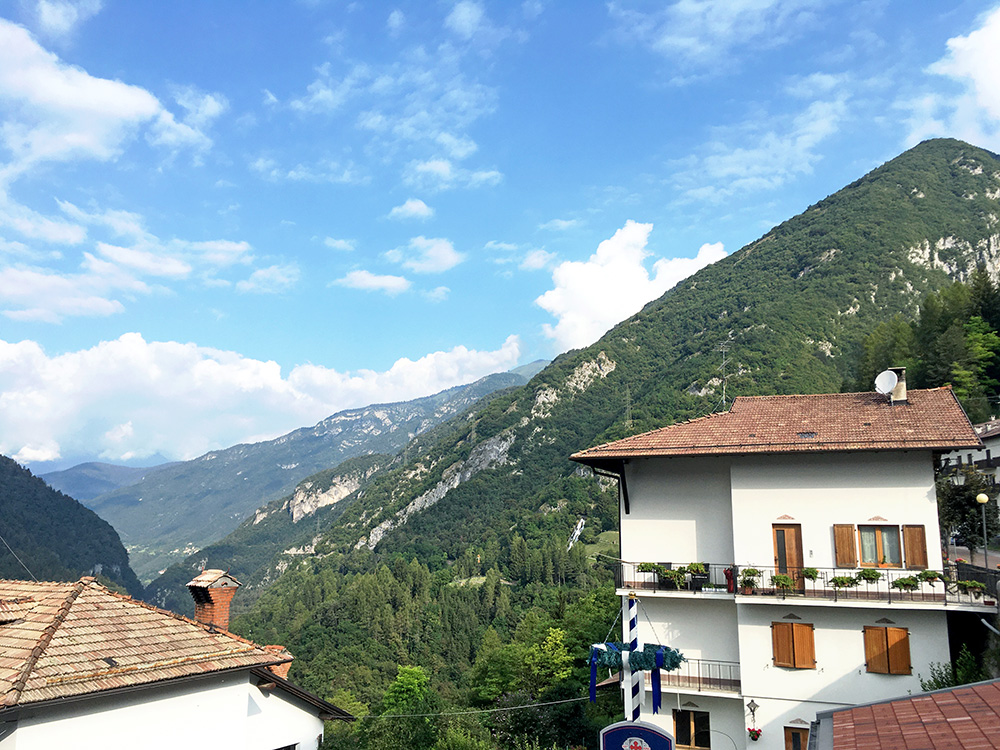 I continued in the southwest direction most of this day too. There are only four +1000m passages from east to west in Italy here, then one passage (with two passes) in Switzerland, three passages in Austria and two in Germany. I skipped Stelvio earlier and last time I took the Tonale passage, so was not interested in that one. The choice was now to take Passo Croce Dominii or Colle di San Zeno (which would have required one more minor pass), but I thought it was a bit too much of a detour to take San Zeno even if it would have been most exciting as I never climbed it from east to west and only once in the other direction. Thus it was Croce Dominii once again for me. But first down from Stenico on the nice alternative road to Tione di Trento (533m). Here at the start in Stenico.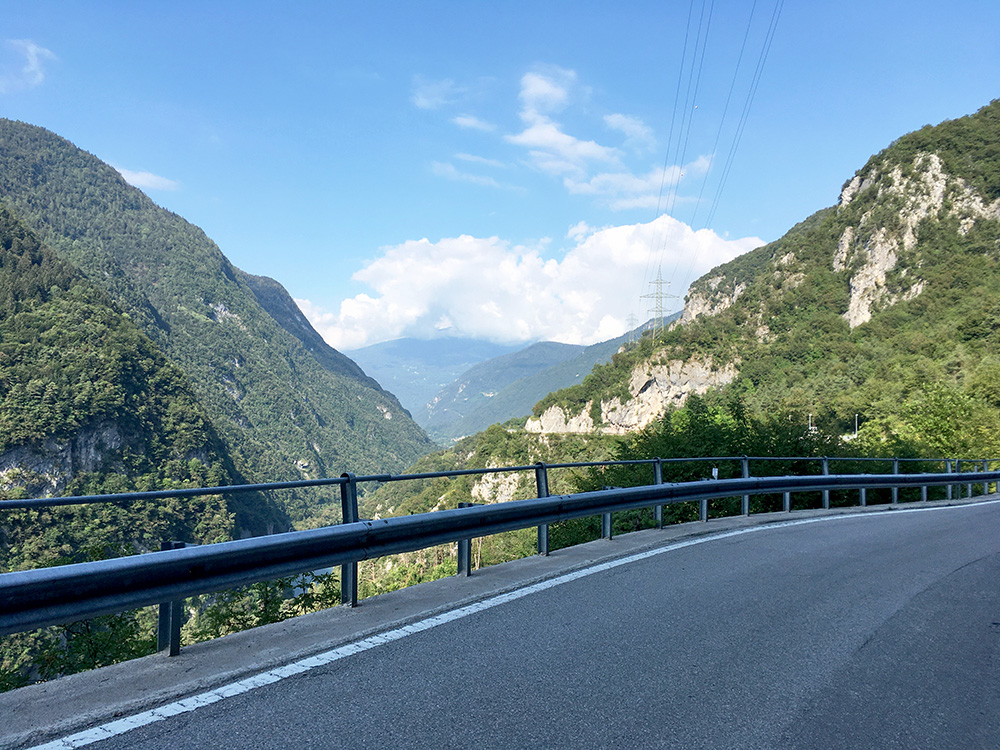 A photo here along the nice road on the north side of the valley (much higher than the other road). I met a few cyclists along this road. It was a nice sunny morning and I was soon down in Tione di Trento. I needed to get a new rear tyre as the rear one had worn out now – 16 days is what one gets out of a Michelin Endurance tyre (most others are not lasting longer though and the front tyre always last much longer – it is partly caused by the weight of the rider too of course).
Had to ask someone in Tione as I could not find a bicycle shop even when consulting Google maps. There was one at the upper end of the village and down a steep road toward the Sarca river). It was terribly hot here. They had a Michelin Endurance tyre at 25" and one Lithion 23", the Lithion was less than half the price though, so not hard to decide taking that and it would likely hold up during the rest of the tour anyway. Also still using 23" as they are easier to find and out of routine, but they are also normally cheaper (and 25" is usually for younger people who has come to accept higher prices as a new standard maybe for no obvious benefit, as usual).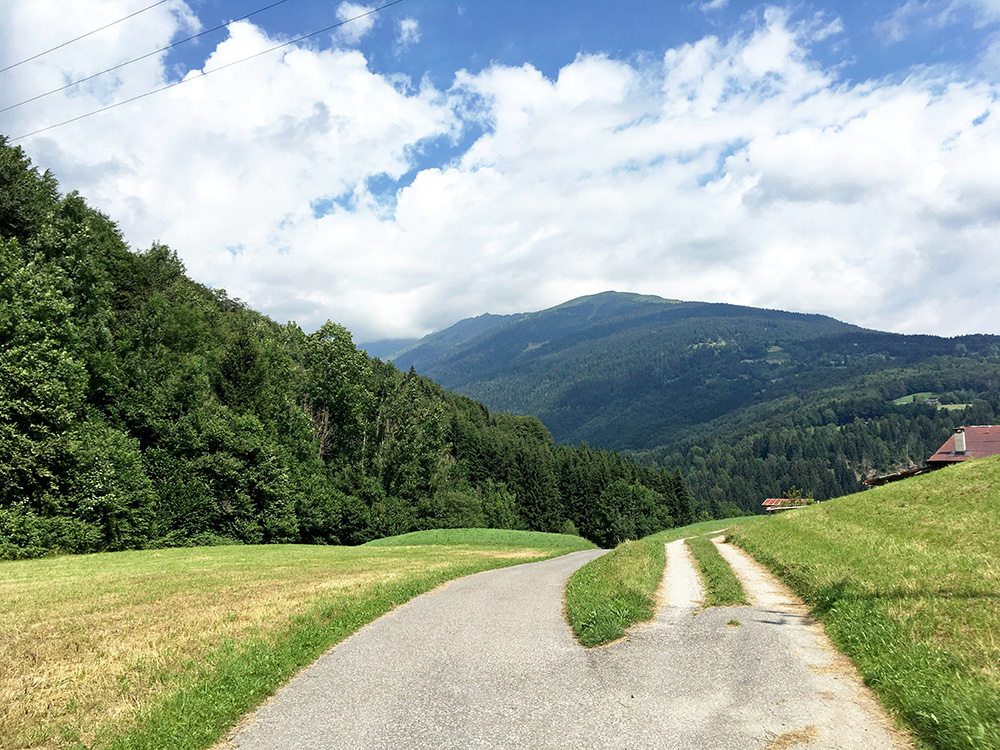 Eventually I got going again. I skipped another planned climb here up from Tione to Malga Cengledino (not sure the last part is paved, but will have to check that out another time). But then I continued according to plan and took the small parallel road to Sella di Bondo (820m) (on the main road south), which goes over the Bóca de Lodin (978m) – a nice alternative pass. It is a very short climb, but it was surprisingly steep up there even from the slightly easier north side. From the bike shop it was 8.8 km at 5.6%, but 200m at 15.3%, 100m at 16.1% (max ca. 17-18%).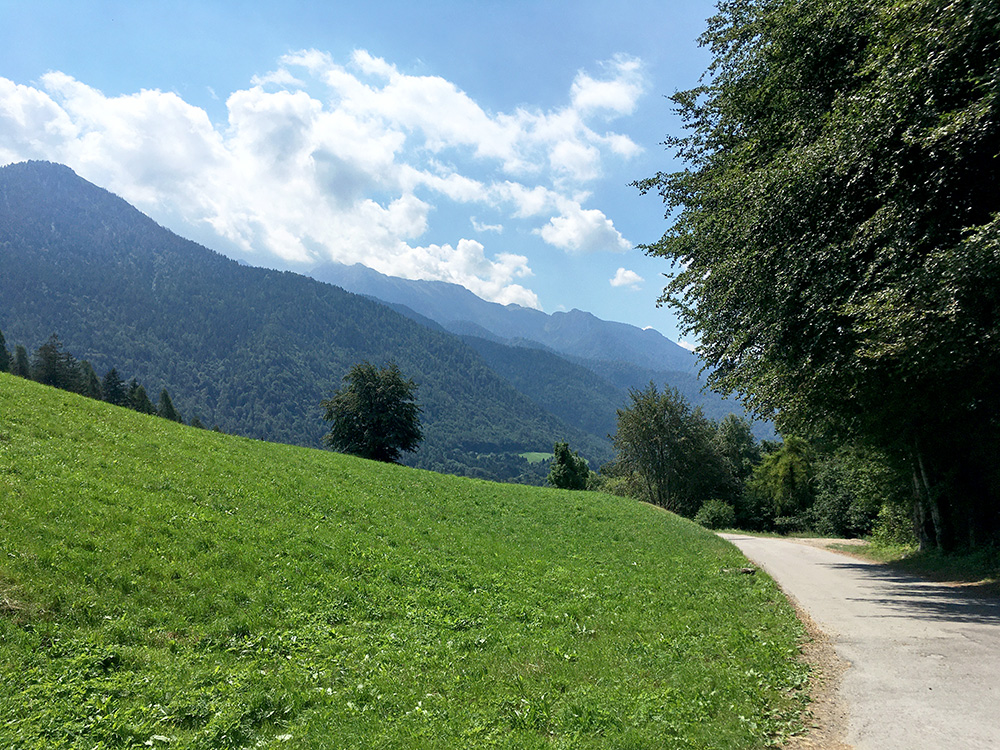 This is the view ahead south and not much notice of the traffic over the main road up here. It was not very trafficated on the main road today though. I continued down to Pieve di Bono/Creto (507m) where I went up the next planned climb and I was a bit worried over this one as it was on the old list of challenging Alps climbs which listed the steepest roads in the Alps back around 2003 – I reproduced the lists on my site as they were not being maintained any longer by the creators, but had been very much referenced by people who wanted to find the really steep roads in the Alps especially early on, but still many people do not know a lot of these climbs and Malga Table (1645m) is not particularly well-known.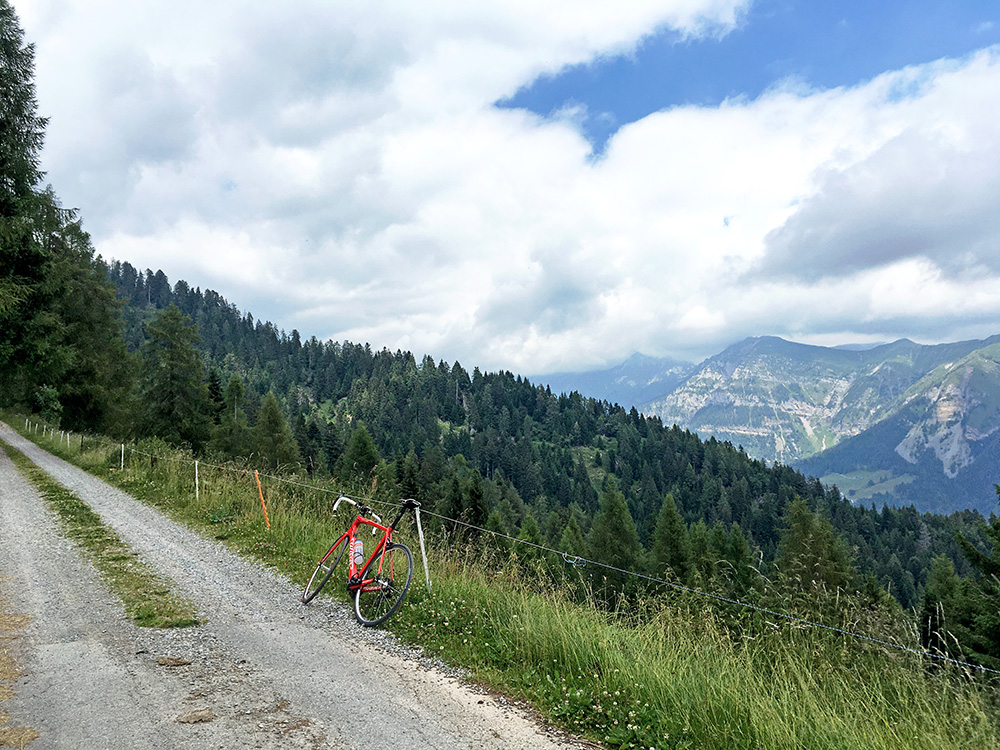 The road starts rather steep and it was very warm now so went slowly up to not burn out early on. I did not remember the profile of the climb and feared it would get steeper still toward the end. Luckily it turned out to be less steep from Boniprati (1168m). It is 11.1 km at 10.2% and the first 5.8 km are 10.9%, 4 km at 11.7%, steepest kilometre 12.7% and max is ca. 17-18%. So it was not among the hardest climbs, but all climbs above 10% for over 10 km are in a class for themselves (even if shorter climbs can be harder, for sure, but also longer less steep). Here I am up at the very end of asphalt.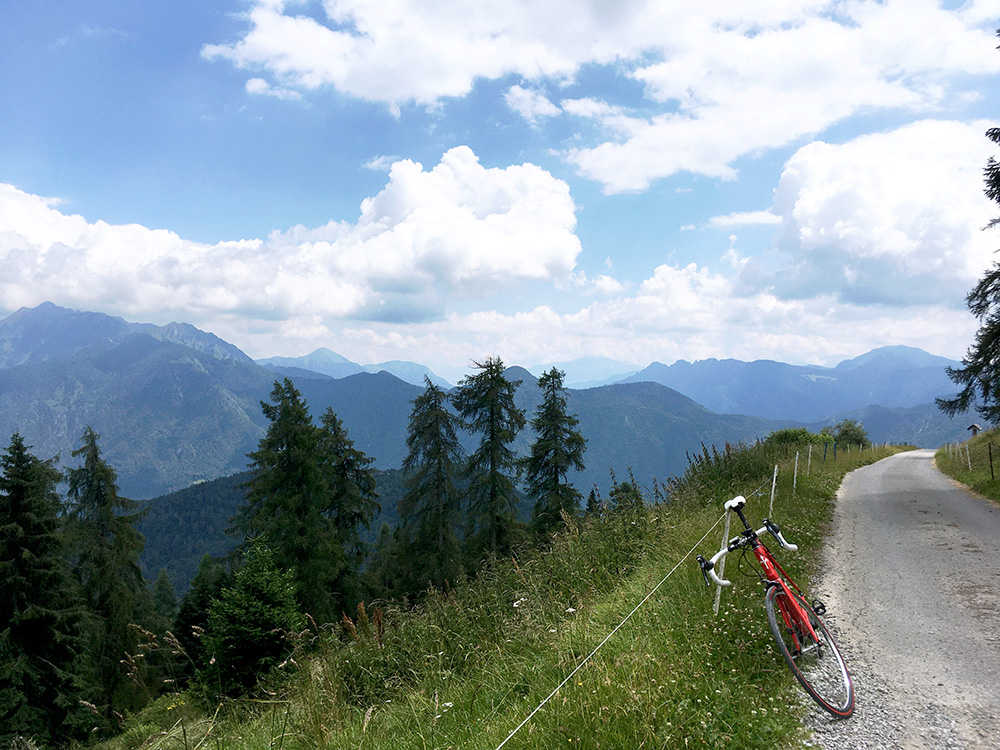 Looking back the views are lovely. The valley below on the right hand side above, Val di Daone, has a paved road up to Lago di Malga Bissina (1799m) and is one of the longest climbs of the area I have still not visited and it is likely worth a visit.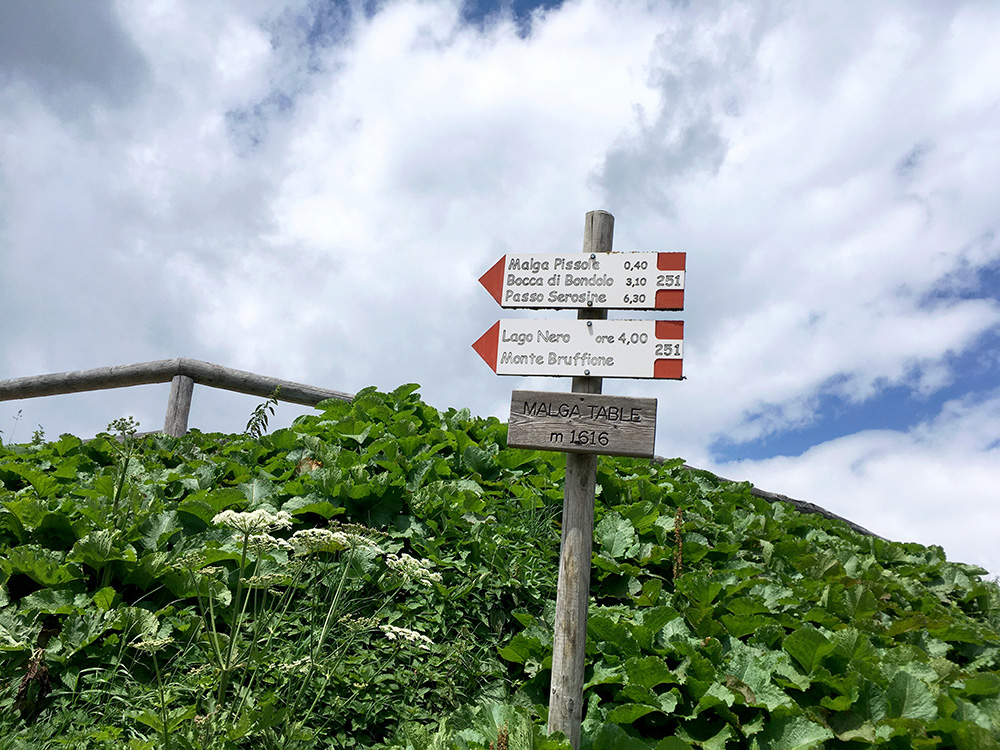 Back at the Malga and the sign here.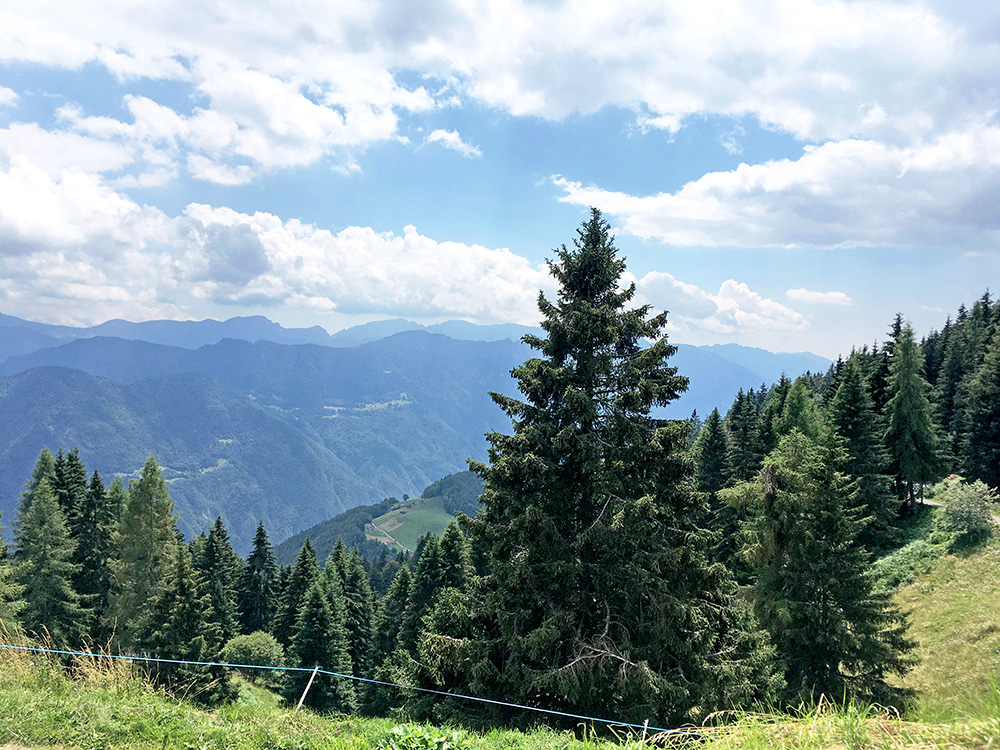 Photo in the direction of where I came up.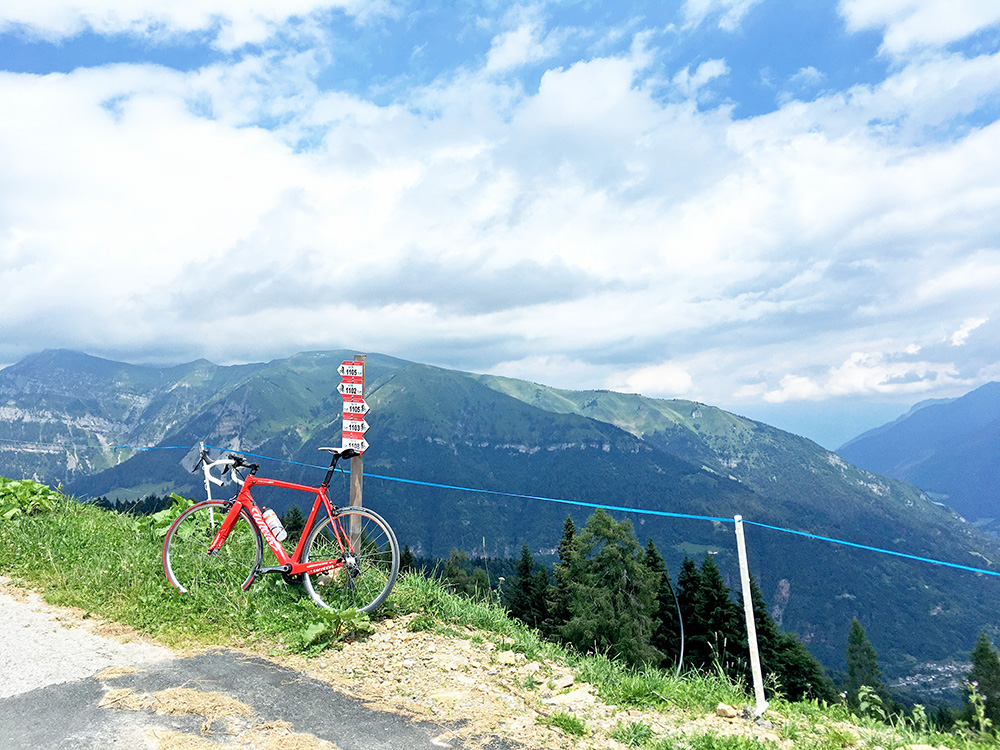 A last photo before returning back down. I stopped at Boniprati by a bar/restaurant and got a beer, though they did not seem very interested in serving people (maybe out of hours or something). Then down the alternative road up here from Cimego (only slightly less steep) and the road was quite nice and one had to be careful.
Down the valley it was very hot now. I tried to stop at a factory along the main road to see if I could borrow a pump as I apparently had not got the tyres properly inflated in Tione, but a lady there advised me to go to Storo and I continued on down there. There was a shop at the turn-off for Storo that showed they sold bicycles etc. but they really did not have much there as it was not a proper bicycle shop. I went into the village and saw a shop on the map, but was a bit worried maybe it was closed. I circled around there but could not find it even when I stood looking at it – I asked someone and got back an noticed it was indeed a bike shop, but it was closed. Someone was however there and opened and luckily I could buy a new spare tube (expensively), that I also needed, and got the tyres inflated properly.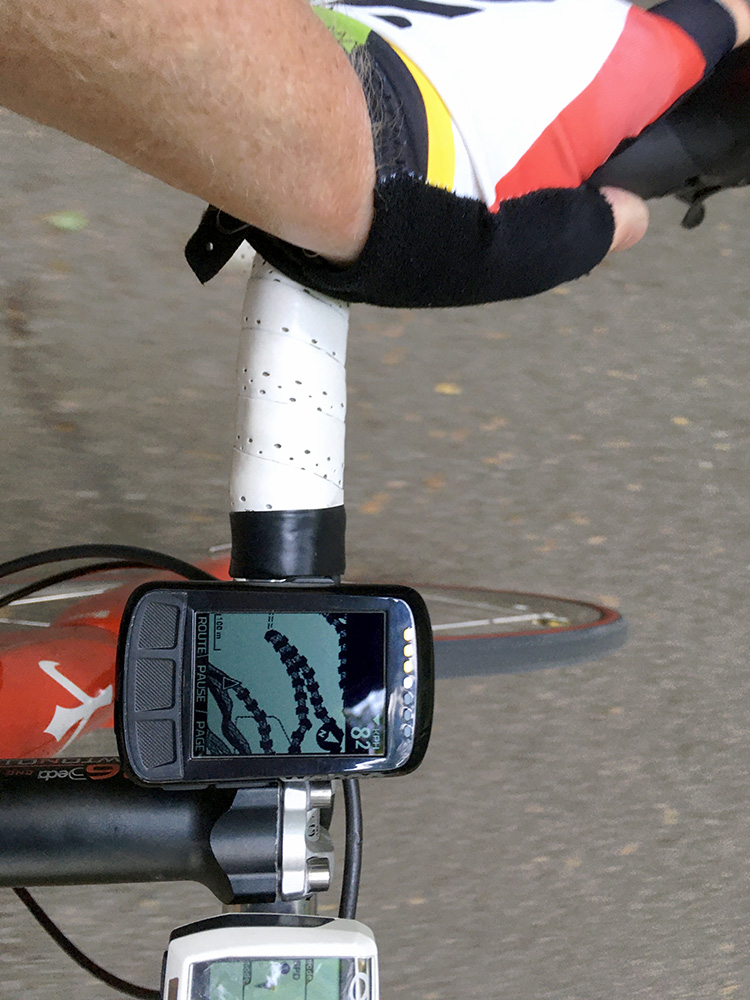 I stopped again by a super market on the main road just back from Storo at Cà Rossa (404m) to buy something to drink and maybe had a banana too. Time went on, but I had decided to do the climb up from here too, which I had long thought to do to Malga Vacil (1810m). The climb is really for the high point before – Cristo dei Venti (1799m) as the road goes down a little then and only shortly up to the malga thereafter (and also a bar across the road just before it ends). The climb is 14.7 km at 9.6% and it is a climb that feels like it never ends. It is 10% for over 12 km, and clearly a harder climb than Malga Table (esp. after doing that … ). The last kilometre is steepest at 12.8%, but the steepest place comes after the many not so steep long serpentines at 19% just before reaching Faserno.
There is a snake on my computer! Thought it was fun with the tightly packed serpentines on the screen – not much help for navigation, but looked fun/scary.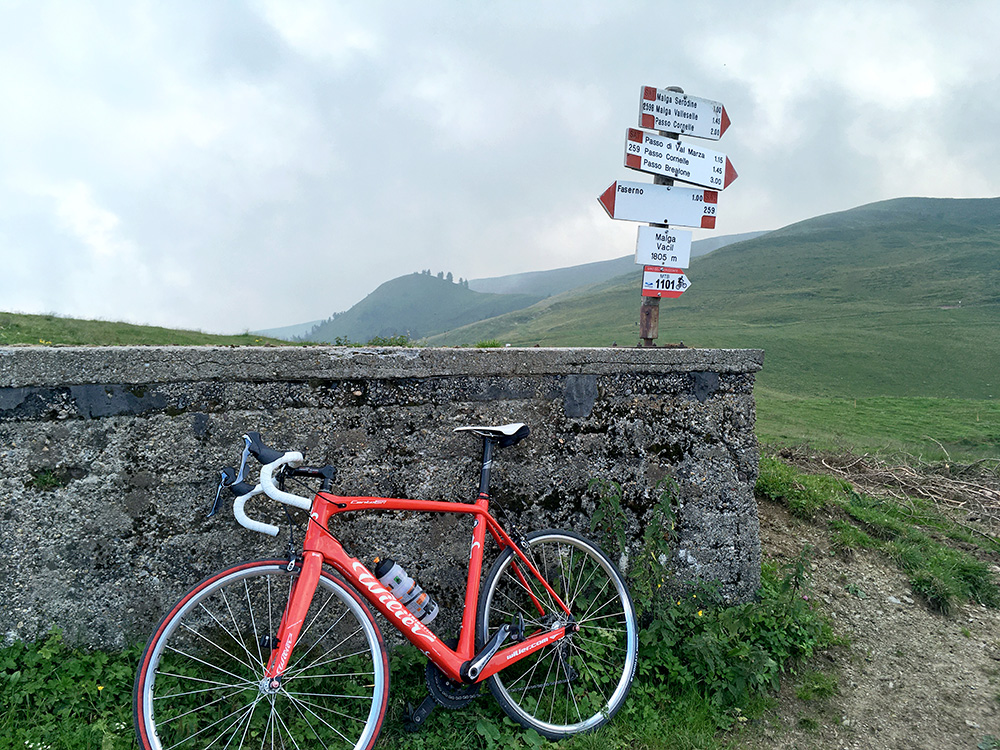 I was not certain this road was all paved actually as I only read that it was sort of paved all the way from a mountain bikers account before. It was a curious small road and it started out as if it was an abandoned road and did not look very good, but it improved a little. Still I would have been worried driving a car here as there could very well be big stones on the narrow road, but met old people driving their cars here. Not many cars though for sure.
This is a photo of the sign for Malga Vacil just next to the malga when I had fooled around there for a while in the grass above. The road had a bar across before the asphalt ran out and another one before the malga, but guess it was ok walking around here. A lady from the malga noticed me.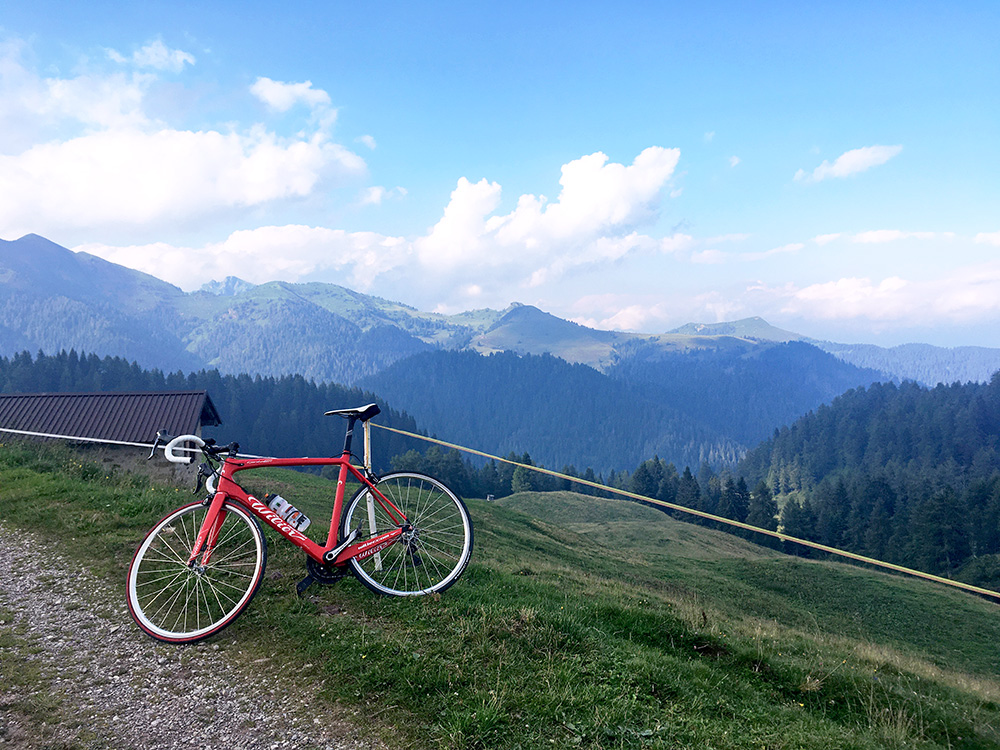 Stopping for some more photos as it was rather nice up here. Before I had just been cycling in the woods most of the time without much views, but there are views around Faserno (the little location up the mountain).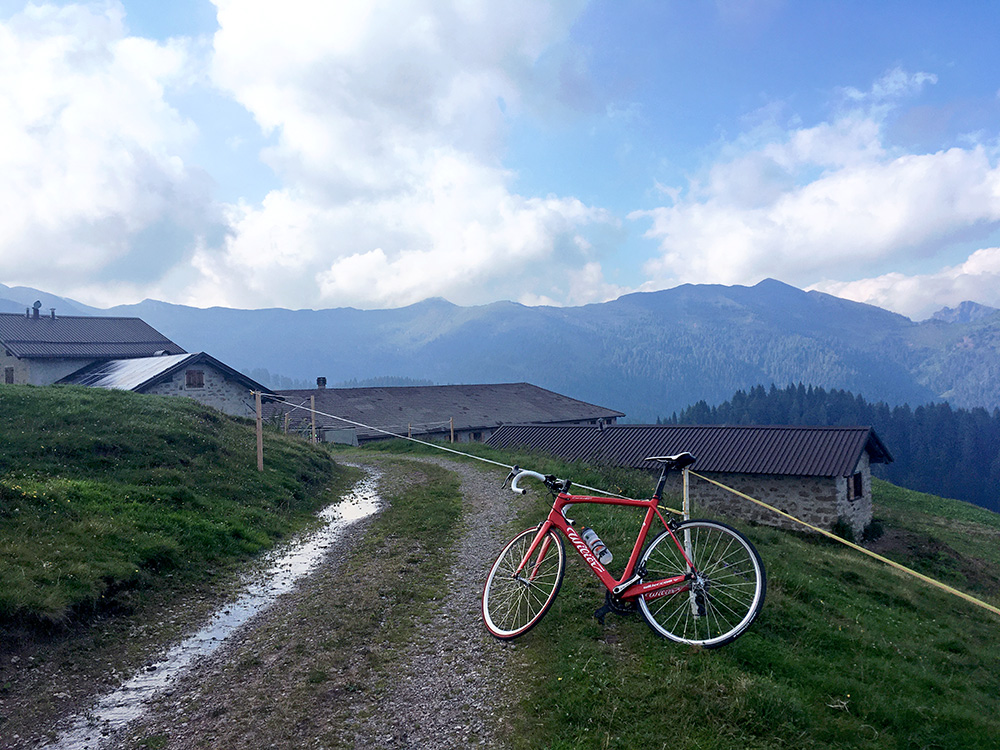 A little view of the malga too that hides a bit out of sight when coming up here.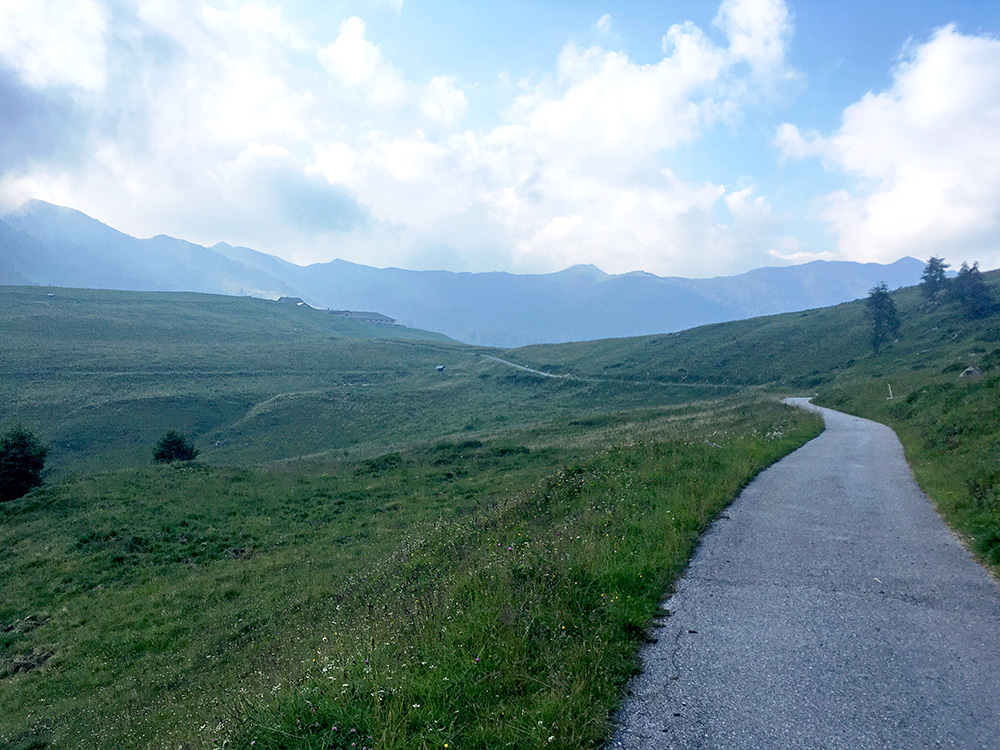 One only sees the roof when coming down from Cristo dei Venti. The main road continues down a bit more to another malga, but think it turns to gravel not far from here. I guess mountain bikers continues here and goes down some other way on tracks and paths. The view here was what made me think this was maybe a pass also that I missed, but as it has no pass name I decided not to create one here as it is not obviously a pass (which it has to be if I should call it a pass without it being referred to as such on maps and signs).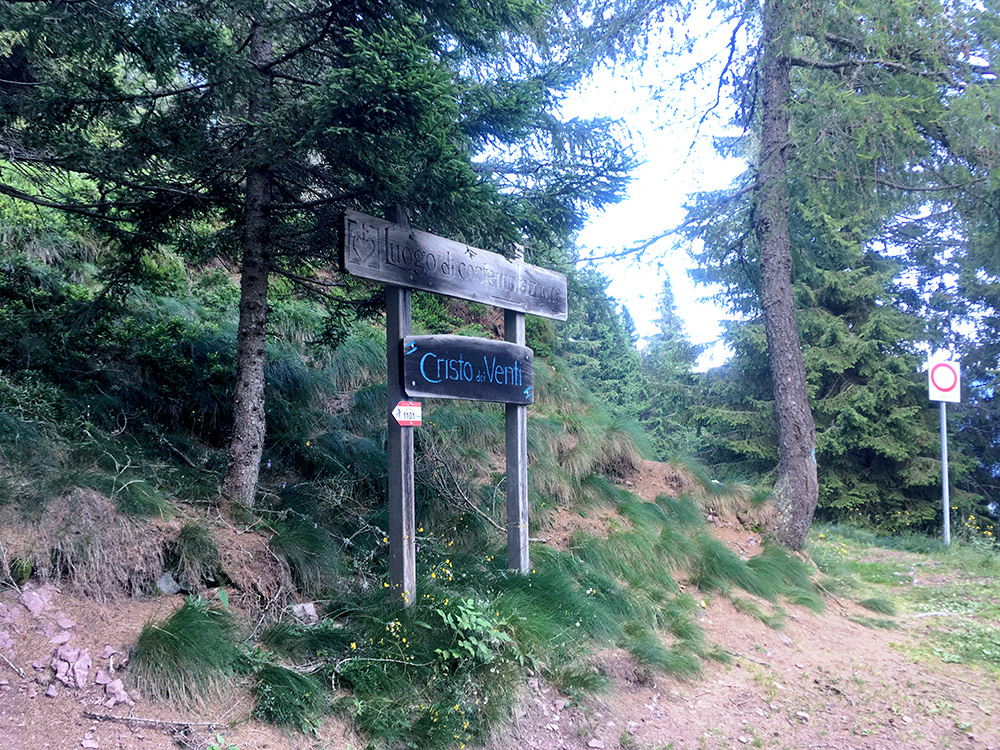 Back to the woods just a bit before at Cristo dei Venti (1799m) where the real climb stops, but of course nice to continue toward Malga Vacil for better views (esp. as you are likely not going up here again, maybe not even if you live nearby).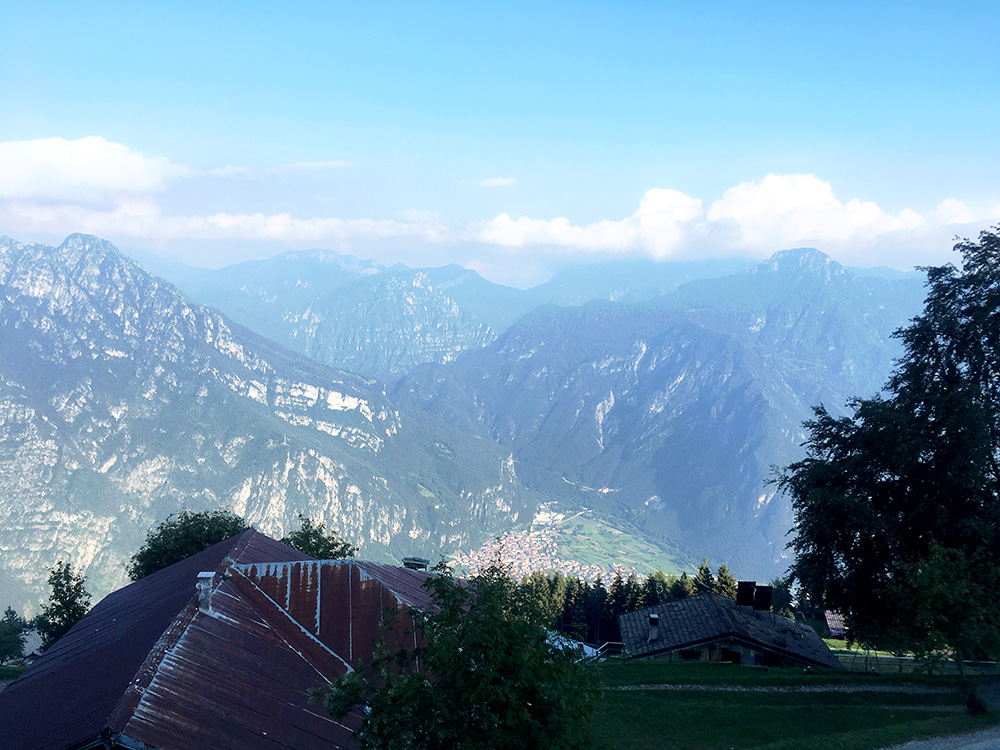 I took two more photos before coming back to Faserno, bu not so good views in the woods – a very narrow road is of notice though. This photo is from near the top at Faserno and one could understand why the houses are located around here. Looking up the road to Passo dell'Ampola (747m) from Storo that leads to Riva del Garda by Lago di Garda.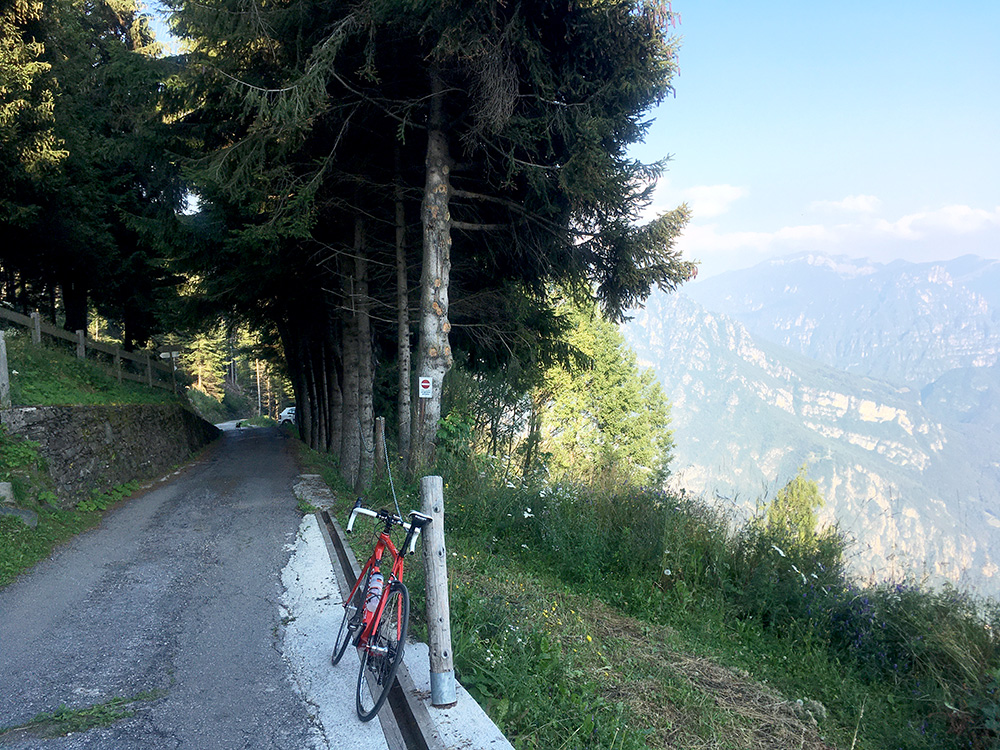 There is a dog down there and guess I said hello to the man out walking with the dog. The road is steeper here and down for a while until the endless normal serpentines starts.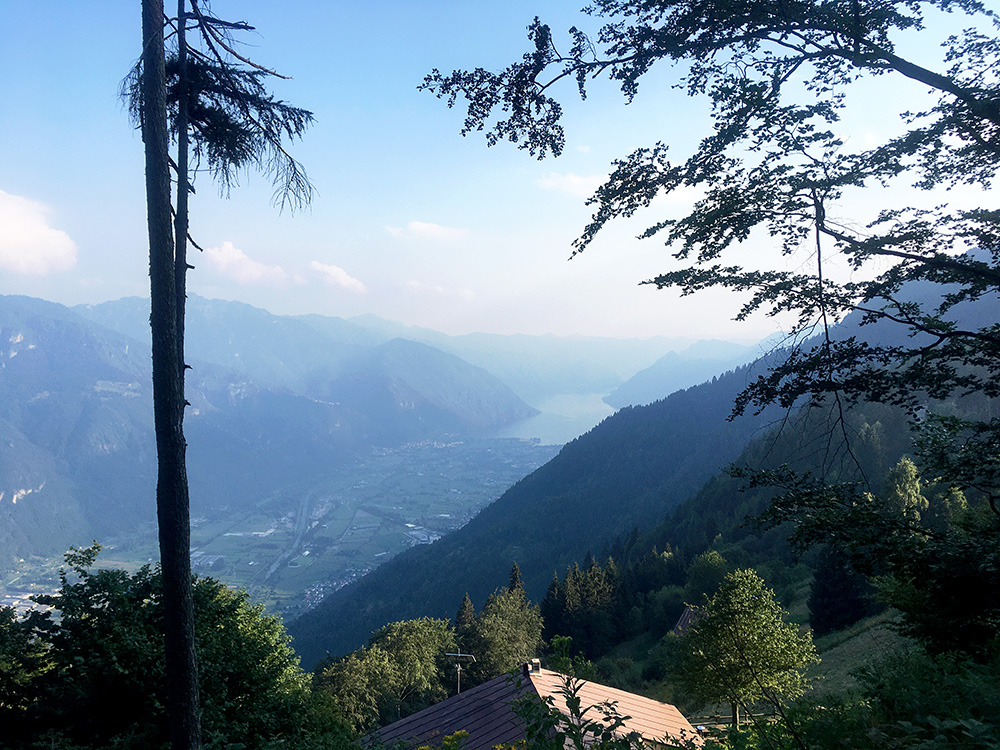 A last photo from the only place along the road where one can see the Lago d'Idro.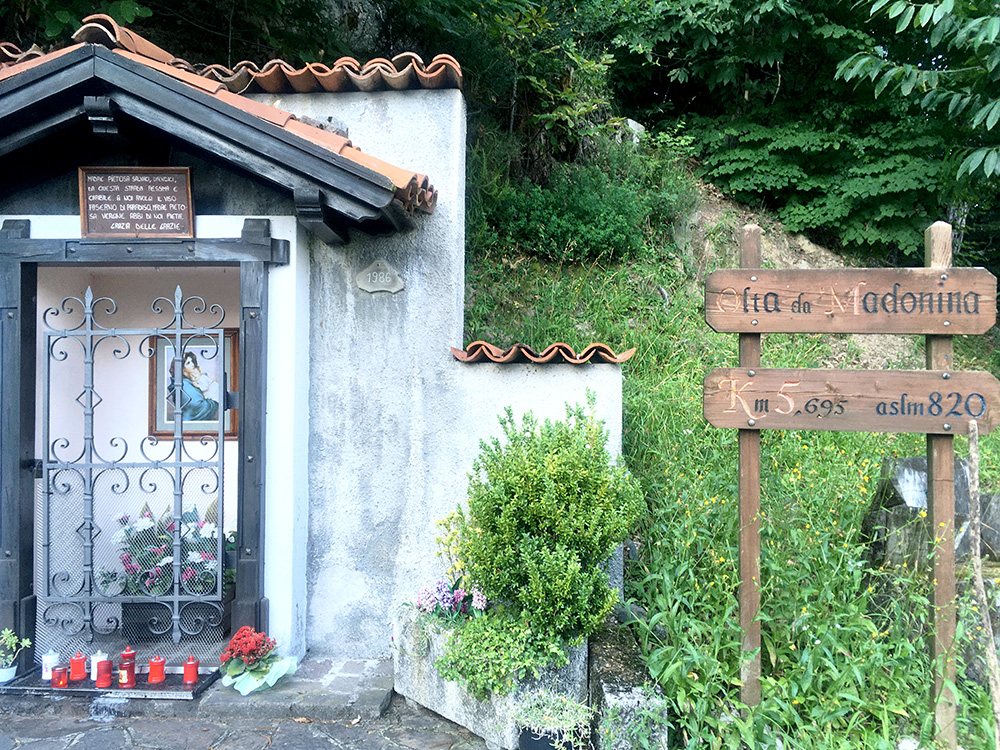 Most of the serpentines and had wooded signs with the height and also length. This turn was a bit special with a madonna. Quite a nice climb up through the woods I must say and the road is mostly good up here (even if narrow). Just when coming down I overtook three persons riding horses down here and the horses seemed to have a problem walking on the steep asphalt. Italians often comes across as not very well acquainted with how to deal with horses (and they are much less common here than at home in Sweden). I guess it could be a bit dangerous if a horse would fall, but maybe they just had no other way down here as there was not much space between the road (probably they have not been far up).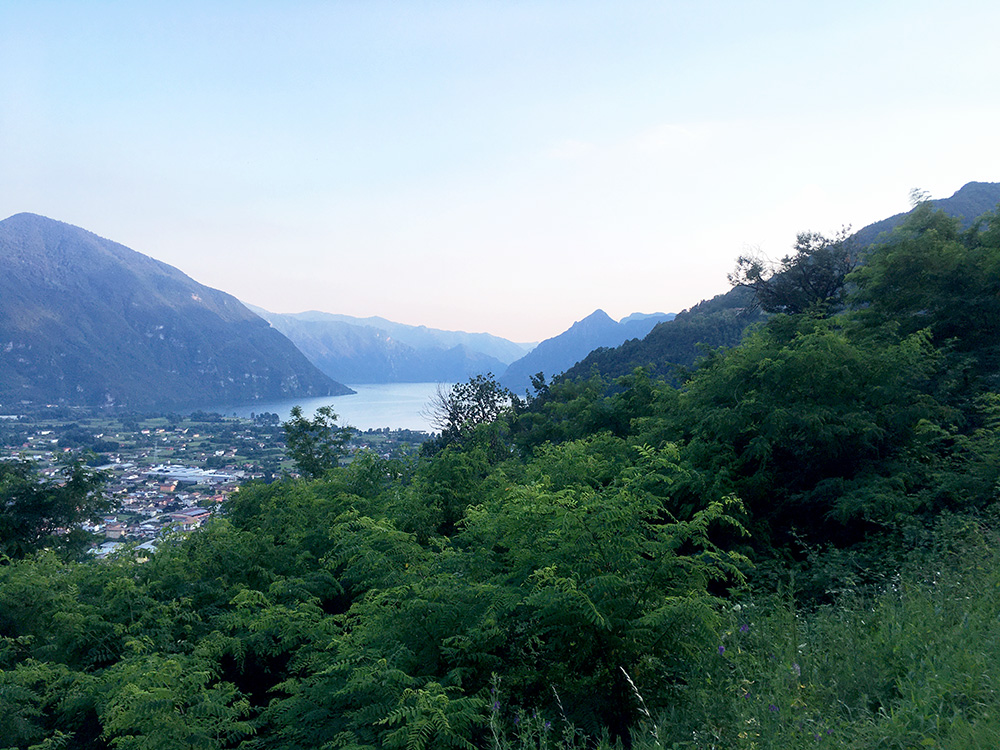 Finally on my way to end the day, but I did not want to stay down the valley, so continued to Lodrone (385m) and turned up the road to Bagolino. I went down this way from Passo di Croce Domini back in 2003, but did not remember the road being steep, but it is a fairly steep climb up here from Lodrone to Bagolino. 4.5 km at 10.1%, 4 km at 10.6%, max 13%. Stopped twice for a photo over Lago d'Idro and present the higher one here.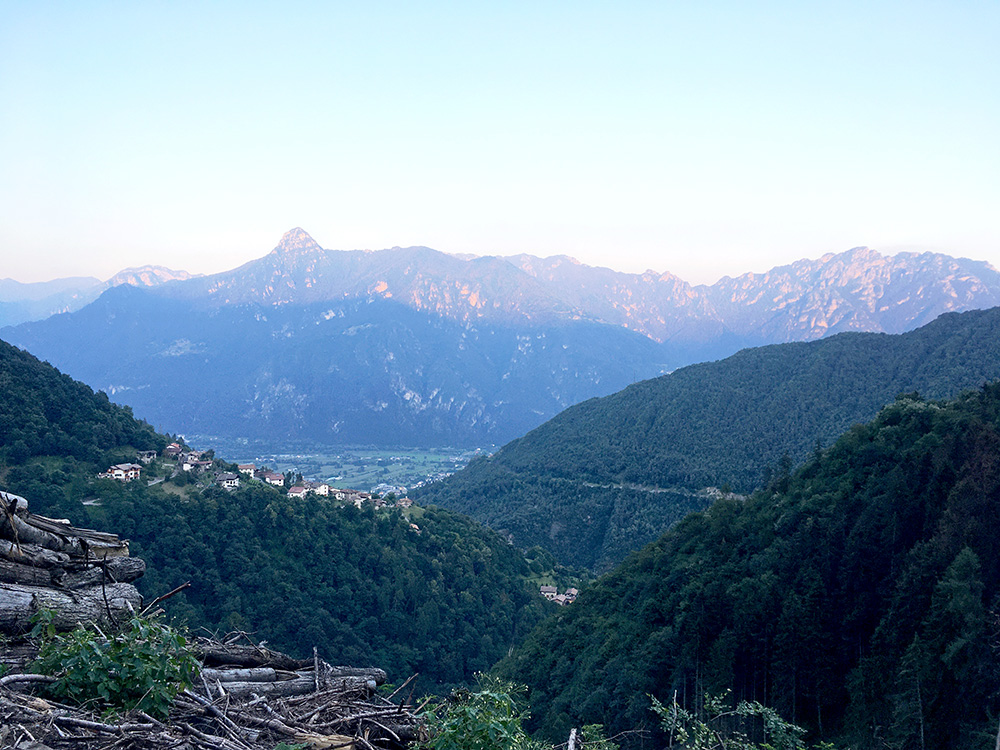 Stopped again soon after the high point on the road after having left Trentino for this time and entered Lombardia. It was now getting late and I better found a place to stay at around Bagolino. It turned out that there was a little hotel in Cerreto just before the last descent to Bagolino and stopped and asked for a room and it was no problem. Seemed like I was the only guest at the hotel and the man wondered which way I had taken up there. It could have been that the road had been closed from Lodrone as it looked a bit bad and I saw some road work signs near the top.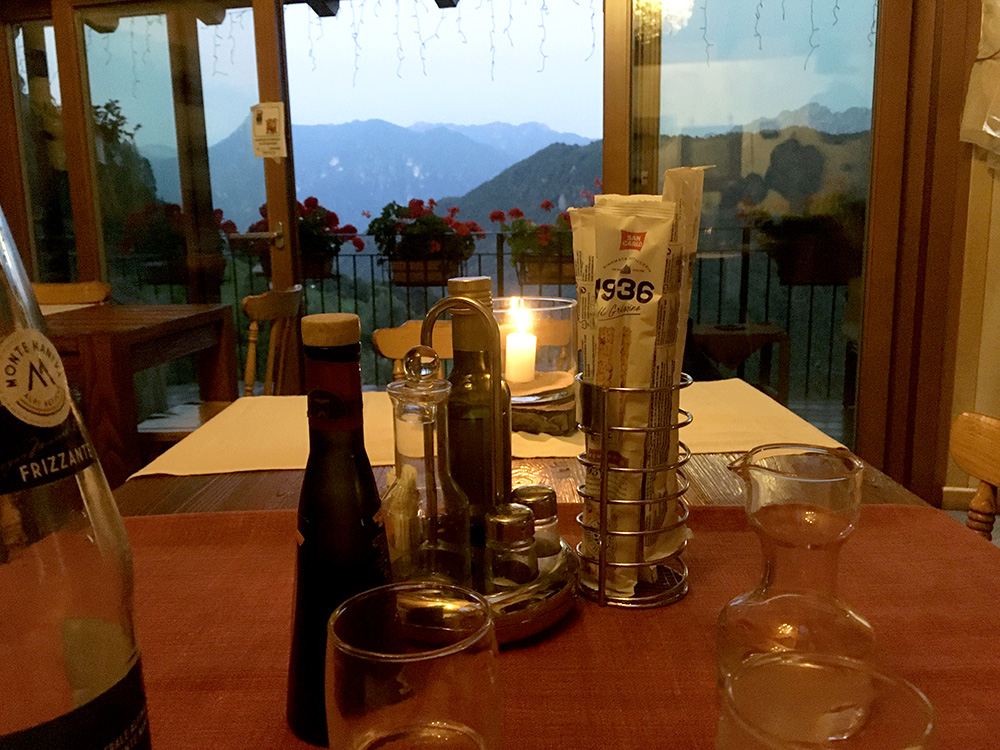 A fine place with a good view from the restaurant. Recommended place.