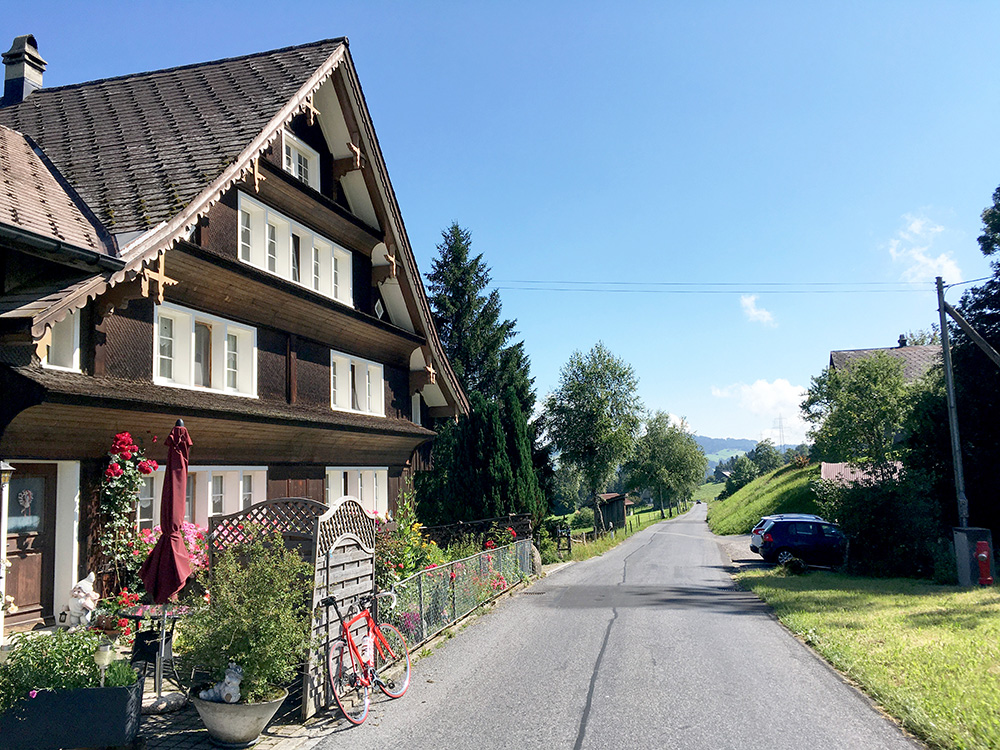 This tour started with great weather and the first day was a joy in that respect. I took off from Bilten and left the bike box behind to return on the evening before going back home again. The first climb was up the moderate Rickenpass (805m) (from Benken (410m)) and I was happy I had done the Bachtel and Scheidegg in the evening before, so I could relax a bit more now.
The photo here is from the minor road down the east side (first I did not find the turn-off – guess I didn't look on the map on the Wahoo, which I was still getting used to). It is a good road choice if going up the Toggenburg valley.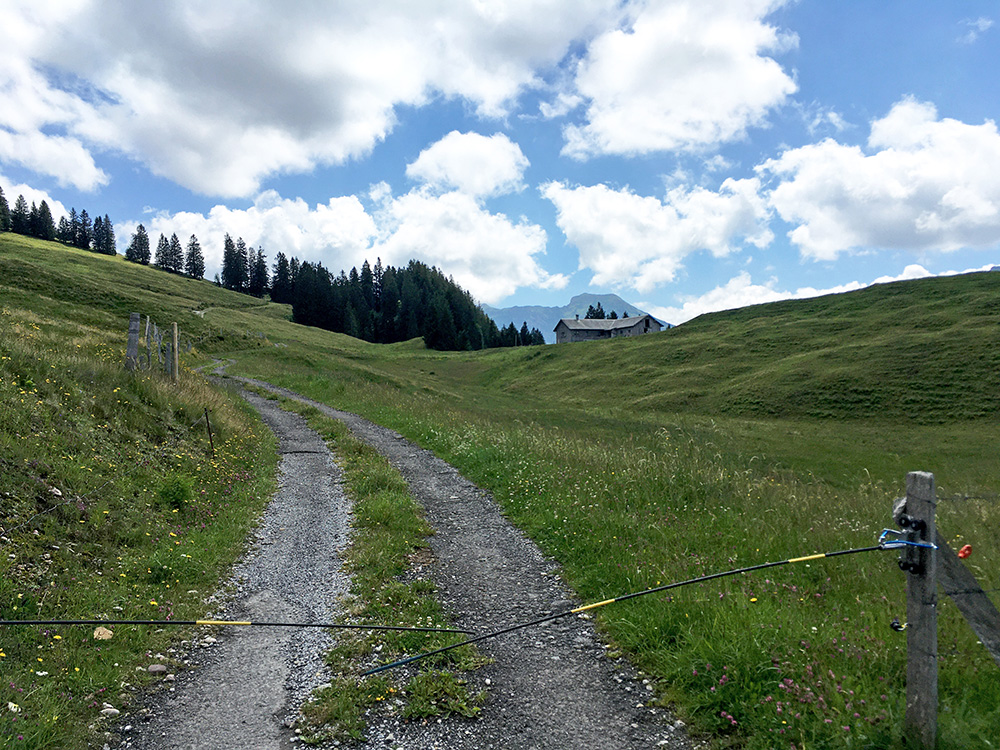 I joined the main road at Ebnat-Kappel and continued up to Neu St. Johann (759m), where I decided to make an early first stop by a konditorei. Then it was time for the first a bit more demanding climb up to an unnamed pass I had spotted. The road going east at Neu St. Johann goes to Schwägalp (1299m), but there is a more direct climb that goes a bit higher up to Hinterchlosteralp/Hinder Chlosteralp (1316m). So in order to try and do as much +1300m pass climbs as possible left for me in the Alps (a handful still after this Summer), I wanted to go up there.
The photo here is after the pass as the road sort of continued up and was sort of paved still at least to here at 1338m where I decided to turn around as it would only be a path/track further on anyway (also asked two walkers about it).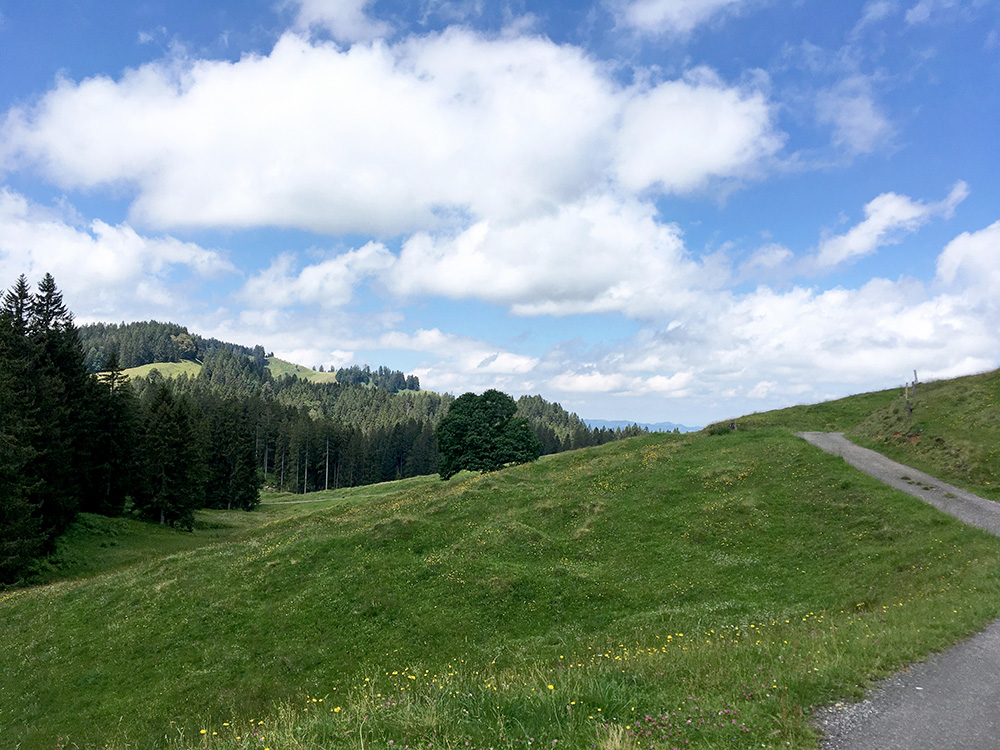 The little mountain seen here when looking back is the Gössigenhöchi (1434m) that makes the road a pass.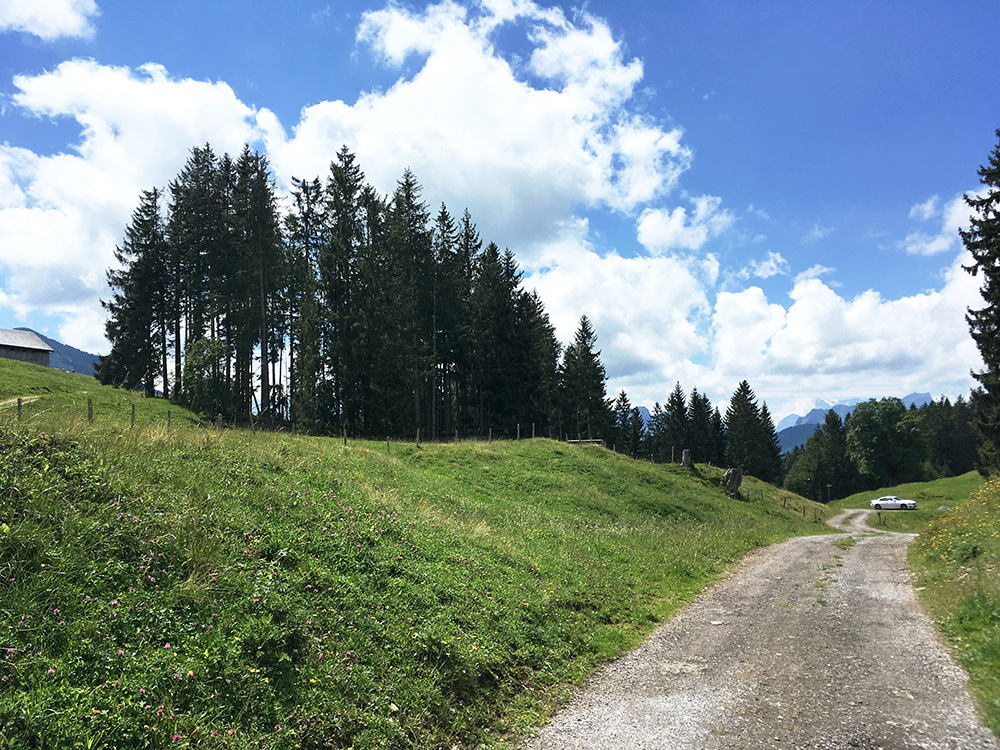 Here I am at the exact point for the pass looking back. The road is perfect up to where the car is parked and it continues fine a bit further up to the Vorderchlosteralp.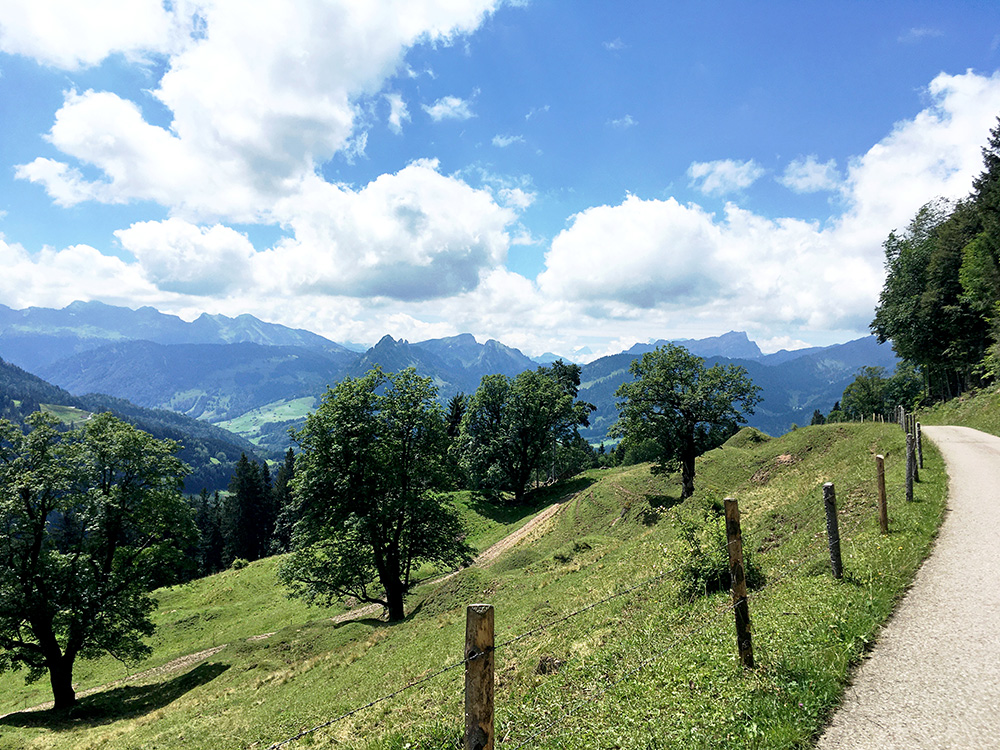 The best views where found on the way up and had to stop twice on the way down for photos. Looking up the Toggenburg in both photos here.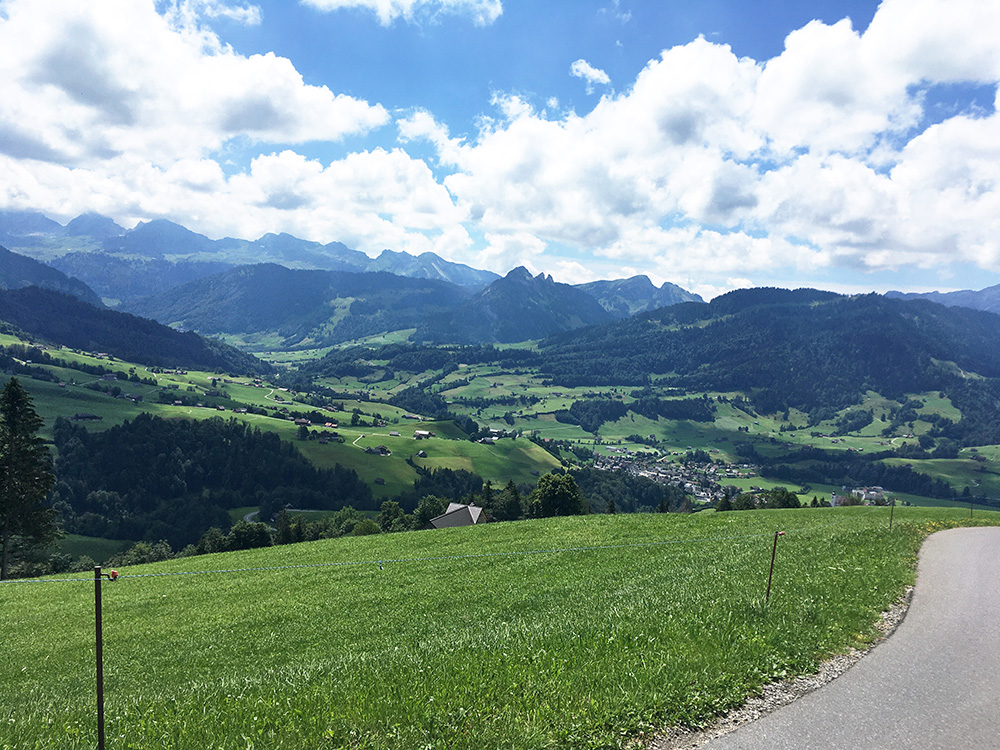 It is a bit troublesome to have a Strava-compatible device on your bike as it is hard to forget that one might get a decent placement on their score list by expending a bit more effort than otherwise. Still I could not exactly go all in during a tour like this so had to try and relax and not think so much of that. Still as this climb is fairly unknown (which is not so common in the Alps) I am still on place number 6 on the main section up here despite mistakenly turning up a wrong road just before the "segment" ended (which I did not know of before at all – only looked up segments afterwards back in Sweden). I would likely have been number 5 otherwise (out of only 18 attempts recorded). I could easily have gotten a number 3 place if I knew of it, but the first two were a bit fast (I believe many in my club at home would easily get a KOM (king of mountain) placement here). Guess most who go up here goes up on a mountain bike as it is only a dead-end for us road cyclists. One of only very few places I got that high up a Strava list.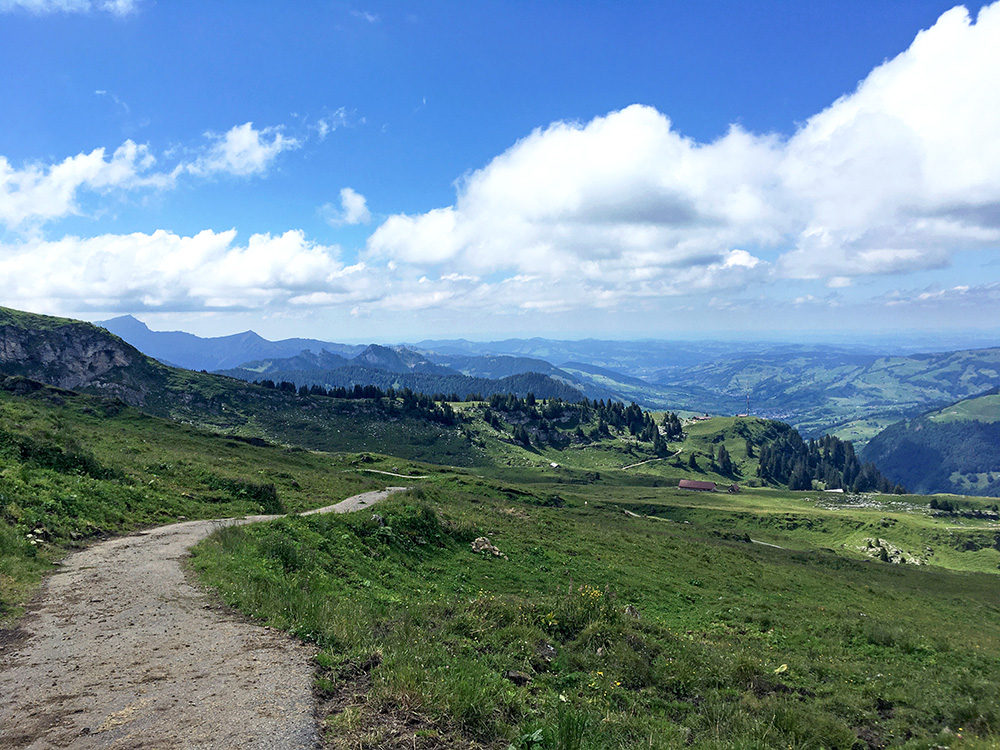 Down to Neu St. Johann (759m) again and then time for the first +1000m climb interrupted by another stop (I now remember) up at Unterwasser near Wildhaus. It is easy going to Unterwasser. Here one takes off the road and a steep road starts at 916m that goes up to Iltios and Selamatt, but I was on my way to the highest paved point in the Wildhaus area, which is Torloch (1787m) in Breitenalp.
One follows the road to Selamatt which is steep and nice up to there, where it goes a bit up and down with some cow dung here and there and many walkers. Eventually you get to a small parking place and the road turns to gravel for 150m and then a small road takes off to Torloch and this is the tricky part. It starts with concrete narrow strips for car wheels and likely you can make it up, but then also a short piece of gravel again (75m), then it is all asphalted, but quite steep and narrow and not the best pavement. If you get up you are however granted with really great views!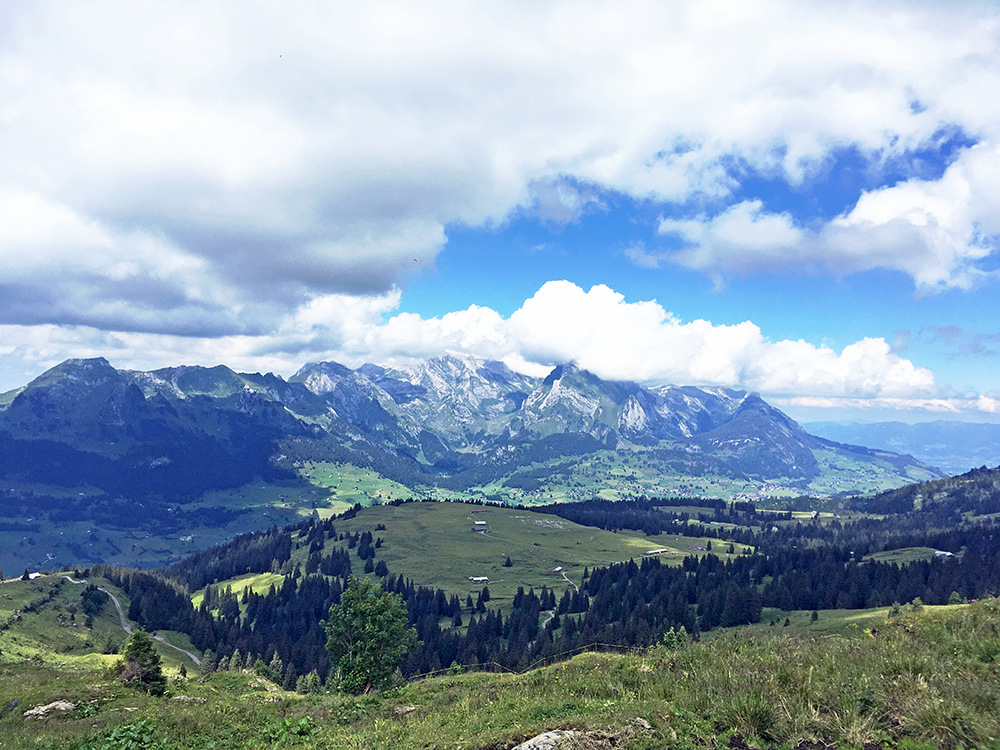 The last asphalted stretch is 1.12 km at 15.2%. You can see the road below coming up to the little parking. In the center just below is the Selamatt area. You then see across the Wildhaus area the Alpstein mountains with the Säntis and others. I was next going to go up toward those mountains on the right hand side in the photo (not outside the mountains) to Fros, but it is lower, so went up here first.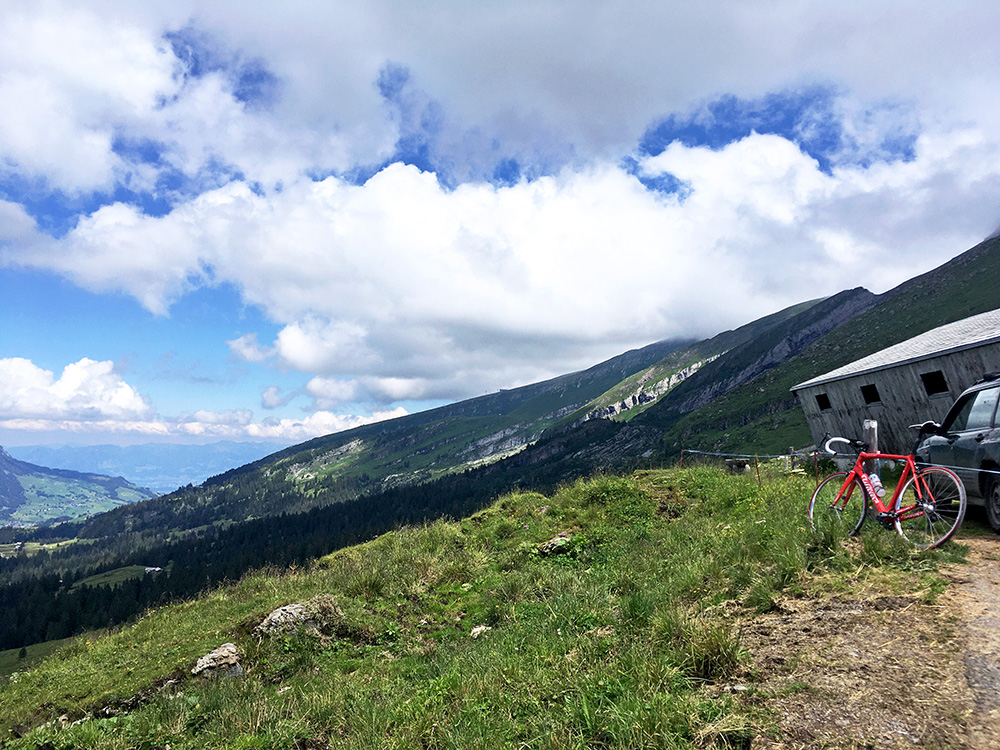 Very nice up here in all directions. The mountains seen far away here are in Austria and approximately where I was going the next day.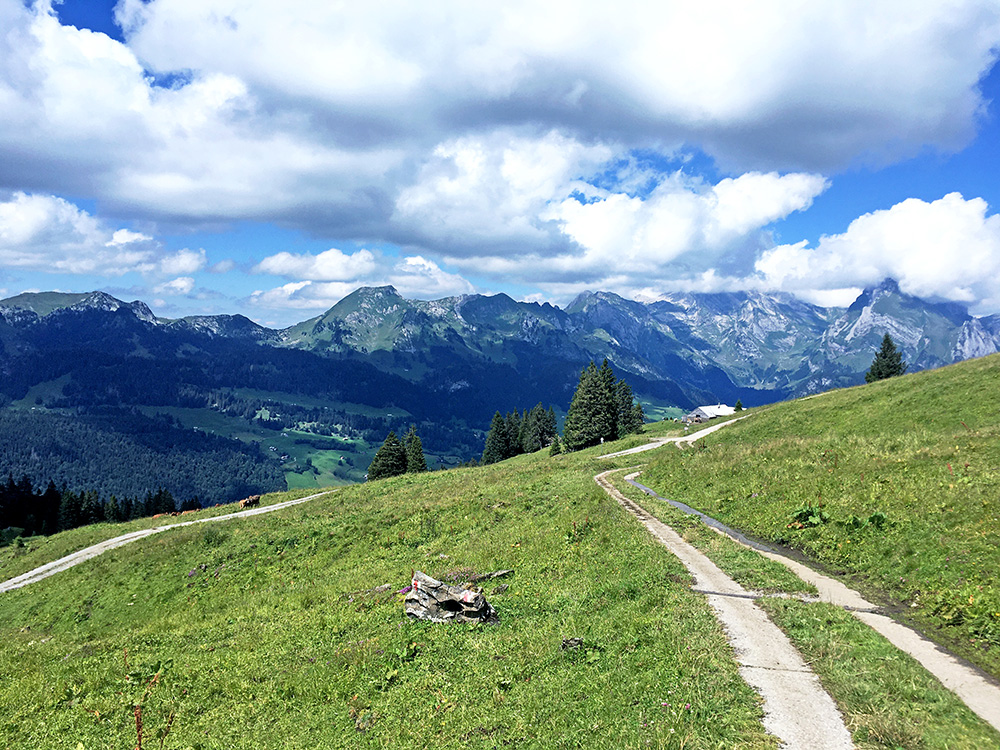 Here the concrete strips at the turn-off from the main road.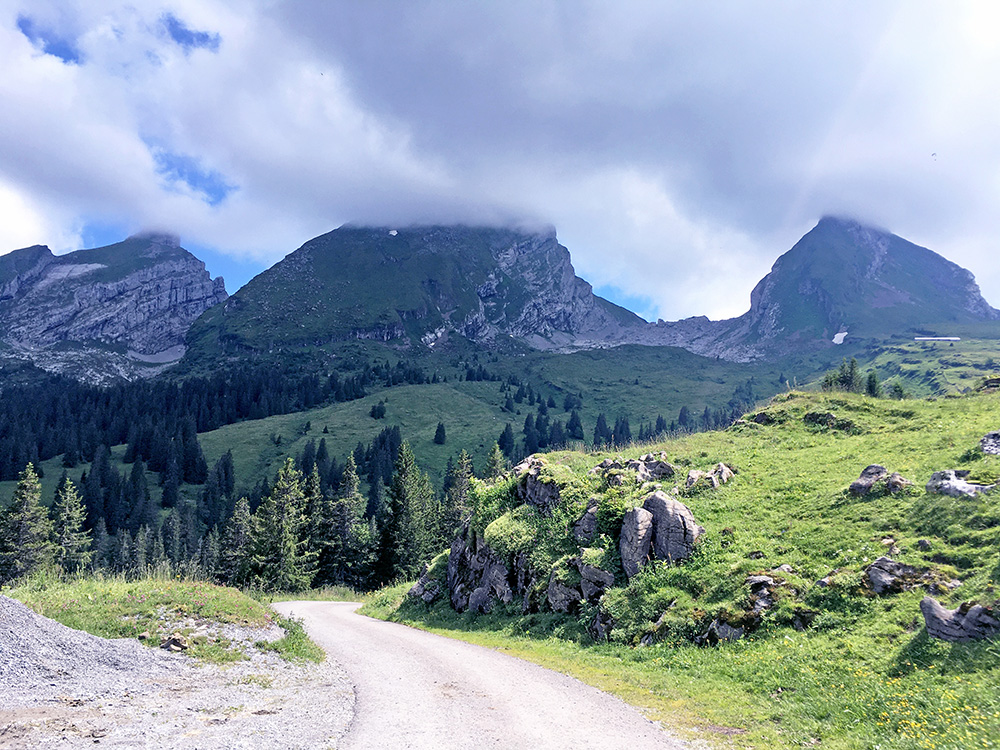 A last looking back up to Torloch and the Churfirsten mountains behind. Couldn't help but trying the planned short-cut via Iltios cable-car station and restaurant. This stretch is gravel with many walkers, but could manage it. Iltios was a bit disappointing in being swamped with tourists. The asphalted road down the other side had a very steep ramp and maybe it was a good idea I did not try that way up here (not much shorter either).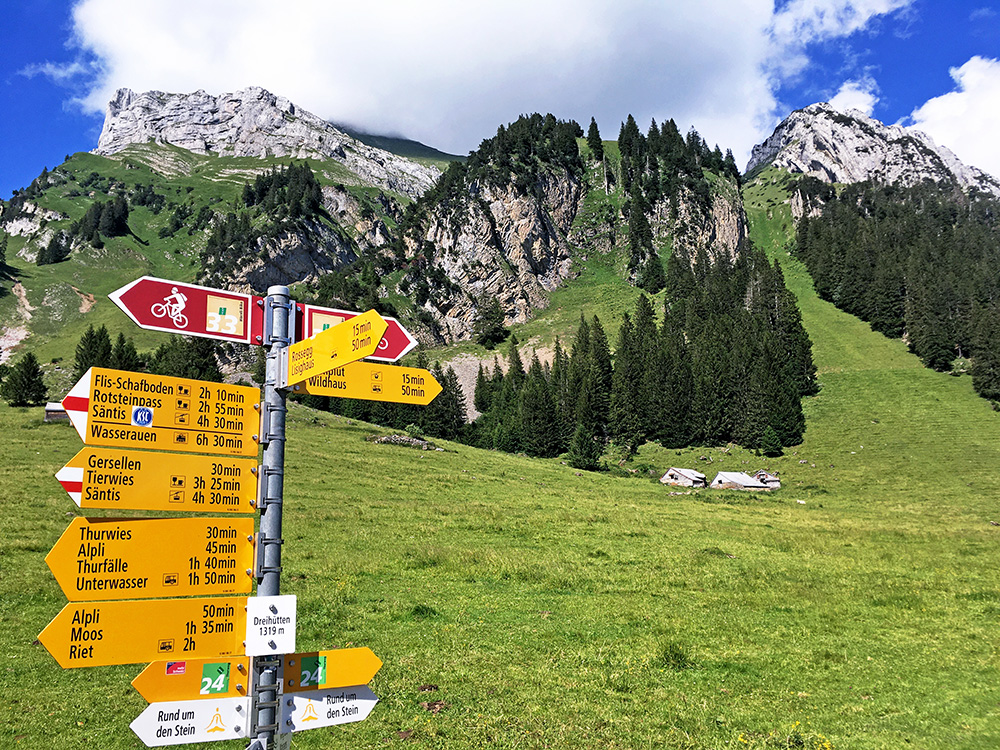 Down at Wildhaus Thur (valley station for the cable car) (1015m) I went up the shortest way – all asphalted but narrow before meeting the main road up to Gamplüt and Fros (1437m). The fully asphalted road doesn't climb over the little Rossegg (1343m) pass, but over the parallel unnamed passage at the same height. In the photo here I am at the fork where the road to the left should turn to gravel eventually.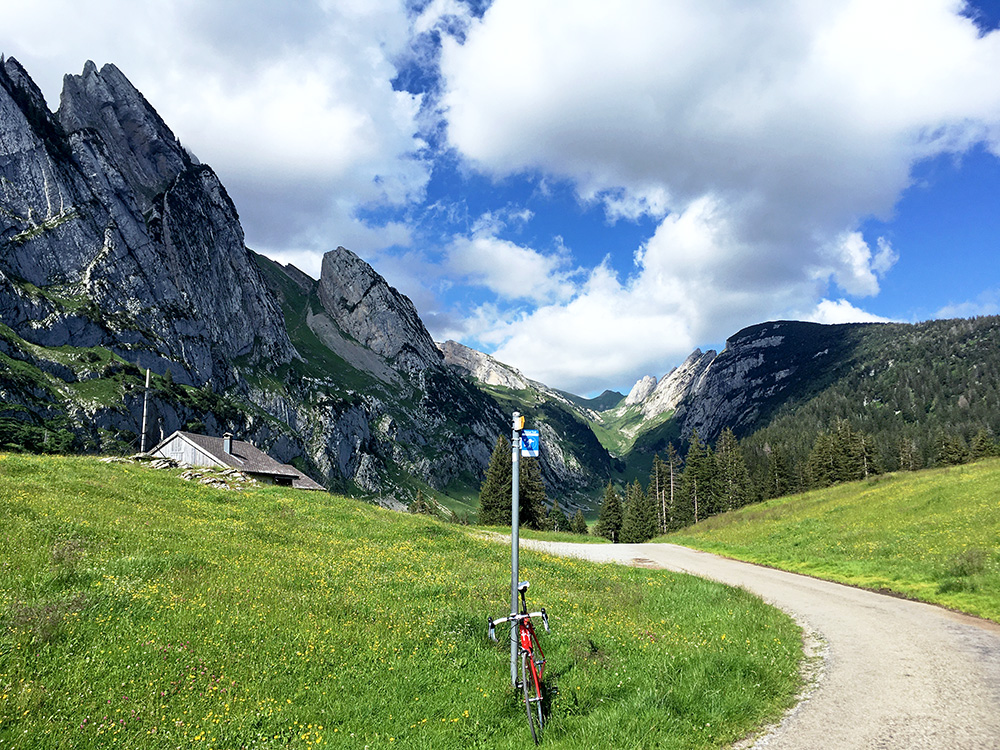 Up at Fros eventually and nice views ahead.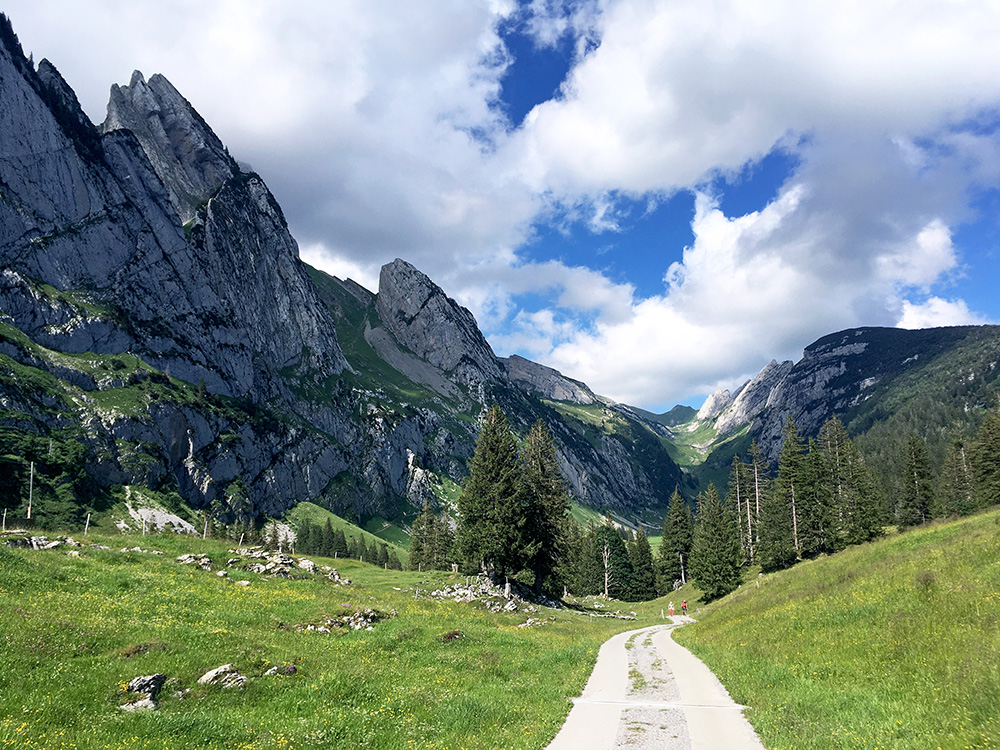 Looking a bit closer on the road ahead it is indeed paved with concrete, but I know the good road would end at the next house at roughly the same height, so turned around as planned.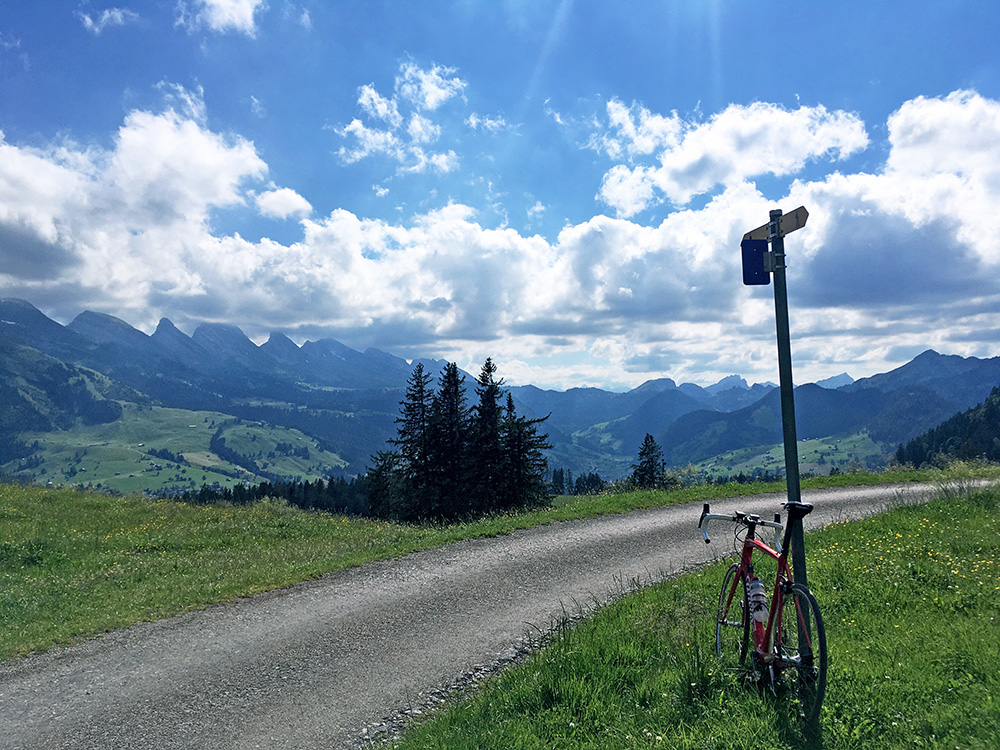 Great views here as well back up toward Selamatt, Torloch and Churfirsten. Straight ahead where the mountains are a bit lower you will find the nice Vorder Höhi (1535m) pass that I climbed on the first day last year from the other side.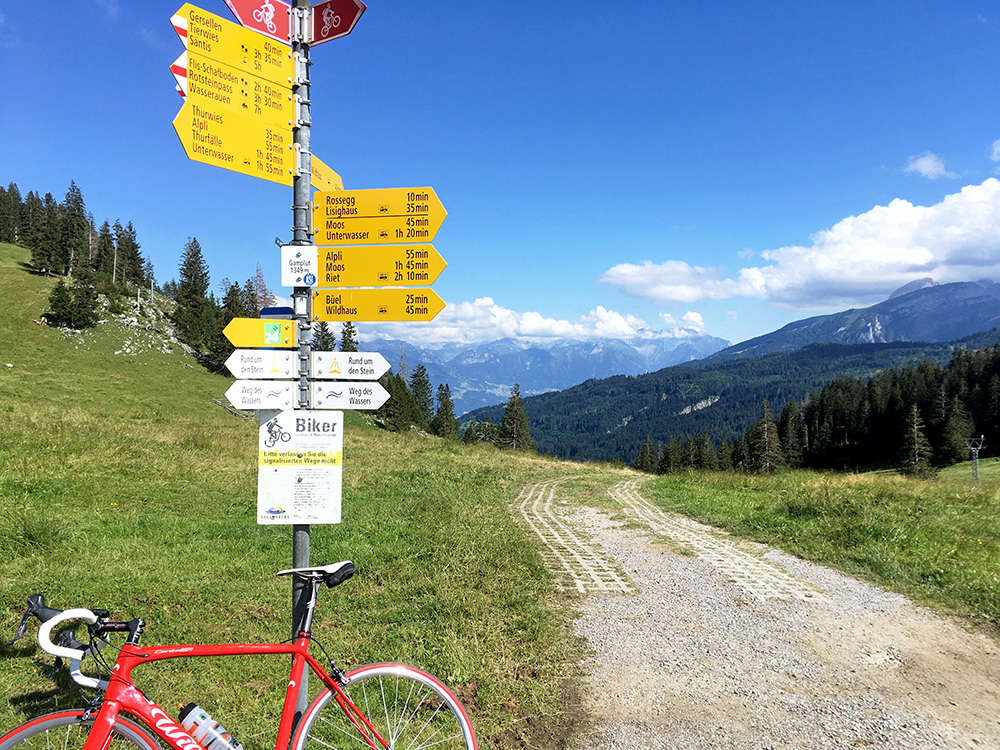 Gamplüt and looking up the higher Alps (the road/track down here is likely nice with a mountain bike).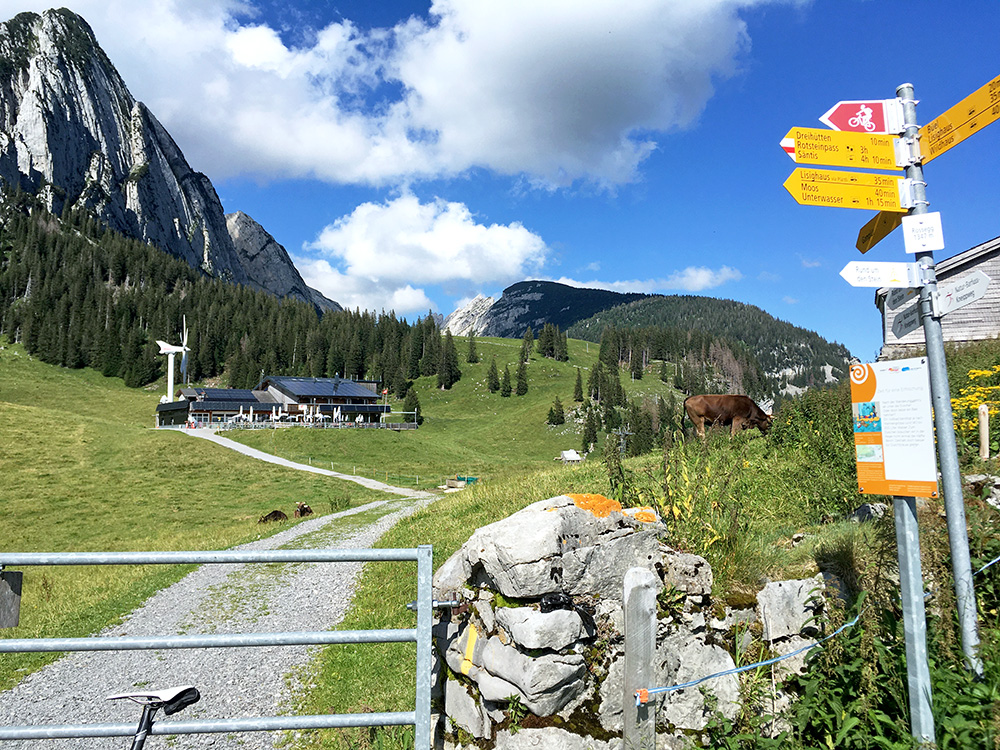 I thought it would be easy to go via the restaurant here to the Rossegg pass, but I had to walk all the way, though it was short. Here at the Rossegg pass with the Gamplüt restaurant (boring cable car place) and Fros behind.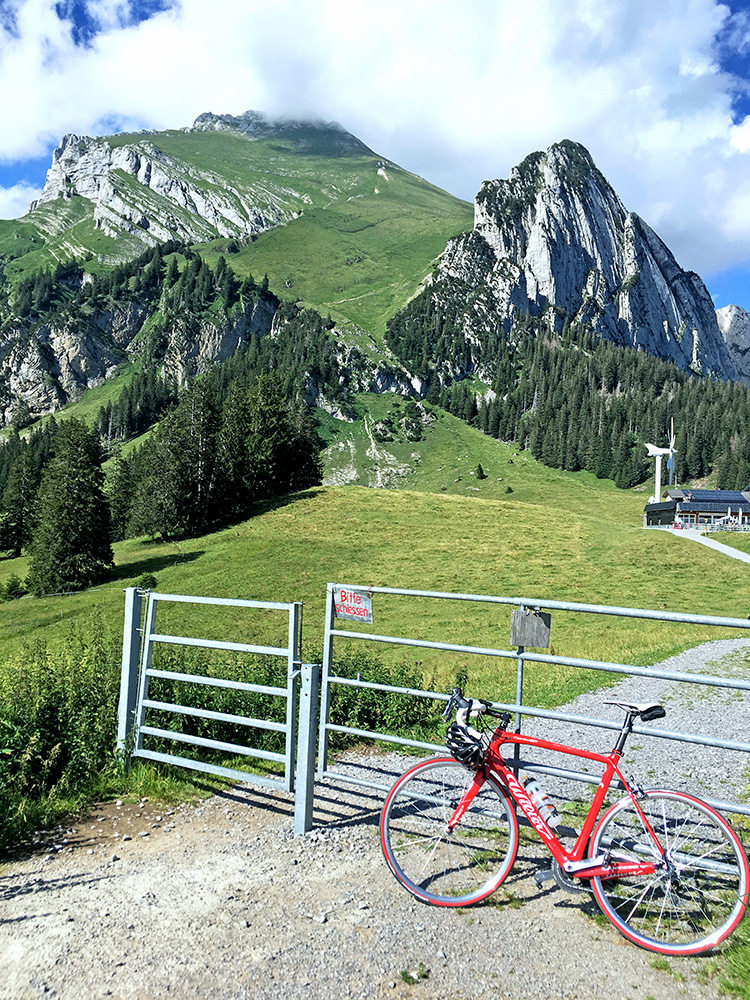 Another angle and nice view. The road down from Rossegg was sort of paved a little like the track down from Gamplüt with wheel based support (a bit better) and then paved back to the main road.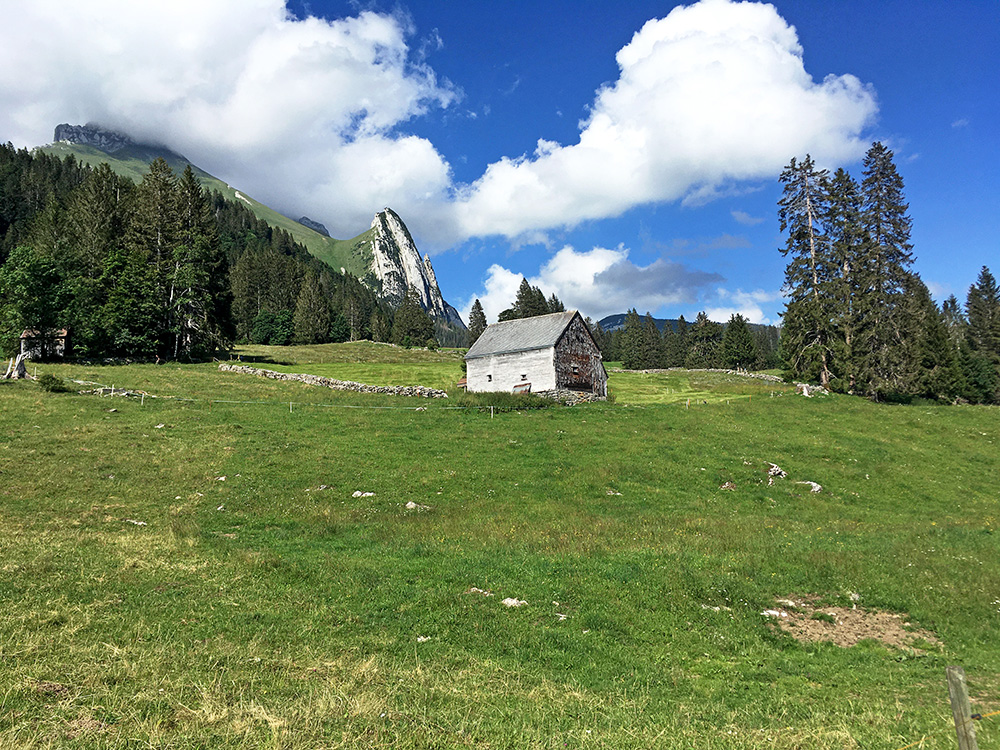 Here a last looking back up the mountains before the descent to the Wildhauspass (1090m) and then a nice and fast descent to Gams (478m) – one has to be careful on fast and good descents.
I continued north and it is a bit uninspiring as the high mountains starts to fade away as one gets closer to the Bodensee. However, I had unfinished business here and had for several years planned to try a climb I found at quaeldich.de – Kamor (Hoher Kasten). I had to cancel it another year when I was at the base for the climb as it was raining all day that time.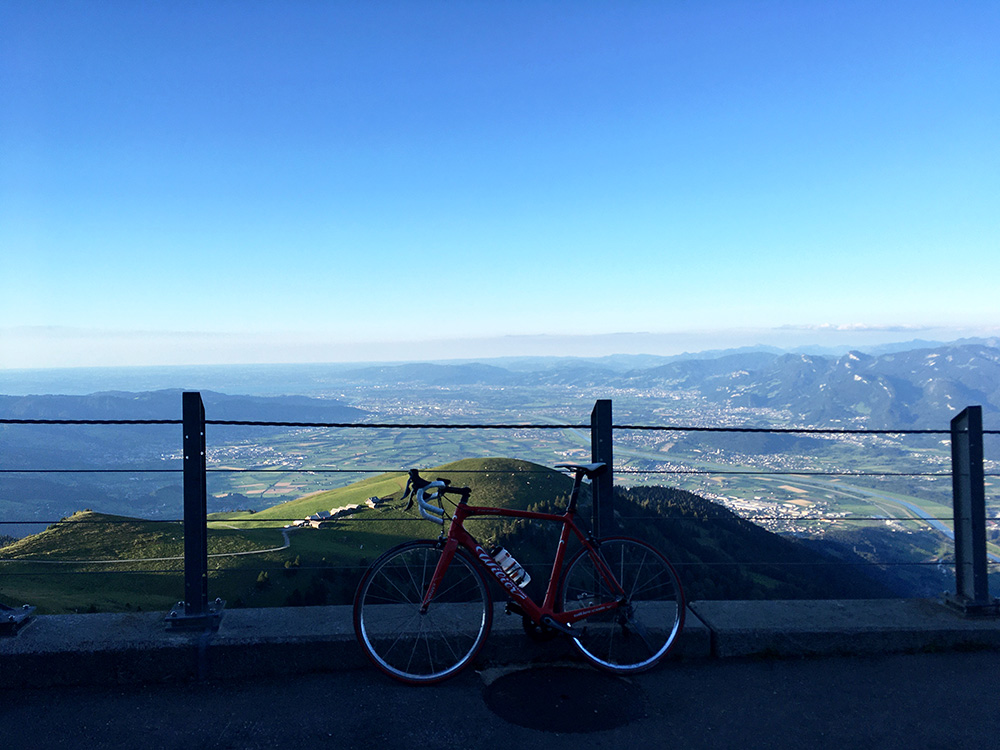 The climb to Kamor (1721m) starts in Rüthi (431m), and I had 1291 height metres to conquer in the evening. It is exactly 10% on average for 12.97 km. There is another problem and that is that it is not all paved, but the gravel sections are less steep. It is a wonderful climb while it is all asphalt, but after the gravel starts one has better views and asphalt returns again. However when the asphalt returns for good, one is met with maximum steepness above 23% (ca. 19.7% for 200m, 20.9% for 100m) and I hesitated and walked shortly (though I think I could have managed the ramp, but there were drainage gullies also … ).
Great views once I got up to the end of the road! Might be the best photo I had this Summer and one can see Germany, Switzerland, Austria and to the right is Liechtenstein (one has to view to the right of the photo end, but it is seen in the 2nd photo below to the right there). Hoher Kasten (just behind here) is a famous viewing point in the area, but one has to talk up there with a bike.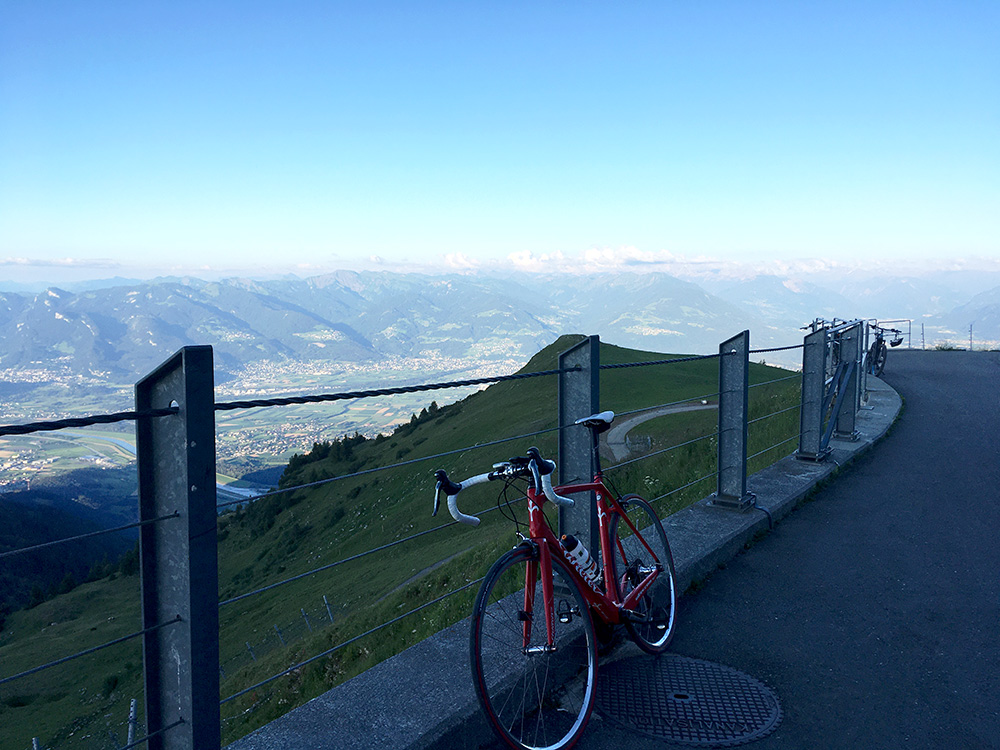 I was a little worried this climb would take time and knew that hotel rooms might not be so easy to find cheap and plenty of options around here (easier around Appenzell on the other side here). I stayed in a bed ' breakfast in Rühti another time, but I was not sure it would still be open and that I could find it even. Two guys with electric bikes parked here and continued on foot up this first mountain (Kamor Trestenkopf).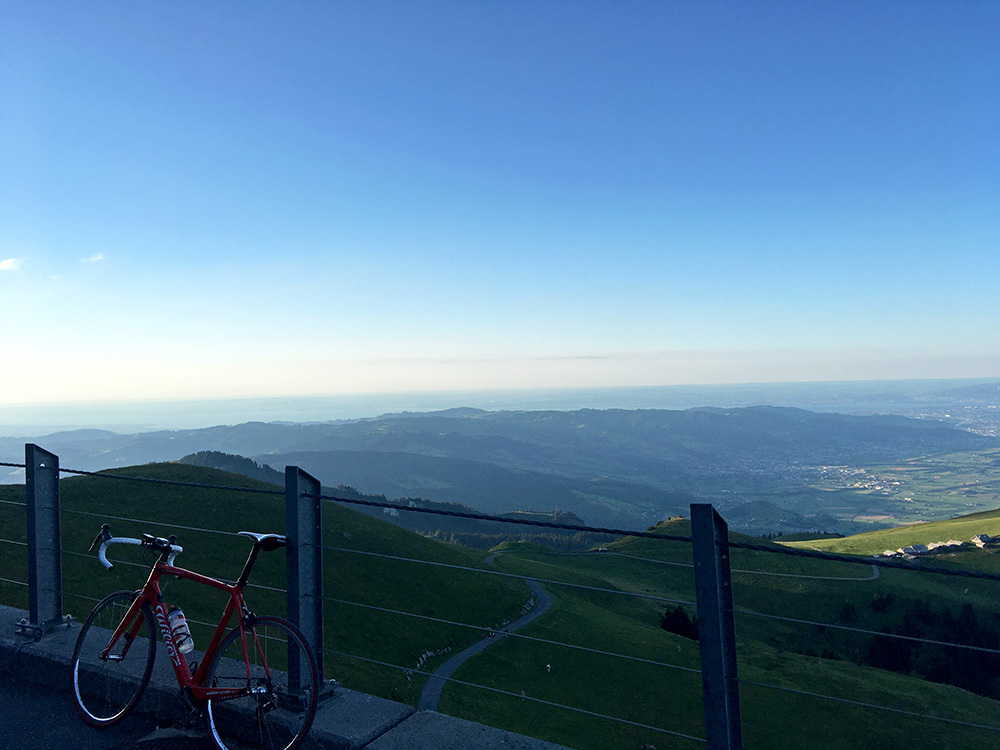 A photo in the direction of Bodensee which one could glimpse in the photo (just about).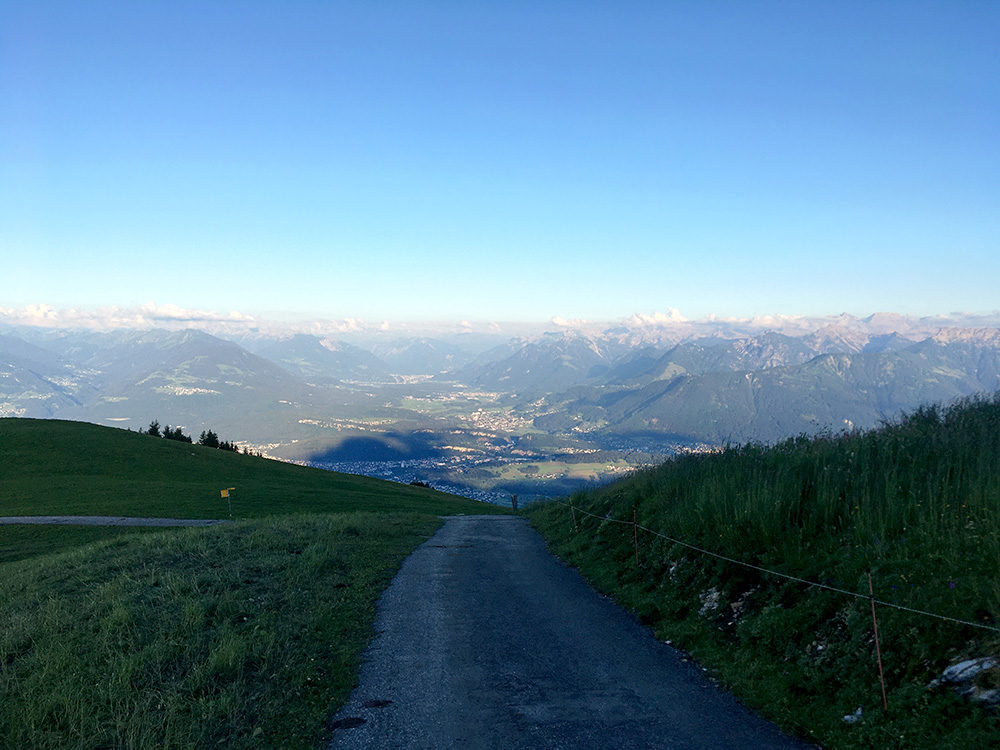 Very nice views also down over Feldkirch and up toward Bludenz.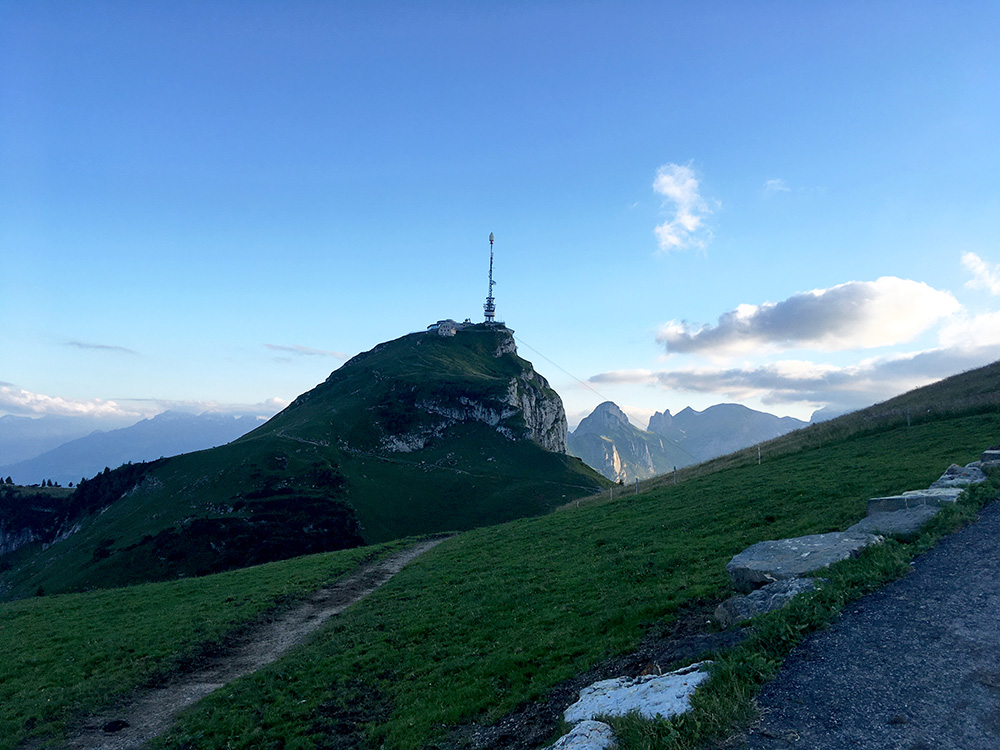 Just before reaching the top (too steep to stop here on the way up) one has this view of the Hoher Kasten and the Kastensattel in between (that I had thought to walk/cycle over to, but it was getting late now and not as exciting now that I already have had so good views). I continued down.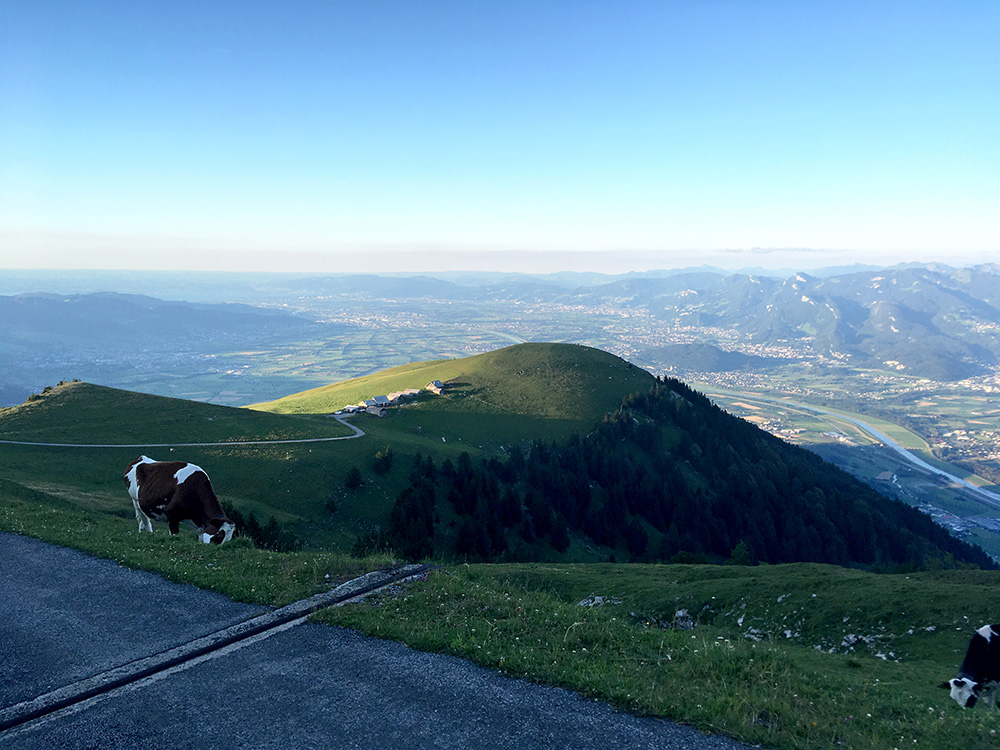 Stopping a last time for another photo. Then taking it careful so I did not cause any accident or flat on the way down, but all went fine. It started to get a little chilly so that was also a reason to hurry on down now. There could possibly have been lodging at the Montlinger Schwamm to which a gravel road takes off to (and from where another asphalt road goes down), but was worried it would only slow me down if there was nothing there and no obvious sign announced it (but later at home when I checked the web it seems as if they had been open).
I continued over Hirschensprung to a restaurant I remembered that I passed by once before and thought it looked like a small hotel, so stopped there to ask. It was getting dark soon and some nice people at a table discussed the possibilities with the waitress as there were no lodging there. Someone supposedly had a bed ' breakfast but had no place for guests and they called someone else, but without luck. After a while one of the men suggested I could as well stay with him and he called his wife and it was ok. He had went here on his mountain bike from Altstätten and turned out he was fairly good even if not so young and kept a good pace over to Altstätten on short-cut roads (I was getting a bit tired by now). He had also been up several times to Kamor on his bike and lamented that so many used e-bikes these days (really more down here than home in Sweden). He and his wife were very nice hosts and I got something to eat and drink and a bed in their guest room. So a great ending of the first proper day on this tour.