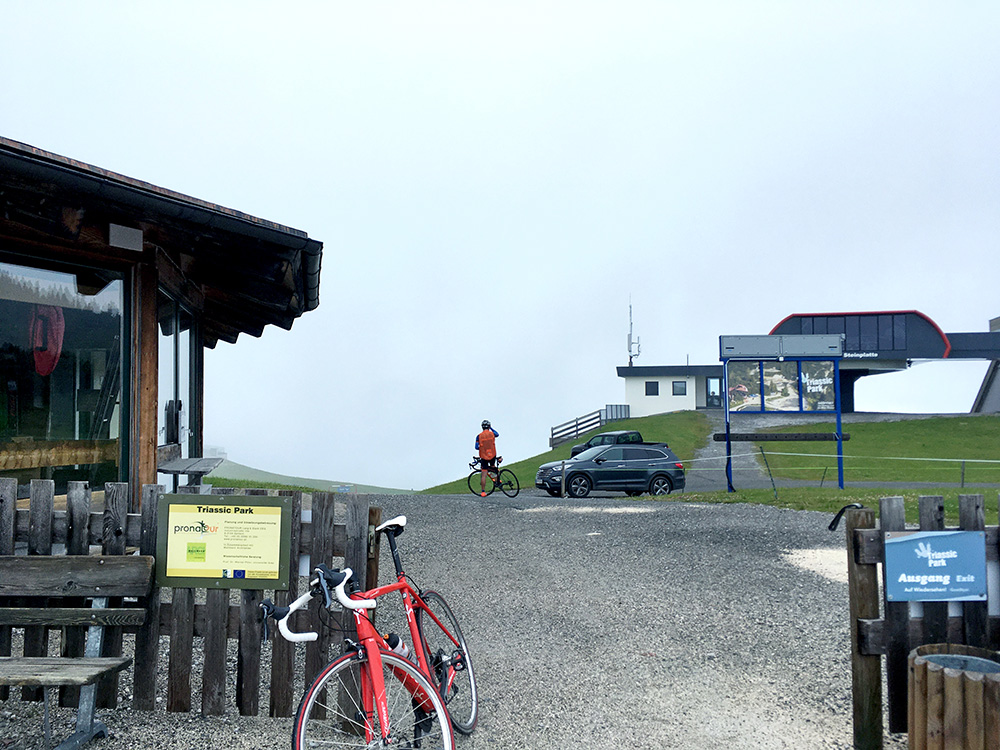 Left the hotel after dragging out on time a little as it was cold and cloudy in the morning. At 9:30 I was on my way up to Waidring slowly in 14-15°C and not feeling too delighted to hurry on as it would get even colder up on the first climb to Steinplatte (Kammerkör) (1677m). Soon a fast going cyclist overtook me and I thought I had no chance to hang on and that he likely was just going over the unnamed saddle of Waidring. I took off directly in Waidring (779m) on the Steinplatte road, but stopped to take off the wind jacket at the toll station as the road becomes steep here.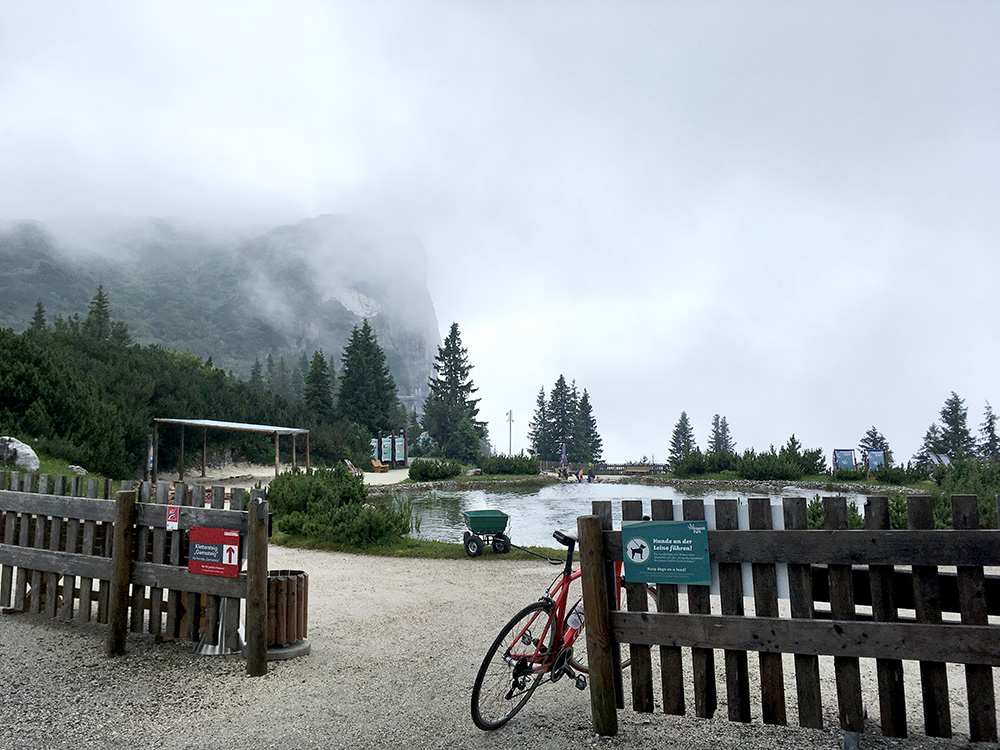 Just as I started on the climb I saw high up near the first bend a cyclist and it looked like the guy that passed me by. He was slowed down as well by the steep road. I thought I try and push on a little to see if I could gain in on him maybe after all. I did well and soon he noticed me too and I was at best like 150m behind him, when I realised I had been going a bit too fast for me. I slowed down and lost him, but kept a steady pace. Once up at the unnamed pass at the parking place – Steinplatte (Schwarzloferalm) (1374m) I saw him again high above on the smaller final road and again I tried to go faster and did my best, but did not quite catch up and was like 200m behind him at the top. He is the guy in the photo above.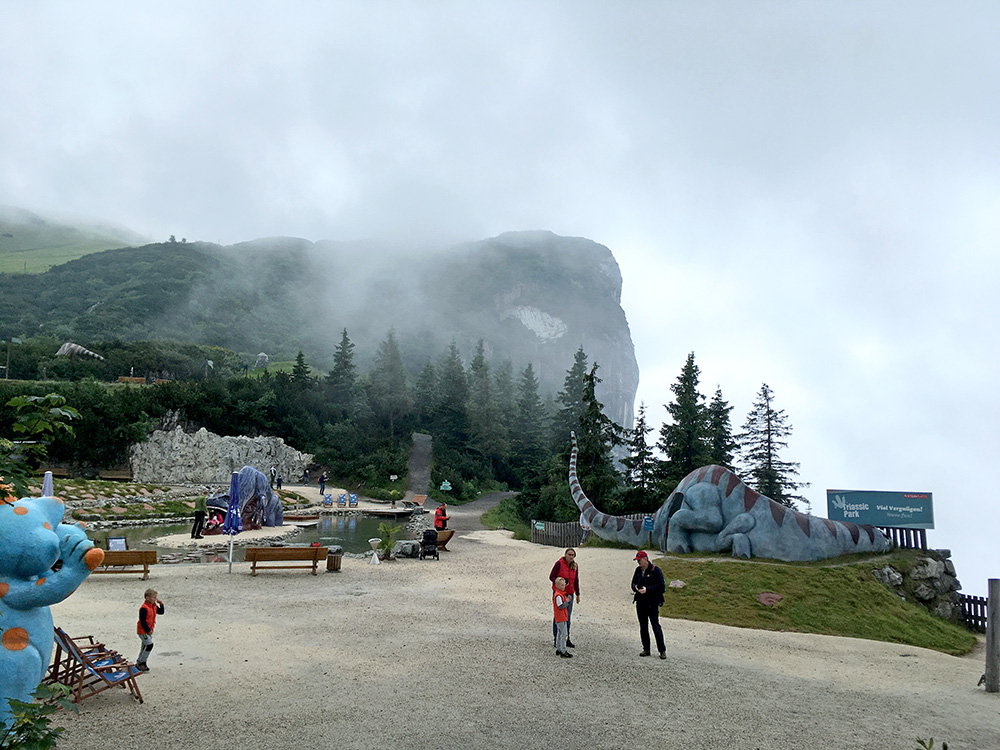 I am fairly ok with being number 58 out of 247 still on Strava (with 8 km/h on average, the best at 11 km/h). It is 13.1% for 6.7 km (fr. RidewGPS) and the steepest first section is 14.9% for 3.7 km. The guy just behind me on the list (for the year) climbed it the same day and could thus be the guy (he did otherwise better than me in all regards this day even if I did well myself – he went still longer and climbed more height metres and is also well ahead of me on all counts for the year too, but maybe he lives where he started nearby in Germany). Best that day and only 14 better this year, oh well, as near caring as I could be of these results. I am not really a fast mountain cyclist and have never been (I am best on the flat where I used to be able to hang on to riders just below the best, but no longer). As best this year I managed to get up among the hundred best on a popular steep climb at home, while I could make a KOM on the flat where the same people had also went fast (it was not on a prestigious section).
Got to do some sight-seeing despite the clouds!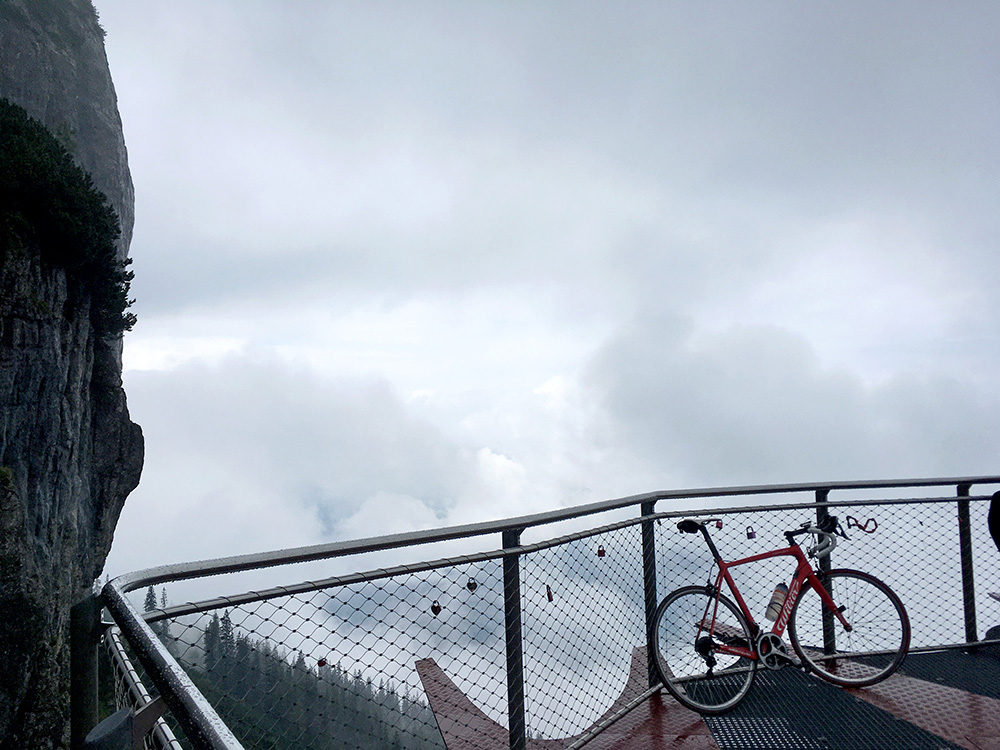 It could have been lovely views from here maybe … .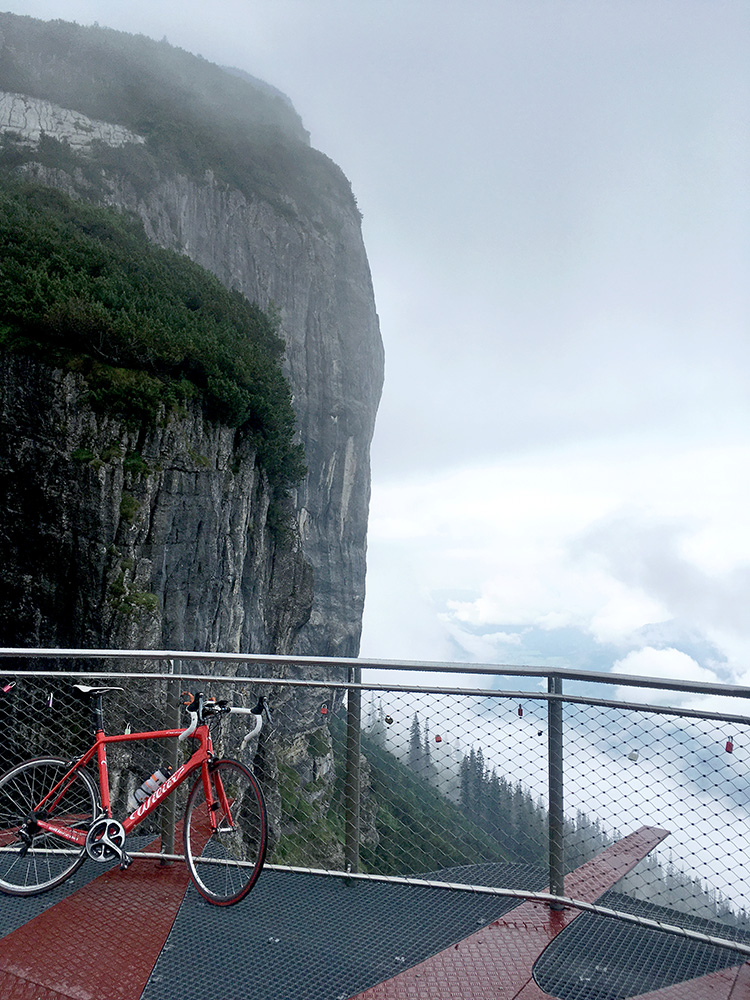 It was however starting to clear up just as I fooled around on the viewpoint platform.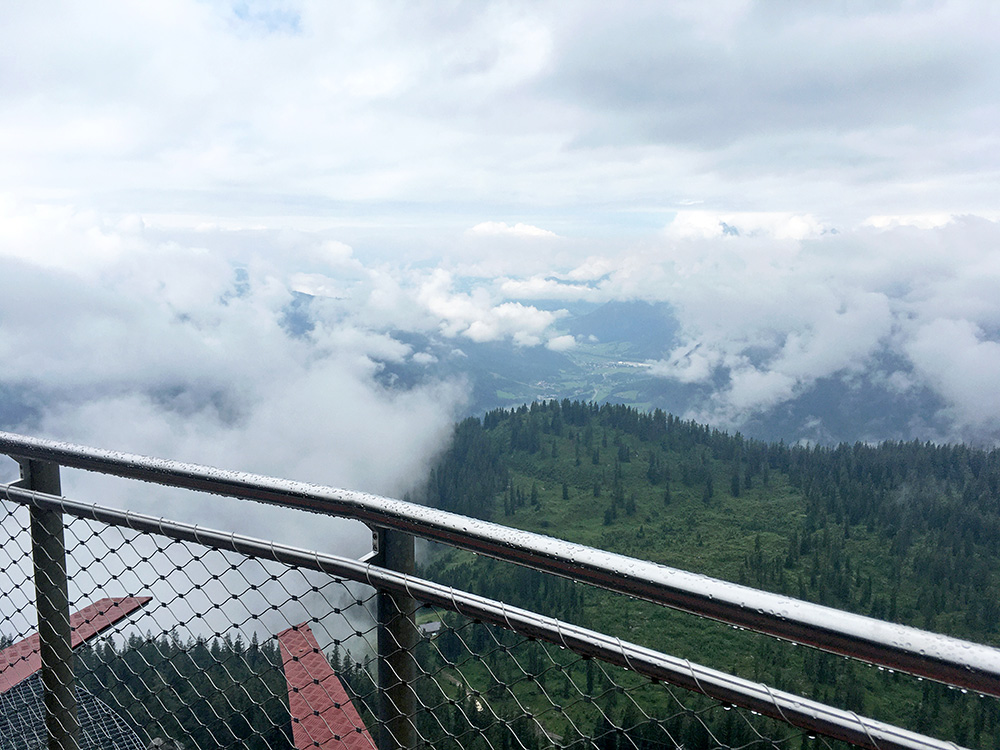 This is the view back down over Waidring and where I came from.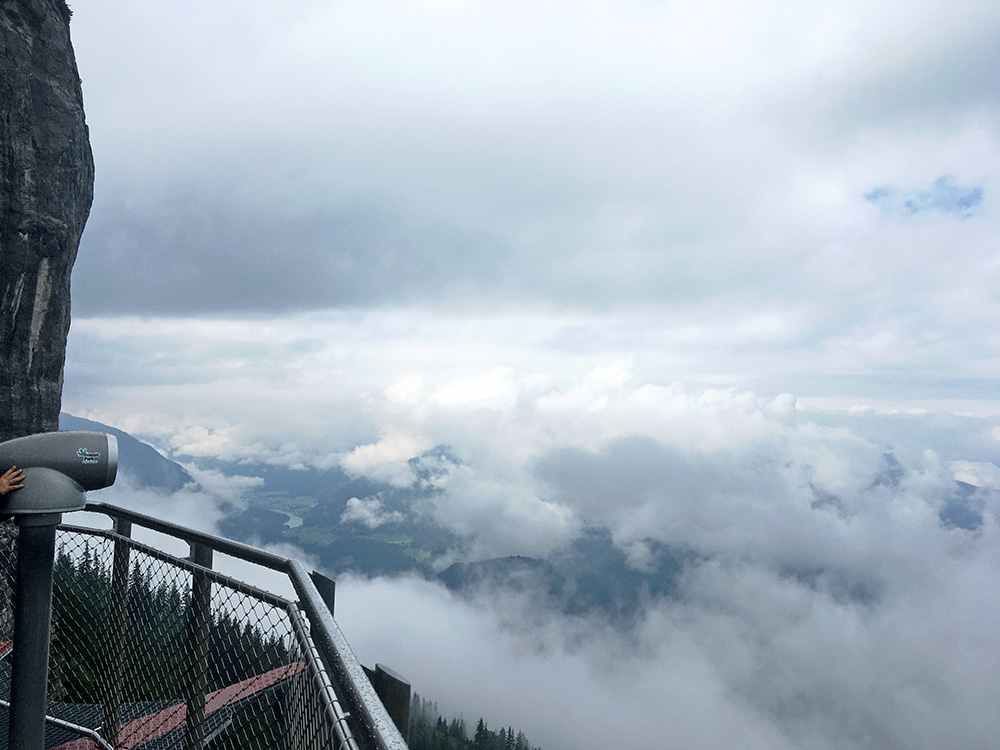 One could see a lake ahead to the east here too now.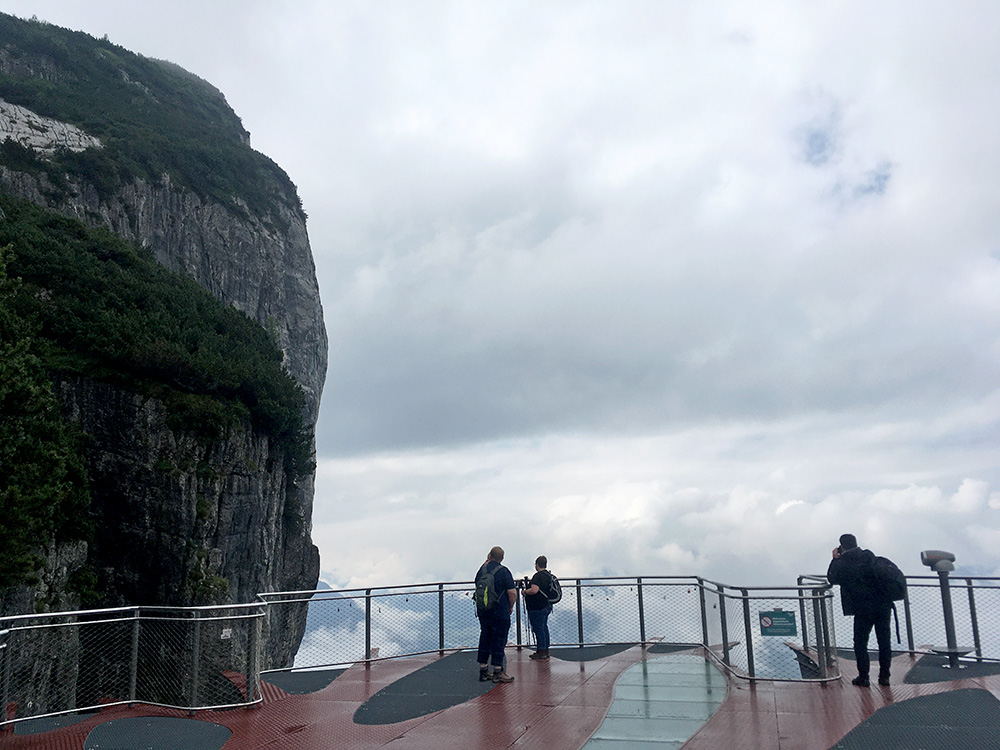 More and more people came around here too, but guess it could be more popular than this in Summer.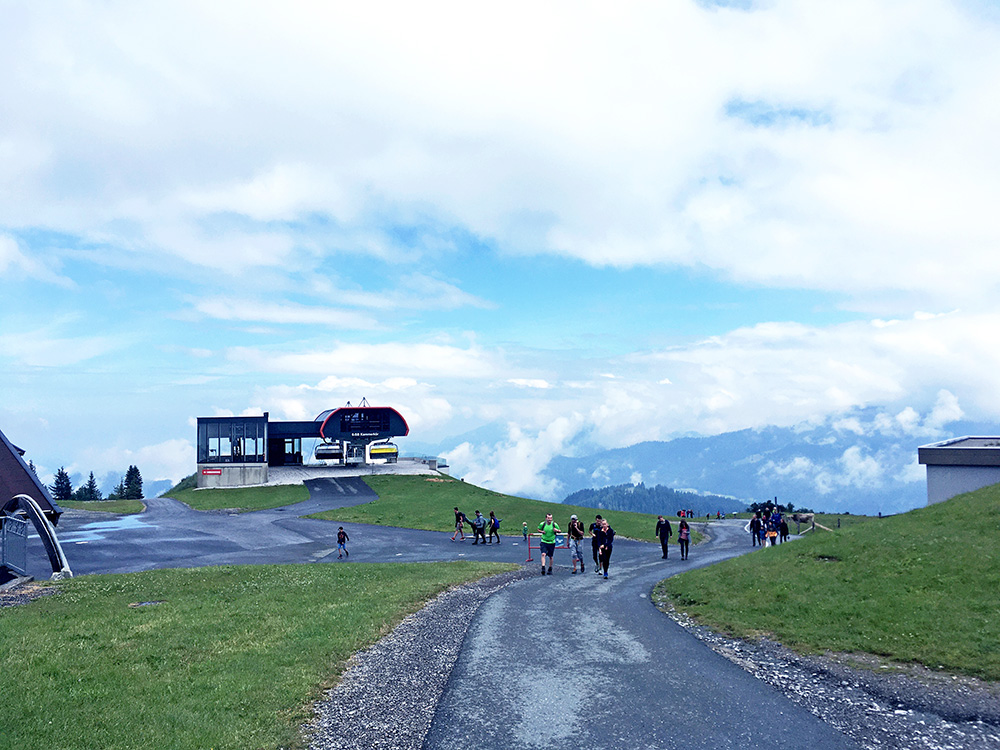 Time to go back down and the weather really looked promising now and it would indeed stay so for the remainder of this day. I stopped twice on the way out of Austria and into Germany. First in Lofer and then again at nice gasthaus, Gasthof Motzenwirt am Steinpass, just after the border on a small road just after Steinpass/Melleck (615m) (took a short steeper short-cut up). The later place I mostly stopped for a coffee in order to visit the toilet. I had not realised I was now inside Germany, so had to use the mask, but no problem.
Now it was rather warm Summer weather for a change. I got up to Bad Reichenhall and crossed back into Austria at Bayerisch Gmain and Grossgmain. Ups and downs and then I took off on the planned Buchhöhstrasse, as it was the shortest way to Salzburg, but not the flattest one. Cyclingcols.com calles the climb here Buchegger Höhe (637m) and I borrow that name which seems reasonable given the road name and Buchegger locality. The road was a bit steeper from the Salzburg side though, but it was a nice one staying as close to mountains as possible while skirting the very northern side of the Alps and it seemed like a popular road among local cyclists.
In the photo here from near the high point, one see the next climb for me – the home mountain of Salzburg, the Gaisberg.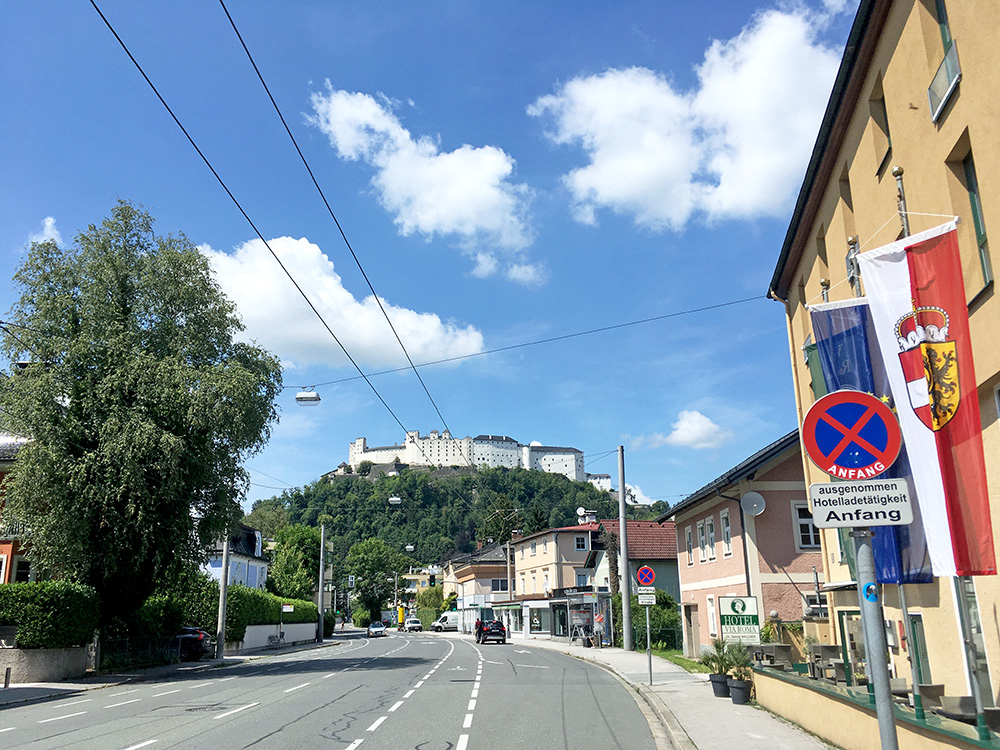 Following my Bolt computer slavishly I got nicely into the Salzburg city (a city I have never been to before). There is a little mountain, Kapuzinerberg, in the centre with an impressive fortress (photo). I took the fastest way out of Salzburg again over the Karolinenbrücke and started going a bit south to find the start of the shortest and steepest paved road up to Gaisberg. It is the Gänsbrunnstrasse.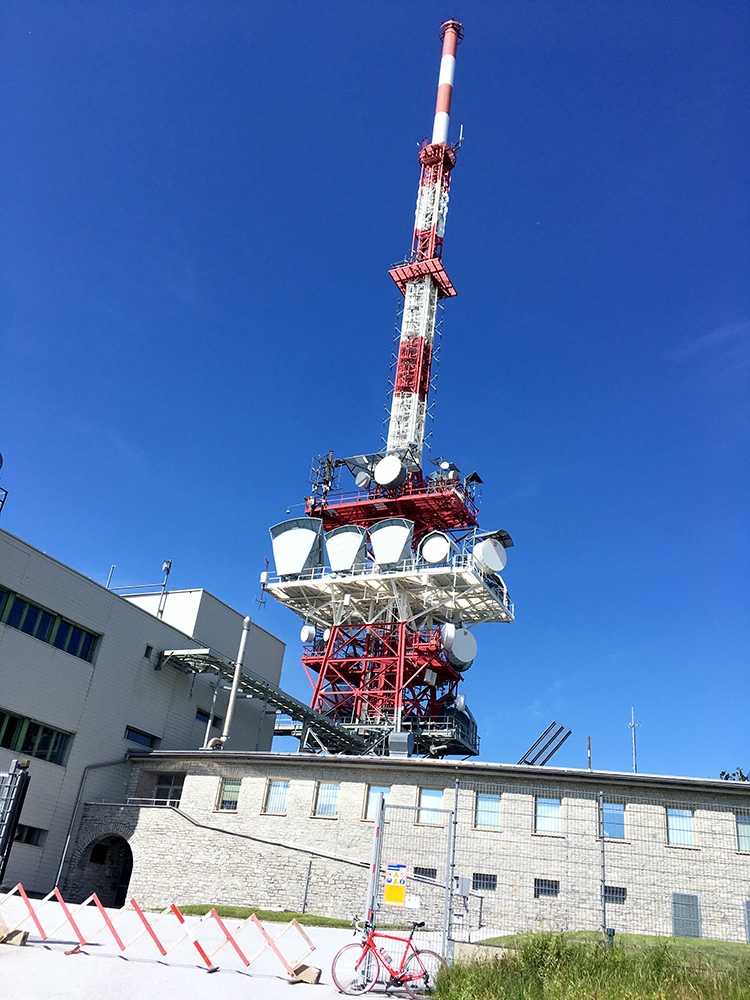 Of course this climb was also on Strava (like almost all are these days) and I did not go as fast as before to Steinplatte (well slightly higher speed, but not so steep). 199 out of 546 for me and long behind the best guys, but it was a nice climb. 10.4% for 8.5 km (10.8% for 7.7 km) and max ca. 18-19%.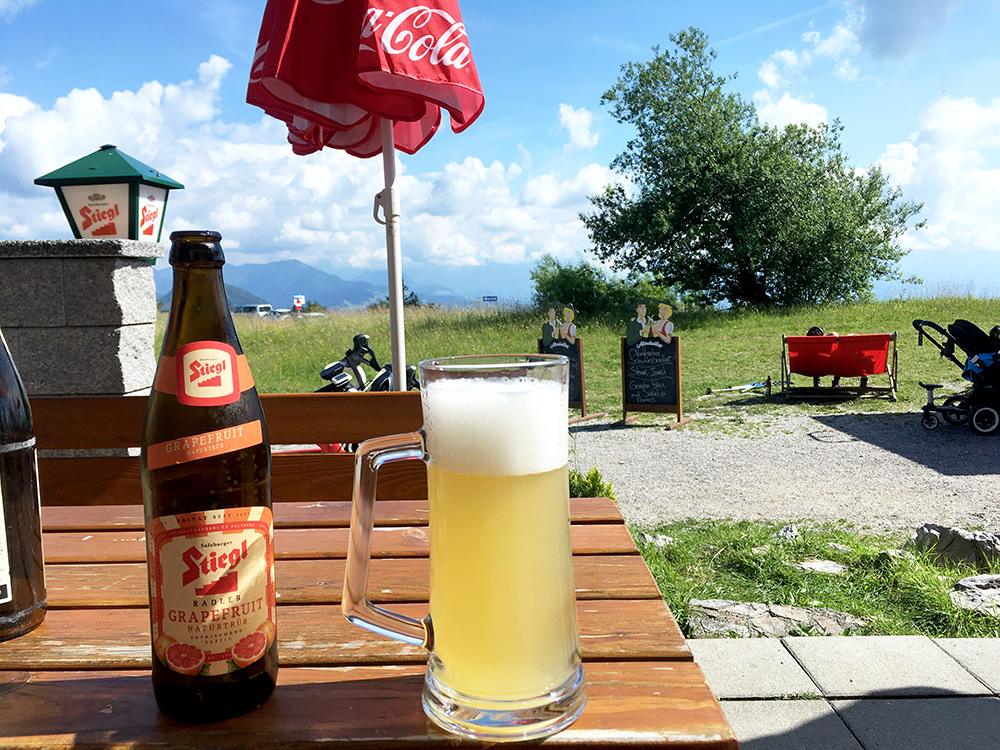 Nice to rest a little with a radler.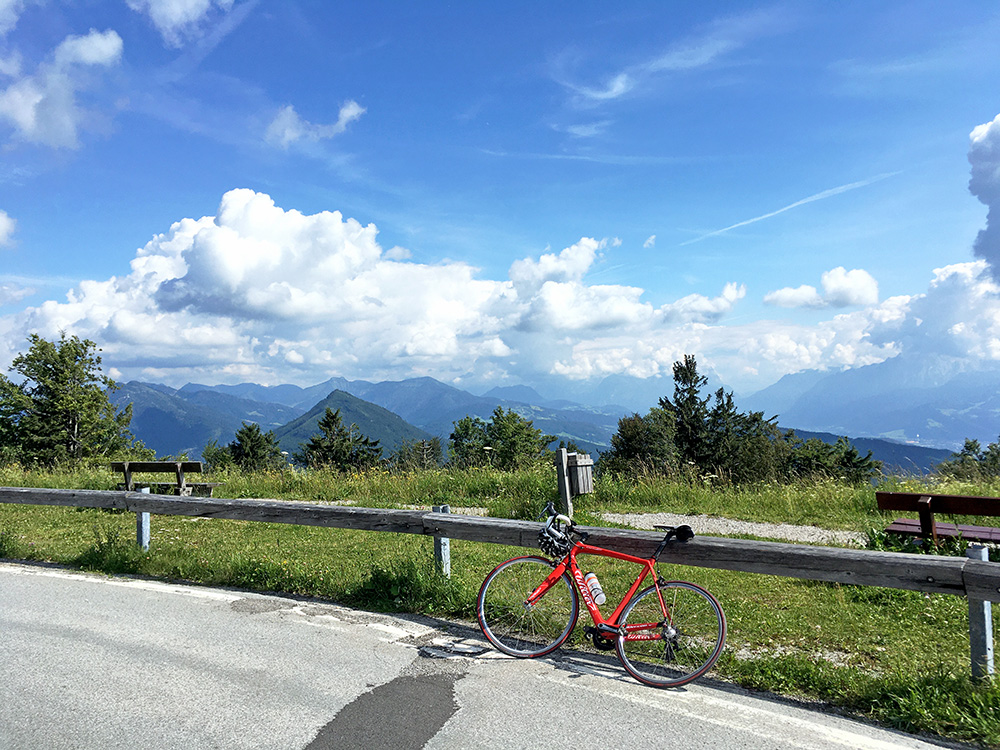 Quite good views up here on this day looking southwards into the Alps.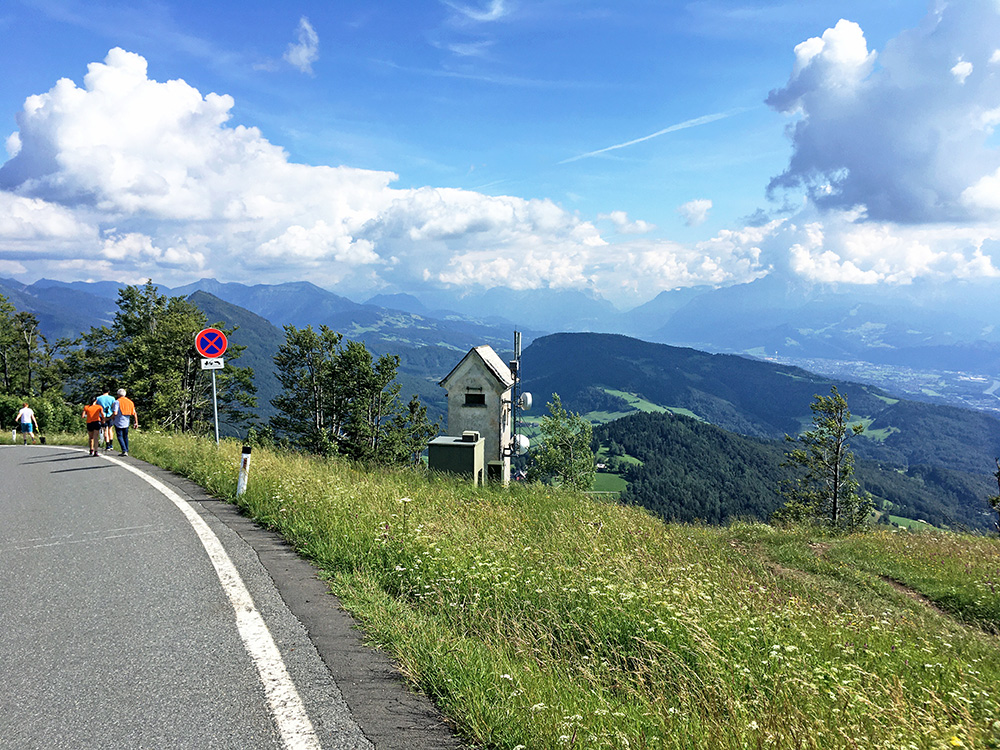 One more photo before going down.
On the main road it becomes fairly flat at one place above where I joined it and here a road goes down to the east via Oberwinkl, and the photo here is from the start of that road which I went down.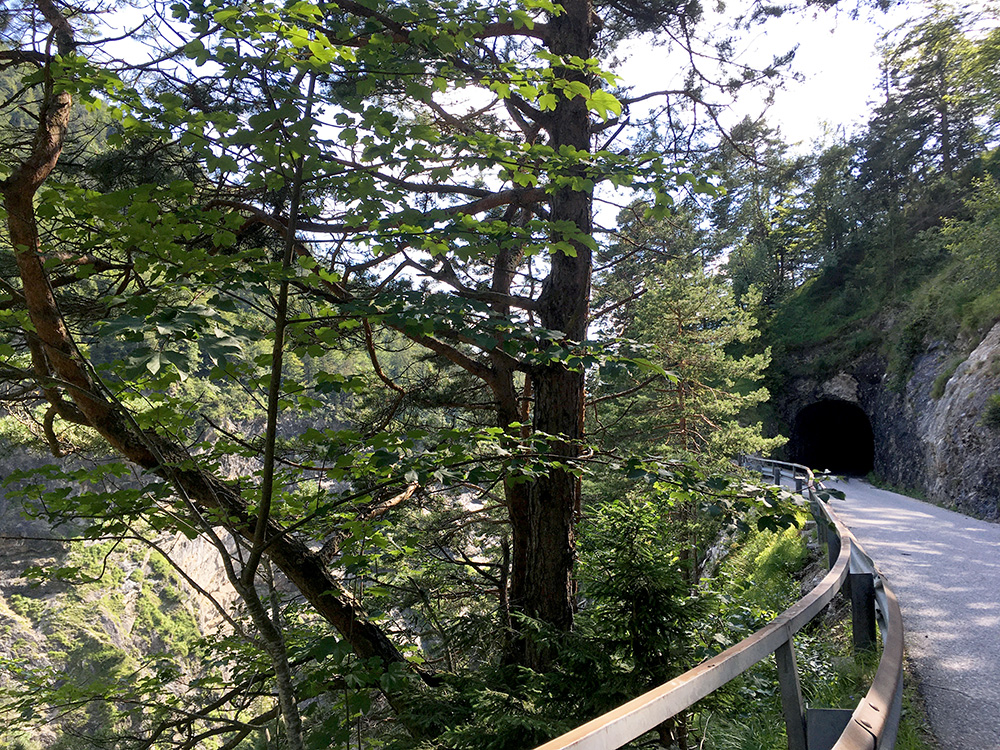 I went east via Strubklamm here in the photo on another nice road, which came as a bit of surprise to me as I had not looked it up much when planning.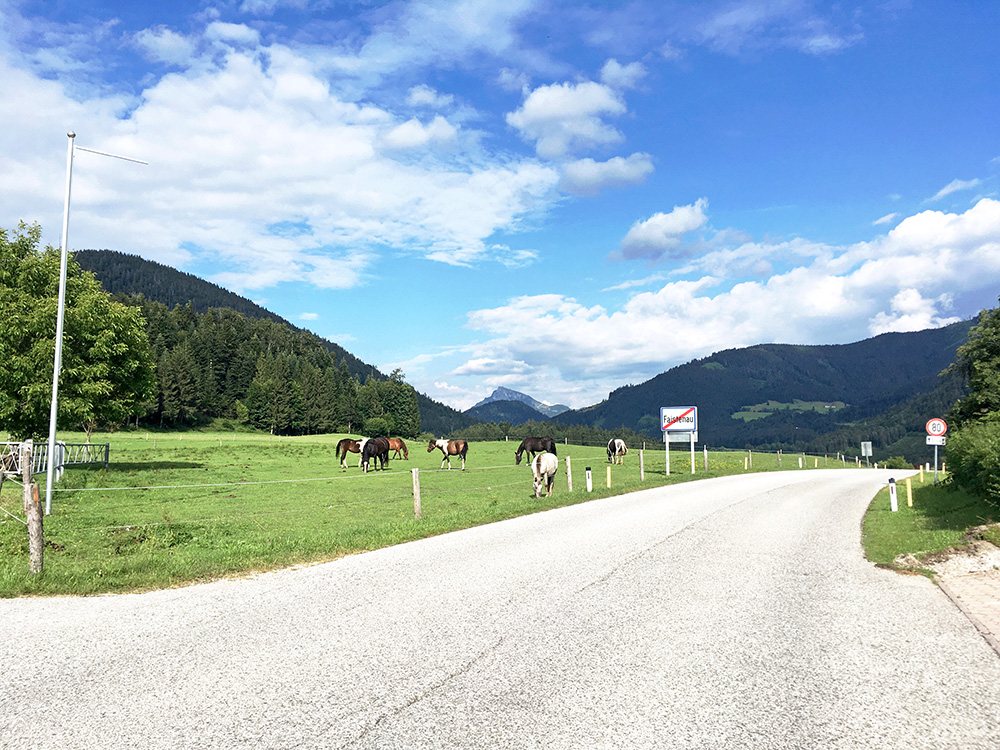 I then continued up to Faistenau and straight on to Tiefbrunnau (where I had originally planned to stay one night). I continued over the little Perfalleck (822m) pass (13.2% for 400m) and a bit steeper than I had thought (a clear pass, even if small).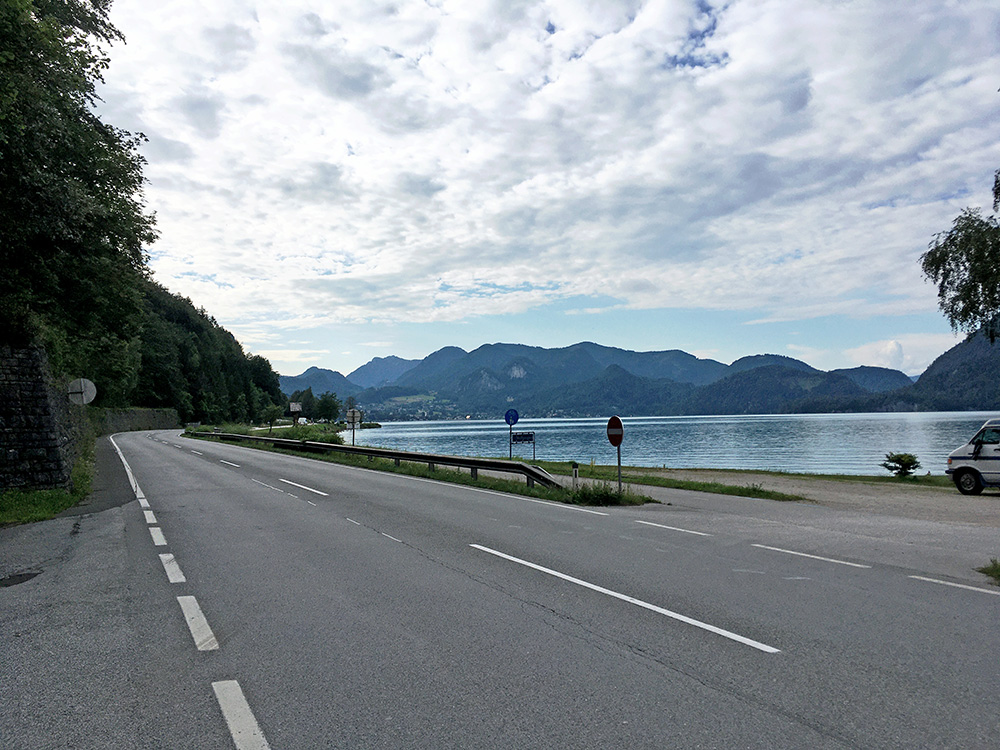 I was then out on a bigger road on the northern edge of the Salzburg region, here passing by the Wolfgangsee. I made a final stop for the day near the start of the Postalmstrasse by a gasthof to get another coffee and got a bit stressed as it took time to get the coffee and it was close to 19:00 in the evening and I still planned to do another climb for the day.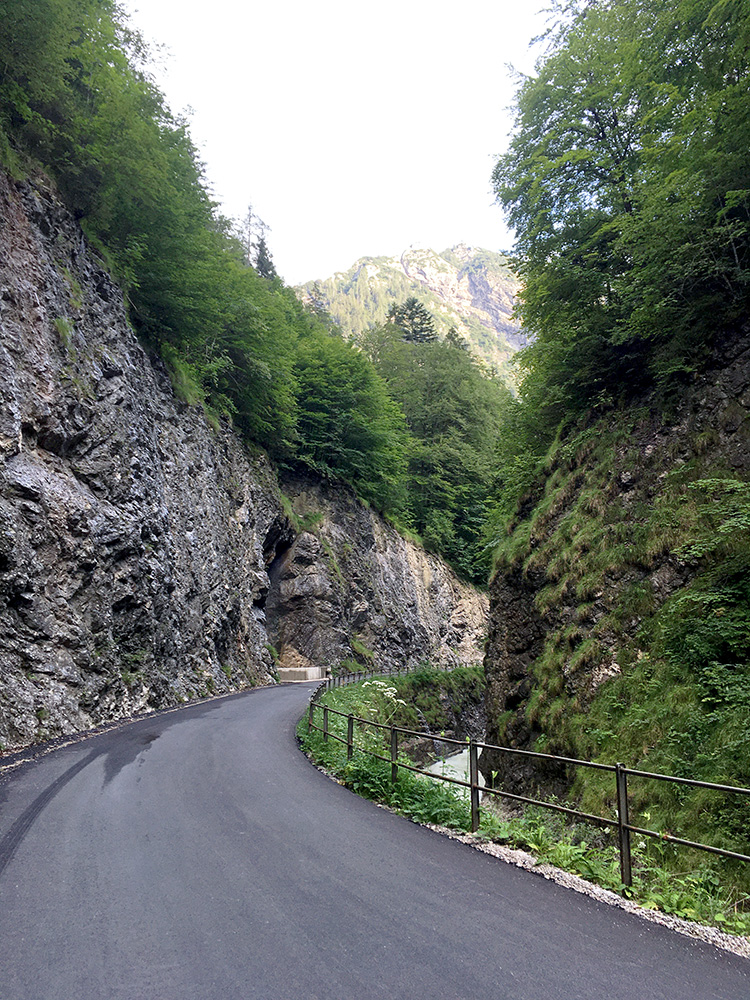 I got on my way a bit worried I might get late. The Postalmstrasse was quite nice in the evening though. It was a Sunday, so maybe that is why I still met some cyclists coming down. The highest point of the road is the Postalm and I had thought to go there, but as it was getting late I hurried on (almost missed the turn-off as the main road went to the Postalm).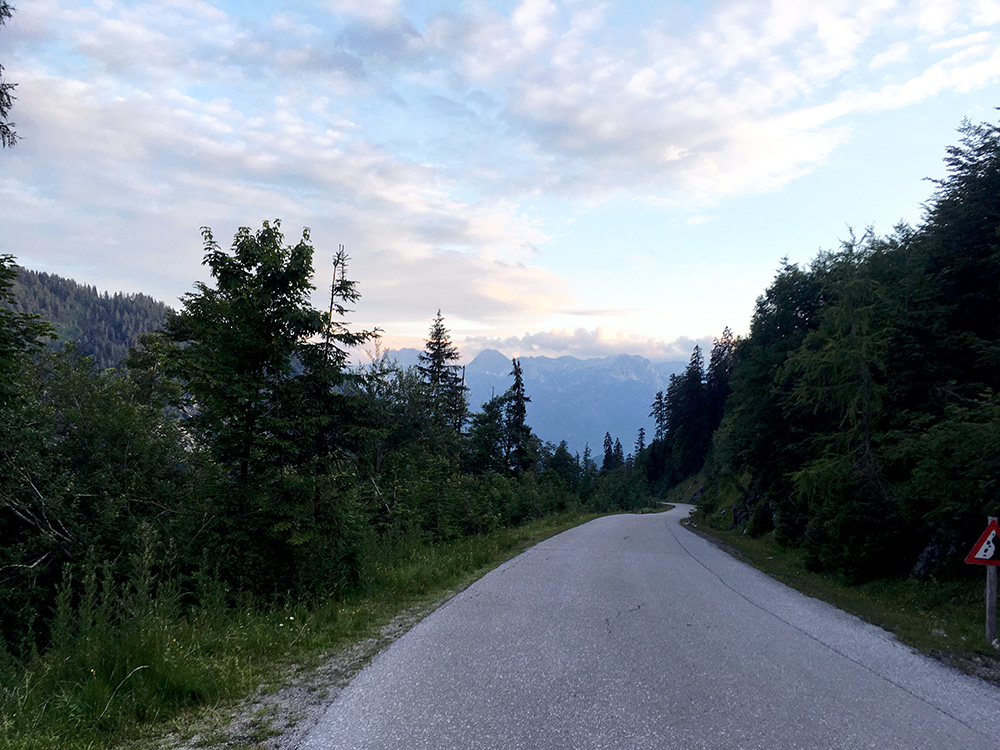 The main reason for going here was that Lienbachsattel (1301m) was the furthest northeast pass in the Alps above 1300m that I had not thus far visited. It was a bit of a long way of ups and downs at high altitude before I actually came to the pass height. When I arrived there twilight was upon me, but I felt relaxed it was mostly just downhill now and that I could still see the road clearly. Just after I started the descent here a fast cyclist came up and I was a bit confused as it was not likely he would get over and down the other side before it got dark, but maybe someone was waiting for him.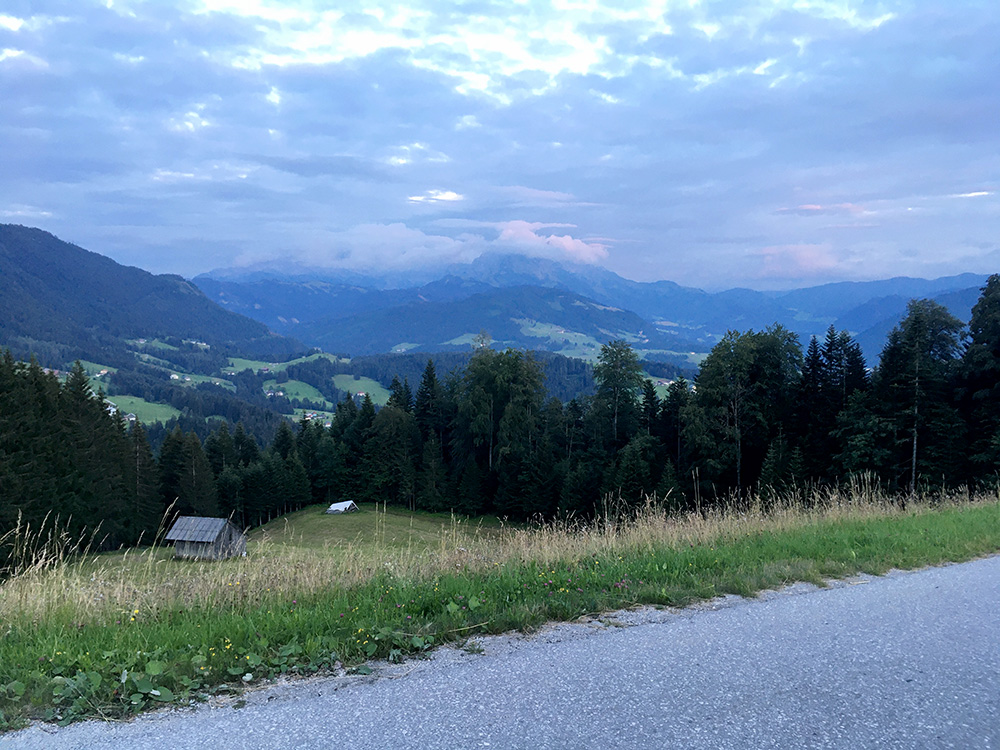 Nice down here and it had been a bit chilly up at Postalm, but now I was getting a bit worried about finding a place for the night as I had cycled on the road one comes down to here and I could not remember any lodging place along it. I skipped a dubious short-cut as just in case I would be delayed and took the normal road down (just a little longer).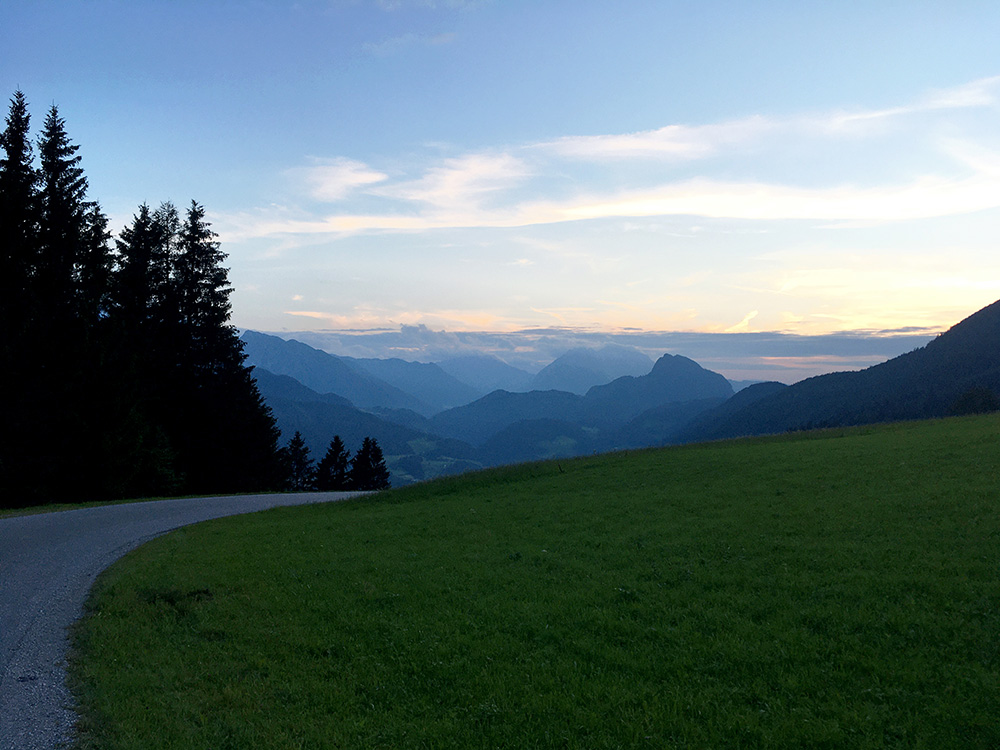 Then I went up the valley to the Pass Gschütt strasse, but I could not see anything this time either. It was getting dark and I met a father and his son (from some eastern country) coming cycling without lights toward Abtenau (the direction I was also going in). I had planned to take the turn-off before Abtenau down south, but it looked like long before a village there and again found nothing. I continued to Abtenau thinking I saw a place before, but eventually went down to the village and got a room in the first obvious hotel there (might have been better choices, but it was ok).
I saw a thai food (Malaysian) restaurant a little before and asked if maybe they were open. They called and it was ok, so got there to eat and maybe the fastest restaurant visit ever as I was hungry and they wanted to close down, but lucky to get something to eat as it was now rather late.