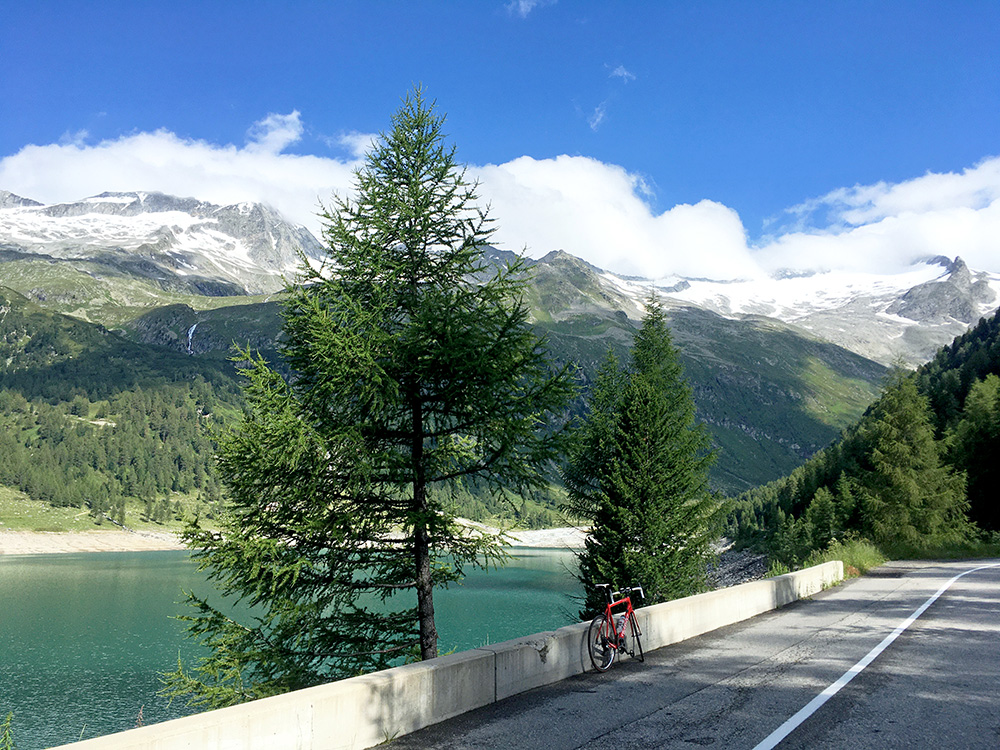 Today was a great day with lovely weather all day. Not so long, but over 3500 height metres is always good enough for me. Yes, I remember that I left my back-pack at the great Schuesslerhof and picked it up again on the way down. I was starting up a steep road this morning to the end of the valley at the Neves Stausee/Lago di Neves (1862m) that I could not quite reach the evening before and stopped at the last village, Lappach/Lappago (1445m, up the Mühlwaldertal/Val Selva dei Molini. 3.4 km at 11.3% and the steepest kilometre is 13.4% (at the end), but it was some climbing up to Lappach/Lappago the day before and a +1000m climb in total.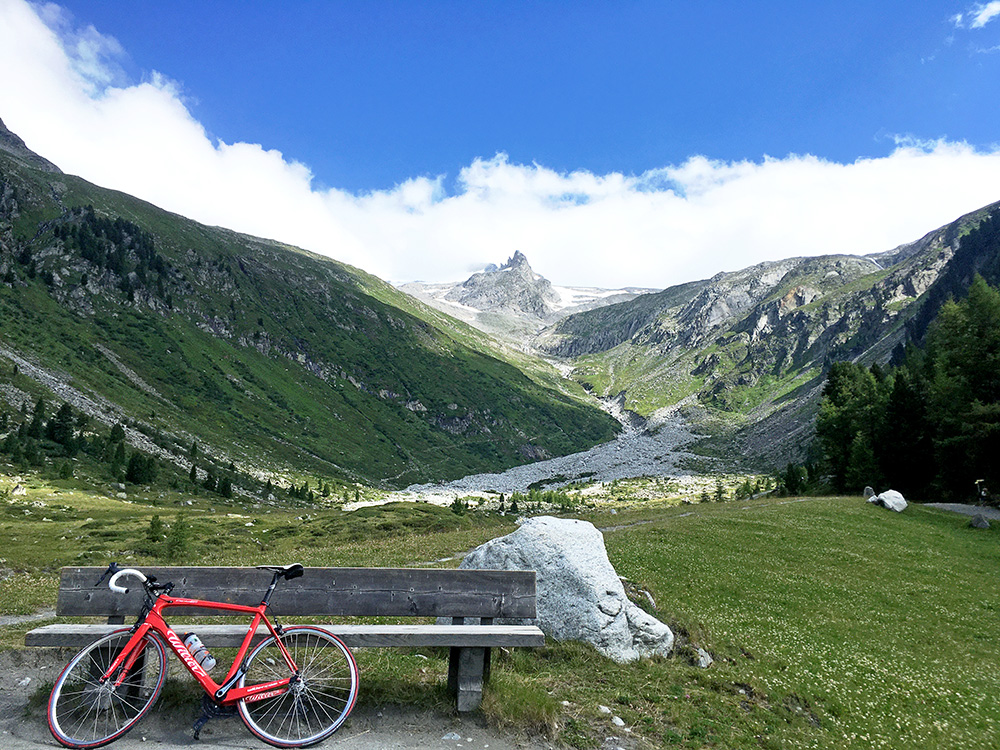 I got a bit curious about the gravel continuation after the parking along the lake and continued as it was fairly good until the end of the lake. It seemed most people here continued up the mountain on a less good gravel road/track including mountain bikers, but it did not seem worthwhile to try out with a road bike and I had already gone further than planned, but I was happy I did for the great views after the lake (walked up a little bit in the grass for these three photos).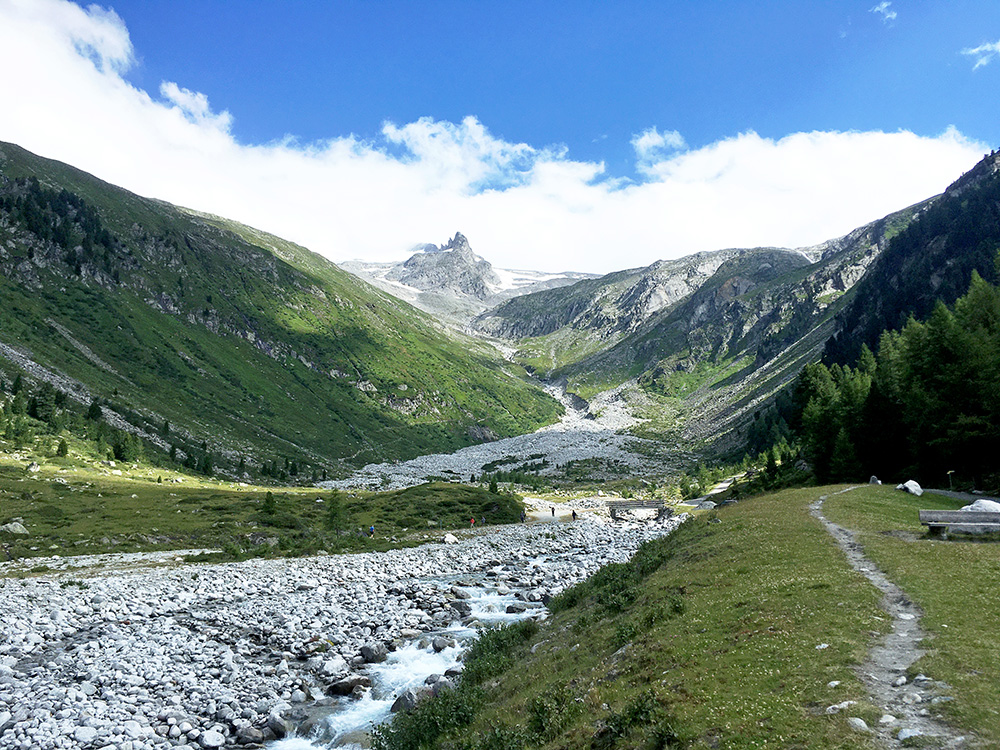 Similar view here, but good enough view for two photos. In this photo you can see the gravel road go up among the trees to the right.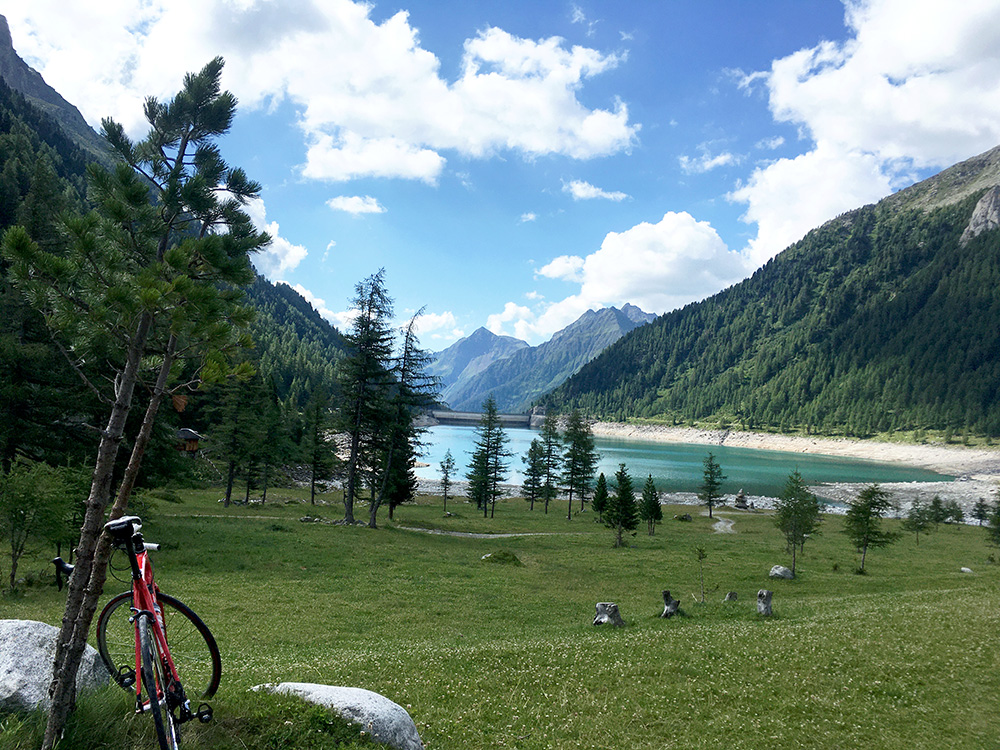 Looking back over the lake.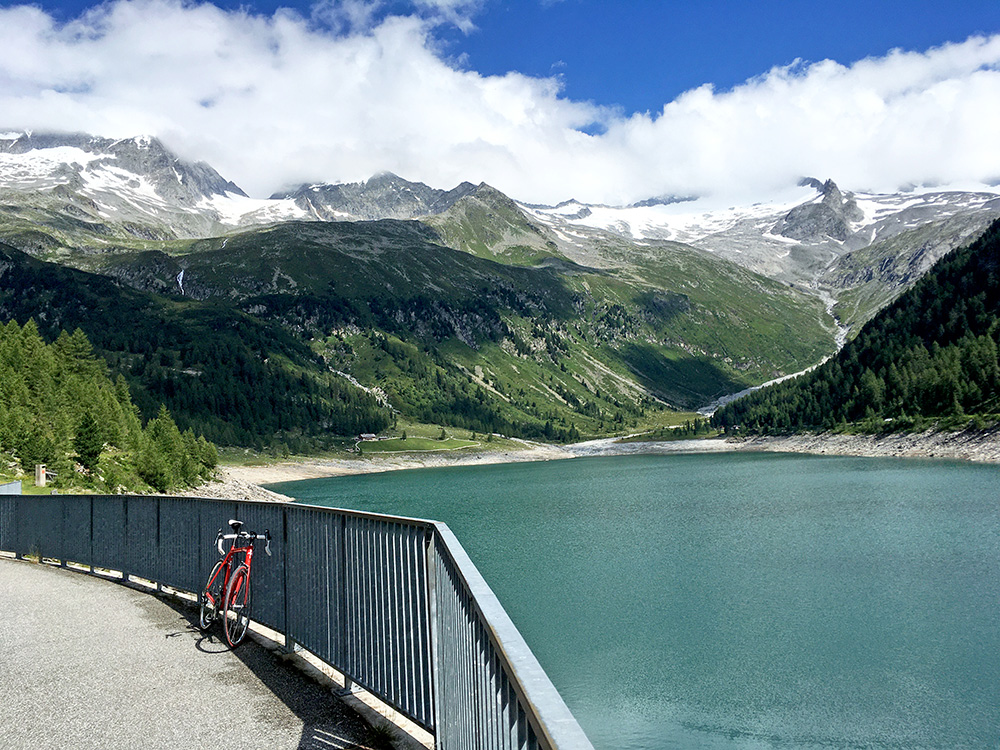 Fairly good views from the dam too.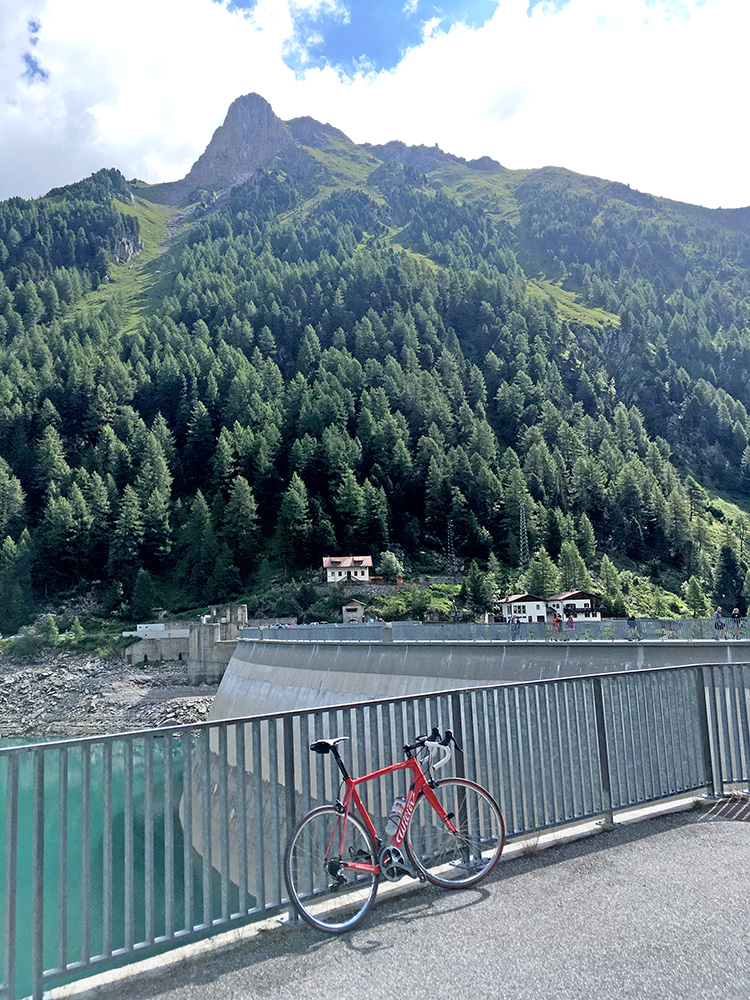 The dam building and over by the houses the road comes up from below.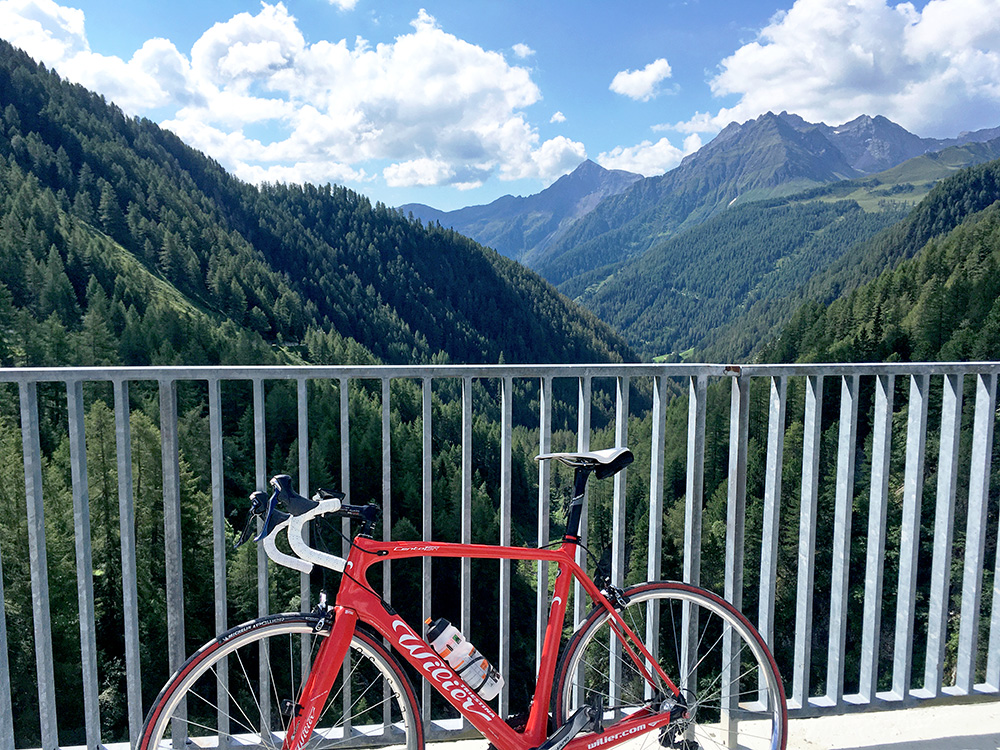 The narrow valley up here.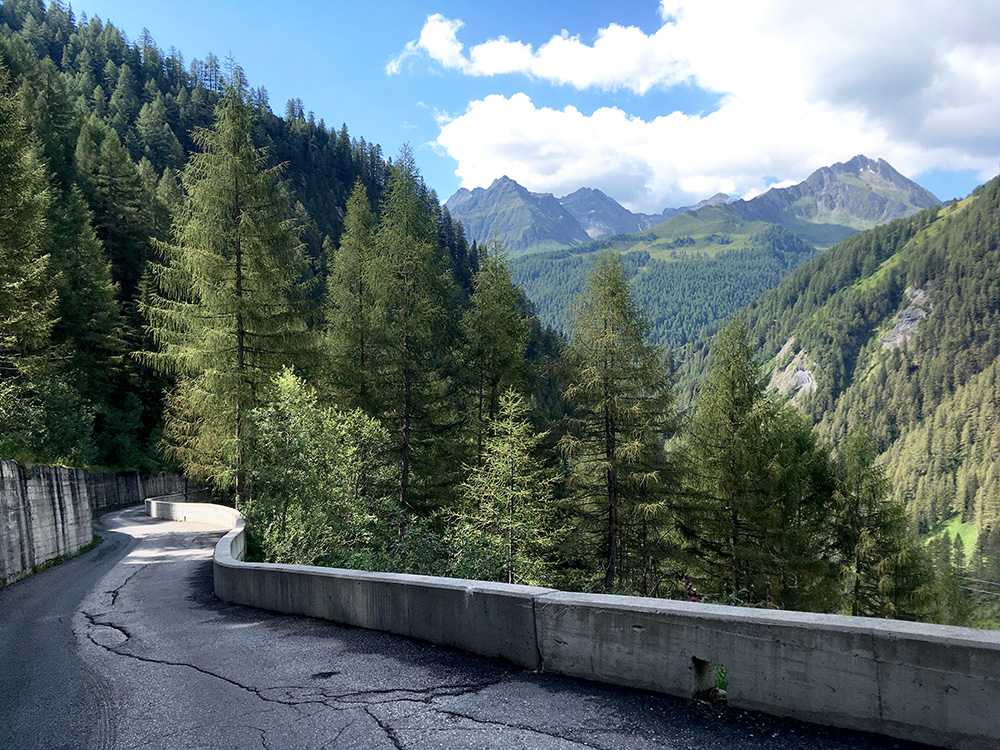 Took one more photo of the road just after it starts descending. There are some traffic lights as the road is very narrow and it clings the side of the valley here and below from here. This is the steepest section with a maximum steepness at ca. 19%, which is steep for a dam road (they can have high average steepness, but are usually not really steep along the way). If you have been going fast up here earlier you are in for a tough surprise.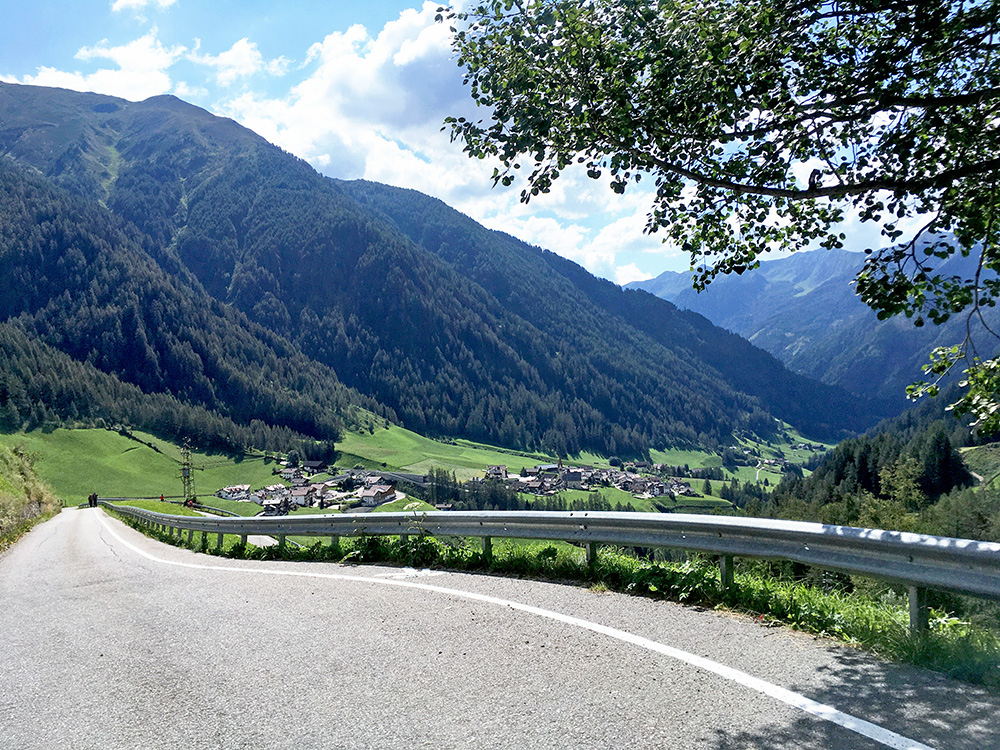 The view down over Lappach/Lappago on the Neves road and it is steep here too, but with lovely views. After the bend down here is another bend where a road takes off over a wooden bridge to the Zösental and I got curious about that road on the way up and could not resist checking it out as it looked even steeper and I could not remember where and how far it went.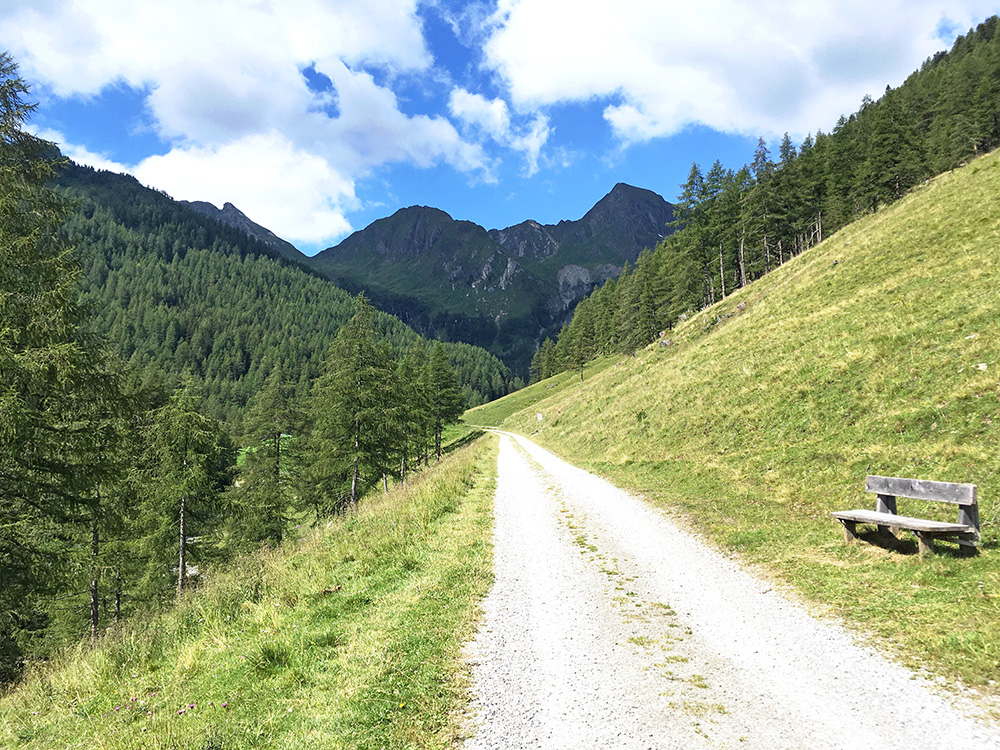 This is the view ahead just after the end of asphalt up the Zösental. Not steep here, but not sure I wanted to explore this road now, so I turned around here (decent gravel, but a little loose stones).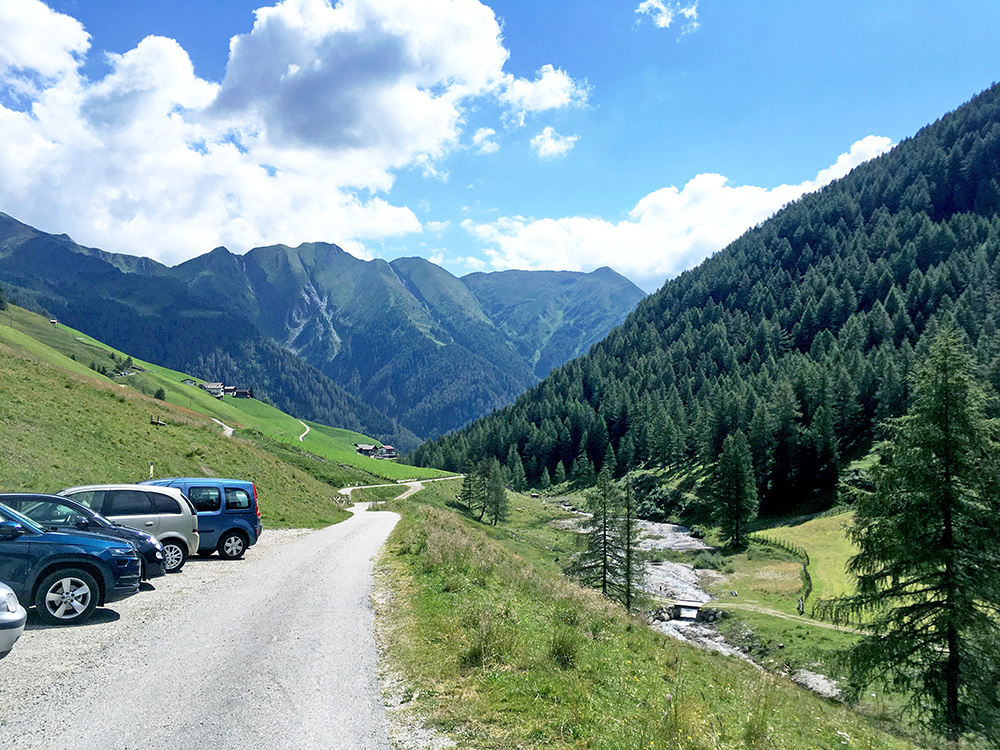 The view back down the Zösental.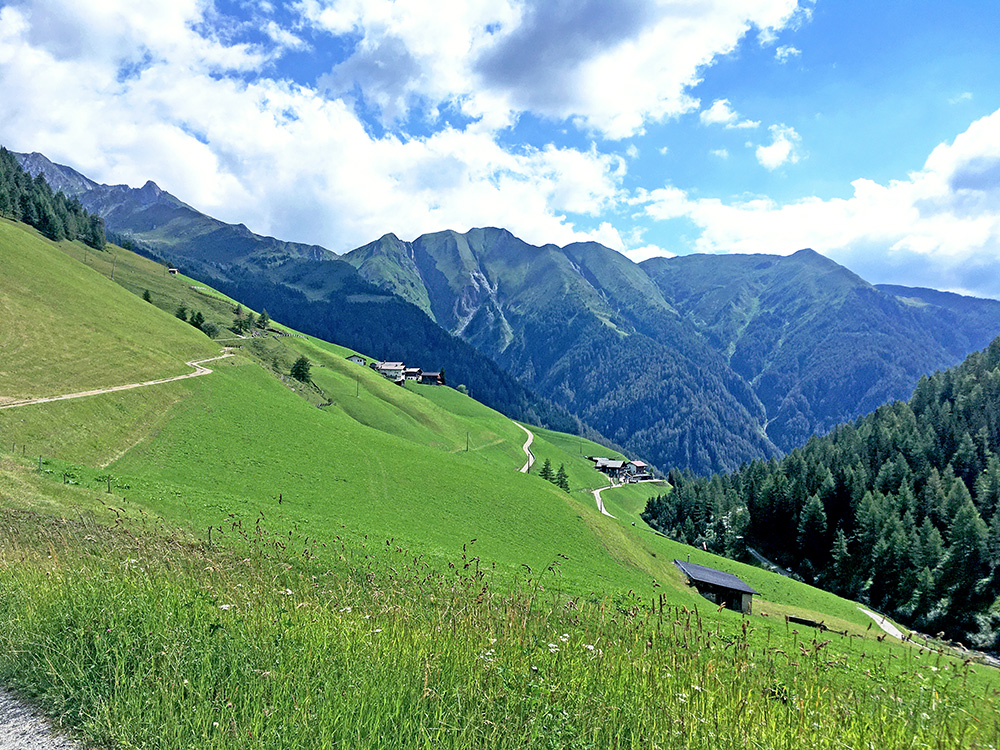 I went up another road that looked like maybe it was asphalted higher, but it was bad and the asphalt then stopped just as I managed to get by some electric fence or so and I turned around here (at approximately the same height).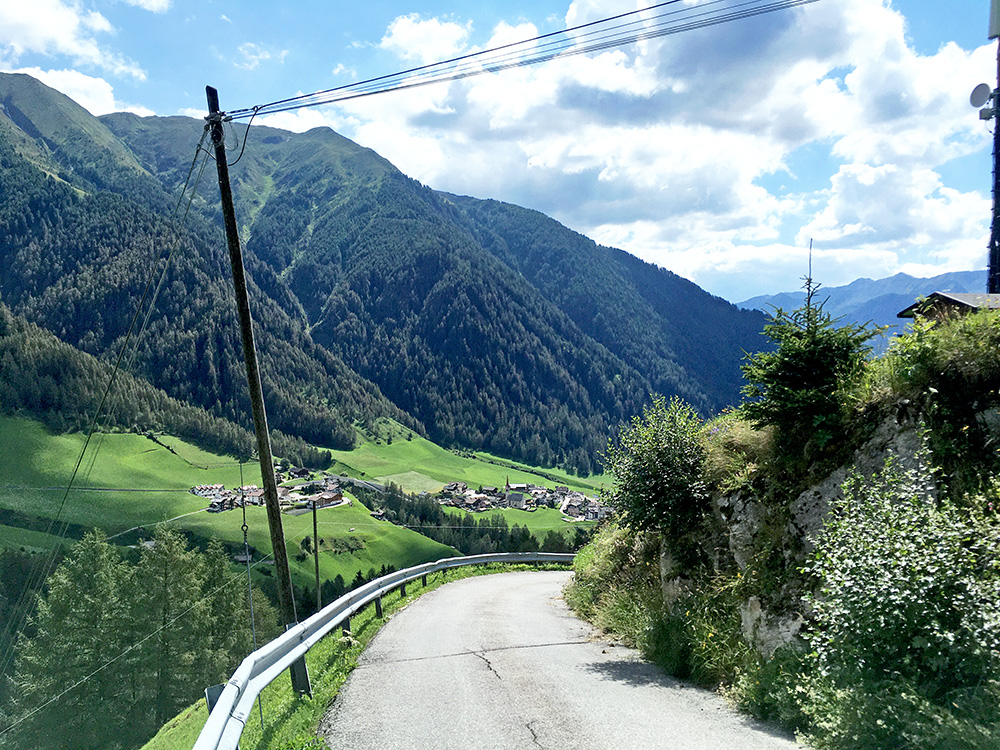 Back down to the steep section seen from the Neves road and had to stop for another photo over Lappach/Lappago.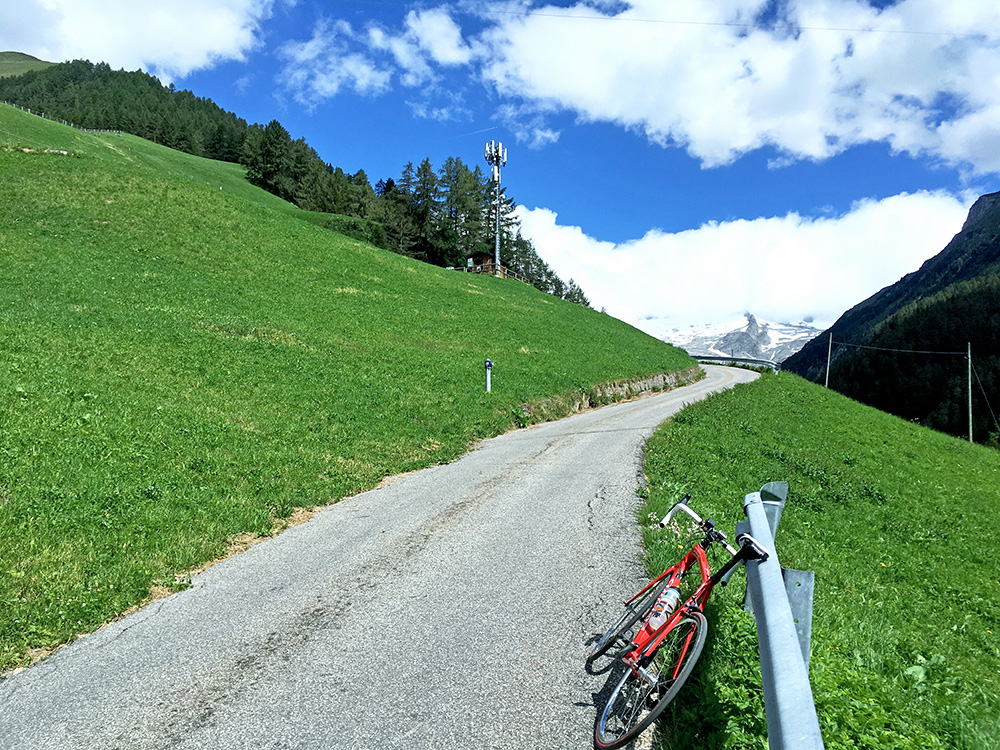 Also a photo of the great view one has when climbing up here. It is like 23% here (I made it up, but luckily it did not last so long). Also took another photo down here as there was a very nice Peacock bird by the farm, but the photo was not giving justice to the bird, so skipped it. Collected my bag and was finally on the way back. I took the little longer normal road back down to Mühlen in Taufers/Molini di Tures (849m).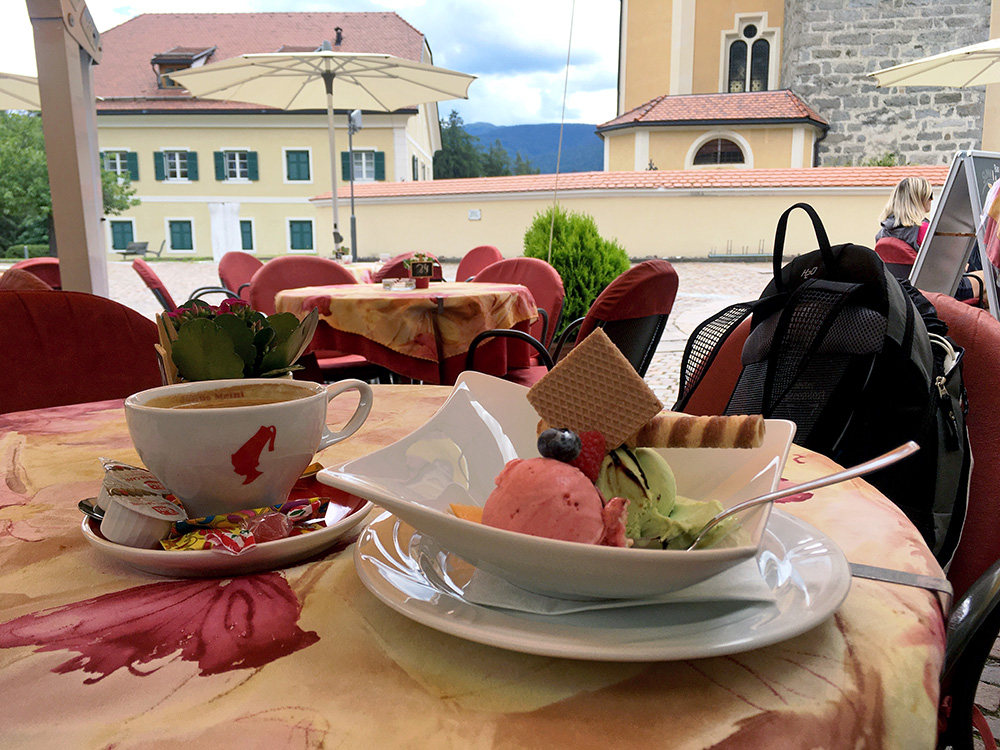 At St. Georgen/San Giorgio (822m) I went off on a small road (though a local bus had found the way too) and continued up a road saying it could not be passed by car traffic (which was not true, but maybe it is a private road). Now it was the warmest during the day at a bit over 30°C in the sun. After mostly going up and arguably over a pass or two on the high road I arrived in Terenten/Terento (1231m) where I stopped for an ice cream and coffee. The high road above the Pustertal descends from here to the main valley road to Brixen/Bressanone, but I had noticed what looked even more like a pass (many years ago in fact) up on a continuation of this high road. There is soon a turn-off to Margen/Marga and on the way there a more obvious pass is found at Hohenbichl/Hohenbühel/Collalto (1340m) (which is another of the +1300m passes I was looking for).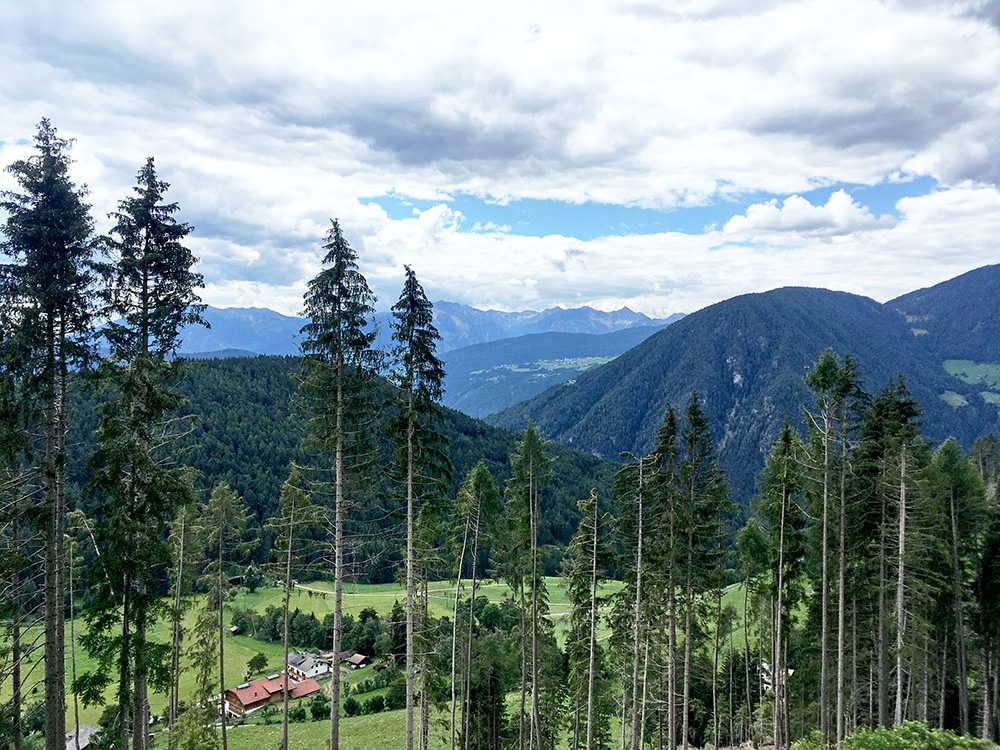 The road to Margen/Marga was in a surprisingly bad state, but might soon be up for resurfacing, I hope. Up at the pass, where I had planned to stay a night in one plan (but the albergo did not look like it was open), I saw however that there was a fine asphalt road continuing higher up and after some thinking decided to go up there. I took a short-cut road that looked like it only went to some houses, but my map had shown that it should be a through road and so it was (it was the steepest stretch among those houses on this day of steep roads though with up to ca. 27% max – just made it as it was very, very short, but was almost giving up.

Then a nice end until the place here. Here I am overlooking to the far right in the photo, the great Kienscharte/Forcella di Kiens (1746m) that I climbed from the valley below in 2006. Unfortunately there is no paved descent to Weitental/Vallarga – otherwise this road over Margen/Marga would have been really popular among road cyclists, but now I guess one rarely see a road cyclist up here.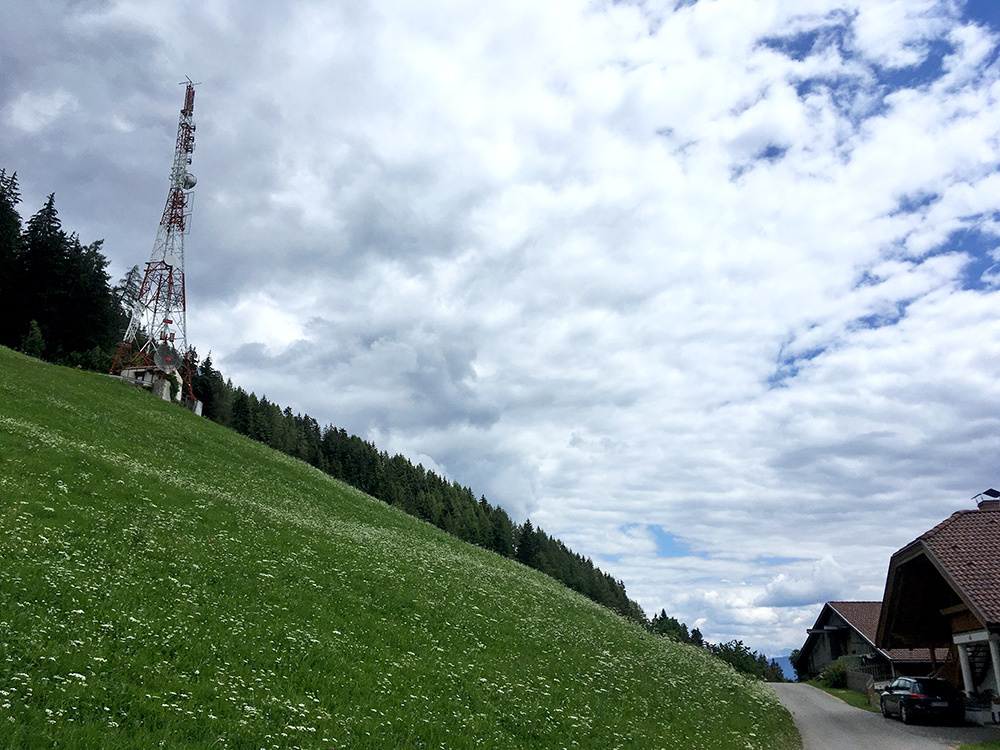 A sender at the end. I was looking again later on the maps and possibly one could get almost to just above this sender on another paved road that seems to end there or a bit before and it is a little higher than this road then. There are some other high road taking off from the Terenten/Terento road too, but it doesn't quite become a 1000m climb down from Pustertal even at the highest ones, but fair climbs up there anyway of course.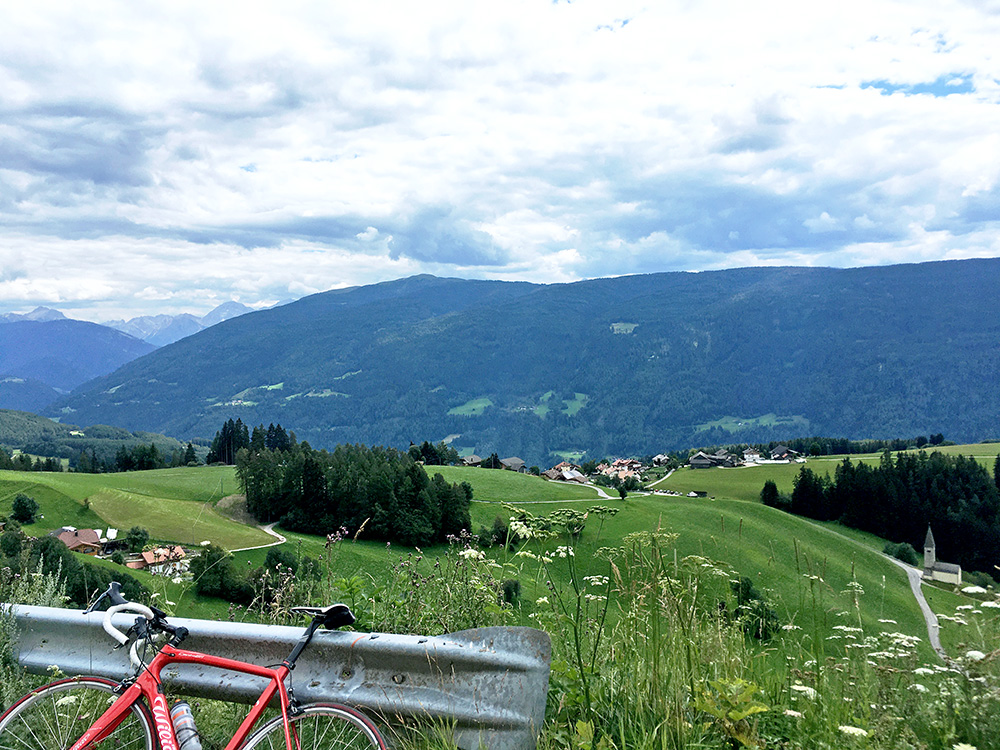 Overlooking the saddle (Hohenbichl/Hohenbühel/Collalto), where I came up and the St. Margarethen church (just below out of picture is the small village of Margen/Marga). You also see the Dolomites in the background up the Val Badia/Gadertal.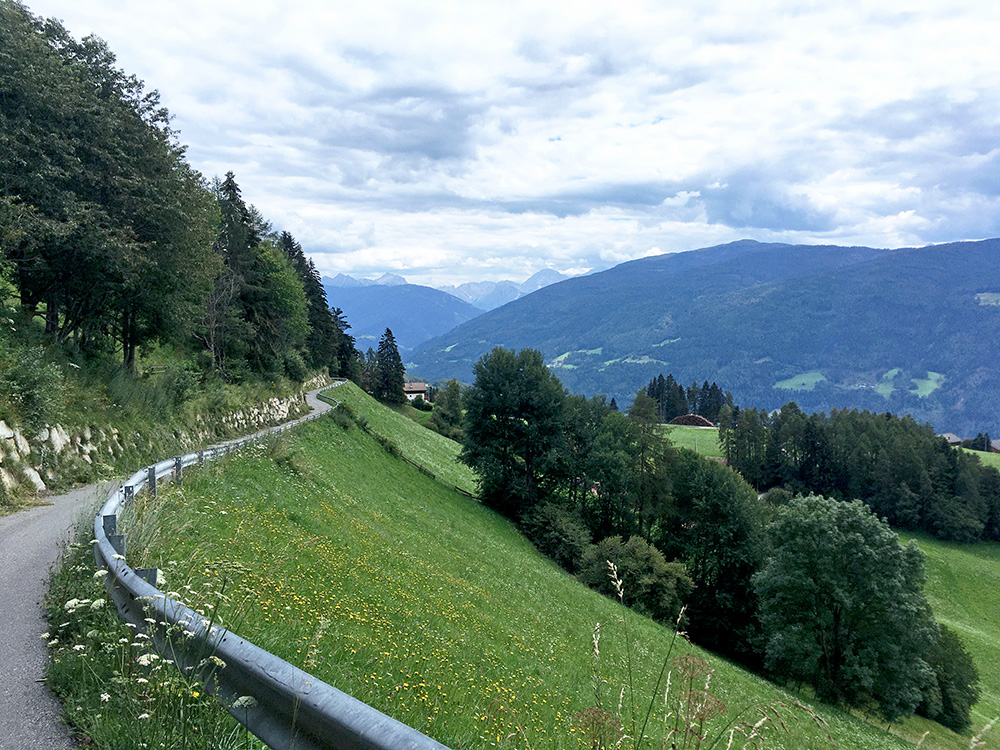 The last nice section up this road (wished it was a longer road).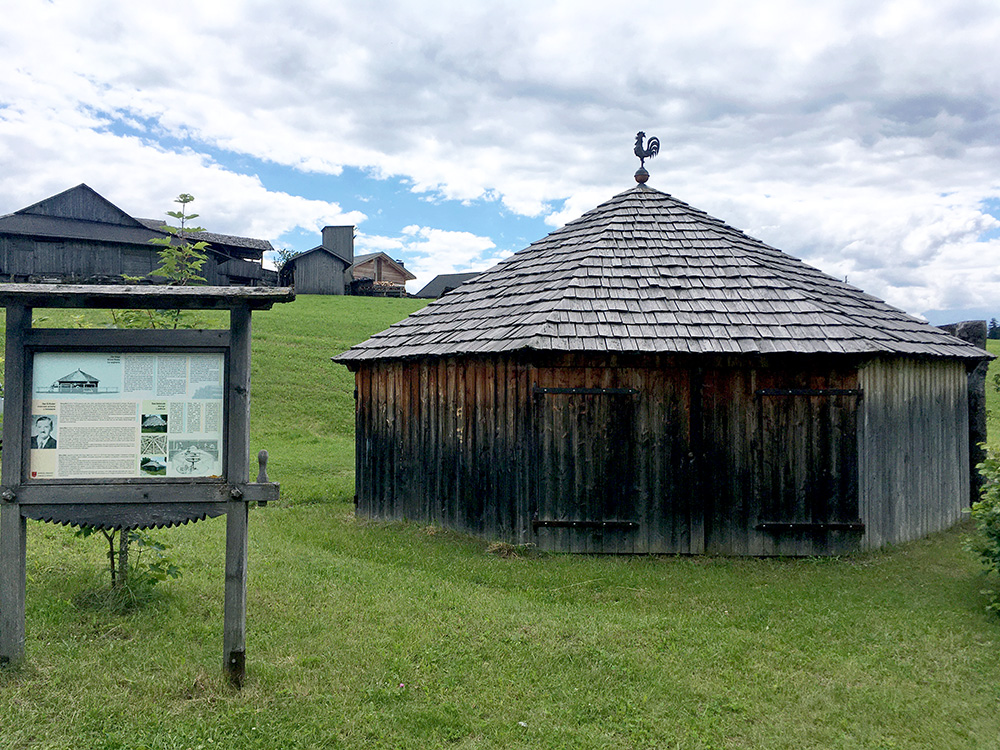 An interesting building near Hohenbichl/Hohenbühel/Collalto (for wood-cutting, I believe it was).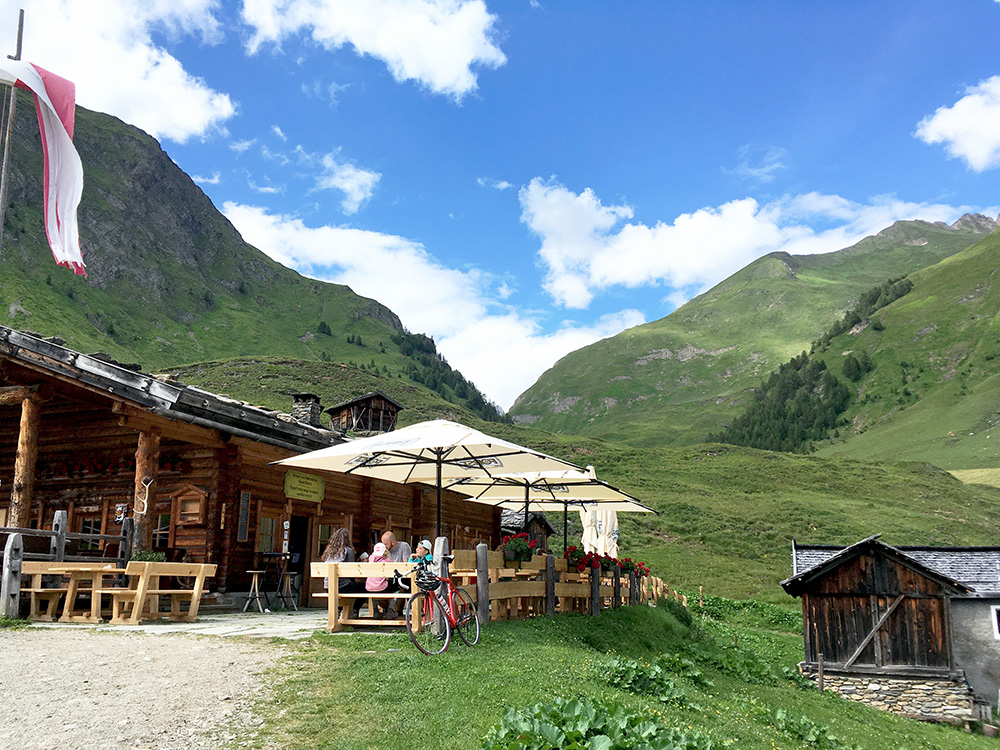 Down the far harder side (if I had went up here to Terenten/Terento) to Pustertal/Val Pusteria and down to Mühlbach/Rio di Pusteria (727m). I started here on the next climb and this time I was heading to Fane Alm/Malga Fane (1745m, asphalt to 1722m) in the Valler Tal/Val di Valles.
I stopped at this upper restaurant for a Hollundersoda and Apfelstrudel mit eis – slightly boring young serving people makes you feel like hanging out at a McDonalds in a big city, but whatever, it is a nice place with perhaps a bit too many visitors, but the weather was fine so … .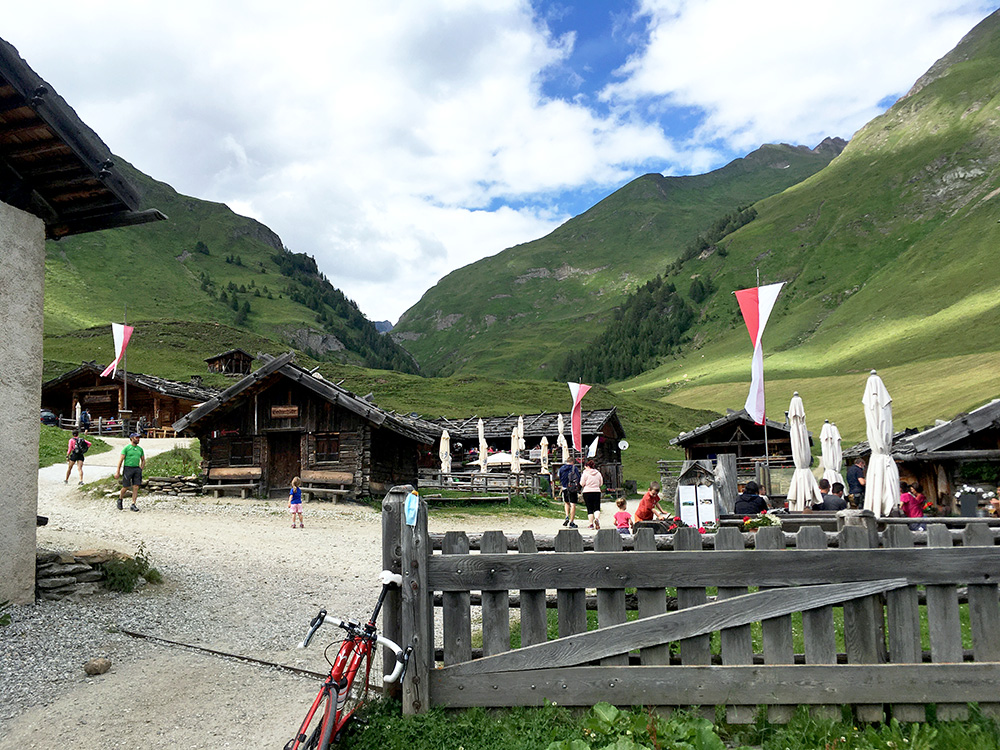 Another photo up the mountains before going back.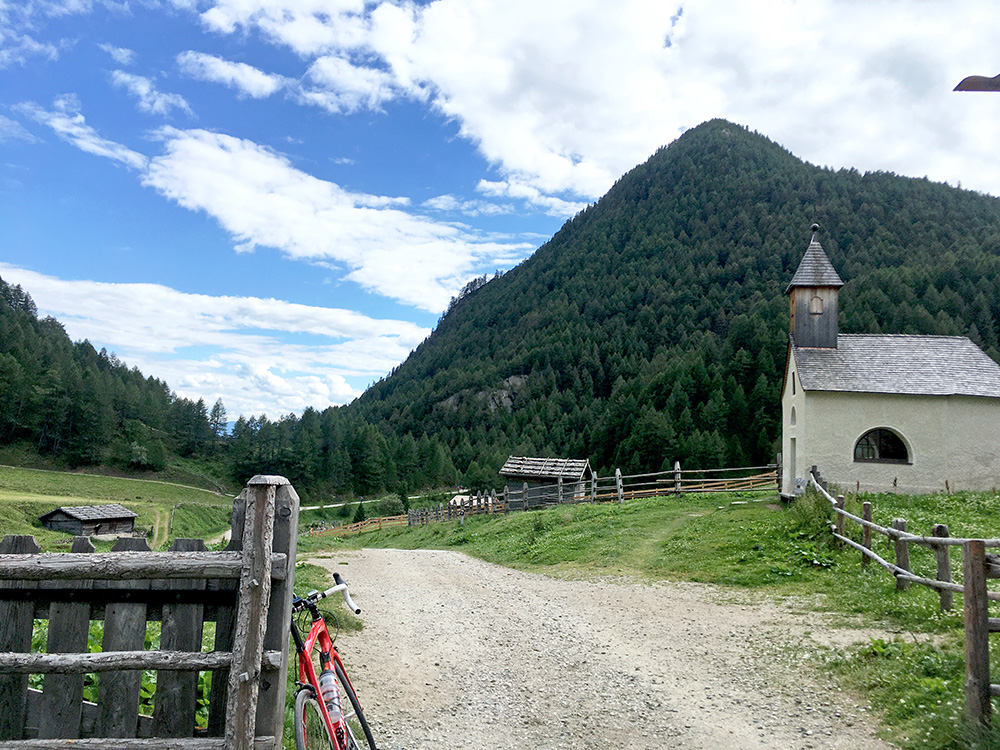 Among the trees ahead here the pavement ends, but the short stretch over here is easy with a road bike.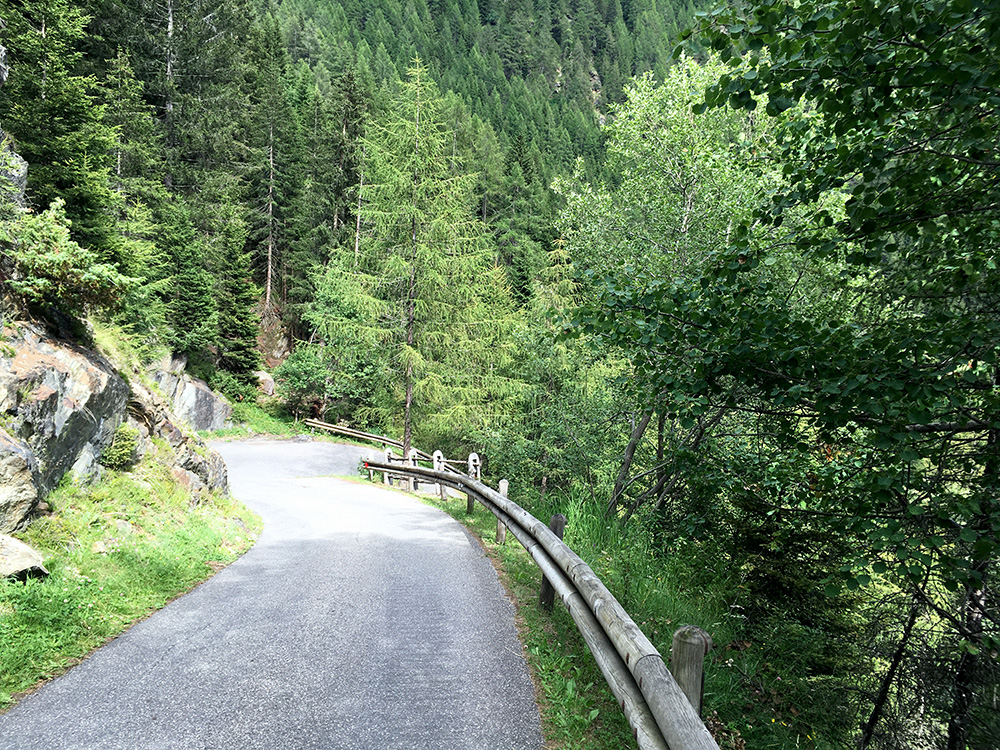 What was not so easy is the long climb to the upper part of Vals/Valles that made me tired, but then there is a bit of rest and the road even descends a few metres, but instead there were road works here. After the flat stretch the road narrows and starts to get steeper and steeper and then very steep in serpentines up to the parking and the end of the pavement just after.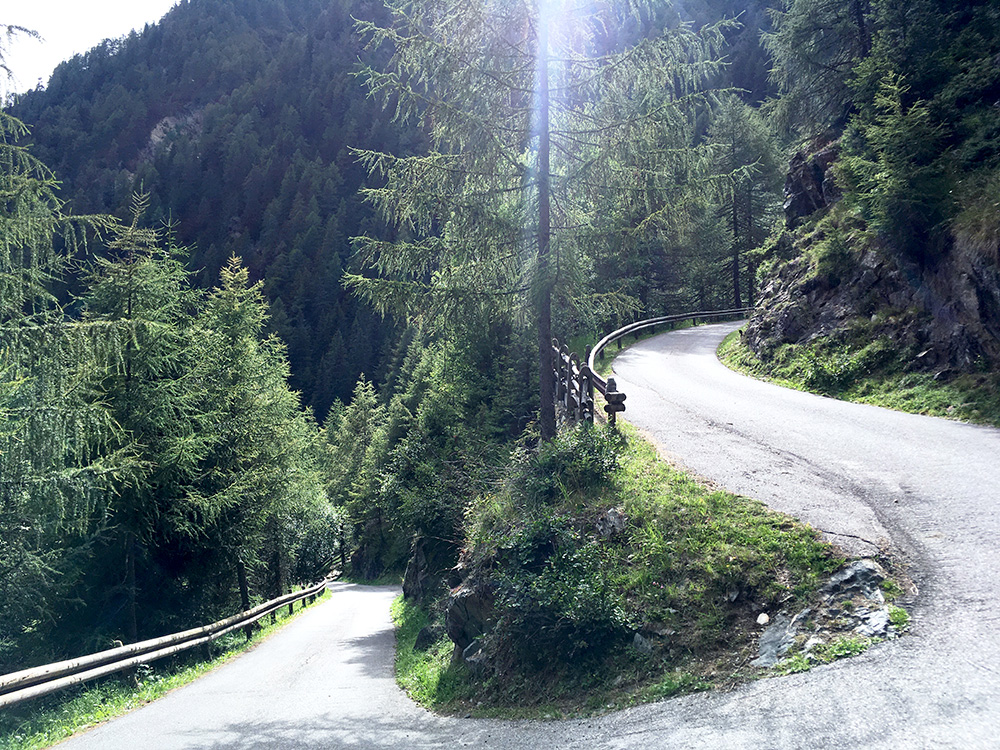 Two photos here from the steep final part. 2 km at 14.0% and steepest 1 km 15.3% (max just over 20%). The whole climb is 14 km at 8.0%. An impressive road at the end and I was not aware of it before coming here as I did not study it so closely – a real surprise!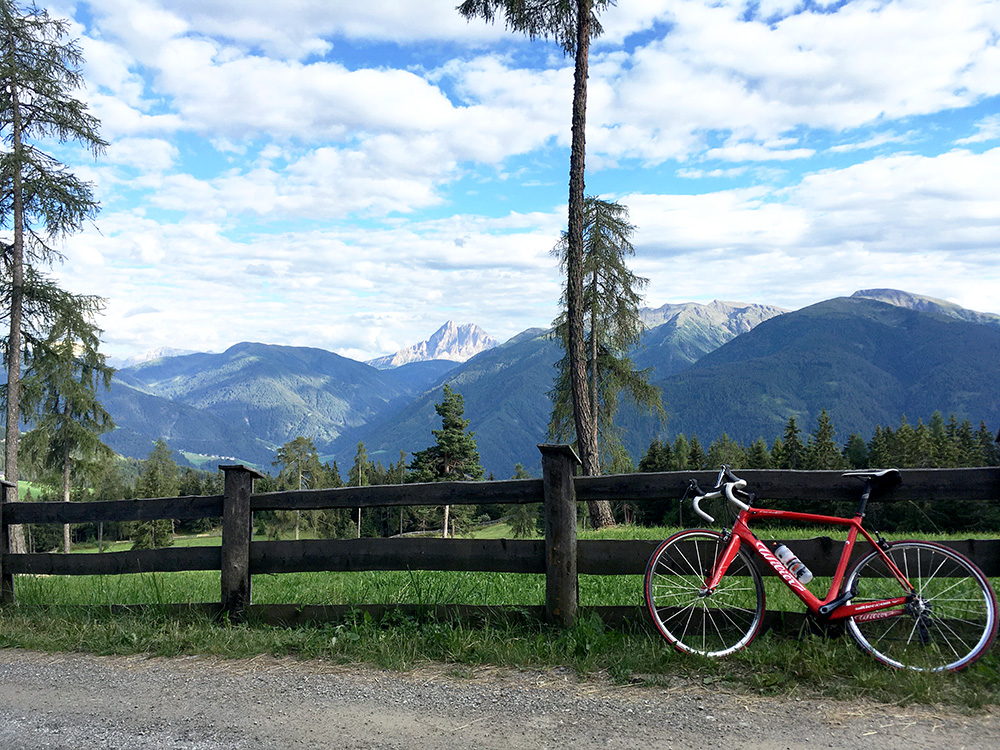 Next back down to Mühlbach/Rio di Pusteria (727m) and this time down below to cross the bridge over the river (approximately the same height as coming from the north). I had realised that the climb to Zumis parking is a classic climb in the area and it was time I made this one as well. There are some variants up and down here and had planned to descend on the first road going down the other side, but as I was running late and not wanting to stay the night in Bressanone/Brixen, I decided that I might find a better place along the road via Lüsen/Luson.
I also decided to continue up a bit on the gravel road from the high point of the paved road (which is not scenic at all) and all of a sudden I was greeted with very good views and sat down at a park bench taking this photo at a fork where I turned around (the road was rather flat up here now).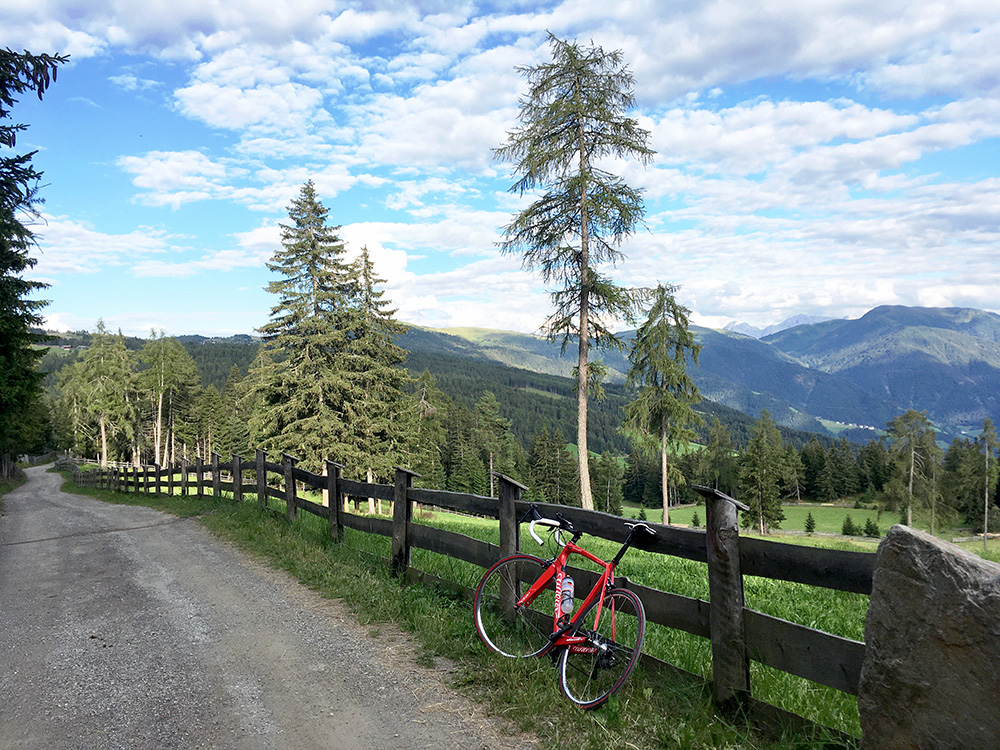 This road goes down to some hotel up here, but there is another road continuing up along the ridge that could be fun to explore further, but it was getting late and slightly chilly now. So I continued. The first turn-off road down the other side here is a very narrow road that might be the steepest way up here. However the full climb from Val Pusteria is 11 km at 9.0% on average so a decent +1000m climb. Zumis/Rodenecker Alm/Alpe di Rodengo (1745m, asphalt to 1728m). (The height values on the RidewGPS maps are widely off (as so often), so take the measures as approximate.)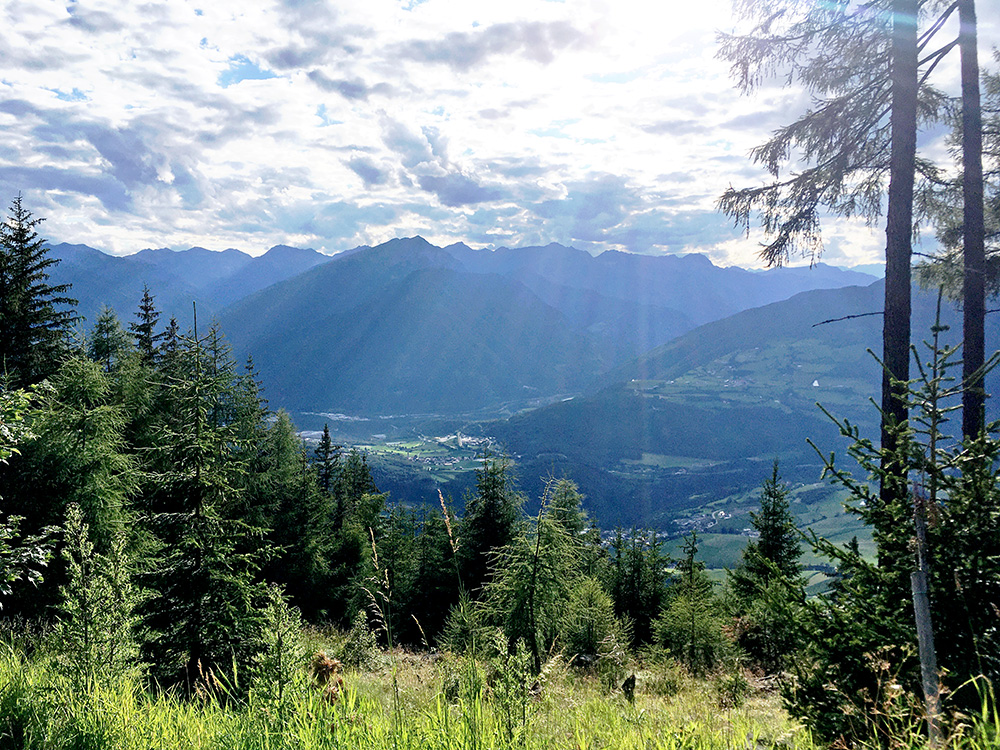 One open view here near the Zumis parking down to the junction with the Brenner road and the Eisacktal/Valle Isarco.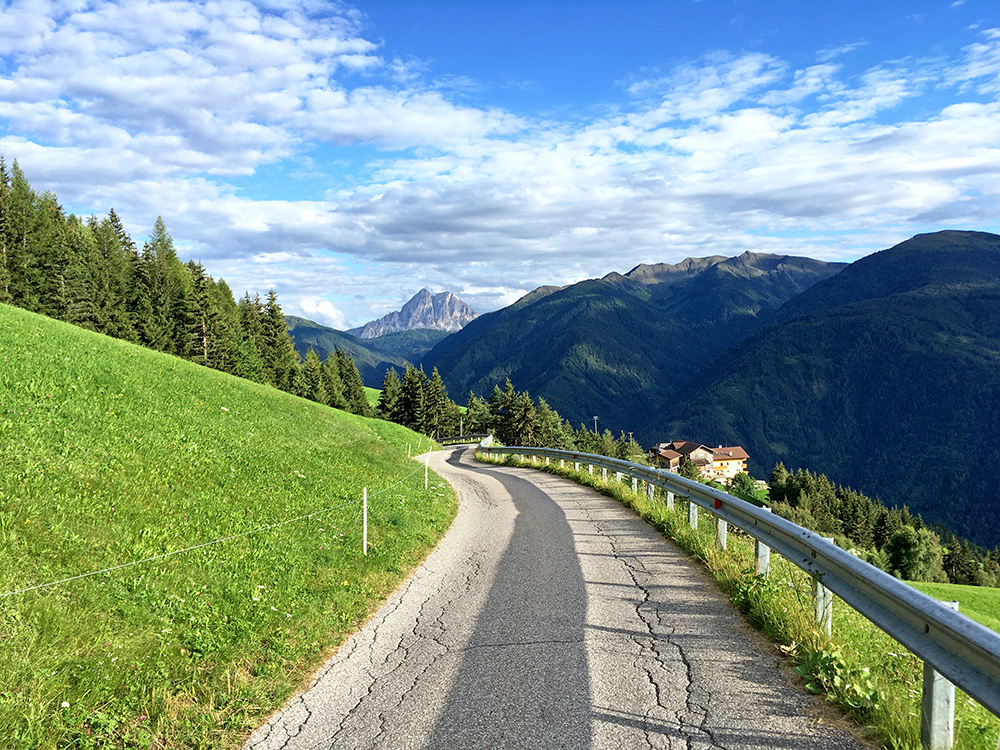 I stopped by the only albergo on the road to Lüsen/Luson and it did not come across as very inviting. It was also fully booked and maybe that was why the personell looked tired (I see it has high ratings on Google, but the ratings online are mostly a joke (for various reasons), but maybe it was good). It was a bit of climbing on the way here, but after the Tulperhof the road finally descended to Lüsen/Luson. I see some pensions along the road on Google, but they are surely shy about mentioning them along the road (and unfortunately many are typically only places that could be rented for a week, but less so here in Italy).
I got down to the main hotel in Lüsen/Luson and got a slightly expensive, but guess still fair deal with dinner and breakfast and the family was nice (and it was a family run hotel, thankfully). Had some problem finding where to park my bicycle. It was a good place – Rosental (3-star), but so I am used to in this part of the Dolomites. There were two 4-star hotels higher up, I noticed, and was happy I did not have to see them.