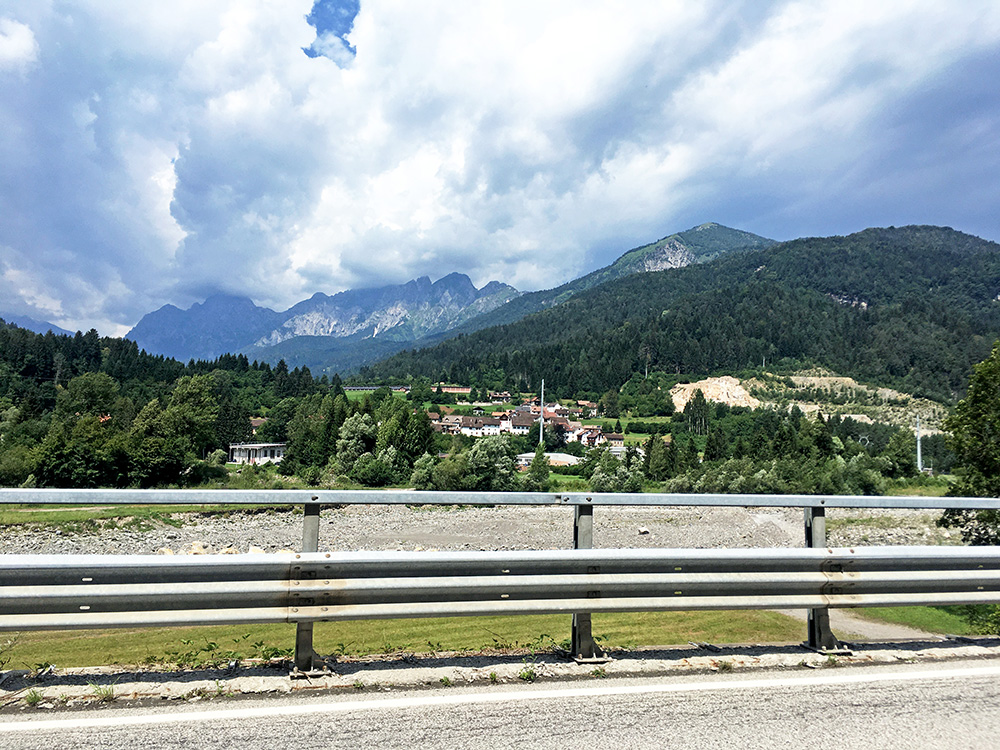 Celestino, Antonietta and Laura were nice like always. Always miss not being able to talk more to Antonietta (because of the language) as she is the most talkative of the three. Got away around 09:30 and it was already hot now. Still gravel to reach Moggio, but they should have rebuilt the bridge by now that was damaged soon after my first visit here back in 2013.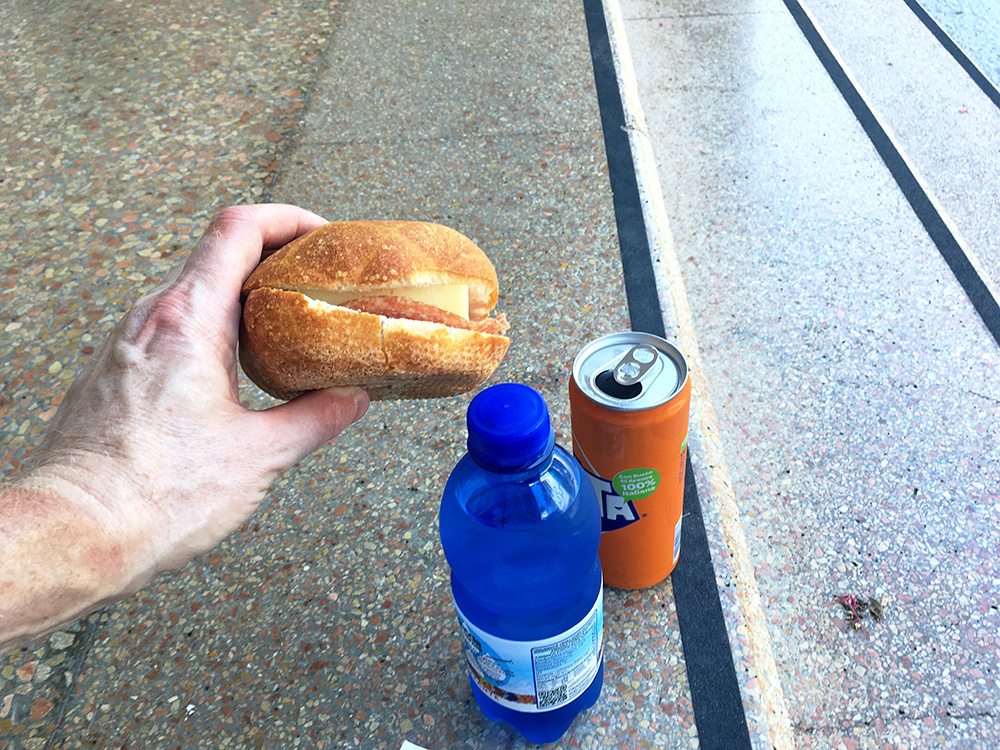 I stopped in Ovaro/Davâr for a regular Italian lunch stop (for me) as seen in the photo here (had to start the page with some nicer view). Hot and sweaty to put on the mask in the shop, but all fine. The view in the photo above is up the Val Pesarina/Cjanâl Pedarç after Ovaro and just before arriving in Comeglians/Comelians.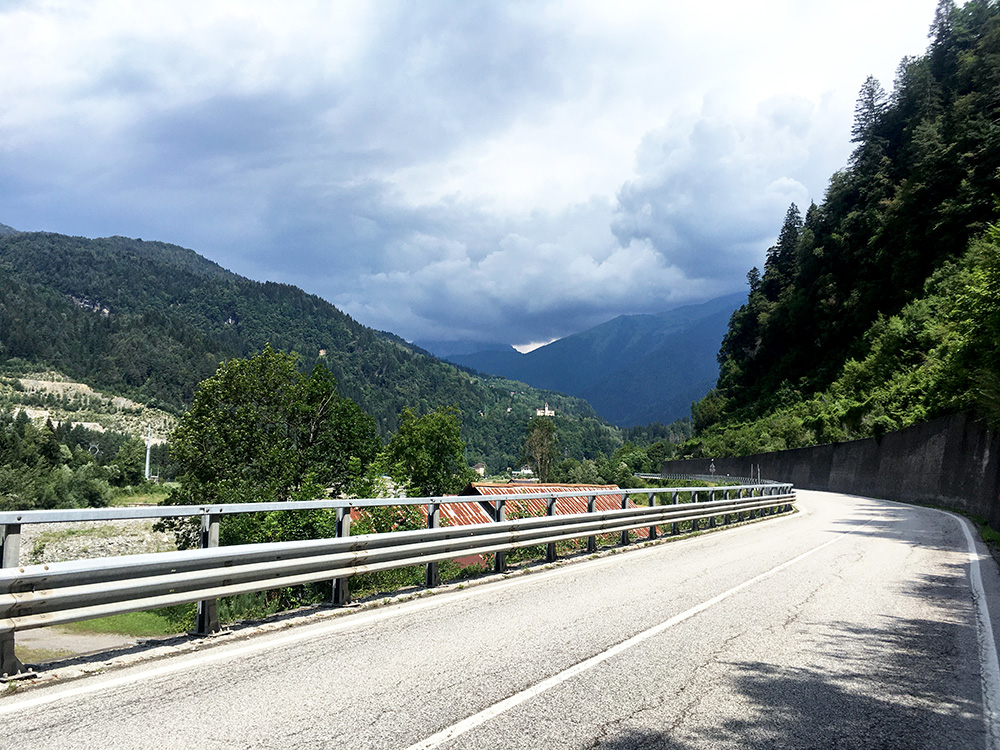 I now noticed when looking straight up the Val Degano/Cjanâl di Guart where I was going and without any real alternative plans, that the weather looked bad. I just went on straight into the bad weather (after stopping shortly in Comeglians to use the toilet I think), meeting two cyclists on the way down to escape the weather (unlikely that they did).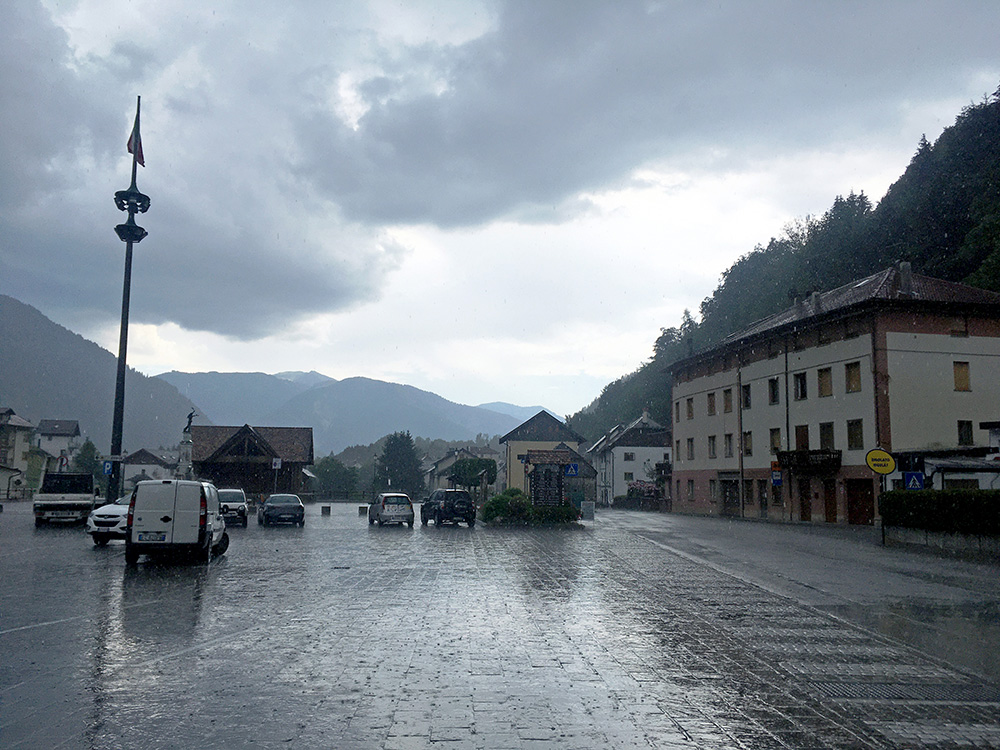 Just before Rigolato/Rigulât the rain started and it was heavy rain, but only like 2 minutes of that before I stopped by the bar in the centre and waited out the rain with an ice cream and coffee. It rained …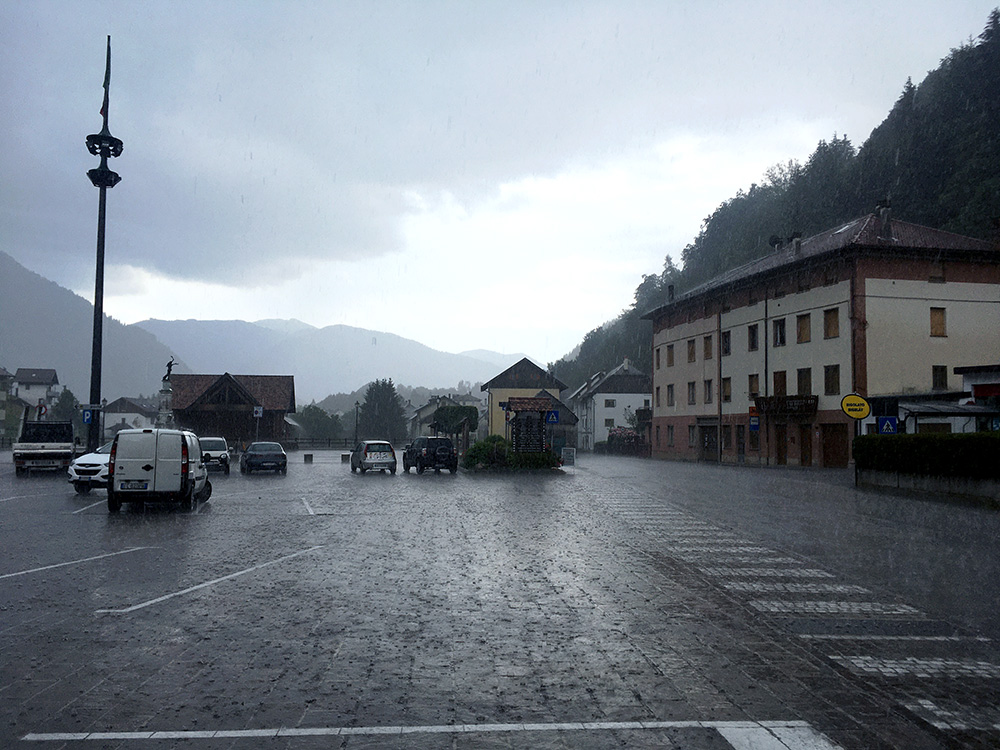 … and rained even more. Only good thing about it was that it was going to end soon and that I was on my way up. Just hoped this would not imperil my attempt of going up high on my first climb. I had already ditched the idea of revisiting Monte Zoncolan as I needed to gain time in my plan and focus on the essential climbs ahead.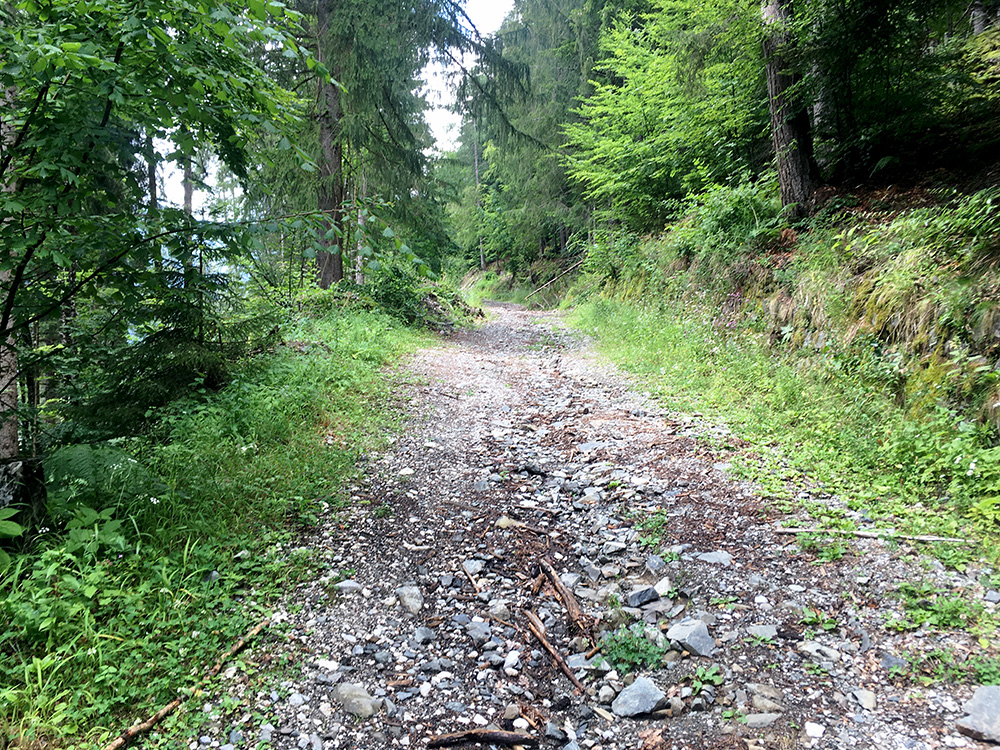 I had for long studied the alternative roads up to Collina and though that it was likely possible to take the first of two roads taking off the road to Gjviano/Givigliana/Guksberg via Tors. However, this was how the most promising road looked and it is a few kilometres until asphalt again, so decided I did not want to walk all that way and decided to check out the less likely road taking off a bit higher up.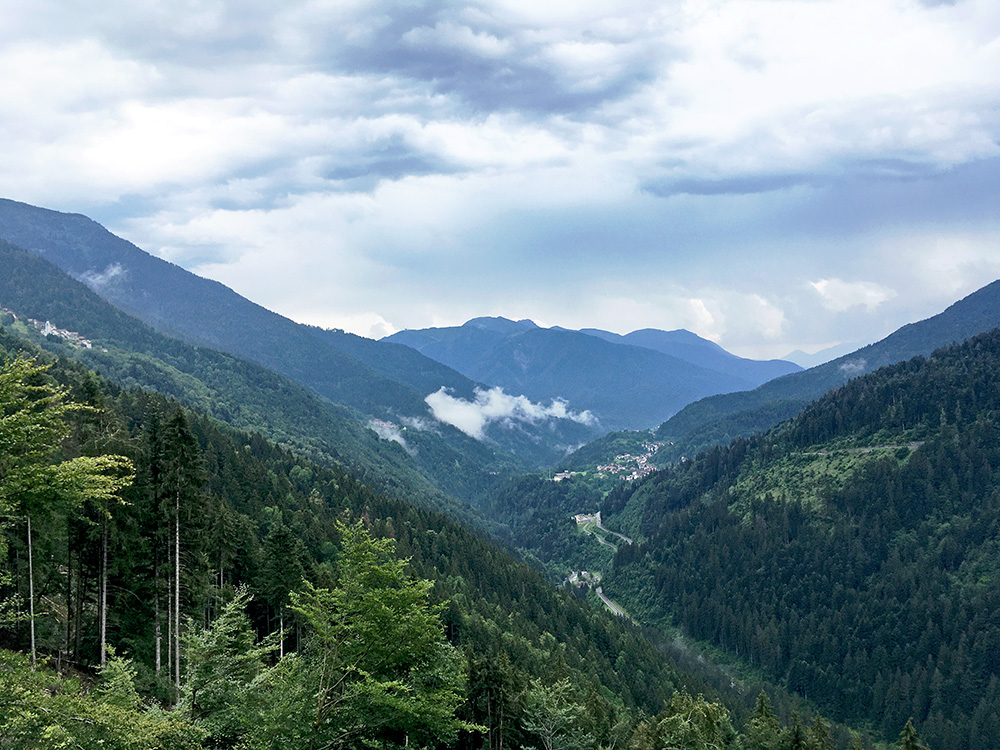 Great views back up here down over Rigolato (from the asphalted road).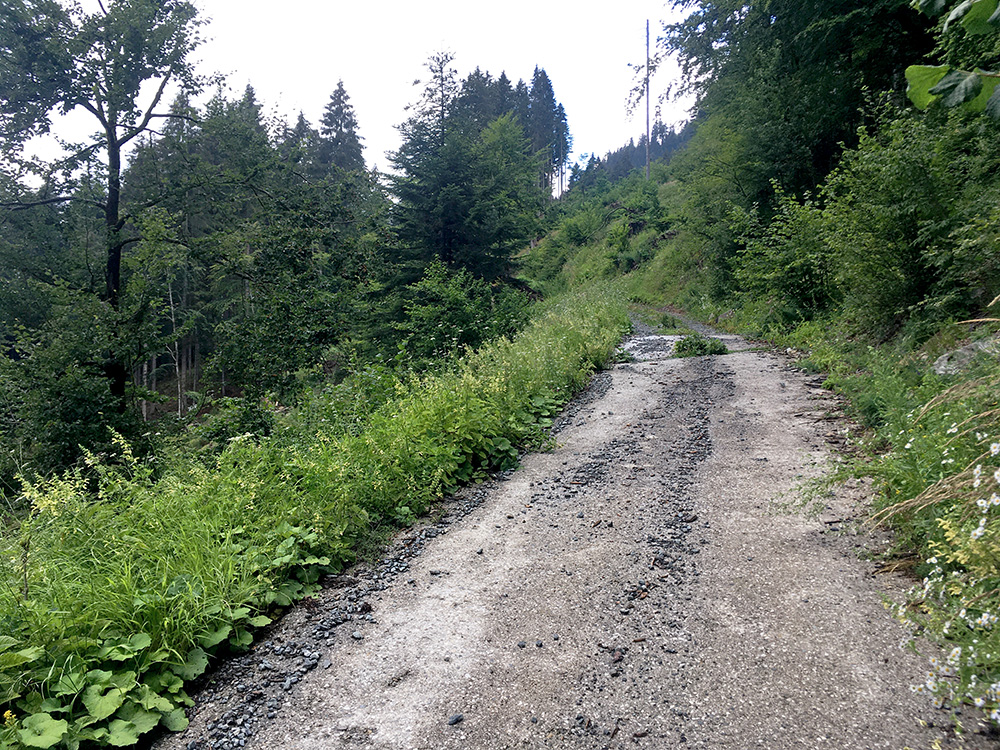 The second turn-off was really steep at up to 19-20% and I was close to falling, but after like 200m the pavement stopped and the road became even more like a track than the previous road. Possibly one of them might have improved later on, but not obviously, so I went back down to Tors.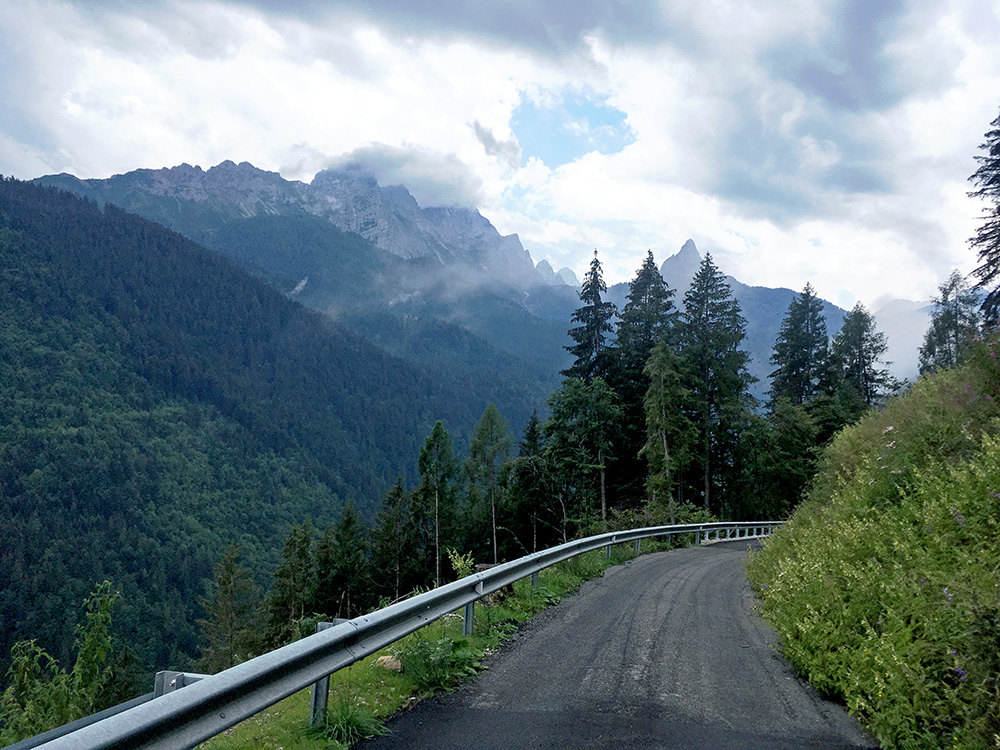 Nice views up the mountains on the way back. The Gjviano/Givigliana road is a nice detour and would go up to the end the next time I go to the area, but also have had plans to visit the steep road to Piani di Vas on the other side of Rigolato.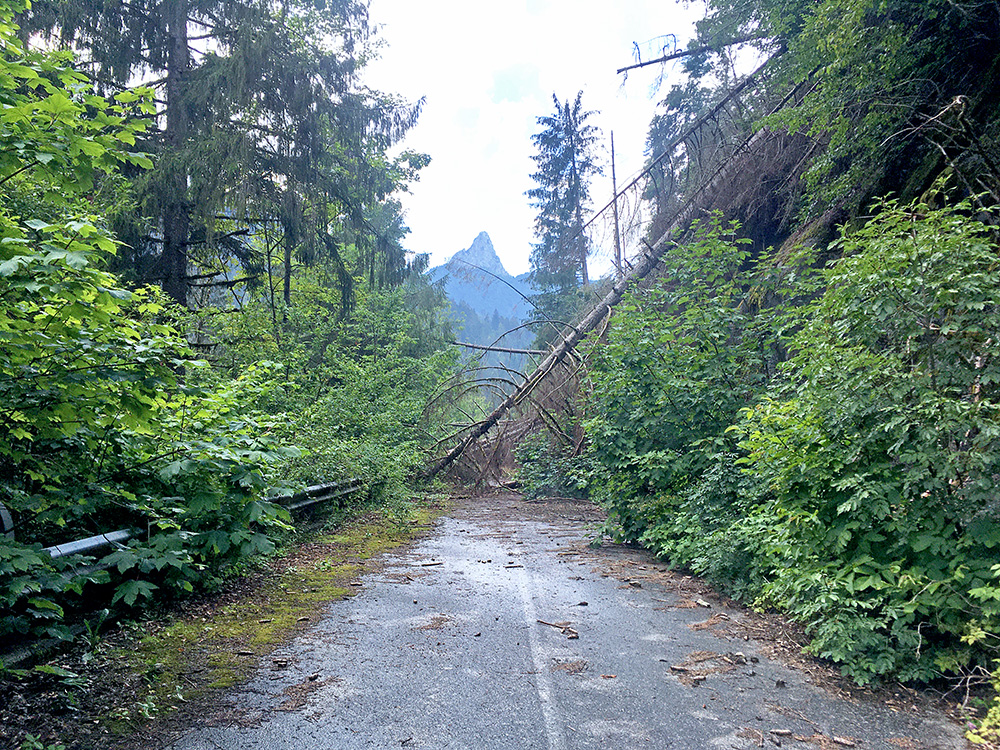 Down below Tors, I saw the old road going straight up outside the new long tunnel and thought I could likely get by on this road too and went on, but eventually it was an awkward walk under fallen trees and would not go there again even if I made it through without too much trouble.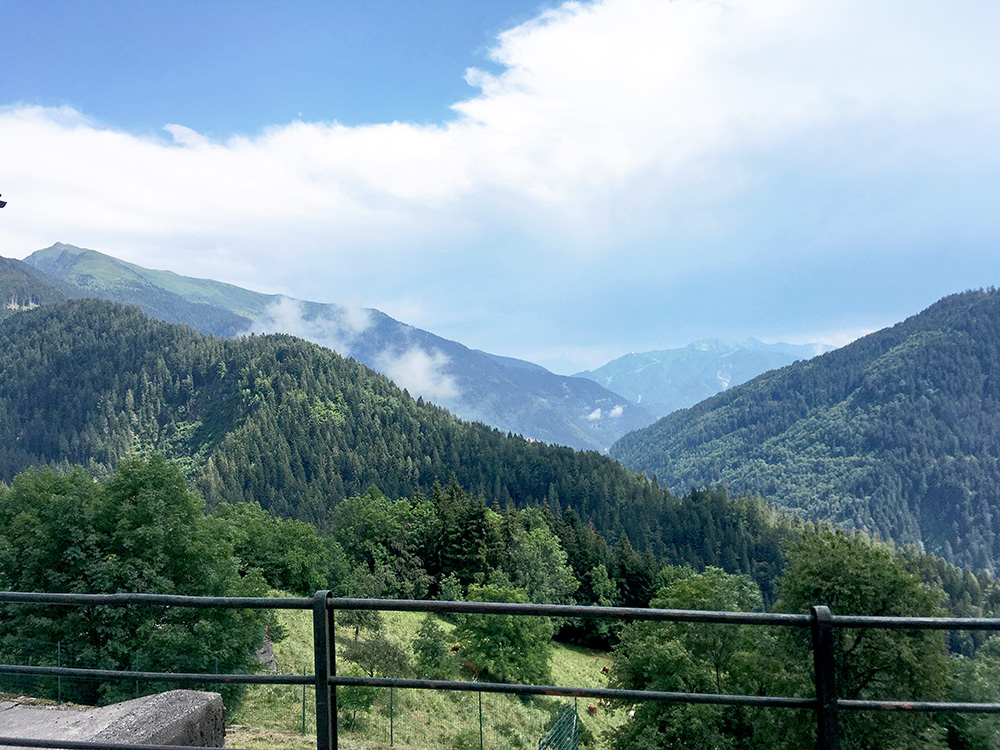 From Forni Avoltri I took the normal road to Collina, having lost an hour or so now, but with a bit more dry roads on the positive side. Here in Sigilletto looking back down over the ridge I was up on to Gjviano/Givigliana. The high mountain to the left is the Monte Crostis, with the classic Panoramica delle Vette road climb that I have been up to two times before. In the centre is the Monte Zoncolan (also two times climbed). Had another photo in the same direction on the way down and Monte Zoncolan is seen even more prominently there because of a really black cloud above it as the worst weather was then there.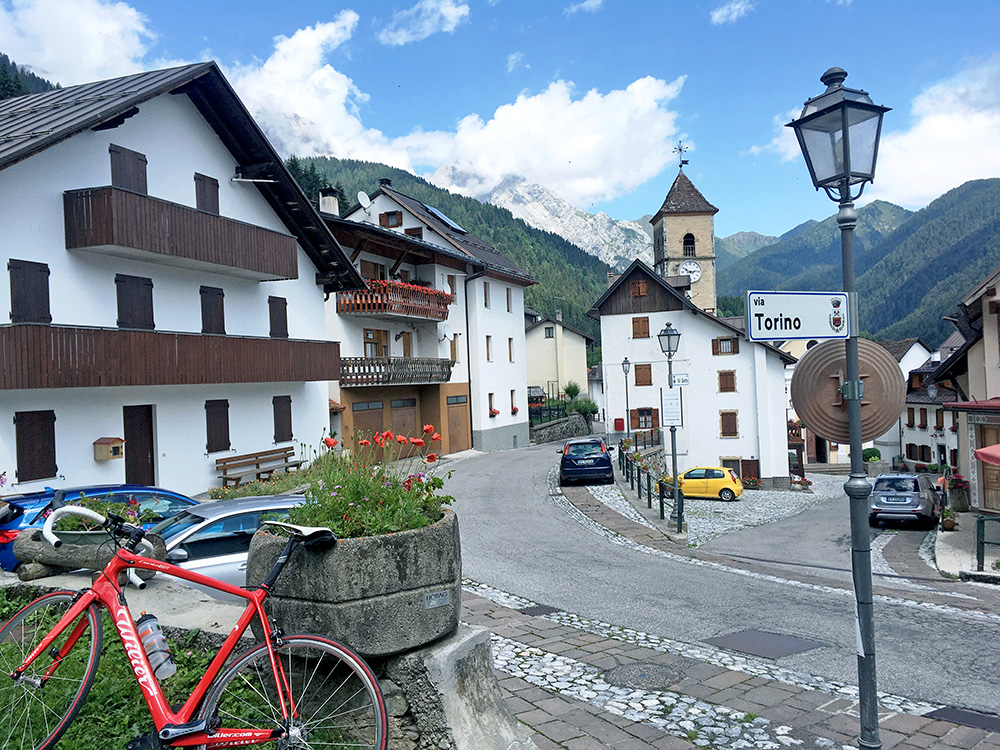 Finally up at Collina (1243m) and filling up some fresh water before continuing.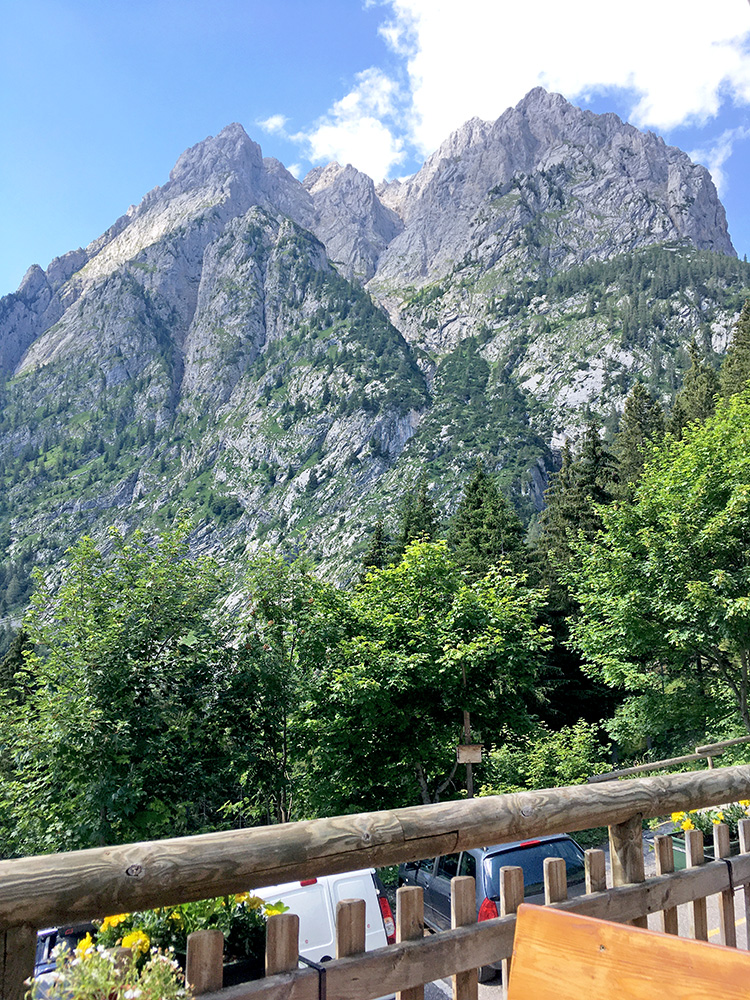 The main road up here ends at Rifugio Tolazzi (1373m) and I stopped again for a coca-cola and to leave my backpack as I wan ted to check out how far I could get up on the road continuing from here. It starts with concrete pavement and in my research I had seen there were much concrete seemingly up until Casera Moraretto and it was indeed paved up to 1414m some hundred metres up from the rifugio, but not as steep as I had feared. I decided to continue to the Casera Moraretto (1696m) at least and the gravel was just about good enough to continue on and there were also at least one more concrete stretch.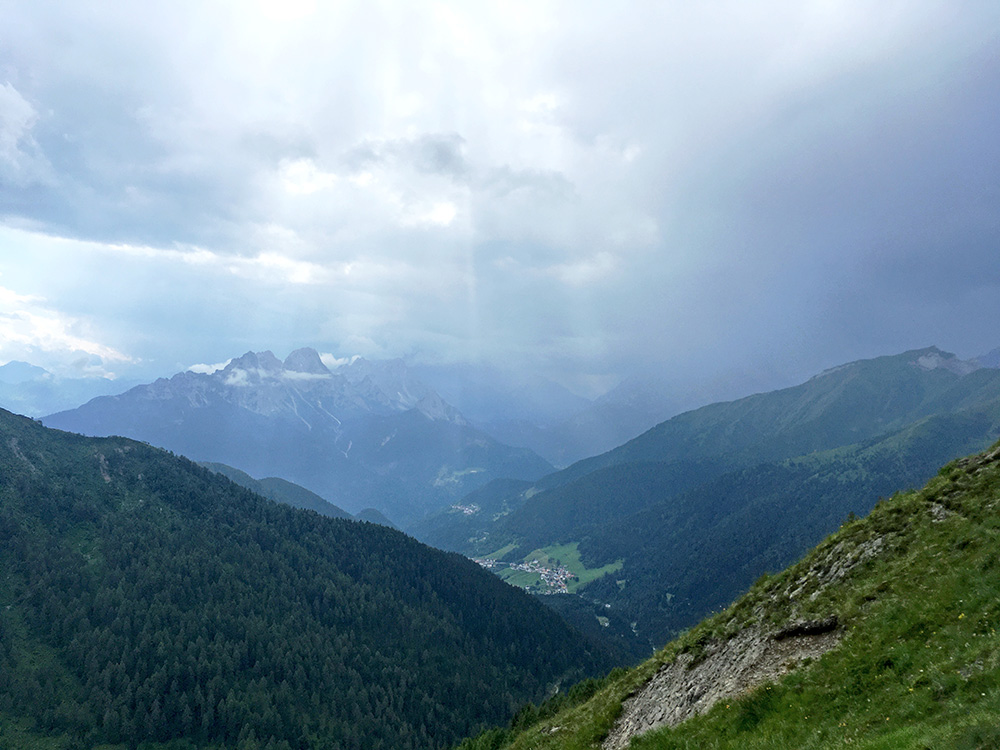 However, since I originally planned to try and climb up here to Forcella Moraretto/Morarêt (Rifugio Marinelli) (2112m) already back in 2003 (then stopped by ending up at the hospital in Schwaz before the end of the otherwise successful tour that year), I had hoped to go up there one time. Another time that I was on my way it was also raining, and yet another time I was too late. So now was really the time despite the uncertain weather. I was a bit downhearted when the rain started earlier, but now it looked okay.
The road deteriorated from the Casera Moraretto and got steeper, but I still managed to stay on the bike and continue. Theer were to my surprise concrete pavement in many bends, but it was not really making anything better as it was extremely coarse and even a stony gravel road would have been easier, but just about possible with care. The photo here is from the edge of one of the these concrete pavements where I lost balance and had to put down the feet (only place on the way to the top though that I needed to put down a foot).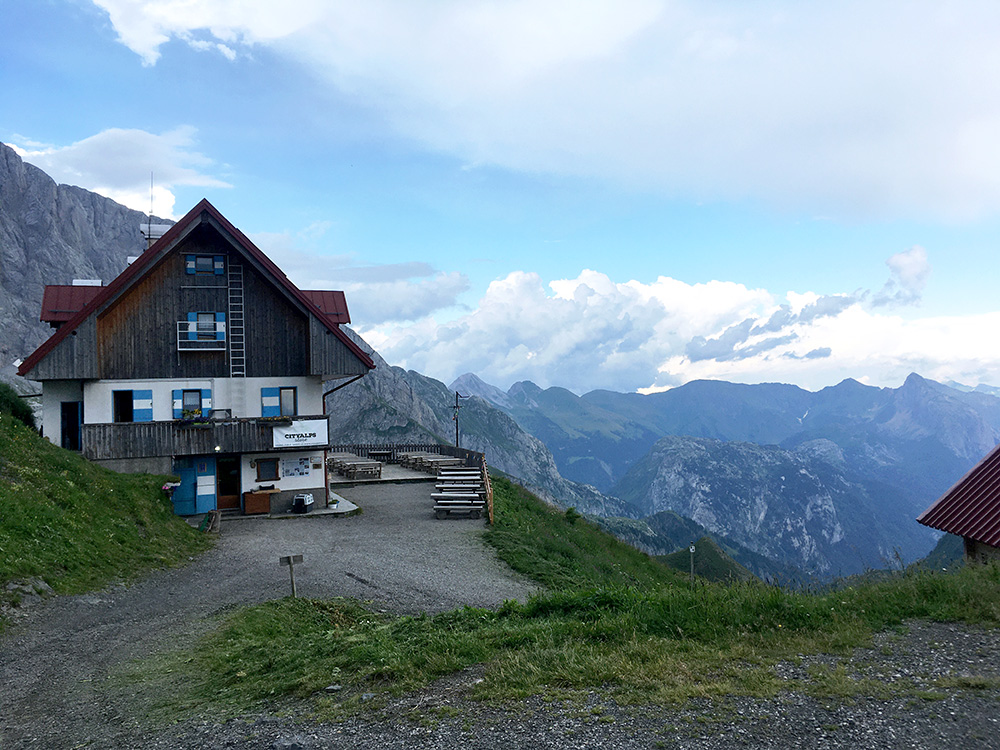 I made it up and was quite happy about it and it felt like the biggest achievement on this tour (and I think it clearly was). You do not make this climb easily on a road bike that is for sure (lighter strong guys might make it a bit easier than me though). I am just below the middle place on Strava, but then guess close to 100% on the people there are on mountain bikes. The best guy has 9.2 km/h and that is ridiculously fast here. By weight (fr. 85 kg) I was number 13 (of 308). Wish they had results sorted by tyres and gears too! ;-) Anyway I was merely trying to get up at all. 13.1% for 6 km (5.6 km fr. rif. Tolazzi) and max 18% – a fair climb even if it had been asphalted.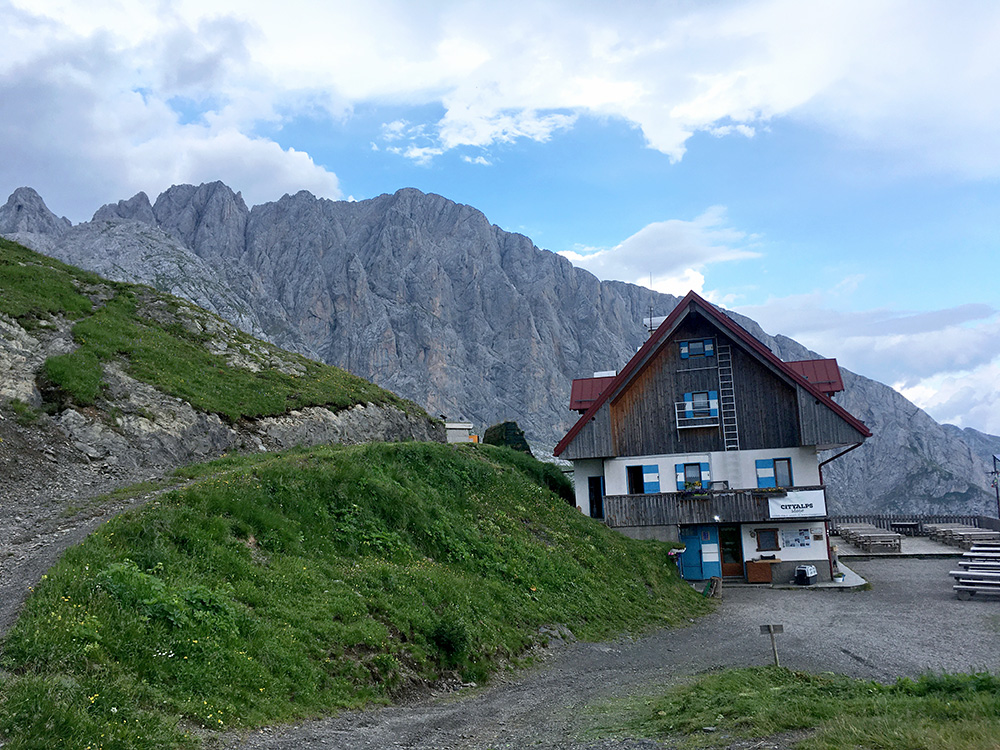 A car left the rifugio just as I arrived and saw another one on the way too and decided to give it a chance and stop the guy to see if I could get a lift back down and thus had to really hurry just taking a few photos up here – wished I could have rested a little to look around for even better views and maybe visit the rifugio. It is not like I want to go back again here on a road bike, but I am happy with the visit as it was and was super happy to get a ride down – that would have been real horror to descend and as it turned out rain was also coming back here.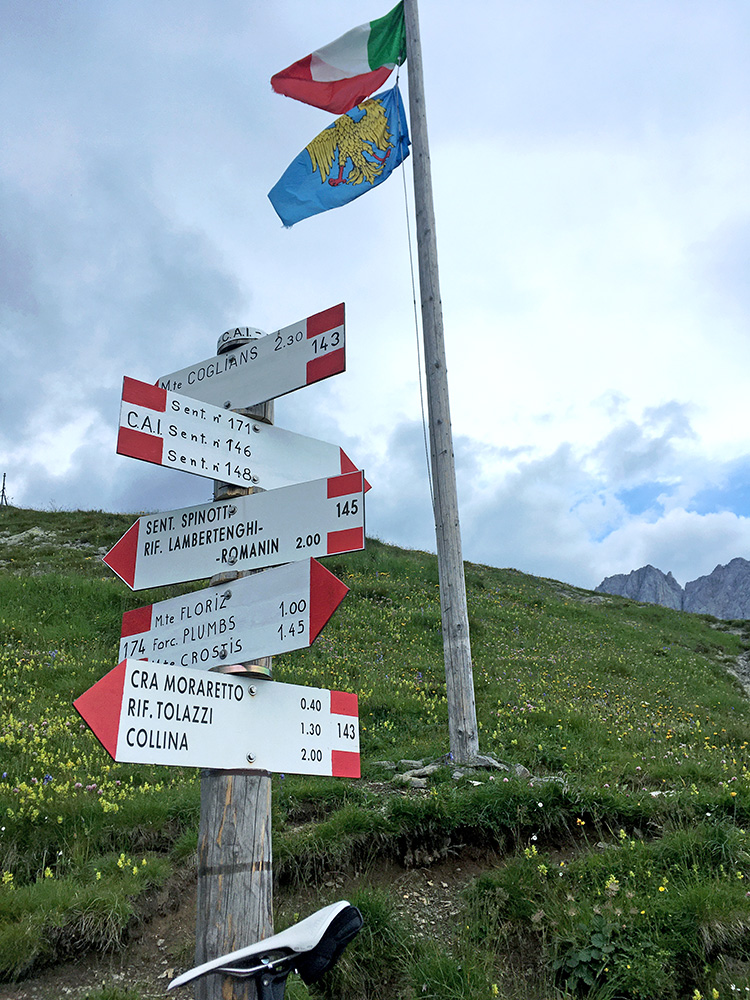 The signs at the pass. The guy worked at the rifugio (Summer job as he was from Tolmezzo or some place south). He insisted the pass had no name and that Forcella Moraretto indicated the water down to the casera below, but he is obviously wrong (not sure why he thought so though).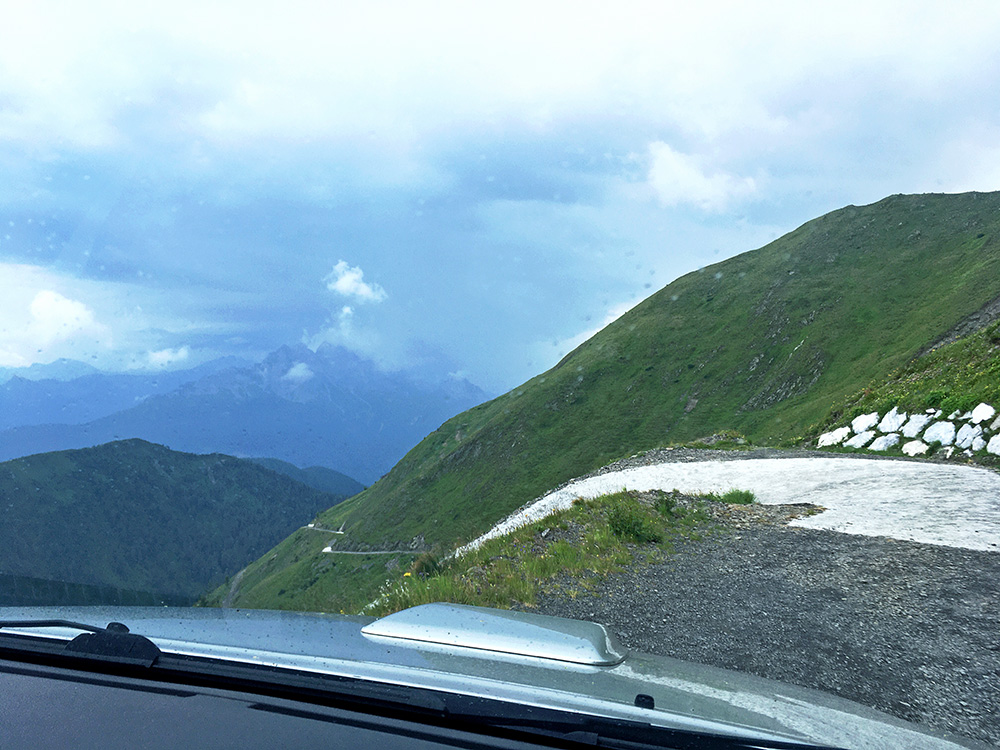 Here the last hairpin (also concrete) to the pass.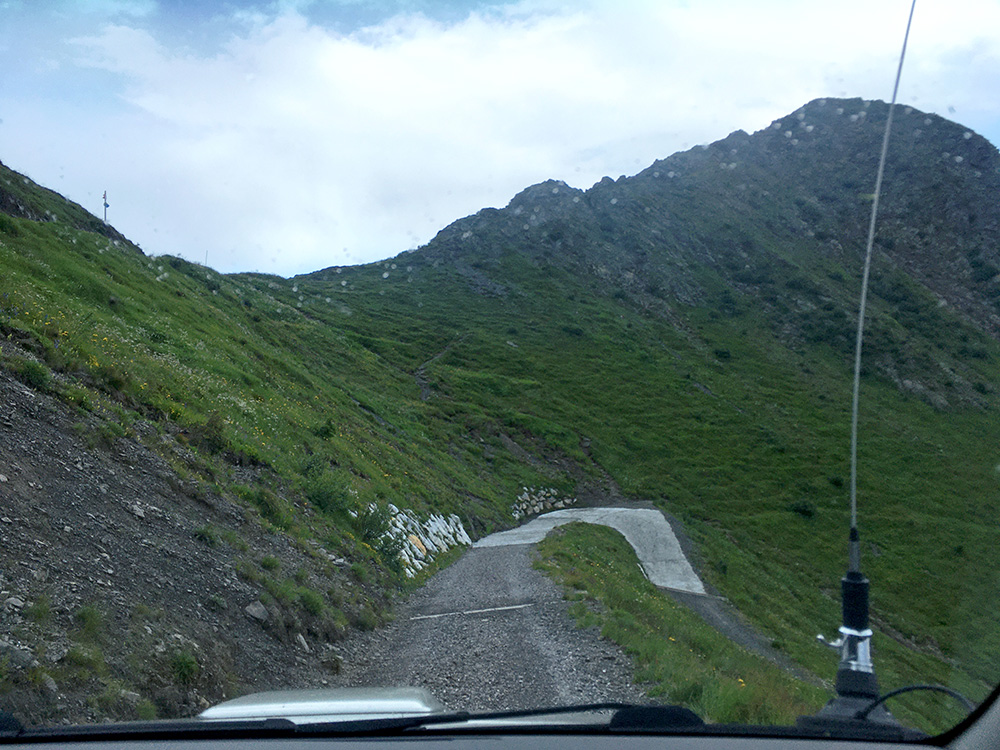 And here the pass above and as you see there are already raindrops on the window.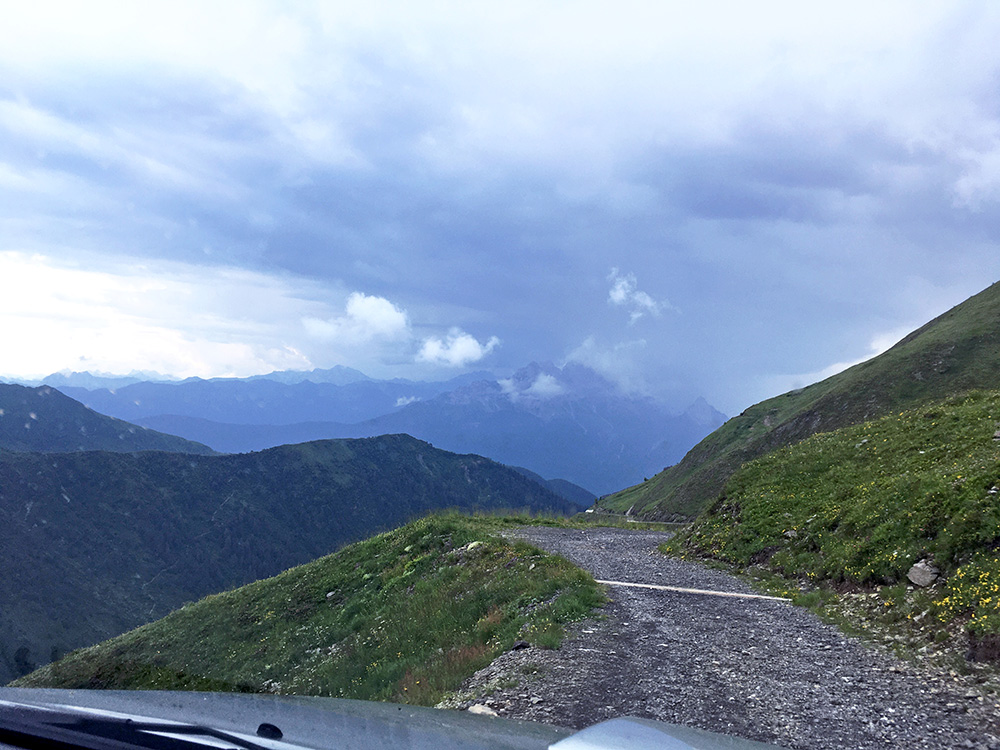 Lovely views down! And rather harsh gravel surface (not unlike the road to Monte Paularo as one girl advised me about on a Facebook forum beforehand). The guy said I was in for bad weather on Sappada too where I was going next, but I disagreed and said where it looks bad it will get better! And so it turned out ;-).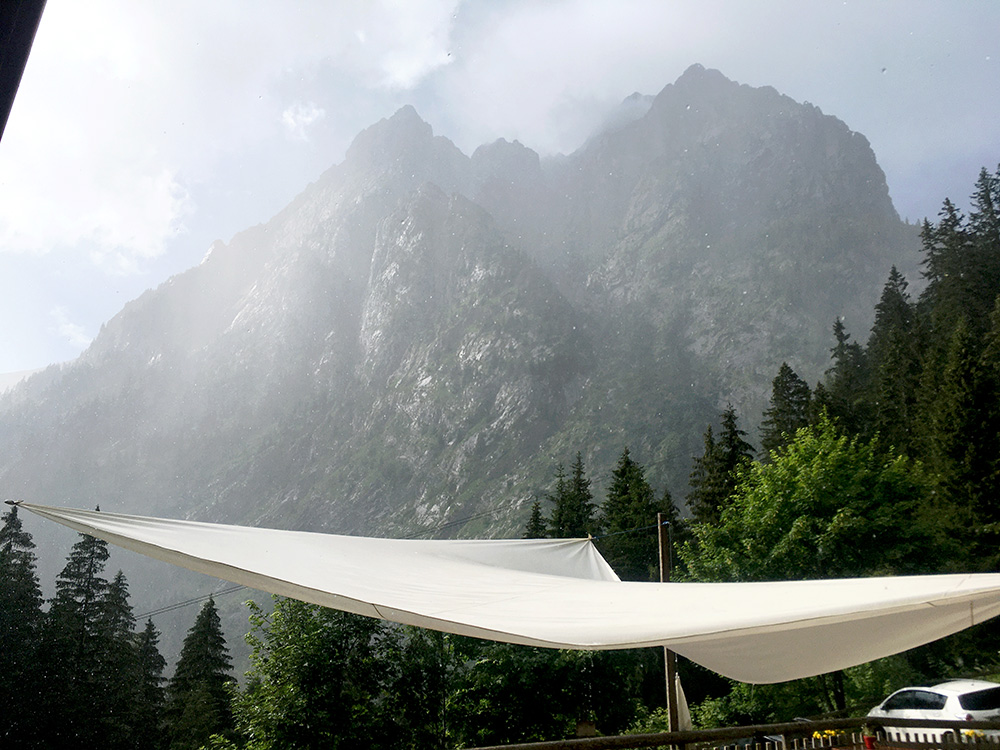 I thanked him as he left me off at the rifugio Tolazzi and had to wait there a little for torrential rain again, but it soon left now.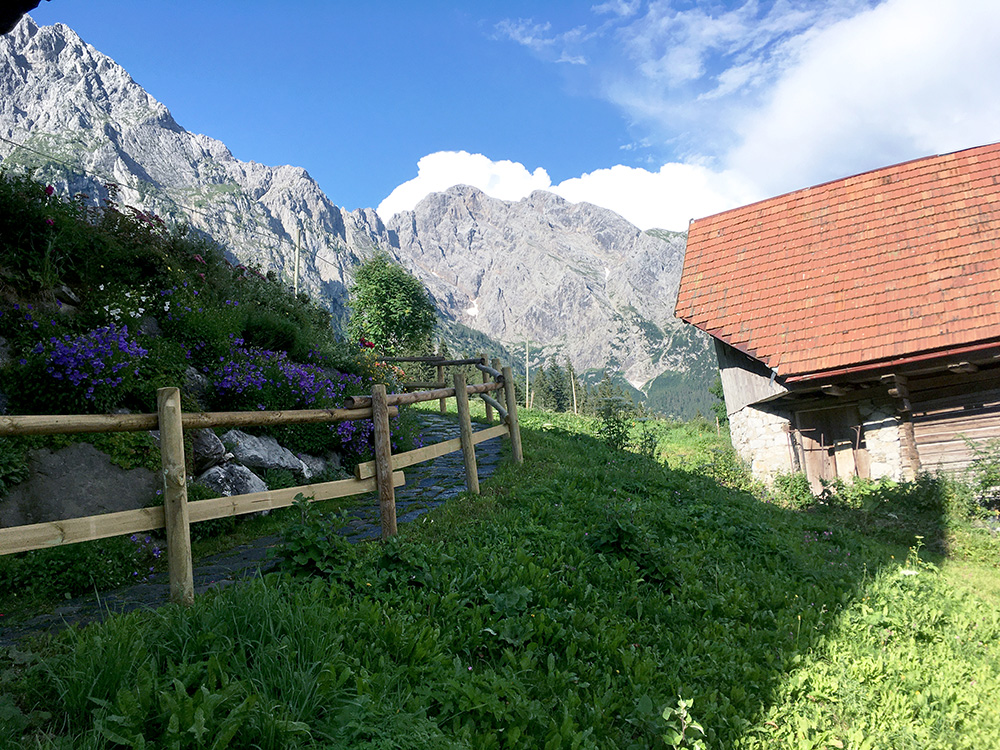 And after heavy rain comes sun! I tried to find better views in Collina by going as far up as possible on asphalt there. This photo is from the highest place in the village.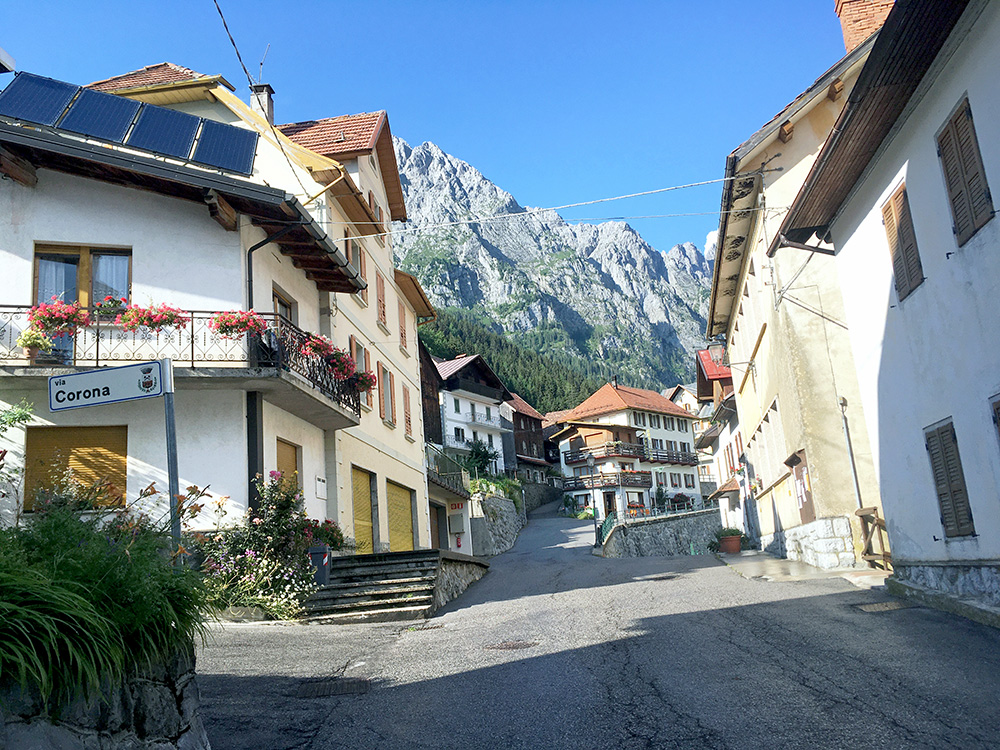 Upon leaving Collina I looked back and the views were maybe better in the village itself and also noticed the relevant road sign on this year (also popular writer up here is called Corona, and saw his books in some windows).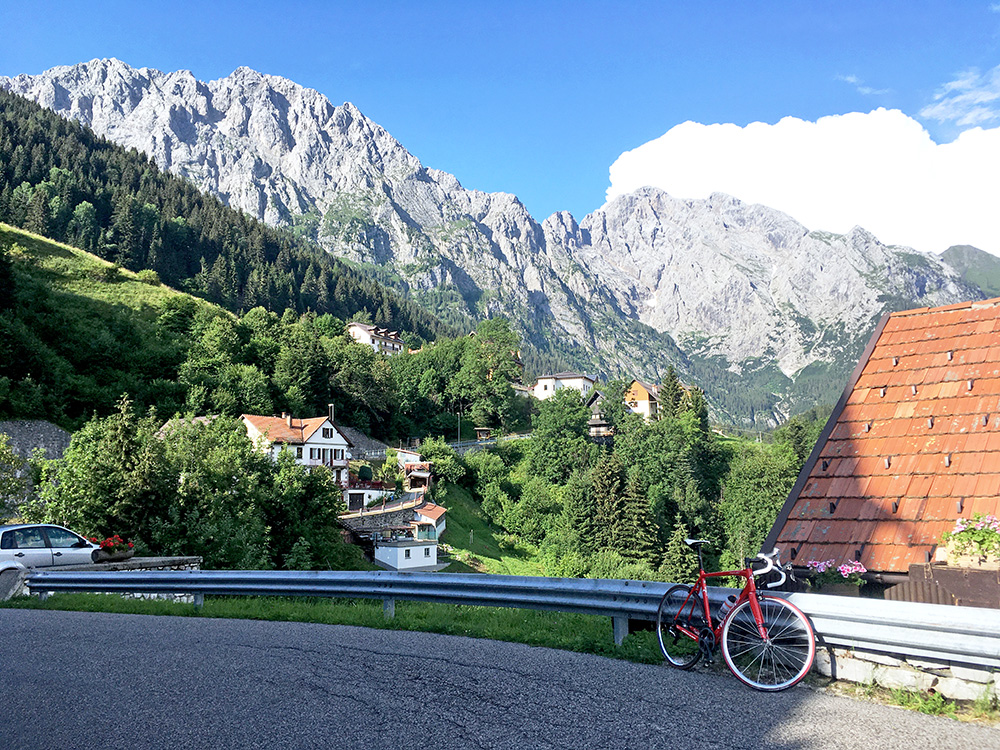 Another stop for photo down at Collinetto looking back up a last time.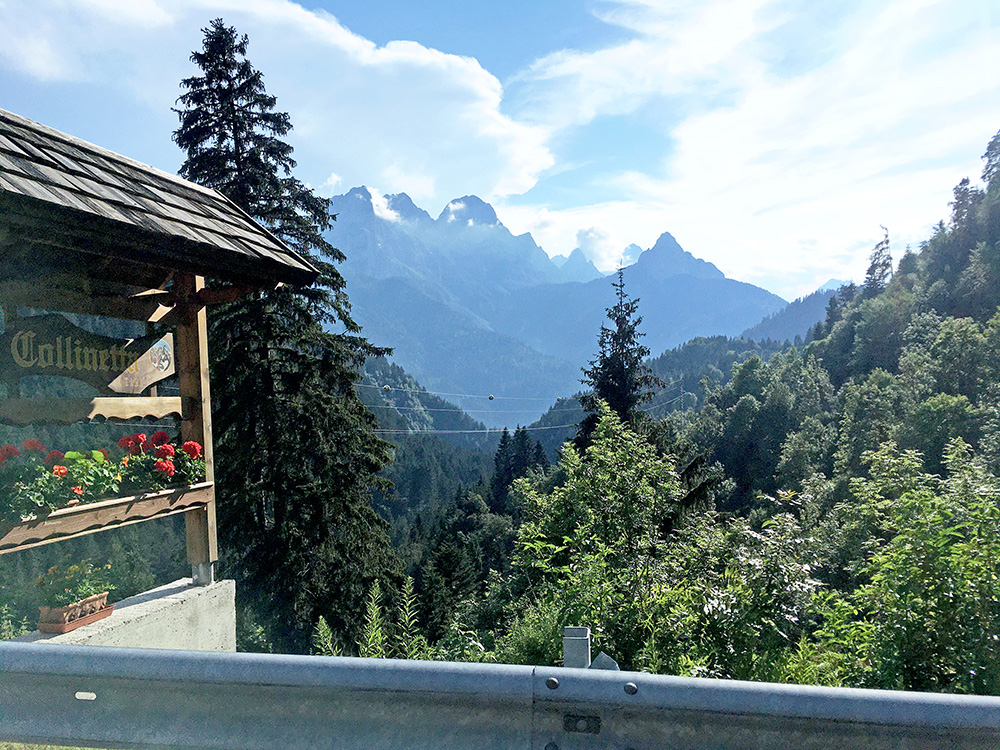 A photo down the valley up here to Collinetto.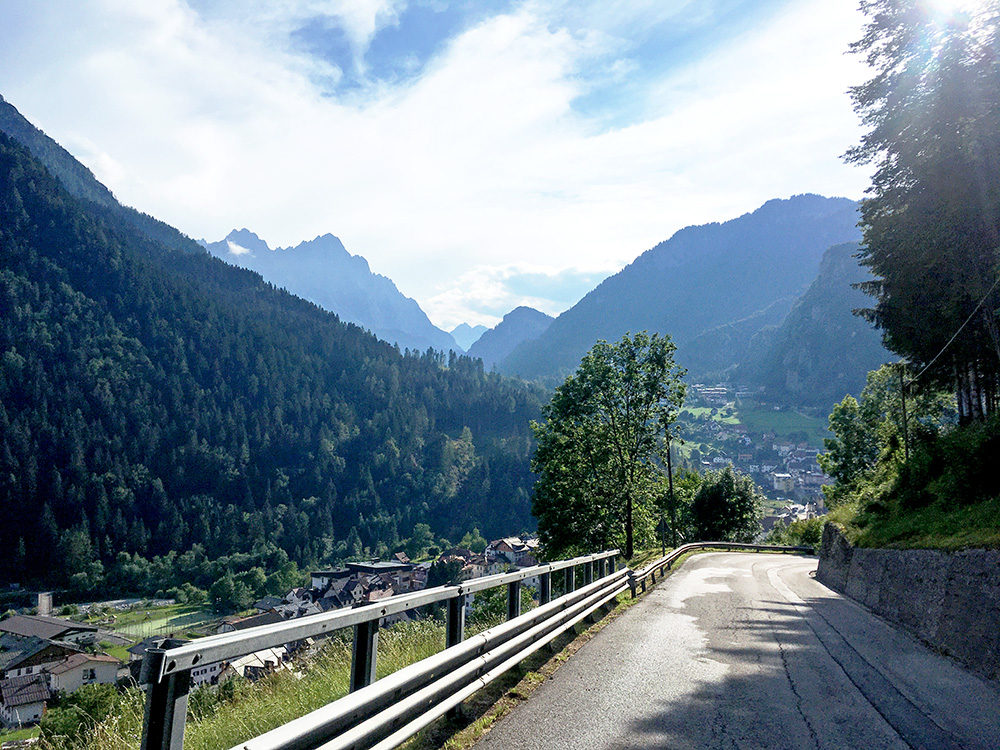 Then back down to Forni Avoltri (881m) with the mountains up around Sappada. I guess I could have taken the road through Avoltri, but took the normal road up to Passo/Cima Sappada (1292m).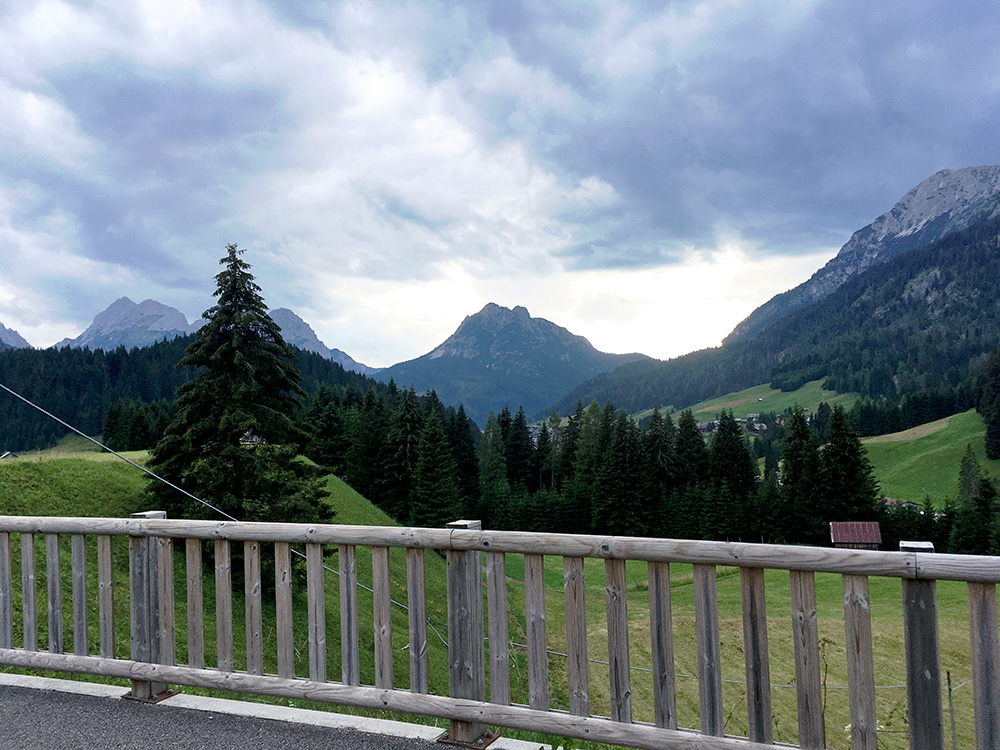 I thought everything would be easy now, but it is indeed fairly steep up the last way to Cima Sappada. 10.7% for 1 km (11.3% for 850m) and 9.7% for 2.3 km, max 16%. Got up all fine and I knew it would be the last steep section for the day. I am looking ahead in the photo here and the weather still looks "mixed". The centre of Sappada is behind the trees here. It was a bit chilly up here so I just continued straight down and really wanted to get on a bit before the day would end as everything has taken so much time before.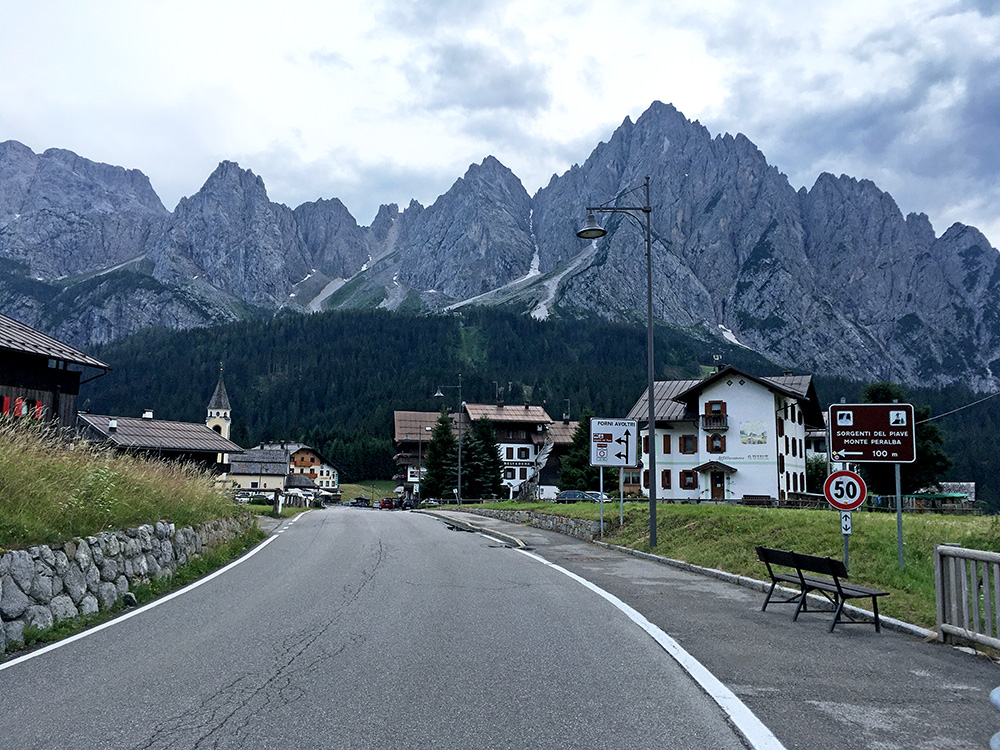 Looking back a last time from the high point and had no more photos on this day. I had a little rain on the way down to Santo Stefano di Cadore (908m) but never so much that I needed to stop, but it was a chilly ride. In Santo Stefano it was all fine again.
I just continued a bit tired now up toward the Dolomites (now close here). Danta looks nice and maybe I should have gone there, but guess I just wanted to get going up toward the next pass – Kreuzbergpass/Passo di Monte Croce di Comélico. I got up to Candide, but found no place there and asked at a bar and was suggested of a place just outside on the way to Padola. Found the Hotel Meublé Dolomiti in Dosoledo and it was a very good place with a pizzeria and nice views of the dolomites at a good price. I was quite happy with the day despite the short distance travelled.