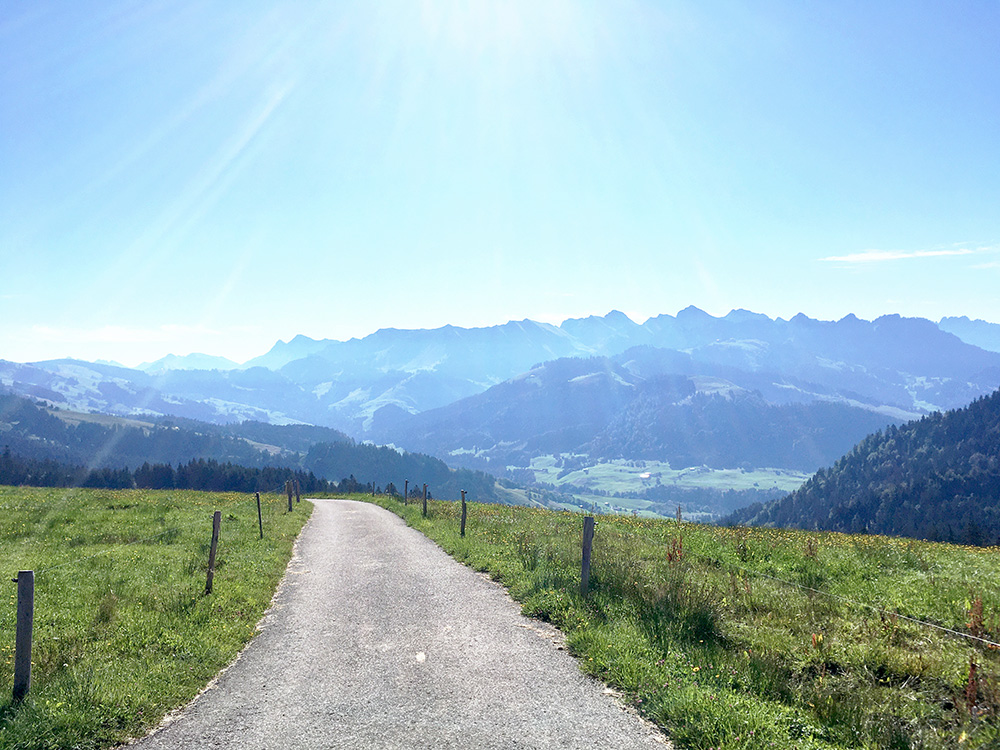 Last day and a quite a trip this year too, which I am thankful for despite all work with it. Pertect weather today. Unfortunately staying up at Jaun was not ideal for my plan. I had spent some time calculating the best way back taking in some of the climbs I wantd to do and as I was starting with going to Charmey it might have seemed to make more sense to go to Thun via the Lac de la Gruyère and toward Fribourg as I had not planned any climbs around Jaunpass where I was last year too, but it would still be faster going over the Jaunpass and in a nicer environment, so I had to go back and forth here today. First down to Charmey and up via Cerniat to La Chia, here in the photo, looking back up to where I came down from Jaun. Exchanged a few words with the farmer up here who was drinking a beer (already warm now). Photos in the other directions were no so good.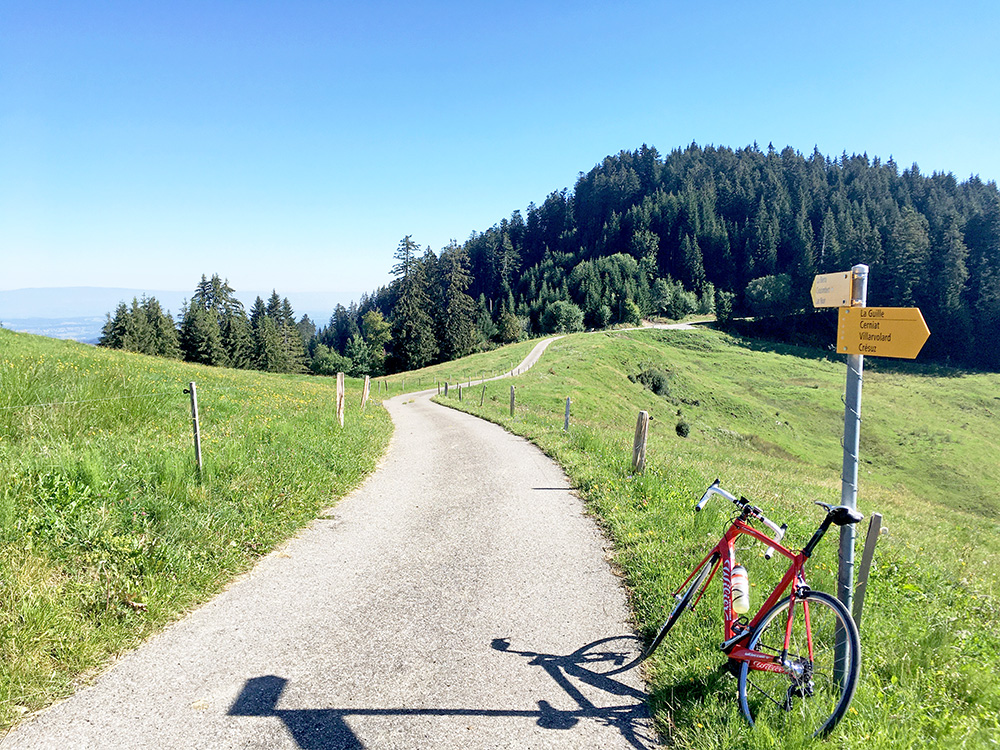 There has recently been found two passes along this road that are fairly high and the reason for my visit. Here is the lower pass at near end of the road called Creux Bourgeois (1335m). The highest pass is up in the woods, called Col du Pré Colard (1377m), but the road actually reaches 1406m before it descends to here and then the road end up at La Chia (1362m). (33 out of 80 on the steep part of the climb on Strava.) It is 5.6 km at 8.9%, steepest kilometre 11.7% and max is ca. 16%.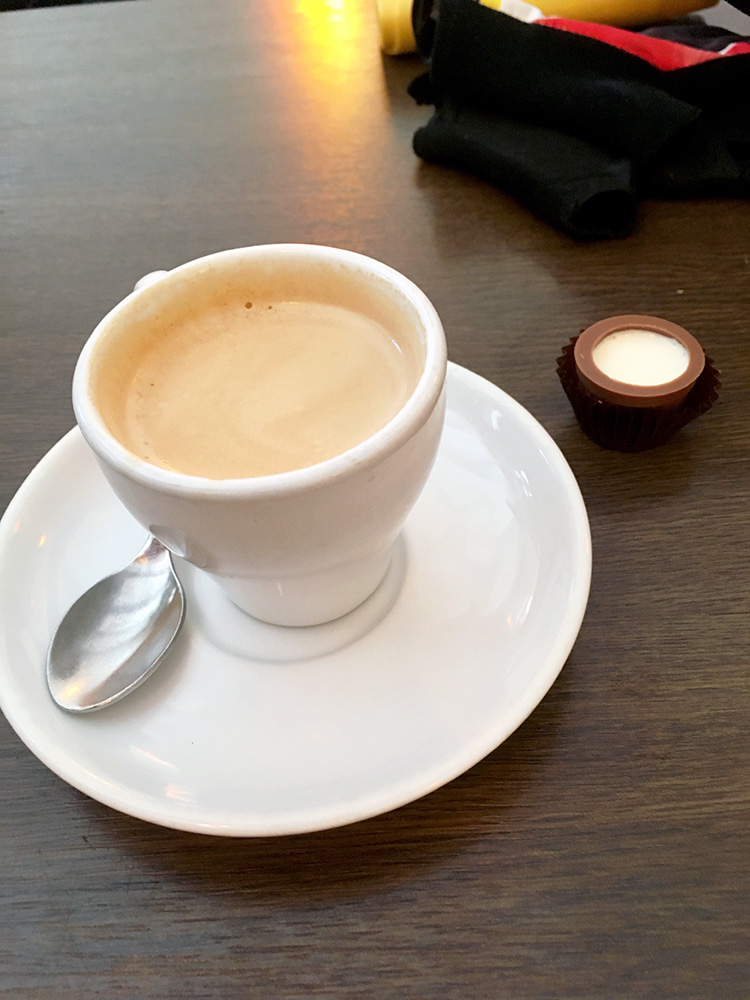 Then back to Charmey for a coffee and got some cream in a chocolate praline. The expensive hotel I mentioned the day before in Charmey is the Hotel Cailler, which I think is owned by the famous Swiss chocolatier in nearby Broc, so probably Cailler chocolate. There was one more climb left in the area (this time).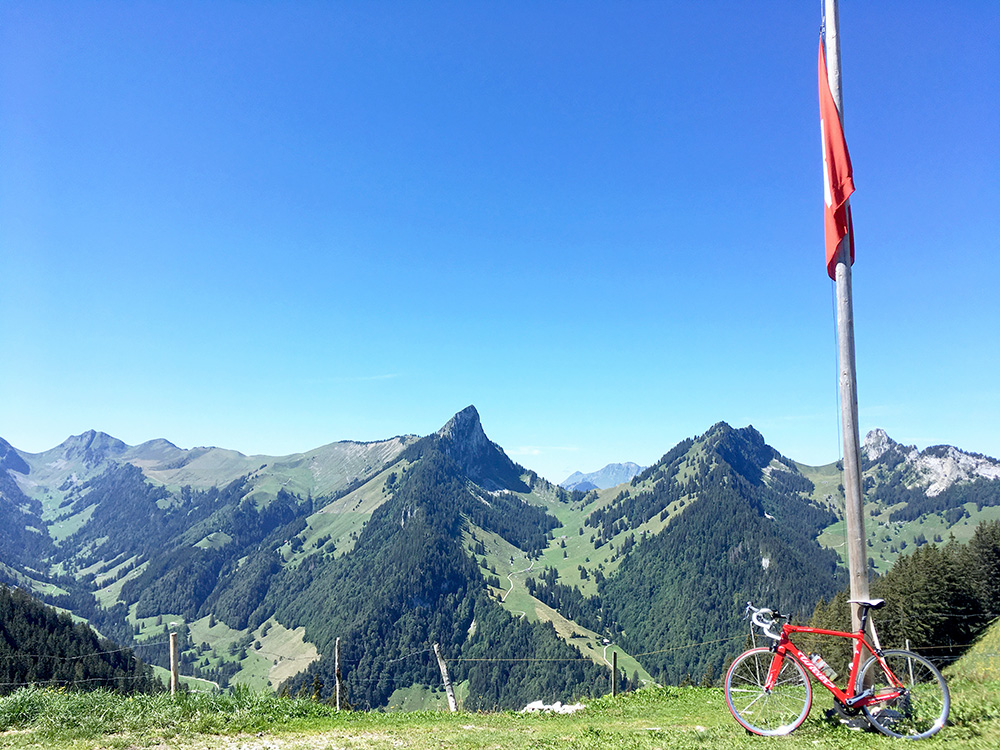 The road descends a little when leaving Charmey on the was up to Jaun. The last turn-off from the main road while still in the French speaking area is in Praz-Jean (889m) and I have been going up that road before to Gros Mont, which is very steep at the end and then a track and gravel road over to the Rougemont area (I was at yesterday). However from this little road there is another turn-off up to Haut Crêt and the pass, Col des Haut-Crêts (1557m). Just reached this pass here (looking west) on a quite steep road too.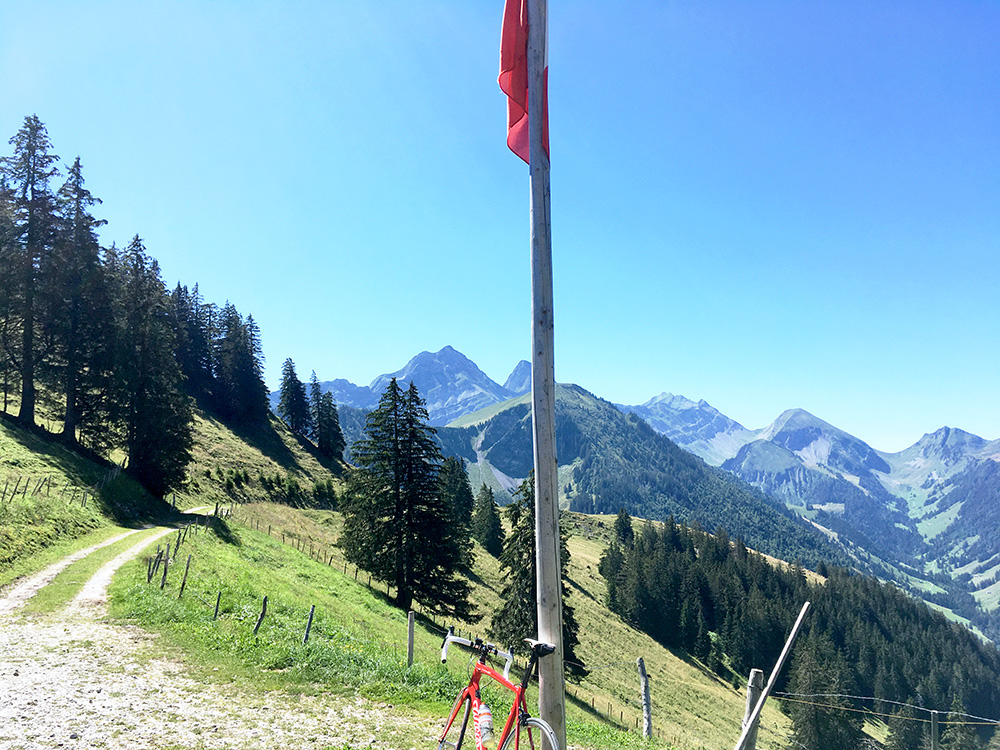 The last stretch is fairly flat, but unfortunately not paved (650m fr. 1534m). In this lovely weather that was not much of a problem though.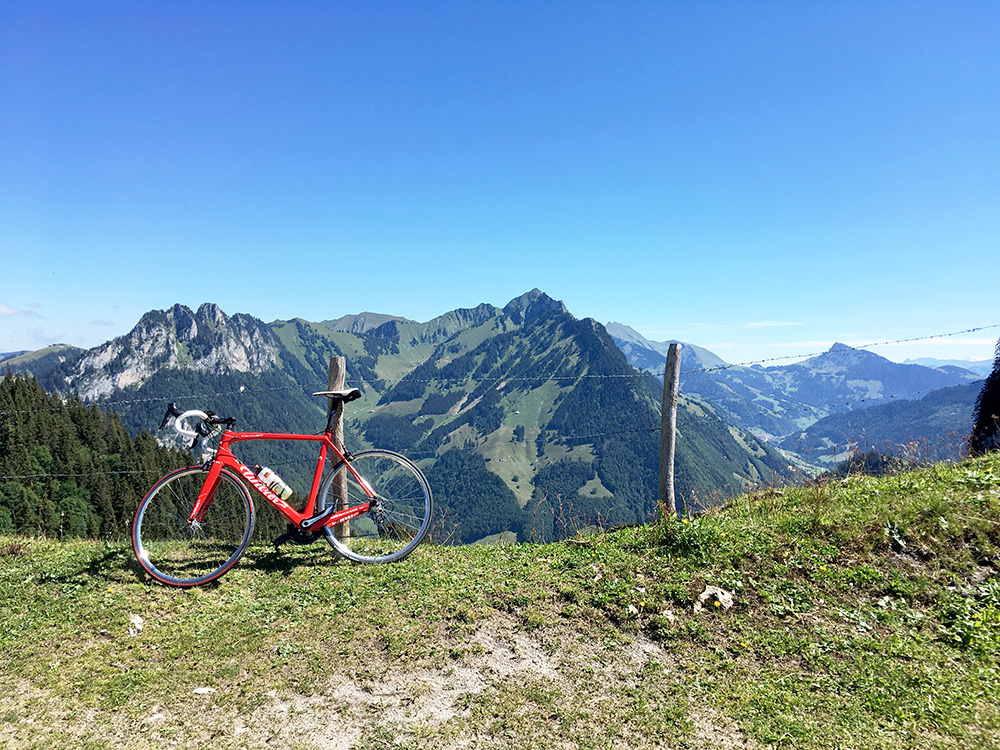 Here I am looking east and great views in all directions. There were people at the house here and it seemed not like a restaurant, so skipped taking a photo of it.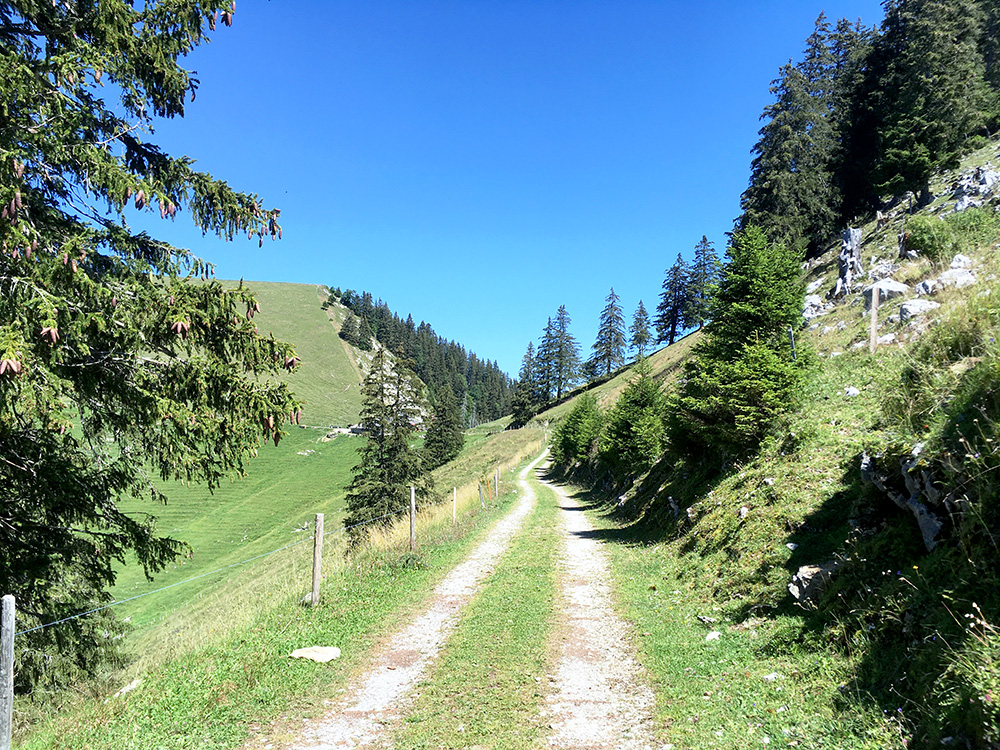 The last stretch to the house was the best part of the unpaved road and the pass is nicely in view.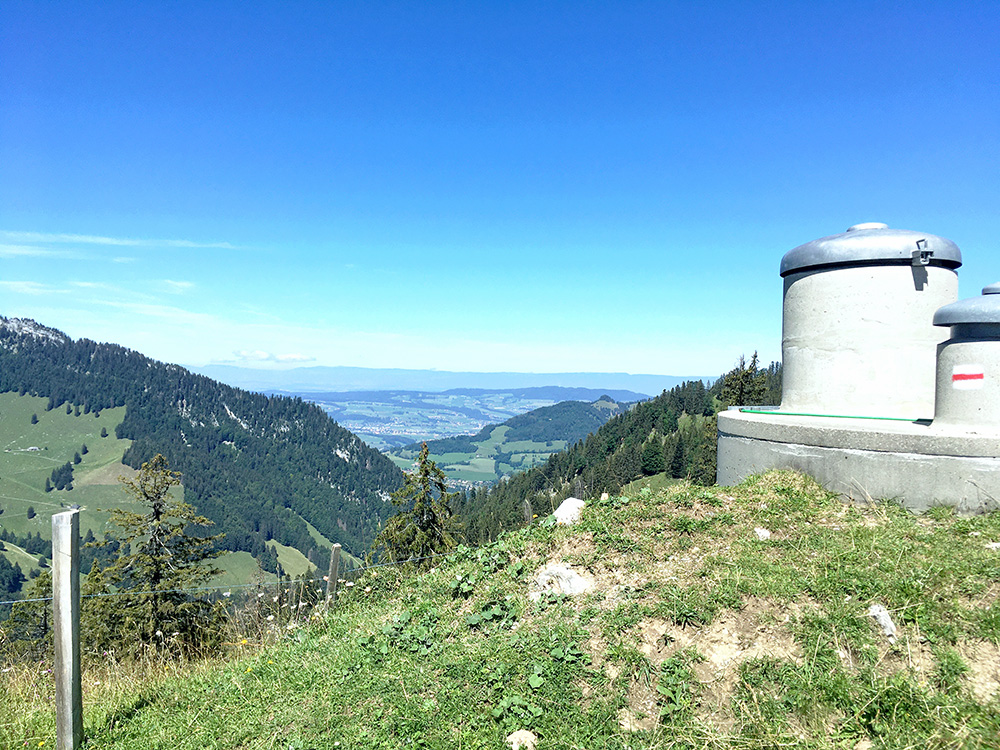 Just after the end of asphalt here and one has a fairly clear view over the Bulle area and the Jura mountains in the background.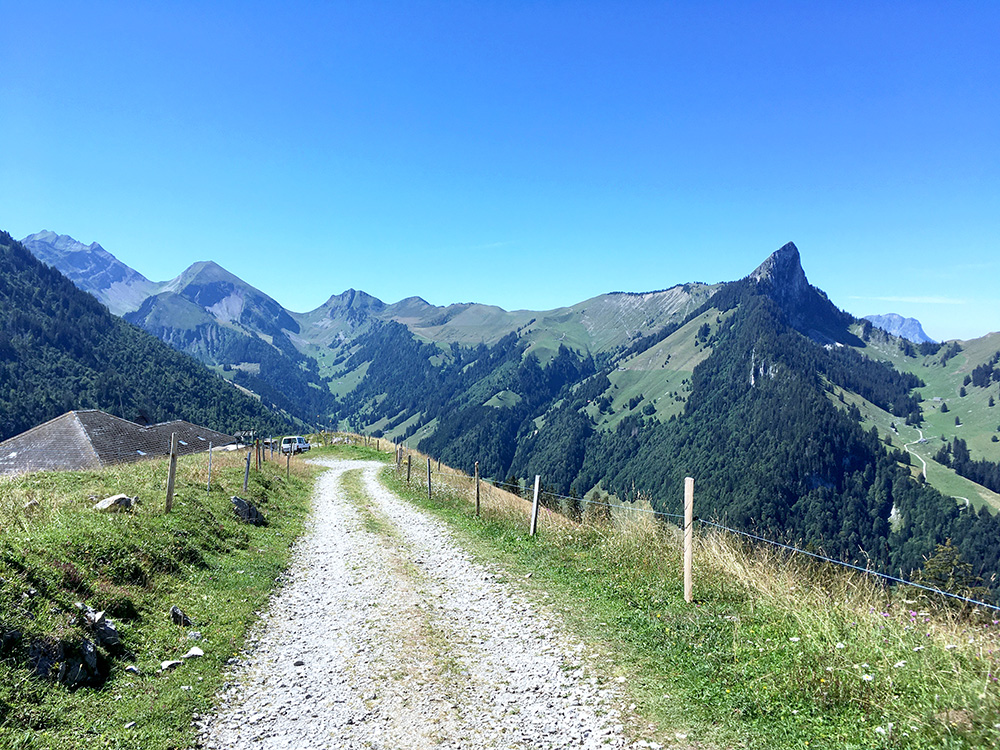 The first stretch of gravel from the house was a bit stony, but possible (the worst stretch).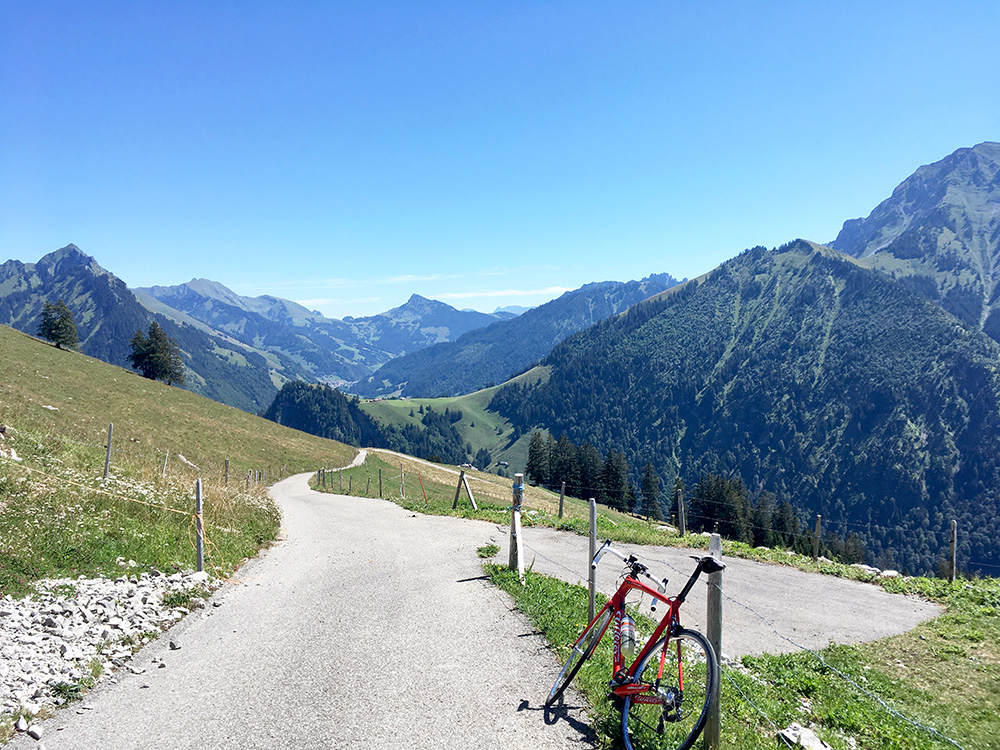 Finally back to the asphalt again and no more gravel in the Alps for me this year! I had passed by a couple on the way up on mountain bikes and they were still on the way up when I continued down. It is 5.4 km from the Gros Mont road to the end of asphalt at 11.3%! The last kilometre is steepest at 12.4%. Max steepness is around 20%. (17/42 or 43/89 (shorter section) on Strava, but I took it fairly easy.)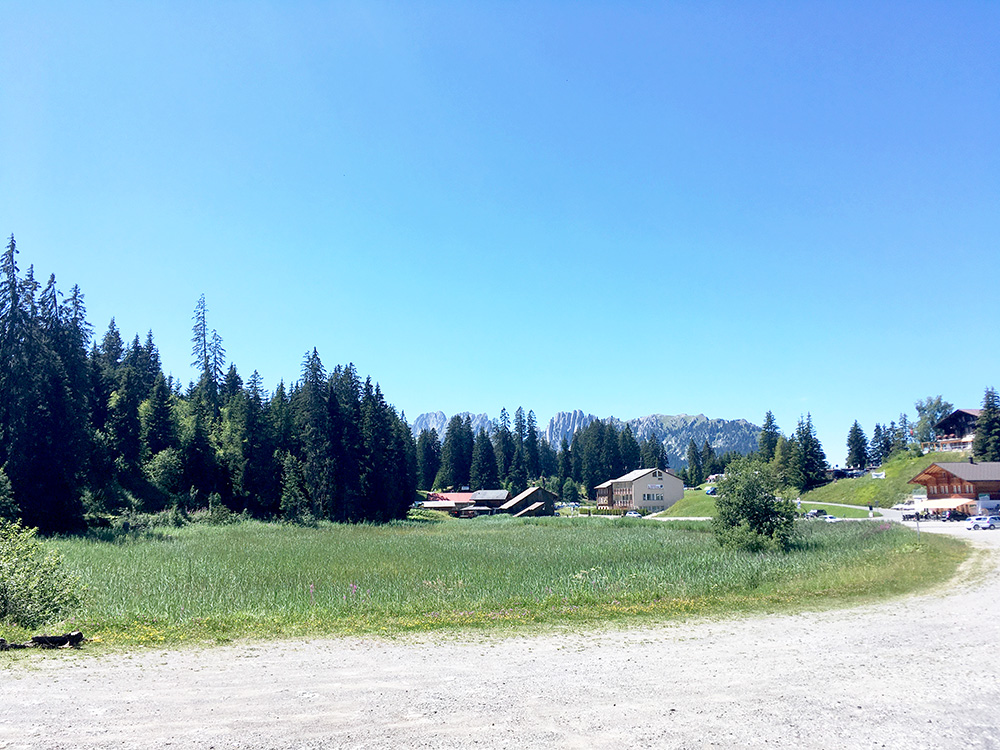 I was soon on my way up to Jaunpass/Col de Bellegarde/Bruchbergpass (1508m) and was when I passed by Jaun as there was no more going back again now. It was the warmest of the day on the start of the steep climb up to Jaunpass though at ca. 37°C in the sun (as it is). 5 km at 8.9%. Looking back at the pass on some jagged mountain tops behind the trees. There is a side road here to the left I also would want to explore one day which make this a longer climb. (Climbed last year the road to the right here – also a nice detour up here.)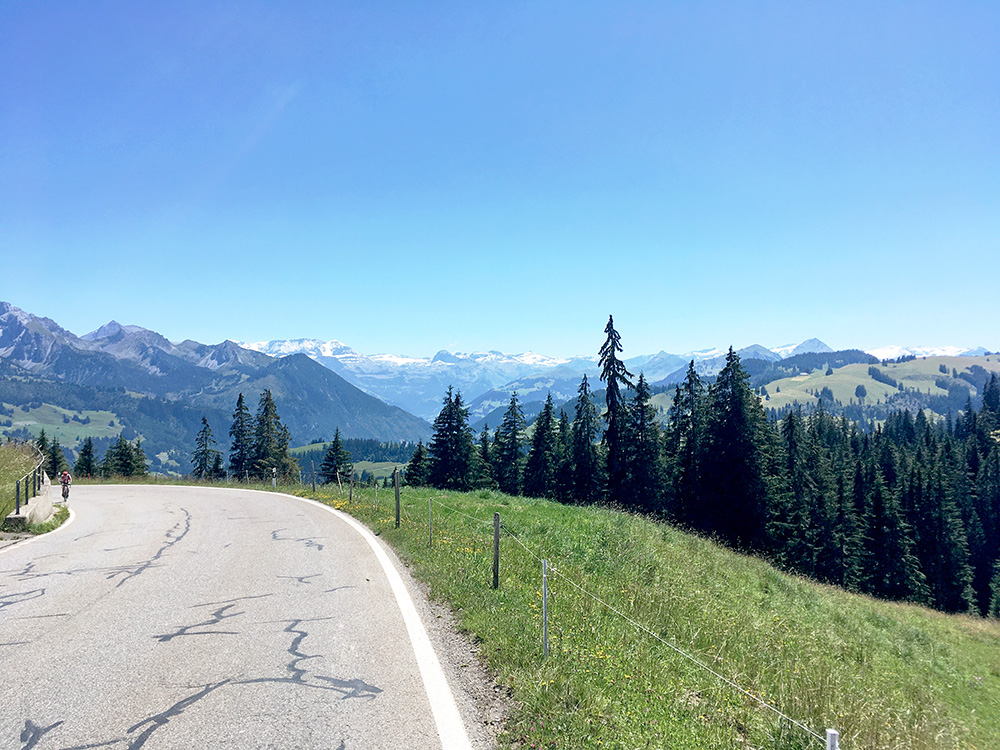 Great views as always on the east side of Jaunpass. One cyclist coming up on the last part and he looked tired. I felt a bit relaxed now as it would be easy going to Thun (558m) from here. I got down through the Niedersimmental just fine on the main road and then down through Thun and stopped again first at Hünibach by a grocery to drink and eat something.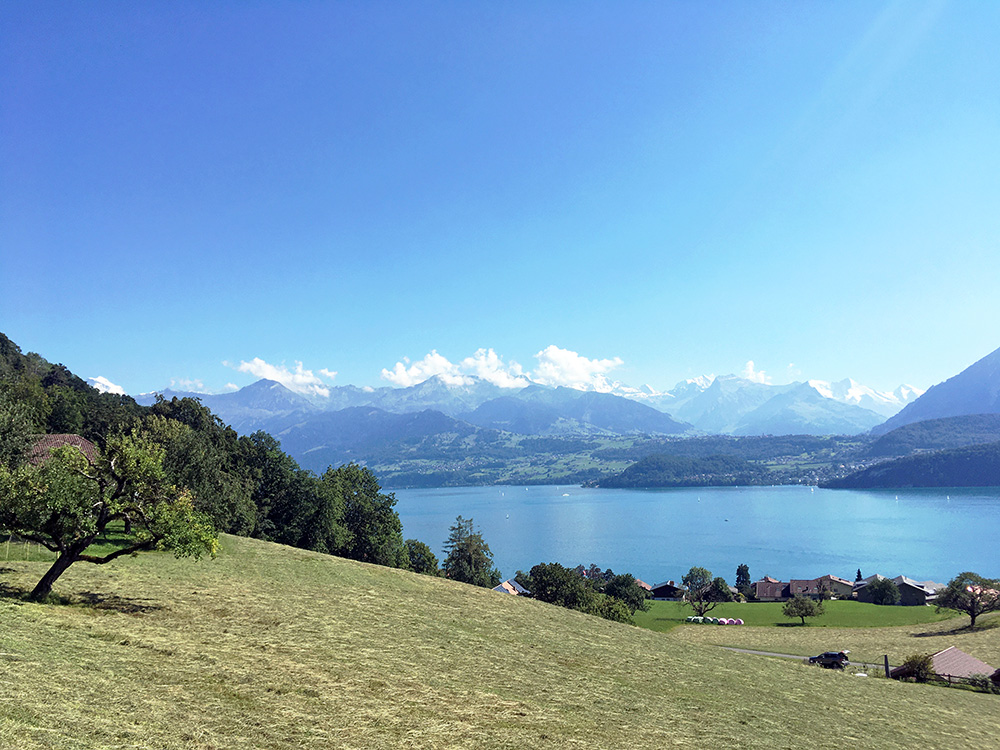 Along the Thunersee (fairly busy road) at Längenschachen (560m) I was starting the last major climb this year. Here on the way up with lovely views over the Thunersee.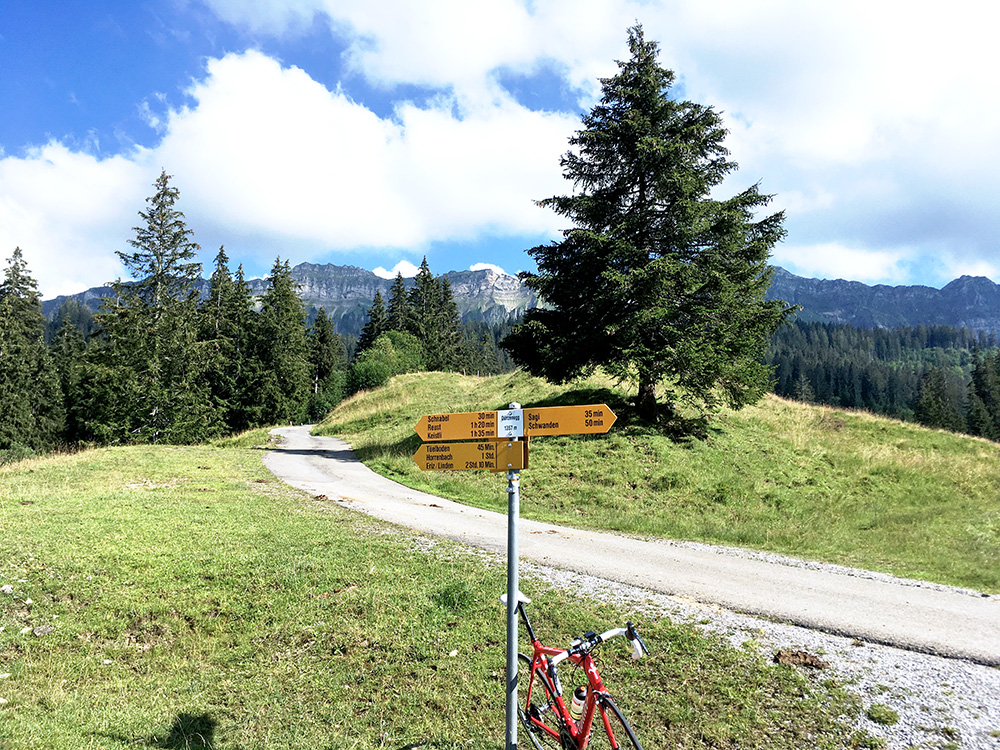 The road is fairly steep from start in Längenschachen and the climb goes normally to Schwanden and to the pass at Wolfgruebe (1081m), but there is a road up from there to Dünzenegg (1358m) which I had gotten into the Club des Cent Cols catalogue of passes, so now I better had to climb it too. It is a private road (with new asphalt in part) and the asphalt continues a bit further on, but should end soon up in the woods. If it had been all paved to Obere Zettenalp (1556m) then it had been a 1000hm climb from Thunersee, but it should not have been asphalted all the way up there – could have gone checking it up, but felt like this was good enough now and I was a bit in a hurry now as I was not sure how long the rest of the cycling would take. To Dünzenegg it was 9.4 km at 9.0%, last 2.2 km at 11.7%.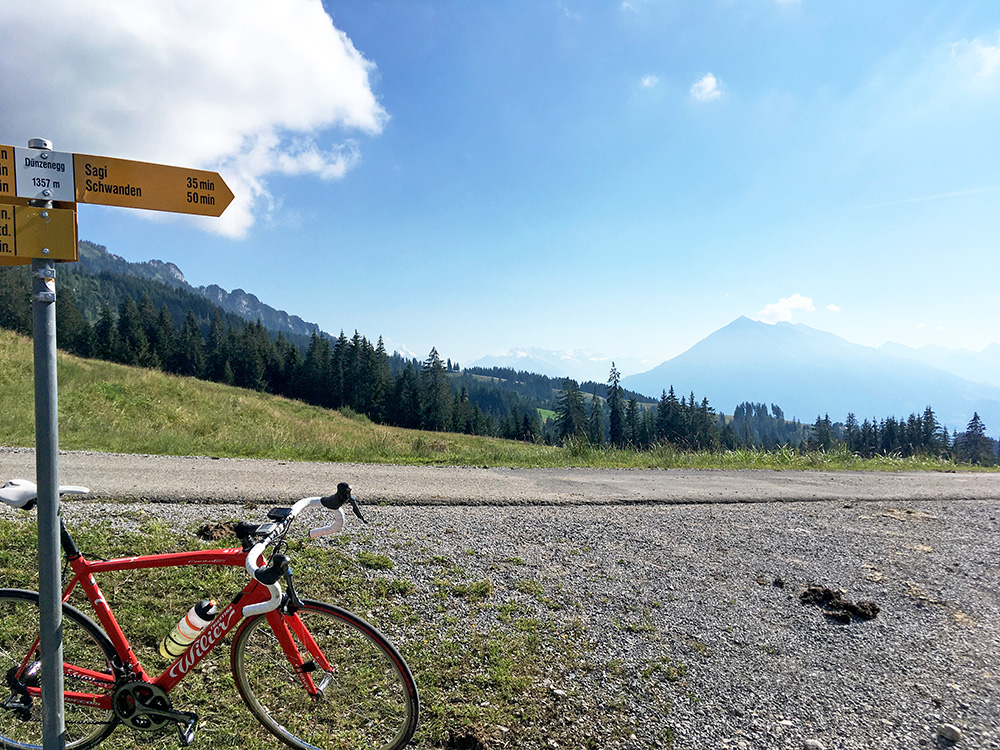 Nice views from Dünzenegg. I was passed by around Schwanden by another cyclist but felt like I could do nothing to try and go faster – I was starting to get worn down for sure. Now I was very relaxed and happy I had made all the climbs I most wanted to do on this tour. Just to get back to Bilten before the night.
Happily I rolled down carefully the same way back to Wolfgruebe. I passed by a couple and said hello and into the woods and then another flat! Typical to get flats on newly paved perfect roads as some sharp stones are often left there and even if I did look for them I failed to see this one. There was a bit of a cut in the tyre, but luckily I had a spare piece of tyre sidewall that I learned about from some mountain bikers back in 2003 when I had a similar problem and have tried to to remember to bring a piece with me since then. It was slightly difficult fixing it, but the couple caught up with me and stopped chatting with me while I tried to do my best. Really had to work as I was not near any place where I could get help and was not anywhere near the train in Escholzmatt that I was hoping to catch.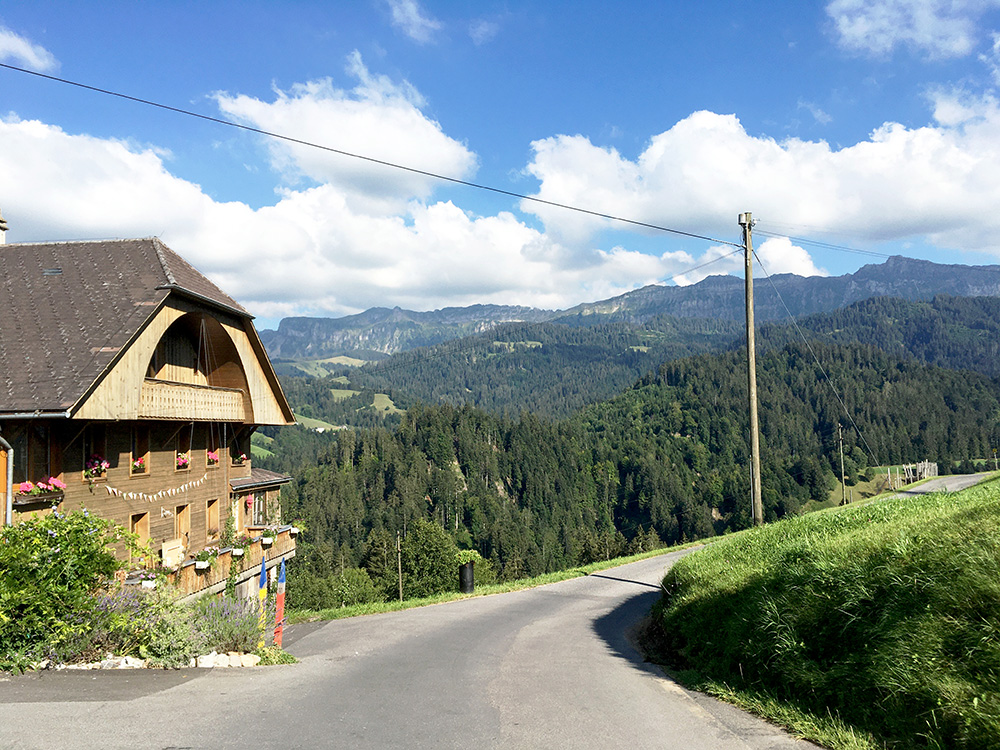 The tyre held up even if I maybe did not get enough pressure in it so was a bit worried for another flat during the rest of the day. And of course the road down to Eriz that I had planned was not exactly flat or just down, but had very steep ups and downs, so was just trying to go as carefully as I could all the way. Here at another little pass, Eggli (1016m).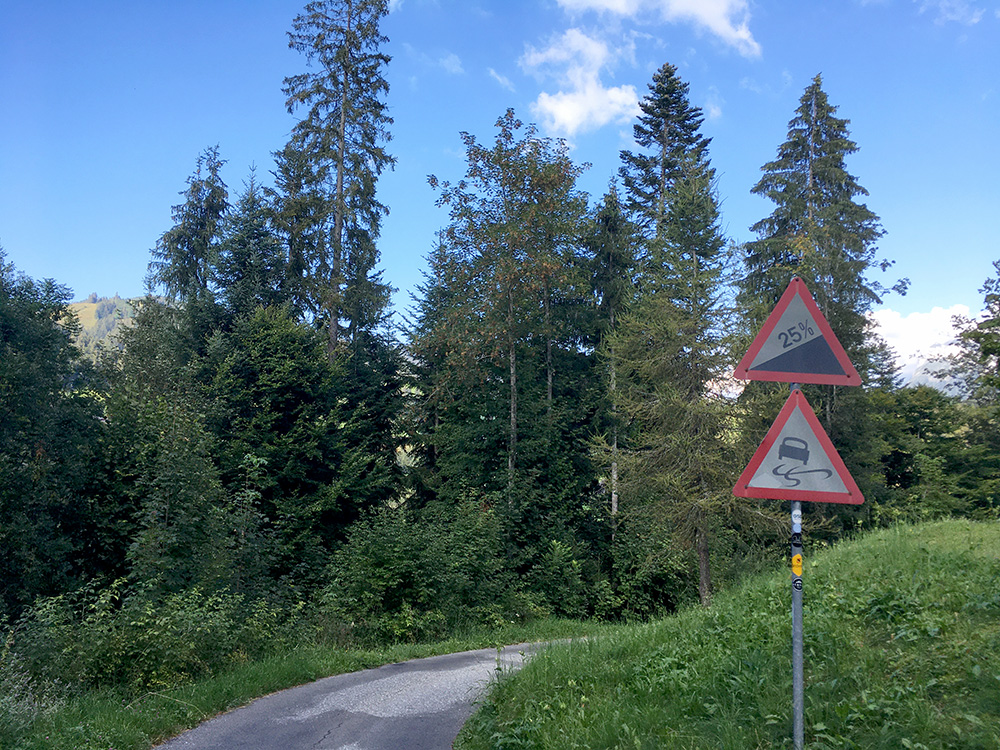 The quick way back? Well, it was a nice way though for sure. Just wished I had not had the flat before, but I did make it back to Escholzmatt without another flat (at home I later noticed the sidewall protection had slided off so the tube had been a bit exposed, so could very well have had another flat, but was going very careful on all downhills (as well as I could that is).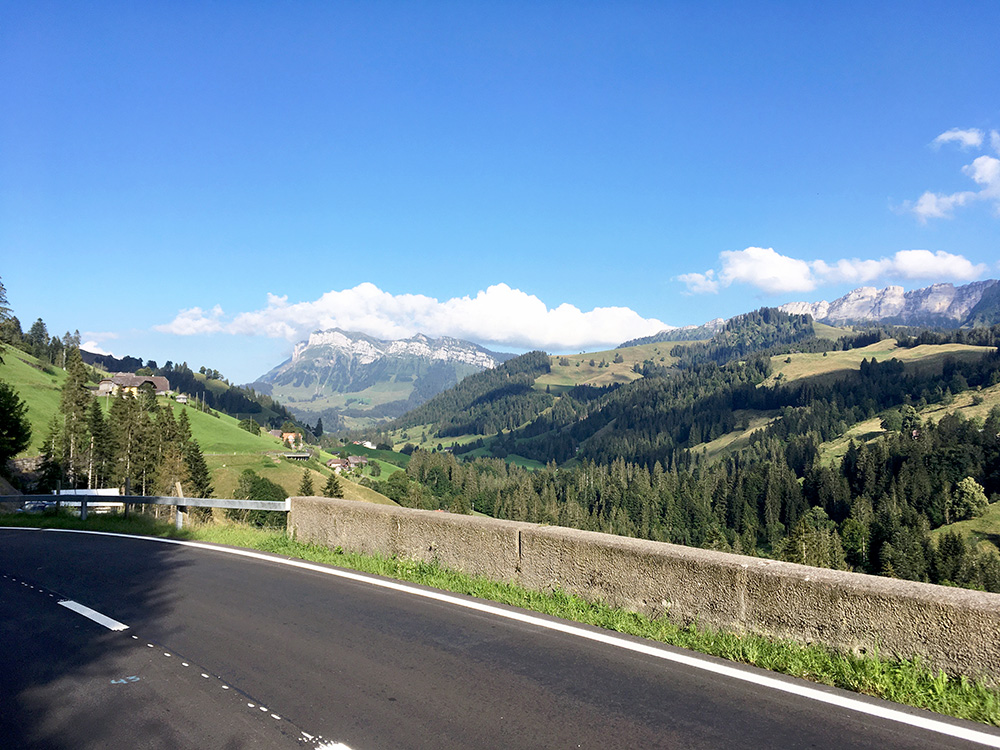 I got to the good road at Aussereriz (1024m) after what felt like a very long time. Then I was soon out on the main road from Thun to Schallenbergpass and now I was feeling very tired. The last climb to Schallenbergpass (1168m) is on the paper very easy, but felt like one of the hardest climbs I did – very much out of fuel now (3 km at 6.8%).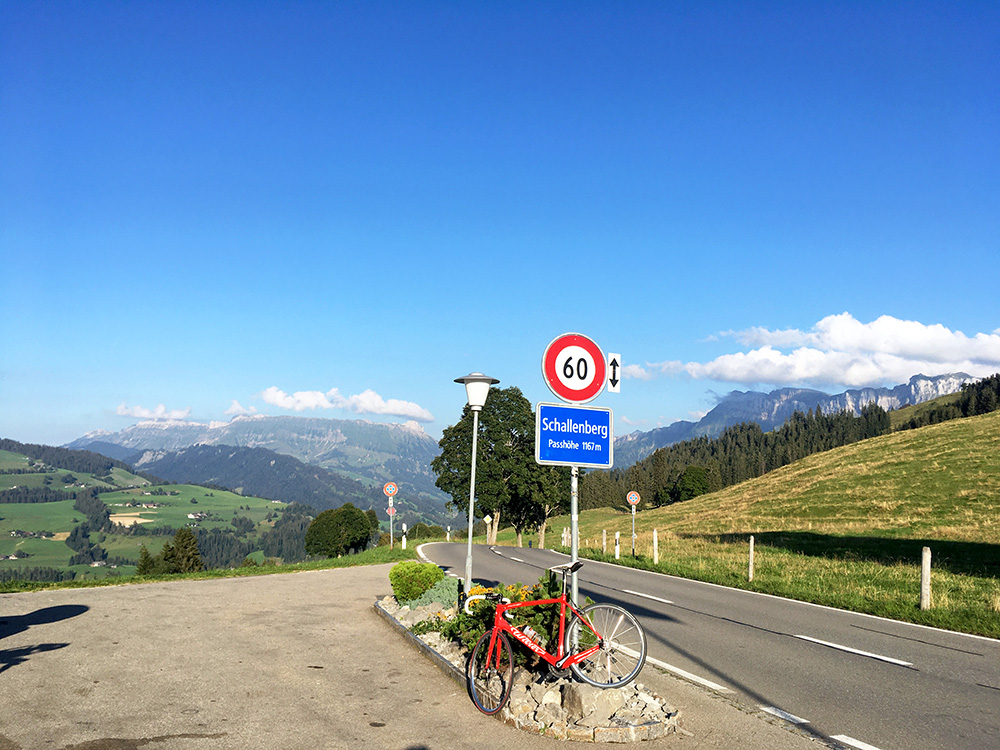 Really felt relaxed when reaching Schallenbergpass, but there were at least one more pass along the way to the train in Escholzmatt, Grunachen (988m) and then it was uphill to Escholzmatt too (it is also a kind of pass). I got there just in time to catch the last train I had hoped to catch and had like 20 minutes so I could get a big kebab and fanta with me on the train. Got train tickets and was off on my way back to Bilten. Stopped at the Bilten train station and then only 1.2 km of a ride back to the Elsenerhaus bed & breakfast where I had a beer and a good sleep.