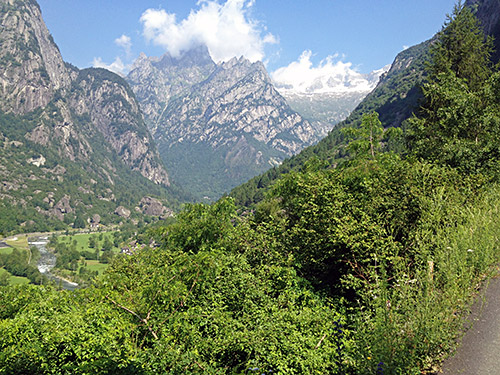 I went down to the main road through Valtellina again (not sure I gained much by that), but before I got tired of it, I took off to Ardenno (263m), where it was time already to stop and prepare for the first climb of the day. I think I had a big grapefruit soda, a nicer local yoghurt and probably a sandwich. Then I followed the right road, but for a short while thought I should go closer to the mountain ahead and went up a small local road, but had to go back a bit further onto the main road again. The main road up the Val Masino is somewhat big. There were a problem though and that was that there were ongoing work on the road. They had scraped off the asphalt on the side I was going up for some kilometres and I tried to avoid it looking out for cars.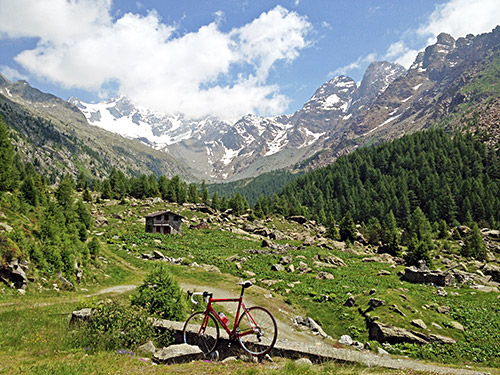 Eventually I came up to Cataeggio and just above the church there is a little road sign-posted 'campo sportivo'. Here you see the side valley which goes up to Preda Rossa (1960m) and that is were I was heading. The main road up the valley starts a little higher up along the main road up Val Masino, but take this road if you want to make the climb more direct and harder. The stretch after crossing the bridge over the river up to meet the main road is the steepest part of this climb with just above 20% at one point where I met a couple walking down stopping to applaud me … . That helped! This road is narrow, but actually good, so no problem there. First photo is taken from the main road a little after joining it.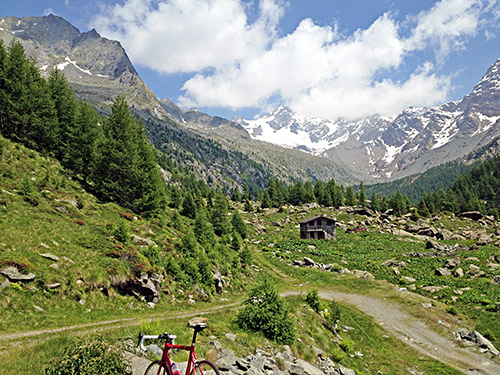 The road then climbs in a few serpentines to where the asphalt road had ended since 1991 when the road was severely destroyed by a major landslide and then a bad gravel road on the other side of the valley has served as the only way to go up the valley. However, in 2012 they asphalted most of the gravel road and now there is only 300m left of the previous ca. 3 km of gravel road (of which 50m is concrete surface). Then there is a steep serpentine up to the previous road higher up. The road then climbs into a flatter section where there are some houses and cattle. Then comes the long final section, that comes across as unbelievably long considering how far one has climbed already and here it is consistently steep on an old surface which is ok, but not really maintained. The road were well built, but not sure why as there is only one or two houses up here and nothing much else.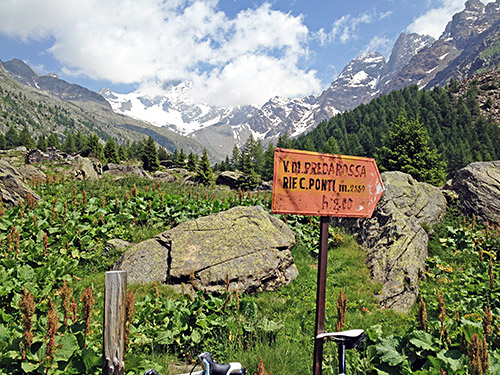 I could not decide which photo from the end was best, so you get two similar ones here (the two above). The asphalt ends at 1950m, but I managed to cycle up to the road end at 1960m from where the photos are taken. The stony terrain up here might have stopped plans on building a road deeper into the upper valley, which otherwise seems like they could have had reason to access.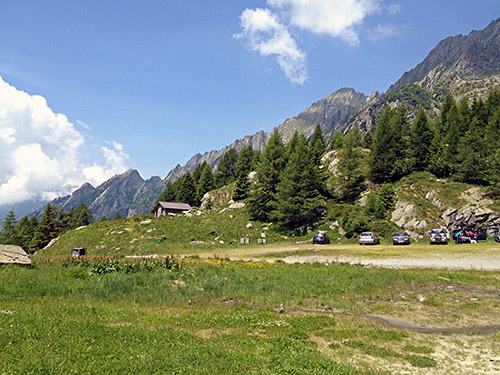 This is a hard climb that now is nearly without problems once again for road bicyclists to visit. This used to be a BIG climb, but was substituted after the landslide, but now it might be worth to reconsider again. I hope they asphalt the last remaining 250m as well as they are really borderline for using with a road bike now. But I would still recommend going up here with a road bike even if you have to walk the short stretch of gravel as the climb is otherwise quite nice in good weather like this day and it is also one of the harder in Valtellina despite that the area is known to have more than its fair share of the really hard climbs in the Alps.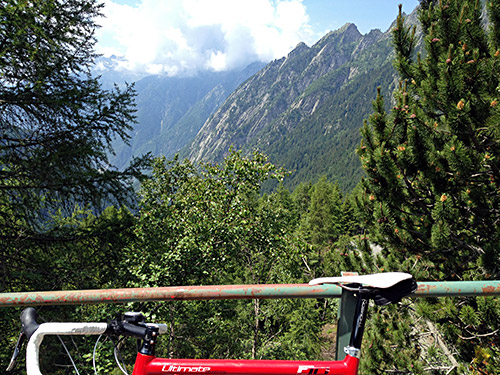 The photo here is from the start of the descent.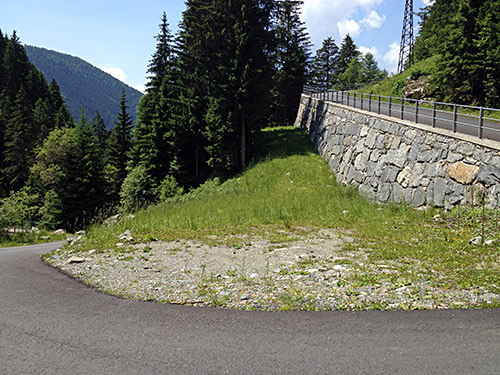 This photo shows the steep serpentine up to the old road when coming back from the newly asphalted gravel diversion road.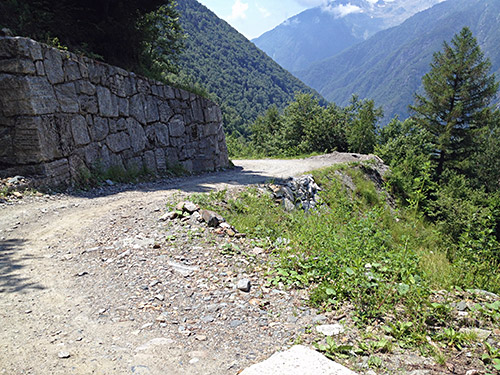 And this shows the stretch still with only gravel. This stretch is not so steep as the parts that they have asphalted.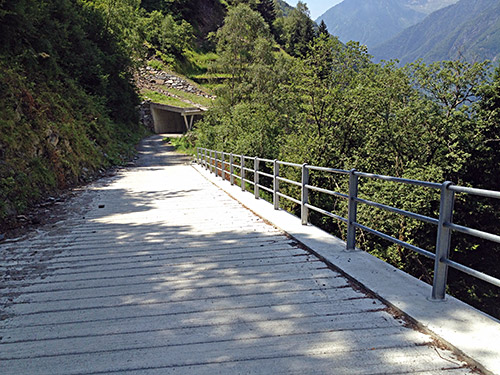 And here the concrete ramp and down by the gallery continuous asphalt starts again and it is all asphalted down from there.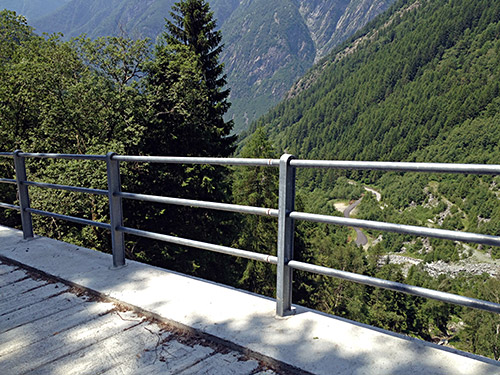 Here you see the new road crossing the river where the old road is blocked.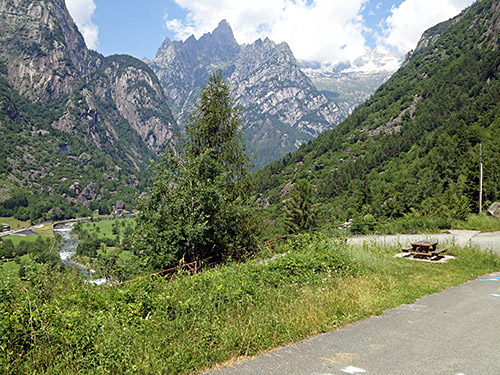 Another photo from almost the same place as the first photo on the road down to Filorera, where I was supposed to get to the day before according to my all too optimistic plan.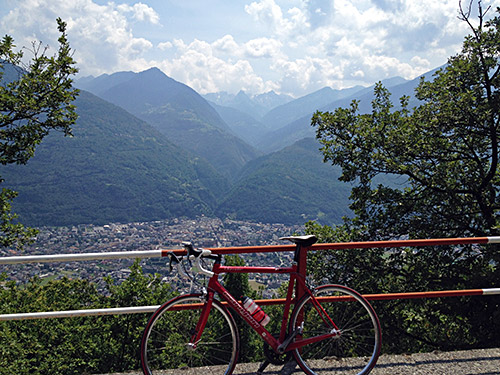 Down at Cevo (570m) (just above the road work) I turned off the main road down to Ardenno to take a small curious little road (that I tried to figure out where it could be going as I climbed up the valley earlier). There is a nice little restaurant here in Cevo and I stopped for some pasta before going up this road. The road climbs to Civo via an unnamed little pass (845m). I had decided to go as far west as possible up in the mountain side before going down in the midday heat in Valtellina.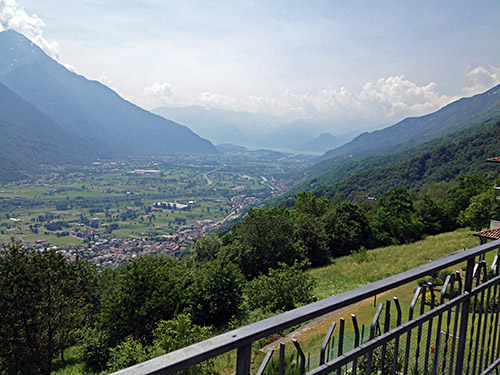 Thus I climbed up to Mello (865m) (the road goes a bit up and down to there). In the photo above you see Morbegno and the valley up to the the classic Passo (di) San Marco (1992m), which I want to climb one day from this side too and which takes you over to the Bergamo area. In the photo here from the descent from Mello, you can see the Lago Como in the west and that was where I was heading now.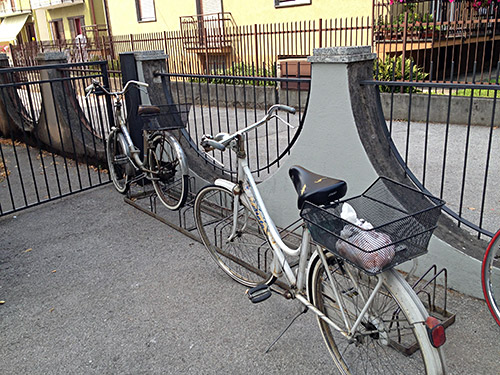 It was hot and very busy down the valley. Had to stop and wait for the train as I crossed over to the busy main road again. I stopped for an ice cream and then went through the totally hopeless crossing down at Colico (where there were much road works and jammed with cars all around). That is where the Valtellina starts. Now I was out of Valtellina and continued down the side of Lago Como to Dervio, where it was time again for a quick stop and coca-cola. Seeing some men parking their nice old bicycles, I had a photo.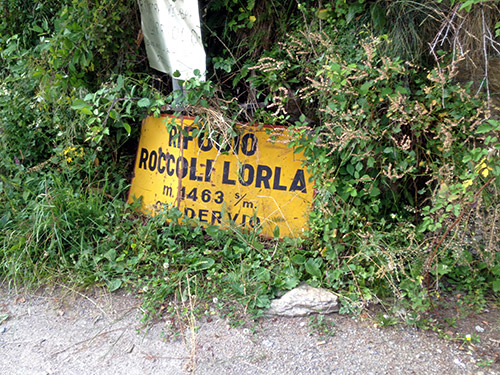 Then climbing time again! From Dervio (209m) I went up via Sueglio-Artesso on a consistently climbing road which looks nicer on the map than in reality as there are not so many views back down over Lago Como as one might imagine. I was on my way to Monte Legnoncino/Rif. Roccoli Lorla (1450m) and when you see this sign there is a gravel road one has to follow for almost 2 km, but it flat and not so bad supposing the weather is dry. (The sign says 1463m, but the road ends just below it.)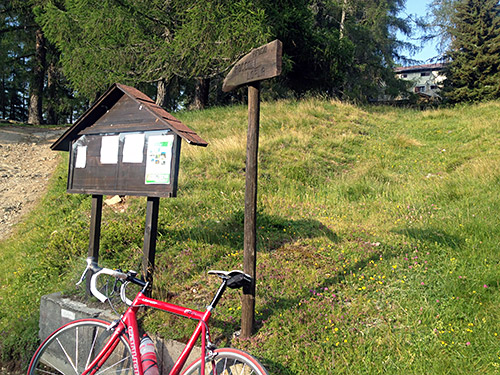 Then you get to the steep end section of the climb up from Tremenico (one could take this way up too if one wants to avoid the gravel section, but it is a little longer and thus not quite as hard). I went to the end of the road and both that place and think this is regarded as a pass even though it has no clear pass name, but there is only a path down the other side to Valtellina.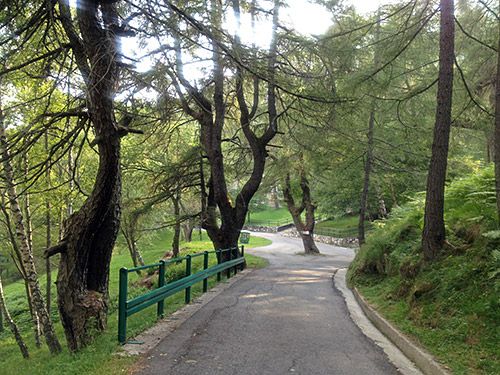 Watch out for the tree!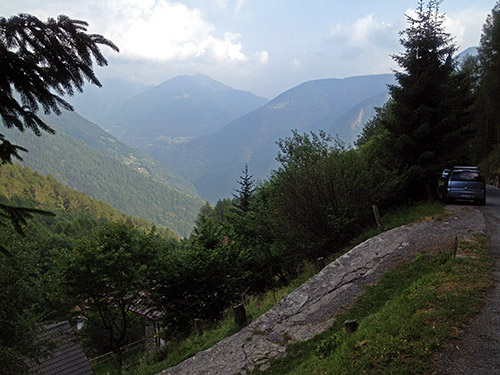 Nice view down the valley, but it was a bit chilly just up here in the shadows so quickly down here now.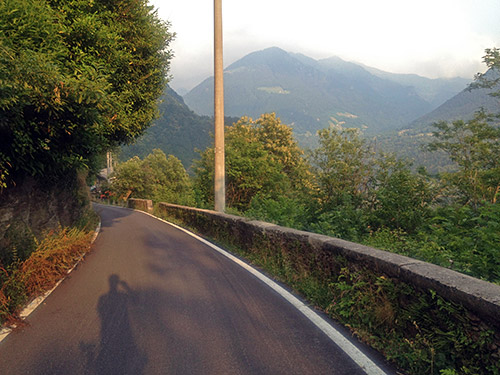 The road from Tremenico is a very narrow one and at times I wonder if it would turn to gravel as the surface got worse and the road very narrow, but after reaching a high point it became not only very nice, but also with a good surface again. Very nice evening and I had decided to follow my schedule of going around the mountain here over Somodino (920m) – and obvious pass without a pass name (that I know of). It would of course had been quicker to get back to Dervio and then go to Bellano along the lake where I was heading, but this was a nice detour and I do not regret it.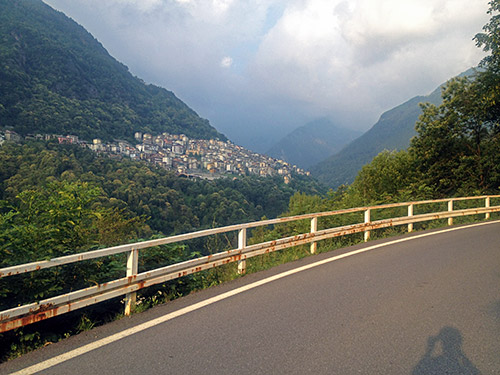 I went in a very high speed all of this way I must say as I was nervous of not getting to Varenna in time to get over to Menaggio in time before it was getting dark.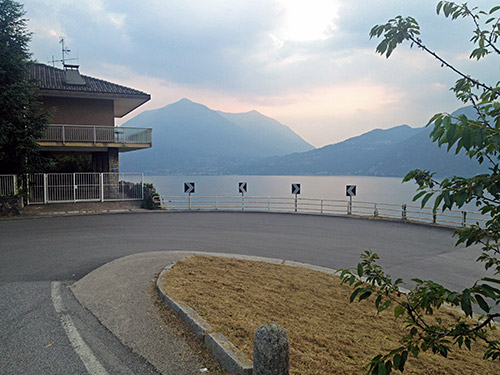 Finally the road drops down to Bellano and nice evening views over the Lago Como!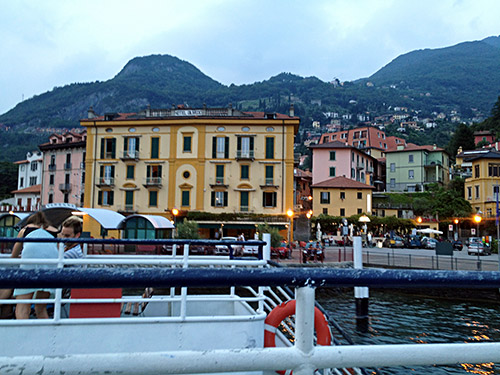 In this photo is the nice old hotel in Varenna where I had an ice cream while waiting for the ferry to depart. Few people went here for ice cream and instead stood in line by the less interesting restaurant next by. I asked for the price to stay the night here and it was 50 euros (incl. breakfast), but I thought it was slightly too much (but most of all I just wanted to start the day on the other side of the lake).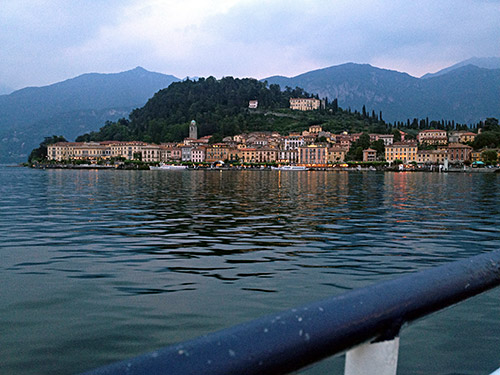 It was a lovely evening boat ride via Bellagio to Cadenabbia on the other side. I asked at a more modest looking hotel on the way out of Cadenabbia for a room, but it was fully booked. The man had run the youth hostel in Menaggio and suggested I go there (and said it was better than one would expect), but I asked for a cheap hotel and he told me about a pizzeria with hotel there. I went ahead and now it was getting dark and put my lights on. In Menaggio (200m) I never found the youth hostel, but found the pizzeria, but it was also fully booked (not that it looked too good anyway).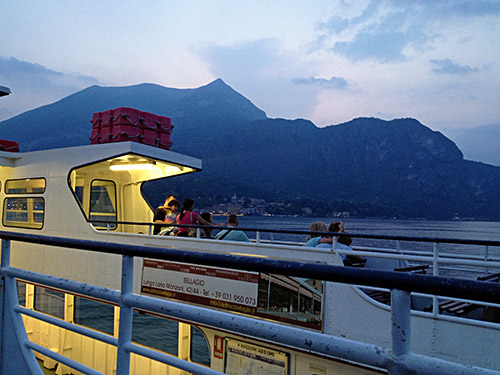 Slightly irritated over all the stupid tourists who wants to spend a fortune to stay at the bad and expensive seaside hotels, I went on up to Croce (383m) and asked at the top hotel there (3 stars), but it was also full. The man there were very nice though and recommended I tried at the next hotel which should have rooms as he called to find out. The people at this hotel were quite nice, but it was a bit bigger hotel and not so nice and I still ended up having to pay 50 euros incl. breakfast. Oh well, at least I got food and a place to sleep at for the night and was on my way!