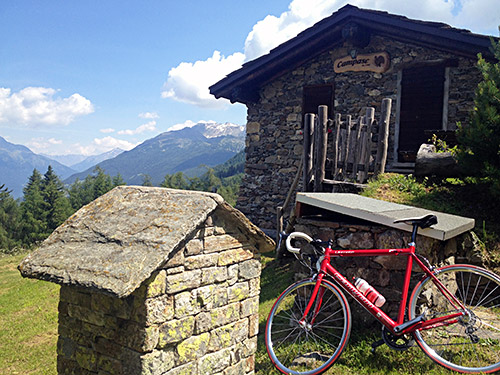 Left the Albergo Belvedere in Bormio in the morning and followed the road on west side of the Adda river. I made a mistake and took the lower road, which to my surprise ended (I had a vague memory of there being a road along this riverside that would connect lower down with the main road, but it was the road going up a little at one point earlier. But there were a narrow walking/cycling bridge over the river so I got out fine on the main road anyway and escaped the bigger road that one is not allowed to bicycle on (at least in parts).
But later the roads joined and I took the bigger road, when one is supposed to go down a smaller road if cycling (not all that clear) and thus ended up in a long tunnel and then stayed on the road to use the next two tunnels as well (guess it was not allowed and it would indeed have been nicer down on the smaller road, so recommendation is not to cheat here and you might get a ticket here too). I think I went off the main road at Sondalo again and then stayed on the smaller road down to Grosio, where I stopped by a grocery for a sandwich, coca-cola and yoghurt (I think).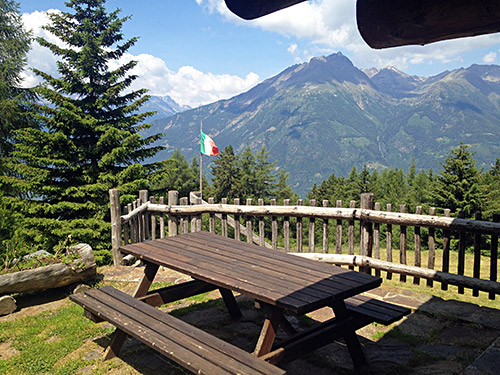 I had my doubts, but had decided to make at least one of the hard cul-de-sac climbs around Tirano and as the weather was fine, I could not escape it. I had decided that if the climb up from Lovero was all asphalted then it would be the hardest climb in the area apart from the climbs to the famous Passo della Foppa/Pas de la Foppa (1855m) (often referred to as the Mortirolo pass, which it has been confused with, and only lately have the sign there been changed to give the proper name). A bicyclist acquaintance living in Tirano, suggested the road from Lovero was not all asphalted, but I thought it looked different on recent satellite images, so I was more curious about this climb than the other suspects: Pra Campo (from Tirano) and the nearby climb from Sernio.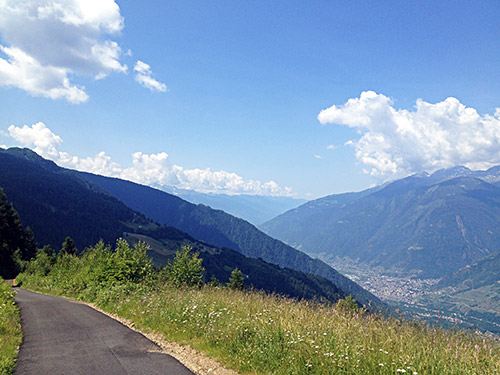 The climb up from Lovero is not sign-posted at all, so you have to guess your way, but it is not all that difficult. What is difficult, that is the climb! Even though never steeper than 22% … and consistently steep, though unevenly, the real problem is the surface quality and narrowness of the road. I remember that I felt like I got mummified by all spider web hanging over the road and insects are usually one of the hardest things about climb in the Summer in the Alps. I often tend to forget about that, but trust me that flies always in (just in front of) your eyes for kilometres and stinging horse flies where it is very steep and warm (usually between 1000m to 1400m height) can be driving you insane. Here it was mostly just the spider web (which is uncommon).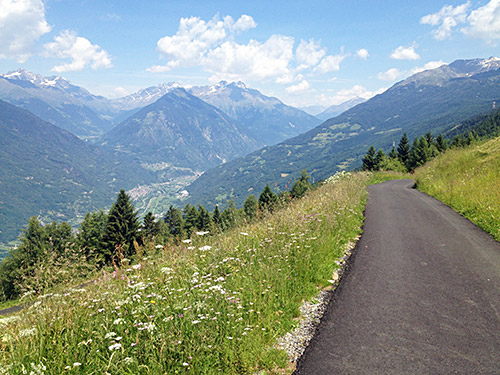 Just after reaching a point where you have a choice of an asphalt road going off up and a concrete road continuing straight up, you have to guess fast if you do not wish to stop. The right choice is ahead on the very steep and very wobbly concrete ramp. That was the hardest part and after this the road becomes easier and soon there is new asphalt and the scenery also opens up, while the road is less steep. You deserve it if you managed to get this far! The last part is great and one would have wished the whole stretch was like this. The very last ramp of the road to Campasc (1700m) is again concrete, but now so bad it would be difficult to use with a mountain bike. It is worthwhile to walk up this short ramp to the house for water and great views! (First two photos.) 10.3 km with 1187m elevation gain means 11.5% on average, which is almost exactly like Monte Zoncolan, but this road is far worse on the whole.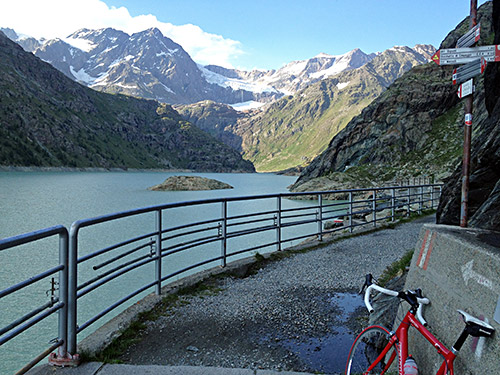 I had many crazy roads on my schedule for this Summer and next up was one of the climbs I had been most curious about of them all, namely Lago di Alpe Gera (2128m). After a coffee and ice cream in Tirano, I had a long boring stretch on the busy but narrow main road in Valtellina down to Sondrio (I had planned to go up the valley-side down there, but now just wanted to get down quickly to Sondrio). In Sondrio I stopped for another ice cream, before I decided to try finding a more direct road up Val Malenco from Sondrio (300m). I met a local lady and she explained it was a path for a short while, but I just went ahead and walked quickly up the same path as she and was soon up by some houses just above Sondrio and jumped on the bike and was soon on the main road where it starts to head straight into the valley.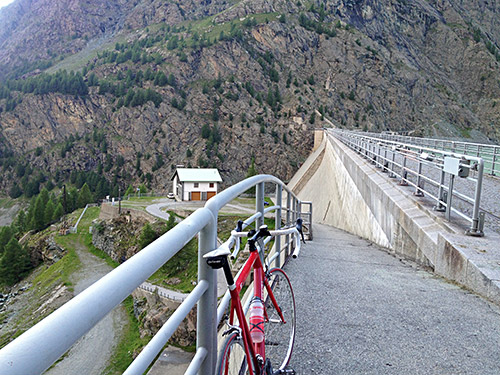 This climb would turn out to be quite a long story and someone had suggested to me before that although it is a nice climb, it might not be worth it. I did not quite see why until I got back again. The climb does not feel so terribly long, but still it took 6 hours to go up and back again (that is more than it took to climb the hopeless Colle Sommeiller (3000m) back in 2002). I am sure almost anyone could do it faster than so, as I stopped up in Lanzada another time to buy a litre lemon ice cream (always have a plastic spoon with me for yoghurt and ice cream) and coca-cola and was also taking it somewhat easy generally. I really took the fastest and rather easy way to Lanzada, but still felt tired enough to stop again there.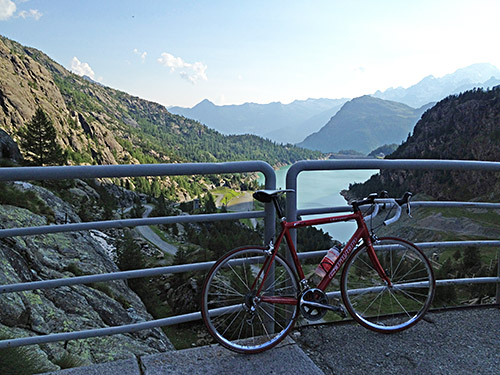 I then continued and stopped for water just where the road starts to really climb up in serpentines. Then comes many tunnels with cobblestones. Many good views along the road here. Eventually I got to Franscia, which is the last little village that is popular to visit in the Summer with many people around here. I continued up. I met a few cyclists, but all with mountain bikes. Eventually there comes more tunnels with cobblestones and at a choice of roads one continues on the main road and eventually arrives at Campo Moro and the Lago di Campo Moro. The road becomes flat along this first dam and the asphalt ends at 2000m almost exactly. Then there is a short gravel road to a parking between this dam and the Lago di Alpe Gera and this part can have some water across it even when it is otherwise somewhat dry.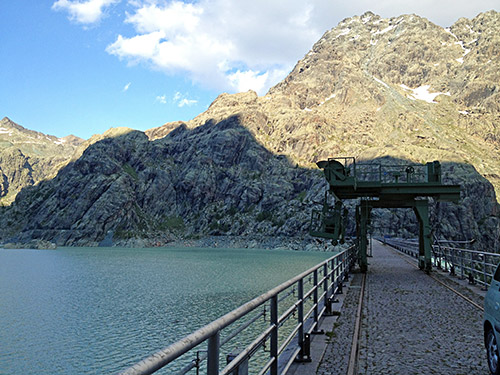 Now I had hoped to continue cycle the gravel road up to the dam itself, but first I took the wrong road straight ahead (as I could not quite see here which one was right). That was too bad to cycle on and I had to walk back after some hundred metres again as I realised it must be the one going up in serpentines to the right. That road also has a bar (turnpike) across it and after it it is likewise too bad to use with a road bike. Still going back here did not feel like fair alternative as it is really not nice here unless you get up to the last dam. So I walked ahead, trying to walk on the sides and in the grass as much as possible to save whatever was left of my shoe cleats.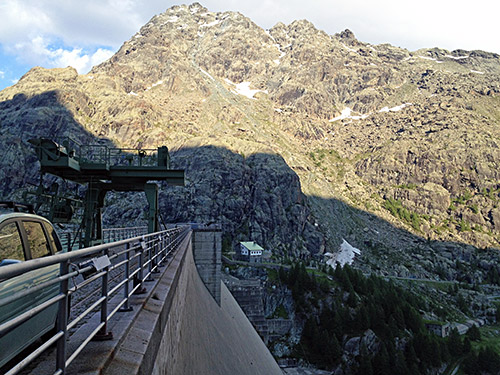 Eventually I got up to the house just below the dam building and here was a sign saying it was not allowed to go up to the dam. Idiots! This is the obvious goal of anyone wanting to get up this valley. I jumped on the bicycle and climbed the steep and narrow concrete road up to the top of the dam and got some great views at last and nice photos as you can see. It is also fine to cycle across the dam building. Moreover, in order to get beyond the lake on paths for walkers and mountain bikers on excursions, one would need to go via the dam building and there are signs here for the paths.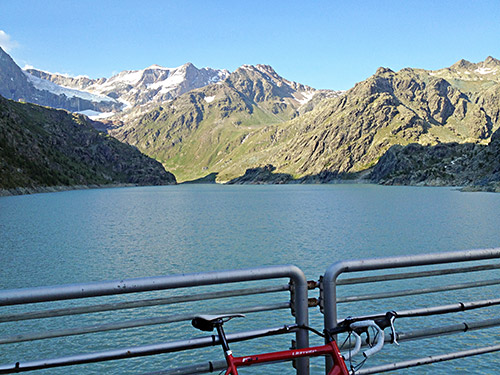 Curiously a Slovakian car was parked stripped of a wheel at the end of the dam building. How did that get there and why? One could see a mountain hut placed very nicely up the mountain on the other side of the lake (high above and hard to see in the photo here). Long walk back down again (1.5 km perhaps, but it took time as the road is very difficult to walk on in road bike shoes).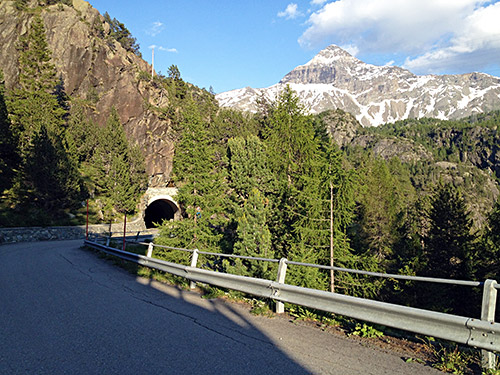 Then down the countless tunnels and now it started to get a little cold, but I was soon down to warmer altitudes (esp. after Franscia). I do not like to go down fast on bad roads (cobblestones) so it felt like took forever getting down. Eventually I was down above Sondrio again, but refused to consider staying in Sondrio for the night as it would have felt like it did not get on the way somewhere else then, so I turned up to Triangia (783m) just before coming into Sondrio. This climb is only 240m and I went up in full speed, but even though only 240m up it feels much, much longer and I was almost giving up on keeping the speed up before I reached high point (a small pass-like place). Next place where one could stay for the night and I would stop now.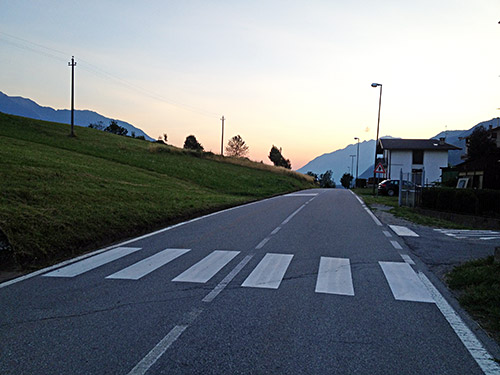 This is the last photo for the day at the top of Triangia. On the way down came some men on ski rollers in good speed up the road – they looked professional. Very nice to sweep down the roads here in the evening with almost no cars. Eventually I got to Castione, but there were only a pizzeria. A man came down from the restaurant and I asked him if he knew of a place where I could stay for the night nearby. He suggested I asked at the pizzeria as they might well have lodging there. They surely had rooms and helped me out even if they were busy with other customers. Then I got one of the best pizzas I had ever tasted (or at least this year) with Bresaola (which Valtellina is famous for, among other things). Really great place and good price of course. Ristorante Sisti