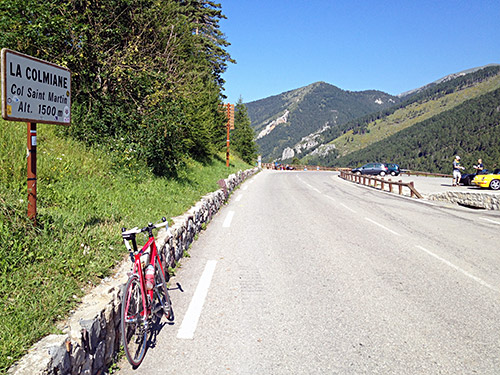 Nice morning weather. One reason that I just did not continue when I initially found no hotel to stay at in St-Martin-Vésubie was that I hope to find a bicycle shop here and was told there should be one. I had just noticed that my rear tyre (Michelin Krylion) had the weave exposed all the way around in the middle and thus time to change the tyre. It had lasted almost 3 weeks now and they usually do not last longer than a bit over two weeks of serious cycling, even if they are supposed to be "long-lasting" (other brands are no better really).
So I went down and eventually found the sports shop, but it was still not open, but should open shortly so I waited. Then came another man. We waited some time after the shop was supposed to open but we eventually both gave up and went away as no one arrived there. This was a little troubling as I really did not know when I would find a shop with a road tyre again. So certainly no Col de Salèse (2031m) with gravel today.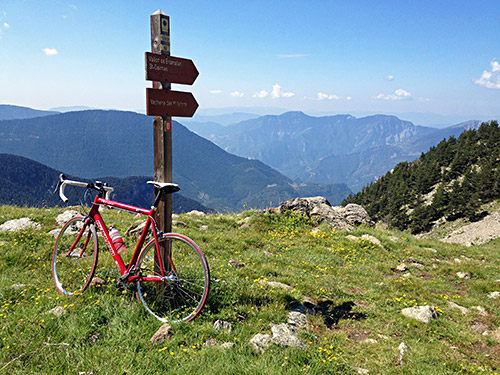 A little late I went up the Col St. Martin/Col de la Colmiane (1503m), which is another of the +1500m Alps passes I had actually not visited before. I asked about a road tyre in the sport shop up here, but he only had a pretty bad one, so I continued. I had found out about one the asphalted +2000m roads in the Alps that I had not visited was located here and decided to explore it as it contrary to the Salèse road would be all asphalted.
If coming from the Vésubie valley one has to descend a little for the turn-off (1382m) to Vallon des Millefonts (2040m).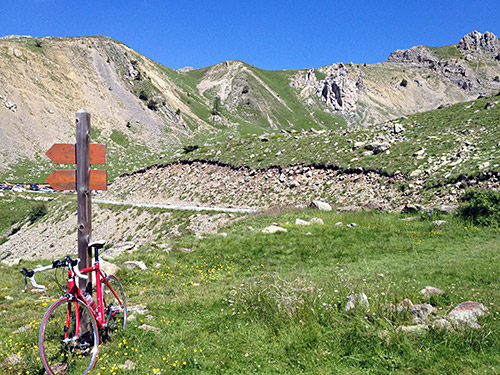 The road to Vallon des Millefonts really offers a lot of nice views higher up. Actually the road ends just before reaching the actual valley with the name in question and only a gravel track continues from a little parking place (it looked a bit too stony to be of any interest and at least not now with my worn out tyre – see the photo below).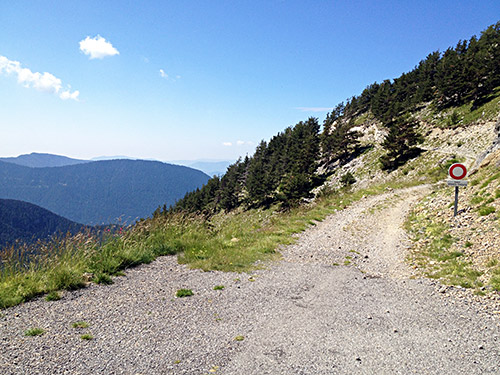 There should be a pass above here (in the photo above) that would be relatively easy to reach, but it seemed like a bit too much walking for me and I do not want to to walk long distances just to "collect" passes, there is no real point in that, even if the views might be better up there (quite likely).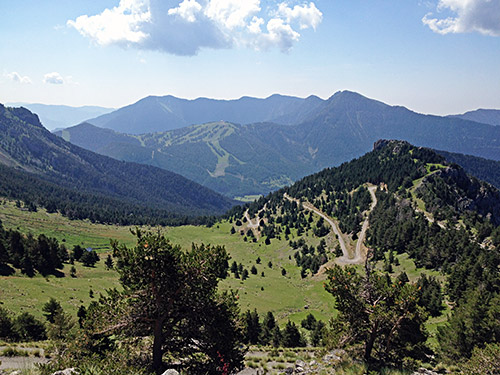 In the photo here you see the road that I climbed and further away is the ski area above Col St. Martin.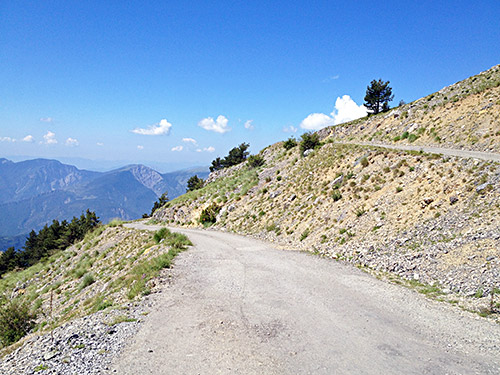 Here is a photo from the last section up with a couple of nice serpentines.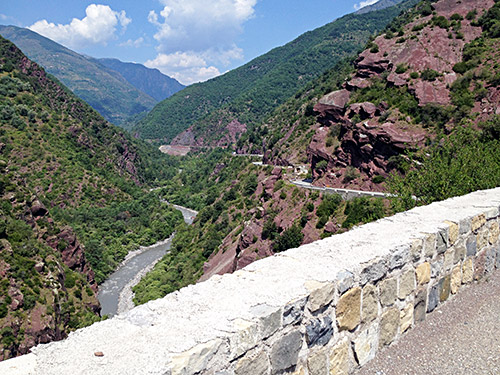 I cycled down to St. Dalmas where I stopped for lunch by a grocery and was delighted to have a sandwich made for me even here in France, but I had to go to the bakery to get bread first. It was sunny but still not so hot, but I was still high up here. This day was going to be the day with the highest temperature.
Then time to deal with the heat as I went down to the Tinée valley in the photo here. This is the road that eventually could take you to the highest asphalted place in France, the Cime de la Bonette (2802m). I only went down a few hundred metres on the main road here to the turn-off (418m) for Ilonse (1195m) high up on the other side here.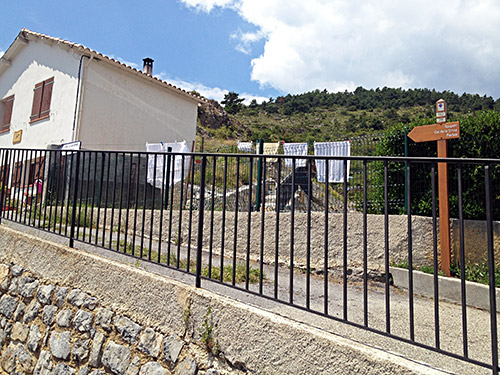 I was prepared for the heat that awaited me and thus handled it well. It was still horribly hot up here and I had to think about not going too fast and breathing and drinking (though likely I drink too little anyway, but had also been drinking a lot before the climb).
I stopped for a quick photo here in Ilonse of the two signs for the pass above both placed on a parallel road to the real one (not sure why). The walking sign says 'Col de la Sinne' and the road sign higher up says 'Col de La Sine' (if it is indeed a road sign as it also says '1 heure' (1 hour to the pass)). A cat tried to take cover in the shadows, but otherwise no sign of life here in Ilonse this day. I had only had one or possibly two cars on the climb up here. They are trying to widen the road higher up before Ilonse, but they likely cannot widen it easily lower down as it clings the rock wall there.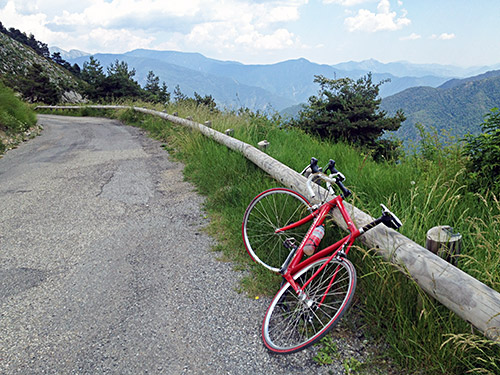 Just to continue, but it felt a little easier as the heat was not so compact higher up. But there were absolutely no wind at all. The views are fine on the way up, but arguably better still on the west side down to Pierlas! Here is the view back from the top of Col de la Sinne/Sine/Sinna (1438m). It is even without the heat one of the harder climbs in France up here (7.29% on average for 14 km), similar to the eastern climb to Col de la Couillole (1678m) (7.43% on average for 15.8 km), the next asphalted pass up here.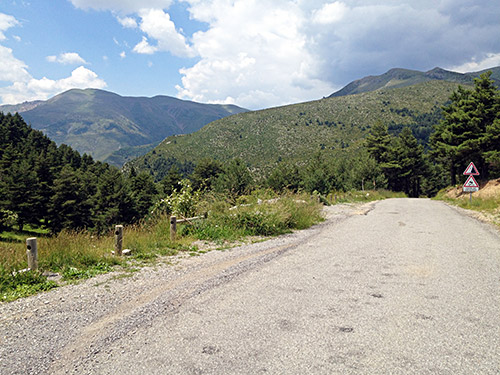 This photo was taken just after the pass down the west side.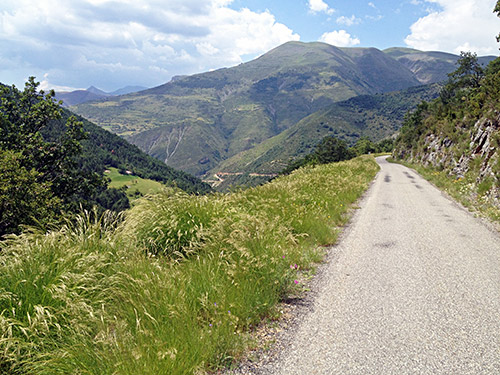 Here starts the nice open descent to Pierlas.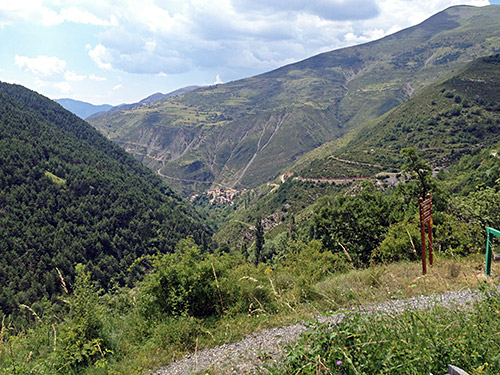 This photo was from just above Pierlas (a village one does not go through on the descent and there were no signs for any bar or shop in Pierlas and there is nothing much along the road at all otherwise either. I think there should be a hotel/auberge in Ilonse, but saw no signs for anything there either.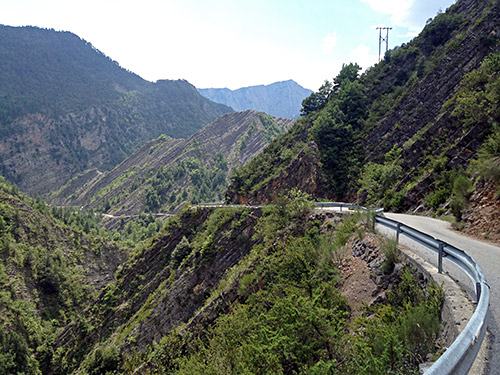 The last part of the road below Pierlas is quite interesting and clinging to the mountainsides, but it is a very good road here.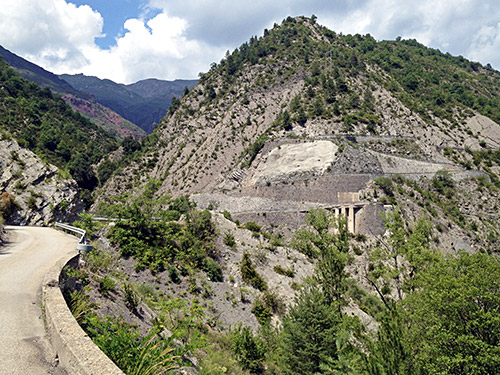 I thought I would be out on the main road up to the Gorges du Cians after those serpentines seen here, but there is still some way to go. Down at the Cians road (580m) that I also have not cycled on before and which might be one of the most famous mountain roads I had not been to before, so this was part of the reason for climbing over the Col de la Sinne, instead of the Couillole (which I would like to climb also from the east side as I only have descended that side before).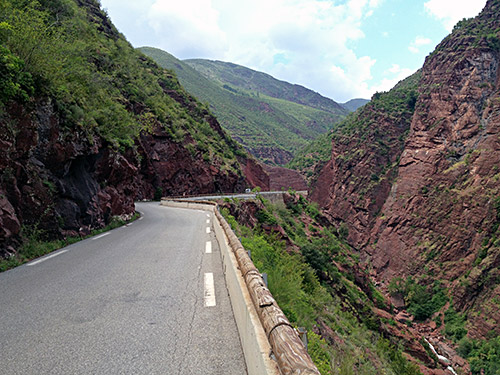 Gorges du Cians is a road looking a lot like the more western parallel road up through the Gorges de Daluis that I visited back in 2004. The same coloured mountains here (and there are many places around with that colour, but it is nowhere this pronounced as in these two gorges. (It looked very similar in the open Tinée valley as you saw in the photo above.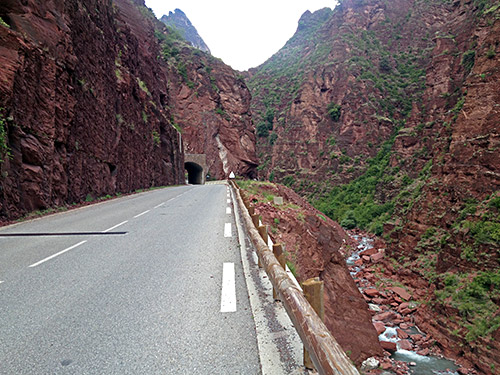 Most famous are the Cians and Daluis gorges for the many tunnels. Unfortunately the old road has been substituted by new longer tunnels at several places along the Cians gorges.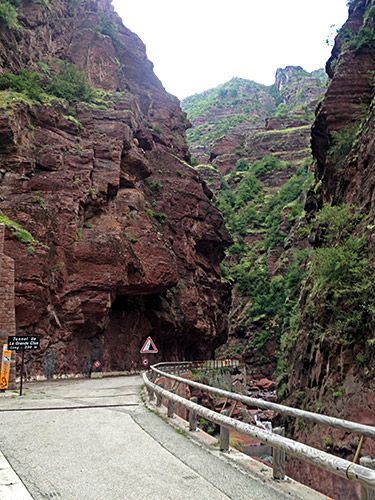 Here is the Grande Clue which is the most famous place along the road and I just had to take the blocked old road here. Unfortunately they do not keep the surface clean from small stones falling down, so there are clear risks getting a flat here (esp. with my worn out rear tyre). I guess they do not want cyclists here and prefer only walkers and there may be many of them at times. Today there were only a few.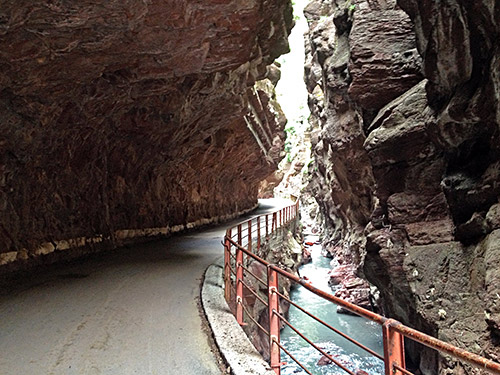 A pity it is not maintained for cyclists as this stretch is hard to beat for a nice cycling experience!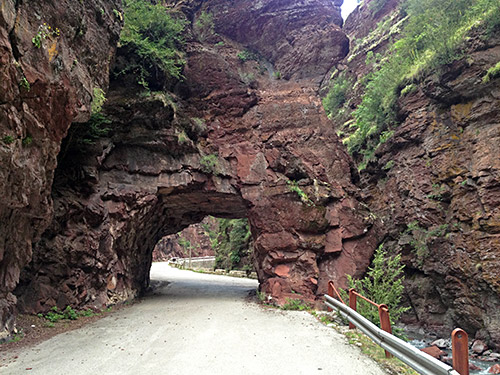 Here you can see a bit more of the stones on the surface … .
I went through the middle new tunnel and took the old road for the Grand Clue and the later (last?) one.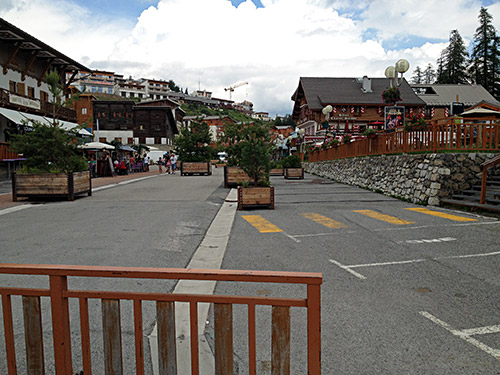 The road was climbing a lot directly when turning off the Pierlas road and continued to climb through the gorges, but then it flattens out as it comes closer to Beuil (1442m) and the landscape becomes greener and more open. I just continued through Beuil and stopped at Col de Sainte-Anne (1551m) for a photo of the pass sign there. Then there is a short dip before the final little climb up to Valberg and the Col de Valberg/Col du Vasson (1673m).
At the beginning of the Valberg village I found a little shop where they had a road tyre (foldable BBB, which I grudgingly decided would be better than nothing – as expensive as a Michelin PRO race tyre and I do not like the no-name BBB products that I think cost too much for what they offer). Also I could get help inflating the tyres and fix things up, so it was good so I could feel a bit more at rest on the next part and I would possibly not have found a place during the next day either. (Actually, I would likely have had to changed part of the route plan later on if I should get a new tyre, but maybe I could have gotten one near Grenoble.)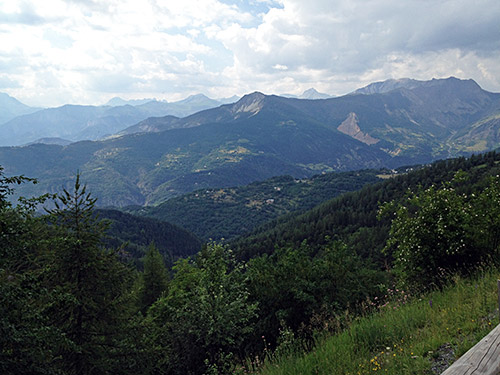 The Col de Valberg/Col du Vasson (1673m) is actually located a bit down the main road to Guillaumes at a somewhat strange location that does not look like a pass contrary to the Valberg village centre itself (above). This is likely because the original path did not really go over the Valberg village here, but this doesn't really change that the Valberg village itself is the most obvious pass location up here and is the pass that we modern people use, so I am going to maintain (like most) that the location is more properly nowadays in the village centre. (There is also higher cols along the old path, making the old pass redundant, even for walkers.)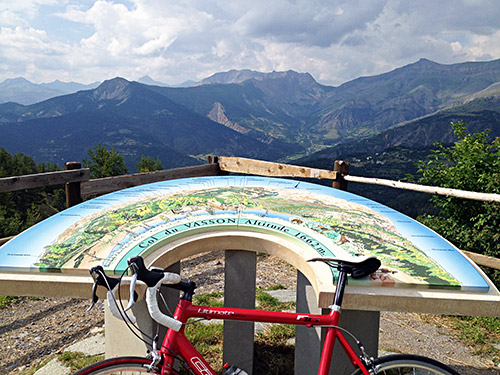 The location of the Col du Vasson (1662m) pass sign is, however, at a much more beautiful place than the Valberg centre!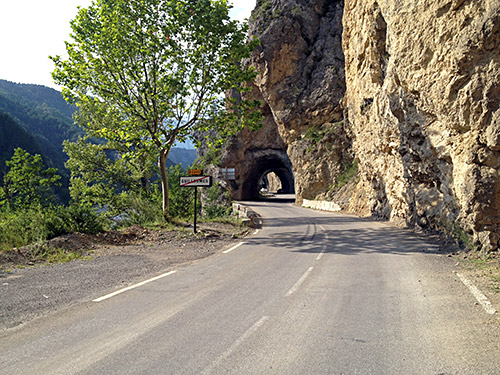 Down at Guillaumes (793m) I stopped for a quick coffee and toilet visit before starting out on the long last climb for the day.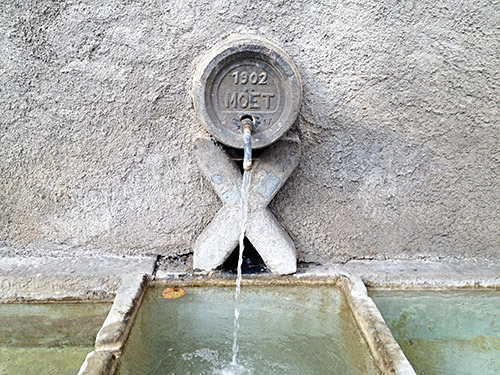 Filling up water along the way in Villeneuve-d'Entraunes (945m). Then I continued to St-Martin-d'Entraunes (1040m), where I stopped again a last time for the day to have a lemon soda and yoghurt. Now it was getting late and the weather seemed to get worse. The road ahead might not offer many places to stay at for the night as they warned me about here, but I thought there were would be at least a place in Entraunes (1262m) and maybe something higher up to from my memory of climbing in the other direction over Col de la Cayolle (2326m).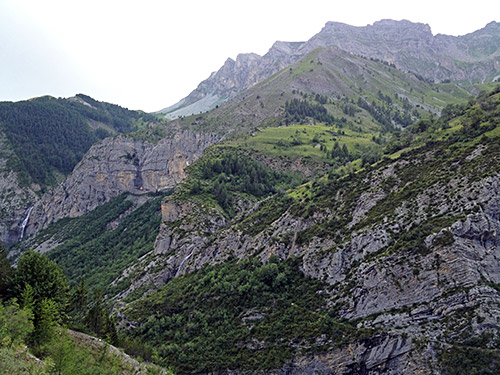 No rain until Entraunes, so I continued up the road that now starts to climb more seriously. I met two cyclists coming down early on here, but those were the first and last cyclists I saw from Beuil. In Estenc (1778m) there were a good looking hotel and maybe I should have stayed there, but I remembered staying at Bayasse on the other side of the pass last time I was up here and there was a simple, but good place to stay at for the night so I hoped to still get over and down there.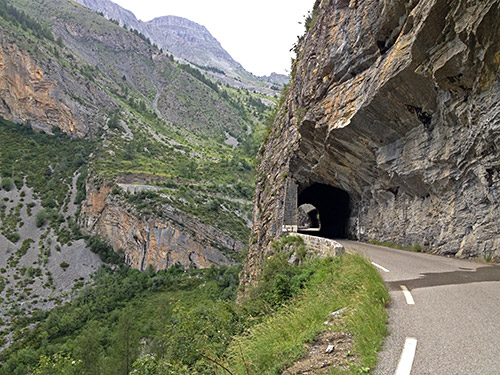 It is hard to understand exactly which valley you are climbing when you get higher up, but in short it is not the valley you seem to be climbing that you are going up through at the end, but at the valley closer the western mountain ridge that is so steep you do not quite see much of it. The valley you seem to be climbing actually goes over a higher pass – Col de la Boucharde (2539m) – but you do not see the steep end of that valley.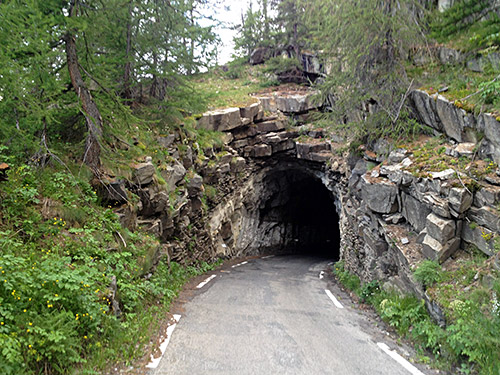 At this nice last unlit tunnel (but not totally dark) that takes you to the right valley, it started to rain and now it was getting cold, so had to go on in a good speed to keep myself a bit warm.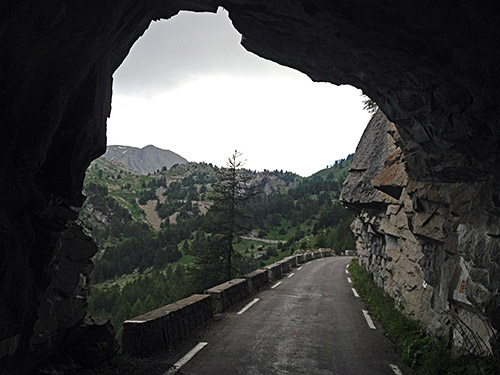 The rain almost stopped when I reached the pass and I hurriedly took some photos to document the nice pass stone and scenery there. This is a pass justly popular with cyclists and I think it is the road the authorities try to promote to cyclists. However, the road surface down the north side is not exactly cyclists-friendly, but then again no tourist information or business ever talk or think about road bikes. Road bicyclists are on their own, and let's leave it like that!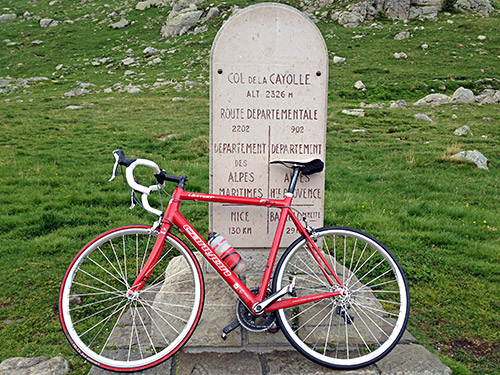 It was chilly going down here. There were a refuge (Refuge de la Cayolle) high up here on the other side that might have been open, but it was so cold up here that I really did not want to stop here and I was hopeful about the place in Bayasse (1783m).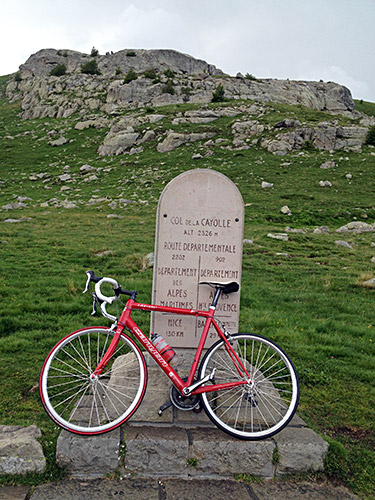 Coming down to Bayasse I could not find a sign for the refuge, but remember vaguely where it was, but apparently it was not in use any longer. I did find a sign mentioning Chambres d'Hôtes and was thinking of the nice bed & breakfast places I had stopped at in Italy and was hoping maybe this was also a good place, so I went searching for the house up the bad road here.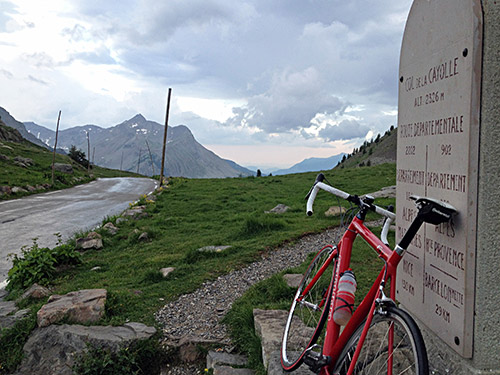 The house looked a bit funky and there seemed to be some guests there already, so I had no high hopes, but hope to get a suggestion of any other place to stay at if not there. Walking into the house a young lady came opening the door explaining that they might be full and that maybe I should try down the valley. She confirmed the refuge had been closed down some years ago, but there were a hotel down the valley and she was nice and called them, but unfortunately it was fully booked and the next place would be Barcelonnette, where I had hoped not having to go.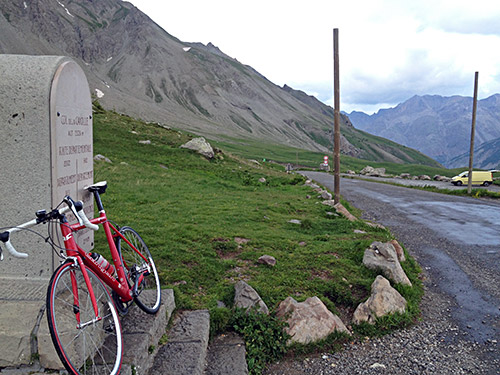 She said I could be staying there but would be sleeping in a room with others and that would be no problem as she had warned them that there might be someone more coming to share the room. I thought it was best to stay there and that it should not be a problem. However, this turned out to be more like a gypsy camp than a bed & breakfast. There some walkers in the room of which all two of the three had already fallen asleep when I arrived. I asked if I could get anything to eat after taking a shower (I managed to get a towel, even though the request seemingly came as a surprise). Apparently it was best if I was eating before the shower, so I asked if I could clean my hands somewhere. "IF you need to clean your hand you could do it here" and she pointed to the dirty kitchen sink and a very dirty towel.
Then it was time to eat. I got some bread and a big bowl of green soup which did not really taste anything. I was having a lot of the green soup as I did not know what else they might serve, if anything. But then came the main course. Potatoes with … eh, potatoes ... . Her nice boyfriend (?) came with a little salad though. Seems like 20 people lived in the little house, plus some dogs and cats and someone else outside in a tent. They all ran around and some came across as if they were friends. I walked up the wooden stairs that made loud sounds between the mountains trying to be as quiet as possible and getting to bed between the others guys there. Had a hard time to get to sleep, but fell asleep eventually after 3 am, I think. At 5:30 the other guys went up and said nothing but it was a constant rustling of plastic bags and up and down the stairs for 1:30 hours before they left and I thought that maybe I then could get an hour of sleep between 7 and 8, but was then attacked by a swarm of flies as the sun went up.