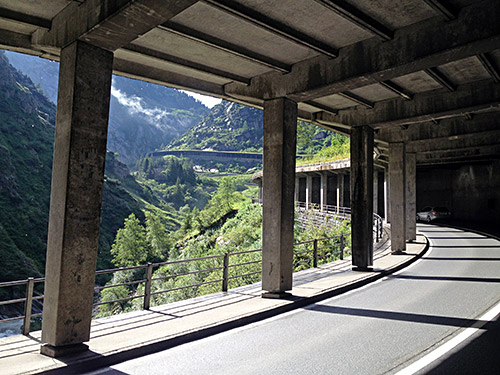 Starting from Wassen (916m) the weather was fine, but a bit chilly in the morning. It was uphill from the start so no worry about freezing though. It was almost all dry on the road too. The bad weather from the day before was like some bad dream and now it felt really enjoyable in clear weather in the heart of Switzerland. I was only a little unhappy with not being able to do some great climbs the day before and a bit worried that I would have to hurry on and miss some more climbing ahead that I had planned.
I quickly decided to skip the gravel road climb up above Andermatt to Stöckli (2440m), explored by a frequent contributor to quaeldich.de. There is also another interesting road up to Rossmettlen (2106m), but for another time. I stopped in Andermatt (1447m) at the café just next to the road going up to Oberalppass/Alpsu/Coulm d'Ursera (2044m), where I was heading. After a coffee and putting on sun cream (good to stop at cafés to do so, if one has not put it on from start as one could wash the hands there), I went on up the nice serpentine road above Andermatt to the pass.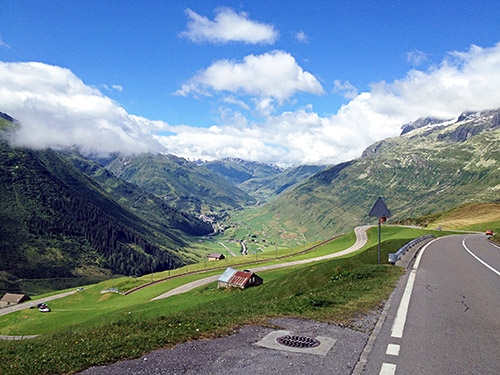 Here is the view from near the top of the initial climb. The road up to Stöckli did not look so inviting and guess the gravel was not so smooth and the road ought to be somewhat long too (but with great views).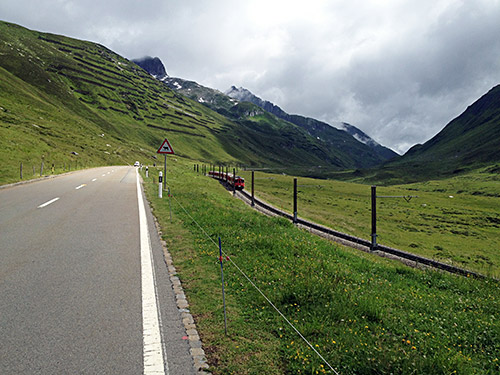 I stopped to take a near identical photo to the one from 2002, when I first went up this way of the nice looking train coming down from the pass – really "Märklinlandschaft" which you know what I mean with if you had been playing with train models and lines. The weather looks slight bad in the photo, but it is merely remnants of yesterdays bad weather on the way "home".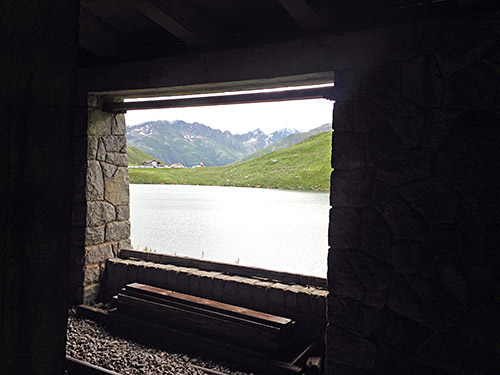 There is a gallery tunnel near the pass and you can see the actual pass through the tunnel windows. I was looking quickly into the road to Pass da Tiarms (2148m) (just before the Oberalppass), but it seemed like it is still not asphalted (and it is a steep ramp up there, that I went up in 2003).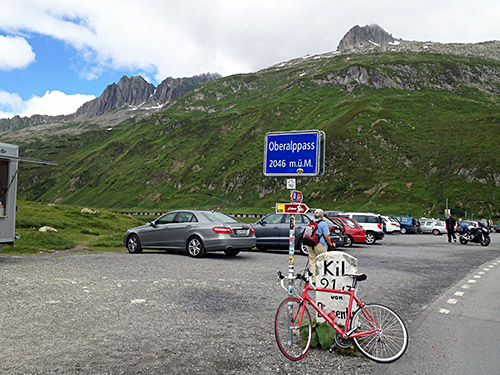 The pass itself is a nice place, but not exceptional. The climb from down in Altdorf is arguably the hardest, but on the whole this pass is somewhat easy on both sides.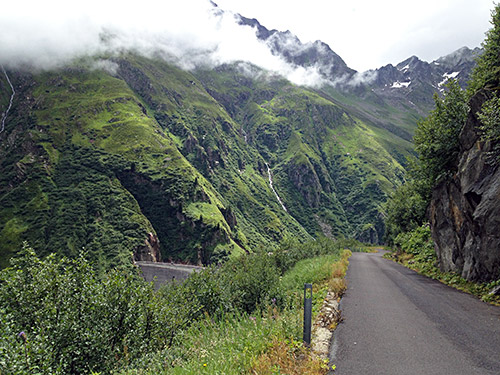 Down a few bends on the main road on the east side is a little road that can take you to Lai da Curnera (2039m, high point). The road is blocked for normal traffic, but you can continue on the other side of the turnpike on your bicycle. I had overlooked going up this road before, but my attention turned to it after seeing some beautiful photos taken from the road. Indeed this is the place to go to up here as you can see in the many photos I took here (and could not decide to leave out many).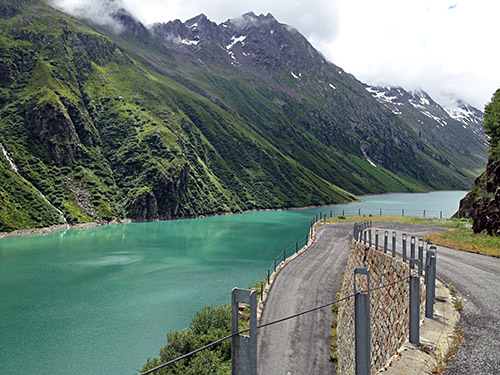 The climb starts at 1831m and goes to 2039m (5m lower than the Oberalppass) and then descends to the dam building (1958m). I only descended half-way to the dam in order to get better photos.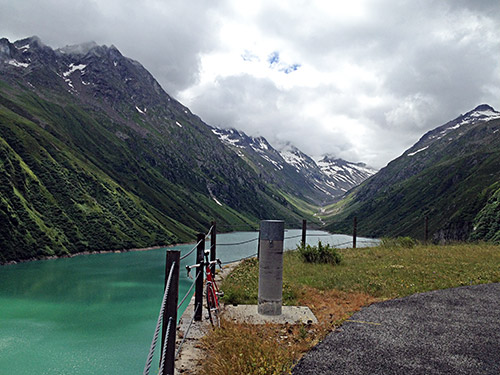 Here two photos of the lake.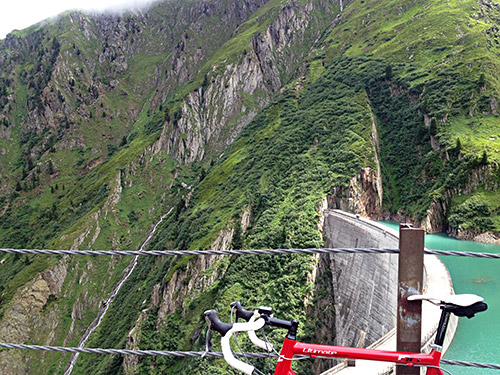 And here is the dam building built in a very narrow and steep place in the valley.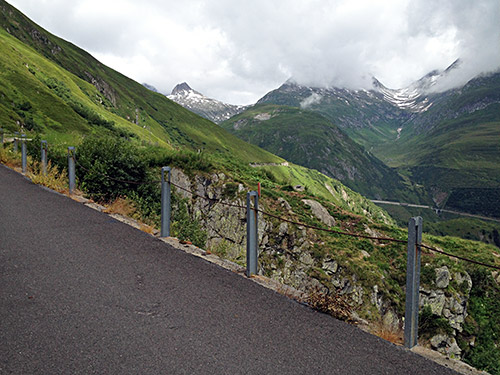 You can glimpse the Oberalp-road in the photo where I would go down soon.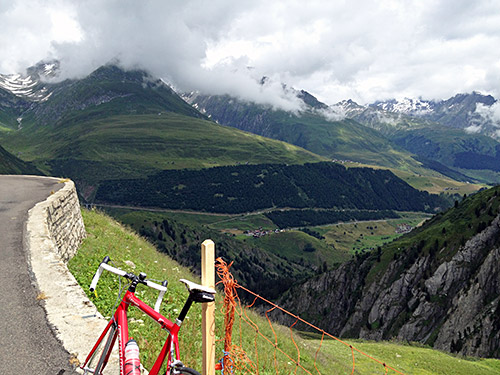 Two photos from the highest point on the road (or near).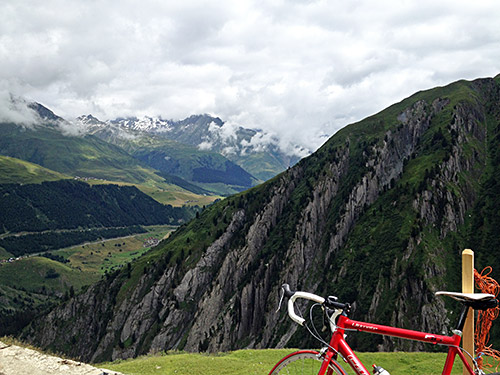 I heard some load explosions from below here and was a bit worried (not sure what it was about, but maybe some road building down below or something).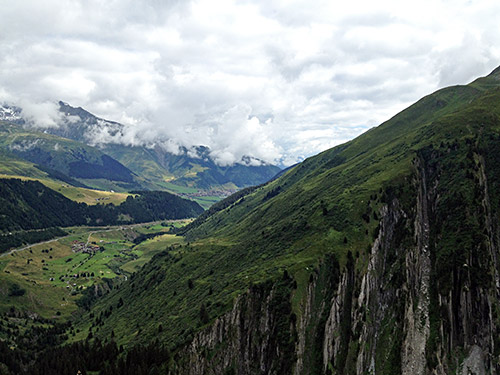 This photo is similar to the one above but show the valley down to Disentis/Mustér (1142m) better.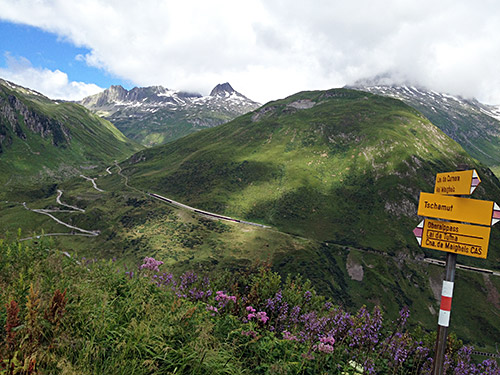 This photo shows pretty nicely the road from the Oberalppass and the Calmut (2310m) mountain that separates the pass from the Pass da Tiarms. Probably the Tiarms pass was more popular in earlier times despite being a bit higher as it does not descend quite so abruptly on the other side of the Tiarms pass and thus might have been easier when there were only tracks. There is only a foot path down the other side there today until a stream, but then there is a road that eventually becomes asphalted at Milez (1878m).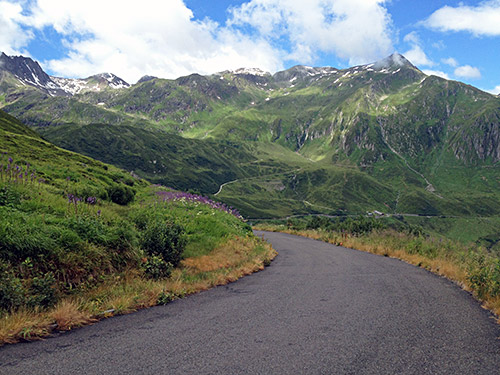 A last photo from the descent and just soon afterwards I met another cyclist coming up this road.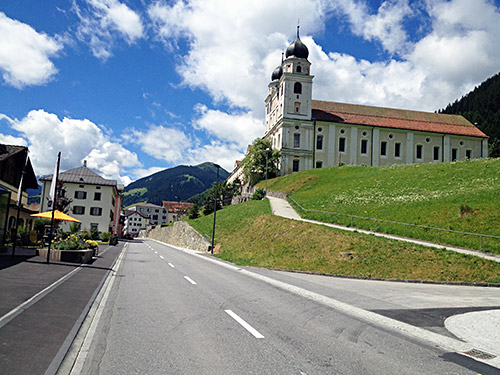 Down in Disentis/Mustér (1142m) it was warm again after a slightly chilly descent. I had thought about stopping again at a café and saw one in Sedrun, but wanted to get down a bit further. Now I did not want to stop again at the Goldmann café like last year, but wanted to find another one, so I continued down after taking a quick photo of the big and famous monastery here.
I never found another café until Ilanz though. I nearly went into a restaurant in Sumvitg (1044m), but it did not look like what I wanted now.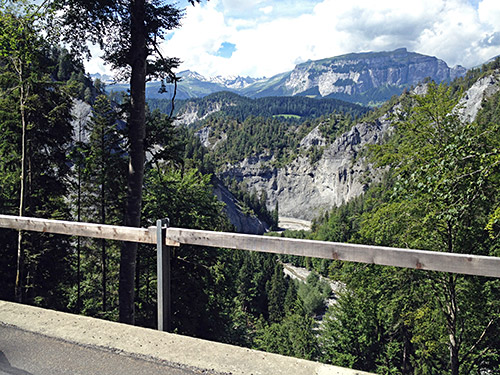 Down in Ilanz I fooled around for some time looking for a café and then bought a coca-cola in shop and then went to a bakery and bought some nice gingerbread-like cake (at half the price) to eat outside, only then to find a café between the two places and stopped there too for a coffee.
Then I cycled up on the south side down to Chur (the capital of Graubünden). Both ways down from Ilanz means going up as they have only managed to build the railway through the gorge down to (before) Chur. The road over Valendas and Versam is smaller, less trafficated and much nicer than the road over Flims (1111m) and only reaches 936m height, but it goes more up and down and therefore require more effort anyway.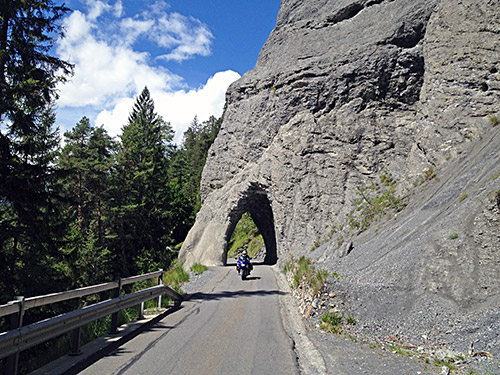 The road is especially nice after Versam, which is the only part of both roads that I had not travelled on before. So I stopped for several photos.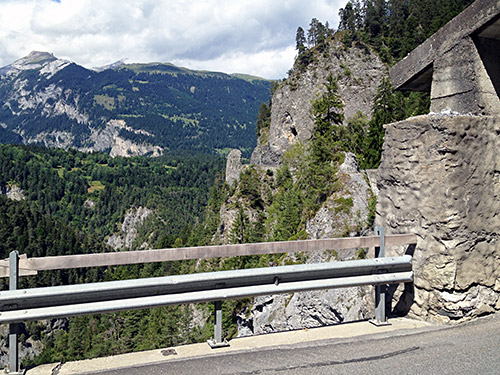 Here is the last photo from the Versamer strasse. After the corner seen in the photo the road descends through the woods toward Chur. At Bonaduz (657m), I took the short-cut road along the railway to the road going up to Thusis (720m). What I had not seen when planning the short-cut was that the road goes over the other road, but managed to get on the right road somewhat quickly anyway. Then I held a very good speed up to Thusis and was nearly giving up on keeping the tempo up as I eventually reached the town. Apparently Thusis is a "market town" according to Wikipedia, which makes sense as it is situated at an importing crossing between valleys and passes.
Thusis is likely the best single place besides Bourg d'Oisans and maybe a few more locations in the Alps, from where you can climb a very large number of interesting roads and passes in day tours returning to the same starting point. I have suggested Thusis as a base for cycling friends wishing to spend their holiday around a specific location. I stopped here again for something to drink and I think ice cream and maybe I also bought sun cream here (as I like the Migros own brand in Switzerland).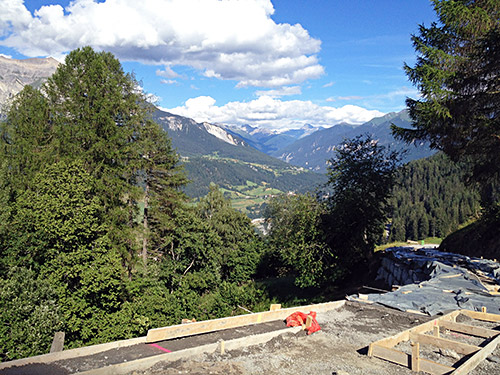 Now it had been some time since some real climbing and even though the day went rapidly on, it was now time to expend a bit more effort. I had planned to visit Alp Anarosa/Tguma parkplatz (2340m), which I very much regretted to have to leave out this time. But one climb that I had meant to do so many times before and an acquaintance writing for quaeldich.de have asked me so many times if I have finally climbed this climb. This climb could not be excused away due to being in a hurry, being too late or having bad weather. There were time for it and I could skip other climbs instead.
So time to climb up to Obermutten (1863m). The climb starts in Sils im Domleschg (683m) (one is supposed to cycle via Sils when getting up to Tiefencastel with a bicycle and so I did. As I saw no sign at the old road to Obermutten, I continued through the long boring tunnel on the main road before finding myself at the start of the new road to Obermutten. That was not an option as the whole idea with this being a killer climb is climbing via the old road, so back through the tunnel again and then it was pretty easy to understand which gravel road it was just before the tunnel. One has to climb over a turnpike, but then it is just to go ahead.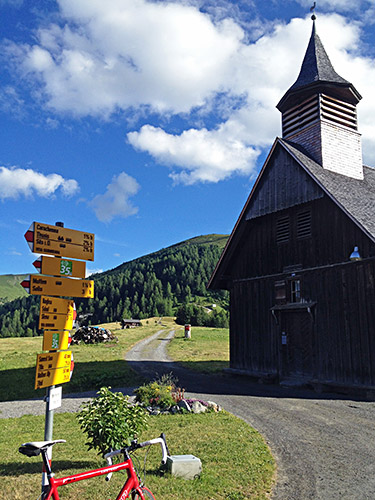 When in doubt one simply continues up following the serpentine road. It did not feel to steep at once, but gradually got steeper until it got very steep and then it stayed that steep. I met a mountain biker going down who wanted to explain something about the road, but guess he figured I would handle things if going thus far on this road already. Apart from the steepness, the gravel road is actually good enough for a road bike – I hate to tell you, but that is not an excuse here really! The road seemed endless (unlike how it looks on the map).
I was starting to feel really exhausted, but then got a surprise that I had very mixed feelings about. They had just put concrete pavement for the wheel lines up the road which made the steepness much easier and I felt like cheating waiting to climb the road until it got some pavement. Just decided to be happy about this now turning into a great road, but then got irritated as my hope to climb to the top without stopping came to an abrupt halt where they had not yet finished the concrete strips. But after a short walk I could bicycle up the short last gravel stretch to meet the new asphalt road in Mutten.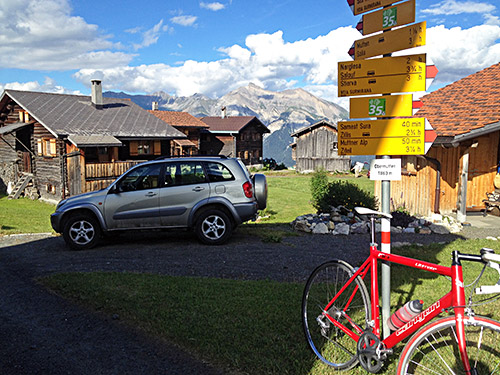 The road is in not much less steep up here and the asphalt then runs out again as one comes above the village. The climb continues relentlessly to the top (not quite as steep for the last part). The Obermutten climb (from turning off the main road) is 13.4% on average for 7.5 km (from Sils it is 1180m up with 9.2% on average for 12.8 km). 13.4% on average is hard enough to deal with on an asphalt road, but then this is a gravel one apart from 10-15% of the way, so it is a road justly regarded with much respect by road cyclists.
Above in the photo is the famous little church in the village, which I learned in 2008, the year after spending my holiday in Telluride, Colorado, USA from a local in Zillis (below on the other side) that a girl from Obermutten married a guy from Telluride and they built a replica of the church there, which I likely had been passing by on bicycle when I was there.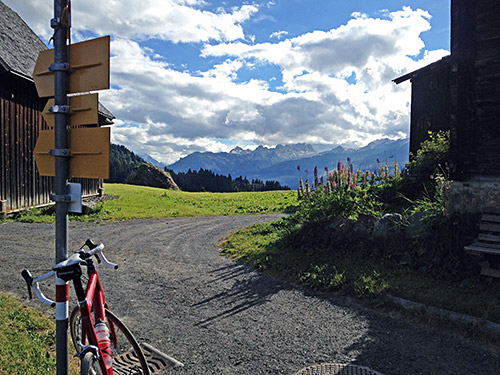 Obermutten is itself an obvious pass location, but without a pass name.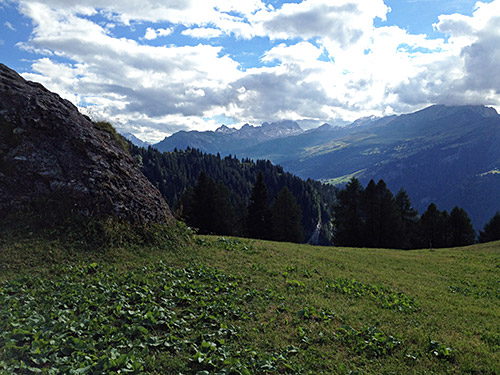 Here I look up toward Splügen and the Lai da Vons area.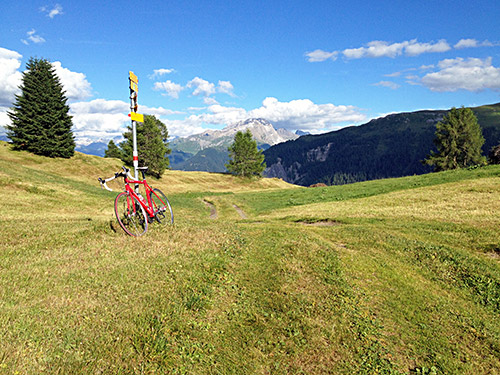 I had talked with the Club des Cent Cols manager about whether there was not indeed a little pass along the walking track up from Obermutten and he asked me to get back with details on it if I went there, and as the weather was outstanding and I did not want to go down at once, I tried to cycle up there, but the track got a bit too bad and steep at one point so I decided to walk up instead as it was not so far. We have got this pass confirmed now with some extra data that Pierre found about the names. The pass place in the photo here is called Oberi Furggla (1936m) (the Swiss map says Furggla nearby, but different sources I found indicate that the pass location is indeed referred to by the name Fuggla. It is also the pass one climbs on foot when taking the famous Walserweg to Obermutten.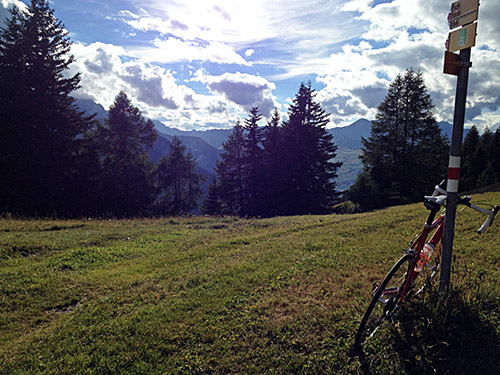 I also got some great views when going back down again as seen in the two photos below.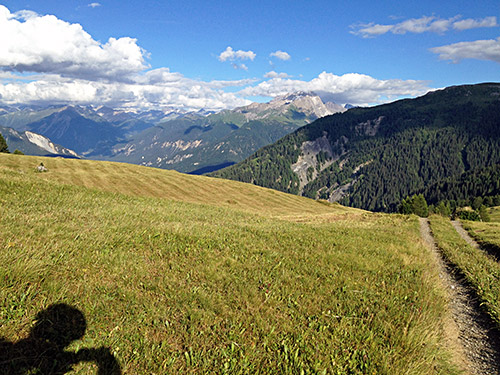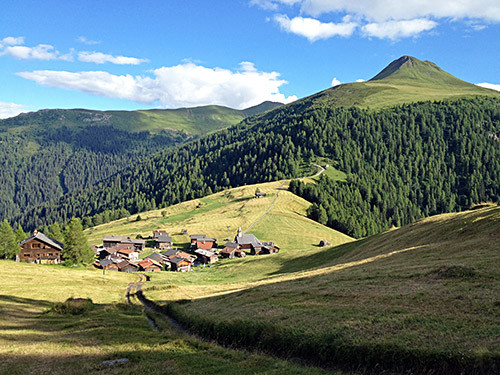 Cannot be much clearer that Obermutten is also a pass and also a very nicely located village (photo)!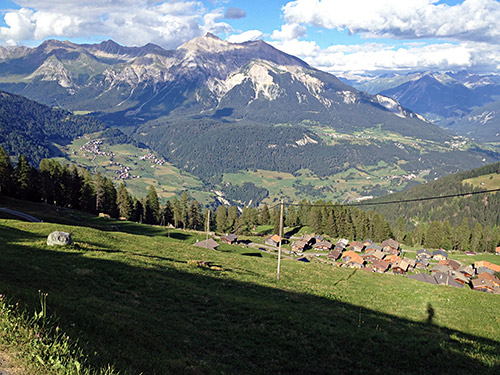 Here I look down on Mutten and the woods I had climbed up through (with the Lenzerheide ski area mountains on the other side of the valley).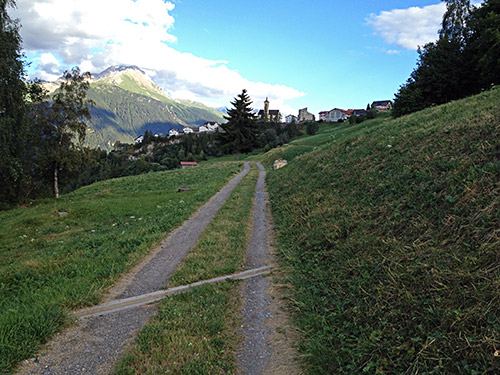 Now I took the new well asphalted road down (including a long tunnel, which was apparently why it took so long before that road was built). Before getting down to the main road I had found out about a "short-cut" road to Stierva (marked as private). Now taking this road was a bit of gambling as I had not managed to find out any evidence of the quality of this road or if it would even be possible to make use of. I had noted that it had been mentioned as a suggested mountain bike route at one place, but no photos anywhere and the satellite photos gave no indication as it is through woods.
I could have gone around to Tiefencastel and up through Mons on a totally asphalted road, but this looked more fun for some reason and a more direct and obvious choice. I found the right road after double-checking with my maps. The road did not look very good, but I anyway decided to give it a try (I never learn …). In this case, however, it actually improved a little and there were remnants of asphalt at several places along the road for those looking carefully! ;-)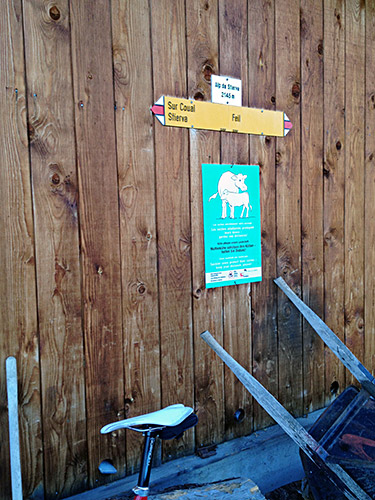 Eventually I was greeted with this great view of the nice Stierva village. The road was all cyclable to Stierva, but slightly bad in a few places and the last part had some options (the upper road that I took was maybe a bit stonier than the one straight ahead coming into Stierva at the bottom, but I was not sure it would get me there).
In Stierva I was looking for a place to stay at for the night and there was one place, but it was closed. I asked some people in the upper part and they said that there should be another place to stay at in Mon. As it was a bit late I wanted to find out what my options were even though I was not over with climbing for the day. I asked the people I talked with if they also knew that the road to Alp da Stierva was all asphalted as I had figured out and yes they did, but noted that it was not quite true as there should be a short stretch of gravel also (which I had not manage to see when looking closely on satellite images – which is always nearly hopeless to be sure about from such images).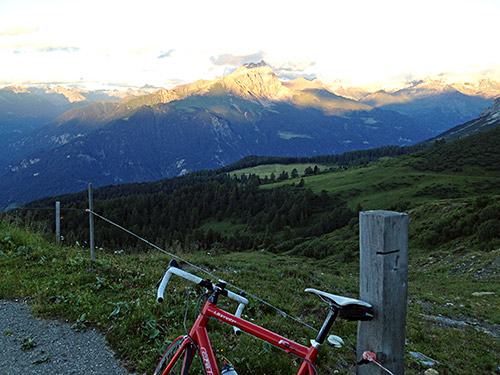 I went ahead up Alp da Stierva (2145m) (the road from Solas started at 1060m). One should follow a sign for Katherine's hütte or something like that (not much anything else signed for anyway). I was nearly going wrong at one place anyway and it is somewhat easy to do, so if you go here, make sure to study the map and have it or notes with you, but guess you will soon have to turn around otherwise anyway.
This climb was really as lovely as I had suspected. A great very narrow road with increasingly good views higher up. There are two short gravel passages and the first is like 30m just a little after Stierva. The second part is like 70m and comes shortly before the end, which is all fine asphalt and the asphalt is perfect otherwise too.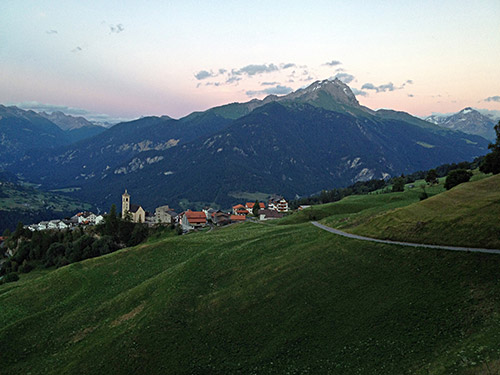 There were some people up walking in the nice evening and man going up to sit and have a beer under a tree with great views made much sense. The second to last alp is the one actually called Alp da Stierva and also serves as some religious resort and it was actually through their website that I eventually found one photo that gave away that this road was asphalted – nowhere else is this mentioned or noted and it is the only photo I have found showing any asphalt here. I said hello to one of the people here when passing by over the last gravel part to the final farm which has a prominent walking sign on the house wall saying Alp da Stierva 2145m (it is called Alp da Gaglignas on the Swiss maps). I had some ache in my feet as I climbed up this last part (mostly because of the harder Obermutten climb before).
Smashing views up here and I think they were the most outstanding I had this year, which my photos here does not quite convey, but maybe you can imagine. Then the battery ran out of my bloody iPhone 4s, but managed to restart it to take 2-3 more photos luckily, but it was stressful as the dark began to fall and I had to be patient. When I should jump on the bike to get down, the owner at the top alp came up in a Volvo car (oh well, did not feel so foreign then).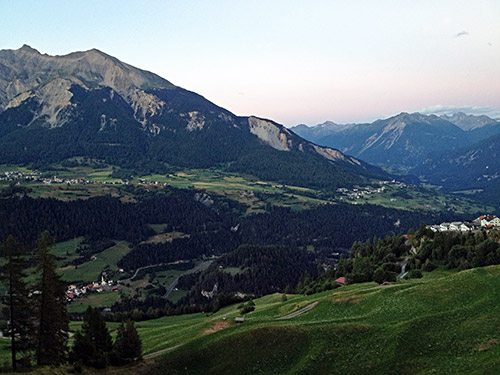 Great evening and I stopped again for a final photo just above Stierva. Then after looking a little more in Stierva after a place to stay at, I continued to Mon, where it seemed like the suggested place was also closed for the day at least. I asked a guy in the centre, but they really had no suggestion more than continuing to Savognin, but that road is not all downhill. From Mon (1231m) the road climbs to Del (1339m) and then continues down through Salouf where I also found no place to a bridge (1136m) and up to Cunter (1183m) by the main Julierpass road.
In Cunter were a simple hotel that turned out to be a good place. I got a sandwich and a beer or two. Breakfast would cost as much as lodging, so I agreed to skip the breakfast and thus got as good price as before (it was cheaper on the whole in Switzerland than in France). Savognin was only a few hundred metres ahead so easy to get something for breakfast there in the morning. A great day!