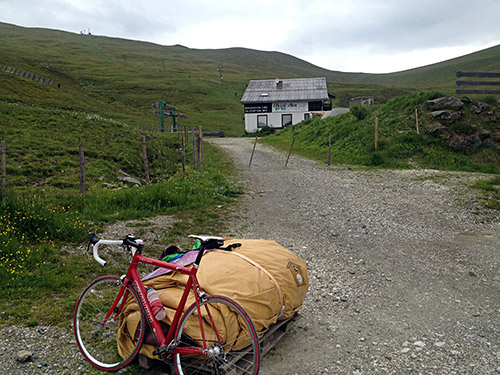 The day started fine and I got a ride back to Himmelberg (682m) from the hotel out in nowhere. Slightly cloudy today, but no rain and perfect temperatures, so perfect for cycling. It was uphill at once up to an unnamed pass called Auf der Preggam (948m). The main road continues up in the new valley following the Gurk river. I stopped early in Gnesau (973m) for a yoghurt and coca-cola. Nice little village. Two local cyclists came by fast as I was sitting on the bench.
I did not feel overwhelmed by enthusiasm for the first real climb of the day and the start of the climb was very visible as I approached the road up to Falkertsee. This is a hard climb with an easier middle section. It could have been more sunny. It is also not so fun with all these cul-de-sacs roads I am left with these days when trying to find really high roads I have not visited before. But some of those roads are fine, but this one was really on the bottom on my wish-list for the year and mostly wanted it done so I did not have reason to go here again, but the nearby Nockalmstrasse is fine enough to merit more than one visit for sure!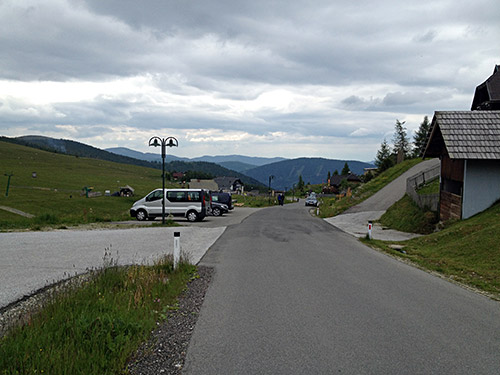 The last stretch of the climb is worst up through the alp houses, but the road eases off a little at the very end by the restaurants and ski hotels. The end of the asphalt is by the Heidi hotel (1887m) just above the Falkertsee. From there a track/path goes up to Hundsfeldscharte (2170m), but it was too long a trek for me to be of interest. There a has to be a possibility to get close on the bicycle or else it is no fun. I did some walking earlier, but it was mostly because I did not know of the surface ahead and did not want to go back.
The weather was a bit gloomy and even if I have 2-3 more photos they do not add much to the two here. I stopped and filled my water bottle and went down again 15 minutes or so after I arrived. Mission accomplished.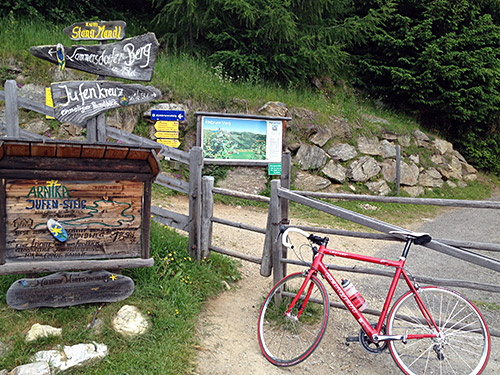 When I was almost down the road I remember there was a shortcut road over to Bad Kleinkirchheim and there is a private road, which worked fine to Wiedweg (1030m) from here the road climbs shortly to another unnamed pass by a golf course at 1102m. Then full speed down to Radenthein (700m) and further down to Döbriach (598m) by the Millstätter See.
At Dellach, it was nice by the sea, but now it was time to start climbing again. It is rather steep on the main road up to Sappl (805m) and then slowly uphill to Lammersdorf (854m). This is the real start of the terrible climb up to Lammersdorfer Hütte (1646m). It is only slightly less steep on average for 5 km than Monte Zoncolan, but still over 15.2% and it is more consistently steep. It was now hot in the middle of the day and I cannot say I was too happy about the prospect of going up here and wondered if I could somehow rationalise away having to do it. It was supposed to be one of the climbs I could skip if I needed to. I decided to stop at the restaurant by the start of the climb to have lunch and think hard about it.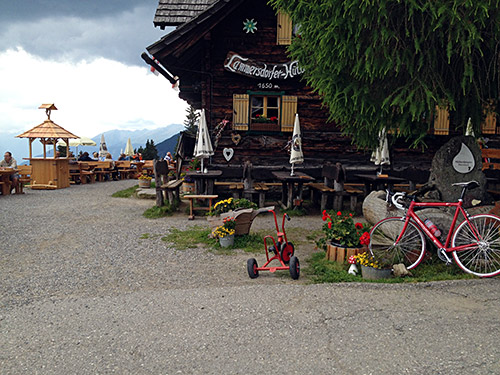 With the head in my hands I finally decided I really should do it and it would fit in well with the aims and plan for the day. Up I went and soon there is a small toll both I passed by and one enters the woods and the relentless climb starts with virtually no point where it is getting easy for the next 4 km (ca. 15.4% on average). Only at the last little stretch is less than 15%.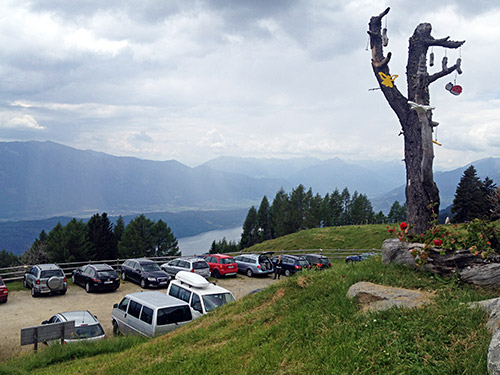 One could continue on a gravel road up to Lammersdorfer Berg (2020m) and I believe it could more or less be done on a road bike, but from what I understand the road becomes less good the higher one gets. It looked good at the start, but also not that steep and I thought I had done enough when getting to the hütte. I stopped for a Radler (a bit like English Shandy, if it is still sold in England (it was served everywhere in the 80's but have not seen it at all on my later visits there)) and a little talk with some Dutch tourists.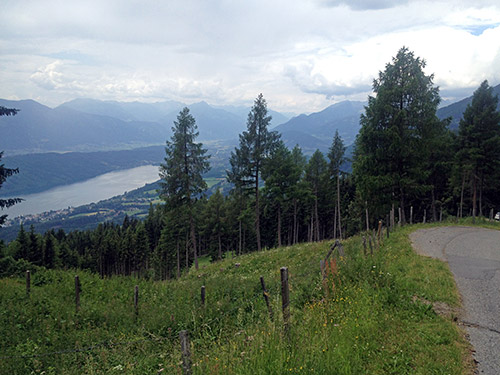 On the way down I could enjoy the few places where one could overlook the Millstätter See. I felt happy when coming down that I after all decided to do the climb as I have been looking into doing it for many years and it is one of those mythical climbs on the classic lists of truly hard climbs in Europe created back in the 90's when there were very little information to be found on these climbs. I saved the lists on my website as it looked as if the authors had abandoned them and could only find them archived with some links missing. The lists: first & second.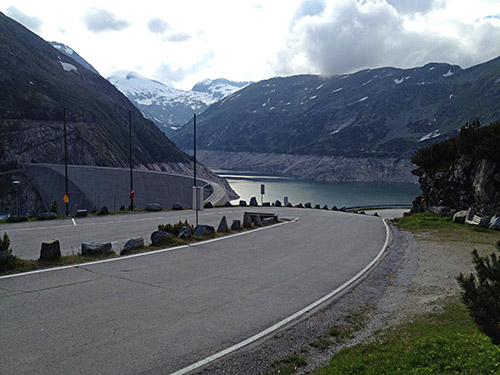 Now I continued according to plan over Treffling and the Trefflinger road to Gmünd (736m). This road climbs a lot and also has rather poor surface for some kilometres in the woods. I stopped in Gmünd again for something to eat by a grocery before starting out on the long road up another cul-de-sac that I also for long have wanted to visit.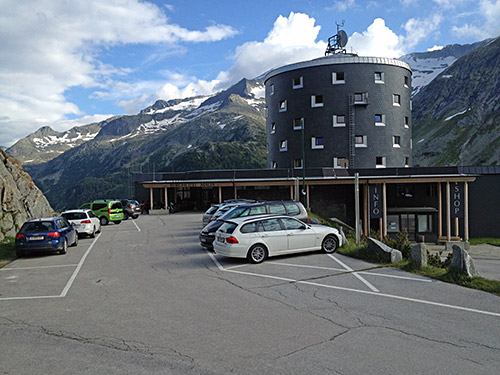 The Maltatal looks like a really long valley going nowhere else than to a big dam, the Kölnbreinspeicher, on any map. It is something like 29.3 km to the dam and the first half of the way is a flat road through a pleasant valley. At the tool booth the climb starts and from here it is a lovely and varied climb with nice waterfalls along the way. There are some tunnels along the road and the first set of tunnels are traffic regulated, but I went a bit ahead of the cars so I could go through the tunnels before the cars and motorcycles came up there (not so many). Neither these, nor the tunnels at the top are totally pitch black at any point (as far as I can remember).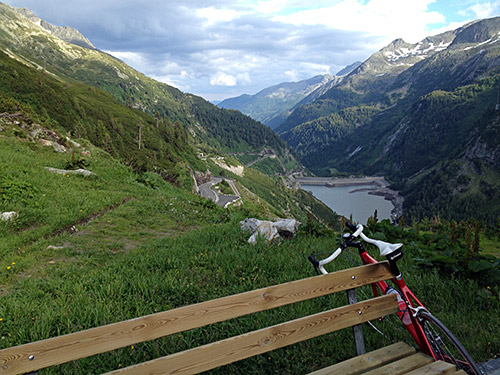 The views are really great when one eventually reaches the dam and the landmark hotel at the top. The asphalt road reaches 1932m by the restaurant entrance at the back.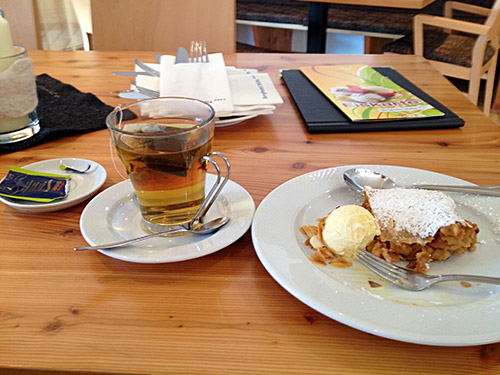 I decided to forget about time and stopped at the hotel for an Apfelstrudel with ice cream and a very nice peppermint tea. Then had a little look at the terrace where only one couple came out while I was there and the views are the best from there. A mountain bike guy had come up after me, I had noticed when a little after the toll station, but I guess I raised the speed a little, but now I saw he had arrived too.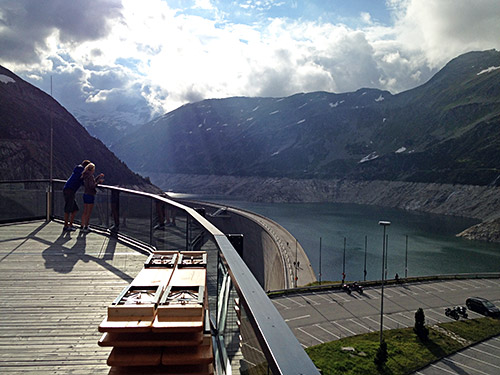 I went down again and met a lot of cattle coming up through the first tunnel from above making a big noise and I had to make my way through the sheep and said hello to them and the shepherd. Then I stopped for a last photo and then the mountain bike man came by down. I just about managed to catch up with him as we passed by the toll station again and spoke a little with him on the way back to Gmünd, but then went ahead.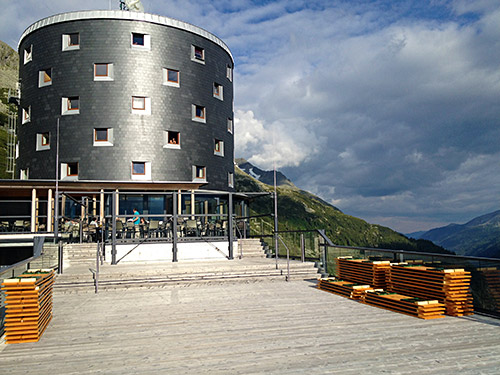 I continued on the main road by the river down to below Karlsdorf. I had originally planned to end with yet another small climb over a minor pass called Hünersberg (1127m), but now it was getting dark and I had done three major climbs (that are also three BIGs).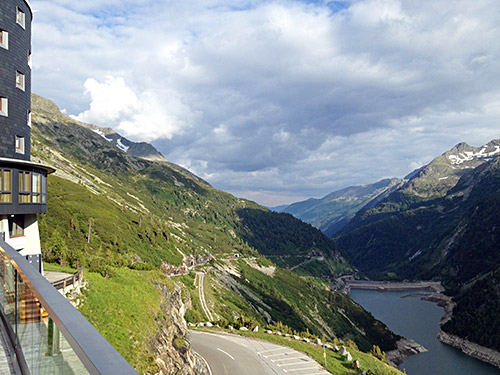 I got in a short while to Pusarnitz, which was my planned goal for the day and found a gasthaus, but they only operated as a restaurant these days, but luckily they knew of a bed & breakfast in the village and after a while I found the entrance there and had a room for the night and got back to the gasthaus to get a pizza (I believe) to eat. They first said they were closed when I got back, but then were nice enough to serve me something. They were busy to get going to a festive event up the next village. It was apparently the firemen day that were celebrated with big fires up the hills. I wanted to join them, but as they suggested it would likely be a long walk back late, so I were reasonable and went back to wash my clothes and prepare for the next day instead.