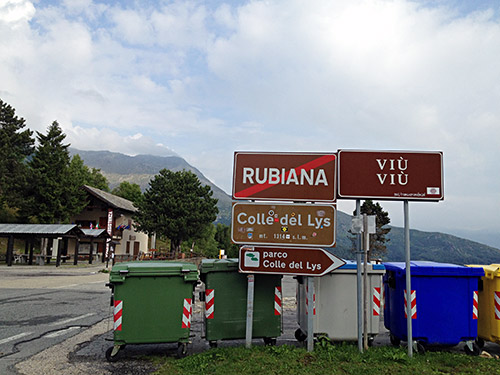 The morning started with a nice wheeling down the Colle del Lys/Col del Lis (1310m). I forgot that I had planned to try a steeper more direct route down, so I would learn a new way up there, but when you go down it is always more fun to go down the fastest and easiest way. The weather was dry and no apparent rain, even if it was cloudy weather today.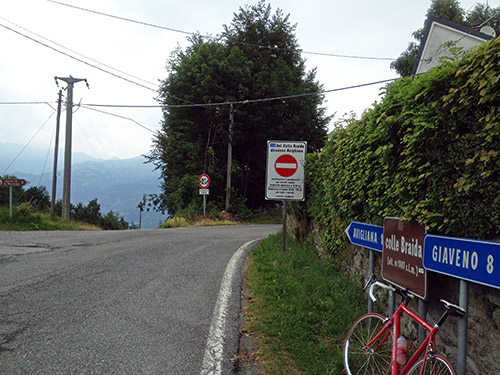 Down at Avigliana (346m) I fooled around trying to find a grocery and also the way up to the next climb, the Colle Braida (1006m). After cycling around I found a small grocery and stopped to get a coca-cola, sandwich and banana. Also asked for the road, which was nearby in the seemingly wrong direction (to me). One first comes up to a lake and here it is nicer, then one turns off on a rather small road and here comes the cyclists. This is a very popular climb for cyclists in the nearby Torino area! I had company with some others early on that overtook me, but after a while I left them behind.
The climb is really for Sacra di San Michele – an impressive religious complex on the Pirchiriano mountain, but the road continues higher to the pass. I waited and hope to get a better view of the buildings from higher up, but then lost sight of it, so thus I took no photo, but you can easily find many on the Internet, like this photo taken from the Colombardo pass (which I believe has a bit too bad gravel for the last part on both sides for a road bike).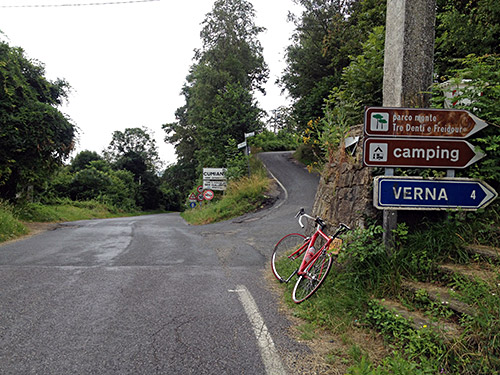 From down at Giaveno (459m) it was an easy climb up to the little pass of Colletta di Cumiana (618m) with a light rain most of the way, which stopped after reaching the top. Then in Cumiana (a nice village) I stopped for a coca-cola. Tried to find a good ice cream place but turned around at one place and then decided to continue to Pinerolo. I took the big main road to Pinerolo (not so many good alternatives here). Eventually I got into the centre and stopped for an ice cream and coffee here instead. Most ice cream places (most of the best ones, it seems like) never offers coffee, but it is nice to have something to drink also when cycling, even if only a coffee (sometimes you get some water to the coffee and then you get as much to drink almost as if you bought a soda, so just as fine or better).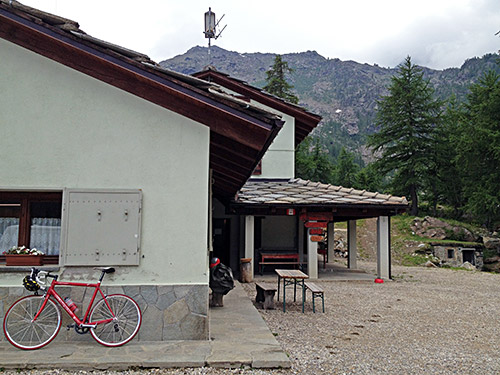 Then it was a long ride again on somewhat big roads (think I took a bigger more out on the plain road than necessary) to Ponte di Bibiana (421m) and Torre Pélice, where I stopped again for an iced coffee. From there it was a nice ride up the Valle Péllice. Half-way between Villar Péllice and Bóbbio Péllice there is a road going over the valley to the south side and a sign saying Rifugio Barbara. This was the main climb for the day as I it would turn out that I only got a bit of the way up the last climb for the day later. Turn right and you soon see a new sign and after a short while come to the definitive start for the climb up to Rifugio Barbara Lowrie (1753m) and the sign says 9 km. There is a water tap and curiously even a chronometric station for cyclists wishing to take their time (doubt it has been functional in recent times and also saw no end station up the road as there should have been).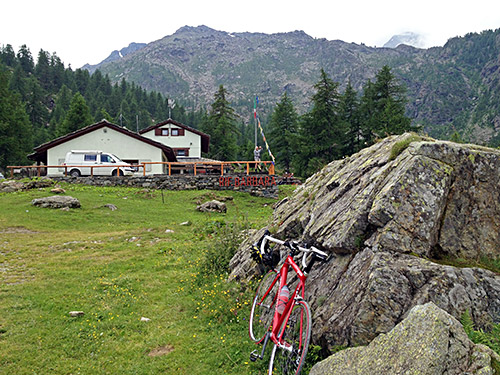 The road starts out nice and easy, but it is very narrow and not with the best surface. After a while you likely go as nervous as me as this was supposed to be a really hard climb and now the kilometres goes down to 7 left before it starts to get steep. After kilometre 3, the next 6 km will be at 12.9 % on average and really unevenly steep too, which is always worse. It was in all honesty a really tough climb and I had to fight really hard in some places. Moreover I needed to visit the toilet I noticed (do not really want to mention such details normally, but here it was problematic). When I finally reached the rifugio I was met with the view above where there is a sign pointing to the right for 'toilet' … and thought struck me that it might mean the little open stone building to the right … could it be?? Luckily they had good facilities around the corner in the main building.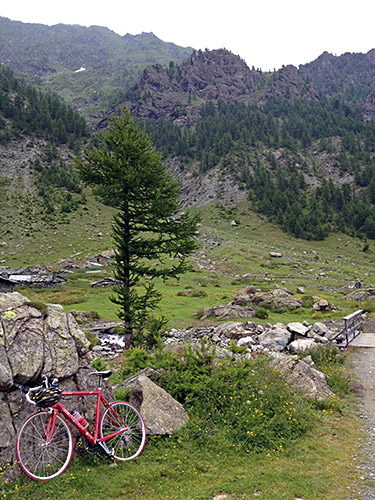 The weather looked ominous most of the time, but I was lucky to have no rain here. I was also lucky that there were not more cars on the road as it is hard enough as it is without cars getting up and down here.
In the photo here I look up in the direction of Colle/Col Barant/Colle del Baracun (2375m) (that one of the signs down the valley was mentioning). If the road had continued asphalted to that pass it would quite possibly have been the hardest asphalted road possible to climb with a normal road bike in all of the Alps (or anywhere). The gravel road is too bad for a road bike unfortunately. I went down again to Ponte di Bibiana and took the main road to Barge (confusedly got into a small road in Villaretto and eventually went back to the main road).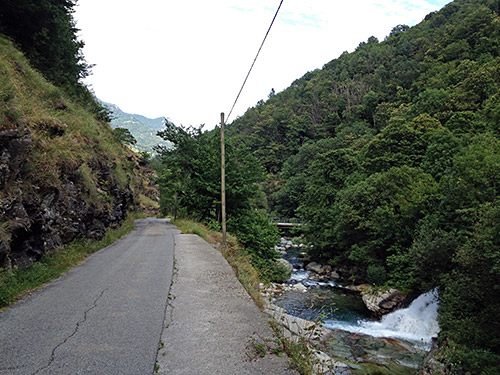 In the photo here you see the first flat part of the climb up to Rifugio Barbara.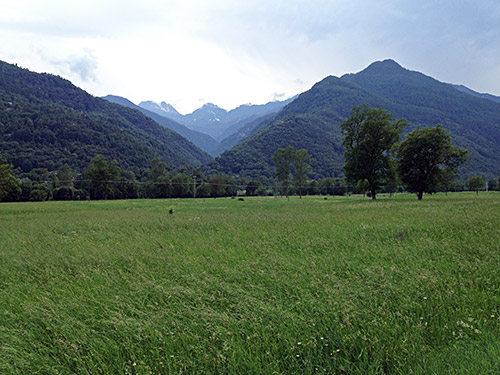 And here is how the valley up to Rifugio Barbara looks from the main road down the valley.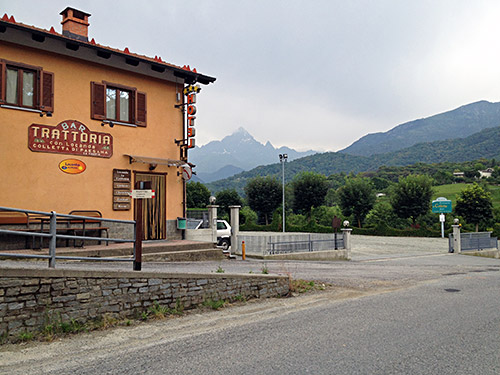 The climbs thus far had taken quite some time and now it was already starting to get a bit late when I came to Barge (376m), but surely I would not stay there and continued to the next minor pass (and were a bit confused about the badly sign-posted road but it was the one I thought all the time). I met two cyclists on the way up the Colletta di Paesana/Barge (612m), where the asphalt was bad again and we had a careless driver coming down just at the time. From this pass one has a nice view of Monte Viso. The hotel at the pass looked well placed, but it was still a little early to stop. I usually do not allow myself to stop before 20 pm, but then I better try and find a place before 20:30 if possible.
I had omitted today also the Colletto del Montoso (1254m) and continuation to Ruccas/Rucas (1551m) from the original plan. Always try and strike out passes under 1500m and cul-de-sac roads under 2000m first, with some exceptions.
I did not really want to start on the next big climb as I knew now that I was really too late to get up and down before the dark and even if I by luck could get a place to sleep at around the top of the climb, this was the Pian del Re at 2020m height and would be a bit too cold for me in the night, I think. Anyway, as soon as I started out on the climb around the last photo here up Monte Viso it started to rain rather unexpectedly (as it seldom starts so late in the evening). But now I of course had trouble finding any place after Paesana (612m) to stay at. I went on in a close to furious speed to try and get to the next village before I got all soaked.
After some tiresome climbing I eventually reached Crissolo (1320m), which is like half-way up from Paesana to Pian del Re. I decided to stay at the first albergo I asked at and even if it was not very cheap, it was good and well located. I guess Crissolo is slightly touristic so that may drive prices up a bit, but still it looked somewhat simple here. (I would never pay over 50 euro for bed & breakfast in Italy and I think it was like 50 here. If one could dinner also for not a lot extra then it might be worth to stay even if the B&B price itself is a bit higher than normal.)