The tour this year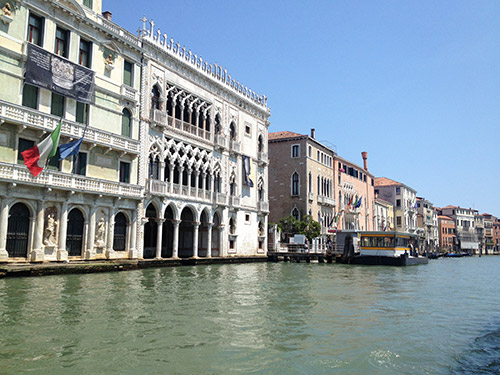 Another, possibly my last tour of considerable length and scope. The tour started with a quick visit on foot in Venice/Venezia and the cycling started the next day from Cortina d'Ampezzo in the Dolomites. For 30 days out of 31 (one day with constant raining and train riding) I cycled 4495.4 km (149.8 km/day) which is far from any record on my part, but the height metres (and the quality of the roads) makes up a bit for that with 106701 height metres (3556.7 m/day on average). One of the 30 days with cycling was also very short as I did not start until after 15 in the afternoon from my sister in Chamonix.
The tour went in a ∞ around the Alps. I started going east and then up through Austria and back west and down to Italy and eventually all the way down to Ventimiglia and back up north through France and Switzerland and then crossing my route in Tirano into Italy and back up to Cortina. From Cortina I went with car (together with the very nice Enrico) to Namur in Belgium, where we then spent 5 days cycling in the Ardennes with a group of 'BIG' cyclists, before I returned back home from Brussels on my birthday the 9th of August.
Note: Internet Explorer is not recommended. Instead use a good browser like Opera, Chrome, Safari or Firefox. These pages looks best in Safari on a Mac.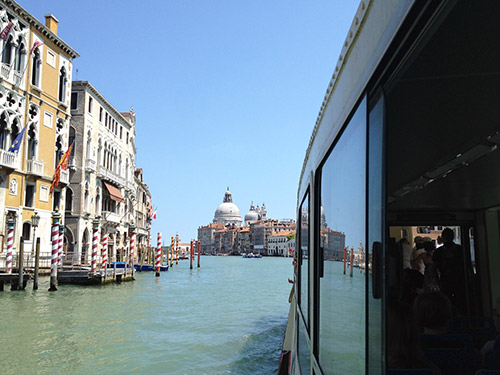 First time ever I got to Venice and going directly from the airport up to the mountains seemed wrong and I was lucky to be able to leave the bicycle at the airport and have a short visit to Venice before going with the bus up to Cortina d'Ampezzo. So here are a couple of the photos I took on my less than 2 hours visit to Venice. Very nice city as I expected and even though there are a lot tourists, one could quickly get away from them by turning off the main tourist tracks. There are of course much more to see, but I got a glimpse and was happy with that.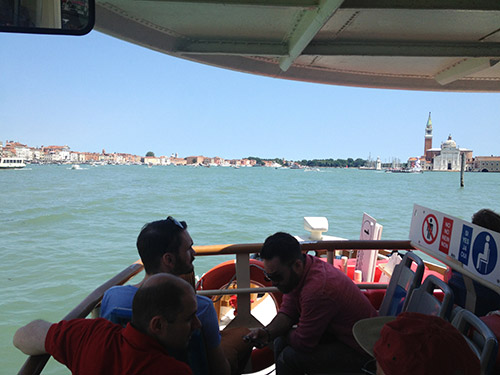 I think I try and write next to the relevant photos this time, so now you will have move down the page!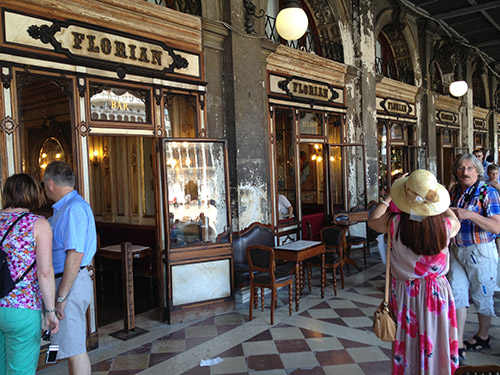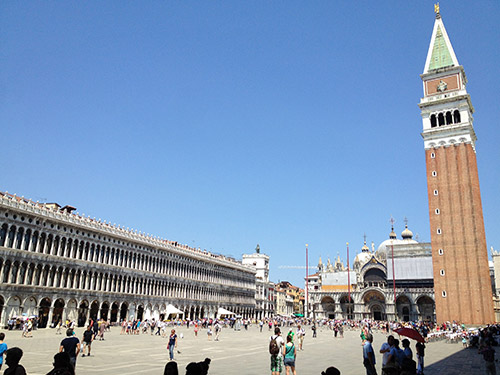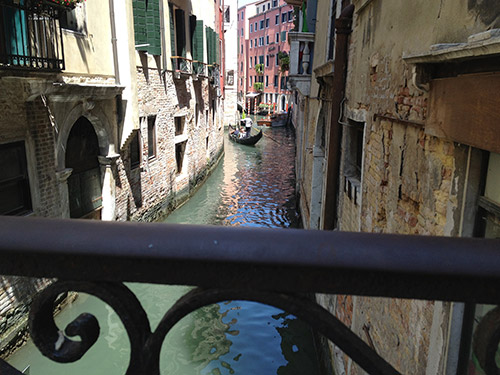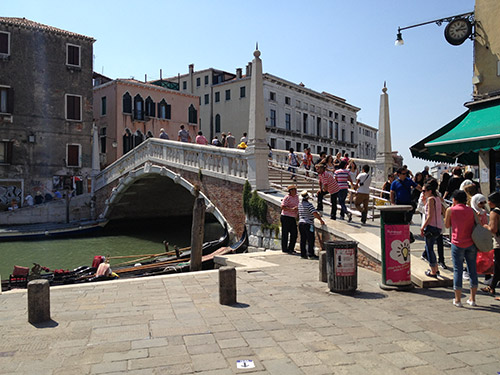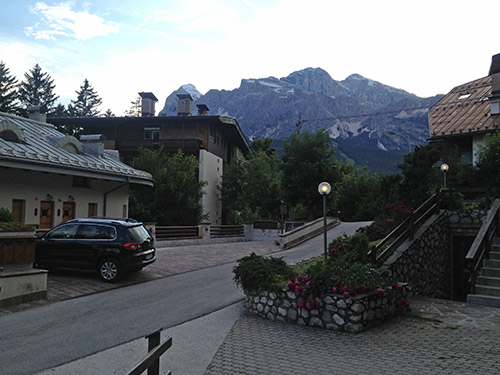 It was still light outside when arriving in Cortina and I somewhat quickly found the way to Enrico's house (the man I was going to Belgium with a month later at the end of my Summer vacation). Very nice food and wine at Enrico and family, and then a good night sleep before the real adventure were to start the next morning.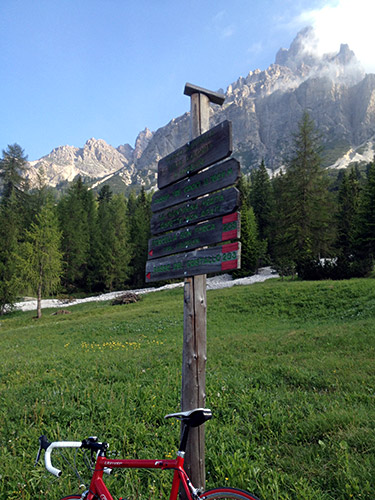 I decided to change the original plan right from the first metre of cycling and instead of going down the valley I went over the Passo Tre Croci/Són Zuógo (1804m) and thus got a taste of the beautiful Dolomite mountains that were not really supposed to be part of my tour this year, even if I started and ended there. I have already been to most places in the Dolomites, even if there are still some climbs left to visit even there. These mountains are what got me hooked on cycling in the mountains in the first place. After the long climb from Bolzano to Passo Sella back in 2000, I knew what was really fun to do when cycling – visiting high mountain roads!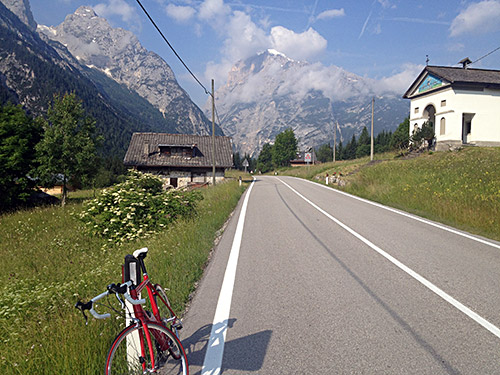 The Auronzo valley is very nice and less trafficated than the valley up to Cortina, so it was a good choice going over Passo Tre Croci, even if the 600 height metres were not climbed totally without an effort. It is always a little longer than expected (just as most mountain roads, unless you "cheat" and look on the computer – it is really no fun looking at the computer).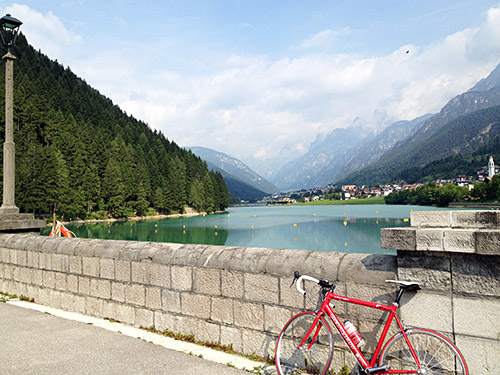 The lake at the end of the Auronzo valley is quite nice and I stopped for an obligatory photo. I had also stopped a bit earlier for a coffee. Here we are in the Italian speaking part of the mountains and I would so remain until crossing over to Austria in the very east of Italy.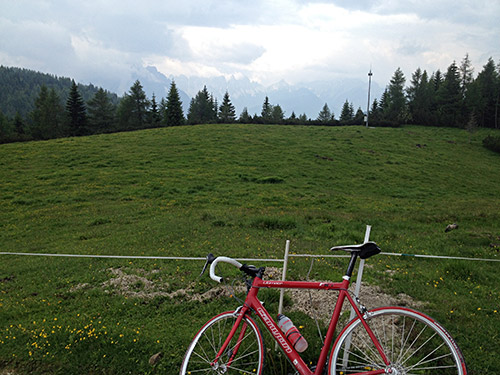 First of the new climbs for the year was a climb I had been thinking of visiting earlier. Always looking for possible surfaced pass roads at high altitude, the Pian dei Buoi (1807m) looked like a pass, but I have never been able to find a pass name for the one or two pass-like places up there. Sometimes high plains and passes coincide, just like at Seiser Alm/Alpe di Suisi, but sometimes only the name for the plain is used, even though everyone would understand the plain also functions as a pass. (This is especially so when there road up is mostly used as a cul-de-sac, even when there are tracks and paths down the other side.)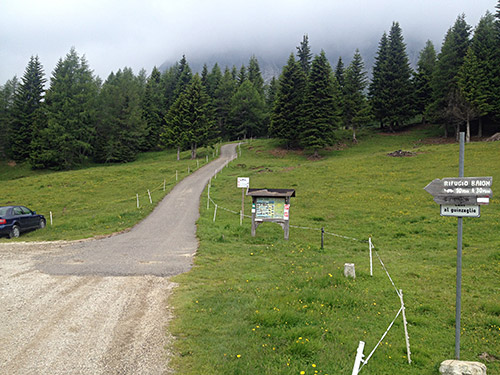 The road turns to gravel ca. 1 km before the (first) pass is reached, but the road is good enough for a road bike. The asphalt road below is regulated with hours for going up/going down, but it didn't come across as it was taken too seriously (at least not for cyclists). Never met any cyclist up here and the road is mostly through the woods until near the top. The road is somewhat evenly steep and not too hard.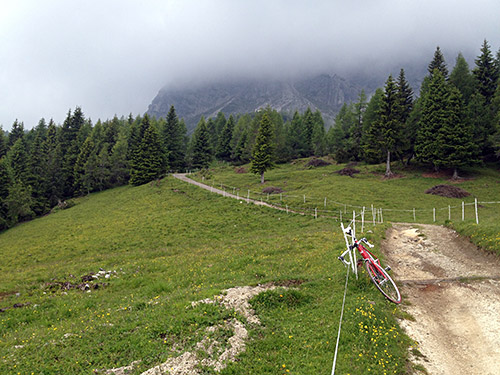 However, if you want to continue up toward Rifugio Ciareido (1900m), the road becomes surfaced again, but also terribly steep at over 20% and when it eases off it becomes bad gravel, so I stopped after just about managing to get up the first steep ramp (also since it was rather cloudy and no real good views could be expected higher up). A young female walker came by asking me for the way down the other side, but I did not know more than that there should be a path down there, just as the signs also suggests.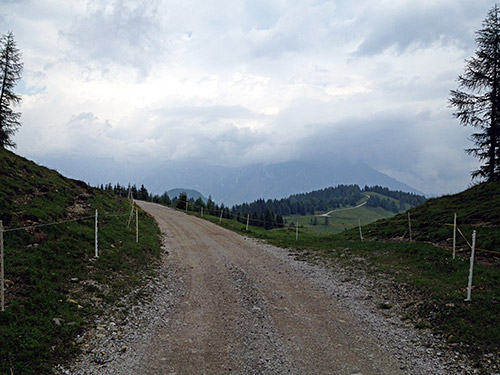 The weather looked fine before getting up but then turned worse as I got up, but at least I only got a handful of rain drops and mostly escaped the rain until much later in the day.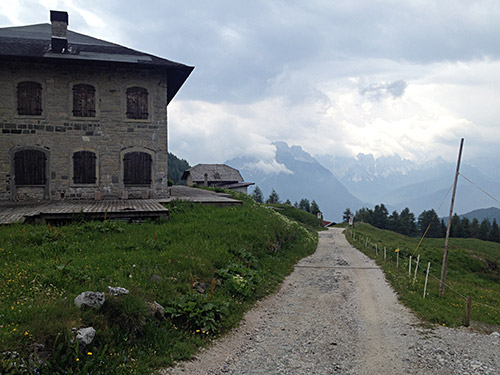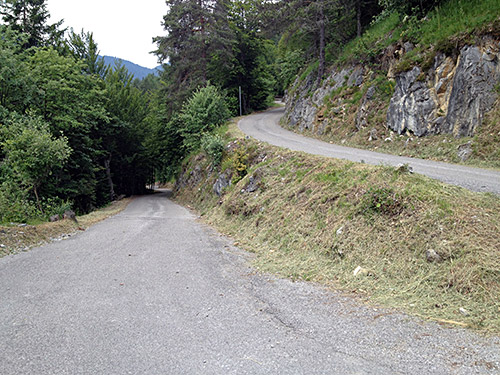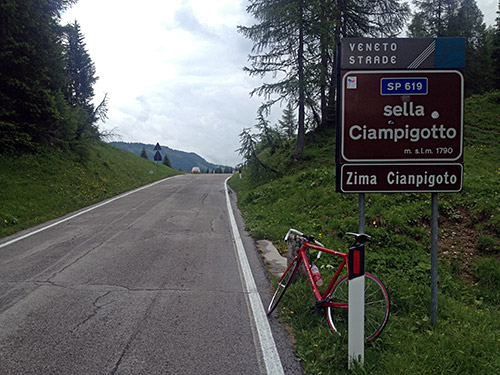 I then revisited the same road I had not climbed since my first tour in 2000 up the Sella Ciampigotto/Zima Cianpigoto/Valico di Cima Ciampigotto (1791m), via Laggio di Cadore, where I shortly had to stop to take cover for a rain shower, which ended soon. The road had become much better since then and was in fact one of the better road I were to visit in Italy this year as roads generally have deteriorated a lot throughout Italy since 2000, when they were much better than elsewhere in the Alps, which is no longer so, unfortunately. I met one cyclist going up here. Not many cyclists around me this year.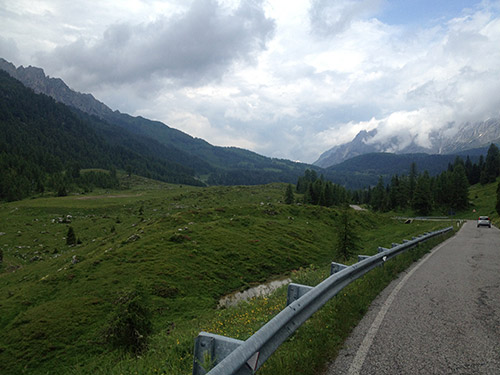 The photo here shows the actual Sella di Razzo (1758m), which is really out on a gravel road to the left in the photo. The photo is taken slightly higher at the approximate asphalt road crossing (which is not where the road sign is placed, which is placed on the road down from Sella Ciampigotto where the gravel road starts, but that is not the real pass. The sign would have been better placed where I stand taking this photo and that was what I had thought it was when I passed here in 2000 and when the road over Sella di Rioda to Sauris was still not asphalted. At the time there were no sign for Sella di Razzo on this road and thus I never claimed to have visited that pass then.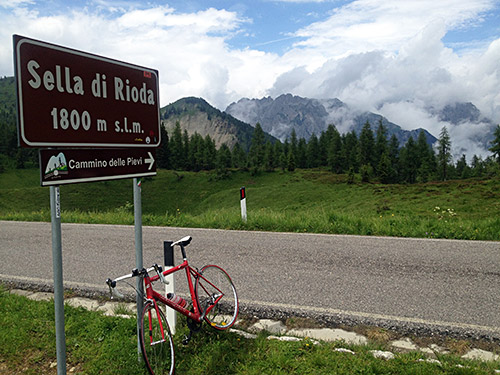 Sella di Rioda (1801m) (road height 1807m) is the only meaningful pass on the road, but contrary to the Razzo pass this is not a pass with the road going up one side and down the other as the actual pass goes off the road here to a path/track. But as this is near the high point of the road, it is best to talk about this pass as the destination for the climb here. The locals only ever refer to Casera Razzo, which is the farm by the Sella di Razzo gravel road and the road used to be signed for that (as I understand it and maybe still is). The Sella di Rioda sign was not here the first time I climbed this pass in 2008 from the south and the road was completely asphalted only in 2003.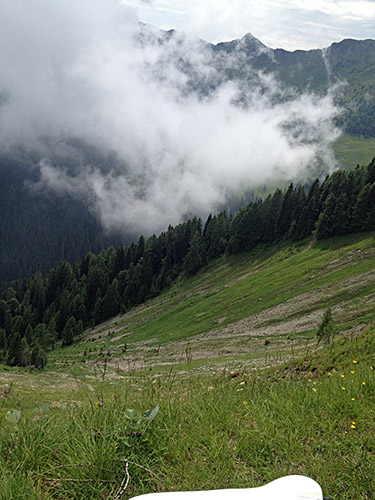 The views from near Sella di Rioda are outstanding and I was lucky the weather was good enough so that the sky opened up a little for some photos (the weather was better in 2008 though).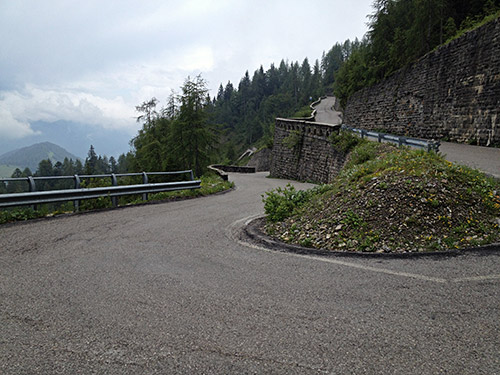 Nice to go down the steep serpentines this time! Up to 15% from Sauris di Sopra to Sella di Rioda.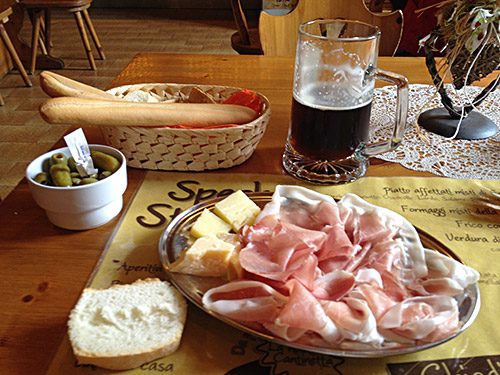 Enrico told me about the great food that could be had in Sauris and I know a local specialist Italian shop at home in Gothenburg used to sell some products from the area. Sauris is also known for the local dark Zahre beer and as I love dark beer had to stop and taste this and a sample of what they had to offer. Really the best prosciutto I have ever tasted (much, much better than San Daniele, which is always good too) and fine cheese. The beer was good, but maybe not up to Belgian standards … . Sauris/Zahre is otherwise known for long having been a German language enclave in Italy where the locals kept an old accent of the language as they used to be very isolated from the surrounding valleys. Apparently they only travelled outside over the Passo di Pura in Winter-time to buy and sell merchandise down in Ampezzo. They could apparently use sledges down on the snow then, but it seems like a lot of work getting back up again … and is hard enough on a bicycle on the road up the Passo di Pura (1431m).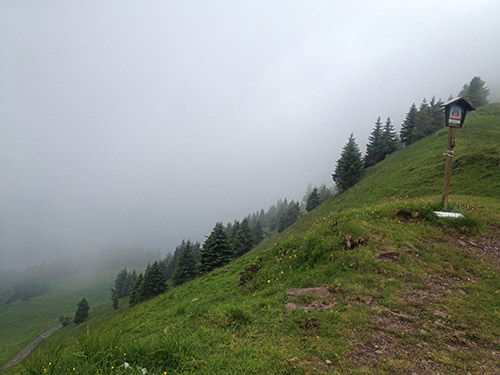 Now, for some reason I could not help myself asking the lady at the bar in Sauris about the road up from the Lago di Sauris over Forca Frumeibn (1416m) to Forcella Ielma (1902m) and the chances of going over Passo Forcella (1824m) down to Ovaro (which is one of the steepest roads in the world, but mostly gravel, but it has apparently been worked on lately, which was making me curious). Now she suggested I might perhaps better take the road up from Sauris di Sopra to Sella Festons (1857m) and I was sceptical and tried to explain that I only had a road bike, but she suggested it should be possible nonetheless (even seeing my bicycle).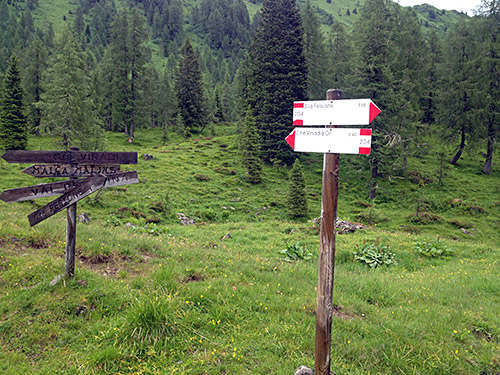 I asked her if the road was asphalted and yes it was all asphalted to Sella Festons, but then only gravel, but it should be fine she told me. She did note that it was a bit steep up there. I vaguely remembered that I had noticed on some satellite photos that part of the road up there had looked as if it was asphalted, but could not quite remember why I had ruled out that way, which seemed more direct and possibly more interesting. It was not raining and the start was asphalted so I decided to give it a try.
I found the road and noticed it started to get really steep very quickly and it was more like a bicycle path in width. I fighted my way up the first steep part and was confident this would go fine and likely the road would not be like this all the time, but very soon it started to become clear that it would be like this all the time and I had to go off, still hoping the road would ease off higher up, but no way. I noted the steepness at a random place with average steepness and it was 19%. I think it was like 18% on average for over 3 km, which might be steeper than any other asphalted road in the world over the length (it all depends on over how long distance one is measuring and usually people talk about much shorter sections than here). So I could not really stop breathing enough to try and get up on the bicycle again.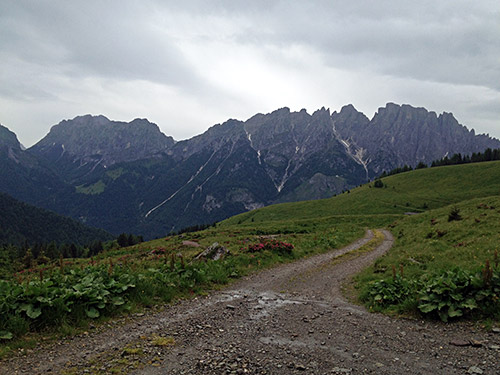 I still continued even as the weather turned worse as I hoped to at least reach the pass height to see if it was indeed asphalted – always nice to find a new asphalted pass road other cyclists know little of. However, when the steepness eventually ended, the road turned to gravel and just bad enough so it was no use trying to bicycle there either. Really easy this, eh! This part would have been fine otherwise to the pass top. I still continued up as I saw the pass now and still hoped the gravel would get better.
The road actually got fine at the pass and even though it now started to rain I continued down the other side hoping it would not be impossible to get over Forcella Ielma at least and possibly walk down Passo Forcella before the dark. Soon I had to start walking again and it was even getting hard walking in places. Up another small unnamed pass and extremely steep down a concrete stretch with debris and stones in heavy rain to Malga Malins. Here I saw the road up the mountains, but it looked like quite a long and hard walk up there (I had thought I would have been near the ridge here, but no way near really). If it had not rained I might have tried that way up, but now decided I had to get out of here and to a place I could stay for the night before it got dark. All options except going back was fine. That meant only one thing and that was the dubious road going down from Malga Malins (which I also confused with another one I had studied beforehand in the next valley east from here).
At first the road looked like it could improve (last photo here). Very nice views here, but my mood was down a bit. I started out going down the slippery and bad gravel road/track. It did not get better, but it got worse. I really wondered how on earth they could get up here with trucks/jeeps to the farm as it was hard walking down here. Big stones on a bad gravel road. Eventually there came some curious concrete serpentines that were hilariously steep, but I managed to wheel down a little bit here. Eventually I got down to a river and managed to cycle over in the water the first time, but the next time it was problematic and I had to ford over taking off my shoes as it was pretty deep even at the most shallow place and the water came forcefully down here. But it went fine. Then one more time over and I was down. Now I was almost lost as the road sort of got nowhere when I got down.
There were a new place to ford the river, but that was like a metre deep – cars really go here?? Luckily I found a tiny bridge over but it was closed and having a sign that it was not allowed to be used in any manner. I decided I just had to try my luck and carefully moved over the bridge to the other side. Then a choice of roads with no meaningful signs. I had hoped to see where I was in the Pesarina valley, but saw nothing. I used logic, i.e. I took the road that looked like it had been used most and after a while I was lucky to have chosen the right one, even though it looked less used the closer I got to the main road. All very strange. I also had to go up the valley a lot so when I was out in the Pesarina valley I was not far below the Lavardet pass. I heard a lot of young people by a house and thought it might be an albergo, but since there were so much people there I decided to get down the valley to the village of Pesarina instead. When I arrived in Pesarina it turned dark. It had been a 4 hours walk from Sella Festons down here in bicycle shoes as I all the time hoped to get on the bicycle again.
I asked some people after a place to stay at in Pesarina as I had seen two signs for lodging, but one of them I did not find and the other were no longer open. I continued down to Prato Carnico and there was a hotel, but apparently it was also closed. I knew there should be something in Liariis, but I was unsure where, so continued to Comeglians and stayed at the hotel (Alle Alpi) I had stayed at before there. Not the cheapest or best, but an okay place. Then I borrowed an umbrella as it had started to rain again and walked down to the pizzeria near the bridge over to Val Pesarina (where I had stopped to ask if they knew of an alternative place to stay at). The pizzeria was open very late and had good beers.