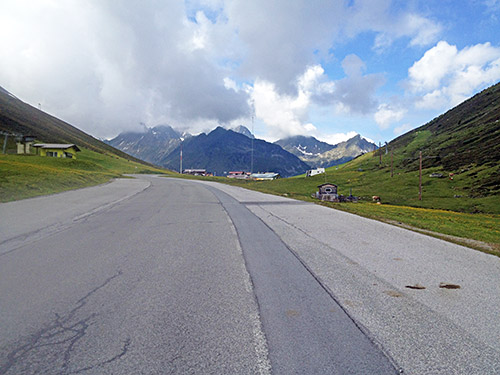 This morning were not as sunny as usual, but at least it was not raining. It was slightly chilly in the morning, but as I was going uphill at once, I should not have to worry about freezing for some time. As it turned out the weather turned really good when I got up to the Kühtai pass (2018m). One guy passed me by on the way up there and I did not really try to hang on as I had a long day ahead and was not quite in the mood to speed up yet (not sure I would even have been able to hang on to him as he seemed rather professional). He had just gone when I arrived at the pass.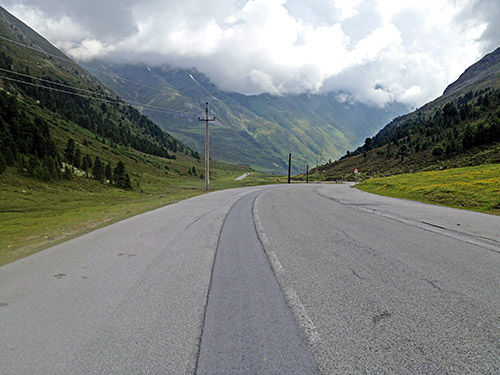 I stopped for some photos, before continuing down the other side just a little to the height of 1973m from where the climb up to the Speicher Finstertal (2344m) starts, which is a road I had not climbed before and looked much forward to do now. I was really lucky about the now brilliant weather and the road was cleared from snow. I have been over the Kühtai twice before, and both times climbed from the steeper Oetz side. First time in 2003 when I reached 91 km/h on the descent in bad weather to Sellrain. And the next time as part of the classic Oetztaler radmarathon (in 2009) and there were no time then to get up this road.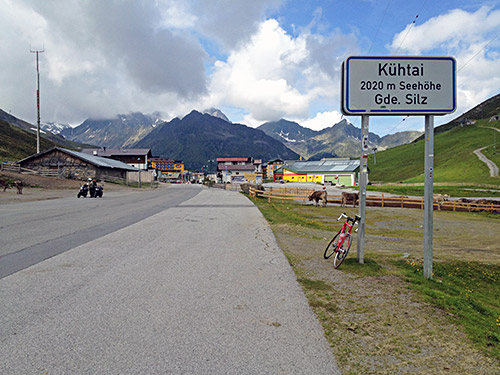 There were actually a lot of cyclists going up to the Speicher Finstertal – it seemed as if most cyclists coming up to the Kühtai this day also went up here. Maybe this is really becoming the proper destination for the climb up here. If one climbs up here via the Sattele/Silzer Sattel (1690m), then combined, it is one of the hardest climbs in the Alps.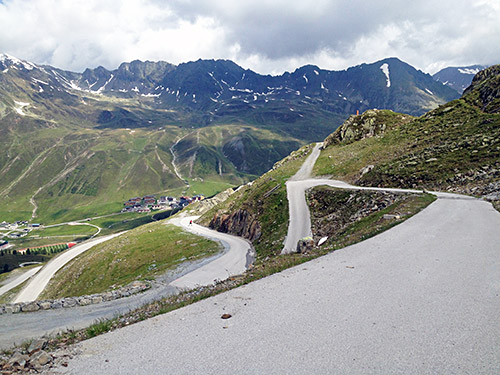 Nice serpentines up the dam and above.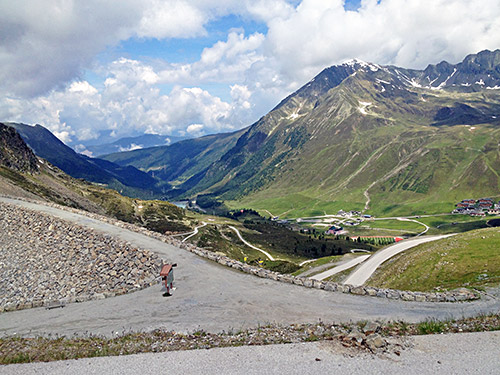 The view from just above the dam building.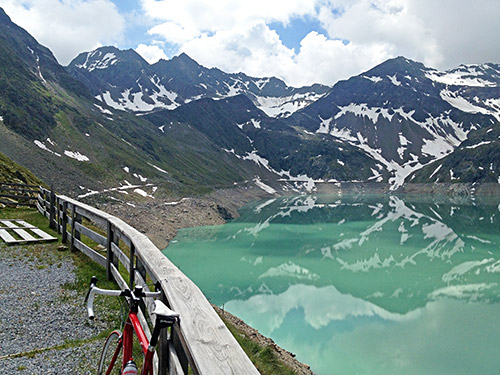 The view from the highest point of the road here and in the photo below.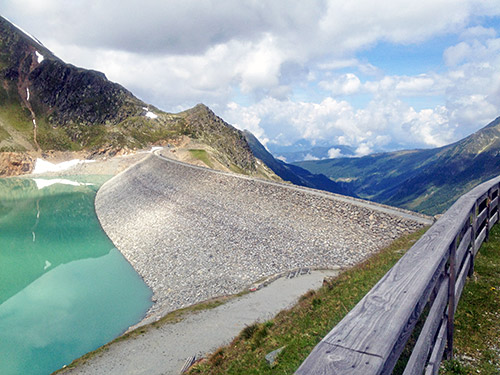 Some younger guys were coming up here on ski rollers and they kept a good pace, but one guy were behind wondering where his friends were when he reached the dam – just a bit longer I said from above and his friends smiled.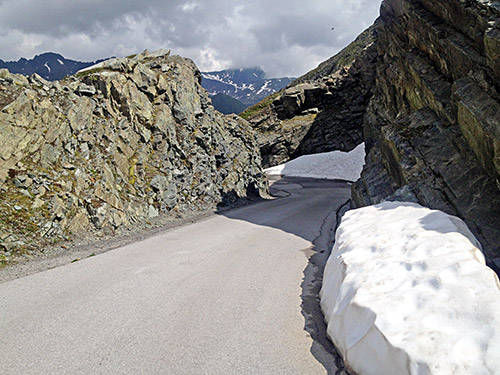 Down again through the rocks just below the dam and a short tunnel that could be tricky if the snow had not been cleared.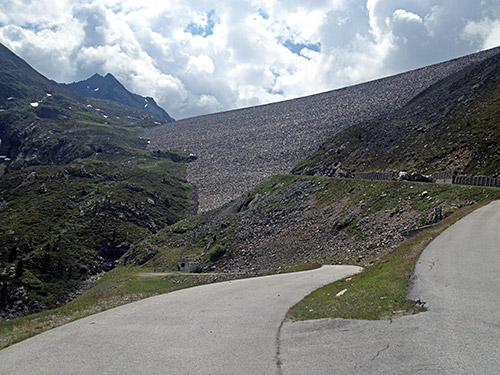 Do you see the road in the dam sidewall? Really looked amazing when getting up there!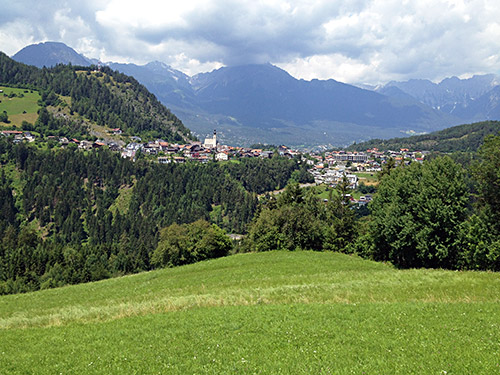 Then full speed down to Oetz (782m) where I stopped for coca-cola, sandwich and maybe yoghurt again. I also bought super glue as I had noticed that one of the heel supports had almost fallen off after all previous walking and managed to get it to stick so I could walk a bit better and not totally wear down the shoes. (I think I needed the glue also for something else later.)
Again I wanted to avoid the main road down the valley and knew that one could take a small road via Mairhof and Wald. This road is a lot of up and down, but it was worth it to get to know another road and it probably take about as much time as the slightly longer main road. The photo here is taken near the high point after Wald (887m) overlooking Arzl, where I was heading.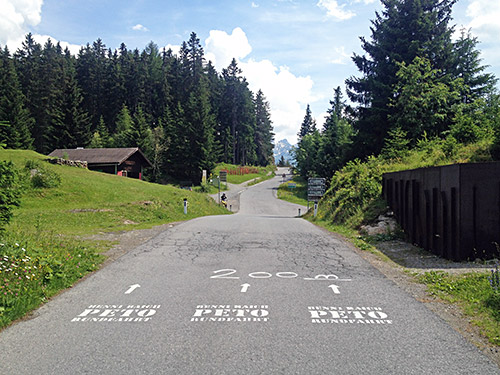 After a final descent to a bridge (741m) across the Pitze river in Pitztal (also a long climb) I climbed up via Arzl to Wenns (999m) and then to Pillerhöhe/Gachenblick/Gacher Blick (1574m). I stopped by a little café run by an older couple to have an apfelstrudl with ice cream and beer before I continued to the pass (1559m) and the famous viewpoint Gachenblick/Gacher Blick just a little after.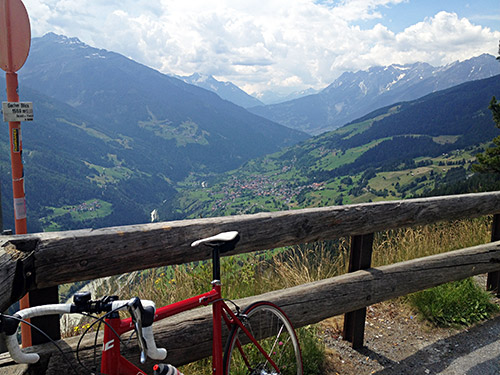 I had good photos here last year when I eventually climbed this pass for the first time and now I am already back again, but it was simply because it happened to be a good way up to Reschenpass from Austria. Thus I avoided most of the big Inn valley when going from Zillertal to here.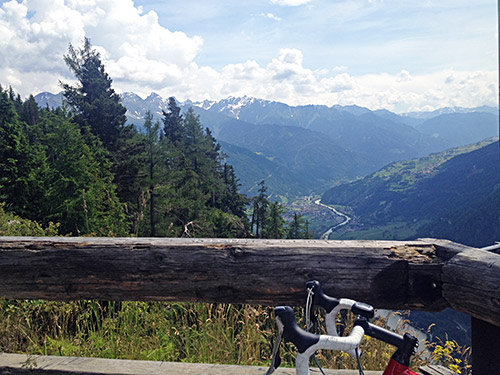 Still good enough views to take new photos.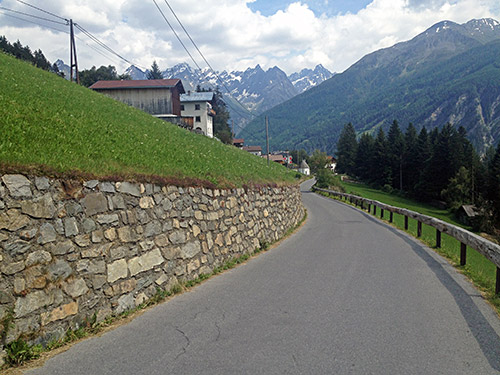 And now I was descending the steep road up/down from Prutz (865m) that I climbed last year. Once again I had planned to go up the Fisserjoch (2435m), which is a road that turns to gravel sometime above 1700m height, but the road should be possible to climb with a road bike. And once again I decided to leave it out of the plan in order to catch up with my planning. I also decided to skip an interesting little forest road up to Fuorcla Curschiglias (2137m) in the Samnaun valley of Switzerland, which could have been visited on the way up to Reschenpass if going over Norbertshöhe (1406m).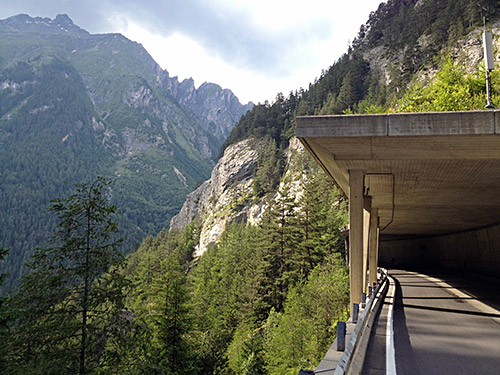 I was a nice guy and took the alternative roads to the main road in the valley that is perfect for cycling on, but has been forbidden to cyclists sometime in the middle of the last decade. They only let cyclists join the road again when it becomes more dangerous and narrower, which is predictable given how the road planners and perhaps mostly politicians "think". There is some extra climbing on the alternative roads that changes the side of the valley at one time, but there is otherwise nothing much to complain about those alternatives and it is somewhat easy to find the way, so not so much time is lost and anyway I kept a good speed up here.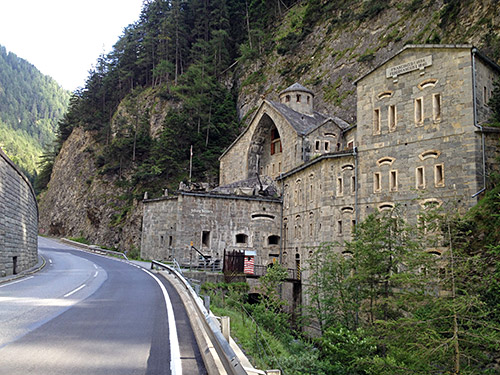 For some reason I do not understand, they had forbidden cyclists on the main road up from the Kajetansbrücke to Nauders and pointed the way to the valley road which makes one have to go over the Norbertshöhe (1406m) anyway. Maybe this is only temporary during some road work, but it was not all clear. I had enough of these silly regulations for the day so took the main road up via impressive fort and had no problem getting up here. It would be difficult to get and see the fort if one were not allowed to cycle this way. Typically road planners only think of cyclists as children not needing to get from place A to B, but merely being a recreational hobby that one better keep off the transit roads. Now it might not be the perfect road for a family excursion with little children, but then again they would likely not go there anyway. I am getting more fed up every day by treating cyclists as children, when you can compare cyclists as well as people going by tractor with those driving formula 1 cars. Maybe all sports cars and lorry transports should adapt to rules made for tractors? Grown up cyclists that does not want to use trafficated roads go offroad on mountain bikes – no need to stop all cyclists from any roads, except perhaps autobahn and similar.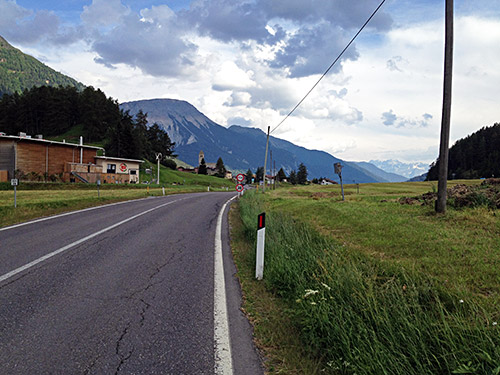 I saw another road cyclist zig-zagging his way over the Reschenpass in a furious speed on the bicycle paths and getting up there about as quickly as me taking it easy on the main road that was almost free from traffic. Reschenpass/Passo di Rèsia/Pass dal Raisch (1509m) is NOT located at the border between Austria and Italy, even if Google maps and some others have it located there. The pass sign has lately only been kept at the border, but the border crossing is in the area of the pass and not at the pass, which is squarely and clearly totally inside Italy exactly where this photo is taken. The Swiss national maps and all other maps, like the Italian TCI atlas and the Bolzano region technical maps, show clearly where the pass is located. I have suggested to Google that they change it and they actually answered, but saying that they had unspecified support for their placement and requested more evidence so they might reconsider the matter. Then I submitted all evidence needed to make the change, but then no answer or change. Most free online maps seem to share the universal "truth" of Google and disregard the facts. Google maps have grown less accurate over time (from what I can tell). (Even the official maps are some metres off … .)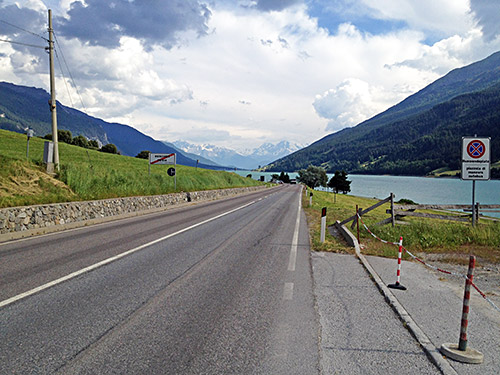 The Reschensee is very nice but the history of the creation is not all that nice.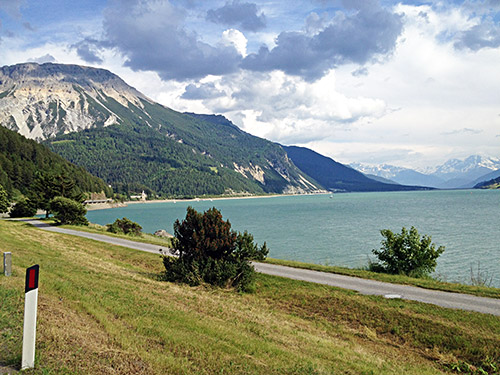 Here is the famous church tower buried in the lake (a little hard to see in the photo near the coast on the left, but difficult to get any nice photo near it). One could go on a bicycle road/path down the valley on the other side of the lake and thought about trying it this time around, but it felt easier and faster to simply go ahead, especially as there were not much traffic now and the big wide bends down to Mals/Malles were fun the previous time as one could get pretty fast down there. (One could probably take a small road on the left hand side after the lakes too.) However, it turned out the main road was no longer the smooth asphalt it used to be, but still no problem getting down (just not so fun now).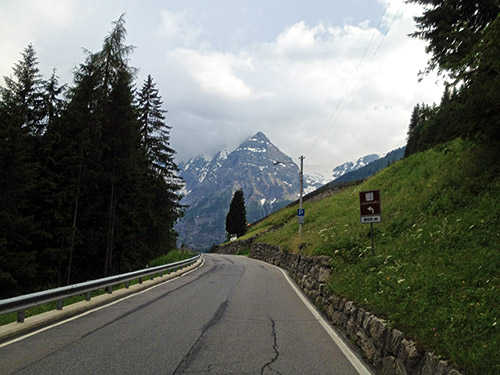 Now the idea was to also get over the mighty Passo dello Stelvio/Stilfser Joch/Pass da Stielva (a modern variant more used in rätoromanisch (in Switzerland) (english: Rhaeto-Romance) is Pass dal Stelvio, but likely because they do not know the real name is Pass da Stielva, and some still seem to use this or Pass dal Stielva). This might be the most legendary of all Alps passes for cyclists, only rivalled by Col du Galibier (2642m) in France, but Passo dello Stelvio/Stilfser Joch/Pass da Stielva (2758m) is more than hundred metres higher!
After I got down to the old tiny city of Glurns/Glorenza (910m) with an intact fortification around the city centre from mediaevel times, I went on the local road down to Prato/Prad (912m) from where the climb up the hardest side of the pass starts. I stopped for a quick banana and coca-cola by a small shop and then hurriedly took off after briefly discussing the prospect of getting over the pass without rain and before dark with the shop keeper. He clearly thought it was gambling and so did I, but I really wanted to get over. Bad thing was that the weather looked pretty bad up toward the pass.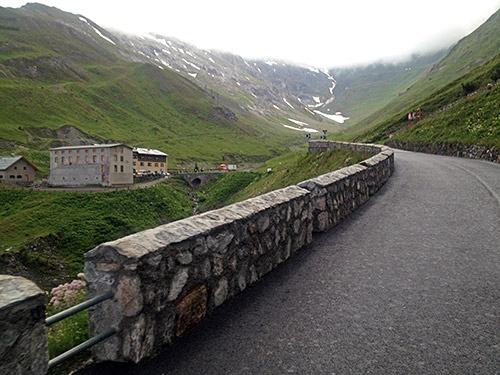 First photo above I took while cycling up through Trafoi, where the series of 48 hairpin bends starts (maybe two were before). Next photo here was taken when I came up to get a glimpse of the pass, but also got rain and even ice cubes smattering down on me here. So much so I decided to give up trying to cycle it all without stopping and stopped for an espresso by the last hotel here. Of course then the rain and hailstorm just stopped again. So I got out quickly before loosing all the warmth I had built up on the climb here.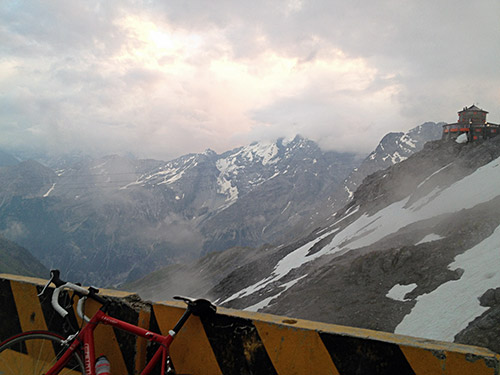 The short stop did not make it feel any easier though and as usually the climbed seemed longer than I thought and the uncertainty were helped by the low hanging clouds that did not really tell me exactly how close I were to the top. The surface is pretty bad now and I was happy to be climbing this side as the other side later turned out to have a better surface on the whole. I was fighting to try and get to the top before 9 pm, so it would not be dark already when I started out on the descent. Unfortunately I do not quite remember exactly the time it took, but I guess it was over two hours from Prato, probably it was 2.5 hours (as I think I started at 18:25 and arrived ca. 20:55, but could be wrong). Anyway it is a long and hard climb any day and for anyone.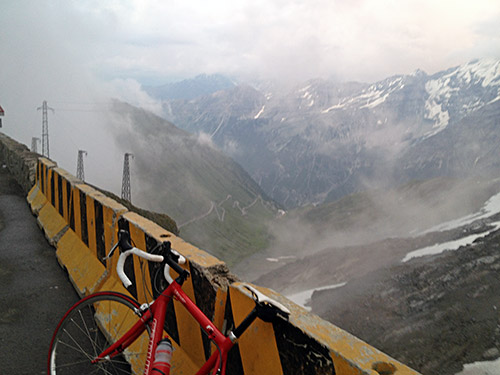 The clouds lifted a little just as I reached the pass. It was like 7 Celsius degrees again like on the Grossglockner, but at least it was not raining now. I met one cyclist coming down just as I left Prato, but then did not see any more cyclists that day! Again, wasn't this pass supposed to be popular by cyclists?!? Hehe! Quite nice to get passes like this to oneself so to speak!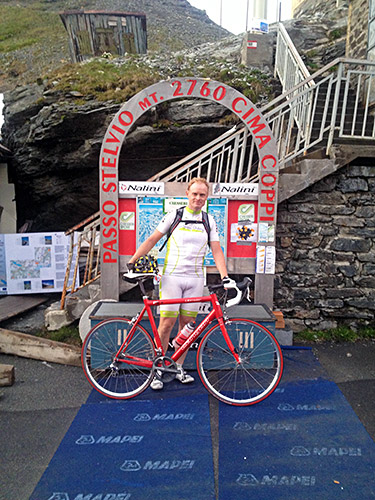 I was happy I got some nice views despite the less than great weather. Also, there were two people who had stopped up here and took a photo of me (and me of them, I believe). Then I hurried down while I still did not need any lights on the bicycle and to escape getting too cold.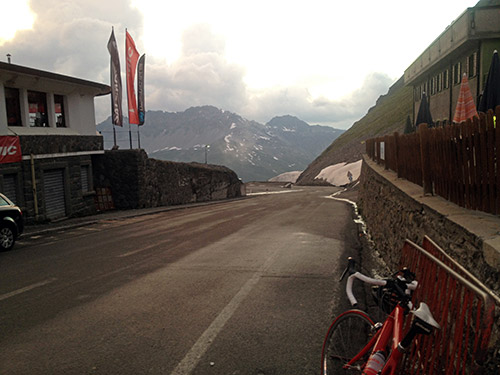 Later on the descent I stopped for one more photo (the last one), but I was very cold there. A little below it started to get warmer again though, but also dark. As I reached the many tunnel galleries it turned close to dark, but I think all of them were lit and then came a car driver who I shortly understood went ahead of me helping me down, which was great since even if I have simple lights with me, I cannot really see much with them, but now I could continue in full speed down. I thanked the man in Bormio who stopped to see me pass by down.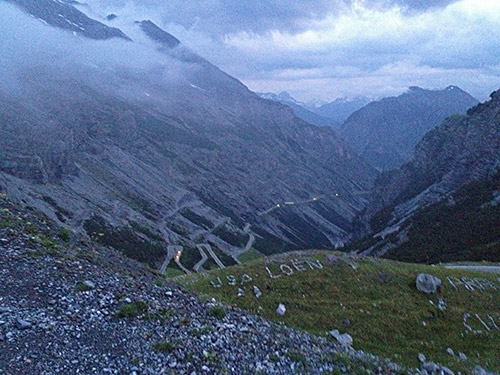 I went down to a hotel below Bormio, just outside, but was circling around trying to find a place to eat at for the night, but it proved hopeless strangely enough. In the end I got two sandwiches at the hotel and a beer and got to bed after a successful day bringing me back on schedule. Now this is what I call an epic day out in the mountains!