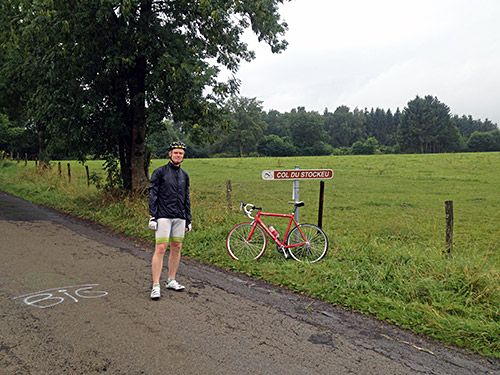 I think we really did the Les Hézalles the day before and possibly also the Côte de Wanne. This day was no good in terms of weather! It started with heavy rain. It just would not stop and we had to go after waiting for a while longer than planned. This did not deter us and we got a lot of cycling this day in the end. Just after the start on the last stretch down to Trois-Ponts was perhaps the worst so I got almost totally wet from start this day. Oh well, at least it was not the last day.
Here we got up to the first pass for the day – Col du Stockeu. The rain subsided and then returned again (and back and forth so for most of the day). We went through Malmedy and our group (we were split in two here) took the longer way via Robertville by mistake to Signal de Botrange (694m), which is the highest point in Belgium. It was cold, but not because of the height, but because of the weather but I still kept warm on the way up by going fast the last part.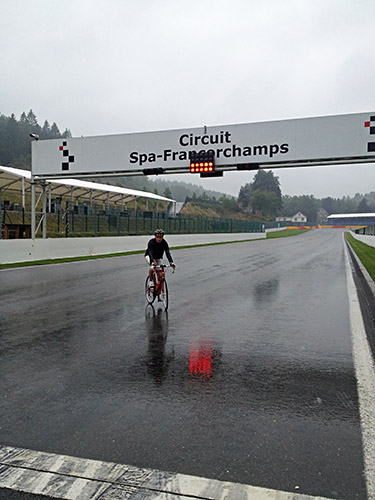 We then climbed a steep road to Ferme Libert and went via strange wet gravel roads in rain down through the woods to Circuit de Francorchamps, which is a racing track. I was a bit confused at the start and the other group had just gotten out before us at the circuit and started and we were lucky to just be allowed out as we apparently had been there a bit later than agreed to. A few guys, like Fredrik arrived too late unfortunately to be allowed out there.
It was raining as hell again when we went around there, but it was still kind of fun cycling on a racing track for the first time in my life, so I pushed hard to make use of the full width of the track ;-). I then caught up with the first group of cyclists and overtook Axel in high speed.
In the photo here is me at the finish line and below is Axel (from Belgium). They went out with their cars on the circuit not long after we left and the cars could be heard for miles around there (I would not want to live in the Francorchamps village). We had something to eat and drink and continued very tired of the rainy weather, but from now on the rain was almost gone.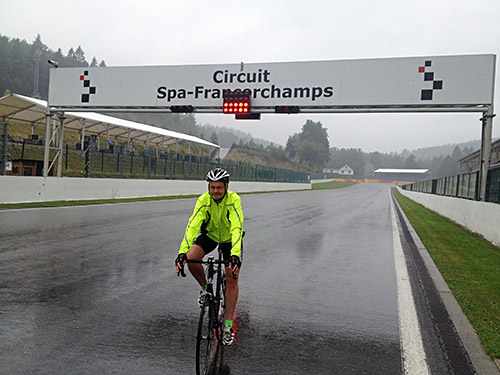 We had one more climb to Col du Rosier before we got to Spa where the day was over. Now it had just dried up here on the roads and I decided to get down on the town from the youth hostel (once again placed high up above the town) to search for a gas station were I could wash my bicycle to have it clean for the last day. I found it down the main road and had carefully washed and cleaned with paper everything when it again started to rain like hell. I decided to wait, but had to wait over an hour, so was afraid to miss the dinner that Gabor has told me should be at 18 or shortly after.
Eventually I got back and got into the restaurant at 19 very disappointed I might have missed the dinner and still had not showered for the day. Soon it was made clear that Gabor had only talked about when he wanted to eat and not when the dinner was actually served, so my day was saved at last (and I could even shower before the dinner). There were good beers at this youth hosetl too.