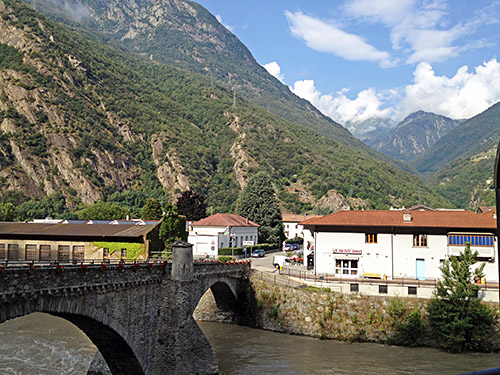 Now merely half-way through the Summer tour it seemed as if I had been away quite some time already. This life started to feel like normal now. No more Aosta for me this year, unfortunately as Aosta is one of the most exciting places to go cycling in and curiously not that much visited by cyclists apart from the obvious small and big St. Bernhard passes. One would have wished the road over Colle del Nivolet/Col du Nivolet (2614m) would have been finished, but apparently some silly environmentalists in Aosta long ago put an end to that project – did they expect there would be a lot of heavy lorry traffic over this very high pass or what? There are a few more passes one could go over on a bicycle in Aosta as documented in my tour here in 2009.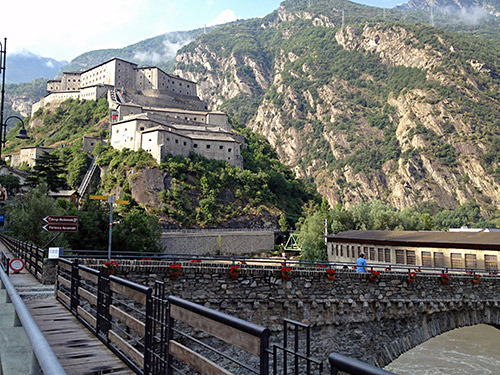 I took the road over the Bard fort as I had thought to do when going up, but forgot about it. Now, for some reason, the road is not allowed to be used for through passage. The old road on the maps had been closed perhaps because of being destroyed. There is a new road going down the other side though, but it is also closed and has a very steep ramp down/up.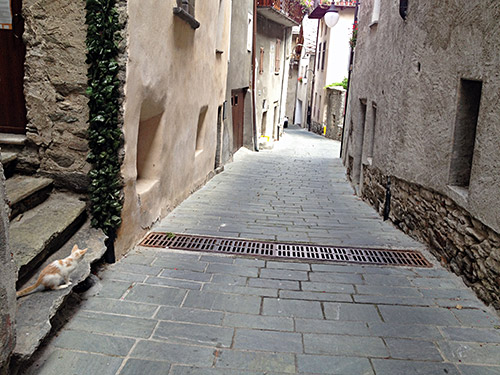 I took the new road down and then got up on the main road again and continued down to Carema (where I had thought to climb a hard road to Alpe Passore (1415m) and Alpe Maletto (1326m), but I had to skip something to keep up with my schedule and as I also planned to do a climb opposite this a bit lower down, this would have to go as it was ultimately less interesting and less ambitious. I also had plans on getting over a very hard gravel road over Colle della Bettaforca/Bättfòrkò (2672m) where I am sure I would have to walk for a while, but leave it for another time.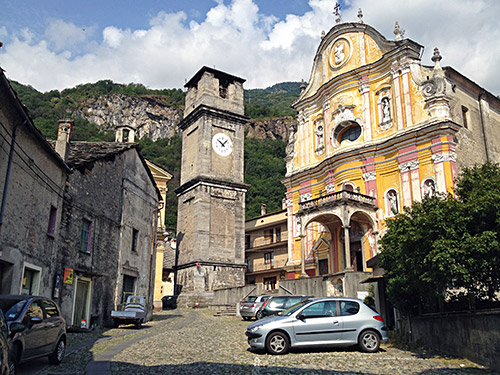 Eventually one can cross over the valley and motorway to the west side and the village of Quincinetto (283m). Here I stopped for a sandwich, yoghurt and soda before climbing up the Vallone di Scalaro (1845m).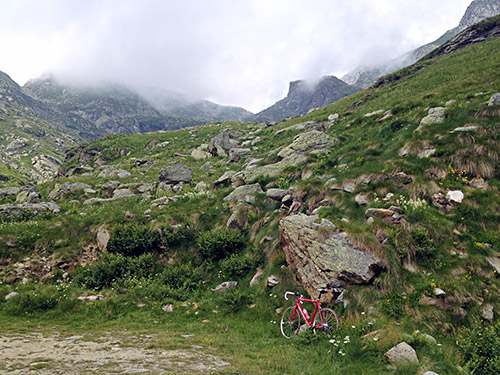 The climb up here is not very well known and there are no totally proper maps I have found of the climb. One could (for all I can make out from looking at Bing satellite maps also climb up from Tavagnasco on asphalt, but although it would be steep (and the profile at salite.ch suggests parts are not asphalted and that it ends, but that may well have changed (looks so)), this will then be downhill and flat for a while before the final climb, so the climb from Quincinetto is in any case a more consistently steep climb. (The Tavagnasco climb has some really steep sections though, so overall it may get higher points at salite.ch if one continues to the end of the Vallone di Scalaro.) The salite.ch profile of the climb from Quincinetto to Scalaro ends at Scalaro (1454m) as they apparently did not know the road up the steep valley continues or possibly the road was not asphalted higher when the profile was made.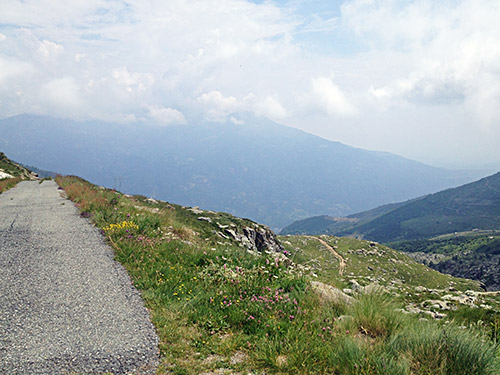 At the high point of the road to the small village of Scalaro a small road continue to climb up and after a while one takes to the right at the next fork to continue up. While continuous asphalt runs out just after the last farm at 1780m, the road continues to 1845m, with only a few short gravel sections (just about rideable with a road bike). The photo above and the one here were taken at the end of the road. There is nothing at the end of the road. There is a small stone house a bit up from the road just earlier that looked abandoned (or it is just a shepherd shelter, visible in a panorama photo I took, but have to cut it down to fit in here).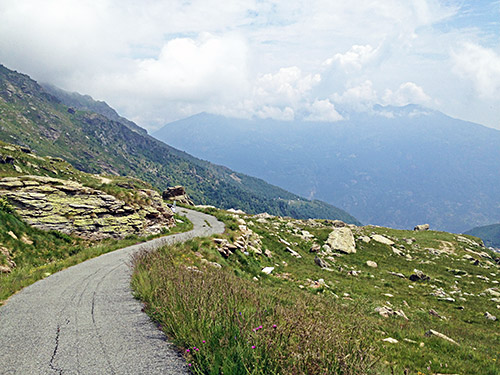 This was one of my favourite climbs this Summer and a bit exciting as I have heard of no one cycling up here anywhere on the Internet or elsewhere. It is likely the hardest climb in the area too if one counts it to the end with 1562m to climb over 16.2 km, which means a little over 9.6% on average for 16.2 km, which is similar to the Alpe del Gesero climb (in many ways actually).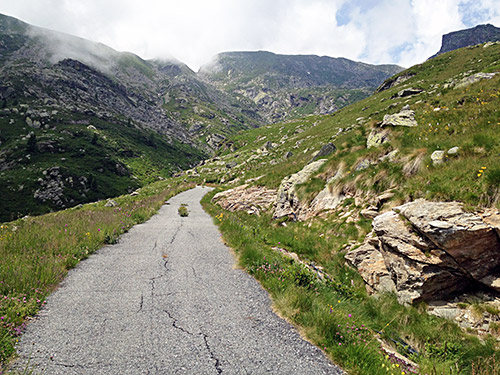 Many more photos taken on the way down here.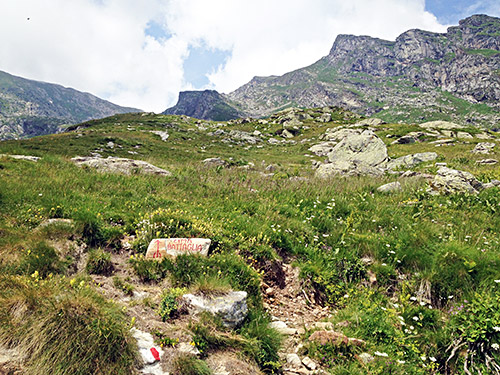 Here is the path up to the ridge and pass above.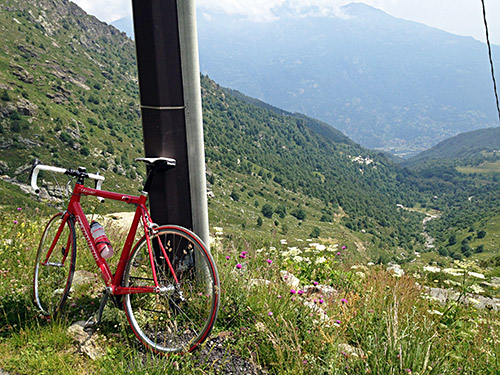 From here it is all asphalted down and you can see where the current salite profile ends the climb far down below at Scalaro.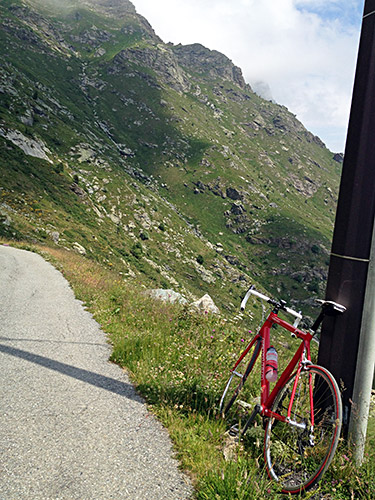 The mountains are steep here!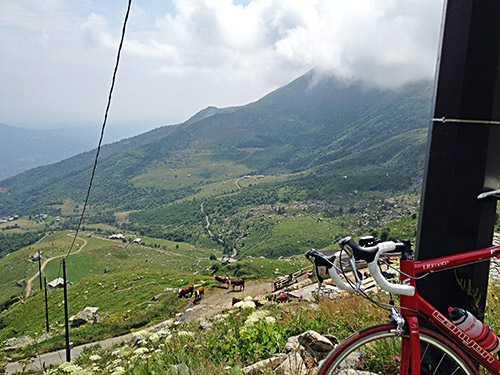 The road going up the mountain in the distance is not asphalted (at least not as high as here). It would have been nice if one could have climbed over the Colle Pian del Muli (1443m) down to Alice Superiore, but unfortunately there is no possible way up there (even if it then is asphalted from just before that pass and down the other side (which is steep for the last part up/down).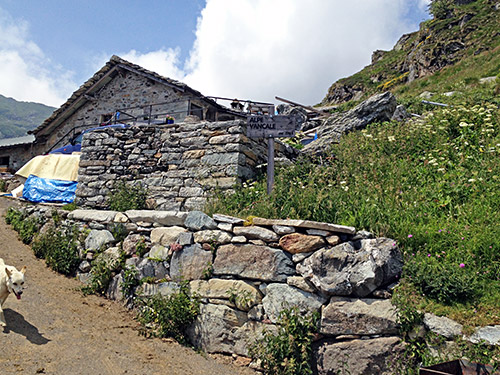 On the way down I said hello to the farmer at the last farm as I was taking a photo of the sign and trying to avoid the dog. From here and down for a while there is a lot of cow dung on the road!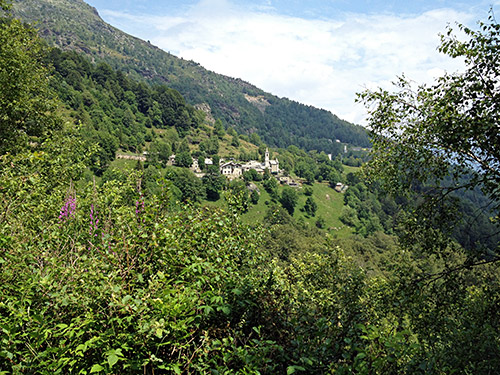 I never bothered to go into the Scalaro village as there seemed to be no open bar there anyway, but took a photo before the final descent started. There is a restaurant half-way down from here along the road! A bit further down I met another cyclist, even with a road bike who had stopped on the way down and I asked if he had problems, but apparently he had stopped only because he thought the road was bad and wanted to look things over. That was odd, as Italians usually have no problems with bad roads going down, and when we started going down together I was soon having problems trying to hang onto him while still staying on the road, so not sure what he talked about … . He waited for me though and we chatted on the way down the (oftentimes) horrible and windy road to Lessolo. Apparently he had never been up that road to Scalaro before either. He had cycled up from Torino and thought the road did not go higher than Scalaro, so therefore we never met before on the climb. Luckily he was driving inside me on the bad road so I could more legitimately drive out in the better area of the road ;-).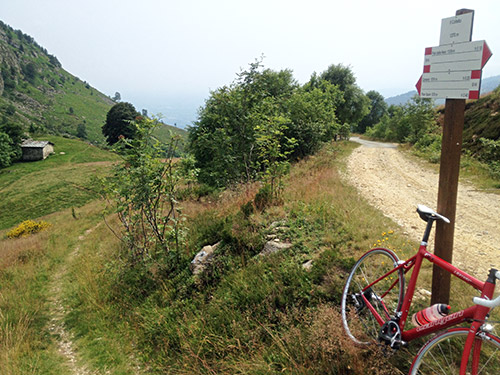 I stopped at Lessolo (246m) at the only open bar (boring place and terribly hot) for an ice cream and coca-cola. The climb up to Alice Superiore (607m) went fine in good speed on a nice road. There is an obvious pass on the way here with no name (several such in the area). After being undecided if I should go down the quickest way to Cuorgné, I decided at the last moment to stick to the original plan of going up to Castelnuovo Nigra and the little pass above – Il Colletto (1280m). This turned out to be a much harder climb than expected from 462m altitude. I asked a lady for the road at the turn-off for Caretto di Sopra and it was the road I suspected. From above Caretto it is lovely, but then there were something not so lovely appearing – stinging horse flies in droves and it nearly drove me nuts on the final steep passage up this road and got stung at least twice even though I killed over a dozen of them (very easy).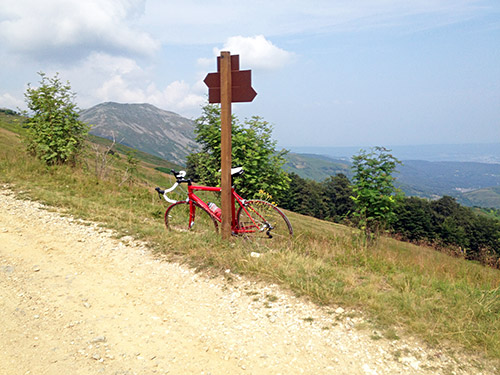 Great views from here but the road ahead is not possible with a road bike, so back down (quickly) to Castelnuovo Nigra (826m) which looks like a nice place on maps, but it is unfortunately a rather dead village with maybe one bar. I had originally found out after searching for days for a place to stay at for the night here around that there is an obscure religious place just down below here (Cantello), but the information on the place was not that clear and there is no way to see it from anywhere (apart from a few photos on their website (Casa Madre Luisa Vaschetti)). The sign for the place are very humble so to speak … and hardly a place one would find out about by passing by here, but might have tried to get there if it had been late enough.
No more photos today, but the day was hardly over yet. First I went to Cuorgné (381m) and found a bicycle shop where I got help to inflate the tyres to proper pressure. Then after quite some searching found a very good ice cream place where I could also get an espresso. Then I continued over Prascorsano (578m) (also an obvious pass) that I climbed over already back in 2002 from the other side, but now took a minor more direct road straight over the pass and down the other side to Rivara (374m). From Rivara I found the way to Rocca Canavese, where I was supposed to go down a road, but apparently got confused and later asked someone in Corio, after stopping a last time for a coca-cola, about the quickest way to Lanzo Torinese and was suggested to take the road over Colle Forcola (792m) as the alternative would be gravel for a while apparently. I cycled that road in 2002, so had thought to skip it now, but it is a nice road so why not as I already was high up in Corio already. I got down to Lanzo Torinese (where I also had thought about stopping for the day when planning), but I wanted to get a bit further as that was really the day before I was supposed to be here.
I went out on the main road in the direction the sign pointed to and took the short tunnel one is not supposed to use when cycling up here, but could not care about going back and around. Now I was on the way up the valleys up here that goes to nowhere. I had already skipped over going up to Lago di Teleccio (1924m) from Cuorgné, but had hoped to get up another place here to Pian della Mussa/Giassot/Rif. Ciriè (1845m) which looks very nice, but really gave up on this project here too. But instead went up to nearby Mezzenile to spend the night and think about the possibility of doing this climb in the morning, but later realised it was best to also leave out. The place I had seen in Mezzenile before was closed, but at the bar in the village they told me about a bed & breakfast nearby. Took the wrong road up a steep road, but soon realised it was wrong and found the house. It was a very nice place with one other guest and they got me some food even though they had not really expected to have another guest this evening. I very much recommend Le Lunelle if you get by here. The second best place I stayed at on my tour this year after the similar place in near Ovedasso on the second day (slightly better food there, and slightly nicer rooms here, both were very friendly).