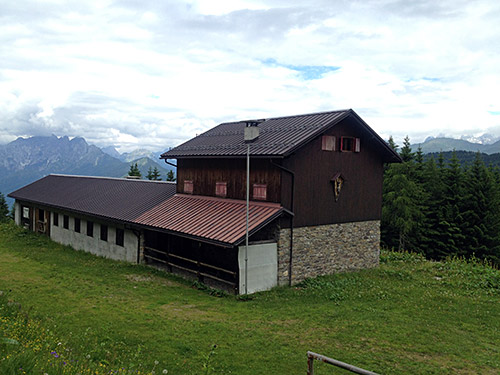 As my plan had already been compromised a lot on the first day (no wonder given the route plan), I was not quite sure on how to proceed. What to skip and what to do? I decided that given that the weather had not been good the day before and it was not very sunny today either (in the morning), that it would make little sense to try and get up to Forcella Morareeto/Morarêt (2120m) on a long steep gravel road. This I had somehow believed I would be able to do also the first day. This climb have been more times on my schedule than any other and I have always had to skip it for various reasons. One day I will get there and hopefully the road is good enough for a road bike (guess it can be different between years).
So, instead I decided to continue according to plan as if I had done everything the day before that I should have. I did however seriously consider to skip the next climb too as I rightfully feared more walking ahead and was already kind of tired of that. However, at the last moment I decided to stick to my plan and climb the curious parallel road to the Ovaro – Monte Zoncolan road. This climb also start on the same road up from Ovaro, but soon one turns to the right up to Lenzone, where the road climbs a bit steeper until the end of the village where a small and not very good road continues. At first it looked very bad as it crossed a torrent, but the road improved a little as I guessed. However, the road is still bad in places here and there and has some debris on the road as it is a forestry road and used as such.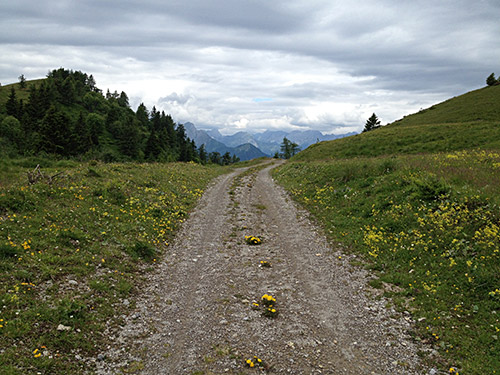 Moreover, this road is as steep as the Monte Zoncolan road, which is famous for being very steep. Exactly the same average gradient according to salite.ch, but on the salite.ch profile the asphalt road is said to end at 1281m, which is not true (now). The asphalt ends in the bend just before reaching Malga Arvenutis (1515m) at a height of ca. 1505m. Thus it continues quite a bit longer, while the Zoncolan climb is ultimately still a bit longer and thus harder. Now, if this road had been asphalted all the way up to (Sella di) Claupa/Malga Claupa (1649m), this might have been very similar to the Zoncolan climb. The road is more reminiscient of the hard third climb up to Monte Zoncolan from Priola though as the road there is also very narrow and with debris. I could not remember any drainage gullies here though, which there are many of on the Priola road and the asphalt is better there.
I met a mountain bike guy at the top of the asphalt who gave me thumbs up for getting up there. The road is a bit flat when it passes by Malga Arvenutis though and then one comes to a fork (did not include the photo from there), where there are signs saying one is not allowed to continue straight up to the Malga Arvenis Alta and that the zone is under video surveillance etc., but I was anyway not heading that way (there came a jeep going down soon after I took the road to the left). But from this fork it is no longer possible to bicycle with a road bike (both alternatives are bad). The road to Malga Claupa is likely impossible to cycle up for a stretch even with a mountain bike. But this bad and steep track is short and on the photo here from the pass it is a good gravel road again.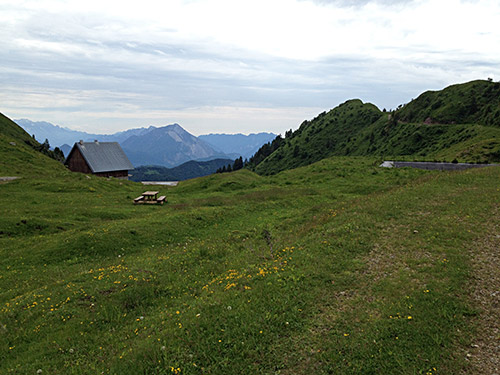 Curiously the pass itself has no pass name (as far as I know), but there is a pass nearby – Forcella Pianon (1668m) – and it a short walk up from this pass. I believe both locations are referred to as Forcella Pianon and that the old track over the Malga Claupa pass actually went over Forcella Pianon and as that was the highest point of the route, that is the point that was given a pass name. Could be wrong though, but pass names are usually created a long time ago when there were only mule tracks. I think it is a bit stupid that the tradition of naming passes is not an historical ongoing process. Cartographers and locals seem very reluctant to adjust the naming to the current crossings used (they did not have a problem with that in the past, so why now?).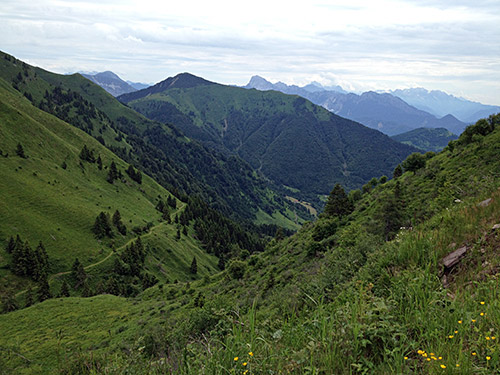 One could follow the track to the north to eventually get to Monte Zoncolan and maybe that track is better than the the one following the ridge going south that I took. This looked fine at the start, but then I had to walk some and cycle some and when it started to go down (after it has reached the high point of 1704m) it was simply a bit too bad to be used with a road bike.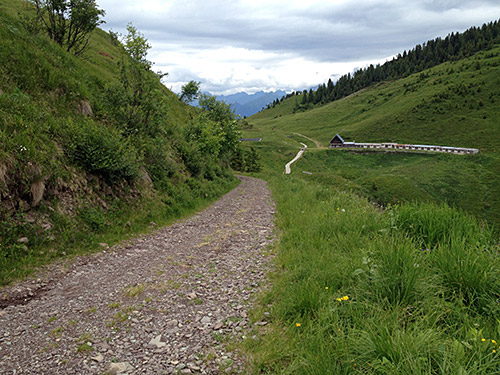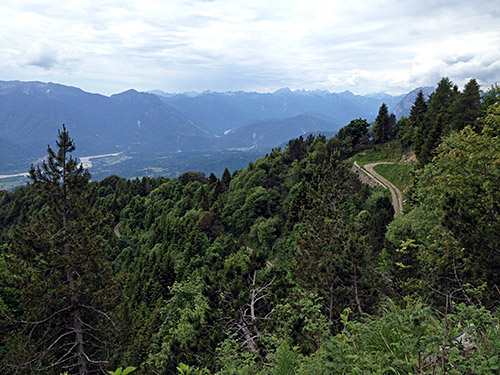 I hoped the road would become better lower down, but if anything it got worse and in some places it was a borderline case if it could be used with a mountain bike even. It is an old military road and looks like it has not been maintained in the last 100 years, but it is sort of sad as it is a very lovely and well-built road with great views higher up. I met a girl coming running up there, but otherwise it was a very lonely road.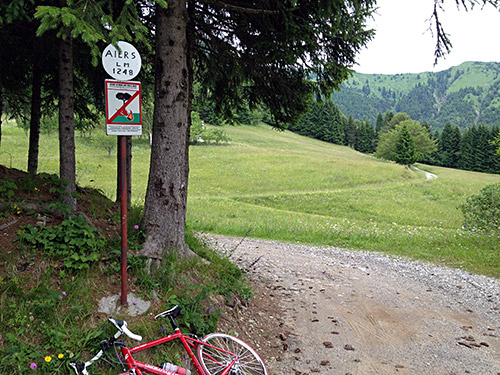 It was also a very long walk (again) and I could only get on the bike just before reaching the asphalt road at Aiers Alm (1248m). The climb to Aiers Alm should be a pretty cool climb for any locals and tourists coming by – recommended! The last part up had recently gotten new asphalt. If only it had been asphalted all the way over to Lenzone/Ovaro – Giro d'Italia please come here!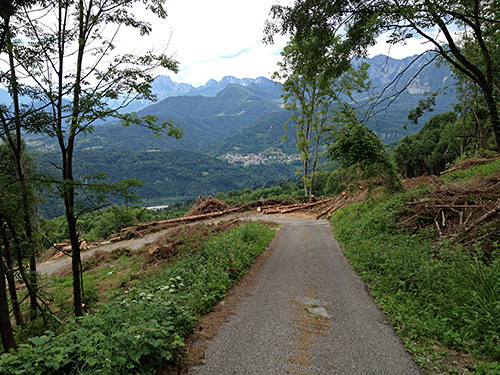 "Strada senza barriere" … oh well, there are some logs at the edge of the road as a barrier anyway! There is arguably a pass below Aiers Alm at Tarlessa (1134m) and I searched there for a while after a possible sign without any luck before continuing down the curious narrow asphalt road (there were no way I could get it confirmed that this road was fully asphalted on the Internet beforehand). (Also this climb is not at Salite yet.)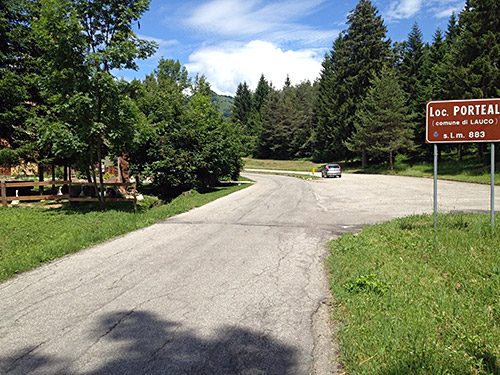 Down at Avaglio, I first went up a wrong road before I descended to the main road and continued down to meet the road coming up from Villa Santina and here climbed in good speed up to Lauco, where I wanted to stop to eat something, but the restaurant I stopped at higher up in the village was closed, so I continued to (Sella di) Porteal (885m).
Then down to Vinaio and now it started to get really warm and the climb up from Vinaio to the next pass (Sella di) Fuessa (1012m) were a bit taxing on me, but I still kept a decent speed as I know the climb was not that long. The road up Val Lauco looked a bit inviting, but as I had been looking over that valley quite a long time this day walking down to Aiers Alm, it was not of much interest now and it is also a cul-de-sac.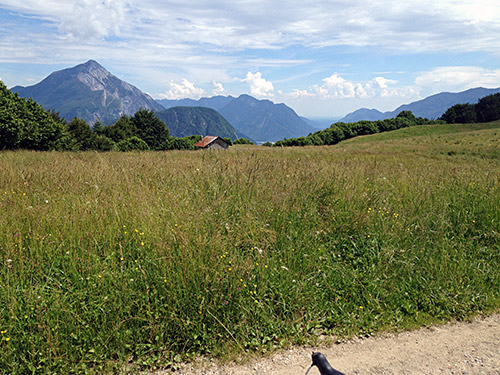 Yet a new climb up to another unnamed pass, and then a cul-de-sac road to Sella Duron (1084m), which is one of the few named passes in the area. The road was not the best, but it is indeed asphalted to the pass and there were thankfully nice views at the pass.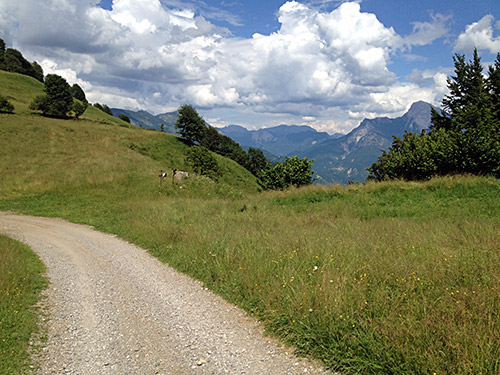 I took even more photos than the 3 shown here, but this enough. The one above gives the view toward Tolmezzo and where I was heading, even if I had to go back to the turn-off first. The one next by here shows the exact location of the pass looking over the ridge north toward Austria. The third shows the asphalt end and the valley below to the west.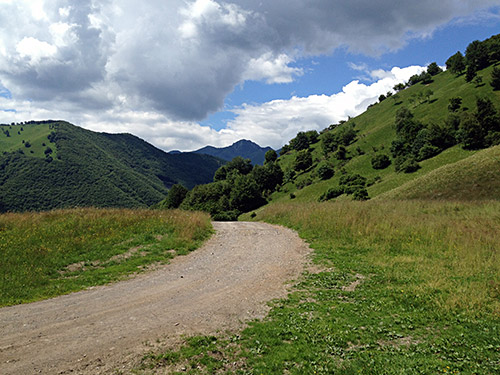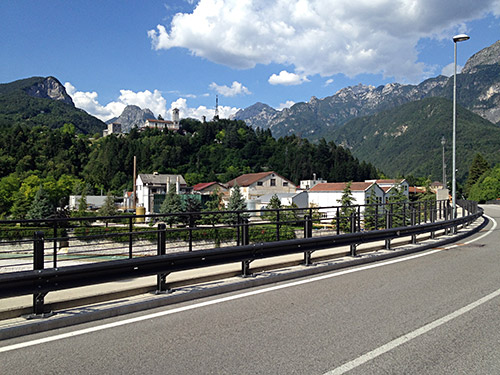 I stopped in Tolmezzo at a bar for a coffee and ice cream and then went out on the local road east to Amaro, but it turned out to be closed by a tunnel and so definitely closed that there was absolutely no way around, so I had to turn back and go on the big main road in sort of a big circle to get to Amaro and then the main road up toward Tarvisio. There is a small interesting road from Amaro to Moggio Udinese that I took in the opposite direction another time and that I believe they want bicyclists to use, but unfortunately there is a a stretch on the Amaro side where the gravel road is pretty bad, so until the fix that stretch I suggest you better take the main road unless you got a mountain bike (it is not impossible with a road bike and more than half of it is asphalted, but I had enough for now with gravel). I stopped just as I turned up the road to Val Aupa and Moggio Udinese and it looks nice even down here.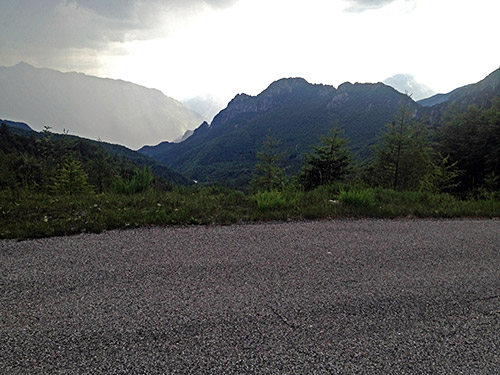 Val Alba/Casera Vualt (1382m) was one the 2-3 destinations I most wanted to visit this Summer as the valley looks really interesting when I had studied it. I was populated for a very long time, but was abandoned after the severe earthquake in the area in 1976 that destroyed most houses in the little village in the valley. It also looked as if the climb up here ought to be really steep, but I had not found any information on it on the Internet, though there was a profile of the climb at salite.ch which I had missed and a recent one that give a profile to the end of the road. I was supposed to go there last year, but now I really had to go there and the weather was fine so just to go ahead.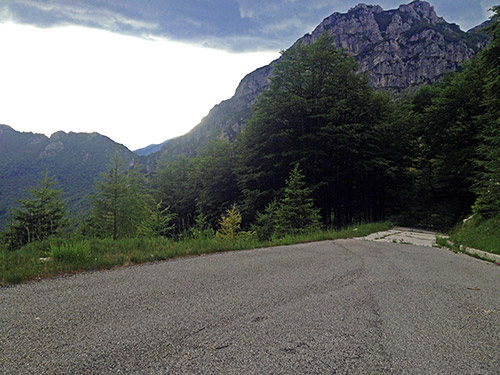 I stopped in Moggio Udinese (320m) for a sandwich and something to drink. Then I took off up to Pradis in Val Aupa where one turns off the road going to Sella di Cereschiàtis (1072m) and Pontebba. The road up the side of the mountain is sometimes steep and sometimes not so steep. There is a turn-off higher up for another curious and steep road (but it ends higher up the mountain – likely it offers nice views though over Val Aupa, but it is very steep toward the end). I continued up to where the road goes around a corner as it crosses the ridge into Val Alba (no real pass name here either as far as I know).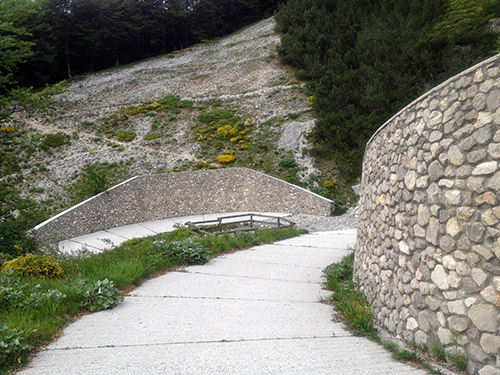 I thought that maybe the road would get a bit easier after getting into Val Alba, but it was the other way around. Now the road got really steep at once, but I kept going as I thought it would likely soon get easier, but it took a while before the there were any easier gradients. When you get to a small parking the road is easier, but just afterwards it starts even steeper still and this stretch is really testing your strength. After this stretch with up to 20%, the road suddenly flattens out and also turns to gravel, then it descends gently for a while. The gravel road is good enough for a road bike, but at a little bridge it starts to climb and a short section here is no good, but I handled it. Then it is asphalt and or concrete (it keeps changing all the way) and it becomes steeper, but also there is a less steep section.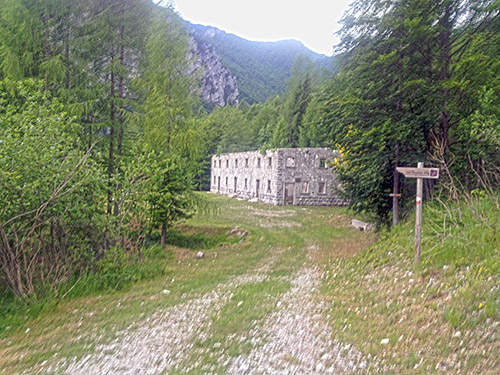 Then there were only the last part up to the end of the road which I feared most as it seemed to gain a lot height metres on the map in a very short way. Sure enough there is a snake-like concrete road going very steep up past an old military hospital (ruin out here in no-mans land) and eventually you find yourself at the very end where there is a locked gate for a tunnel entrance (wonder where that might go). The last section was again close to 20%. This climb is really very hard, trust me! The gravel part is nothing really to worry about and if you cycle up the other parts on a road bike, you would not be the one to complain about the gravel surface.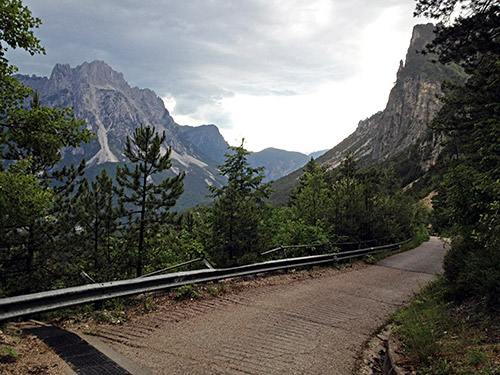 There was one car up here and a few walkers, but mostly it was a very lonely valley. I had a little shower nearby, but escaped the rain and got back down to Moggio Udinese and continued on a small road to Ovedasso (good road to avoid the main road in the valley). Shortly after Ovedasso, I came upon a Bed & Breakfast – Rosa Dei Venti. This was the best place I stopped over at during this tour of the Alps and one of the best places I have ever stayed at. Maybe not the finest rooms and facilities, but great food and a friendly place. Very good price too. You actually get less the more you pay everywhere – that has proven to be correct with only some exceptions in my pretty vast experience nowadays (cheap places can also be bad, and it is relatively speaking and relative to the prices of the area you visit). So from now on I ask for cheap places to stay at in order to get a great place to stay at. Anyway, this was a very good place to stop at and I wish I could stop by here again sometime. The last photo shows the view up Val Aupa when one just comes out of Val Alba.